Located in Western Asia and famed as one of the most richly satisfying places to travel to in the world, Qatar is a gem of a country if you're one of those who gets fascinated about old culture and art. There are many Things To Do In Qatar that will make your holiday exciting and fun. Travelers either arrive on a holiday or on their way to other popular destinations as the country has rose to become one of the largest gateways for overseas travelers coming from all across the world.
But here's a thing, while the country is connected with many top tourist destinations, the Rich Arabian hospitality and places to visit in Qatar feature it amongst the finest travel countries around the world. From Qatar adventures of water sports and climbing to historical museums and forts, Qatar boasts of its luxurious holiday experience, a one you don't want to miss.
So, if you're a traveler planning your next holiday destination or just someone who's fascinated to know about the finest travel countries, here's our detailed guide on the top Qatar tourist attractions set to fill your heart with excitement of travel.
Top 25 Things To Do In Qatar
Now we know why Qatar should be a go to destination for any traveler. Let's list some popular attractions worth embracing on your travel to this country.
1. The Vibrancy Of Souq Waqif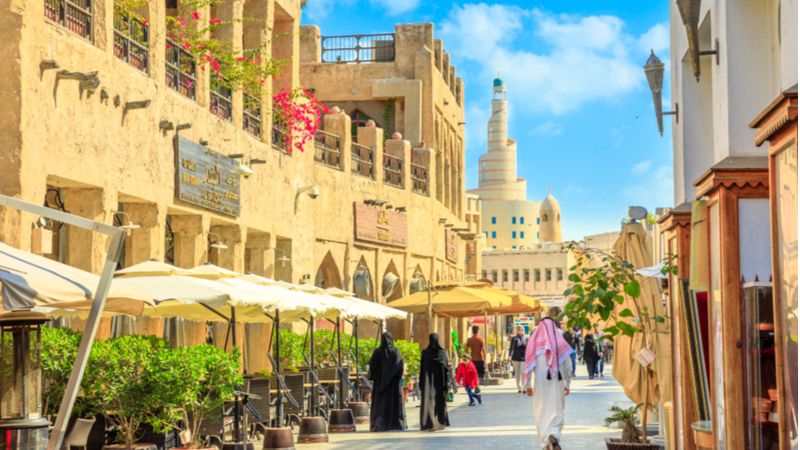 Here's a thing, if you visit Qatar and don't head off to Souq Waqif, you fail your trip. Renowned as one of the finest of Doha attractions and built on an ancient market site, Souq Waqif is a market filled with the old-world charms of 19th century Souq and truly defines what shopping in Qatar is all about. It has been redeveloped but reminds of the traditional Qatar years back.
With mud-rendered shops and duly redeveloped traditional Qatari buildings, the market reminds of the time when animals like sheep and goats were brought to the area centuries ago and traded for essentials.
Not only this, but the visitors can also help themselves with many things to do in Qatar like touring around for some delicious traditional food. Souq Waqif is home to some of the finest traditional restaurants and cafes in Doha that serve food like no other. Tourists can either opt for an indoor restaurant or savor the view while enjoying a delicious feast at beachfront restaurants. So when you think of shopping in Qatar, head over to Souq Waqif and spend some quality time in the market, catching a glimpse of the traditional wears available for sale.
2. Treat Your Eyes With The Sight Of Falcon Souq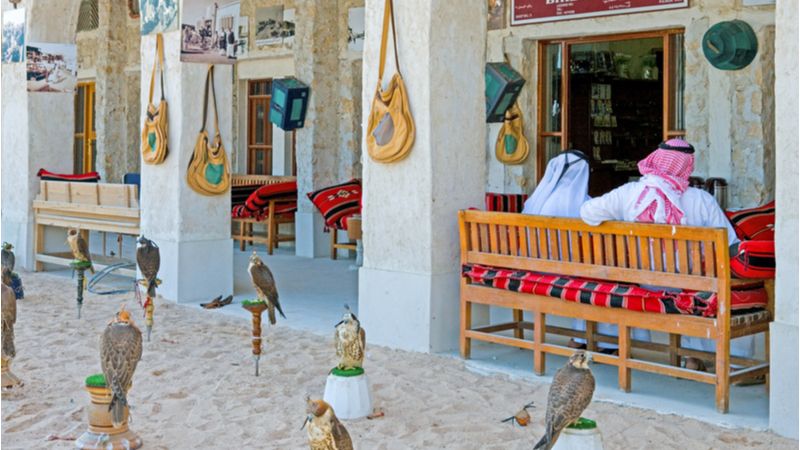 Getting to know and understand the heritage of a particular country is what travelling is all about. And when you are in this rich cultural land, the best things to do in Qatar is to delve in its heritage. So, if you're heading to Qatar and longing to know about the Qatari heritage, head over to Falcon Souq along with Souq Waqif to understand the place of falconry in the Qatari society and what it means to the natives.
As the natives say themselves, evenings are the best time to visit Falcon Souq when you find visitors examining the finest details of the birds and taking photographs. The relevance of this market can be understood from its scale when compared to Souq Waqif. With an arcades building and cushioned benches where you can sit and enjoy your evening tea, this is a place you can't afford to miss when you head out for sightseeing and shopping activity in Qatar.
Suggested Read: The Pearl Qatar: Things To Do On This Man-Made Island
3. Shopping At Qatar Airport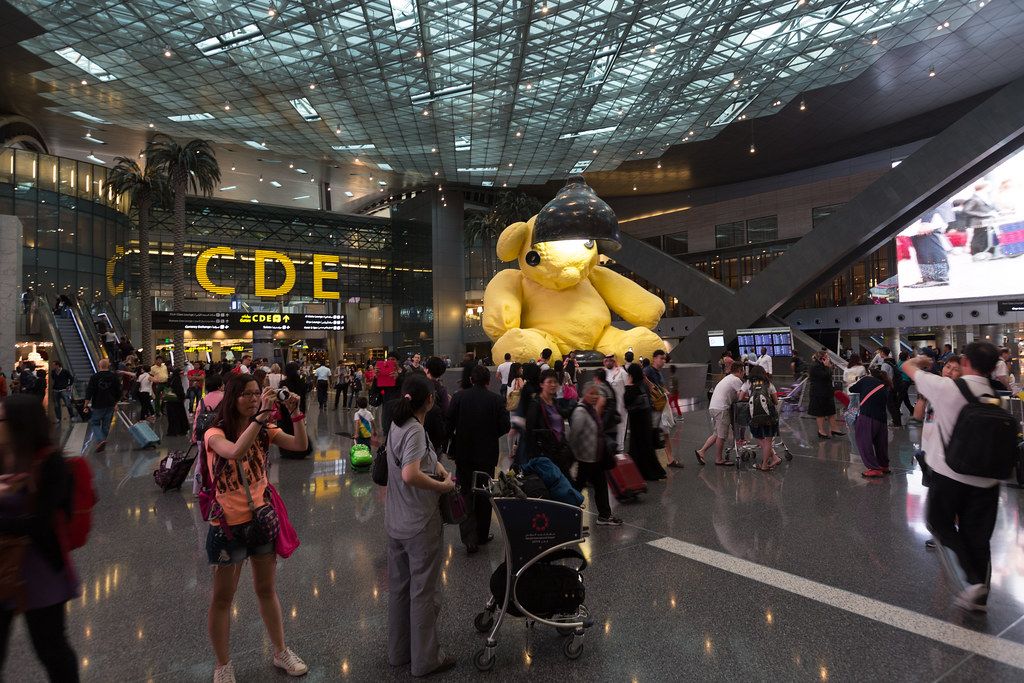 One of the most striking things about Qatar is its airport itself. The Qatar airport, formerly known as the Hamad International Airport welcomes you to its enchanting cathedral and sparkling modern architecture. The airport is home to a variety of duty-free shops which any overseas traveler would love to explore.
If your idea is to start shopping the moment you land in the country, well, how about shopping at the airport only? In fact, the Doha airport shopping is well renowned amongst seasoned travelers. With an ambiance so welcoming and a whole bunch of duty-free delights, you can expect to spend some easy hours at the airport itself upon your arrival or before your departure.
Suggested Read: Top Airports In Qatar That Promises A Hearty Welcome
4. Sightseeing At Doha Corniche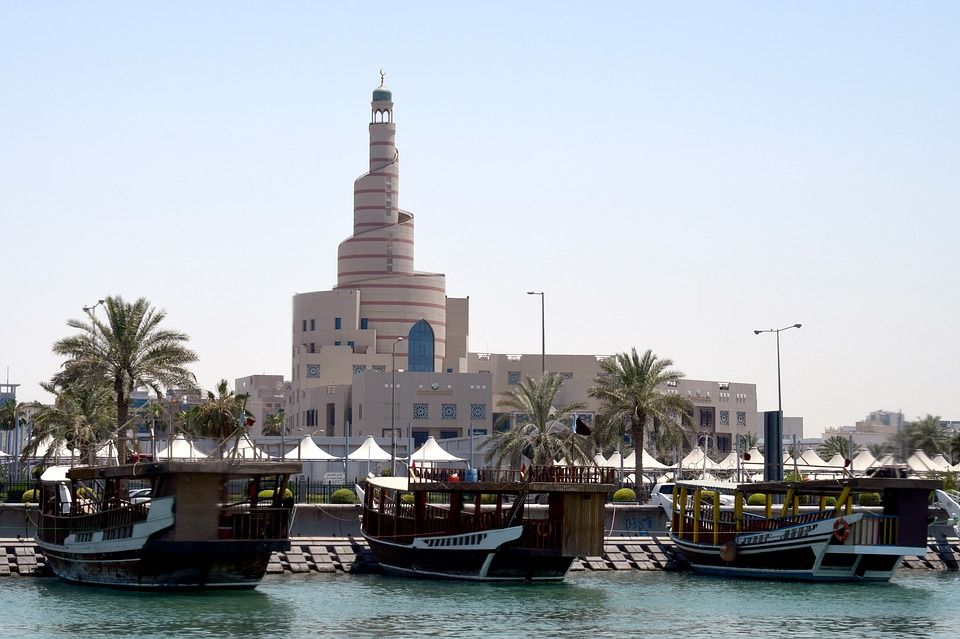 Now when there's a question of Doha sightseeing, another gem of a place that comes in mind is the Doha Corniche. Easily one of the finest attractions, the Corniche is a waterfront promenade that is perfect for best activities in Qatar for walkers and bikers who prefer peaceful walkways with scintillating views.
Travelers either visit the Corniche for a long walk or to watch the amazing view of sunset from there. What's exciting about the Corniche is that the whole city's skyline is visible from there and forms the main of the place. There are various boats lined up against one another which you can certainly take a ride in and watch the gorgeous city of Doha during evenings.
Suggested Read: A Take on the Top Museums in Qatar
5. A Visit To The Museum Of Islamic Art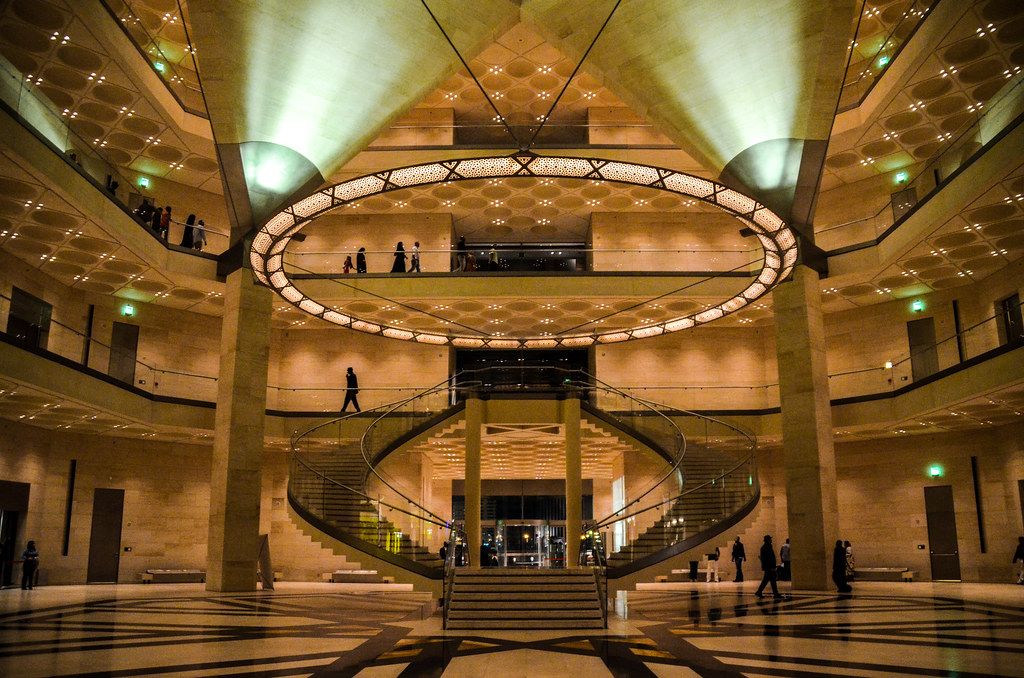 Another richly satisfying historically blessed place if you have your heart set on Doha sightseeing is the Museum of Islamic Art set in the MIA park of the Doha waterfront. Exploring the collection of the museum is one of the best things to do in Qatar. Home to one of the largest collections of Islamic art in the world, the museum was designed by I.M. Pei, a globally renowned architect. The beauty of the museum is its hospitality and location.
Travelers coming here can find it mostly appealing due to its rich architecture. The museum appears to float upon water from certain angles and has the collection of art collected from over 3 continents within a span of 1400 years. What is truly exciting about the museum is that it offers the visitors a few of some spectacular patterns of the Islamic world that seem like a gem to the eye. So, in case you're headed for Doha sightseeing and wondering where to go next, this is the place for some unique activity in Qatar.
6. Discover The Iconic Landmarks Of Al Wakra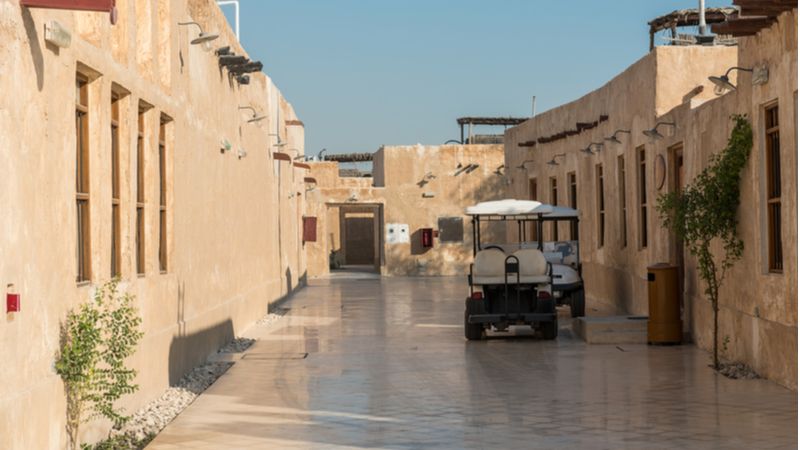 One of the finest places to visit in Qatar, Al Wakra has numerous things to do in Qatar that travelers can do here. From the famous Souq Al Wakra to the iconic Al Wakrah Stadium, this is a city that has it all.
One can head over to the Al Wakrah Stadium and take a tour of the arena. Built with a maximum seating capacity of 40,000, the stadium is also known as the Al Janoub Stadium and was opened on 16th May 2019. Travelers can come to the arena and take a guided tour of the place. From the gorgeous parkland to the elegant arena, visitors get to see it all.
Likewise, the landmarks of Al Wakra don't just end here. Adding on more to the list of things to enjoy in Qatar, one can get to see the famous Souq Al Wakrah, shop for the vest id souvenirs here, and enjoy the best of a traditional dining experience.  
Suggested Read: A Detailed Guide To The Stadiums In Qatar
7. Enjoy Kayaking At The Al Thakira Natural Reserve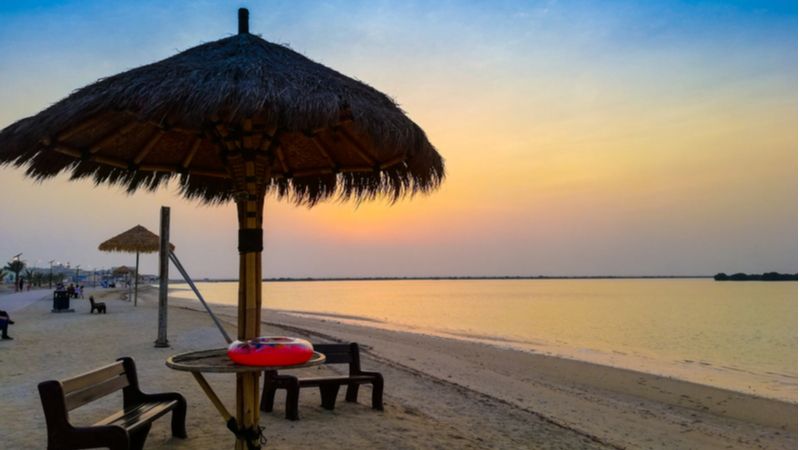 Admit it, there's nothing better than getting to enjoy kayaking amidst the wilderness, right? The Al Thakira Natural Reserve is home to the country's largest mangrove and is regarded as one of the finest places to enjoy kayaking in Qatar. Not only can you enjoy the best of Qatar adventure like kayaking and fishing experience, but can even catch a glimpse of the unique wildlife of Qatar. So, why not visit the Al Thakira Natural Reserve and witness the serenity of the place as you enjoy kayaking through the mangroves?  
8. Spend A Fun-filled Day At The Al Khor Family Park & Zoo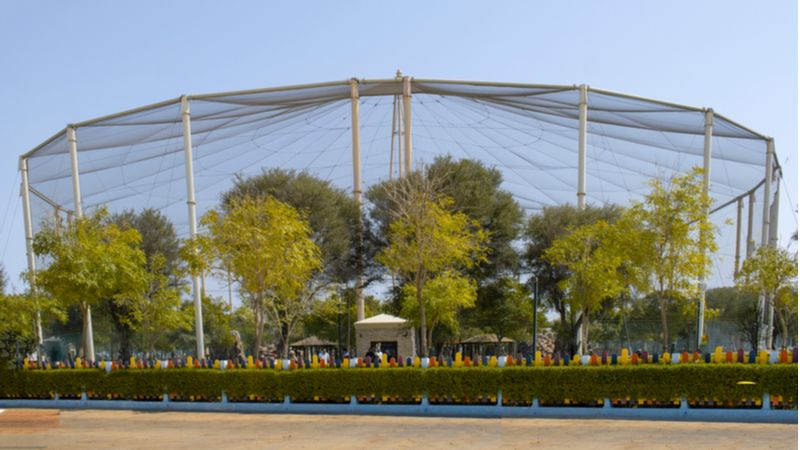 Another top attraction in Qatar that has gained immense popularity over the years, spending a day at the Al Khor Family and Zoo has to be one of the most memorable things to do in Qatar. This is a place that lays immense stress on making kids engage and observe the unique wildlife that Qatar possesses. Interestingly, about 23 percent of the total land of Qatar has been dedicated to wildlife parks and zoos. In fact, these parks and zoos house around 21 mammal species in the country. So, why not visit the Ap Khor Family Park and Zoo to spend a fun-filled day in the city?  
Suggested Read: Luxury Hotels in Qatar for your Stay
9. Banana Boating At Banana Island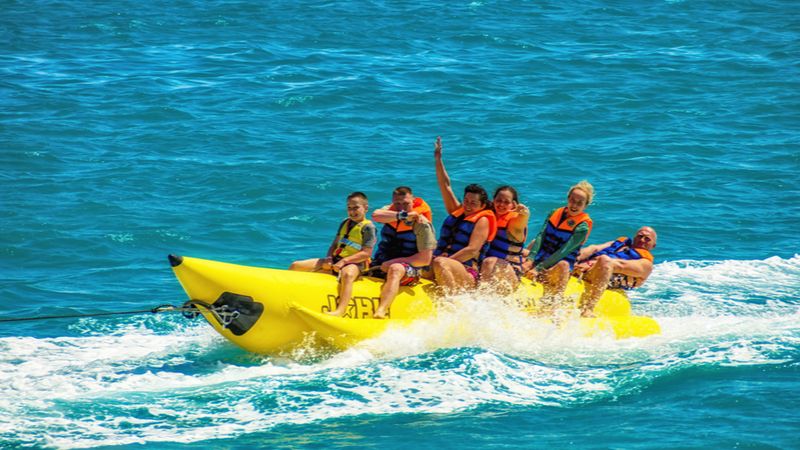 One of the best activities in Qatar, Banana boating at the Banana Island has to be a top priority for travelers coming to the country. An activity that is considered to be full of thrills, Banana Boating doesn't get any better when you're at Banana Island. The place is considered to be the top spot for travelers to come and enjoy the activity. Travelers can experience Banana Boating at economical prices.
10. Embrace The Luxury of The Pearl Qatar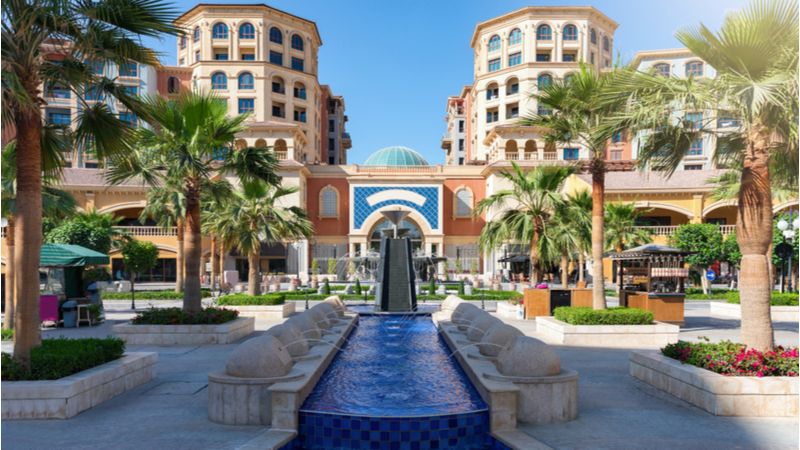 With the Mediterranean style, the imperial architecture and intriguing beauty, Pearl Qatar definitely the destination you can add to your bucket list for trying some enthralling and fun things to do in Qatar. The Pearl Qatar is an artificial wonder where you can find the premium range of accommodation, boutique shops, dining restaurants and more.
While Pearl is a leisure destination, the extravagant structures that enhance its aesthetical beauty even offer every experience to boost your holiday mood. Apart from sightseeing, Pearl Qatar is perfect for fun-filled adventures. The streets here are too vibrant to lend you an endless list of malls to shop, cafes to try the most tempting cuisines and admire the capitative skyline. Overlooking the azure sea, The Pearl island can be your perfect spot to admire the luxury of resorts or some fine-dining, shopping and embracing the grandeur private beaches.
11. Unravel the solitude of Film City- Qatar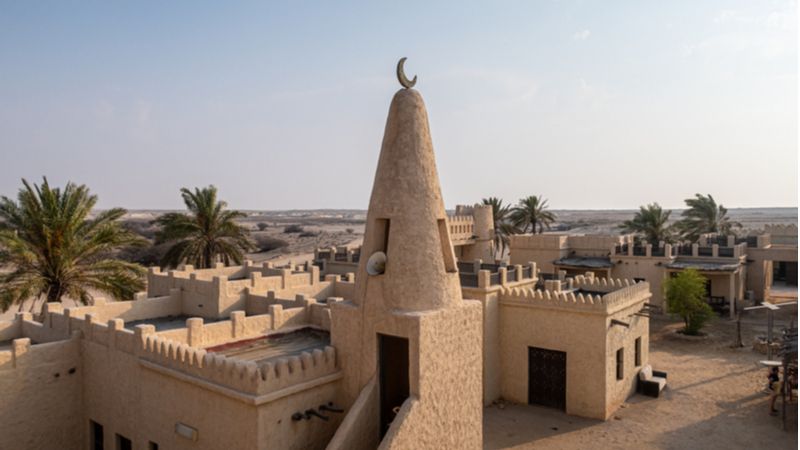 The Film City in Dukhan, Qatar is more of an abundant place where you can admire the architecture and embrace the calm and peaceful serenity around. Designed as a magnificent village, the film city was initially built as a set to shoot an Arabian Tv commercial but later was left as a landmark for admiring the architecture.
What makes a tour to Film city one of the best things to do in Qatar for a unique experience is the diverse its intruding beauty that houses mystery and dilemma. Explore the flatlands or the dramatic terrains dominated by the plateaus and the rocks. Expanding the tour for more amusement, you can wander around the region to witness the old unique rocks, the gulfs, vintage ruined houses and lush green vegetation. This is one of the untouched regions that are still not influenced by human footmarks.
12. Visit Zekreet Fort of the Erstwhile Era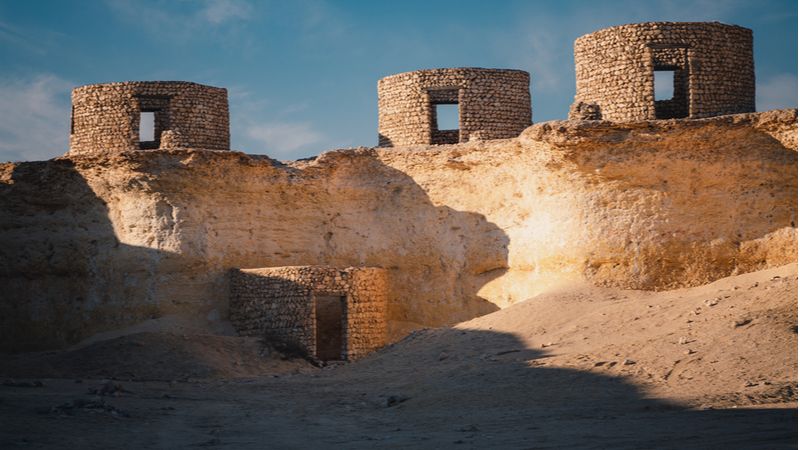 From the pages of history, Zekreet fort is one of the most spectacular attraction to discover in Qatar. Visiting this historical fort from the past is surely one of the most amazing things to do in Qatar for a unique and exceptional experience.
From the 18th century, this fort defines the excellence of art and heritage prevailing in Qatar for a long time. The old settlement and the fascinating ruined beauty of Zekreet, is what lures travelers across the globe. You can discover the coastal edge, the sandy beaches glittering in the desert sun and its deep-rooted history.
13. Historical Tour At National Museum Of Qatar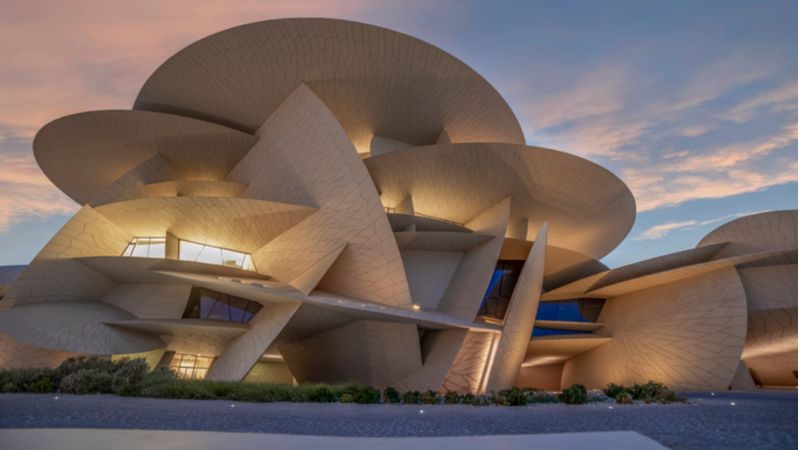 When it comes to discovering the history, art, and culture, a tour of the National Museum is the best thing to do in Qatar. There are 11 galleries that are featuring the artwork of both local and international artists. There are sculptures, installations, and much more to explore.
Located in the capital city Doha, the National Museum of Qatar is one of the finest museums boasting splendid architecture. Designed by the French architect- Jean Nouvel, the museum was completed in eight years that justifies its appealing design. While the exterior of the museum is inspired by the desert rose, resembling the look of its petal cluster, the interior is all about some phenomenal collection of art. The interior was designed by Koichi Takada- the Sydney-based architecture firm.
14. Qatar Desert Safari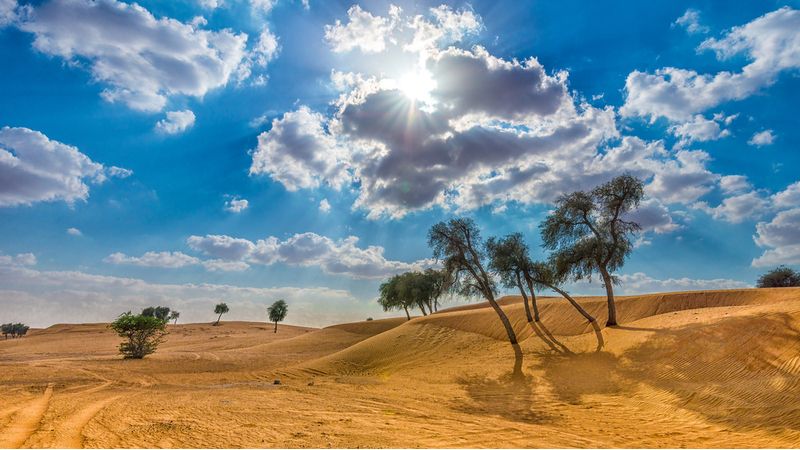 Safari is one of the best adventure things in Qatar you can enjoy on your holidays. Qatar Desert Safari takes you along those undefined terrains that adorned the beauty of golden sand under the clear sky. Safari here in Qatar comes along with endless thrill and fun. You can choose from morning or evening safari tours where you will enjoy camel rides or dune bashing, sandboarding, and so more. These activities are conducted by professionals to ensure safety.
You can even stay under the open sky with an overnight safari in Qatar. There are camps available with the best traditional food and cultural events to add more entertainment. What's the best thing about an overnight stay in the desert is that you can witness the beauty of Dawn and enjoy stargazing at night.
15. Picnic At Aspire Park
Looking for some fun things to do in Qatar with family? How about a picnic? Aspire Park in Doha, is one popular attraction in the city that is loved by every Qatari living there. From morning walks to evening leisure and weekend plans, this park in Qatar is the ultimate stop for every fun you want to have. Among the best tours and activities in Qatar, a picnic at Aspire Park is the best way to enjoy a day with your kids and family. With the artificial lake, the green surroundings, exotic flora, and some boutique cafes, the Aspire Prak is one of the best spots to enjoy a leisure day. One can bring their snacks along or can order something from the best cafes lined with the park premises.
Making it a place suitable for all its visitors, the park has some additional facilities such as restrooms, children's play area, benches under shades, and some sports facilities as well.
16. Shop Your Heart Out At Villaggio Mall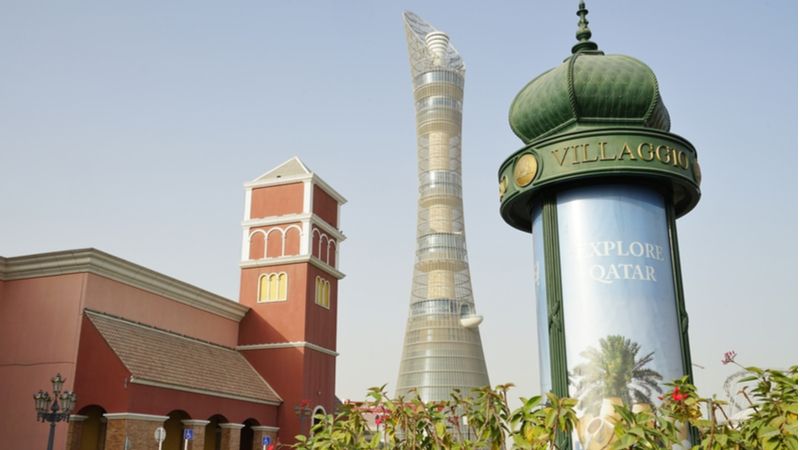 While shopping in Qatar can be fun, Villaggio Mall is the ultimate stop-over for your shopping fantasies. Now, what makes Villaggio Mall Qatar, so popular among its visitors is its amazing architecture, multi-brand shops, cafes, and entertainment. Adding more to its beauty and popularity, it is the indoor canal that is inspired by the city of Venice.
While you shop your way out, buying the international brands, the luxury accessories, don't forget the gondola ride. This is one of the unusual and exciting activities in Qatar you can enjoy while shopping only at Villaggio Mall. These rides are the best highlight of the mall that is not to be missed. The data has estimated that the mall attracts more than 50,000 visitors on a daily basis.
17. Delve Into The History of Al Zubarah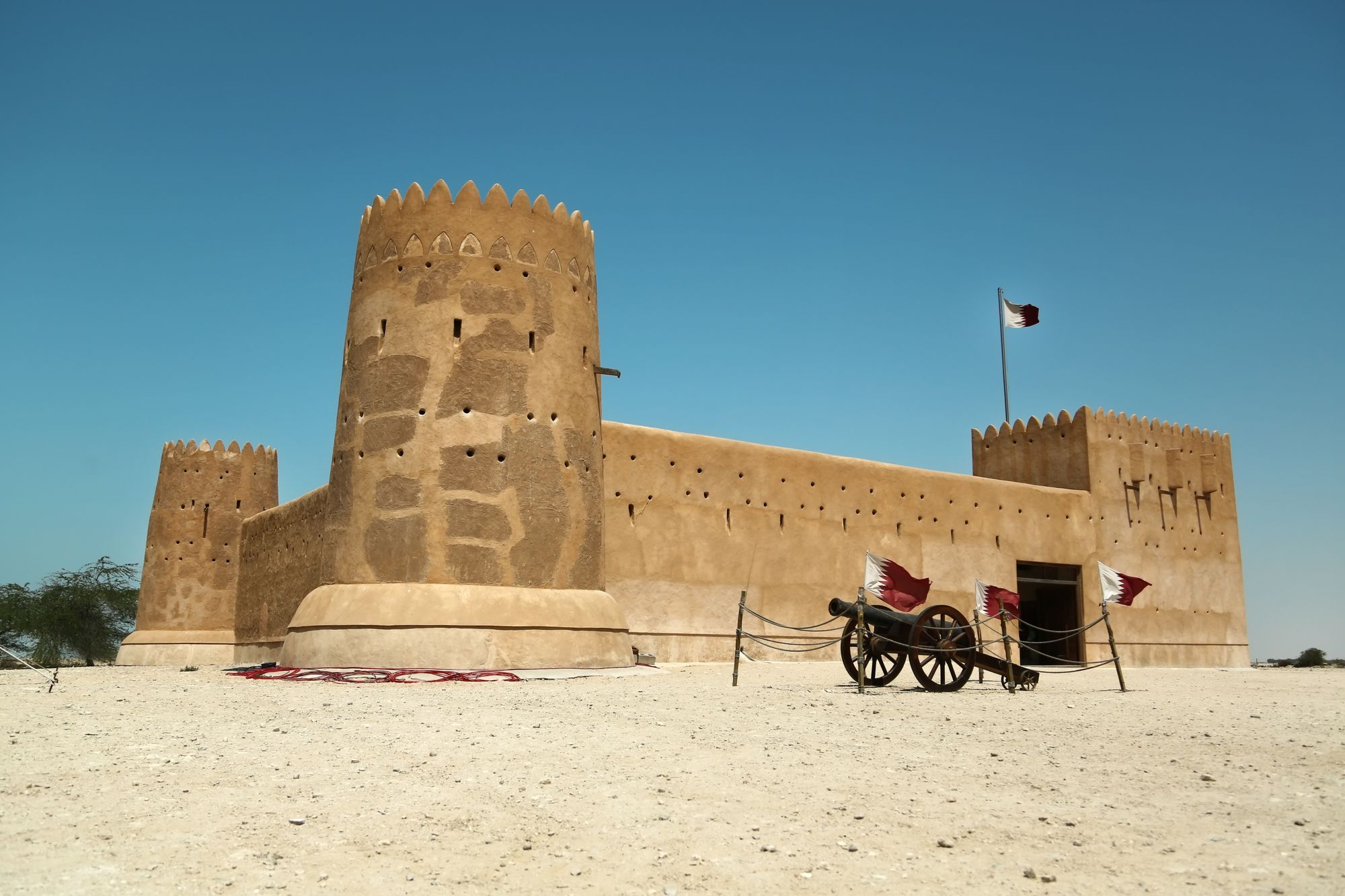 The UNESCO World Heritage site at Qatar, Al Zubarah is one of the oldest cities and one of the major attractions you can visit. For the history buffs and archeologist, the barren region is nothing lesser than a paradise where they can discover and dig deeper into the history of Qatar settlement. If you are looking for some historical experiences and things to enjoy in Qatar then, add this place to your list of itineraries and explore every nearby wonder of Al Zubarah.
There is a fort, archeological sites, and old remains that date back to the 18th century. You can get a local guide to better to understand the past and of this city that was once a thriving port in Qatar. Preserving every chapter of Qatar's past, Al Zubarah was marked as a heritage site in 2013.
18. Indulge in Luxury at Taliamare Beach Club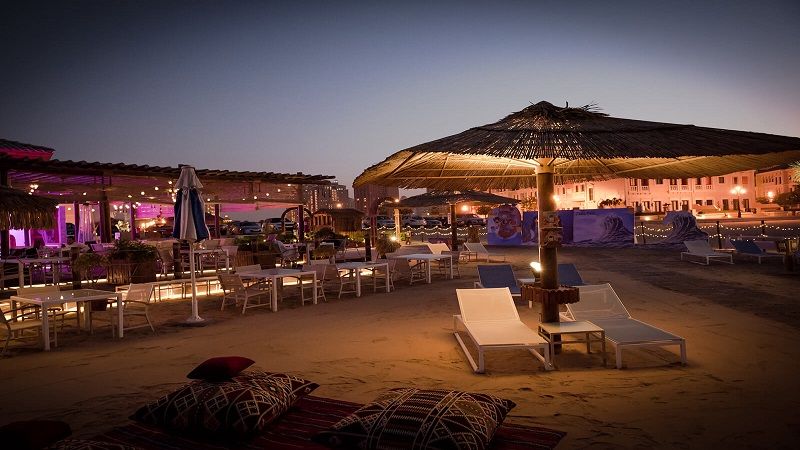 A luxury waterfront restaurant, Porto Arabia Talia Maare Beach club is located on the most ravishing island- the Pearl Qatar. Designed and laced by every leisure and luxury, the beach club is the best place to enjoy some water activities in Qatar.
This waterfront restaurant allows access to the beach, where you can enjoy endless adventures like swimming and more. There are luxury Cabanas, party zone, beach houses, beach dining, and so more to add more fun and leisure to your visit. So if you have any plans of extending your visit to Talimare beach club, you can stay here for a night or more the beach house.
Built over an area of 15,000 sqm, the beach club can accommodate 2000 visitors in a day. The beach has benches with umbrellas and a sunbed where you can relax and enjoy your vacation. Get indulge with the happening vibes of the club and try every entertainment thing to do in Qatar.
19. Cultural Experience At Katara Cultural Village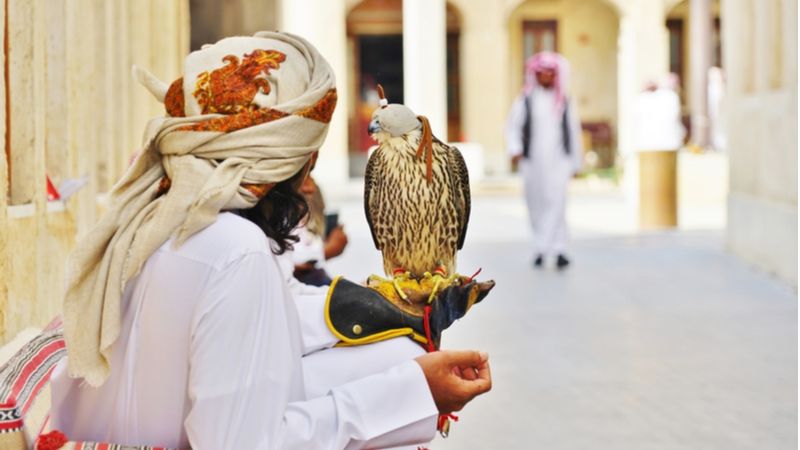 Get ready for a cultural experience at the Katara Cultural Village. Exhibiting the rich heritage, art, and culture of Qatar, the Katara village is one of the most popular attractions where you can discover the enriched tradition of this Gulf country.
Katara Cultural Village is built in resemblance to the old Souqs where there is a walkway, some traditionally designed highlights, and galleries that are displaying the Qatari art. Focusing on preserving the best of Qatar in every form, this cultural village is even called the valley of culture. Tour of Karata village is surely the best things to enjoy in Qatar where you can admire the ancient art, discover the same unusual piece of sculptures and murals. The village has some of the best hops to buy a souvenir while you can find cafes nearby to grab a bite after your long day of exploration.
20. Witness the Vast Collection At Sheikh Faisal Bin Qassim Al Thani Museum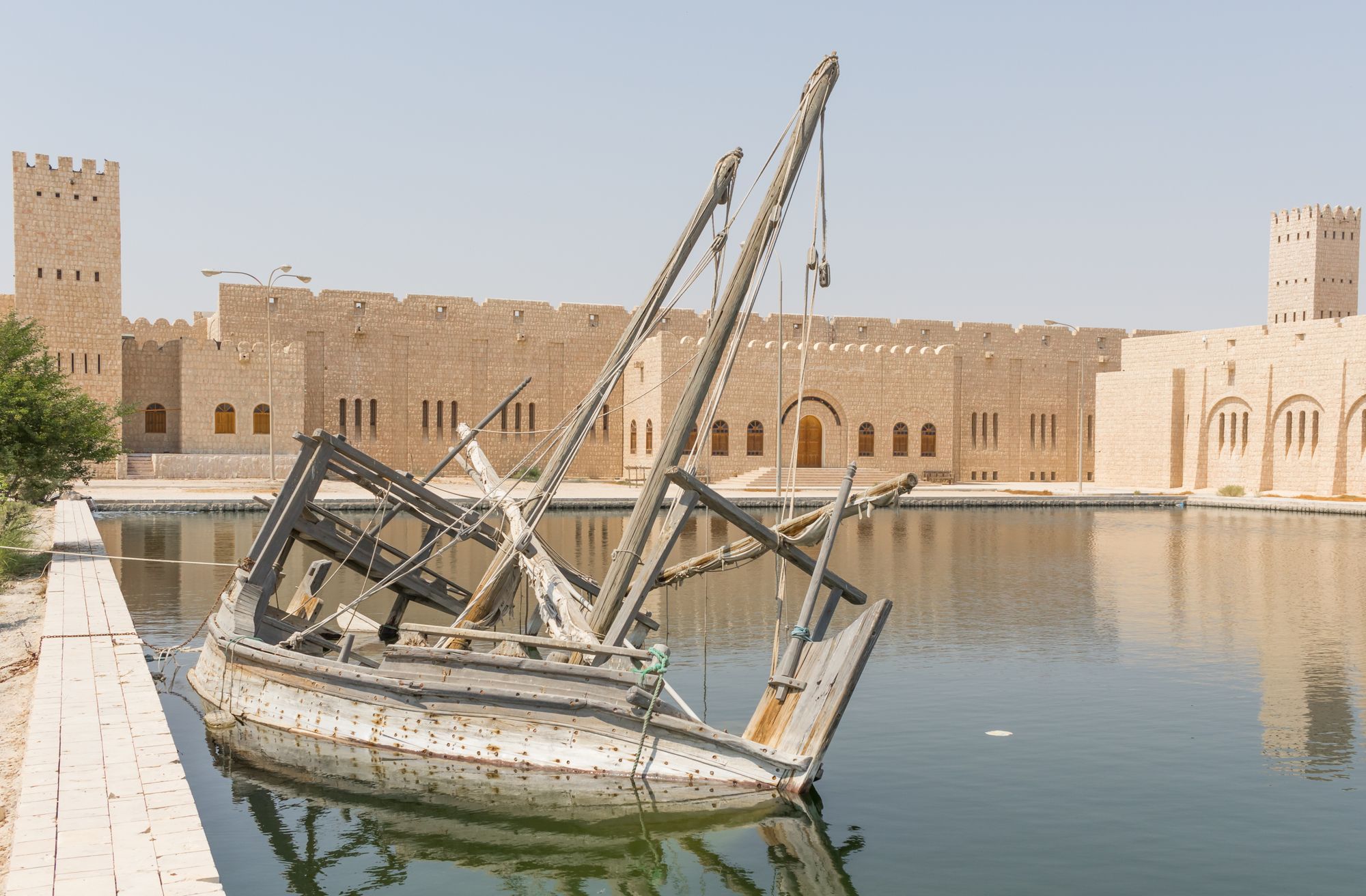 Listed among the best Museums in Al Shahaniya, Sheikh Faisal Bin Qassim Al Thani Museum is surely the place you must visit. What makes a tour to this fascinating museum, the most interesting thing to do in Qatar is its vast collection of art, artifacts, automobiles, and so more. Built by Sheikh Faisal Bin Qassim Al Thani in 1998, the museum believed in presenting the best of Qatar's art and technology to the public.
Today the museum is well recognized as a cultural landmark in the country, nominated by the Ministry of Art, Culture, and Heritage. The museum collection includes fossils from the Jurassic age to the early Islam period (FBQ museum). Then there is a carpet museum where you will find the best of handicrafts and stuff. The most exciting part of Sheikh Faisal Bin Qassim Al Thani Museum is the car museum where you can discover more than six hundred car collections.
21. Have Fun At Doha Festival City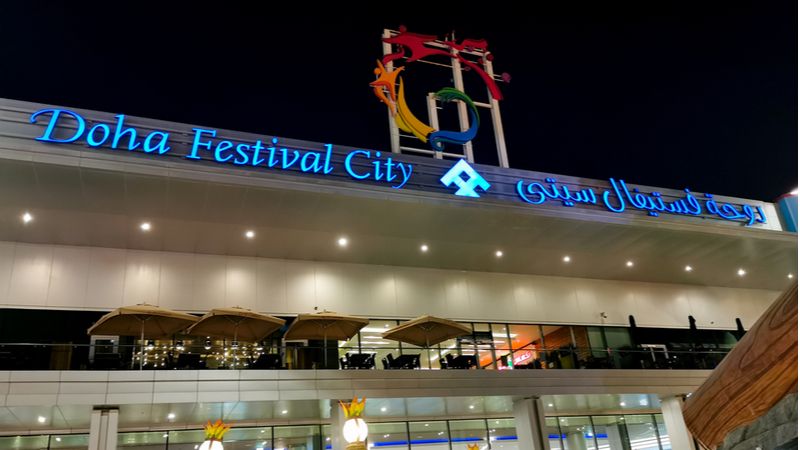 Family vacations are best in Qatar and when you are looking for some fun, Doha festival city is just a right place where you can go. This mall in Doha brings every adventure and thrill you are looking to enjoy as the best things to do in Qatar with family. From whooping fashion brands, multi-cuisine restaurants and theme parks, the mall is one stop destination for anything you desire on a holiday.
Coming to the entertainment, Doha Festival city is popular for its Angry bird world theme park that is loved by every kid in the city. Featuring the rides and angry bird character, this is a place that is loved by all. If you are looking for some leisure activities in Qatar to enjoy, book your seats at the VOX cinema that brings you blockbuster Hollywood or Bollywood movie and some enthralling experiences at THEATRE, 4DX, MAX, and KIDS.
22. Witness The Architectural Beauty of Qatar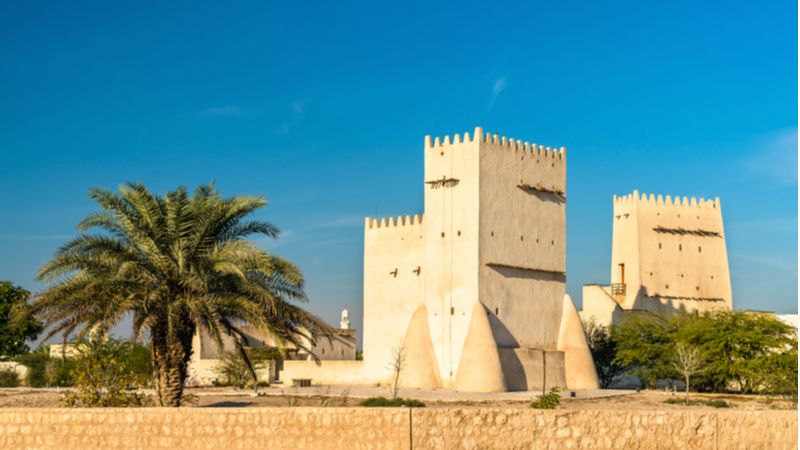 One thing that you must do in Qatar is to experience its architectural beauty. From the old historical places to the museums and some finest modern buildings, Qatar is blessed to have the best architecture that makes it one of the most beautiful countries in the world.
Prepare a list beforehand for the best towers in Qatar and get ready to wander around every corner of its cities that houses a unique beauty. Starting from the Barzan towers of the 19th Century to the modernized Torch tower that is featuring every desirable luxury for your stay. The national museum of Qatar, Lusail Stadium, Al Khor Towers, and the Museum of Islamic art are some more names to add to your list of sightseeing in Qatar.
While some buildings are built to preserve ancient art and heritage, there are towers that present a perfect fusion of modernity and culture.
23. A Day at Aqua Park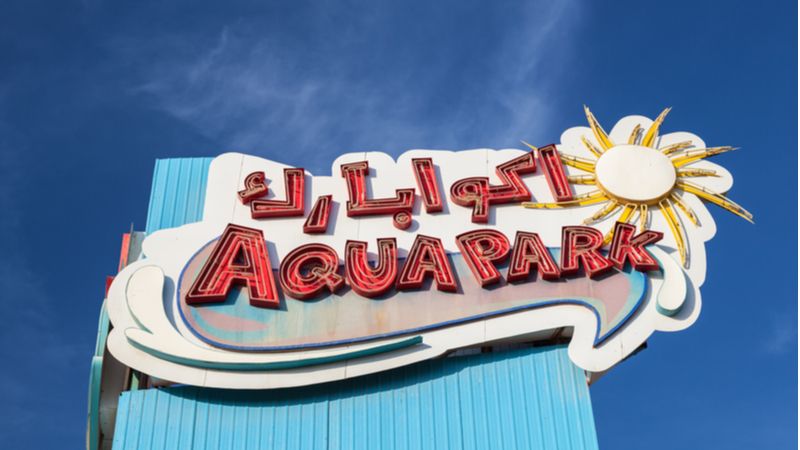 The very first water park in Qatar, Aqua Park is an ideal place to enjoy your holiday. One of the best theme parks in Qatar, Aqua Park is built on an area of 50,000 sq meter where you will endlessly number of adventure rides. It features a 200-meter-long river, activity pool, and giant wave pool with the best activities like Stingray Surfing and other water slides.
Let go of your fear and experience the adrenaline on Boomerango or the Jacuzzi Cave. There is a separate aquatic play theme park that is dedicated to kid's fun and games with best kids activity in Qatar. There are multiple colorful rides and a tipping bucket that pours 2000 gallons of water every minute or two. This amusement park is a perfect place where you can hang out with your family or friends. There are cafes and restaurants, shops and yes, many discounts offer you can grab to add more to your enjoyment. The Park is open for six days, Tuesday to Sunday. Mondays are closed.
24. Enjoy The Traditional Food Of Qatar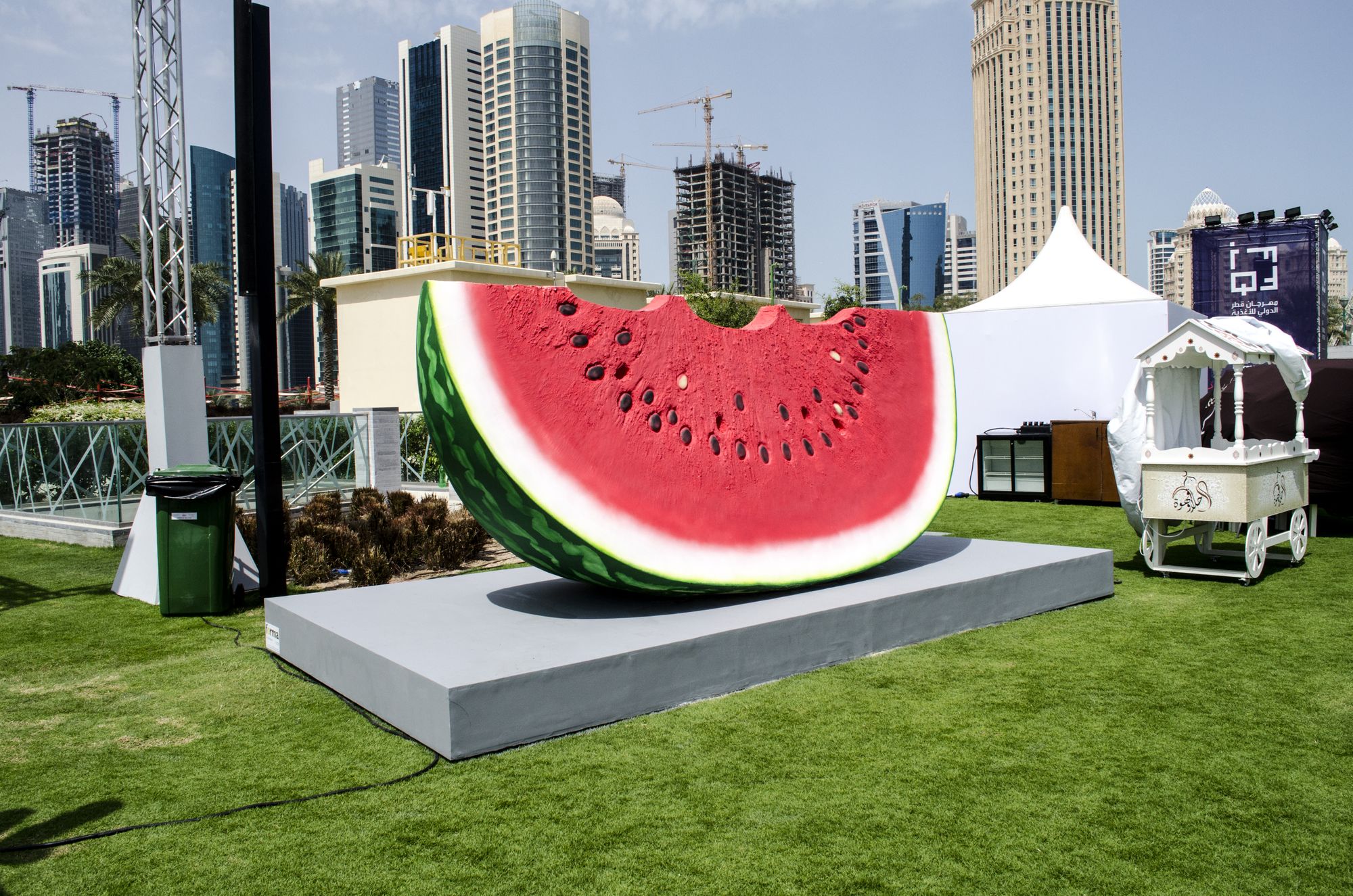 The best experience comes with the best food and when you are in Qatar, there are myriad dishes you can try. Restaurants in Qatar offer you the most relishing taste from every corner of the world, but when it comes to the traditional Qatari dishes, the best is served at the local restaurants and cafes.
A food tour can be your fun activity to do in Qatar as the traditional dishes here are served with the most delighting taste of raw spices. Majboos is rightly called the national Qatari dish as it carries the most tempting zest and significance. With lamb and chicken, the dish is cooked with rice and blended with the best flavor to give you an unforgettable experience of a lifetime. Saloona, Madrouba, Khanfaroush, and Rugag are the top dishes to name.
Wondering where to try? Well, restaurants like Warak Enab, Luqaimat, Umm Ali, and Balaleet are serving every dish that you wish to taste.
25. Traditional Dhow Tour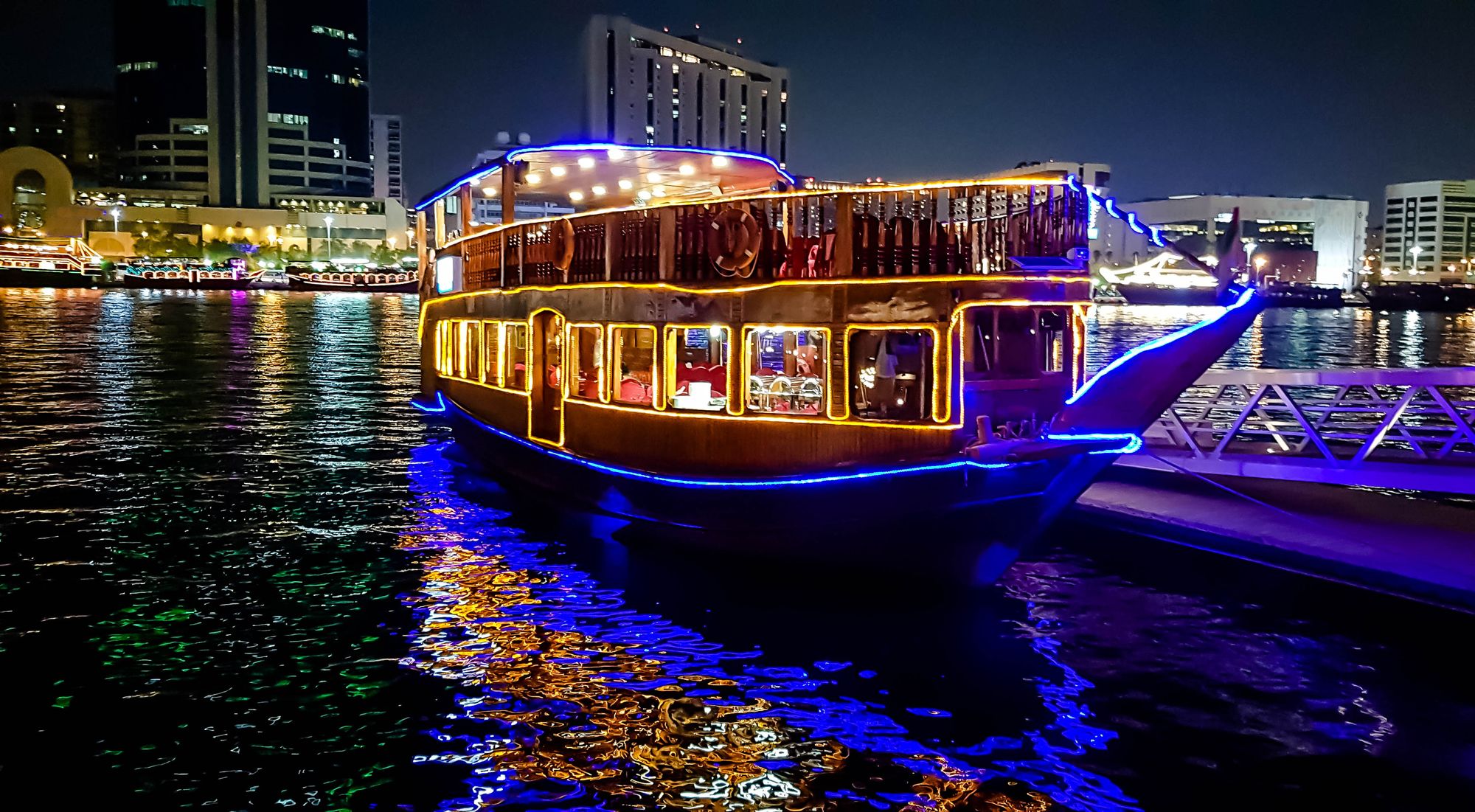 Nothing can be as exciting as a traditional Dhow tour, which is the best thing to do in Qatar. Experience sailing in a traditional Arabian boat while you relish in luxury served there. While, in the earlier time, these boats were used to simply made of wood for triangular sails, today these Dhows are more enhanced and equipped with every facility you need. Still preserving the native, ingenious look, touring the peninsula in the Dhow is the best thing you can do on your holidays.
You can book your Dhow cruise in advance, where there will be a BBQ buffet for dining, a tour around the corniche, and amenities like fire extinguishers, safety jackets, and more. These modern Dhow cruise tours are best if you are on your honeymoon or are looking for some luxuriating experience.
What To Expect In Qatar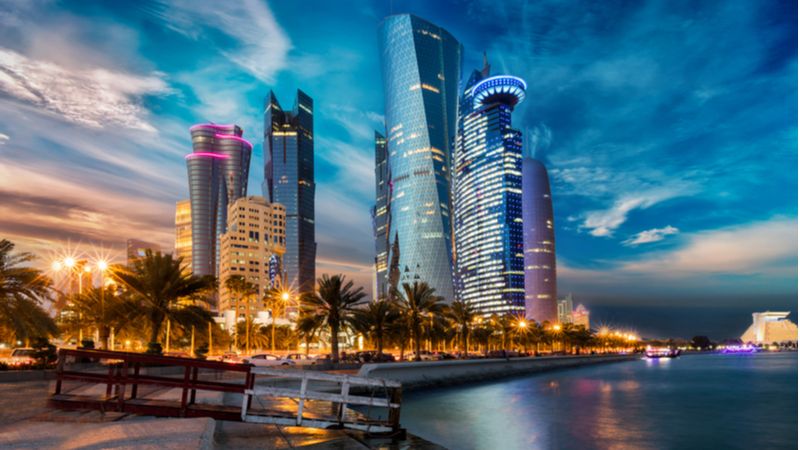 Admit it, if you're a traveler who prefers to discover the undiscovered or just someone who likes to be sure about where you're traveling, you always go through a list of the top attractions and things you get to do there. But when it comes to Qatar, you get a sight of unique yet pleasing attractions which you may have not seen before through eyes.
Whether you think of some Doha attractions or shopping at the heart of the country, there's a whole lot more to Qatar than just watersports and museums. So here's our take on what makes this country so special for travelers.
Shopping- No matter where you travel around the world, you always look to shop that one particular thing which is unique to a particular place. But in Qatar, shopping take a whole another level as you don't just merely shop, but shop the way it was done traditionally in the old days.
Watersports- Watersports in Qatar has gained immense popularity over the last few years. As the natives put it in their own words, it has become one of the top Qatar attractions and is a way of life in most parts of the country. Travelers can enjoy a wide range of watersports. From Kayaking and wake boarding to scuba diving and lots more.
Art And Culture- Qatar, right since the early days has been one of those countries promoting art and culture. With various art museums and some unique artworks, this is a country that is a paradise for art lovers and promises to add up to the joy.
Beaches- Now as strange as it sounds for a desert, Qatar is, in fact, famed for its clean and beautiful beaches. The country is home to some of the finest beaches like Al Ghariya, Zekreet, Dukhan, Al Wakrah, Fuwairit, and many more. Not only this, but you can also get an experience of a private beach as most of the resorts in Qatar offer their guests that luxury.
Hospitality- Believe it or not but Qatar has the finest hospitality for the visitors coming to this country. With spas and various therapies done by therapists coming from around the world, the hospitality in Qatar is of next level, driven by the five-star hotels and resorts within the country.
 Suggested Read: A Take on the Top Adventure Activities in Doha
How To Reach Qatar?
Being one of the popular destinations in the Middle East, connected with all major countries around the world, reaching Qatar is not much of a hassle. In fact, being one of the largest transit gateways, Qatar has regular flights from virtually all destinations around the world. So, in case you're wondering how to reach Qatar, here are some of the ways by which you travel to this gem of a country.
By Air- As mentioned earlier, Qatar has flights from all around the world and has become one of the largest transit gateways for overseas travelers. Tourists can either contact their local travel agents or book a flight to Qatar online without any hassle.
By Road- When it comes to travelling to Qatar by road, there's only one option that remains in the hands of the tourists and that's to travel from Saudi Arabia. There are regular buses available between the two countries and travelers can simply book a ticket and hop on. However, since customs take up to 4 hours, planning your journey accordingly is advised.
Best Time To Travel To Qatar
Qatar is well-renowned for its scorching heat during summers (June to September) and traveling to this part of the world in summers is not advisable. However, if you're planning to visit at a time when you expect the climate conditions to be favorable for travel, then visiting between November and early April is considered to be the best travel time for Qatar. In fact, November to April is considered to be the peak time for tourism in the country.
A country renowned for its rich art, culture, shopping delights and bunch of adventures, Qatar deserves all the praise it gets as a country. With nearly 2 million travelers visiting every year and the hospitality worth a shot, this is a country that continues to rise in the list of top travel destinations and promises a trip of a lifetime. So, forget the troubles of daily life, pack your backpack and visit Dawlat Qatar on your next vacation for an experience like never before.      
FAQs
Q1. Is Qatar safe for tourists?
Qatar is one of the safest countries to travel in the world and has one of the lowest crime rates in the world.
Q2. Is Qatar expensive to visit?
Travelers coming to Qatar can expect to spend at least QAR213 ($59) per day on an average.
Q3. How much does a meal cost in Qatar?
While the cost of food in Qatar can vary in many cases, the average money that travelers can expect to expect to spend on food is QAR17 per day.
Q4. What is illegal in Qatar?
Activities like Importing drugs, alcohol, pornography, pork products, etc. are illegal in Qatar.
Q5. Is Doha expensive for tourists?
Since Doha is well-known for its fine Arabian hospitality, the amount you spend for your stay and other activities can be slightly higher at times.
Q6. Which is the best place to enjoy kayaking in Qatar?
The Al Thakira Natural Reserve, which is one of the top places to visit in Qatar is considered to be the number one spot for kayaking in the country. One can simply head over to the place and enjoy the best kayaking experience here at nominal prices.
Q7. Which stadium is located in Al Wakrah?
Built with a maximum seating capacity of 40,000, the Al Wakrah Stadium is located in the city of Wakra and is also known as the Al Janoub Stadium. The stadium was opened on 16th May 2019 and is set to be the venue for the upcoming FIFA World Cup 2022 in the country.
Q8. How many days do you need in Qatar?
Qatar is one of the finest countries to visit on a holiday in Qatar and travelers can consider spending at least a week in the country. Since the country is small in size, one can cover a larger area in a short span of time.
---