Your bucket list of things to do in Qatar will be incomplete without a tinge of shopping in it. With myriad options for shopping in Qatar from traditional souqs to extravagant malls, it will surely arouse a spendthrift inside you. Get the ostentatious pieces from the high-end brands or some eccentric Qatar souvenirs from the traditional markets called souqs. The quirky and vibrant souqs in Qatar displays the art and culture of the country and will fascinate you to buy more and more souvenirs for your loved ones or as a memory to your Qatar trip. Stroll through the colorful traditional markets in Qatar to find the best pieces of art, handicrafts, textile, spices and various other stuff.
Shopping In Qatar: Top Things To Buy
Stroll through this list of 10 best souvenirs to buy from Qatar that will always remind you of your trip to this amazing country and will also serve as a great gift for your friends and relatives.
1. Dalla Coffee Pots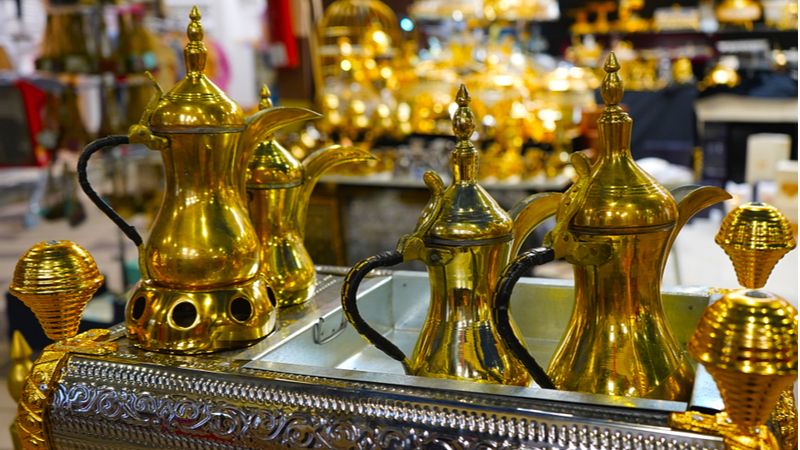 Dalla Coffee Pots is one of the best things while shopping in Qatar as a souvenir. They will remind you of the Arab hospitality which you experienced on your trip to Qatar. These are traditional coffee pots either made of silver or brass. The Arabic coffee pots have been used in Qatar since centuries to brew and serve coffee to guests as a welcoming gesture. Besides serving their purpose, the coffee pots serve as a great piece of decoration as these are beautifully designed with gemstones and geometric designs.
Where to Buy: Souq Waqif
2. Wooden Boxes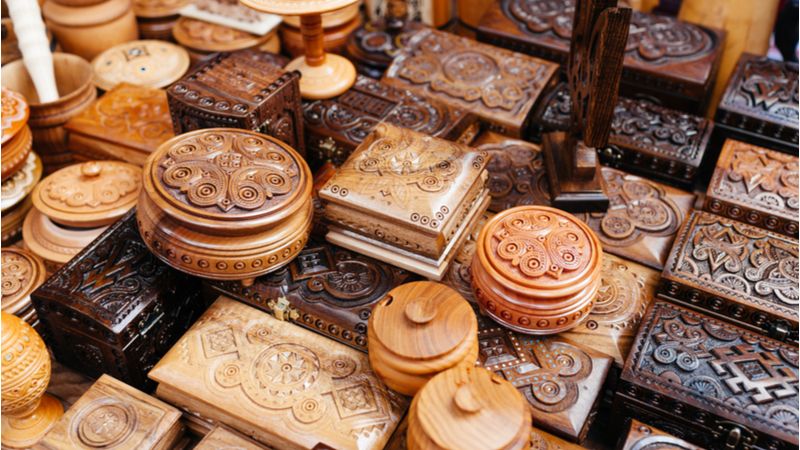 Another beautiful piece to purchase as a souvenir in Qatar are wooden boxes. Intricately designed, these boxes are great for storing your jewelry or other knick-knacks. They come in different shapes, sizes and designs. From a mini-storage box to bigger ones, you will all find it here in Qatar.  The intricate designs and carvings make these wooden boxes a great piece to be gifted as a souvenir to your loved ones.
Where to Buy: Souq Waqif, Duty-Free at Hamad International Airport
Suggested Read: Top Airports In Qatar
3. Pashminas Shawls and Scarves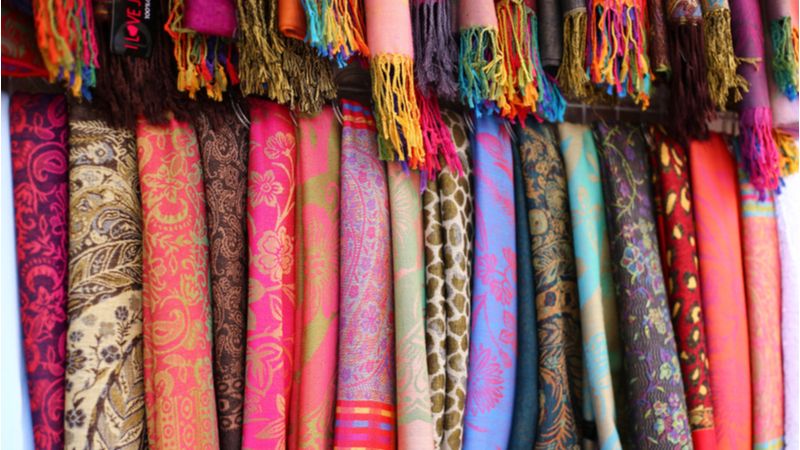 Shopping in Qatar would not be complete without buying pashmina shawls and scarves as they are sold here at reasonable prices as compared to other destinations. These come in different colors to choose from with different designs and quality. Pashmina shawls and scarves make up for an amazing gifting item as they are light in weight to carry and also have good value in terms of its utility.
Where to Buy: Souq Waqif, Oriental Carpet Company, Bombay Silk Centre
4. Arabic Sweets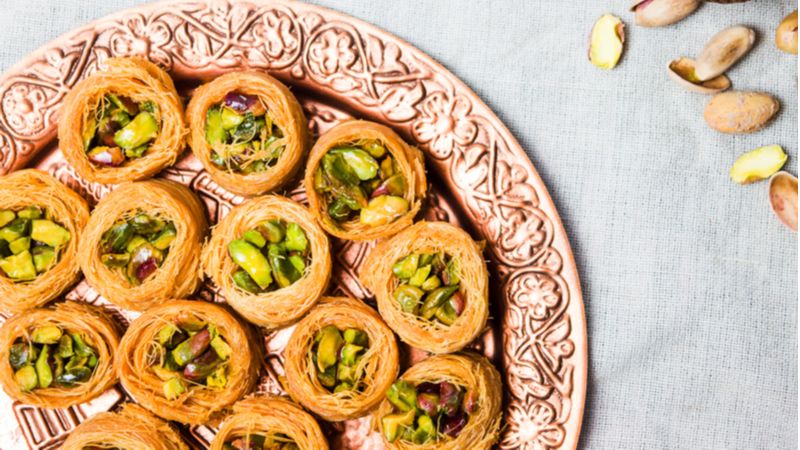 You can buy some scrumptious Arabic sweets for your friends and family to make them relish the taste of rich Qatari flavors. The sweets are made from dry-fruits, paste of exotic fruits, nuts, grape molasses, and various other exotic ingredients. Some popular sweets to buy from Qatar that will make your taste buds dance are maamoul, baklava, rose-flavored candies, Basboussa, Luqaimat, different flavored dates like chocolate, coffee, coconut and others.
Where to Buy: Al Aker Sweets, Qatari Sweets
Suggested Read: Satisfy Your Sweet Tooth With The Best Eight Bakeries In Doha
5. Decorated Shishas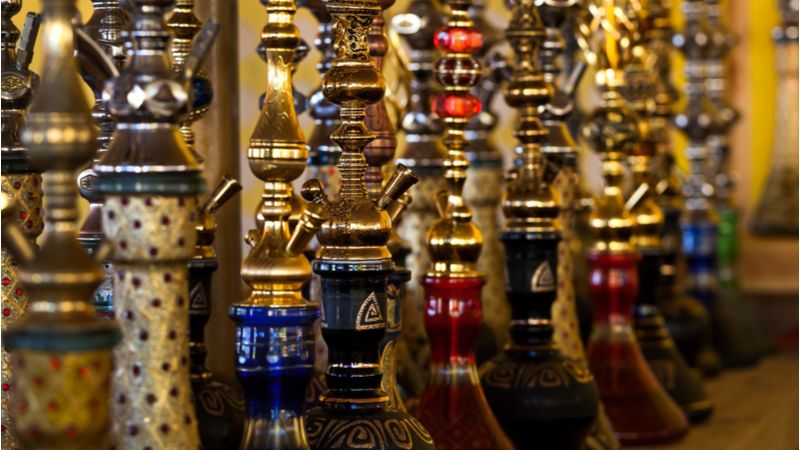 Shishas reflect the Qatari culture as these are being used at various houses, cafes, lounges, hotels for more than 500 years now. It is definitely one of the best things to buy from Qatar. The shisha also called hookah is used to smoke and is a part of Qatari culture. It comes in different shapes and sizes and are designed in different ways to glam up any space or corner of your living room. Some of them are also engraved with stones and gemstones making them a rich décor piece.
Where to Buy: Souq Waqif, Shops at Hyatt Plaza
6. Oud Wood or Oil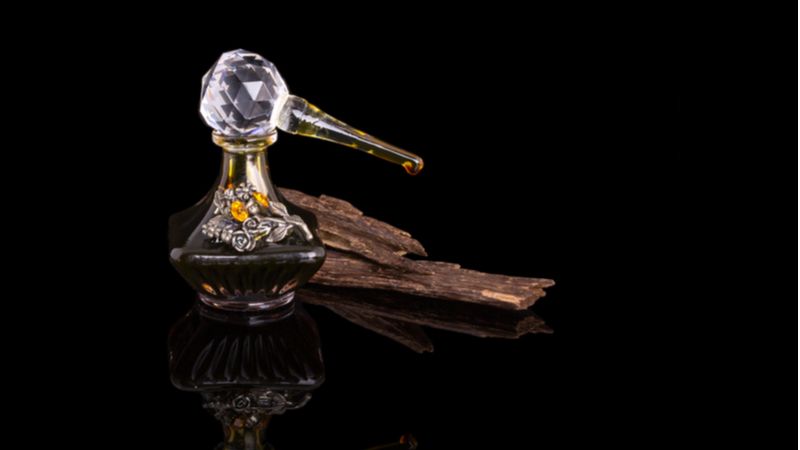 Oud fragrance is very much familiar in every home, restaurant, shops, and malls in Qatar. In the Middle Eastern region, the oud perfume is also known as black gold because of the fact that it is extracted from agarwood tree which is very rare to find. It is one of the best things to buy in Qatar for your friends and relatives. It is available in Qatar markets in different forms from pure wood to oil and perfume bottles. The authentic and fresh fragrance of oud will remind you of your trip to Qatar even when you return back to your home.
Where to Buy: Shops at Hyatt Plaza, Royal Plaza and City Centre and Ajmal Perfumes
Suggested Read: Top Festivals You Can't Afford to Miss in Qatar
7. Al-Sadu Weavings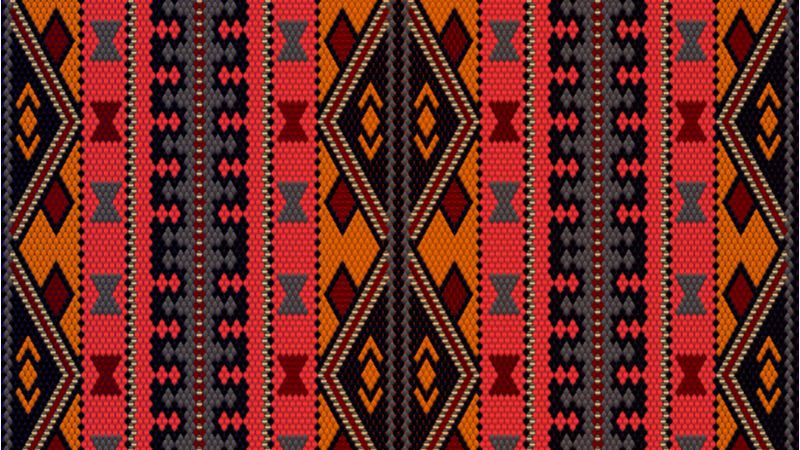 Al-Sadu is a gorgeous piece of cloth to buy as a souvenir from Qatar which is handwoven and made from hair of goat and camel. The weaving technique used to make these vibrant and colorful woven material belongs to the Bedouin tribe who have used it for thousand years to make different pieces like cushion covers, rugs, carpets, blankets, tents and various such things. Al-Sadu is a perfect Qatari souvenir as it truly defines the culture and vibe of Qatar.
Where to Buy: Corniche End, Souq Waqif
Suggested read: Finest Places to Go Shopping in Doha
8. Gold and Pearl Jewelry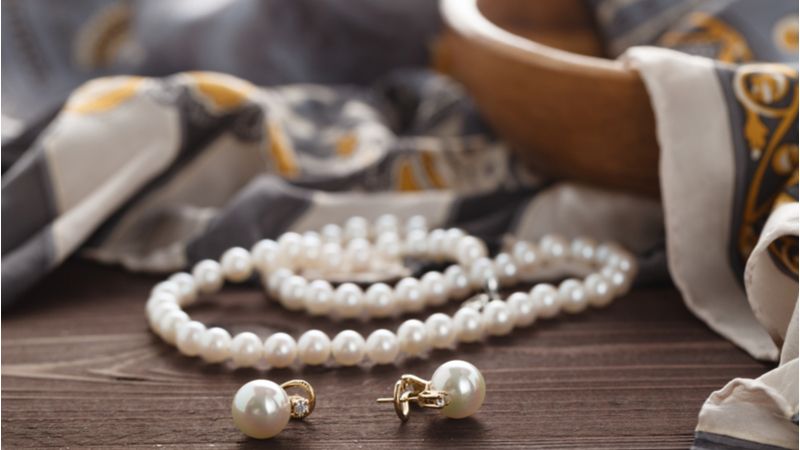 Nothing can beat a dainty pearl or gold jewelry as a gift to someone. It is one of the best souvenirs while shopping in Qatar for your female friends, relatives or colleagues. Known as the pearl capital in the world, Qatar explored its pearl industry even before the discovery of oil. One can find beautiful pieces of pearl jewelry like necklaces, pendants, earrings and bracelets from the souqs in Qatar at great prices. Purchasing gold jewelry is also an option as here you will find authentic pieces of gold.
Where to Buy: Gold Souq, Pearl Man Shop, Souq Waqif
Suggested Read: Gold Souq Qatar: A Perfect Market To Satisfy Your Desire For Gold Jewelry
9. Spices
Another thing which you can bring back to your home from Qatar are spices. No Qatari dish is complete without the flavor of exotic spices like cinnamon, chili, turmeric, cloves, saffron and various other such spices. Soak in the aura of exotic smell of different spices at the Spice Souq in Qatar where you will see heaps of colorful spices all decked up in rows. These spices can be packed up beautifully to be given as a gift to friends and relatives.
Where to Buy: Souq Waqif
10. Dates and Other Dried Fruits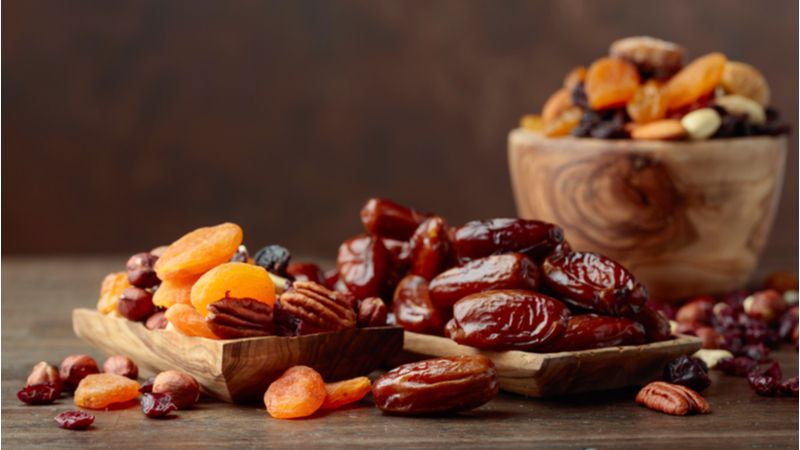 Dates are very popular in Qatar as these are locally grown here. You can find these dates at different shops of Souq Waqif. They come in different flavors and sweetness options. Besides this, one can also bring other dried fruits and nuts as souvenirs from Qatar trip to be gifted to your friends like sunflower seeds, pistachios, cashew nuts, pumpkin seeds, peanuts etc.
Where to Buy: Souq Waqif, Lulu Hypermarket, Carrefour
Suggested Read: A Take on the Hidden Gems in Qatar
11. Pendent With Your Name Written In Arabic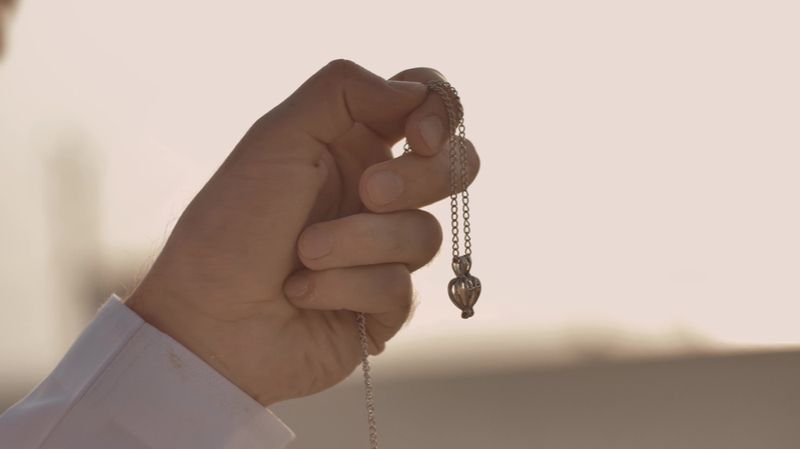 Qatar, a country well known for its Arab culture. And what could be better than having your name written in Arabic to bring back as a souvenir from Qatar. This will always remind you of your trip to Qatar. Getting your name written in Arabic can be done on so many different things but the best one would be to get it inscribed on a pendent that you can flaunt wherever you go. You can get it customized as per your choice. Most of the shop owners do this in Qatar as it is quite famous there and it can be done in different pieces of jewelry like pearl pendent, gold, silver, platinum pieces and others. Gold Souq that lies next to Souq Waqif is a great place to buy these personalized souvenirs.
Where to Buy: Gold Souq
Suggested Read: Spice Market Restaurant By Jean Georges, Doha: Bringing The Scrumptious South-East Asian Flavors To Qatar
12. Incense Sticks And Burners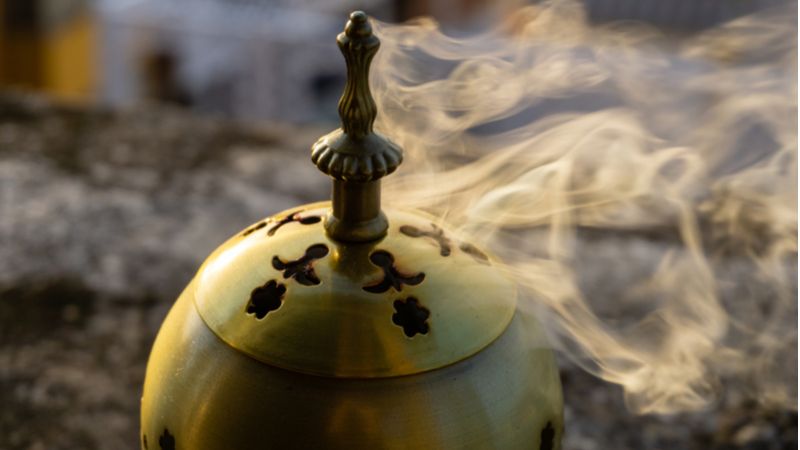 Shopping in Qatar is fun and best when done from its local souqs. Local markets in Qatar are best to buy Qatari souvenirs where you get the best designs at affordable prices. One of the best things to buy from Qatar as a souvenir for friends and family are incense sticks and burners. These have huge importance in Arab culture and people light incense sticks in their homes to cast off negativity. Incense burners come in different shapes, sizes and designs and also look good as a decorative piece to be kept in your living room. These come in different fragrances which are subtle and soothing to senses. One of the most sold fragrances is that of agarwood also called bakhoor and it is a mix of different fragrances like oats, powdered flowers, ambergris, sandalwood and many more.
Where to Buy: Omani Souq and Souq Waqif
Suggested Read: Dhow Cruise Doha: A Traditional Cruise Experience in Qatar
13. Arabian Lamps
Another in the list of best souvenirs to buy from Qatar are the Arabian lamps that look absolutely amazing and adds a magical touch to your living space. These come in different designs, sizes and patterns. From hanging ones to table lamps, you can buy whatever you prefer. These look beautiful as the lamps are embedded with different colored stones which looks intriguing when lit. The hanging lamps are smaller in size and more convenient to carry back home. Therefore, tourists buy more of these lamps than the table ones which comes with a metal base and are quite heavier. You will find many shops in Souq Waqif selling these Arabian lamps. Bargaining is the key to getting these for a good price, so try your luck!
Where to Buy: Souq Waqif
Suggested Read: Things Avoid On Your Travel To Qatar
14. Abaya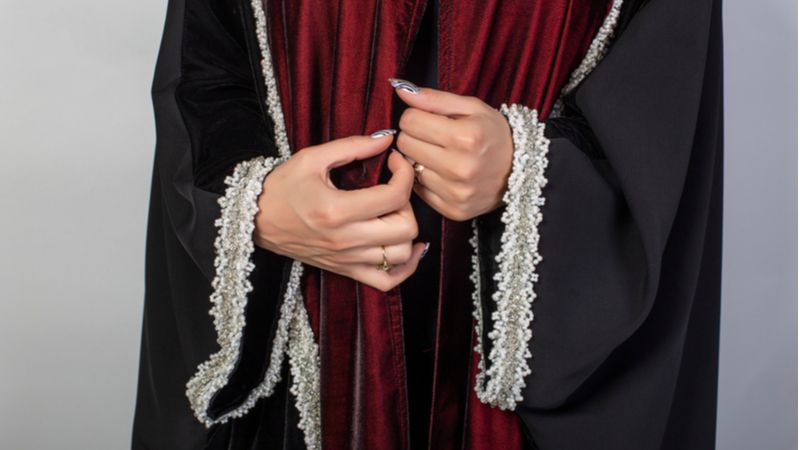 Abaya is a traditional dress of Qatar that is worn by women. It comes in different quality, designs and fit depending on the price. Generally, the starting range for an Abaya is QR 100 which can go up to thousands depending on the quality of the cloth. It mostly comes in black color and can be worn anywhere. If you are a Muslim lady, then buying an Abaya is a great option in Qatar.
Where to Buy: Souq Al Dira
Suggested Read: Events In Qatar 2021: Top Spectacles To Watch Out For
Best Traditional Markets to Buy Souvenir In Qatar
Now, as you have the list of best souvenirs you can buy in Qatar, let us check out the best markets where these authentic gifts for your shopping.
1. Souq Waqif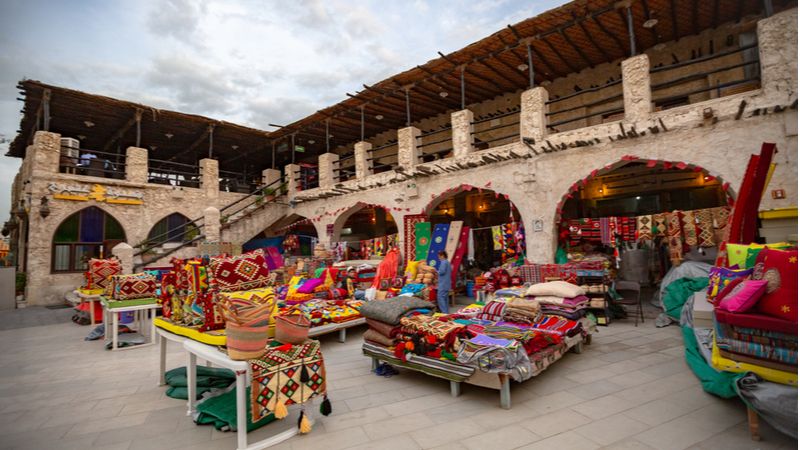 For an authentic and cultural experience in Qatar, Souq Waqif is the best place you can visit for your vacation shopping. This is not just one of the best Souqs in Qatar, but the best shopping places where there is a huge variety of souvenirs to choose the best.
There are old shops, fancy showrooms selling pearls, jewelers with the best design of gold jewelry that's too at great prices. When it comes to buying some antiques and vintage souvenirs like shisha, Arabic coffee pots, decorative wooden boxes, you will find a number of stalls lined along the Souq to exhibit the gift items. The market is always crowded with travelers who love visiting Souq waqif for its lively aura and some boutique cafes.
Location: Al Souq Street, Doha, Qatar
Suggested Read: Top Malls In Kuala Lumpur For A Top-End Shopping Experience
2. Gold Souq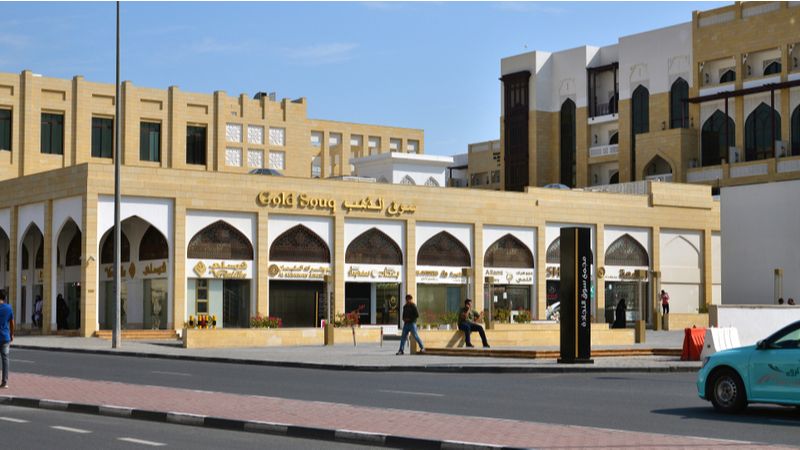 Expensive jewels with some rare and attractive designs have made Qatar the best place to buy jewelry. The Gold Souq is one of the best places for souvenir shopping, where you can buy some intricate gold jewelry with fancy design. Well, even if you are not planning on buying anything, you can just admire the beauty of these craft pieces of art.
Gold Souq is not just a place to buy Gold, but you will find the best silver, pearls, and other gems carved in an authentic design. The entire Souq is designed in such a way that it impresses every visitor. Travelers often come to explore this attraction in Qatar and get their customized pieces of jewelry. You can get your own piece of gold with your name carved in golden or English.
Location: Next to Al-Ghanim Central Bus Station
3. Omani Souq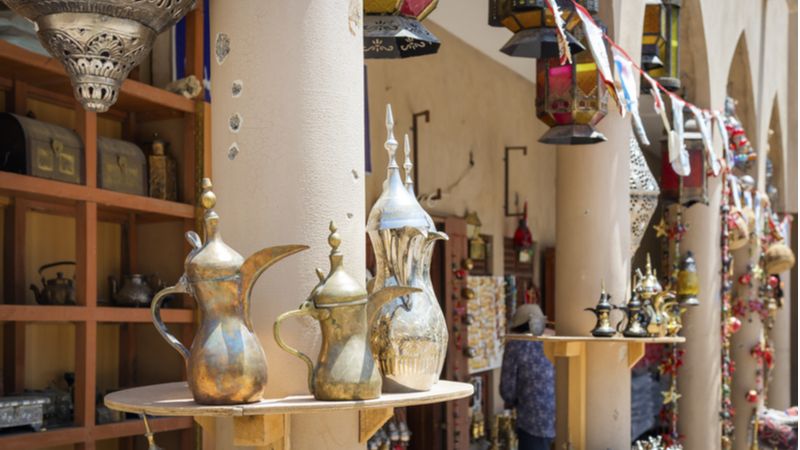 Established in the year 1979, Omani Souq is one of the best markets for souvenir shopping in Qatar. It started welcoming the people in 1980, offering them the best art and handicraft from the local artists in Oman. You will find a wide range of handicrafts with attractive art that is not just appealing to the eye but are best to take back home.
Find some ceramic utensils or woven baskets, camel sticks, garden accessories, pottery, and even the best oud perfume shops in Omani Souq. This traditional market is not just presenting the finest collection of art but is exhibiting the real art of Qatar and neighboring countries.
Location: Al Sailiya, Near Wholesale Market, Doha, Qatar
Suggested Read: 25 Finest Things To Do In Qatar For An Unforgettable Trip
4. Souq Al Wakrah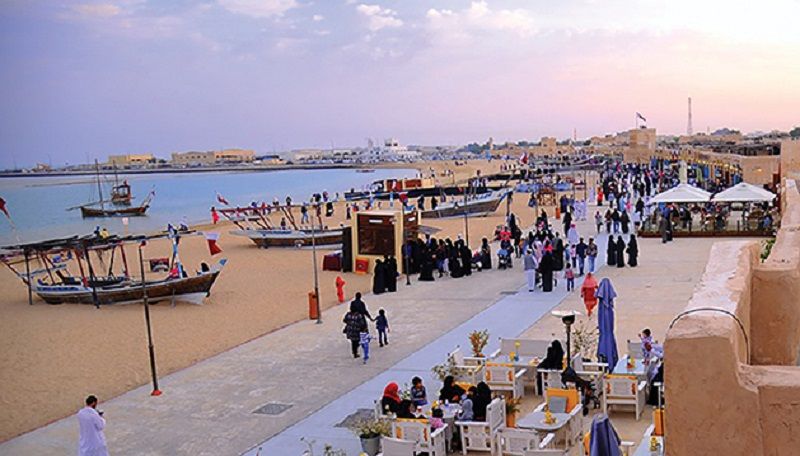 From dining to shopping, Souq Al Wakrah is the best place to shop in Qatar. The old vintage look and the boutique shops lined along the street add more charm to Souq Al Wakrah, Qatar. The market is one of the best places to buy clay figurines traditional decors, shisha, and small shops.
Plan a tour in the evening and enjoy dining. You will fish restaurants serving the best traditional food. Souq Wakrah is the best place for witnessing old Qatar and its heritage.
Suggested Read: Places To Visit In Wakra: Finest Locations You Need To Know About
Traveling to a place and bringing some souvenir along with you is like bringing back memories and a sense of touch of that place, back home. Shopping in Qatar will allow you to know more about the culture of the country. Souvenirs remind you of your trip and will always evoke good memories in your heart and mind. Besides this, souvenirs when gifted to friends and relatives strengthens the bond. Qatar has myriad options to offer when it comes to traditional souvenirs to buy in Qatar. We believe that you are now well-acquainted with what souvenirs to buy from Qatar on your next trip with this detailed guide.
FAQs
Q1.How far is Souq Waqif from Hamad International Airport?
Souq Waqif is located at an approx. distance of 15.3 km from Hamad International Airport and it takes around 15 minutes to reach here by car or a taxi.
Q2. What are some popular local markets in Qatar?
Some popular local markets to get traditional stuff in Qatar are Souq Waqif, Omani Souq, Gold Souq and Wholesale Market.
Q3. What are a must buy things from Souq Waqif in Qatar?
Souq Waqif is a great place for shopping in Qatar from where you can buy pearl jewelry, shisha, oud oil and wood, spices, wooden boxes, pashmina shawls and various other stuff.
Q4. Is there any entry fee for Souq Waqif?
No, there is no entry fee to enter Souq Waqif.
Q5. What are some popular malls to visit in Qatar?
Some amazing malls which one shouldn't miss out on their Qatar trip are City Center Doha, Dar Al Salam Mall, Villaggio Mall, Lagoona Mall and Mall of Qatar.
---