Just because you are a beachgoer, doesn't mean that Germany should not be on your list of countries to visit! Agreed, Germany is not synonymous with beaches like Greece, Australia or French Polynesia, but its unique location, blessed with water bodies from the Bavarian to the Baltic sea, lines up some lovely beaches along its coastline. Experts draw comparisons between the beaches in Germany & those in Spain, France (South) & Italy. With every beach being idyllic in 'Deutschland', we are sure you will forget the more popular beach destinations you have visited so far, once you explore these attractions!
22 Beaches In Germany That Beachgoers Cannot Miss
Germany has plenty of spots for beach vacations, best visited in the warmer months of the year, i.e., June to August. One could 'wild swim' (Having gained popularity in recent years, wild swimming is associated with natural bodies of water like ponds, lakes, rivers & seas. Wild swimmers often indulge in the activity for health benefits of cold water.) in the Baltic, or live an island life. ('Rügen' is a particularly popular island.)
1. Binzer Strand/Binz Beach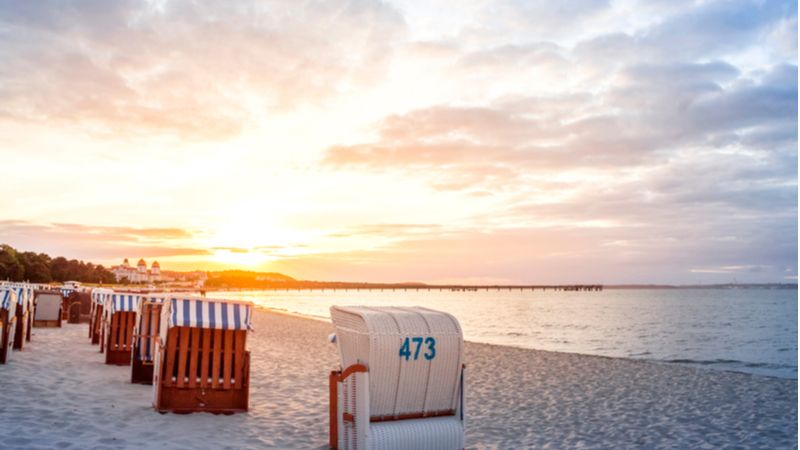 Since we just mentioned Rügen, why not start with a beach from there? Foremost, Rügen is the country's largest island. Located in the Baltic Sea, this resort destination comes under the state of 'Mecklenburg-Vorpommern' or simply 'MV'. (It is also called 'Mecklenburg-Western Pomerania' & 'Mecklenburg-West Pomerania', so avoid getting confused.) The island boasts of a 60-kilometer-long coastline, offering several excellent beaches. Binzer Strand, the heart of the island, is one of the sunniest of all beaches of Germany.
Location: As stated above, Rügen is a part of MV. To reach it, you will need to head to 'Stralsund', which is a city in the 'Pomeranian' area of the same state. With Rügen being home to several seaside resorts, it only makes sense to spend some time on the Baltic island.
Facilities: Parking, toilets, lifeguards, restaurants, bars
Famous For: Being a great attraction along with the UNESCO World Heritage Site, Jasmund National Park
Things To Do: Explore the turquoise blue water as you walk on the white sand, touring the chalky cliffs!

Suggested Read: Best Beaches In Maldives For A Sun-kissed Soothing Experience
2. Timmendorfer Beach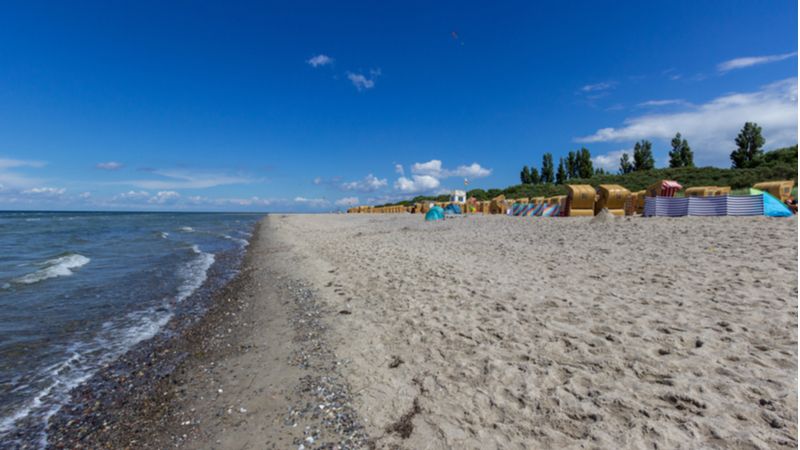 A part of the 'Niendorf' quarters of 'Hamburg' (Trivia: The word hamburger may have its origins here.), Timmendorfer Beach, one of our suggested beaches of Germany, is the hub of beach sports. It is a part of the 'Bay of Lübeck' coastline, it has a very relaxed vibe. Stretching 7 kilometers, its golden sands are more popular with locals than foreigners. Almost a German secret, the beach has a volleyball area & a sports club, where beach football may be enjoyed. Seaside concerts are a regular feature here. This beach can be a remarkable coastal getaway.
Location: As aforementioned, Timmendorfer Beach is a Bay of Lübeck beach. The bay can be thought of as an element of the Baltic Sea, located to its southwestern side. Let us also add that 'Timmendorfer Strand' is a municipality.
Facilities: Sports club, restaurants, cafés, strandkorb (Hooded beach chair) on rent
Famous For: (Psst! It's not famous!)
Things To Do: Walk down the pier emerging from the sea & if you are with kids, go to the wildlife park!
Suggested Read: Stunning Beaches In Mexico For An Exotic Beach Holiday Like Never Before
3. Sylt Beach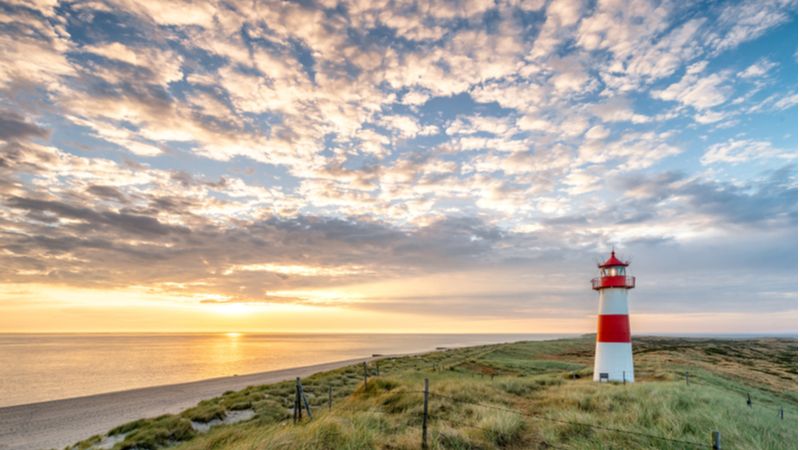 Sylt is different from the above two suggestions of the best beaches in Germany in the sense that it is not a beach by itself, but an island. The country's northernmost island is 'North Frisian' (Think of 'Frisian Islands' as a chain of islands in the North Sea.) & is home to some of Germany's most popular beaches. Dubbed as the "Queen of the North Sea", the island sits in the middle of the Wadden Sea, a UNESCO World Heritage Site! Featuring 40 kilometers of fine sand, Sylt's spacious beaches have their own individualities. The one in Wenningstedt-Braderup is probably our fave.
Location: To elaborate, Sylt is a North Frisian island, one of the Frisian Islands, which are also referred to as 'Wadden Islands'. Probably the most convenient way to reach it is by train, esp. if you are in Hamburg. (There is a direct train from there.)
Facilities: The facilities are going to greatly vary, depending on which of the beaches in Germany (Sylt) you are at.
Famous For: On one side the surf is rough, on the other Wadden Sea is calm.
Things To Do: Let your feet sink in the soft sands & if you are traveling with kids, make a sand castle!
Suggested Read: Beaches In Bali: Top Serene Locations That You Can't Afford To Miss
4. Langeoog Beach/Langeooger Strandzugang/Hauptstrand Langeoog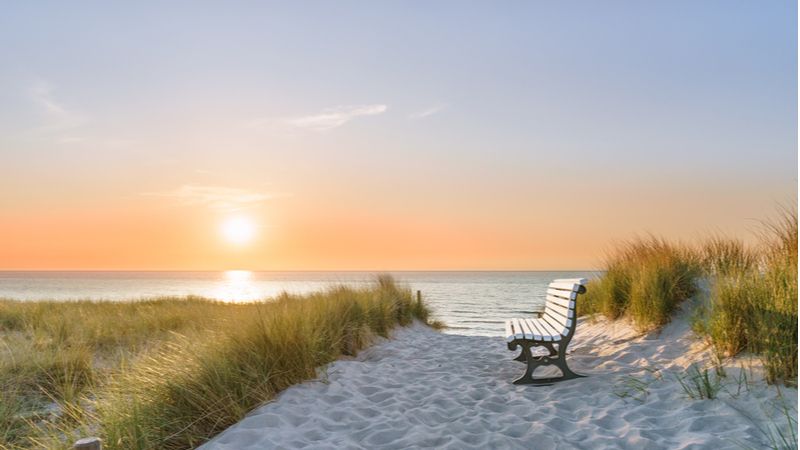 We are clubbing these three names together, all used for beaches in 'Langeoog', an incredibly sandy island. A territory of the northwestern 'Lower Saxony' state, it is one of the best places to visit in Germany for a quiet getaway. While Sylt is a North Frisian Island, this is an 'East Frisian Island'. (Frisian Islands may be divided into several subtypes, not all even administered by Germany!) While seven of East Frisian islands are inhabited, Langeoog stands out for its geology of pure sand & hence, majestic sand dunes. The island has a 'water tower' for stunning views.
Location: While we have already shared the location of the island, it is worth mentioning that it is a car-free zone & a train which operates right from the port to the main town can be used for moving around. The island is small, so don't let the banning of cars deter you from exploring some of the best beaches in Germany!
Facilities: Strandkorb, restaurants, café, souvenir shops
Famous For: Horse-drawn carriages for going around the island
Things To Do: If you like photography, take photos of the picturesque place & don't forget the tower!
Suggested Read: Beaches In Dubai: Bask In The Sun Or Indulge In Thrilling Adventures
5. Lubmin Beach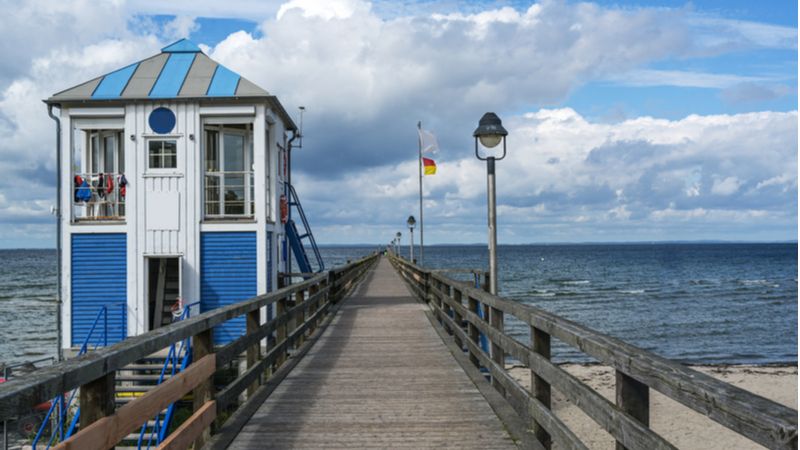 Here is another beach in MV, like Binz Beach, that we opened this blog post with. Situated in the northeastern city of 'Greifswald', which is synonymous with the university of the same name (University of Greifswald, though it is officially 'Ernst-Moritz-Arndt University of Greifswald'), one of the popular beaches in Germany, Lubmin Beach is a part of the Baltic coastline. A gorgeous beach, it also has a resort by the 'Bay of Greifswald', which is more popular with the locals than foreign tourists. How about staying there for a glimpse into their lives?
Location: To add to the above, Greifswald is well connected to the Hamburg Airport ('Flughafen Hamburg' in German). Considering that you will already be in Germany & choosing the Western Pomeranian city (Greifswald is a part of 'Western Pomerania', which by itself is in the 'Province of Pomerania') as your next spot, you will probably be served by the Rostock–Laage Airport.
Facilities: Lifeguards, bars, volleyball fields
Famous For: Broad sandy beaches where your stress will melt away
Things To Do: Activities like fishing, horse riding, hiking & watersports, which will mean a fun day!
6. Ahlbeck Beach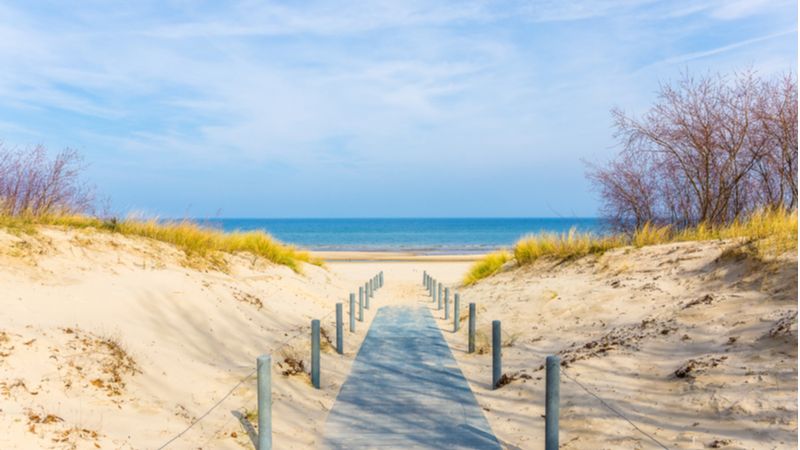 If remote beaches are not your thing & you find the hustle & bustle of strolling tourists & lazing travelers reassuring, Ahlbeck is a great choice for beach holidays in Germany! To be found in the Baltic Sea island of 'Usedom', this can be thought of as the country's noisiest beach (Even though it is divided between Germany & Poland)—not really because of the people, but due to a fascinating occurrence! Known for its "singing sands", the sand particles here rub against each-other when the wind conditions are just right, resulting in a melody! While Germany is one of the best honeymoon destinations in the world, you can choose Ahlbeck Beach as your ideal escape to tranquility.
Location: As informed above, Usedom is a Baltic Sea Island. It can also be classified as a 'Pomeranian Island' (Think of Pomerania as a historic region, split between Poland & Germany.), the second largest after Rügen. Usedom is approachable by train from all places in Germany.
Facilities: Resort, restaurants, spa, concert stage
Famous For: The cacophony produced by "singing sounds"
Things To Do: Let it be your weekend getaway like how it was for German emperors once upon a time!
Suggested Read: Beaches In Thailand: Top Locations For A Happening Holiday Amidst the Sun & The Sand
7. Ording Beach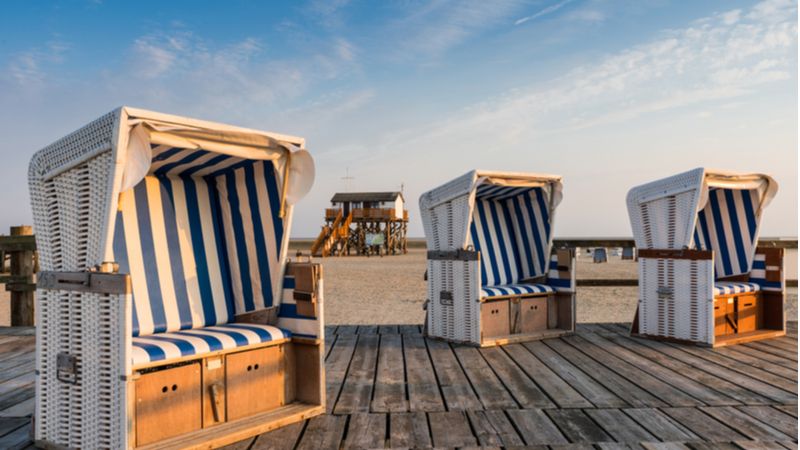 Not just a recommendation for beachgoers wanting to explore the beaches in Germany, we would like to add this beach in 'Sankt Peter-Ording' to our list of places to visit in Germany. Our top pick for fitness enthusiasts, 'St. Peter-Ording' (Also written like this, so don't get confused!) is somewhat comparable to Scarborough in UK. If you are looking for the best honeymoon destination in Europe, consider Warnemünde beach, which is just another place for Germany beach holidays.
This popular seaside town boasts of rejuvenating sulphureous springs, & goes without saying, that has resulted in innumerable spas cropping up over the years. The area is in the North Sea & also contains a resort of the same name.
Location: To elaborate the above information, St. Peter-Ording is a municipality (like Timmendorfer Strand that we have discussed earlier), which itself is located in the district of 'Nordfriesland', the northernmost of the country. Also as aforementioned, St. Peter-Ording is also a spa/resort.
Facilities: Parking, toilets, restaurants, spas, wellness centers
Famous For: Curative & healing sulphur springs
Things To Do: Thalassotherapy—therapeutic use of seawater, marine mud & algae—at the resort!
Suggested Read: The Best Beaches In France Every Beachgoer Must Explore
8. Warnemünde Beach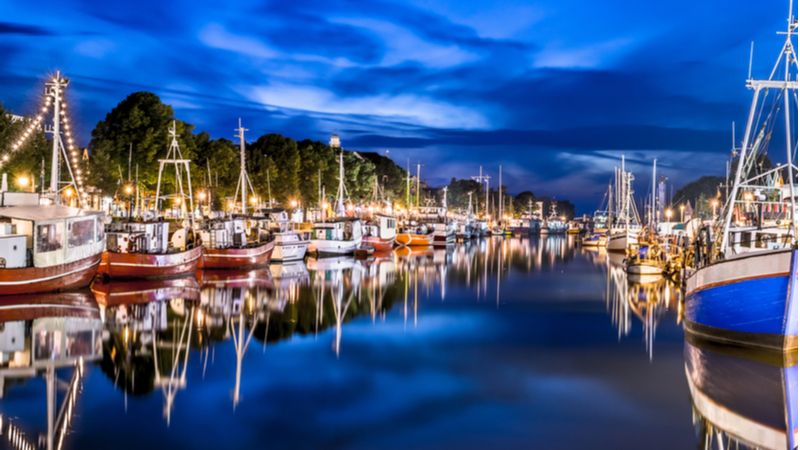 If you are traveling with family & looking for things to do in Germany with them, a trip to the beach in 'Warnemünde', a port town is a must. Like the above St. Peter-Ording, Warnemünde is also a seaside resort, so avoid confusion. Located in the Baltic Sea, the German town has probably the best family beach in the country. While hundreds of ships dock at the port here, the area is a genius idea for a family vacation not just because of the beach, but also since there are a lot of attractions around. Warnemünde is also in MV, like Binz & Lubmin beaches.
Location: An intelligent choice for beach holidays in Germany, Warnemünde is a seaside town as well as a district. It itself falls in 'Rostock', a larger town. If you are on a cruise that will dock here, you know that hitting this beach is a must. What's more, it is the closest beach to the cruise terminal!
Facilities: Parking, toilets (Paid), restaurants, bar, cabanas & beach chairs on rent
Famous For: Hundreds of docking ships
Things To Do: Head for a family vacation & climb up the iconic nineteenth-century Warnemünde Lighthouse!
Suggested Read: Top Beaches In And Around Doha: Our Top Picks
9. Wannsee Beach, Berlin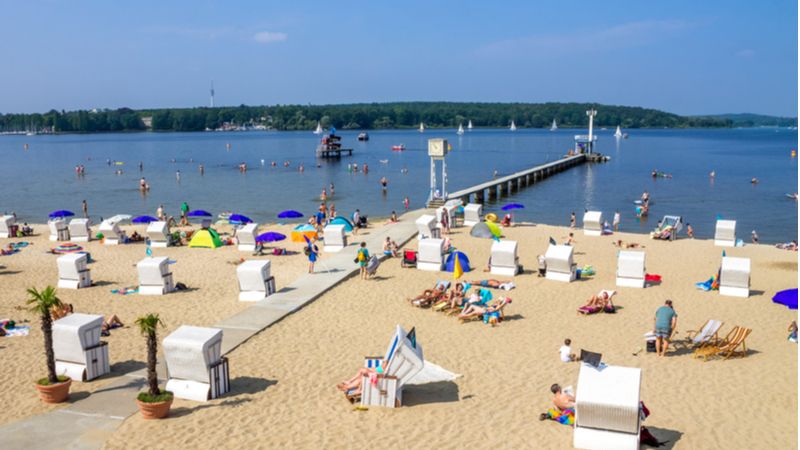 Not exactly a beach but a lake beach in Berlin, Wannsee is surely one of the best place for beach holidays in Germany where you can plan a day with your family. Measuring up to 4,100 feet in length and up to 260 feet wide, Wannsee is a fascinating inland lake adorning the white sand and a long serene coastline. The cool and calm waters of the beach offer some of the best water activities to do in Europe like swimming and other adventures.
Located at a distance of 25 kilometers from the city, Wannsee beach is popular among travelers for some ferry rides and cruises. A favorite spot for every beachgoer, the place has every facility you need to make your experience thrilling and comfortable.
Location: Wannsee Beach is located at a short distance from the City center, Berlin. It is situated in the vicinity of Nikolassee and is one of the best bathing and recreation spot.
Facilities: Resort, Restaurants, Spa, Restrooms, Showers, Playground
Famous For: Bathing and Recreation
Things To Do: Swimming, Cruise, and Ferry
Suggested Read: Beaches In Saudi Arabia For The Perfect View And Tranquility
10. Westerland Beach, Sylt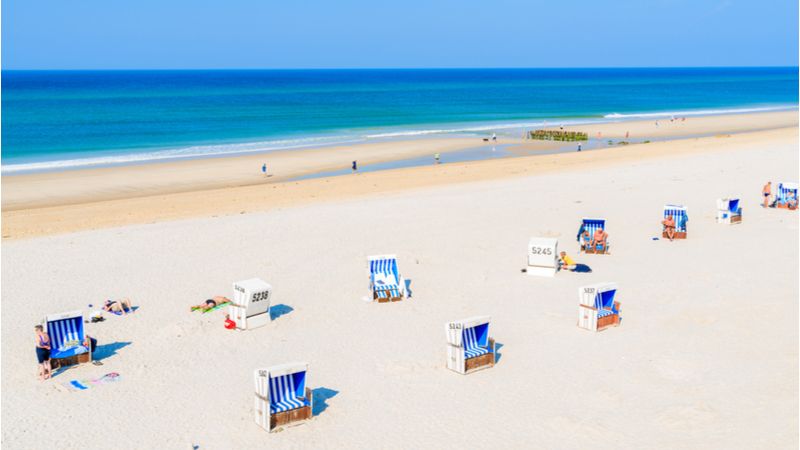 Some of the popular beaches in Germany are located at Sylt. Westerland Beach feels alive with the crowded shore, the cafes, and restaurants that are lined along the scenic end of the beach. Now, this is a place for every traveler, no matter what they prefer. A leisure day around the Westerland beach is best to relax and enjoy the magnificence. The adventure seekers can surely plan some thrilling activities to experience the adrenaline rush.
From some beach volleyball sessions and kitesurfing, parasailing, and more, adventure here comes for all. Spreading to an area of 40 km, this pristine beach is preferably safe and ideal to spend some quality time alone or with friends.
Location: Westerland Beach is located on the German North Sea island of Sylt. The City is known as the queen of beaches as there is a number of scenic beaches in Europe for tourists.
Facilities: Open for Dogs, Restaurants,
Famous For: Leisure and Water Adventures
Things to Do: Swimming, beach volleyball, kiteboarding
Suggested Read: Top Beaches In Egypt You Probably Haven't Heard Of
11. South Beach, Fehmarn Island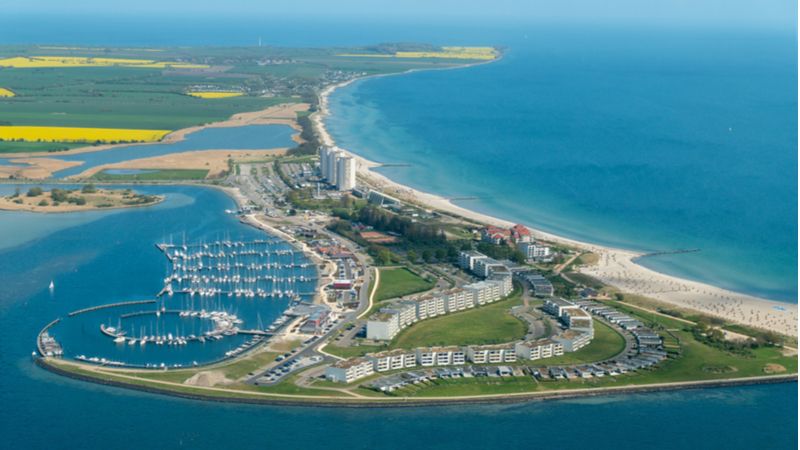 While Ferman island is one of the largest islands in Germany, the south beach is indeed a perfect place for Germany beach holidays. Whether you are an admirer of nature or an adventure enthusiast, the beach offers every possible entertainment to the visitors.
South Beach is home to an abundance of marine life and some bird species making it a paradise for bird watchers. You can discover more than 200 species of birds at the Wallnau water bird reserve that houses cormorants and egrets. The soothing waters of the Baltic sea make South Beach the best to enjoy surfing. There are spots for kitesurfing and windsurfing along with spa centers to relax and rejuvenate. There are some best luxury resorts and a plethora of nature's beauty that makes Fehmarn island, one of the best places to visit in Europe.
Location: The Fehmarn Island is located on an island in the Baltic Sea in Ostholstein, Germany. The island is blessed with 78 kilometers of coastline that houses diverse marine life and birdlife.
Facilities: Restaurants, Restrooms, Shops
Famous For: Surf, Birdlife, and Water Adventures
Things to Do: Swimming, Bird Watching, Beach Volleyball, Surfing
Suggested Read: Beaches In Kuwait Known For Their Hidden Beauty
12. Sellin Beach Rügen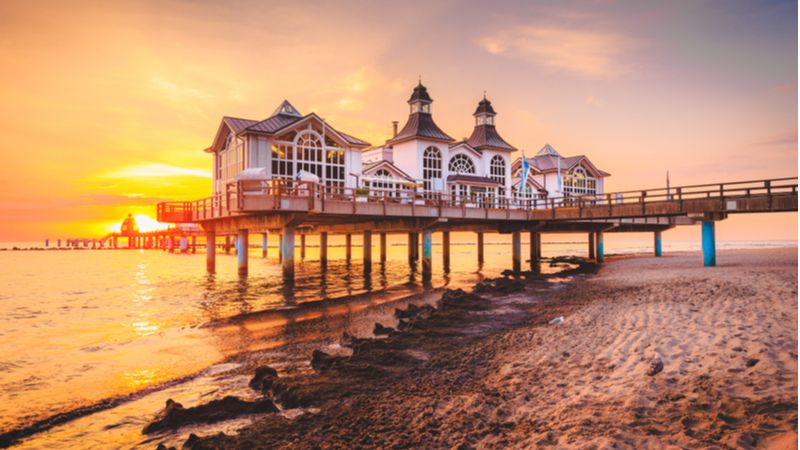 If you are a nature lover and leisure seeker, Sellin beach is a must-visit place for you. This is not just one of the popular beaches in Germany, but an ideal spice up the vacation. From strolling around the serene coastline to just enjoy a book while embracing the solitude, the beach offers every comfort you are looking to make it a pleasurable experience.
Sellin Beach houses some exclusive restaurants and cafes that serve a delighting German taste. You can choose to either spend the day building some sandcastles at the Northern Seafront or swim along the soothing waters of Southern Beach. Activities like surfing and sailing are popular here among the visitors and the boutique hotels around make it perfect for family stay.
Location: Sellin Beach is located on the island of Rügen. The beach has some of the finest resorts and restaurants that make it one of the best places to visit in February or other winter months in Germany.
Facilities: Cafes and Beach restaurants
Famous For: Water adventures and leisure
Things To Do: Built Sand Castel, Enjoy German meal
13. Eckernforde Hauptstrand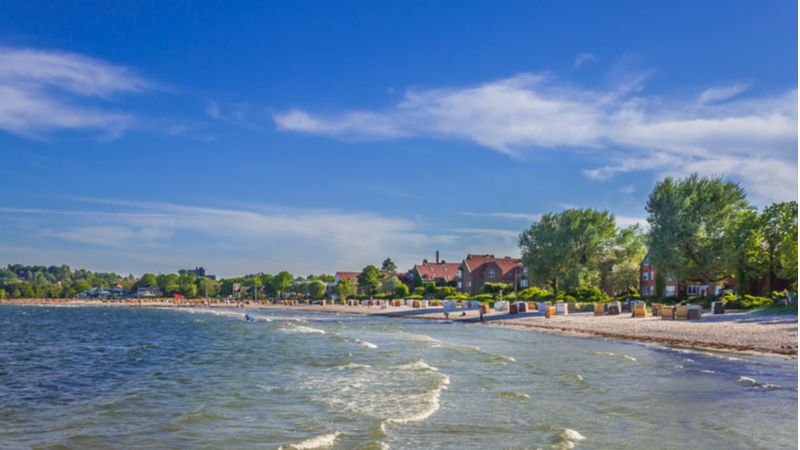 Stretching to an area of 4 kilometers, the Eckernforde Hauptstrand is a white sand beach in Eckernforde town. What makes it one of the best beaches in Germany is its panoramic beauty and the deep blue seawater. Within a short distance of Eckernforde Hauptstrand is Eckernforde Bay that is approximately 16 km long. The Eckernforde Hauptstrand overlooking the bay adds more to your beach experience as one can easily explore these two fascinating places to visit in Europe.
Stroll around and discover the variety of shops and boutique cafes that are lined along the white coast. If you are visiting the beach with your family or kids, there are many sports equipments available for the visitors? Enjoy basketball or other beach games. The beach also has a bed and chair with umbrellas to sit and relax while enjoying the scenic beauty. And if you love snorkeling or diving, this is one of the best German beaches for such adventures.
Location: 97 Jungfernstieg, Eckernforde, Germany
Facilities: Shops, Restaurants and Beach Chairs
Famous For: Leisure and Water Adventures
Things to Do: diving, sailing, Surfing, Snorkeling windsurfing, and kitesurfing
14. Juister Strand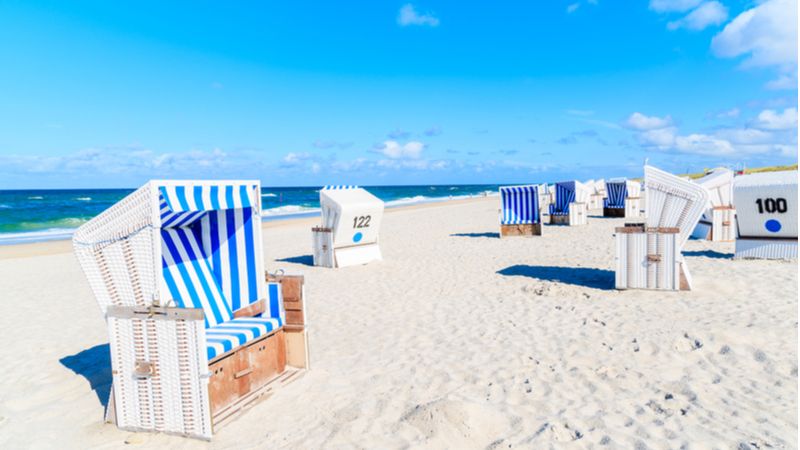 Another scenic attraction where you can spend a beach holiday, Juister Strand is located in the Southern North Sea. The Juister Strand lies in the Juist Island. As Juister Strands lies approximately 7 km away from the mainland, there are ferries available for travelers to reach this one of the popular beaches in Germany. While Juister Strand is popular for its incredible coastal beauty, the journey to the beach is another marvel to experience. The ferries pass through the deserted beach, where you can spot a diverse marine beauty. From various birdlife to seas and fished, the sea is home to a rich habitat.
Make a list of the best water adventure things to do in Europe and be prepared for every breathtaking experience. From playing beach volleyball to learning kitesurfing, Juister Strand has every facility that makes it one of the best swimming beaches in Germany. You can relax and admire the charismatic beauty of the shore while sitting at the beach chairs available there. The beach is 17 kilometers long and is best for some leisurely walks.
Location: 5 Strandstrabe, Juist, Germany
Facilities: Beach Chair, Playground for Kids, Kitesurfung School
Famous For: Beach Volleyball and Water Adventures
Things to Do: Sailing, kitesurfing, Ferry rides
15. Familenlagune Perlebucht
Lying on the Northwestern end of the country, Familienlagune Perlebucht is among the top Germany beaches that you must not miss. Located in the town of an artificial island in Europe, the beach is a perfect holiday spot to escape the chaos and crowd of the cities.
This artificial island beach is renovated with the best amenities and facilities. There are two seawater pools so that it may offer the best conditions for a perfect beach day. These pools on the beach are best for swimming, bathing, and windsurfing. Untouched by the influence of low and high tides, this is one of the safest beaches to enjoy water adventures. Enjoy soccer, beach volleyball, and other sports like kitesurfing or windsurfing. You can even try water adventures like scuba diving, surfing, and swimming. There are playgrounds for children where they can indulge in some exciting games and enjoy their day.
To add leisure to your experience, there are benches and chairs at this famous beach in Germany. You can even plan a picnic day with family and enjoy your favorite Barbecued dish.
Location: 79X Nordseestrabe, Busum, Germany
Facilities: Beach chair, picnic arrangements, Barbecue
Famous For: Beach games, sea water pools
Things to Do: Kitesurfing, Scuba diving, Surfing, Swimming, Soccer, Beach volleyball
16. Prora Beach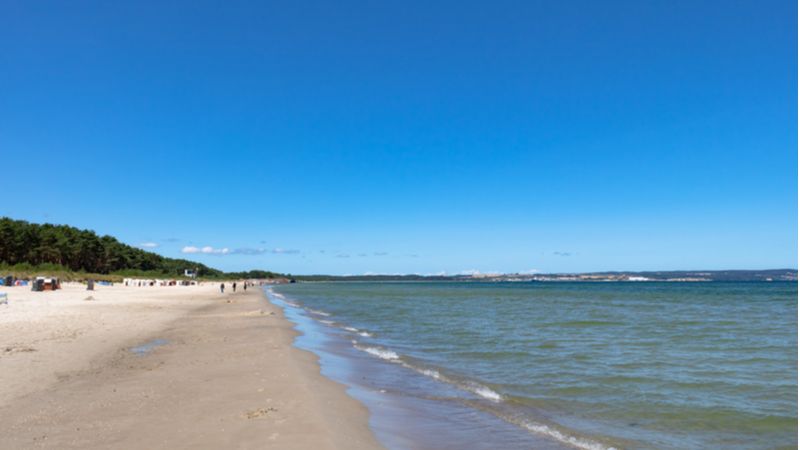 The Prora Beach is nothing lesser than a paradise that is perched in between the Baltic Sea and Mukran beach. Among the best white sandy summer beaches in Germany, the Prora stands quite an offbeat yet beautiful region where one can enjoy a day with family. The beach is divided into two regions with a quay wall as the north and the south part.
Prora is a blue flag beach where you can safely enjoy activities like swimming and surfing. Making it better for tourists, there is renovation carried out in most part. You can find shops and restaurants lined at a distance to enjoy a family meal on this serene beach. The Prora beach has something or the other for every visitor. A part of the beach also allows dog owners but at their own expense.
There are beach activities and other entertaining things to do at Prora beach, Germany, but if you are looking for simply leisure, you can head towards the northern edge. You won't find any beach chair, but the quiet and serenity make it worth a visit.
Location: Binz, Rugan island, Germany
Facilities: Restaurants and Shops
Famous For: Beach Leisure and swimming
Things to Do: Swim, Surf, and picnic
17. Niendorfer Strand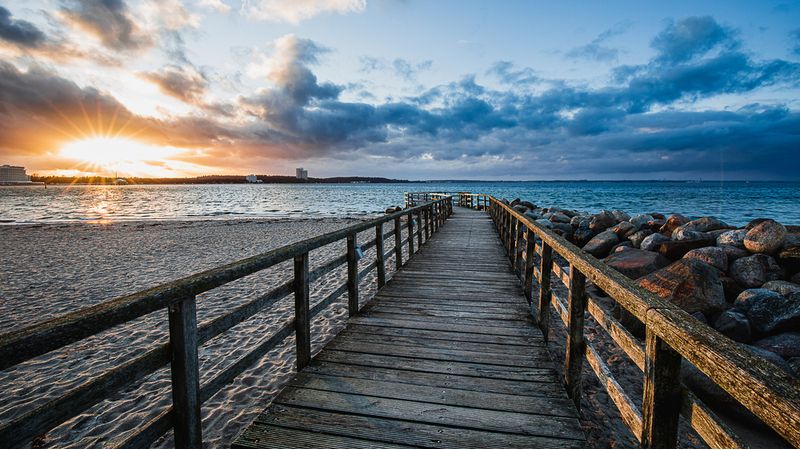 A part of Timmendorf Beach, Niendorfer Strand is one of the smallest yet best beaches in Germany that is sprawling to a distance of 2 km. When it comes to spending a family vacation in a quitter and scenic place, Niendorfer Strand is the ideal destination for all. Lying along the Lubeck Bay towards the northern end of the country, this is a place where you can enjoy the warm sunny day and get some beach tan.
The soft sand and the picturesque surrounding of this surreal beach make it a place to rejuvenate and relax. There are beach chairs available to relax and admire the charm of this beautiful Germany beach. You can even find the best German food at of the restaurants, nestled close to the shores.
Get indulge in activities like paddle boarding, surfing, windsurfing, and more. There are many fun games and activities for those who love beach vacations.
Location: 121A Strandstrabe, Timmendorfer Strand, Germany
Facilities: Cafes, Restaurants, Shops, Benches and chair
Famous For: Beach Leisure and swimming
Things to Do: Paddle Boarding, Surfing, Windsurfing
18. Oststran
Not just like any beach in Germany, but the Hornum Oststrand is one of the most recommended destinations for every beachgoer. If you are just keen to explore each and every beach in this European country, the Hornum Oststrand is surely a place for you. Lying in one of German Island, an island of Sylt, the Hornum Oststrand is located on the northwest coast of the country. The beauty of the horizons can be best experienced here during the sunset and sunrise.
This popular beach in the country boasts rejuvenating vibes that you won't find on any other beach on the island. The Hornum Oststrand for every vacationer, be it a honeymooner or just a holiday with family or friends. To engage the vacationers with some thrilling and entertaining activities, the beach offers you a beach volleyball court, and mini-golf course. The shallow waters and the wind direction have made Hornum Oststrand, one of the best surfing beaches in Germany. No matter if you are a biggener or an expert, you can easily surf in Hornum Oststrand, Germany.
Location: 22 Hafenstrabe, Hornum, Germany
Facilities: Cafes, Restaurants, Shops, Benches and chair
Famous For: Beach Leisure and swimming
Things to Do: Paddle Boarding, Surfing, Windsurfing
19. Norderney Nordbadestrand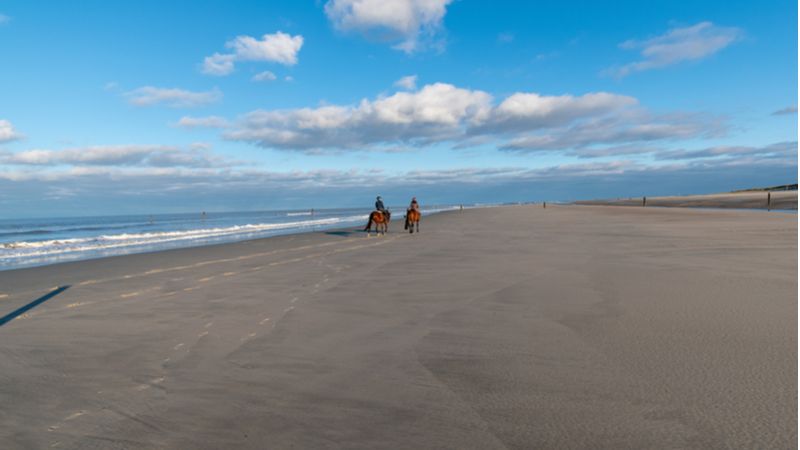 Adorned by the beige sands and the deep blue waters of the sea, the Norderney Nordbadestrand lies in the East Frisian Island of Nordernrey. Well, being one of the most popular German beaches, Norderney is mostly crowded with visitors. But if you are looking for a bit quieter and loner place for your holiday, you can head few moles ahead where there is serenity and peace to embrace.
Why this beach is so popular among vacationers and beachgoers? Well, the cafes and restaurants, the playing area, and the observation deck are some of the features that make Norderney Nordbadestrand, a suitable place for everyone in the country. You can plan a volleyball match with your siblings or friends, or take your kids to the playground, close to the shores. While there are many water adventures like kitesurfing and windsurfing, you can always choose to rest and relax, admiring the scenic beauty of the coast. Well, this is indeed one of the best beaches, Germany, where you can spend the best time. The beach is well equipped with amenities such as benches and restrooms.
Location: 9 Am Januskopf, Norderney, Germany
Facilities: Restrooms, Benches, Playground, Restaurants
Famous For: Observation Deck, Beach activities
Things to Do: Surfing, Beach volleyball
20. Schonberger Strand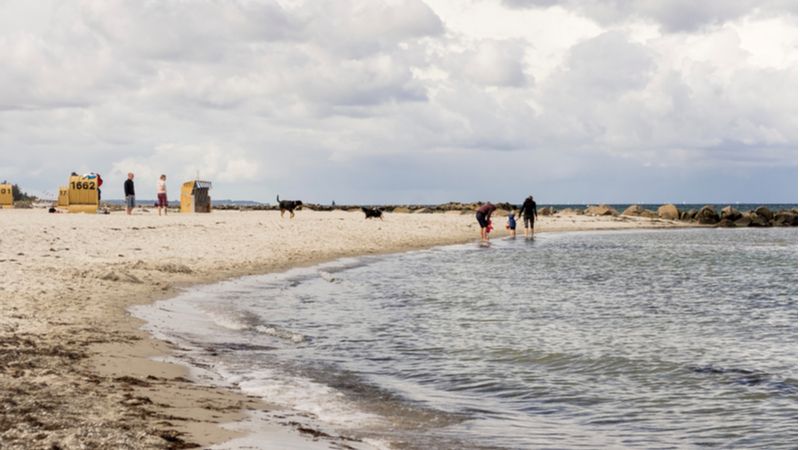 The beach of Schönberg is all known for its soft sand, panoramic coastline, and unmatchable beauty. Located in the coastal town of Schonberger, this is surely the best swimming beach in Germany you can plan to visit. With the light-colored sand and the small dunes along the coast, Schonberger Strand is blessed with the surreal beauty of nature. The refreshing and relaxed vibes of the beach lure every traveler to come and rejuvenate in the most pristine land of nature.
Not just some leisure but the Schonberger Strand is a place where there is adventure, thrill, and fun. Irrespective of the age, every visitor, be it a kid or adult, will find something to engage their day. Apart from just relaxing at the beach chair and observing the scenic beauty, you can stroll around to discover every corner of this seven kilometers beach. The 260-meter-long pier is just perfect for admiring the magnificent view of the Schonberger Strand. Enjoy surfing, kayaking, or try some paddleboarding while you visit this one of the best German beaches in summer.
Location: 1 Kaptn's Gang, Schonberg, Germany
Facilities: Pier, Benches
Famous For: Beach activities, Scenic beauty
Things to Do: Surfing, Kayaking, paddle boarding
21. Nordseestrand Neuharlingersiel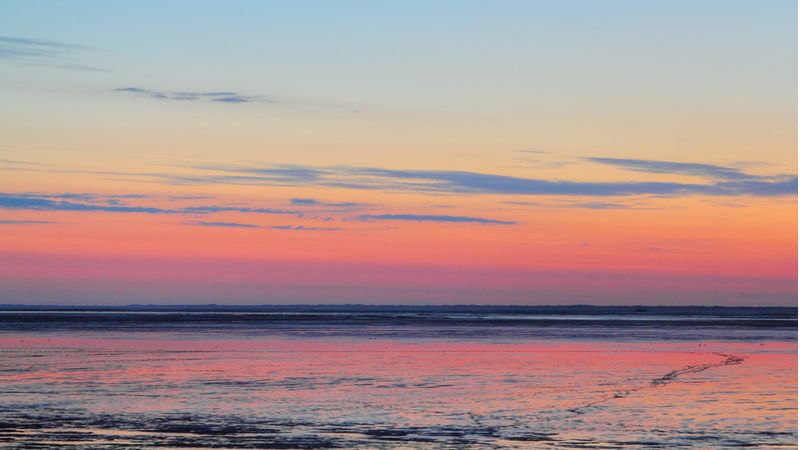 Looking for a beach where you can relax and try some fascinating adventures at the same time. Well, the North Sea beach Neuharlingersiel or as you can also say, the Nordseestrand Neuharlingersiel is indeed a destination where there is everything you are looking for. If you want to swim or surf, enjoy beach games or just relax amidst the unwinding beauty, all you need to do is pack your stuff and head off to this ideally set holiday retreat.
Do you know the Nordseestrand Neuharlingersiel is one of the safest swimming beaches in Germany? There are lifeguards on duty that always keep an eye on every beach activity ensuring no harm and accidents. You can surf, swim, walk, or enjoy the warm sun. There is a particular area for playing games like volleyball or basketball so that no other visitor is bothered by the activities. You can find a number of bars and restaurants to enjoy the sunset with your favorite cocktail. Well, these boutique cafes along the best are perfect for spending some time.
Location: 1 Edo-Edzards-Strabe, Neuharlingersiel, Germany
Facilities: Benches, Restaurants and bar, Deck
Famous For: Beach activities, leisure
Things to Do: Surfing, Volleyball, Swimming
22. Ostseebad Dahme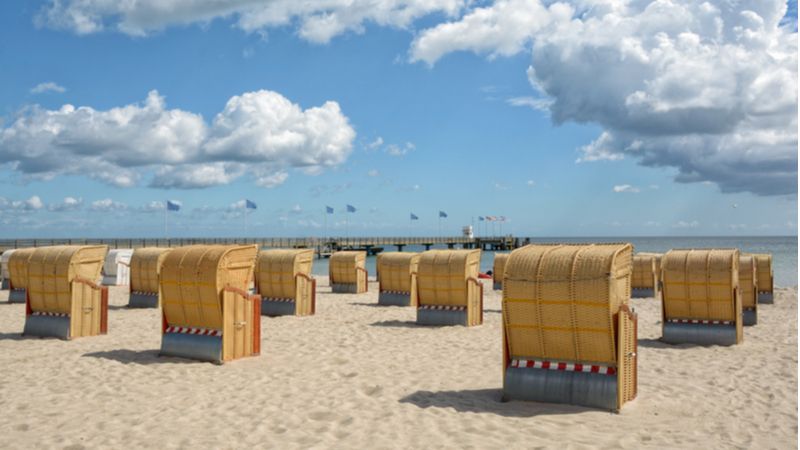 The sandy beach located in the town of Dhame is among the best beaches in Germany that you can visit during your holiday. The shallow water makes it the best place to surf while other sports like catamaran sailing, kitesurfing, paddle boarding, and windsurfing can also be enjoyed here. It is the thrilling water adventures that draw a huge number of visitors to this beach every day. Adding on more to the adventures and fun, there are cafes and bars lined along the coast where you can enjoy some quality time with your friends. The playground for kids is another future that makes the beach, an ideal place for all families.
As Germany is one of the best places to visit in June, the Ostseebad Dahme can be your ideal escape to make your holiday more exciting. There are plenty of entrainment options available at this German beach in summer. You will find some cream parlors close to the coast with all your favorite ice creams to enjoy. This 2 km long beach even has a long promenade.
Location: 50 Seestrabe, Dahme, Germany
Facilities: Benches, Restaurants and bar, Playground
Famous For: Beach activities, leisure, Surf
Things to Do: Surfing, Volleyball, Paddle boarding, Catamaran sailing
Best Time To Visit Germany For A Beach Holiday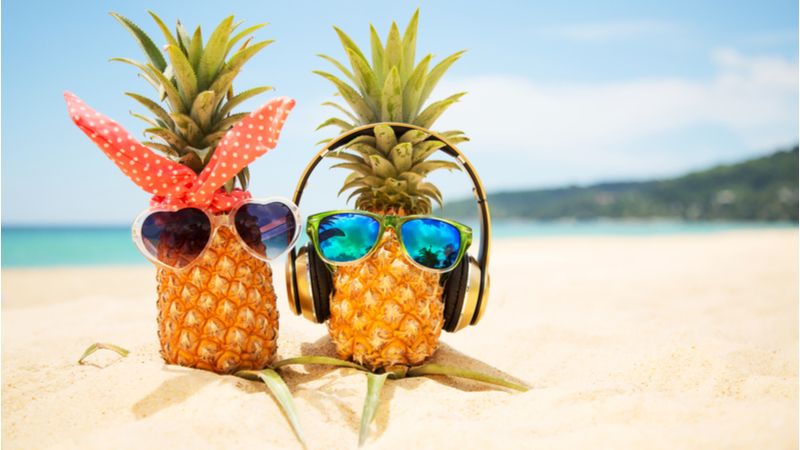 Germany is one of the finest countries in Europe which is in the bucket list of almost all the travelers. But do you when to plan a visit to Germany to witness the most ideal and pleasant weather? The best time to visit Germany especially for beach holidays is from May to September when the weather is pleasant and suitable for all kinds of activities. If you want drier weather, then July and September are considered the best months when there is no rain, good amount of sunshine and the weather remains dry and comfortable.
How To Reach Germany?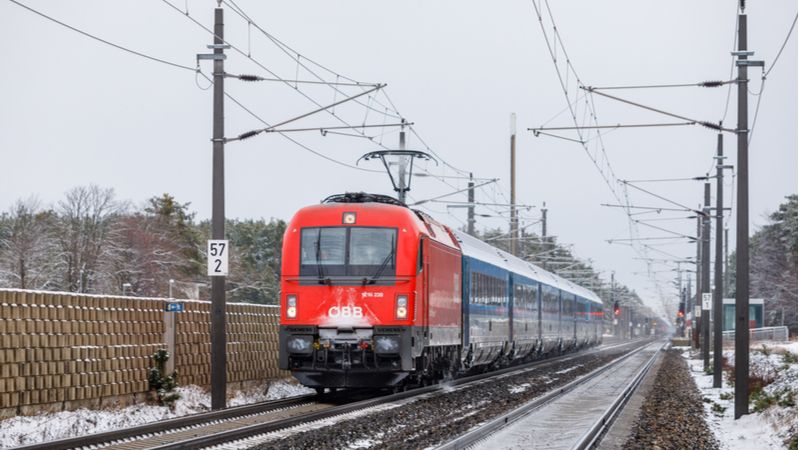 Germany is very well-connected with other countries in Europe and also with other places across the world. There are so many airports in Germany that offer good connectivity with different parts of the world. Below are some of the best and easiest ways to get to Germany without facing any hassles.
By Air: Going to Germany by booking flights is the best and the fastest way to access any state or city in Germany. Some of the main airport here are Munich International Airport, Frankfurt Airport, Düsseldorf Airport, Berlin Airport, Stuttgart Airport, Hamburg Airport are some of the main airports serving Germany. Lufthansa, Air India, Asiana, Air Berlin, British Airways, Thai Airways are some of the main airlines connecting Germany with the rest of the world.
By Bus: Traveling to Germany by bus is also an option from nearby European countries like Switzerland, Italy, Croatia, Denmark, Austria, Czech Republic, Netherlands and many other countries. The buses operated by Eurolines are very popular and one of the best ones to travel within Europe in comfort and at great prices.
By Rail: Germany boasts of a good rail connection with nearby countries. EuroCity trains are the best when it comes to traveling to Germany from countries like Switzerland, Austria, Poland, Czech Republic, Denmark, Netherlands and many more. A train from Switzerland to Germany takes around 9 to 10 hours and the journey is pleasant and comfortable, offering you with delightful vistas.
By Water: Germany can also be reached through water ways by taking a ferry. However, this journey is best for those who do not have time and budget constraints and are on a leisure holiday. Some of the popular routes to take through ferry are Sassnitz to Denmark, Riga and Trelleborg, Liepaja and Gedser and many more.
With such options of beaches in Germany, you are obvious to have the best trip you have had in a long time! Whether you are treating your family to a summer getaway & decide to stay in Warnemünde, or are traveling solo & looking for fun time in Greifswald, nothing is an impossibility here since German beaches cater to all tastes. After all, from isolated & peaceful beaches to those flocked by party animals, Germany has it all! Simply explore your choices of Germany flights ticket, book yourselves a beach resort & sink into the uniquely German Strandkorbe! Germany awaits…
FAQs
Q1. How can I spend my day at Sellin beach?
The Sellin beach offers some engaging and entertaining activities like surfing and sailing. You can even enjoy building sand castle or eat the best cuisines at beach restaurants.
Q2. What is the best beach in Germany?
As always, the answer to such a question would depend on what you are seeking—solitude, water sports, concerts, fun activities or anything else. Having said that, Ellenbogen, Binzer Strand, Wildpark Schwarze Berge, Strandbad Wannsee & Familienlagane Perlebucht are all good options.
Q3. Where in Europe do you find the best beaches?
As aforementioned, Greece is probably the best-known European country for beaches. But Germany offers some beautiful beaches too!
Q4. What are the best vacation spots in Germany?
While the German beaches above make for some incredible getaways, other great vacation spots may be Europa-Park, Cologne Cathedral, Marienplatz, Brandenburg Gate & Museum Island.
Q5. Where can you swim in Germany?
Apart from the idyllic beaches listed in this blog post that are recommended for swimming, it is worth mentioning that there is an indoor beach in Germany, in 'Brandenburg'. Brandenburg is a state. The massive indoor beach, not just the largest in the country, but in the world, can hold about 6,000 swimmers!
Q6. What is the best time of the year to go to Germany?
As such, the best time to visit Germany is the months of May & September. But assuming that you want to hit some of the above listed beaches, summer will be the best time. This means any time from June to August.
Q7. What is the biggest lake in Germany called?
The largest lake in Germany is Lake Müritz, with a name that literally means 'little sea'! It is in the MV state & offers its own beaches, like the 'Müritz Sandstrand' & 'Badestrand Kölpinsee'.
Q8. Is Germany rich in beaches?
While not traditionally associated with beaches, the country has over 2,300 kilometers of coastline, meaning plenty of sun & sand!
Q9. Which are the best beach resorts in Germany?
Some of the best beach resorts in Germany are:
Miramar Hotel
Oversum, Vital Resort Winterberg
Kempinski Hotel Berchtesgaden
Lindner Hotel And Spa Binshof
Lindner Parkhotel & Spa
Seehotel Leoni
Resort Schwielowsee
Q10. Which is the best place in Germany for beaches?
Sellin on Rügen island is the best place in Germany that houses maximum stunning beaches in the country and receives average of 1800 hours of sunlight each year. Prora is the best beach on this island that is miles long and offer beautiful views of the sand, sun and sea.
Q11. How many days are enough for a trip to Germany?
Travelers who have traveled to Germany before suggested that around 10 to 14 days long trip to Germany would be sufficient enough to explore the major attractions here.
Q12. Which are the best beaches in Germany for couples?
The best beaches in Germany for couples are:
Wannsee Beach, Berlin
Ahlbeck Beach, Usedom
Lubmin Beach, Griefswald
Timmendorfer Beach, Niendorf
Ording Beach, St. Peter-Ording
---