Doha, the capital of Qatar and one of the finest cities to visit in the world has everything you possibly think of. Perhaps being the wealthiest city in the world, this part of Qatar is home to some gorgeous attractions that are a treat to every traveler. With beautiful beaches and parks to some historical marvels that remind of the old days in Qatar, Doha has the potential to feature amongst the best travel destinations around the world.
Now speaking of beaches, water sport, and spending time on the warm sand is steadily becoming a way of life in Doha. In fact, the Doha beaches in Qatar are amongst the finest in the world and attract a huge number of travelers all-round the year.
So, in case, you're wondering about the finest beaches in and around Doha, here's our take on the top ones you can visit to have a time full of fun and sand.
Top 12 Beaches In Doha, Qatar
Although there are many public and private beaches for visitors to enjoy in Doha, the ones that certainly stand out are featured below.
1. Katara Beach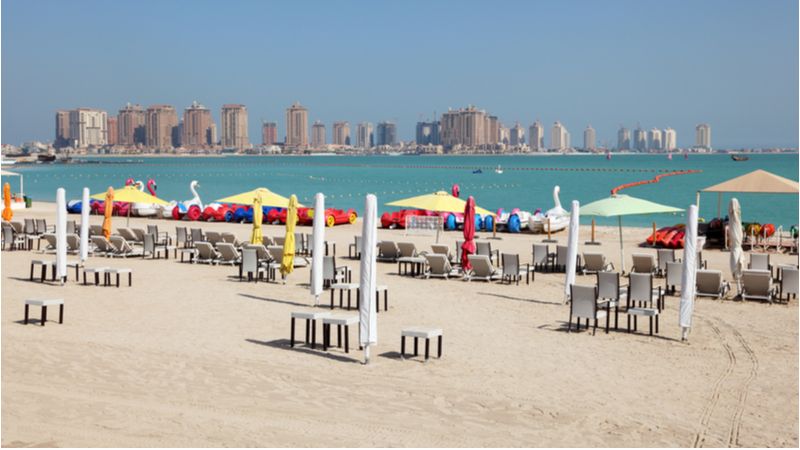 One of the finest of Qatar's beaches, the Katara beach is located right at the heart of Doha and forms a part of the renowned Katara Village that attracts thousands of visitors every year. There are many fun activities on this beach that travelers can enjoy.
Best for families looking for some watersports fun, the Katara beach offers activities like parasailing, water skiing, speed boat rides, and so much more. The beach is also renowned for the attractions nearby like art galleries, show theatres and many restaurants that serve the best food you can expect to have.
Activities to Enjoy:
Parasailing
Water skiing
Speed Boat Rides
Suggested Read: Where To Stay In Doha On Your Next Travel?
2. Four Seasons Beach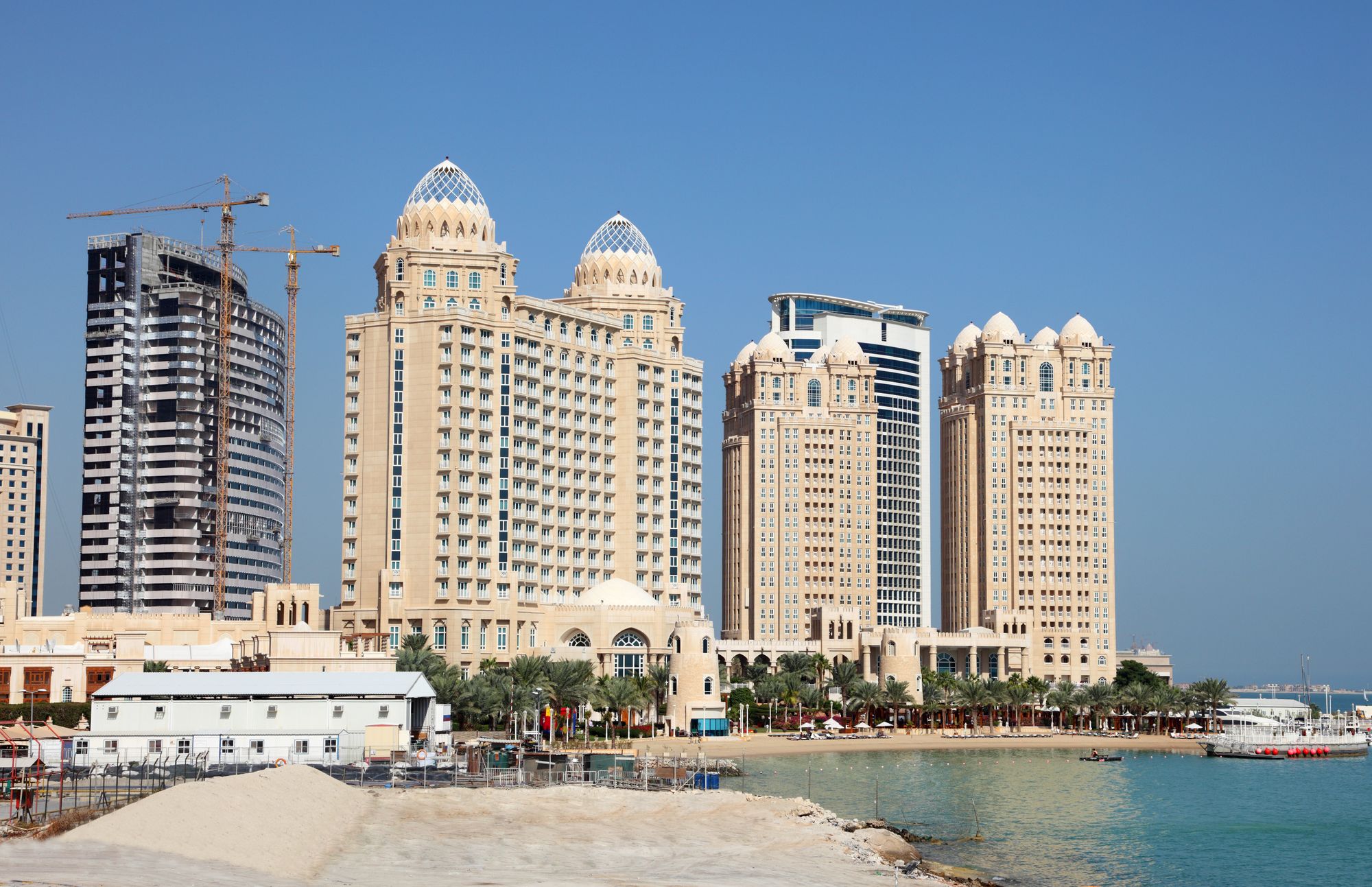 Another private beach that is part of the Four Seasons Hotel, the Four Seasons Beach is much more luxurious than others that you normally find in Doha. Although the hotel has 5 pools for the guests, the private beach adds up to its charm as it's a real delight for the guests staying at the hotel.
What's best? The hotel staff takes care of the guests in every possible way when they enjoy the beach. What is fascinating about this beach is that it's not just open to the guests of the Four Seasons Hotel but also for ones who are not staying at the hotel. All they need to do is to purchase a day pass and spend their time enjoying the beach.
Activities to Enjoy:
Banana Boating
Speedboat Ride
Sun Bathing
3. Umm Bab Beach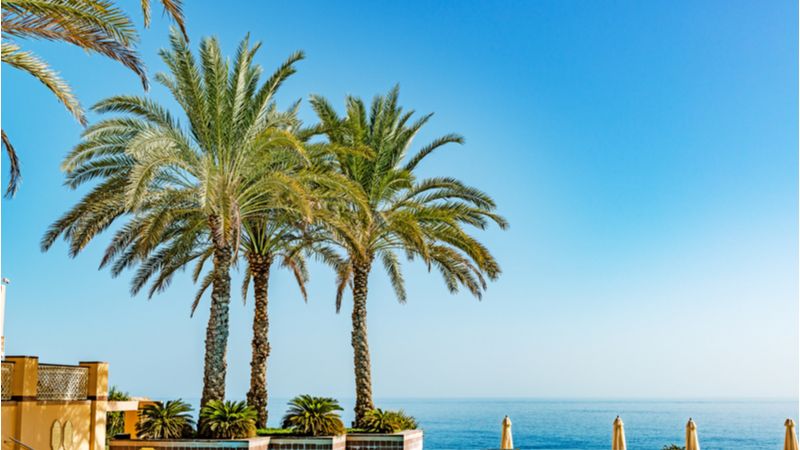 Any traveler who thinks about Qatar's beaches has to keep Umm Bab Beach in the list. Renowned amongst native by the name Palm Tree Beach, the Umm Bab beach is one of the most popular Doha beaches today.
The beach offers a unique yet amazing Caribbean feel to the visitors coming here owing to a cluster of palm trees that grow along the coastline. It even has a children's playing area set up on the beach itself so as to allow the families to come here to enjoy the fullest.
Besides, if you wish to grab a quick bite while you're enjoying your time at Umm Bab, there's a shop set up nearby where visitors can buy anything to eat. Hence, even if you're thinking of camping on the beach with your family and friends, Umm Bab Beach is the perfect spot for that.
Activities to Enjoy:
Camping
Grab A Bite
Sunbathing
Suggested Read: Top Festivals You Can't Afford To Miss In Qatar
4. Sealine Beach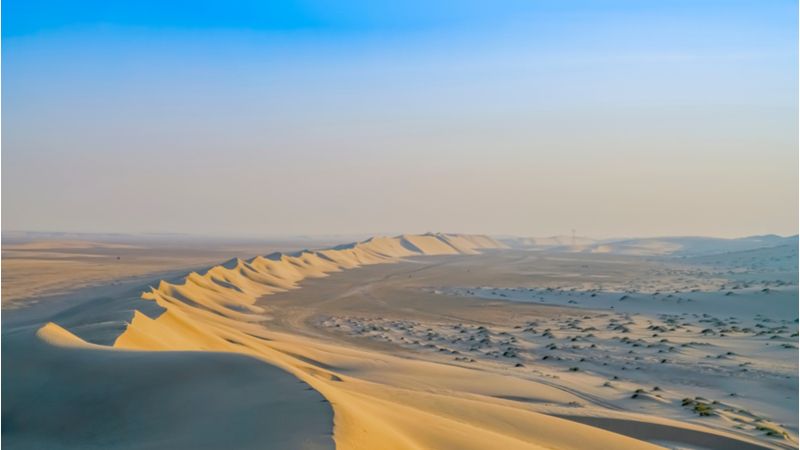 A private beach rooted at the southern end of the Qatari peninsula, the Sealine Beach is unlike anything you've ever seen before. Allowing free access to the guests staying at the resort, the beach offers numerous top of the line facilities like restaurant, swimming pool, lounge, and so much more.
Particularly renowned for its calming experience, guests staying at the resort can even rent a buggy and drive around the desert. What else? If you're someone who prefers walking rather than riding a buggy, you can even take a walk around the sand dunes and savor the views around you as the dunes touch the sea.
Activities to Enjoy:
Buggy Ride
Sunbathing
Boat Ride
Suggested Read: Regency Sealine Camp In Qatar: The Essence Of Arabian Tradition Amidst Modern Comfort
5. Inland Sea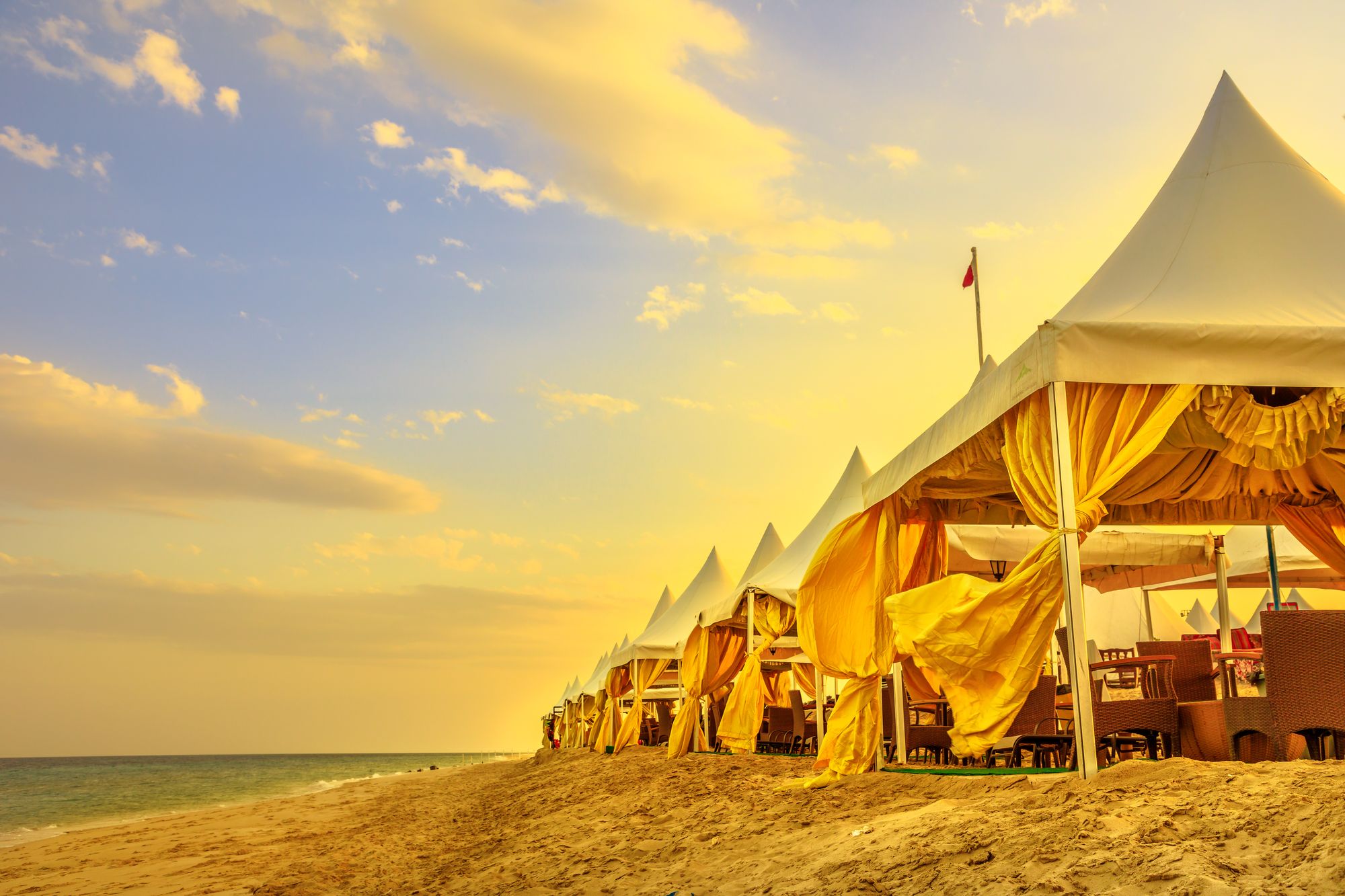 Now here's a thing, there are many off-beat places to visit in Qatar that still many travelers don't know about, and when it comes to beaches, the Al Khor Adaid, also known as the Inland Sea is the place you've got to visit on your trip to Qatar.
The Inland Sea has been recognized by UNESCO and can only be reached when you drive through the desert in a 4X4 vehicle. The best time to visit, as the natives and anyone who's seen says it, is during the high tide. This is the time when the sand dunes gently slip into the sea and give stunning views you can rarely find anywhere around the world.
So if you're thinking about visiting the best beaches in and around Doha, why not head over to the Inland Sea and treat your eyes with the crystal clear waters and amazing patterns of the dunes?
Activities to Enjoy:
Camping
Dune Bashing
Sandboarding
6. Al Thakira Beach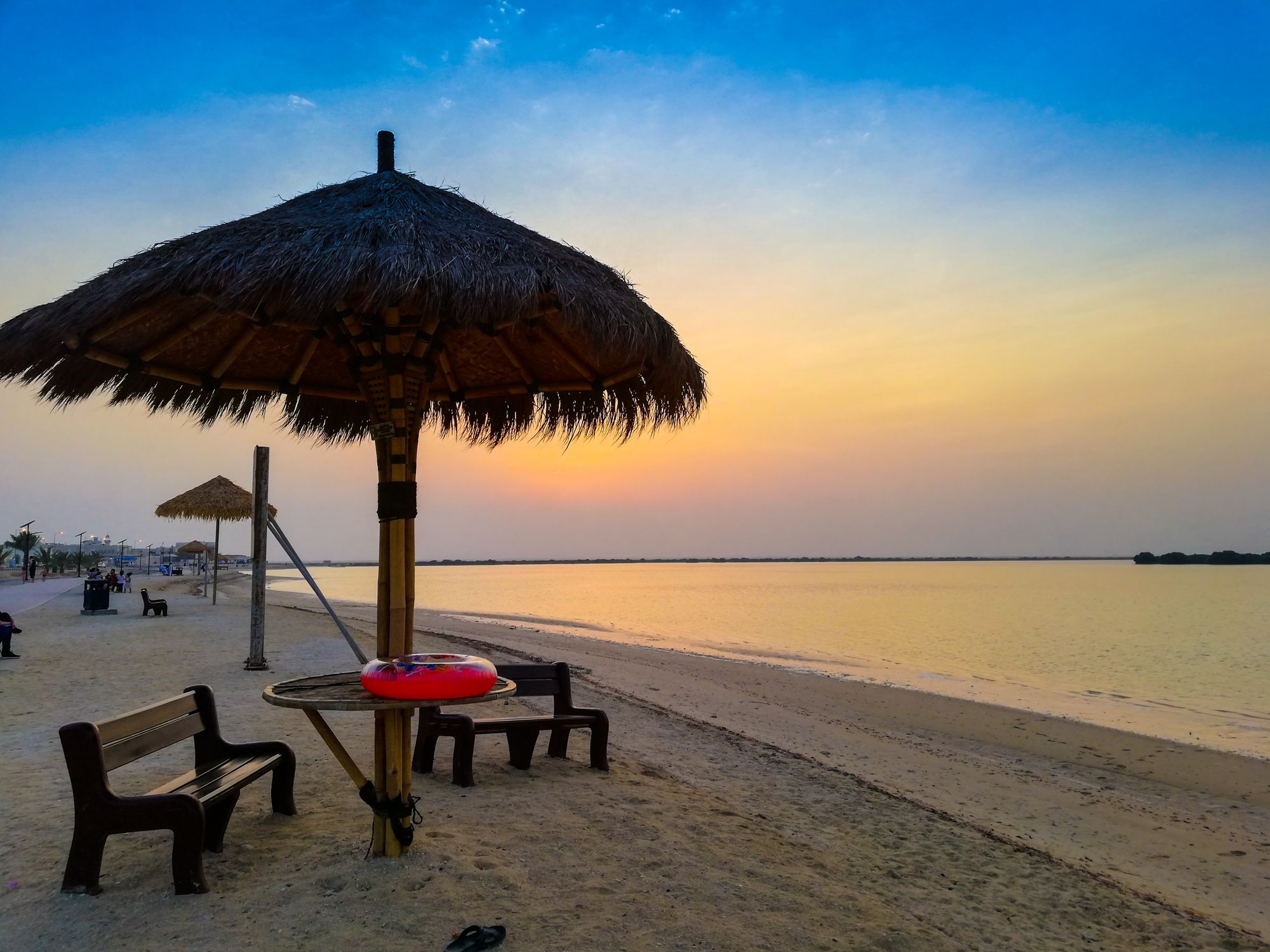 Not everyone heads to the beach for sunbathing, right? Well, if you're also one of those who think of nature and peace when it comes to the beach, well Al Thakira Beach is the place for you. One of the most amazing Doha beaches and home to some of the largest mangrove reserves, Al Thakira presents a calming sight to the visitors.
The beach is rooted at an hour's drive from Doha on the northern side and is famous amongst travelers for fishing, kayaking, and bird-watching. What's more? Well, in case you're enjoying at the beach and wondering where to go next, why not take a talk to nearby attractions?
There are many nearby shops and restaurants that are highly popular among tourists and present an amazing sight. The restaurants serve grilled fishes that are freshly caught and are a delight to the taste buds.
Activities to Enjoy:
Barbeque
Kayaking
Nature Walks
Suggested Read: A Take On The 10 Finest Places To Visit In Doha
7. Zekreet Beach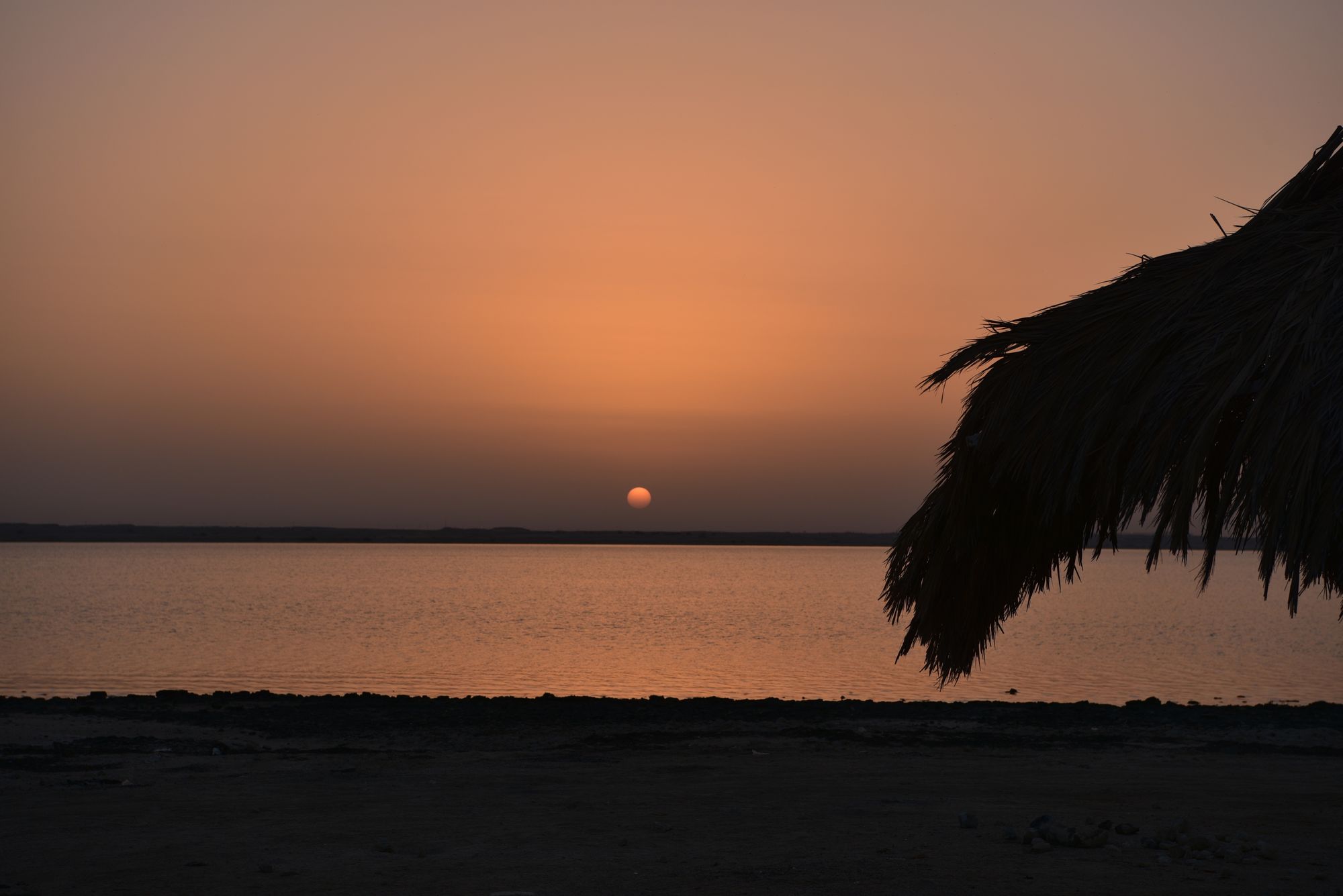 Perhaps one of those Doha beaches fit for the ones who don't want to go too far from Doha, the Zekreet Beach is located a short drive from Doha along the western coast. The beach is often called the gateway for postcard views owing to the mesmerizing views that it offers to the visitors.
What is exciting is that the beach is rocky and is one of the secluded spots in Doha. Travelers can only get there using a 4x4 vehicle and explore the different archeological digs in and around the area. There's even a fort to add up to your joy.
Likewise, the Zekreet Beach features amongst those Doha beaches where you can enjoy activities like windsurfing and camping with your mates. So why not head over and spend some time enjoying the beach?
Activities to Enjoy:
Windsurfing
Camping
Boat Ride
8. Simaisma Beach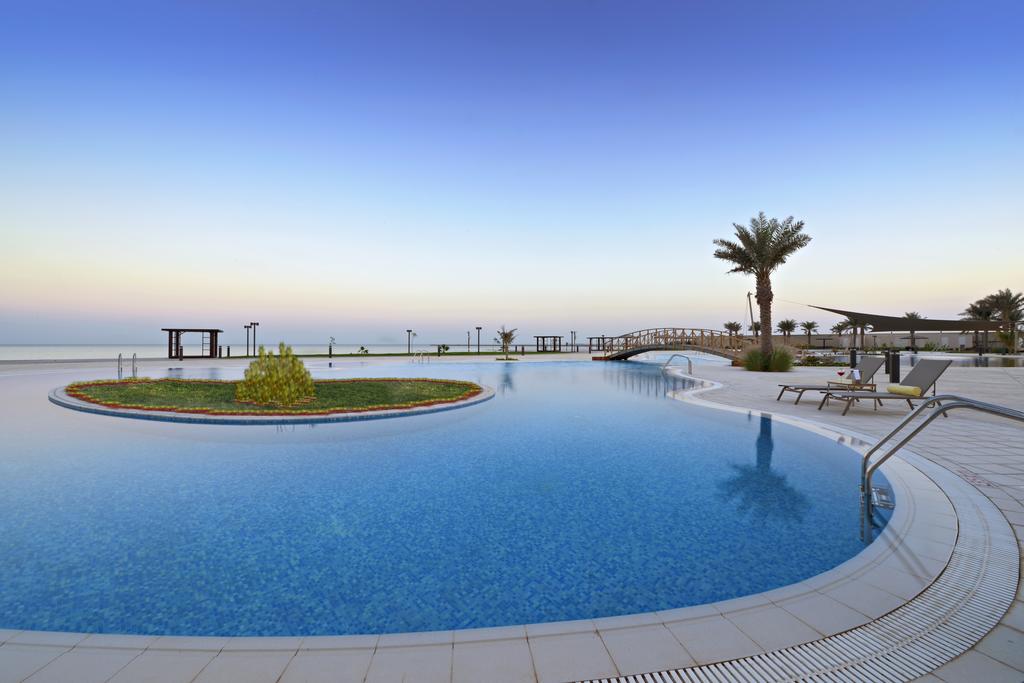 Now, when you think of a beach with fun activities, barbeque, a nice spa, and other things, you say, well, that doesn't exist, right? But how about if we tell you that there is indeed a private beach where you can enjoy just about everything you dream of at a beach?
Well, Simaisma Beach is your answer. Part of the Murwab resort and a sheltered beach with year-round activities like an outdoor pool, barbeque, watersports and so much more, Simaisma offers a tranquil experience like never before.
The beach is located at a distance of only 20 minutes from Doha and is very close to the city center. Guests coming to the Murwab resort are more attracted to the beach and spa rather than anything else.
Activities to Enjoy:
Outdoor Pool
Barbeque
Watersports
9. Fuwairit Beach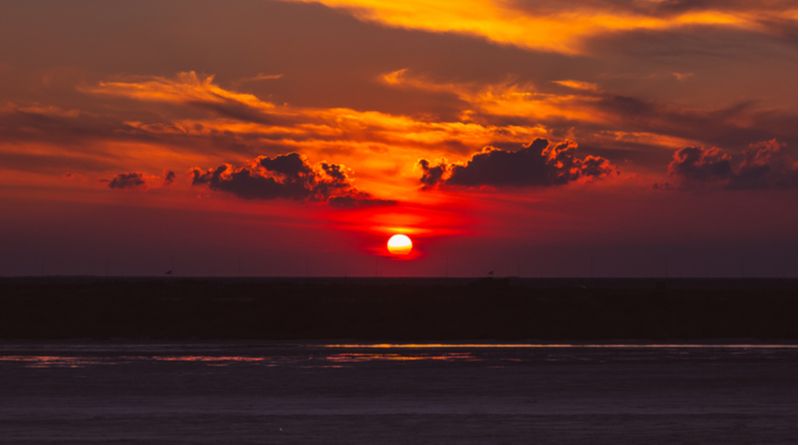 Perhaps the last of those popular beaches in and around Doha is Fuwairit Beach. Located a fair distance off the city, the beach is still worth a visit owing to its white, pink sand along the coastline and gorgeous views.
It is widely renowned for being the nesting site for hawksbill turtles who usually breed during the period of April and July. During this time, the entry to the beach is closed so as to protect the turtles.
Having said that, if you're not bothered about long distances and just want to explore what the beach has to offer, then it is definitely worth a visit to enjoy the sun rays and turquoise waters.
Activities to Enjoy:
10. Al Ghariya Beach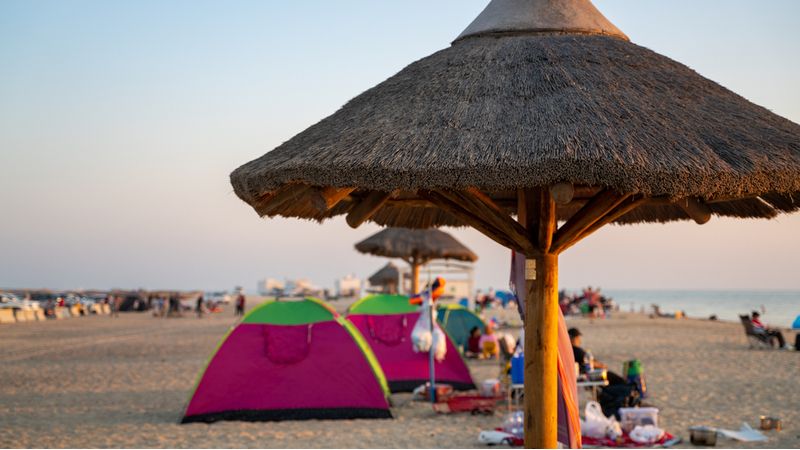 Al Ghariya is another one of those top places to visit in Doha which can be explored for a surreal experience. More than the beach itself, the drive to it is what attracts more visitors here. Take a 4x4 vehicle and enjoy a thrilling ride to the beach. There are no facilities available here, hence it is suggested to take your own stuff to enjoy fullest. Calm down your senses at the serene ambience of this beach and click some amazing pictures of the mesmerizing landscape surrounding the beach. In close vicinity to the beach, one can even find Al Ghariya Beach Resort where a cozy and a relaxing holiday experience can be witnessed.
11. Al Wakra Beach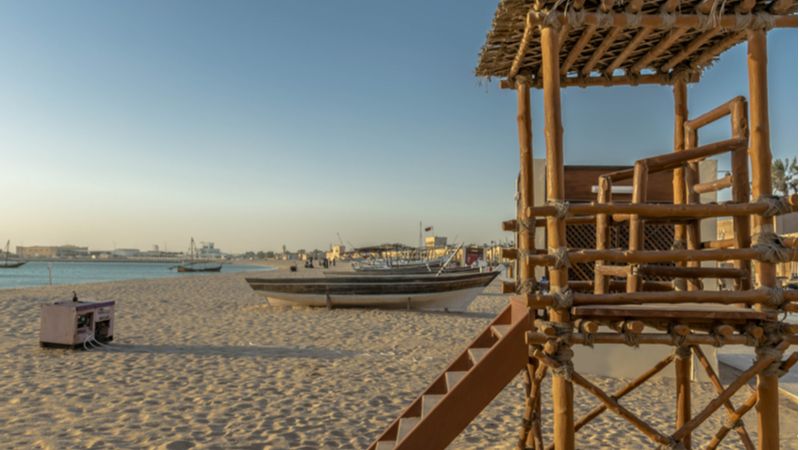 There is no dearth of scenic beaches in Doha but Al Wakra also has its own natural charms and one such natural gem is Al Wakrah Beach. The beach has plenty of mangroves, thus one can spot the exotic wildlife and different species of birds here. The beach has its own facilities for the comfort of the guests like children's playground area where kids can play and spend quality time while parents relax and bask on the beach. BBQ facility is also available to gorge on the grilled delicacies while relishing the gorgeous views of the sunset. The beach also houses small fishes which gives a tickling spa like sensation on the feet. Around the beach, one can easily find some cafes and restaurants, so dining wouldn't be an issue at all. Head to this family beach in Qatar for a day filled with fun, laughter and relaxation with your loved ones.
Suggested Read: Doha Metro, Qatar: Get To Know Everything About This Advance Transit System In Qatar
12. Maroona Beach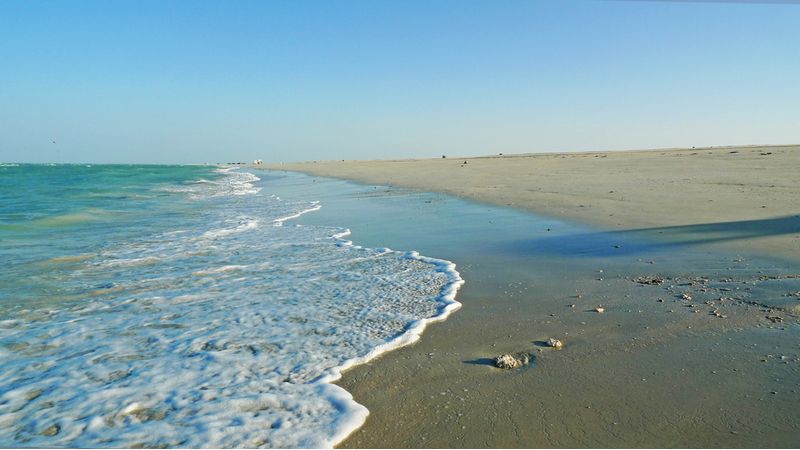 The list of Doha's best beaches would not be complete without the mention of Maroona Beach. Nestled on the north eastern tip of Qatar, Maroona Beach lies next to the famous Fuwairit Beach. Golden soft sand and crystal-clear waters of the sea make this beach scenic and perfect for long walks and family outings. Plenty of attractive marine life can also be spotted here like jellyfish, starfish, crabs, turtles, fishes and many other. Children can enjoy a gala time here as the sand of the beach is perfect to create varied sand sculptures. The best time to come to the beach is early in the morning during summers and in the afternoon during the winter season. And the best part? Swimming can also be enjoyed here by both adults and little swimmers who like to play in the water.
Now here's a thing, we know about the best beaches in and around Doha and what they have to offer on your trip to Qatar. Let's discuss the different modes of travel to Doha and the best time to visit the city.
Top 4 Beach Resorts In Doha
With stunning beaches in Doha, you can also enjoy a lavish stay at these top beach resorts in Doha where you will not only get direct access to stunning sandy shores but also some luxurious facilities and a comfortable stay. Check out this list of the best beach resorts in Doha.
1. Banana Island Resort Beach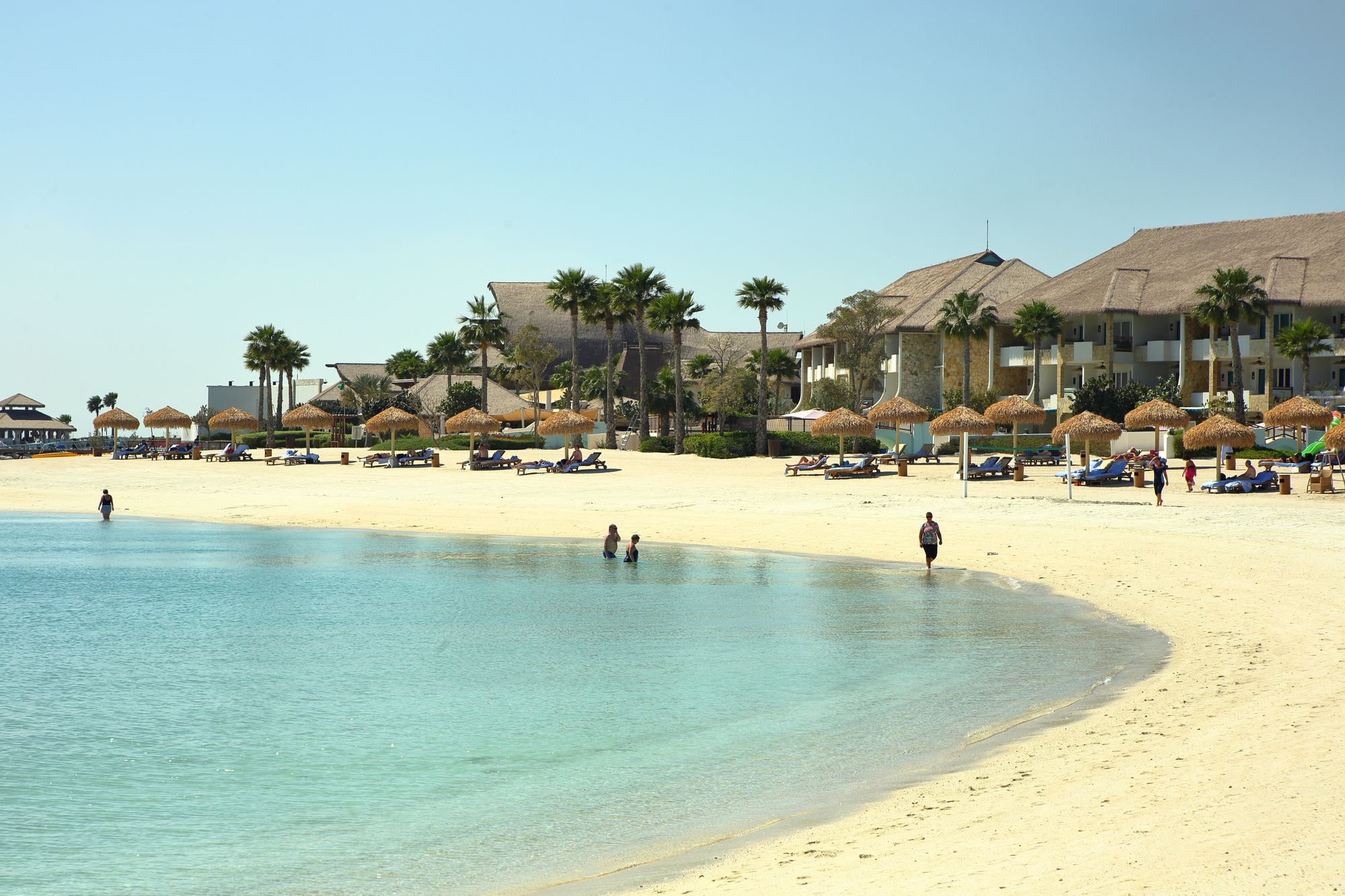 Another of those private beaches in Qatar that offer an experience of a lifetime is the  Banana Island Resort beach. Guests coming for a stay at the resort can take part in various activities like snorkeling, scuba diving, and all other types of watersports.
The best part about this private beach is that it even allows non-guests to enjoy the beach. All they need to do is to purchase a day pass for 350 Qatari Riyal which gives you access to the pool and beach area, or you can even pay less and enjoy other activities, including the luxury boat transfer to and from the resort.
Activities to Enjoy:
Banana Boating
Snorkeling
Scuba Diving
2. Marsa Malaz Kempinski, The Pearl – Doha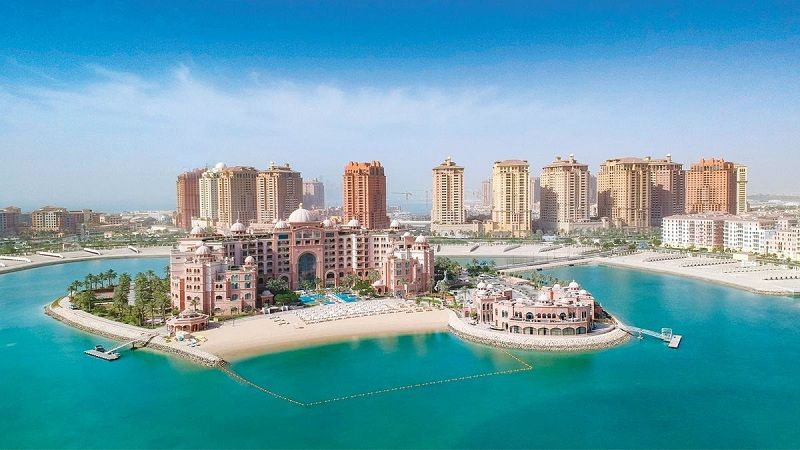 One of the most luxurious beach resorts in Doha, the Marsa Malaz Kempinski, The Pearl – Doha is an epitome of luxury, a place where luxury meets tranquility. The resort features around 281 spacious rooms and suites offering enthralling views of the Arabian Gulf along with the lavish comforts. It is a family-friendly accommodation that houses 7 brilliantly designed restaurants serving both local and international cuisines along with 4 plush bars. Apart from this, guests can also enjoy access to a private beach, outdoor pools, fitness center and a tennis court.
TripAdvisor Rating: 4.5
Location: The Pearl - Doha, Costa Malaz Bay, Doha, Qatar
Exclusive Features:
Fitness Center
Private beach
7 Restaurants and 4 bars
Tennis court
Outdoor pools
Suggested Read: A Take On The Finest Beaches in Qatar
3. Hilton Salwa Beach Resort & Villas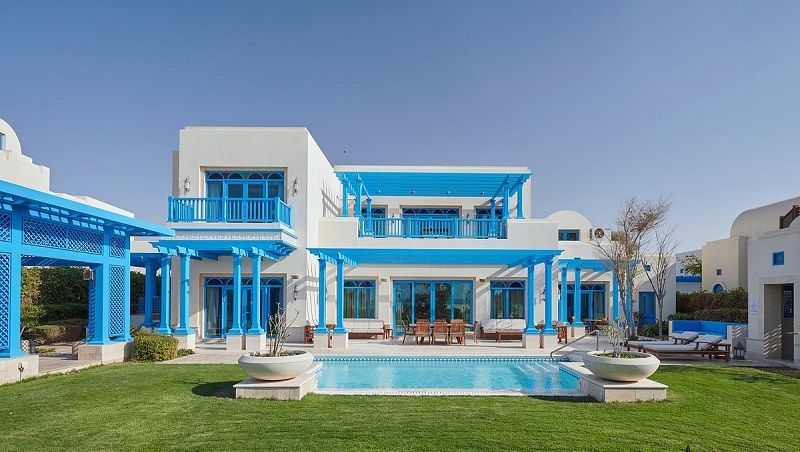 Escape into the luxurious comforts with Hilton Salwa Beach Resort & Villas which is another 5-star beach resort in Doha, ideal for a family staycation away from the humdrum of city life. Another intriguing feature of this resort is that guests get a free access to Desert Falls Water and Adventure Park, the largest water park in Qatar. Enjoy a lavish stay in a private beachfront villa featuring all the high-end facilities and comfort along with dining options, spa, swimming pools and myriad of other facilities.
TripAdvisor Rating: 4
Location: Salwa Road exit 84, Learaig Interchange، Abu Samra, Qatar
Exclusive Features:
Fitness Center
Outdoor Pool
Business Center
Non-smoking Rooms
4. Sheraton Grand Doha Resort & Convention Hotel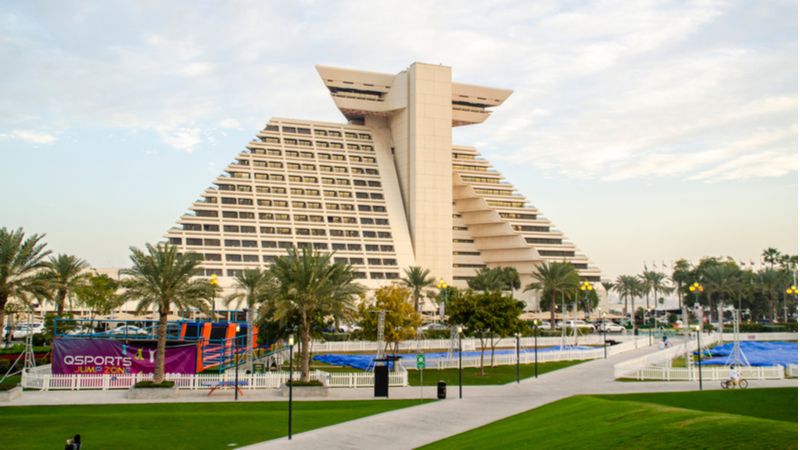 Unwind and relax your mind, body and soul by booking a luxurious stay at Sheraton Grand Doha Resort & Convention Hotel from where you can admire the gorgeous vistas of the sunset and the sea. Enjoy a direct access to a private beach and stroll on the sandy shores as and when you want. The resort and hotel also feature 7 restaurants, bars and lounges where a great time can be enjoyed with family or friends. Enjoy a serene time at the beach during the sunset hours or take a dip into the spacious swimming pools located here. The hotel lies close to popular attractions in Doha like Souq Waqif, MIA, Doha Corniche and others.
TripAdvisor Rating: 5
Location: Al Corniche, Doha, Qatar
Exclusive Features:
Swimming pool
Direct beach access
Ideal location
Fitness Center
Event Spaces
How To Reach Doha?
Reaching Doha isn't much of a hassle. Qatar is connected with virtually every destination around the world. It is one of the biggest transit gateways in the world today. Although there are no railway tracks or tourist waterways to Qatar, travelers can get to Doha by taking a flight from just about anywhere in the world. There are various cheap flights that travelers can book online to Qatar and travel with comfort.
What Is The Best Time To Travel To Doha?
Well, think of the best time to travel to Qatar and the answer seems easy. During the summer season, Doha bears a scorching heat wave with temperatures that remain constant around 46 degrees Celsius and the humidity soars to a record high. This is a time when sandstorms and shamal winds around the city take their toll and is perhaps not an ideal time to travel in Doha.
On the other hand, winters are quite pleasant in Doha with temperatures that remain constant around 26 degrees celsius with the minimum being as low as 21 degrees celsius. This is a period between December to February when the conditions are ideal for Doha sightseeing and enjoying the beach.
So, if you're looking to travel to Doha, visiting in winter would be a wise choice for an ideal vacation. It is also the time when Qatar tourism is on its high.
A city that promises excitement at every corner, Doha is home to many fine beaches where travelers can head over and enjoy. The best about the beaches here is that even though most of them are private, they do allow the public to enjoy their time for a nominal day fee.
So if you're thinking of heading on a beach and wondering which are the best ones, try heading to the ones listed above and a good time.
FAQ's
Q.1 What is the best area to stay in Doha?
As believed by many natives and travelers, the west bay area is finest when it comes to staying in Doha.
Q.2 How many days should I spend in Doha?
For Doha, a 3-day tour should be sufficient enough to see all the attractions the city has to offer.
Q.3 Is Doha expensive to visit?
Being one of the most expensive cities in the world, a one week vacation in Doha can cost around QAR1493 per person.
Q.4 Does Doha have a beach?
There are many private beaches that are part of resorts located in Doha. However, there is only one public beach which is Katara beach.
Q.5 Which are the best beaches in Doha?
Some of the best beaches in Doha include- Katara beach, Umm Bab Beach, Four Seasons Beach, etc. Read the above article to know more.
Q6. Are there any beaches in and around Al Khor?
Q7. What are some good beaches for kids in Qatar?
Some of the beaches ideal for kids in Qatar are:
Umm Bab Beach
Al Ghariya Beach
Maroona Beach
Al Thakira Beach
Q8. Are there any public beaches in Doha?
Some of the best public beaches in Doha are:
Al Thakira Beach
Simaisma Beach
Al Wakra Beach (Near Doha)
Al Khor Beach (Near Doha)
---