No matter whether you're a traveler headed for Doha sightseeing, a native coming off the back of a hectic working day, or just about anyone who's longing to have fun in Doha, nightlife in this city has a kind of nocturnal feel about it.
Although a bit conservative when compared to the western nightlife owing to the restrictions that are in place, if you're someone who's headed off to wander and hoping for a decent nightlife at any club in Doha, the city has you covered. It is particularly renowned for its decent nightlife.
Besides, here's our take on how you can enjoy the nightlife in the city of Doha.
Where To Visit To Enjoy Nightlife In Doha?
Have a look at some of the places you can visit to enjoy the nightlife in Doha on your travels in Qatar.  
1. Experience Jazz At Lincoln Center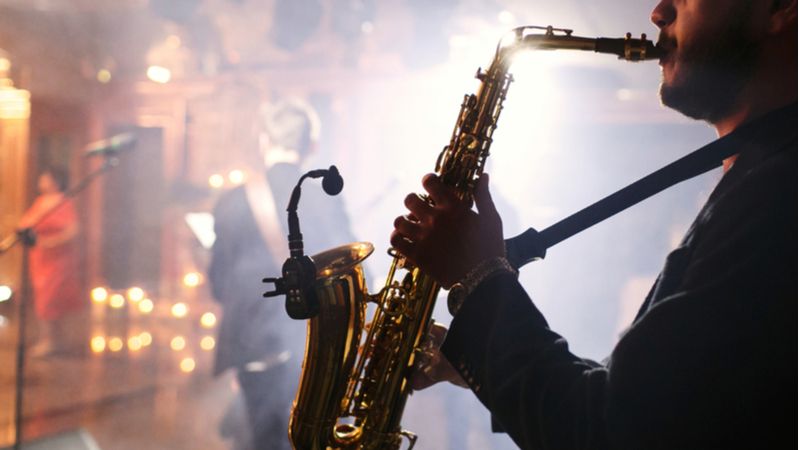 Slightly different when it comes to fun in Doha, and certainly a place for all Jazz lovers around, the Lincoln Center offers Jazz music along with a mesmerizing palate that is set to calm your mind. The center not only offers Jazz but virtually any other music you expect to hear.  
Popular musicians like Wynton Marsalis and Jon Batiste have played at the Lincoln Center. Hence, no matter who you are and what kind of a day you've had, this is a place that is set to change your mood.
Suggested Read: Five Facts You Should Know About Doha That Makes It A Cool City
2. A Special Night At Crystal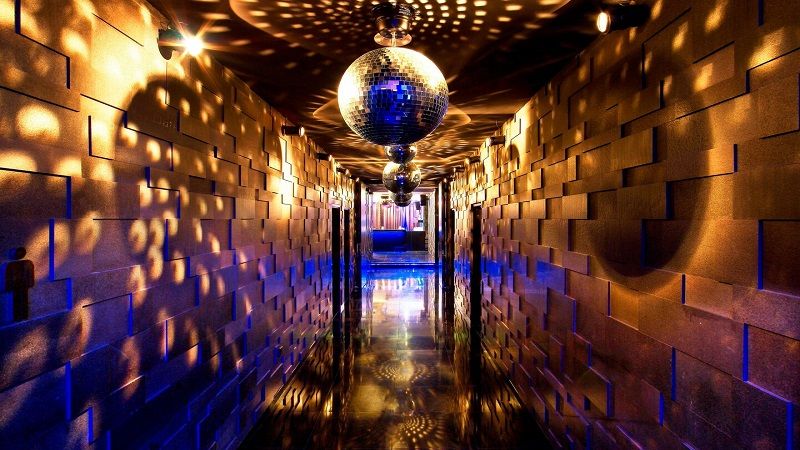 Located at the W Hotel and a nightlife in Doha, Qatar, Crystal is like no other place you've ever visited. This is not a typical night club that travelers can expect to find in other countries of the world. Rather, the Crystal club showcases different themes every night and different artist from all around the world performing at the club.  
What is notable about Crystal is that the themes are very specific. For example, on Wednesdays, the club showcases ladies' night with mesmerizing performances and so much more to offer. This is a night when men are not allowed to enter the club. Hence, if you're a woman reading this and are on your travels in Doha, why not spend a night your way?
3. Live The View Of the City From The Strata Lounge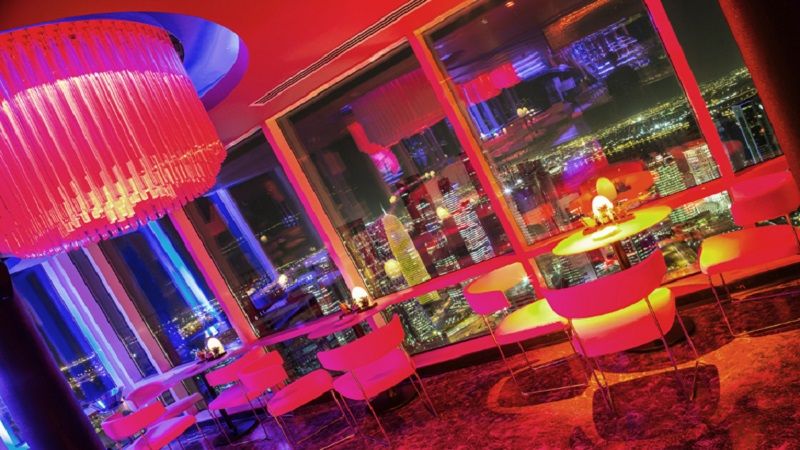 Rooted at the Intercontinental City Hotel, Strata Lounge is another club full of fun in Doha that offers a scintillating view of the skyscrapers on the western bay. The lounge is located on the 56th floor of the hotel and has a wide variety of drinks that the guests can try while enjoying the view from the lounge.  
One of the drinks that the club serves is the famous Smokey Whisky by the name The Alchemist.  Notably enough, Strata's drinks have always been highly rated and loved by those who are regulars to the club.
4. The Victorian Feel of Irish Harp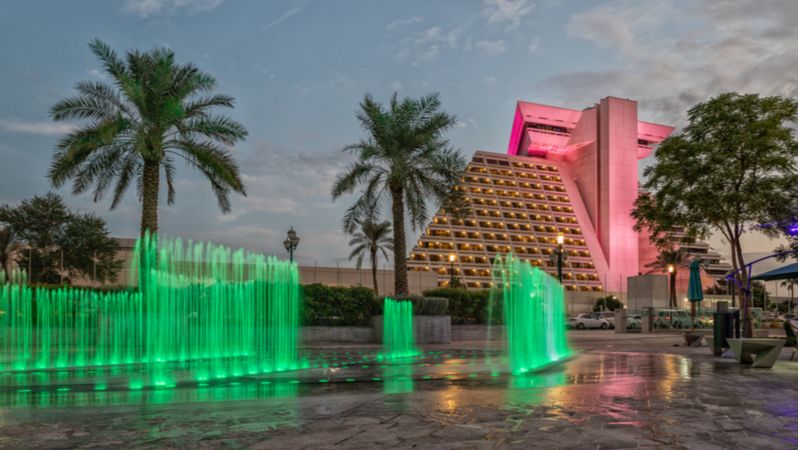 Are you a traveler in search of a Victorian-style bar? Well, how about the Irish Harp? One of the finest Doha attractions when you're in the city, Irish Harp is a Victorian-style Irish bar located at the Sheraton Hotel.  
The bar is as typical as they come from the traditional Victorian bars and offers a variety of facilities to its guests. Whether you think of live music, TV screens with the latest sports, drinks and so much more, the Irish Harp has it all.
Suggested Read: Luxury Hotels In Qatar That Offers The Most Exclusive Holiday Experience
5. The Structural Marvel Of Nobu Doha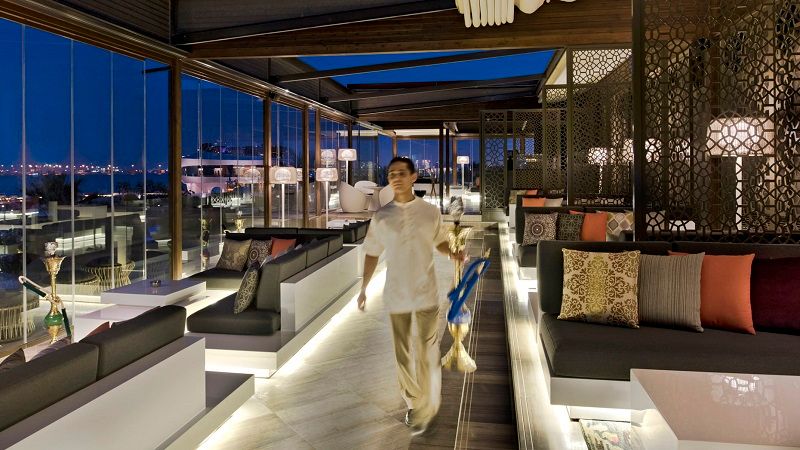 Located next to the Four Seasons Hotel, Nobu Doha is one of the most gorgeous places to enjoy your evenings in Doha. The restaurant and bar feature amongst the finest Qatar attractions and is a structural marvel in itself.  
Guests coming here can head over to the rooftop to enjoy quality time and mesmerizing view of the city while giving a treat to their taste buds with some of the finest cocktails that the restaurant has to offer.
6. Enjoy Fascinating Nights At The Madison Piano Bar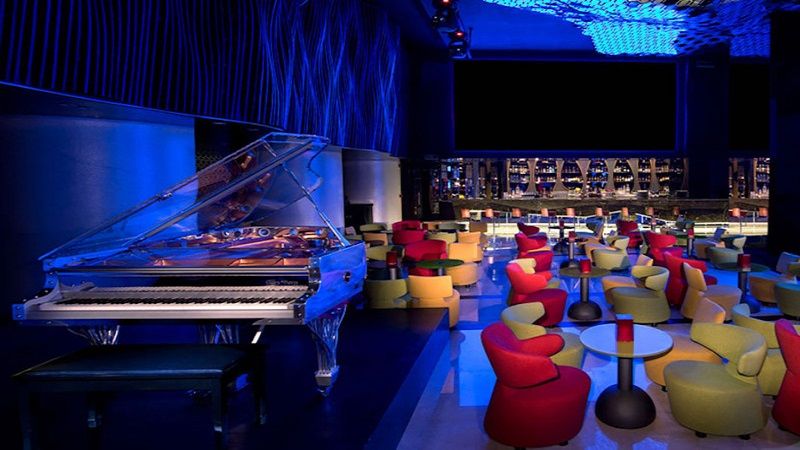 Rooted at the La Cigale Hotel, the Madison Piano Bar is the place you can't afford to miss. Even if you're someone who's not interested in having meals and just want to have some fun in Doha, this is the place that has to be on your list.  
The bar is particularly famous for its electric Arabic Music nights performed by Rami Mrad in a rather sophisticated setting. Travelers visiting here are bound to have quality time. However, there is no live music on Sundays so you might want to plan your visit accordingly.  
7. Watch Your Favorite Sport At Champions Sports Bar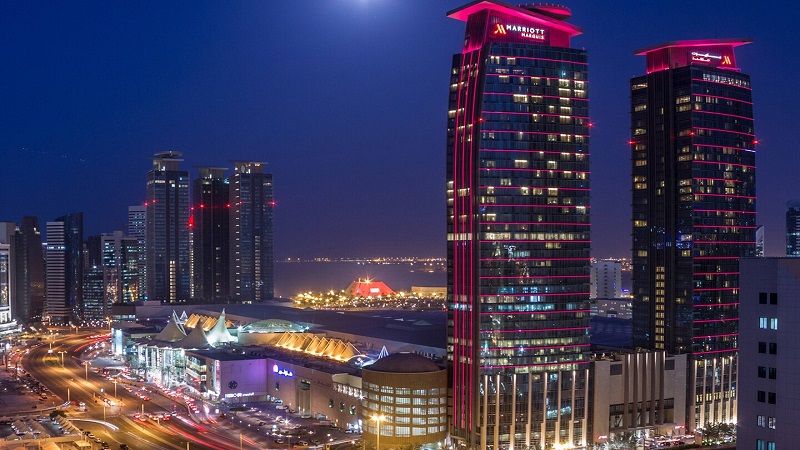 Now here's a thing, consider a scenario where you're having fun in Doha but can't afford to miss out on your favorite team's match tonight. Well, what options do you have? To watch on your smartphone? Or head back to the hotel room to watch it?  
What if you could, in fact, watch your favorite soccer or cricket match without having to head back to the hotel room or missing fun on your holidays? Well, that's right.  
As good as it sounds, Champions Sports Bar is a great place that offers that luxury. With over 47 screens to watch your favorite sport and the option of a private room, visitors coming here can expect to have a wonderful time watching their favorite sport during the evenings. In fact, the place is open during the evenings only from 5 pm to 2 am.  
8. A Dining Delight At Aqua Lounge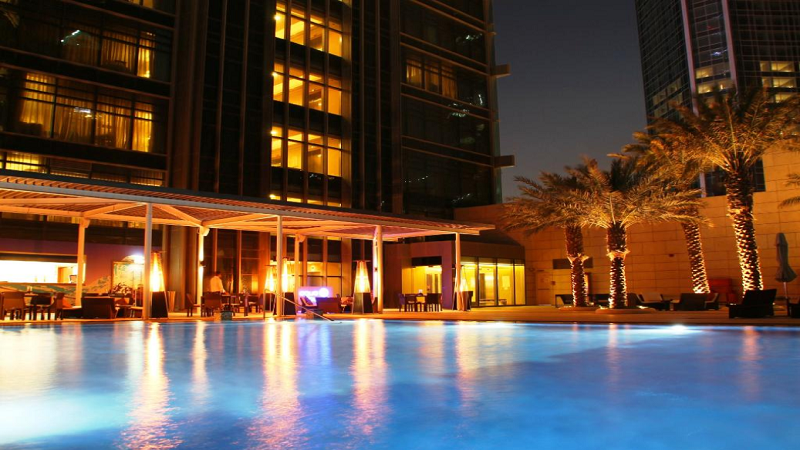 Last but not least in our list is the famous Aqua Lounge. Widely renowned for its great ambiance and International delicacies to try, the Aqua Lounge not only offers delicious food but also serves some of the finest drinks you could find in Doha.  
Its gorgeously shaded dining areas are a treat to the eyes and is a place worth visiting in case you're looking for a quiet time yet fun in Doha.  
So now we know what are the top places to visit in Doha to enjoy the nightlife in Doha. Let's understand how to reach the city and travel around.  
9. Enjoy Street Life When The Sun Goes Down At Souq Waqif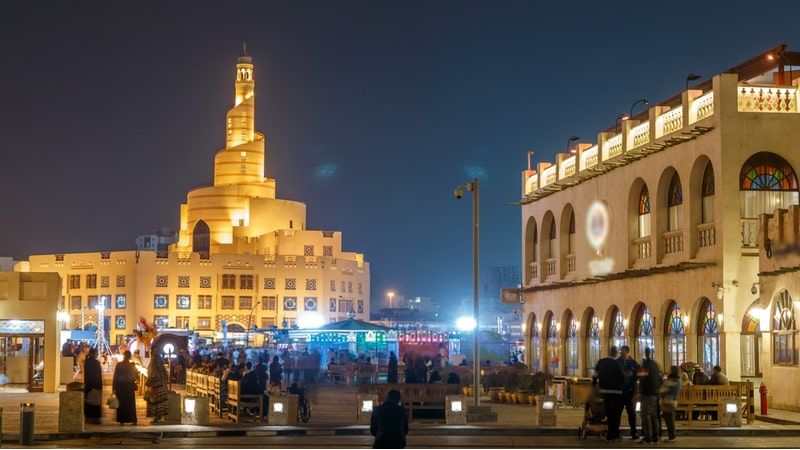 Enjoy Doha's skyline and see the modern city's looming skyscrapers. Walk the lanes of Souq Waqif and enjoy being transported back in time. The quant streets are home to historical architectural masterpieces of Arab, street halls and fancy restaurants.
Souq Waqif wakes up at night when the hot day ends and a cool evening begins. Tourists can by local handicrafts, street performances and visit the falconry market and art galleries.  When one wants to improve their cultural awareness, then it is suggest exploring the alleyways around the street for several hours. It is a must thing to do during Doha's nightlife.
10. Relax And Enjoy At Evening On The Shisha Terrace At The Four Seasons Hotel Doha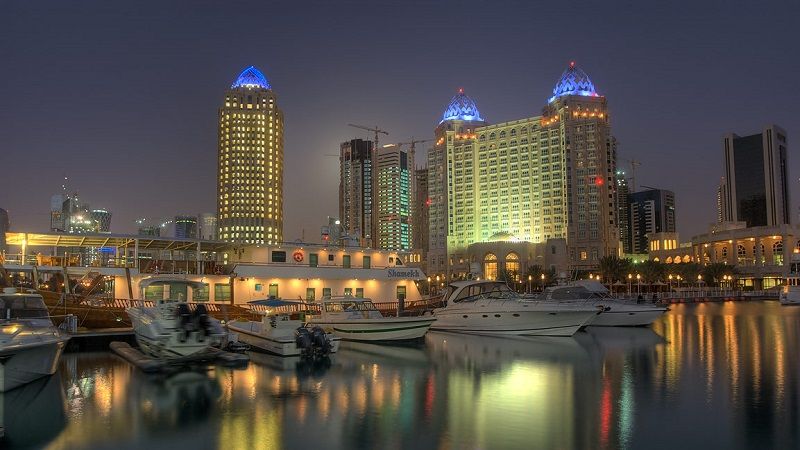 The Shisha Terrace located on the top of the hotel provides the best view of the city and sea. The lounge offers a relaxed and comfortable vibe with a gorgeous view and dedicated service. There are several traditional shisha sports in the Souq Waqif. The most popular shisha venues are Le Gourmet and The Corner Café.  If you want a fancy hookah experience, you should visit this hotel.
When your visiting Doha, sit back and relax with a shisha.  So, when you think of shisha, think of the four seasons hotel Doha. It is the best way to spend a nightlife in Doha.
Suggested Read: Hotels In Doha: List Of Finest Properties In The City For A Comfy Stay
11. Enjoy The Calm Waters With A Sunset Dinner Cruise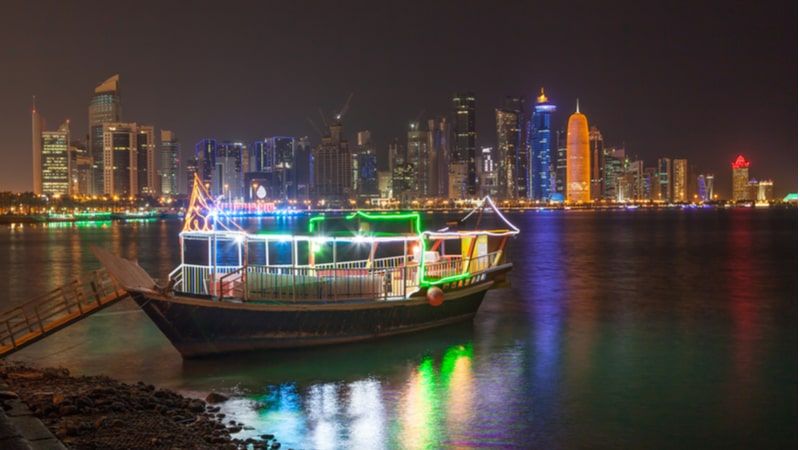 If you like the view of the sunset, you should travel the waters while visiting Doha. You may have to deal with the heat when setting sail, but at night you will be happy to aboard the traditional dhow boat. The river cruises last for about 2 hours and sail back in time for sunset. Head to Corniche for a traditional cruise experience where the lines of wooden dhows highlight the waters with several lights. For fine dining and fancy experience, go to Pear Qatar, home to several yachts with glass windows, air conditioning and open decks with majlis style seating. It is one the best things to do in Doha.
12. Drink Cocktails On A Rooftop Terrace At Double Tree, Hilton Hotel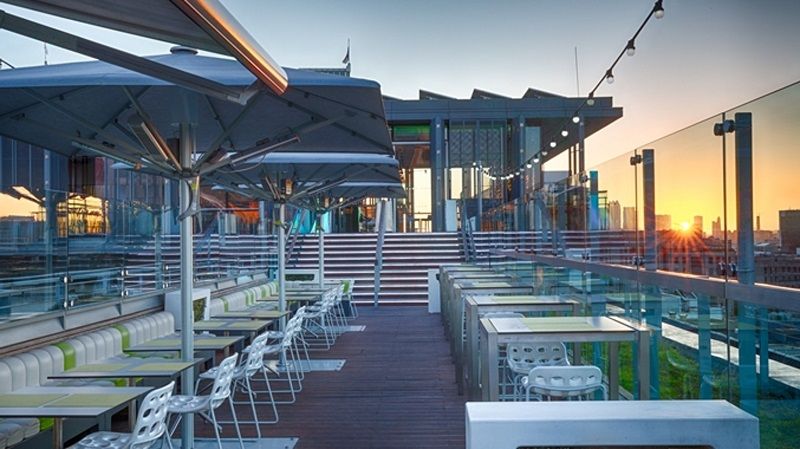 When you want to have a classy nightlife experience, go to the Double tree by Hilton Hotel Doha for the best cocktails, classic lounge setting and ideal view of the Arabian Gulf and West Bay skyline. You can go the sky view rooftop terrace bar where you can enjoy a cocktail along with live acts and DJs. Most places who serve alcohol are situated inside the hotel as there is a ban on public drinking.  They remain open till early hours of the morning.  You should get a table on the rooftop bar if you want to have a cocktail with the view of the city. People have always enjoyed this kind of a nightlife in Doha.
13. Watch The Sunset Over The Dunes With A Night Desert Safari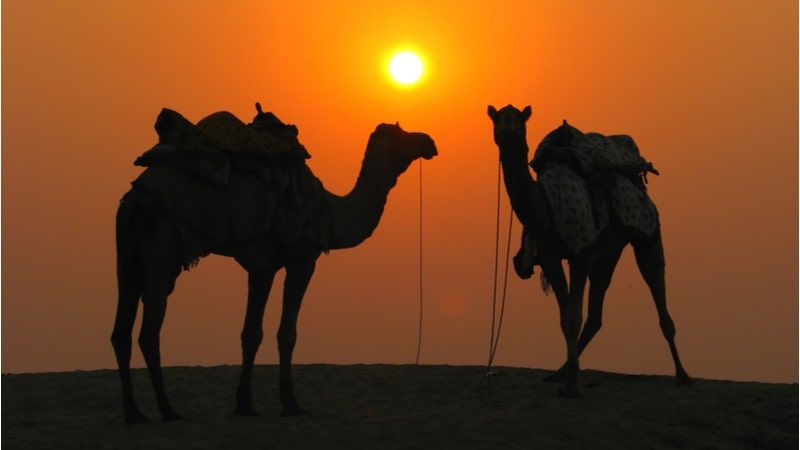 Head out on a sand dune adventure in the Qatari desert when you feel like escaping the crowd and getting your blood pumping. You can easily bounce over the dunes in the back of a jeep contrary to trekking the baron wilderness on a camel's back.  You get to see the breathtaking scenery and pearly white beaches on a rollercoaster drive.  Doha's nightlife is colorful and shouldn't be missed when visiting the city.
Suggested Read: Experience The Thrill Of Safari In Desert For Your Qatar Holidays
14. Witness The Beauty Of Doha Skyline At Night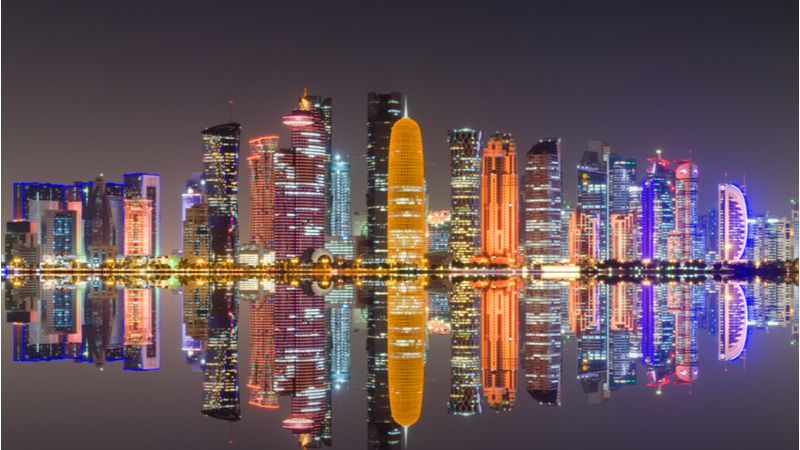 Doha skyline looks absolutely scintillating brimming with lit towering skyscrapers. Stroll through the Doha Corniche, a waterfront promenade near Doha Skyline is one of the most pleasant things to do in Doha at night. You will be offered with the most enchanting views and a peaceful ambience. Explore nearby restaurants and rooftop bars to enjoy a fine-dining experience while enjoying the picture-perfect views of Doha skyline or take a boat ride near Doha Corniche. And if you do not want to engage yourself in any of the activities, then just simply relax and unwind yourself near the seafront and enjoy the pleasant weather and cool breeze.
15. Witness Lavish Nightlife At The Pearl Qatar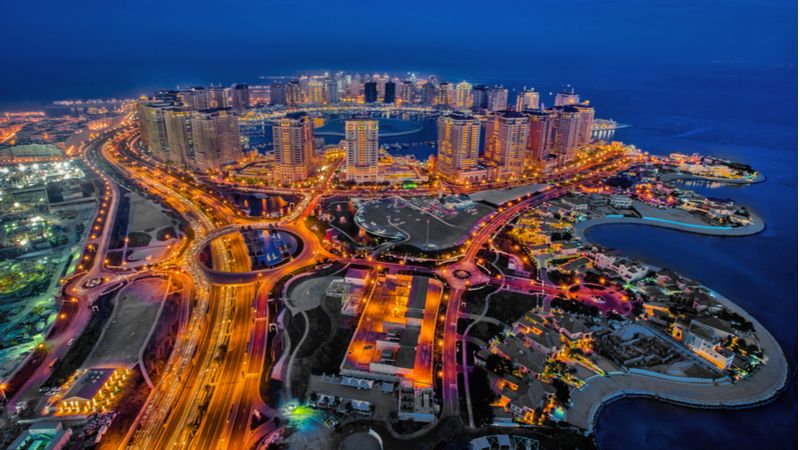 The Pearl-Qatar is Qatar's most luxurious project and is home to some of the most prominent people in Qatar. From high-end restaurants to quality bars, fancy boutiques to world-class cafes and eateries, you will find everything at one place in the Pearl-Qatar. This artificial island looks absolutely gorgeous at night when it is all lit up and seashore looks absolutely gorgeous. Cruise tours can also be taken on the island to enjoy a lavish experience and have fancy dinners. The island also houses nightclubs, bars and pubs which you can visit to dance on the latest beats and enjoy a thrilling nightlife in Qatar.
16. Enjoy A Unique Dining Experience At B-Lounge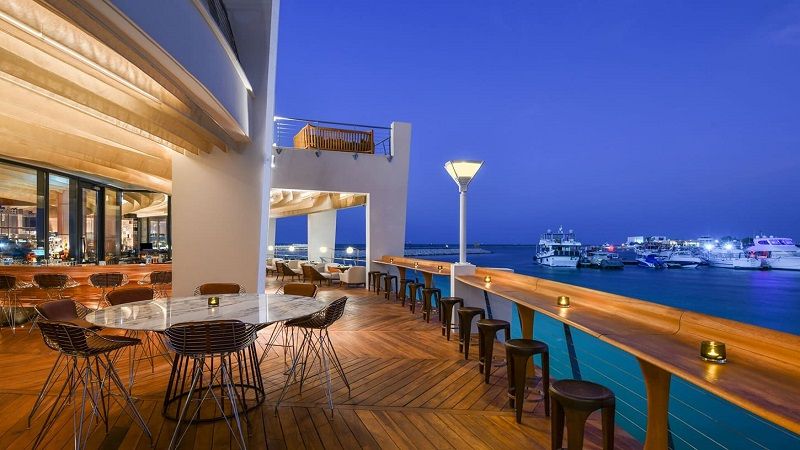 B-Lounge, a fine-dining restaurant located within the premises of The Ritz-Carlton, Doha is an ideal choice for sophisticated class of people who wants to enjoy nightlife in Doha. Offering stunning vistas of the marina, B-lounge is famous for offering delectable cuisine and drinks, hosting mixology & culinary events and also for organizing celebrity DJ nights. The award-winning mixologists, soothing music, enthralling views, chic interiors and architecture, and a menu inspired by Asian fusion cuisine, B-Lounge promises the most soul-satisfying nightlife experience.
17. Enjoy Drinks & Views From Terrace Of Pure Lounge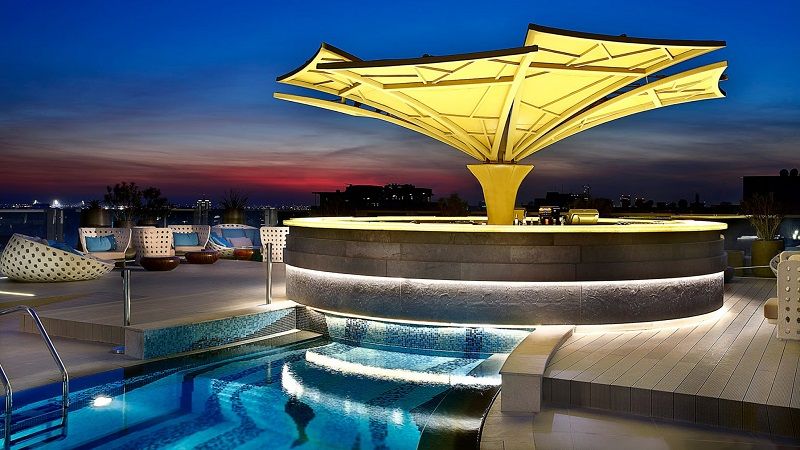 Pure Lounge is a place for elite class people where they can enjoy drinks, scrumptious food and amazing views of the Doha's skyline and Arabian Gulf. From live music to events, it is a great place to enjoy nightlife in Doha with perfect choice of cocktails and food amidst a lively ambience. Get ready to receive a warm hospitality from the staff of Pure Lounge and experience the best nightlife experience in Qatar. The lounge is open every day from 06:00 pm to 02:00 am, so late night party scenes can be enjoyed here.
Suggested Read: Nightlife In Pattaya, Thailand: Witness The Charisma Of Party Town
How to Reach Doha and Travel Around at Night?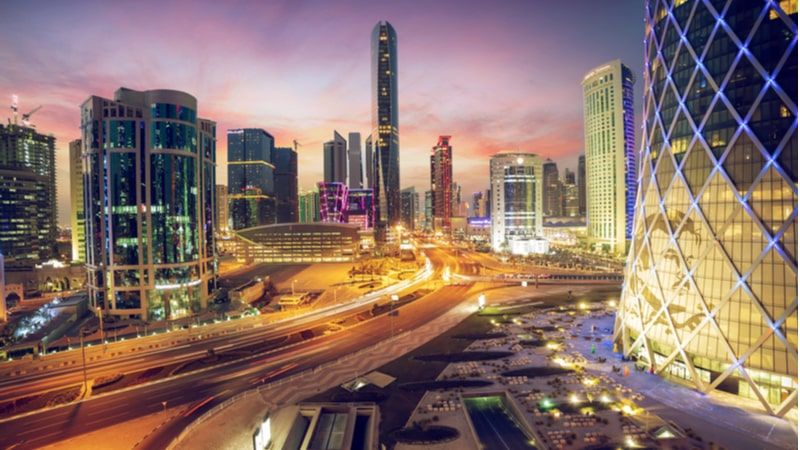 Reaching Doha may sound difficult but it isn't. As Qatar is connected with virtually every destination around the world, there are cheap flights available from all neighboring and far-off countries of the world.  
Tourists can book a flight to Qatar online without any hassle or can even opt for a road journey from Saudi Arabia by bus. A journey that usually takes slightly longer hours due to delays in customs, bus travel is an option for travelers coming from Saudi Arabia only.  
As for getting around the city, well, although there are buses available transportation around the city, the popular pick amongst travelers is a taxi. There are taxis that run in all of Doha and are much affordable. Hence, travelers can get around in taxis in the evenings.
A city that already has so much to offer, the nightlife is Doha is rather sophisticated and less of the western style. However, if you're someone who truly wants to experience what the city of Doha is like during the nights, head over to the different clubs and restaurants and experience yourself.
FAQs
Q1. What is there to do in Doha at night?
Visitors can do a lot of things to enjoy the nightlife of Doha like- visit Souq Wakif, head over to the night clubs, visit restaurants to taste different Qatari cuisines and so much more.
Q2. Can I drink alcohol in Qatar?
Alcohol is available in Qatar at licensed hotel restaurants and bars which travelers can head to and enjoy their favorite drink.
Q3. Is Doha expensive to visit?
Doha is one of the richest cities in the world, and yes, the city is expensive owing to its fine hospitality and luxurious holiday experience.
Q4. How much is a beer in Doha?
If you're looking to try the domestic beer of Qatar, then it may cost you around 50 QAR in Doha.
Q5. Is Doha safe at night?
Yes, Qatar is one of the safest countries in the world and if you're enjoying your holiday in Doha, expect a safe holiday all together.
Q6. Which are the best nightclubs in Doha?
Some of the most famous nightclubs in Doha are:
Crystal at W Doha
Iris
Nobu
La Vista 55
Irish Harp
Illusion – Marsa Malaz Kempinski, The Pearl
Oxygen Club – La Cigale Hotel, Doha
Q7. Which are the best things to do in Doha at night with family?
Some of the best things which you can do in Doha at night with your family are:
Take a cruise ride at Doha Corniche
Stroll through Souq Waqif and enjoy shopping
Indulge in night desert safari experience
Enjoy night kayaking under the stars
---