A country rooted in the Persian Gild and brimming with serene locations, Bahrain has all the attributes to be a top tourist destination in the region. Popularly known as the island nation of 51 natural islands and 33 artificial islands, this is a land that ensures your holidays are never dull. In fact, there are many things to do in Bahrain, from adventure activities to scenic tours around the countryside.
So, do you fancy a vacation in this island nation? Here's our take on the top things to try in Bahrain.
Best 17 Things To Do In Bahrain
Here are some of the beat things that one can do on a vacation in Bahrain.
1. Visit The Bahrain International Circuit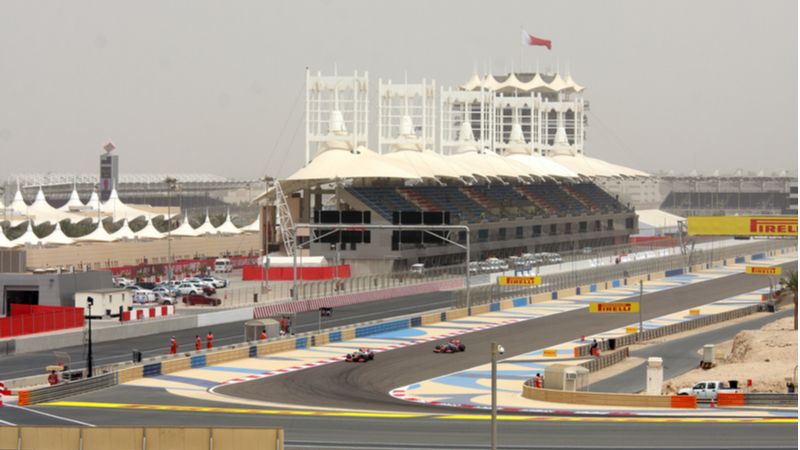 Who isn't aware of Formula 1 in Bahrain in the month of March? One of the major attractions for Formula 1 enthusiasts, the Bahrain International Circuit offers all the thrill and excitement of Formula 1 to visitors. Interestingly, even if you fail to come here in the month of March, well, a guided tour is still possible. One of the most fun things to do in Bahrain, visitors can pay a nominal fee of around BHD6.5 and take a tour of the track and Sakhir Tower.
Want to feel driving on the track? Well, you have an option to pay more and drive around the track yourself. So, why not enjoy touring the Bahrain International Circuit here?
Location - Gate 255, Gulf of Bahrain Avenue Umm Jidar, Sakhir، 1062, Bahrain
Famous For - Guided Tours, Formula 1
2. Catch A Glimpse Of The Manama Skyline From Blue Moon Lounge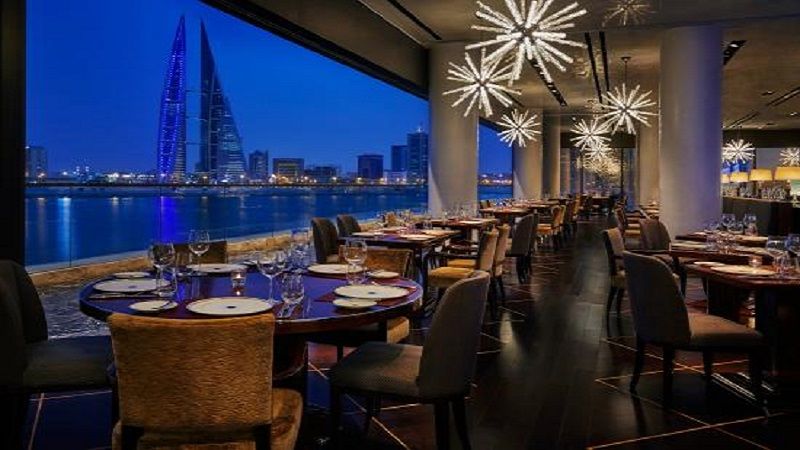 Regarded as one of the best places to visit in the Middle East as far as accommodation is concerned, the Four Seasons in Bahrain Bay is home to the Blue Moon Lounge, located on the 50th floor of the hotel. The place is a must-visit for multiple reasons and catching a glimpse of the skyline is one of them. Home to the world trade center and a number of iconic buildings, catching a glimpse of the Manama skyline has to be one of the top things to do in Bahrain.
In fact, there's nothing better than savoring a fancy meal from a rooftop restaurant while embracing the fine views of the Manama Skyline.
Location - Bahrain Bay, Manama, Bahrain
Famous For - Dining, Manama Skyline Views
3. Uncover The History Of Pearl Trade At The Bahrain Pearling Trail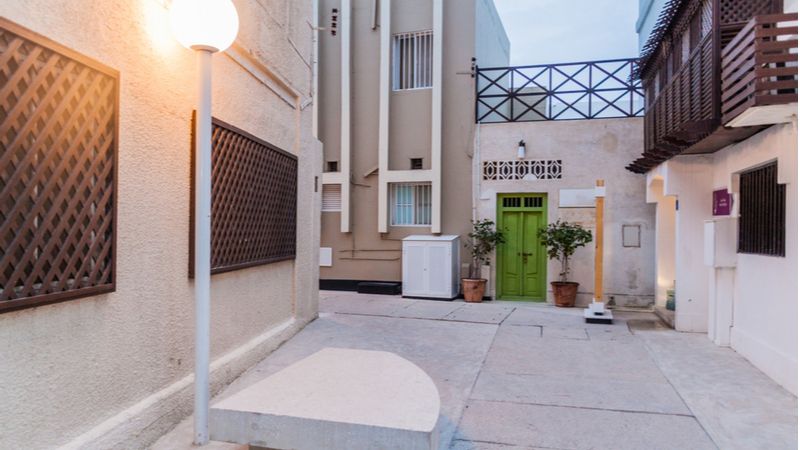 Now here's a thing, Bahrain has been home to the prosperous pearl trade over time and one of the three UNESCO world heritage sites here shows a glimpse of the time. With warehouses and homes that travelers can get to see, this is an experience that is not to be missed. One can easily reach here by taking a local transport. The Bahrain Pearling Trail is open all 24 hours while the timings may differ. Hence, travelers are advised to check with the concerned authorities before heading here.
Location - Pearling Pathway, Bahrain
Famous For - Cultural Heritage Site
Suggested Read: Resorts in Bahrain: The Best Accommodations For Discovering The Luxury
4. Visit The Al Fateh Grand Mosque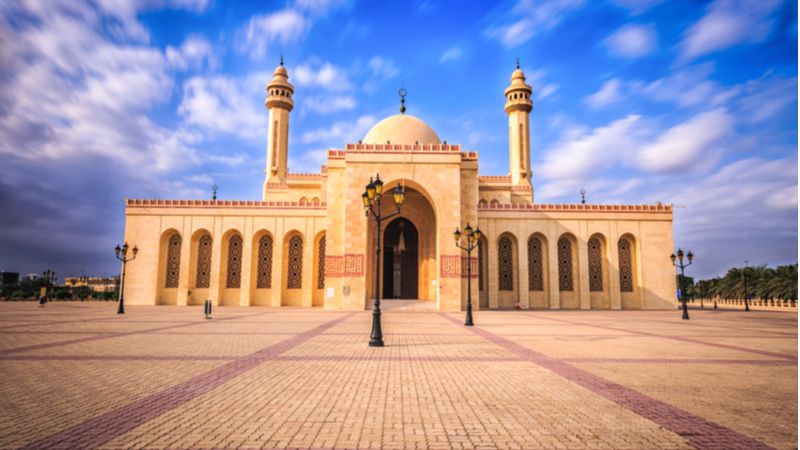 Although there are many activities to do in Bahrain, a visit to the Al Fateh Grand Mosque has to be a top choice amongst those who wish to see the largest mosque in the country. As travelers put it themselves, there is a unique story behind every aspect of the mosque, be it the floor, the walls and so on. One can even think of its as the best place to learn everything about Islam in the Kingdom. In fact, when it comes to Bahrain, things to do in this part of the world but the mosque and Islamic faith has a top spot in the hearts of natives and travelers can certainly embrace that while getting to be part of it.
Location - Awal Avenue Corner Al Fatih Highway، Bahrain
Famous For - The Biggest Mosque In The Country
Suggested Read: Finest Things To Do In Qatar For An Unforgettable Trip
5. Spend A Day At The Al Dar Islands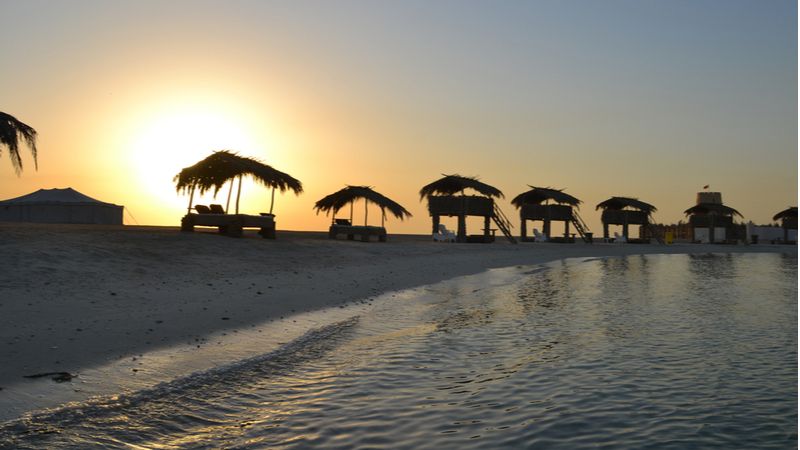 Fancy a fine day out while on your vacation in Bahrain? Well, the Al Dar Islands might well be the best spot for you. Home to some of the best beaches in Bahrain, the place is perfect to enjoy a fascinating time out with family. One can head to the famous Sitra Fisherman's Port and hire a boat in order to reach the Al Dar Islands. The best part? Travelers get to rent a beach hut and spend time with their loved ones. Besides, as far as things to do are concerned, one can even get to enjoy activities like kayaking, and fishing here. Interestingly, Al Dar Islands offer dolphin watching as well in the waters nearby which is a major highlight amongst travelers.
Location - 12 km southeast of the capital, Manama, on Bahrain Island
Famous For - Kayaking, Beach huts, Fishing, Dolphin Watching
6. Catch A Sight Of The Tree Of Life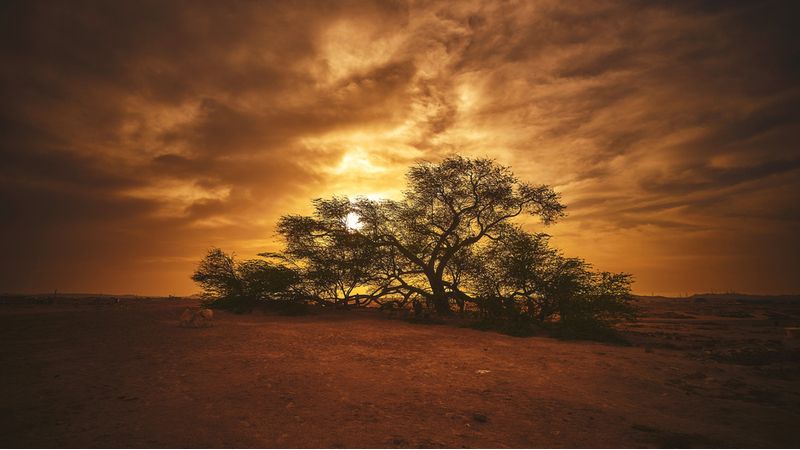 Now here's a thing, have you ever thought about a tree that is about a hundred years old but is located in the middle of a desert? Well, Bahrain has this wonder for you. Regarded as one of the top places to visit in Bahrain, the tree of life offers a whole lot more than just a unique sight to visitors. In a region where no other vegetation is to be found, the Tree Of Life has existed for hundreds of years and still stands firm in the middle of a desert. Travelers coming here can not only catch a glimpse of this unique wonder of nature but can even enjoy camping nearby. There are a number of campsites that offer fine accommodations and better than some hotels in Bahrain. Simply visit here, enjoy camping and make a whole fun night of it.
Location - Off the Musakar Highway, between Riffa and Awali, near Jebel Dukhan, Bahrain, Jebel Dukhan, Bahrain
Famous For - Being hundreds of years old in a desert where no vegetation is to be found
Suggested Read: Things to Do In Dubai For An Exhilarating Vacation
7. Indulge Yourself In The Charm Of International Music Festival In Bahrain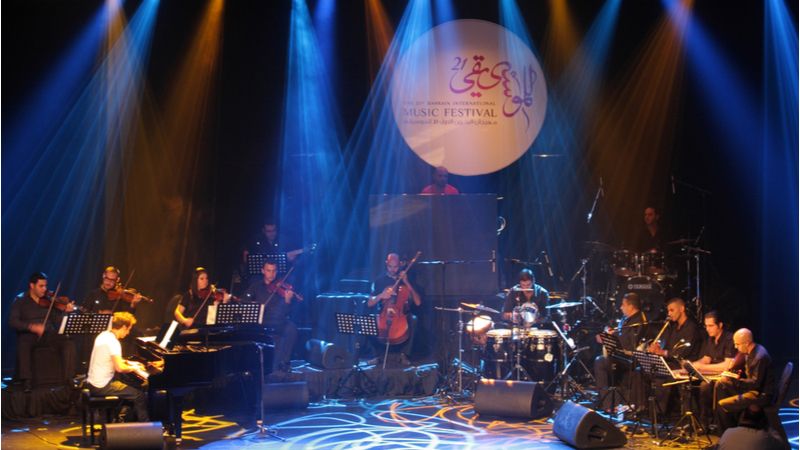 One of the many free things to do in Bahrain, the International Music Festival is a top attraction amongst travelers and is attended by thousands of music lovers every year. Coming from all around the world to enjoy the spectacle, visitors can expect to enjoy performances from top bands that include German rock band Treptow and oud player Daline Jabbour. The festival usually takes around the month of October and lasts for a whole week.
The best part? One can get a number of free gigs at the event which add up to make a whole new level of experience. So, why not treat yourself with some musical delight and witness the International Music Festival in Bahrain?
Location - The venue for the International Music Festival is subject to change or any such alterations. Hence, travelers are advised to confirm the Venue from the official website of Bahrain Authority for Culture and Antiquities
Famous For - Popular band performances
8. End Your Day With A Show At The Bahrain National Theatre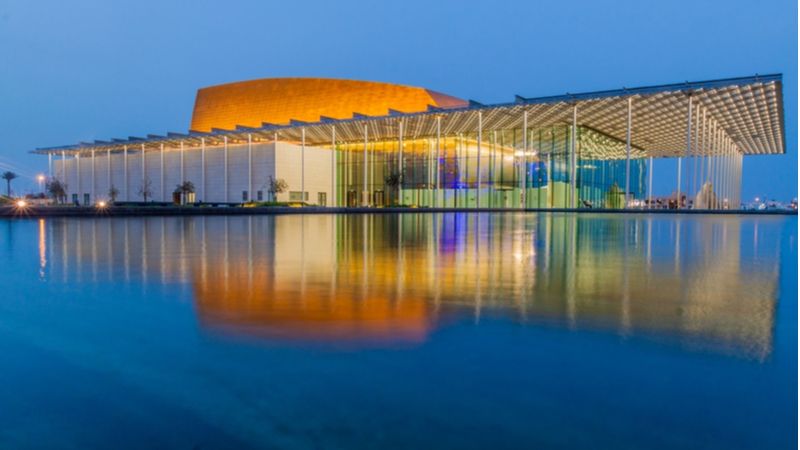 Now here's an interesting thing about Bahrain, the country is home to the famous Bahrain National Theatre which draws its inspiration from the stories of 1,001 nights. Popular amongst visitors for large seating capacity and top of the line shows, the theatre features a staggering 1001 seats which are enough to accommodate a large crowd and watching a show here is easily one of the top things to do in Bahrain.  Interestingly, it is the third-largest theatre in the whole of the Middle East and offers some unique shows to visitors. Let's take an example - The theatre has, in fact, hosted L'Orchestre Lamoureux, and has featured a groundbreaking performance of Swan Lake in the past. So, why not witness the old-world charm of the national theatre in Bahrain?
Location - Shaikh Hamad Causeway, Manama, Bahrain
Famous For - The Bahrain National Theatre is the third-largest theatre in the Middle East and features some top performances from popular stars
Suggested Read: Best Things To Do In Kuwait That Offers An Incredible Experience To Every Traveler
9. Have A Fun Day Out At Wahooo! Waterpark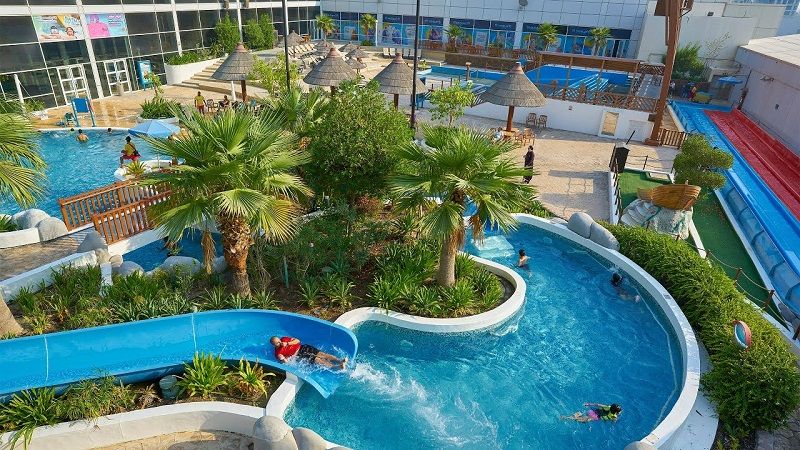 When it comes to water parks, Bahrain has a lot of them, but none compares to the adventures of Wahooo! Water Park. It is a modern and futuristic water park and one of the finest ones in the Middle East. Spanning over an area of 15000 square feet, it is designed on the theme "Sub- Tropical paradise". It is a great place for age groups. Wahooo! Waterpark is made with a vision to cater to the fun of all kinds of ages and groups throughout the year.
It is made of 30% outdoor activities and 70% indoor activities, and this assures its motto. As is situated in the city center some of the best malls in Bahrain are in its proximity. The water park comes packed with games, rides, slides pools, and much more, and it also features a moored schooner at its heart. Once you have had your gun here, you can go out on a shopping spree or have a relaxed meal at one of the eateries or you can even catch a blockbuster.
Location: City Centre Bahrain, Building 2758, Road 4650, Sh. Khalifa Highway, Manama, Bahrain
Famous for: To be the ultimate water fest, thrilling rides like Master Blaster, Sidewinder, Matt Racer, a Multi-Level Rain Fortress, and Wave pool
10. Show Your Love For Animals By Feeding The Cute Baby Camels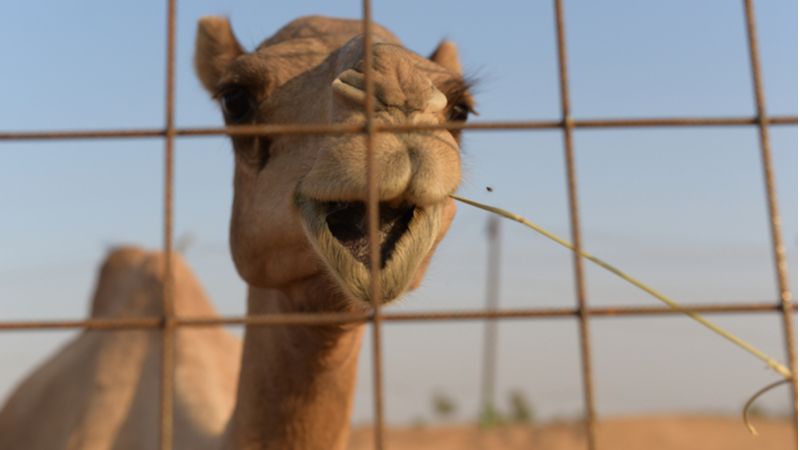 Animal lover! Where are you? Bahrain came up with the perfect activity to do in Bahrain for you. Feeding camels! Yes, now it allows you to feed the cute little baby camels. Wondering where you can do it? Royal Camel Farm is where you can see, roam among them, touch them and feed them. It is a bit unusual activity, but it sure as hell is exhilarating. A pure rush of adrenaline is what you will get when the baby camels with adorable eyes eat from your hand.
It is a fun activity, and together with several other activities, Bahrain is one of the best honeymoon destinations in the world.  The caretakers, of the farm, are very generous. You can also see the camels owned by the Royal Family. Royal Camel Farm is usually not advertised as a tourist spot but is open to the public. Now, with time it is gaining popularity. You must try out this cute and thrilling activities in Bahrain. But keep in mind even though you will be feeding baby camels, they are not small in size, in fact, they are very strong and big. Also, give a little til to the workers, it sure will make their day.
Location: Royal Camel Farm, Manama, Bahrain
Famous for: Feeding camels, their adorable and cute faces, and unleashing the animal love inside you
11. Take An Adventure Inside With Indoor Skydiving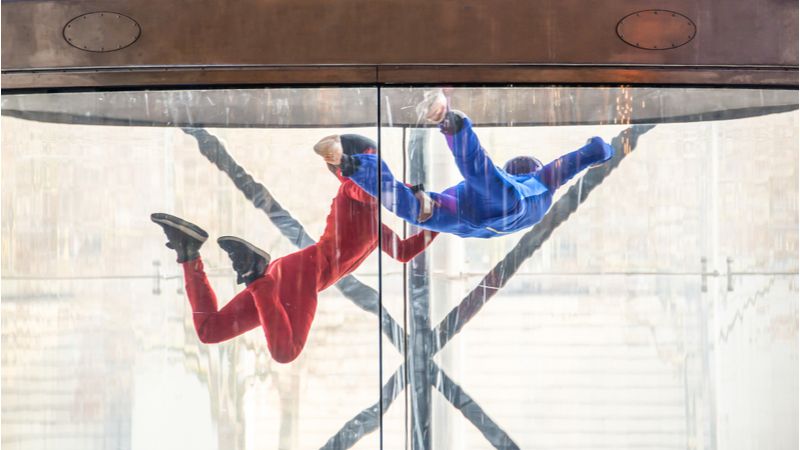 Skydiving, sounds thrilling and exciting right? How about indoor skydiving? As crazy as it sounds it is possible. This unusual activity is now a part of famous things to do in Bahrain, and it is not only famous but quite fun as well. You can try out this activity at Gravity Indoor Skydiving. This company specializes in giving the best indoor skydiving experience. What is better than this? Flying mid-air! That too without going outside or jumping off of a plane.
After the adrenaline rush, you can grab a relaxed meal at some of the best cafes in Bahrain. Keeping your safety in mind, many security measures are taken by the company, and thus, it is absolutely safe. But, being safe doesn't mean it is not fun, Gravity allows you to enjoy the thrilling feel of free fall. It all happens using the anti-gravity technology, and once again technology came in handy for fun. You will be guided by the professionals, who by the way are quite friendly. Indoor skydiving is a perfect dose of adrenaline for you.
Location: Building 234, Avenue 62, Zallaq 1058 Bahrain، Zallaq 973, Bahrain
Famous for: World's tallest indoor wind tunnels and for giving a thrilling experience to visitors
Suggested Read: Things To Do In Antalya, Turkey For An Kindling Getaway
12. Explore The Serene Hawar Ifsland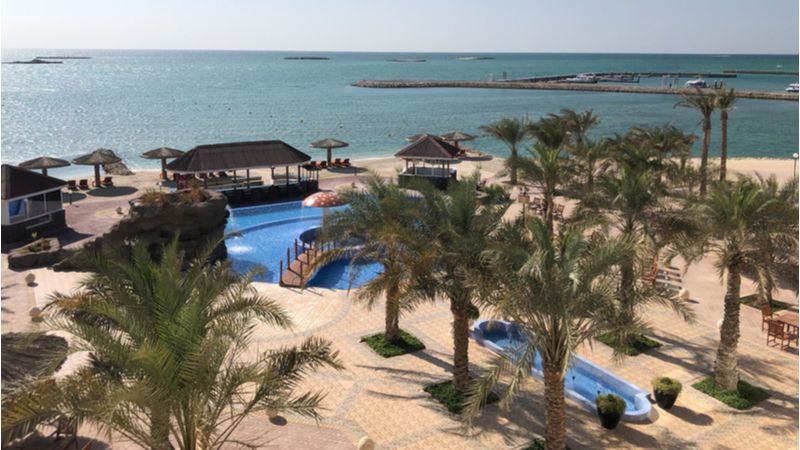 Hawar Island one of the best and coolest islands in Bahrain. It is a beautiful and alluring island and explores this island is an adventure activities in Bahrain itself. There is a wide variety of options that the island offers for its visitors. You can opt from choosing a placid and calm day at the beach or you can go on a little boat trip or you can choose to hike around the island. Hawar island caters to a lot of things, or one might say a little something for everyone.
When talking about wedding destinations in the world, Hawar Island is one of them, the island is serene and pristine and will add an additional spice of beauty and adventure. It is also a very good place to visit with family and friends. Hawar Island is an ideal location for a poised getaway from the hustle bustle of the city. You can even plan your stay on the island as there are many hotels on the island and also pools are available. Hawar island welcomes guests of all sorts, ranging from people seeking a plush getaway and people who seek an affordable vacay.
Location: Hawar Islands, an archipelago in Bahrain
Famous for: Wildlife reserve of international significance, pristine beaches, indigenous fauna and flora, and migratory birds
13. Peep At The History At Beit Sheikh Isa Bin Ali Al Khalifa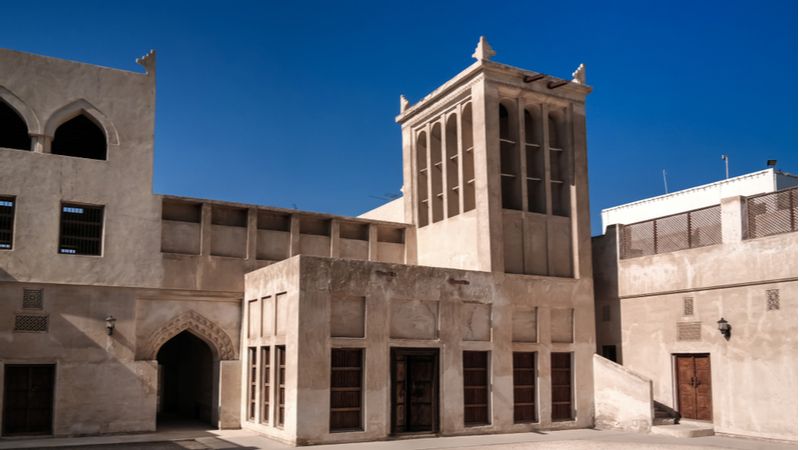 Beit Sheikh Isa Bin Ali Al Khalifa located on the Muharraq island, one of the most spectacular islands in Bahrain. It was built in the 1800s and is most likely the oldest house in Bahrain. Beit Sheikh Isa Bin Ali Al Khalifa was once the residence of a ruler and also the center of government. This two storey structure is also home to an Ethnographic Museum and takes up a whole city Block. Beit Sheikh Isa Bin Ali Al Khalifa is a majestic building and it will definitely take you on a rode to the history of Bahrain.
You can take a tour around the building or can visit the Museum inside. It is a perfect place for cultural and history buffs, with so much to offer. The walls of the building are made up of thick mud. It has stood still, almightly since the 1800s and it still retains its glory and charisma. The shaded courtyards and wind tower of the building show that how the residents of Bahrain adapted to the hot climate before the era of air conditioning.
Location: 762 Road No 1045, Muharraq, Bahrain
Famous for: Fascinating look at pre-oil life in Bahrain and being the seat of power for the ruling Sheikh (in older times)
14. Witness The Glory Of Bahrani Fortification At Riffa Fort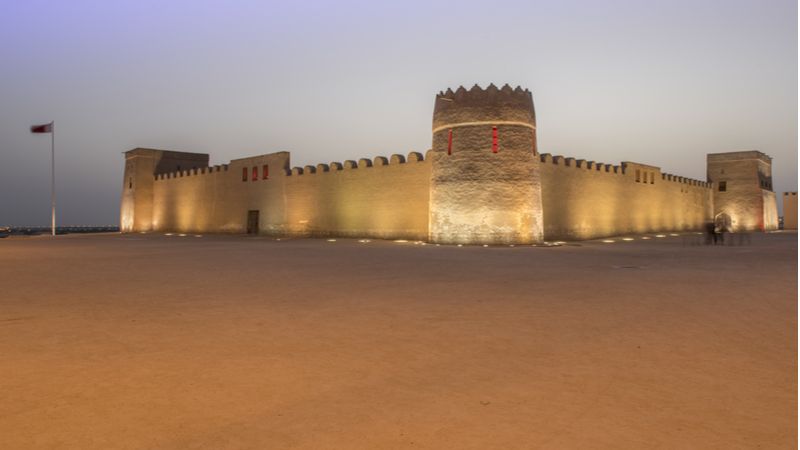 Riffa Fort was completely restored and built in 1812 by Sheikh Salman Bin Ahmad Al Fatih, the ruler of Bahrain in the 19th century. This fort is a classic piece of Bahrini fortification. It is now open to the public. The once, the glorious fort is now a famous tourist attraction in Bahrain. There is now a small museum with raised walkways leading through a series of interactive spaces that will give you a high-end historic experience.
The best to visit the fort would be during the late afternoon. A visit at this time is particularly atmospheric especially if the tour is finished off on the cafe's outdoor glass terrace, overlooking the Hunayniyah Valley, it is a divine scene to watch.
Yes, there is a cafe serving some of the best food in Bahrain and has a glass terrace. Exciting, right?  Riffa Fort is a true masterpiece of Bahrain's history. It is well signposted and is on the east of Riffa. If you have a little extra time on your schedule, you should consider popping up in the mosque near the northern center. Outside of prayer time, it is usually open for the public and was once a part of the original structure.
Location: Rd No 368, Riffa, Bahrain
Famous for: Offering splendid view across the Hunanaiya valley
Suggested Read: Things To Do In Canada: Compelling And Riveting Getaway
15. Taste The Halwa Bahraini, Enjoy A Sweet Tooth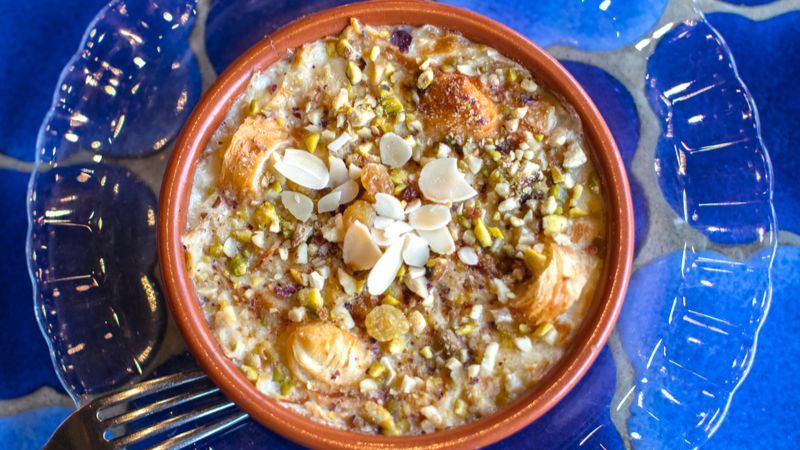 Do you have a sweet tooth? Then you should definitely try out the halwa Bahraini. You might have eaten halwas across the world along with the other sweets, but nothing compares to the deliciousness of Halwa Bahraini. You can find it in many of the Middle Eastern Countries, but the best one is set up in Bahrain. It is prepared from starch and rapeseed oil, and the end product has a gel like consistency, soft as nougat, and comes with crunchy nuts. It is a very common dish to find, you don't have to travel to a particular shop, it available almost everywhere. Halwa Bahraini is served with coffee. It is most likely pure sugar, but you just give it a shot.
Location: The Halwa Showaiter – the Pioneer Sweet Shop of Bahrain
Famous For: Unique and sweet flavor, and being a traditional dish (also for the way it is served- with coffee)
16. Relax Yourself With Spa Treatments in Bahrain
Spa treatments are the most relaxing thing that one can do. It's offer this activity in Bahrain. There are many spas in Bahrain that you can, no should, try out. A vacation at times gets tiring with ate the walking, shopping and visiting new places, and spa is the perfect thing to do, to release all the tiredness and stress. Although Bahrain is a very good place for pre-wedding shoots in the world, the hustle and bustle of Bahrain can be quite tiring and can quickly drain all your energy. What better way to restore it, than a spa? Al Areen Palace and Spa, For Seasons Hotel, Heavenly Spa, Rimal Spa, and La Fontaine Center of Contemporary Art are some of the best places for spa treatment.
The spa is very relaxing and at the same time is romantic as well, so if you looking for some couple activities to do in Bahrain, taking a couples massage is one of them.  A study has recently shown that massages are the best king spa treatments for glowing skin, energetic body, radiating, and rejuvenating glow. While in Bahrain you should definitely try this placid activity out. Trust me! There is nothing you would like to spend your time in other than the relaxing spa treatment offered by Bahrain.
Location: You can try these places: -
Al Areen Palace and Spa; Location - Al Areen Palace and Spa, Bahrain
Jacques Dessange Salon and Spa; Location - Rd 2601, Bldg. 55, Block 326, Manama, Bahrain
Heavenly Spa; Location - Unnamed Road, Manama, Bahrain
La Fontaine Centre of Contemporary Art; Location - 92 Hoora Ave, Manama, Bahrain
Sofitel Bahrain Zallaq Thalassa Sea & Spa; Location - 105 Zallaq Highway, Building 2015 Block 1055, Zallaq, Manama, Bahrain
Famous for: Giving a relaxing and unwinding experience, and variety of massages
17. Shop Till you Drop At Manama Souq
When speaking of shopping in Bahrain, it is a total paradise for shoppers, especially in Manama. Shopping is among must things to do in Bahrain. It is the ultimate and niche experience. Travelers believe that if Aladin was a real life character, then he to belong from this part of Bahrain. Manama Souq, sitting behind Bab Al Bahrain, is a knot of alleyways and streets, filled with vendors selling a wealth of goods, from gold to sheesha bottles and perfumes to spices, there is everything in this tightly knit web of streets.
Manama Souq lets you bargain, well to be precise, it doesn't give you chance you must bargain here. Never settle for the quoted price. Among the other souvenirs and spices and stuff, you can also find the famous halwa Bahraini here. It is a pure please for shopaholics, and although it is a tight knot of alleyways it is still so very beautiful. As Manama Souq is just behind Bab Al Bahrain you can also pay a visit there, once you are satisfied with your shopping spree.
Bahrain is truly a beautiful place and it is true and known for a fact that whether you stride along the different souqs of Bahrain or you visit malls, you will get the best shopping experience in the province.
Location: Manama Souq, an old bazaar in Manama, Bahrain
Famous For:  Warren of narrow streets and alleyways emanating south and wide range of products
Narrow down your bucket list with the best-picked things to do in Bahrain and get ready for an experience like ever before. This land of beaches, desert and erstwhile beauty have lured travelers across the globe, offering them the most fascinating wonders to explore. Despite being one of the smallest regions of the Asian continent, Bahrain is now emerging as a holiday point where there is diversity of art, culture and more. So without a delay, book Bahrain flights and get ready for an overwhelming vacation.
FAQs
Q1. What are the best things to do in Bahrain?
Bahrain with the islands, the beaches and the desert offers plethora of activities like:
Guided tours of Bahrain International Circuit
Witnessing the Manama Skyline Views
Embracing the cultural vibes of Bahrain Pearling Trail
Discovering peace at Al Fateh Grand Mosque
Some water thill at The Al Dar Islands
Q2. Are there any adventures to try in Bahrain?
Bahrain is surely the destination where you can capture more of historical and cultural glimpse. But for adventures you can try activities like scuba diving or a day tour to the biggest underwater theme park of the world.
Q3. How can I spend my holiday in Bahrain?
Plan out your day in Bahrain with the best things like visiting the nearby cultural spots or exploring the best beaches in Bahrain. If you are a beach lover, you can find more than 51 natural islands and 33 artificial islands.
Q4. What is the best thing about Bahrain that makes it perfect for holidays?
From the islands to the date palms, the pearling history and the heritage, everything makes Bahrain a popular destination for the travelers. Being a small nation in the Middle East, it is easy to explore and understand Bahrain.
Q5. What are the best activities to enjoy at The Al Dar Islands?
Al Dar Islands with its sandy beaches and the soothing warm waters proffers activities like Kayaking, Beach huts, Fishing, Dolphin Watching. One can even rent a beach hut and spend the day at leisure.
Q6. What is The Bahrain Pearling Trail?
The Bahrain Pearling train is one of the UNESCO world heritage sites in Bahrain. Followed by the Pearl Route, visitors here can buy the precious jewels and understand the pearling history of the country.
Q7. Which is the biggest Mosque in Bahrain?
The Al Fateh Grand Mosque is not just a spiritual landmark but one of the biggest mosques in Bahrain where you can discover a huge footfall of the devotees. The mosque reveals a lot about the Islamic history.
Q8. Is there any entertainment center in Bahrain?
Bahrain entertains tourists with its art and culture. The Bahrain Theater and events like International Music Festival are organized occasionally for offering the travelers a memorable time.
---