A country with a balmy ambiance adorning golden sand dunes and magnificent cityscapes, Kuwait embraces world class hospitality and quality international favorites that will enrich your taste buds. From the scrummy delicacies to opulent ambiance, Restaurants in Kuwait cuddles colors of various flavors that will give you a soul enriching culinary experience. If you are planning to explore fantastic food destinations in Kuwait, here is a list of top restaurants that will make your day.
Top 9 Restaurants in Kuwait: For a Finger Licking Good Experience
There are a lot of dining options in Kuwait, where one can relish flavorsome cuisines with a fancy menu card consisting of a lot of options to choose from. Like other places, food in Kuwait is a tradition. Presenting you a list of restaurants that will cater your cravings.
1. Feed the Soul With Indian Flavors at Udipi Pure Veg Restaurant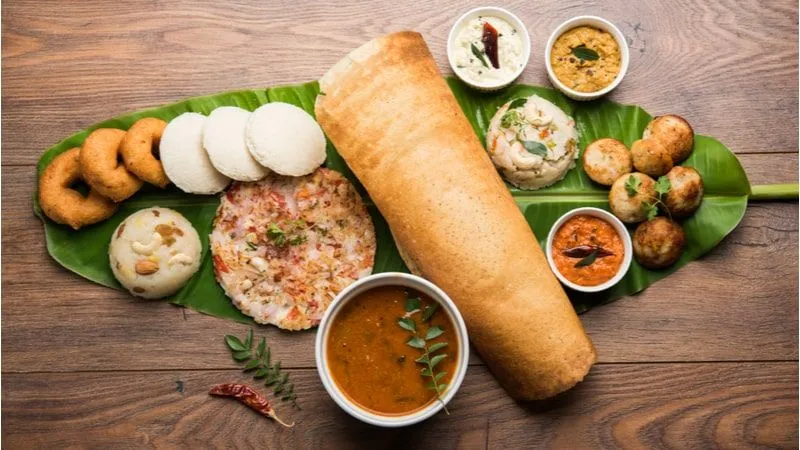 If you are looking for delicious pure veg cuisines, then this place is a one stop destination where one can relish the traditional flavors of the Indian food. Among all the vegetarian eateries, this is one of the best Indian restaurants in Kuwait. The Udipi restaurant comprises of a lot savory pure vegetarian South Indian dishes that are a must to try for. From aromatic sambhar will truly enrich your taste-buds. The appetizer sambhar-wada to mouth-watering succulent dosa and toothsome soft hot idlies, and many more dishes, the place is a complete paradise of various flavors right from India. Apart from the scrummy delicacies, the world class hospitality and perfect ambiance will serve one a quality dining experience. The moreish dishes served with a cultural touch will make your day.
Location: 27 Ahamad Al Jber St, Kuwait City, Kuwait
Timings: 10am to 11pm (daily)
2. Rejoicing Japanese Cuisines at White Robata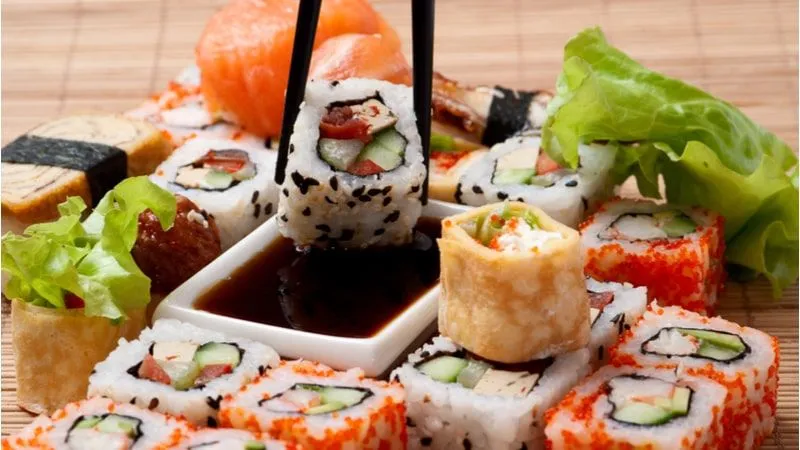 The Japanese restaurant, comprising of piquant flavors right from Japan, will give one a perfect blend of Japanese delicacies with a Kuwaiti touch. Among the Kuwaiti restaurants, this is a stop destination for luscious cuisines that will make give your taste-buds a lifetime flavor to remember. As the name suggests, Robata is the short form of 'Robatayaki', which in Japanese means 'method of cooking'. In this method, various dishes are slow-grilled over scorching charcoal, very similar to a barbecue, comprising of an array of flavors is every cuisine, that will leave you to eat more.
Location: Sheikh Jabel Al Ahmad Cultural Centre
Timings: 1pm to 11pm
Suggested Read: Shopping In Kuwait: Bringing The Best From The Old Traditional Markets
3. Savor the Kuwaiti Dishes With Marvel Interiors at Dar Hamad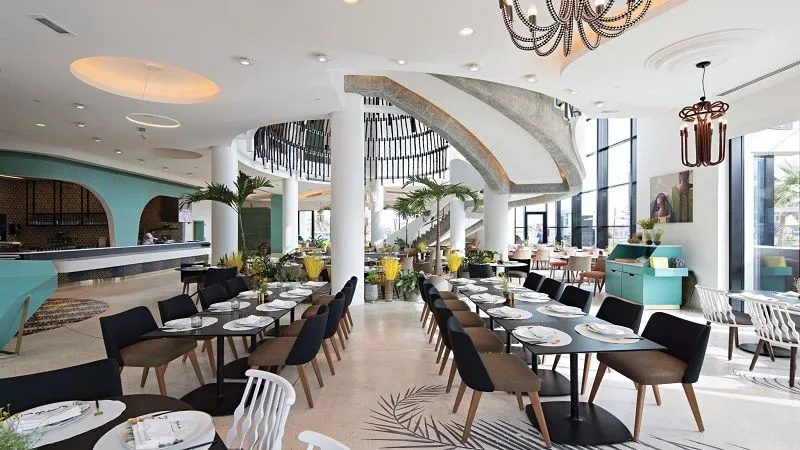 The Dar Hamad, is a perfect ambiance that will take you back to the golden era of Kuwait in the 70's. From delicious food to the perfect blend of Kuwaiti flavor and culture, this Kuwaiti restaurant also exhibits renovation made by designer Hamad Alsaab who made this place an architectural marvel, making it one of the famous restaurants in Kuwait. Located in Salmiya, the restaurant is housed in a large old house by the sea, reflecting a picturesque. This restaurant in Kuwait is famous for its aromatic cuisines and gastronomic flair of Kuwait that will give you a deluxe culinary experience.
Location: Baghdad St. 5 Ln, Salmiya, Kuwait
Timings: 8am to 11:30 pm (Daily)
4. Vegan Bite at OVO Restaurant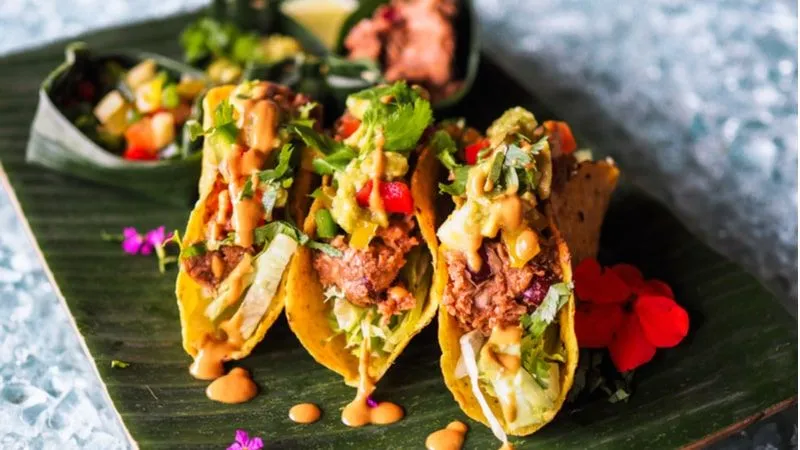 Among the restaurants in Kuwait, Ovo is one that will give you vegan and pure veg food options. The fancy menu card of the restaurant will give you authentic flavors and scrummy cuisines, that will delight your senses. The ambiance is a brim of hospitality and positive vibes. The Ovo is a paradise for vegans and presents a lot of delicious veg cuisines that are made out of passion by the owner Amal Chahine, who combines savor of her dishes with her passion for travel to make it a lifetime experience.
Location: Bneid Al Gar, Al Massaleh East building
Timing: Monday to Saturday 12pm to 10:30pm.
Suggested Read: Best Things To Do In Kuwait That Offers An Incredible Experience To Every Traveler
5. Relishing Italian Aroma and Cityscapes at Dai Forno Restaurant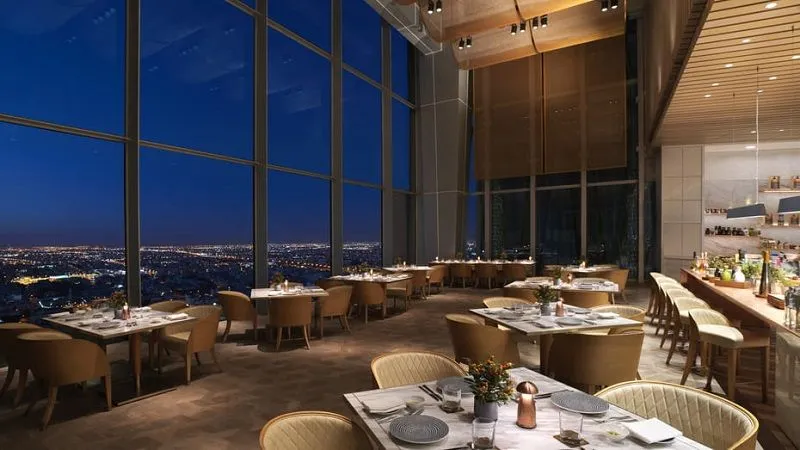 The Dai Forno Restaurant, is an Italian restaurant that consists of a mouthwatering menu card to delight your senses and feed your soul, with the Italian aroma and sapid scorching cuisines. The restaurant offers famous wood-fired pizzas, delicious pasta and a hot espresso with your loved ones. The indoor-outdoor romantic ambience of the place will really make your evening full of Italian flavors with gleaming cityscapes. For a perfect candle light dinner with your soulmate, this is an Italian restaurant in Kuwait, one must visit.
Located: At the Four Seasons Hotel, Kuwait.
Timing: 6pm to 11am (Tuesday to Sunday)
6. Enjoying Barbeque at Peacock Chinese Restaurant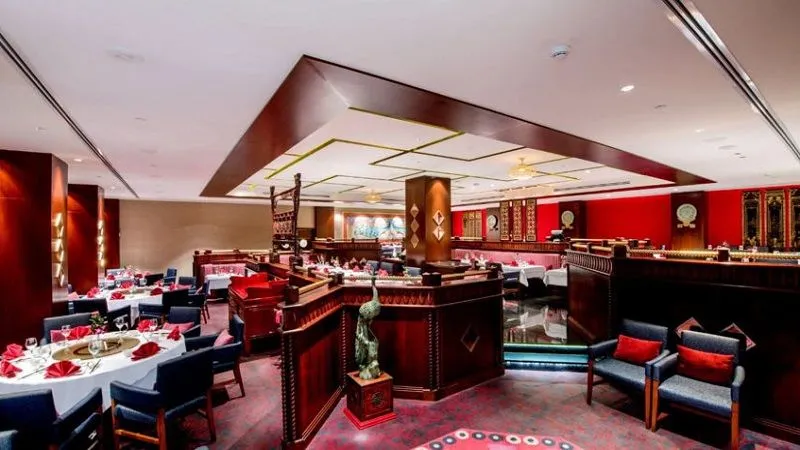 The Peacock Chines Restaurant is a one stop eatery point for all luscious Chinese delicacies that will enrich your culinary experience. This is one of the best Chinese restaurants in Kuwait, that has been presented with awards for the deluxe hospitality and piquant cuisines. The Peacock offers an authentic quality service with an appetizing menu presenting traditional cuisines right from China. The top most attractions here are the barbeque and opulent setting that will give you a world class experience.
Location: Radisson Blu Hotel, Kuwait, Al Bida'a Road, Al Ta'awn Street, Salwa 13122, Kuwait
Timing: 12:30pm to 11 pm
Suggested Read: Top Places To Visit In Qatar On Your Next Trip
7. Tasting American Delight at KFC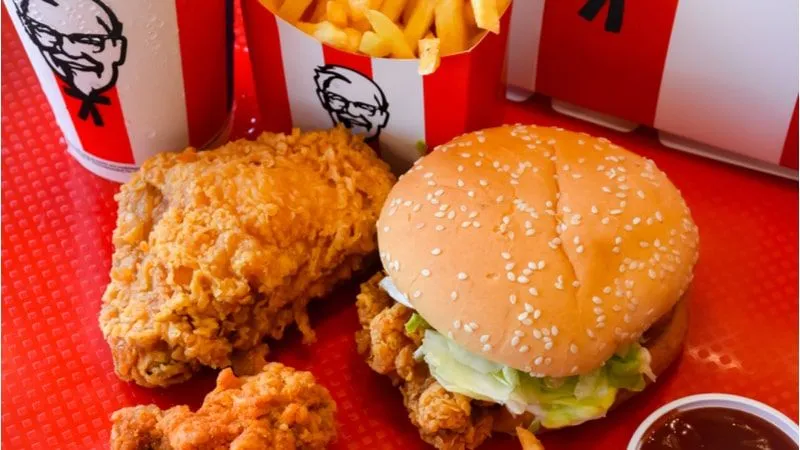 Serving scorching and fresh burgers and French fries to delicious sandwiches and chicken wings, a favorite American dining hotspot for many is Kuwait KFC. The super mega delas and dinner options are must to dry for. The best part is one can combo up a meal with your own options and can enjoy a fantastic drink as well. The delicious meals with the opulent setting make this restaurant a quality international favorite.
Location: Located at various places, KFC owns 66 restaurants in Kuwait.
Timings: 11am to 4pm (daily)
Suggested Read: Top Places To Visit in London: Discovering The Modern And Historical Marvels
8. Savor Kuwaiti Flavors at Al Boom Steak & Seafood Restaurant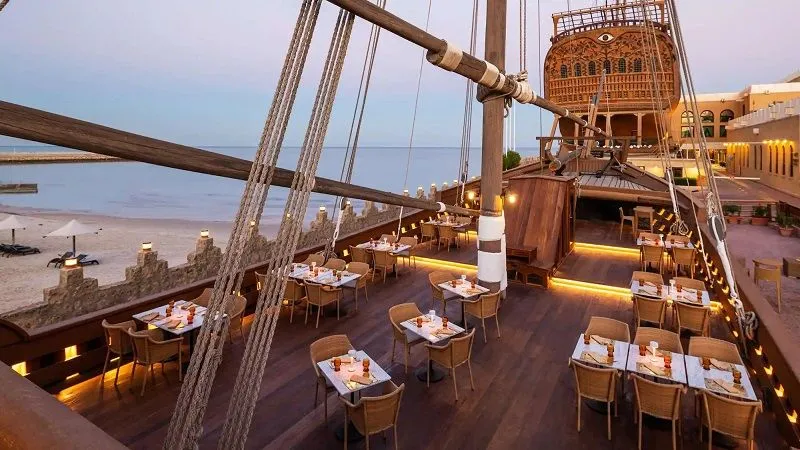 The perfect sea-view opulent setting brimmed with delicious sea food that one must taste, this restaurant reflects world class delight to enrich your taste-buds. Being one of the best Kuwaiti restaurants, it offers a blend of authentic Kuwaiti flavors served in traditional style, making it an attraction in Kuwait. The historic wooden dhow journey with an ornate ambiance and lavish dining experience, ranks it among the best places to visit in Kuwait. Rejoicing palatable sea food and your favorite drink is a complete paradise in this picturesque.
Location: Located at the Radisson Blu hotel, Kuwait
Timings: Tuesday to Sunday, 2pm to 11pm
9. Trying Japanese Dish with a Kuwaiti Twist at Tatami Restaurant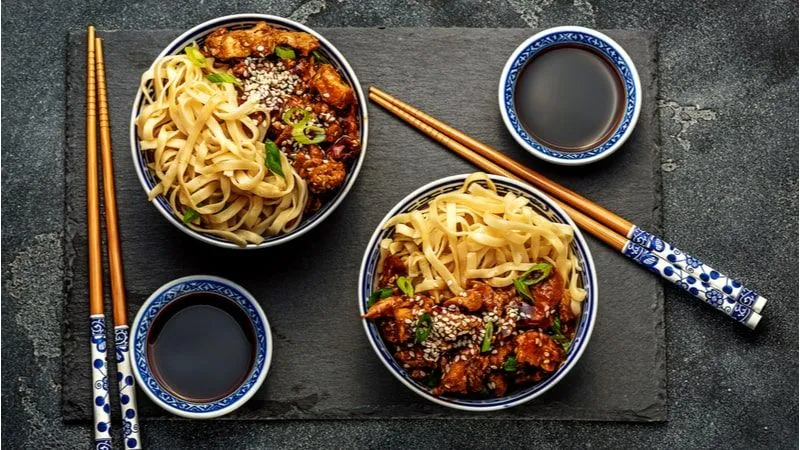 The menu card of Tatami restaurant offers a brim of authentic Japanese flavors right from Japan with Japanese traditions and Kuwaiti hospitality. The elements of Haute Japanese cooking, served in modern atmosphere with lot of styling out of love, make this one of the best Japanese Restaurant in Kuwait. The Tatami restaurant is famous for known for its contemporary twists on time-honored Japanese dishes.
Location: Shayma'a Tower, Sharq in Kuwait City and Dhai Complex Al Bidaa,
Timings: 12pm to 11pm (Daily)
Suggested Read: Top Places To Visit In Saudi Arabia For An Exciting Vacation
Food is the best way to discover and relish the culture and tradition of a place. By savoring the delicious cuisines and specialty of a country, the tourists get attached and feel close together. There is no dearth of moreish cuisines and deluxe dining spots with a special Kuwaiti touch in Kuwait that will make you tempting. January is the best month to visit in Kuwait. So, pack your fancy bags and book your flights today to savor the best cuisines at every corner of Kuwait to give you a life-long culinary experience.
FAQs
Q1. What are the best restaurants in Kuwait?
There are a lot of famous restaurants in Kuwait to enrich your taste-buds.
White Robata
Peacock Chinese Restaurant
Al Boom Steak & Seafood Restaurant
Dai Forno Restaurant
Tatami Restaurant
Ovo Restaurant
Udipi Pure Veg Restaurant
Q2. Which is the best Indian vegetarian restaurants in Kuwait?
There are a few pure veg restaurant in Kuwait, amongst which the Udipi Pure veg restaurant is a very famous one for its tender South Indian cuisines. The aromatic sambhar, appetizing soft idlies and the scrumptious dosa, will give you a finger-licking good dining experience.
Q3. Which is the best vegan restaurant in Kuwait?
The OVO restaurant is of the best vegan restaurants in Kuwait, which offers a fancy menu card with a lot of delicious vegan meals with a very opulent setting space.
Q4. Where one can get Italian Food in Kuwait?
The Dai Forno Restaurant, is an Italian restaurant that consists of delicious cuisines to feed your soul the best pizzas, homemade pastas and tasty espresso with an indoor-outdoor romantic setting space to make your day with your loved ones.
Q5. Where I can get Japanese food in Kuwait?
Tatami Restaurant and the White Robata restaurants are quite famous for their mouthwatering delicacies, served with the aromatic Japanese flavors in a modern setting with all traditional vibes. The Japanese cuisines served here are like a barbeque where food is hot grilled and following 'Robatayaki', that is Japanese way of cooking.
Q6. What is the best time to visit in Kuwait?
The best time to visit Kuwait is between November and April, when the climate is cold and one can relish in the best weather the place.
Q7. How many airports are there in Kuwait?
There are a total of three airports in Kuwait-
Kuwait International Airport
Ahmad al-Jaber Air Base
Ali Al Salem Air Base
Q8. Where can I get best sea-food in Kuwait?
One can savor Kuwaiti flavors at Al Boom Steak & Seafood restaurant. The wooden dhow journey with a deluxe ambiance and flavorsome Kuwaiti cuisines makes this place one of the best Kuwaiti restaurants.
---