In Goa's embrace, our love takes flight, On sandy shores, 'neath starry night. Hand in hand, we wander free, A honeymoon in paradise, just you and me.
Are you recently married or in the midst of planning your upcoming wedding? If so, you might be thinking about the perfect honeymoon destination. Look no further! Nestled along the pristine coastline of the Arabian Sea, Goa, with its golden sands and azure waters, beckons lovebirds from around the world. It's no wonder that this tropical paradise is a dream destination for honeymooners seeking a romantic escape. As you step onto its sandy shores, you're greeted not only by the warm Goan sun but also by a sense of anticipation—a promise of unforgettable moments that will define your honeymoon in Goa.  From sunsets that paint the sky in fiery hues to the rhythmic serenade of the ocean waves, Goa is where love blossoms in the embrace of nature.
Honeymoon in Goa: Where Love Blossoms in the Embrace of Nature
Imagine strolling hand in hand on secluded beaches, sharing intimate moments under swaying palms, and indulging in delectable seafood by candlelight. Goa offers all this and more, making it the ultimate destination for couples celebrating their new journey together. Whether you're an adventurous duo seeking thrilling experiences or prefer to unwind in each other's arms amidst nature's beauty, Goa has an array of romantic activities to offer. Here, we'll uncover eight of the most enchanting experiences to make your Goan honeymoon truly magical.
North Goa Vs South Goa: Which One to Choose for Your Honeymoon?
1. North Goa: For a Vibrant Escape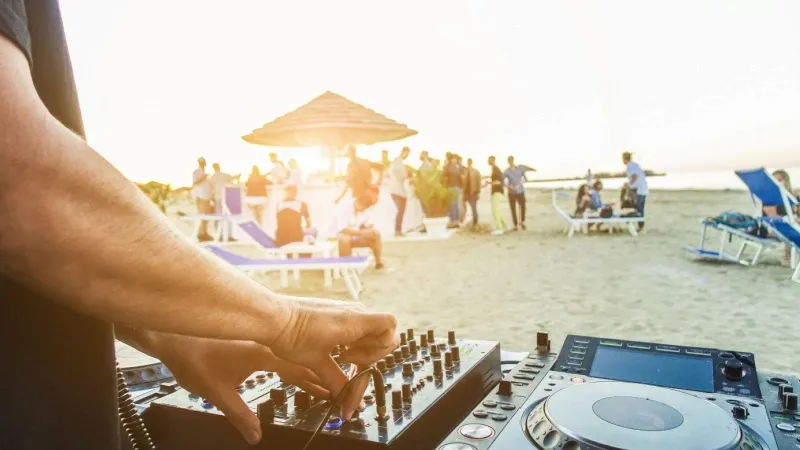 Crowded and Lively: North Goa is more popular and tends to be livelier with a buzzing atmosphere, especially around Calangute, Baga, and Anjuna.
Nightlife: It's known for its vibrant nightlife with numerous clubs, bars, and beach parties.
Shopping: North Goa offers a wide range of shopping options, including flea markets and local shops.
Water Sports: Water sports and adventure activities are more prevalent in North Goa.
Tourist Attractions: It's closer to many popular tourist attractions like forts and markets.
Hotels: You'll find a wide range of accommodation options, from budget to luxury.
2. South Goa: For a Peaceful Tranquil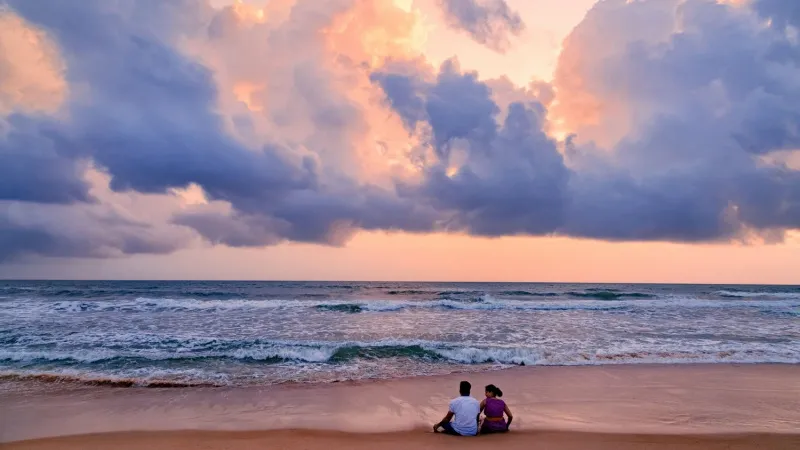 Quieter and Relaxed: South Goa is quieter and more relaxed, making it ideal for couples seeking tranquility.
Secluded Beaches: It boasts some of Goa's most pristine and less crowded beaches, such as Palolem and Agonda.
Luxury Resorts: South Goa is known for its upscale and luxury resorts, perfect for a romantic getaway.
Nature and Wildlife: It's home to lush landscapes, wildlife sanctuaries, and quieter natural attractions.
Restaurants: While there are restaurants, the dining scene is more focused on resort dining.
Less Nightlife: Nightlife options are more limited compared to North Goa, but there are still places to enjoy a drink or two.
We have cherry-picked some of the best activities you can enjoy on your honeymoon in Goa for an ideal romantic escape away from every hustle and bustle:
1. Enjoy a Mesmerizing Sunset Cruise with Your Love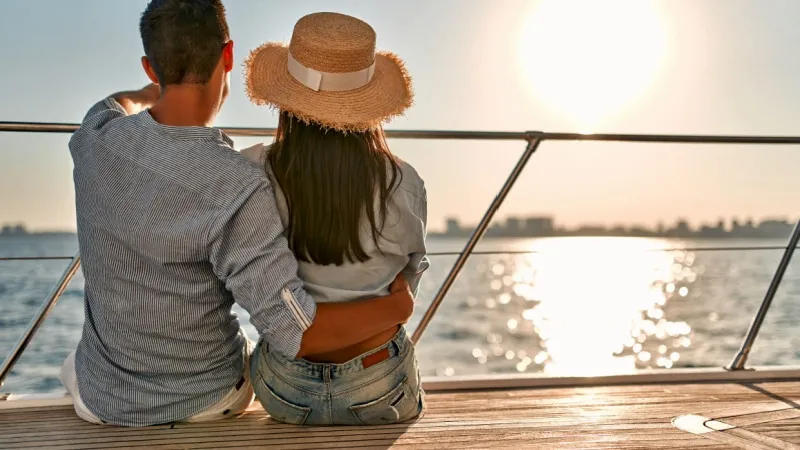 One of the most romantic things to do in Goa is to Set sail on the Mandovi River as the sun dips below the horizon, casting a warm, golden glow over the water hand-in-hand with your love. A sunset cruise in Goa is a thrilling experience, with live music and the gentle sway of the boat enhancing the romantic ambiance. As the day transforms into night, you'll be spellbound by the changing colors of the sky, providing the perfect backdrop for a passionate embrace. Enjoy a delicious candlelight dinner on the cruise amidst vibrant music and party vibes of the scintillating city to enjoy the best of the nightlife in Goa.
Location: Here is the location of some best cruises in Goa:
Paradise Cruises- Booth No. 1, Tourism Jetty, below the Mandovi Bridges, Panaji, Goa 403001
Boat Cruises De Goa- Tourism Jetty, below Mandovi bridge, Panaji, Goa 403001
Jamboree Cruises- Captain of Ports Jetty, Patto Colony, Panaji, Goa 403001
Cris Cruises & Water sports- Salcette, Opp Dona Silvia Hotel behind Saga Shopping center Mobor, Cavelossim, Goa 403731
Timings: 8 AM to 6 PM
Nearby Places to Explore: Beach shores, beach shacks and nearby local markets
Other Things to Do: Relax, witness the sparkling city views, enjoy a romantic dinner in the cruise and click panoramic photographs
Suggested Read: Cafes in Panjim: Embrace the Warmth and Love of these Goan Cafes
2. Enjoy a Beach Picnic with Your Love for a Deep Conversation
If you want to spend quality time with your spouse amidst the gorgeous scenery of nature, then plan a beach picnic which is one of the best things to do in Goa for honeymoon couples. Pack a picnic basket with your favorite treats and find a quiet spot on the sandy shores. Miramar Beach or Palolem Beach are ideal for a beachfront feast, where you can savor each other's company while listening to the soothing waves. The salty breeze, soft sands, and the company of your beloved create an intimate setting that's perfect for sharing dreams and making lasting memories. Don't forget to include Goan snacks and mocktails for an authentic taste of Goa.
Location: Beaches in Goa
Timings: Ideal time for a beach picnic is between 11 Am to 6 PM
Suggested Read: Top Places To Visit in Shillong: For a Heartful Holiday in Nature's Arms
3. Enjoy a Candlelight Dinner at a Beach Shack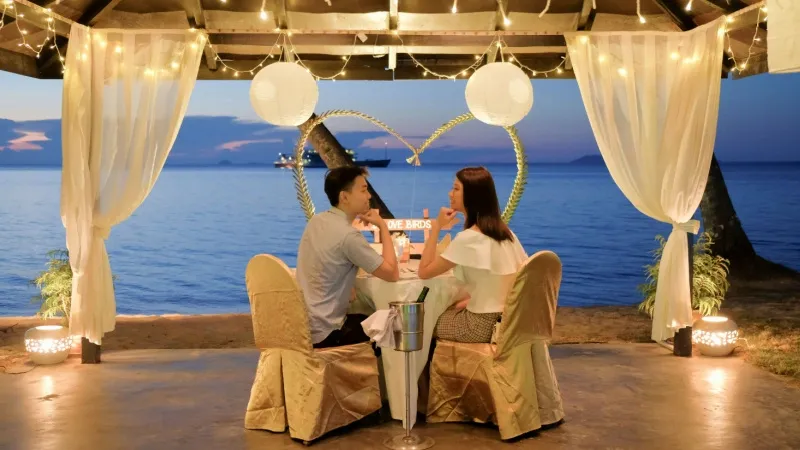 Blessed with enormous natural beauty, crystal clear waters and sandy shores, there are many beaches in Goa that offer exotic beach shacks for a romantic culinary delight. Dine at these beachfront shacks, where the soft, flickering candlelight sets the mood for a memorable evening with your love. Enjoy fresh seafood and Goan cuisine while the stars twinkle overhead. The sound of the waves lapping against the shore forms the perfect soundtrack for your romantic dinner, and the local flavors will tantalize your taste buds. Opt for a shack that specializes in traditional dishes for an authentic Goan culinary experience.
Location: Beaches in Goa
Timings: 10 AM to 8 PM
Other Things to Do: Indulge in water activities, musical parties, and local shopping
Suggested Read: Honeymoon in Shimla: Bloom Your Romance amidst the Picturesque Landscapes
4. Witness the Beautiful Dolphins for a Blissful Experience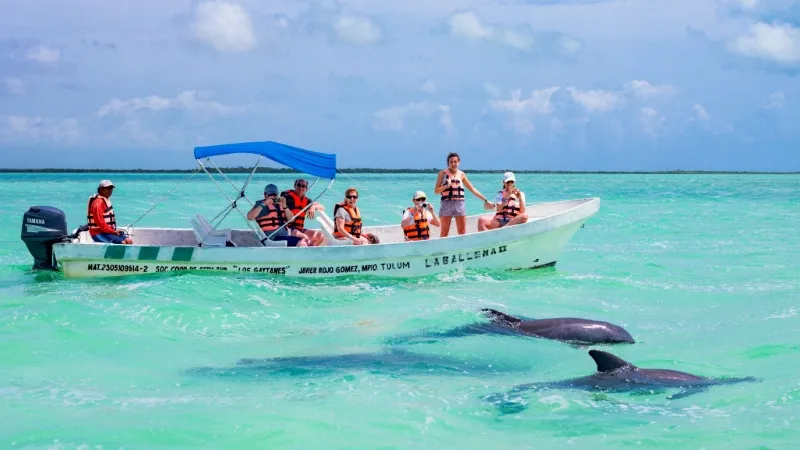 Get ready to indulge in a dolphin-watching excursion from Palolem or Sinquerim Beach in Goa. Witness these playful creatures leaping out of the water in unison, creating a magical and unforgettable sight. Sharing the excitement of spotting these majestic animals with your partner adds a sense of wonder to your honeymoon, and you'll treasure this wildlife encounter forever. To enhance the experience, one can also explore the nearby areas to get fascinating insights about Goa's marine life.
Location: Palolem or Sinquerim Beach, Goa
Timings: 11 AM to 5 PM
Other Activities to Do: Boating, water sports, birdwatching and photography
Suggested Read: Destination Wedding in the Maldives: For a Fairytale Kind of a Wedding
5. Visit Dudhsagar Waterfalls for those Perfect Bollywood Style Photographs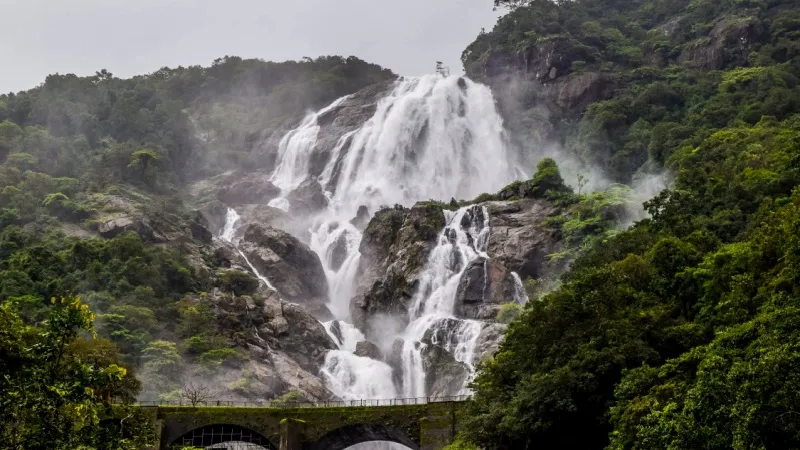 Dudhsagar Waterfalls is one of the must visit honeymoon places in Goa for nature-loving couples. Trek through the lush jungles to reach this stunning cascade, where milky white waters plunge into a pool below, surrounded by verdant landscapes. The journey itself is an adventure, and the awe-inspiring beauty of Dudhsagar makes it a moment of pure romantic escapism. To make the most of your visit, consider taking a guided tour that provides historical and ecological insights about the falls and the Bhagwan Mahavir Wildlife Sanctuary.
Location: On the Mandovi River in the Indian state of Goa
Timings: 10 AM to 5 PM
Nearby Places to Explore: Spice plantations, Palolem Beach, Agonda Beach, Cola Beach and Cabo de Rama Fort
Other Activities to Do: Jeep safari, photography, birdwatching and nature walks
Suggested Read: Best Things to Do in Ankara: Relish a Fun-Filled Turkish Vacation
6. Visit Butterfly Beach for Relaxing Moments in Nature's Lap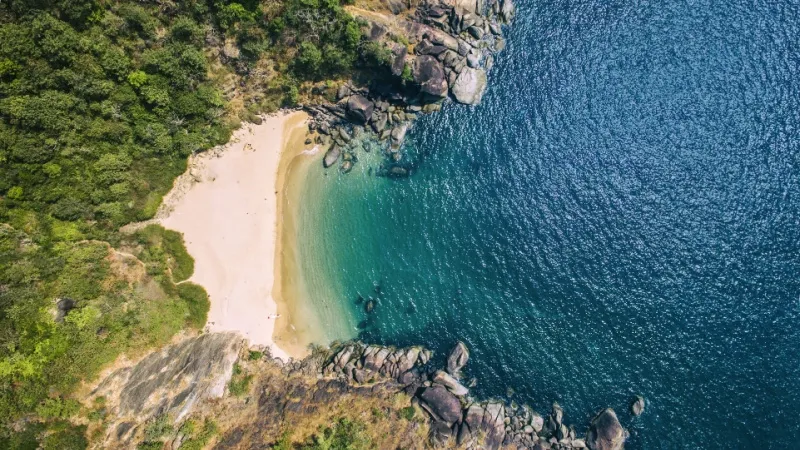 Escape to the secluded Butterfly Beach, named after its vibrant butterfly population which is among the best beaches in Goa for honeymoon. This hidden gem is perfect for a private and tranquil day of sunbathing, swimming, and quiet moments. Here, you can relax on the soft sands, collect seashells together, or simply revel in the beauty of this untouched paradise, far from the hustle and bustle of crowded beaches. To add an adventurous twist, consider exploring the underwater world by snorkeling or diving in the crystal-clear waters surrounding the beach. The natural charm, perfect weather and positive vibes make this place one of the best places to visit in Goa.
Location: South of Palolem in Cancona region
Timings: Open 24 Hours
Nearby Places to Visit: Cabo de Rama Fort, Cola Beach, Honeymoon beach
and Backwaters Palolem
Other Things to Do: Watersports, photography, picnicking and meditation
Suggested Read: Honeymoon in Shillong: A Lover's Retreat in the East
7. Romantic Bicycle Ride: Experience the Love You Zindagi Vibes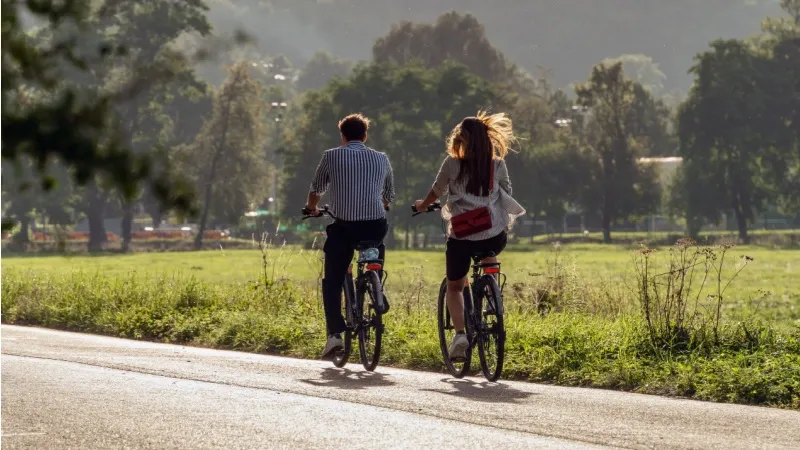 Remember the movie Love You Zindagi and the bike rides of Shahrukh and Alia amidst the picturesque scenery? One of the best things to do in Goa is to enjoy a scenic bike ride with your spouse. If you want to explore the rich side of this hypnotic destination, then the best way is to rent a bike in Goa and embark on a romantic ride along the scenic coastal roads. The feeling of the wind in your hair and the freedom to explore the picturesque landscapes together is an experience you'll cherish. Plan your route to include stops at lesser-known beaches, charming villages, and roadside cafes for a truly immersive journey. Don't forget to wear matching helmets for a touch of couple-coordination.
Location: Goa
Other Things to Do: Explore the heritage, visit forts, churches and beaches
Suggested Read: Honeymoon in Sri Lanka: Enflame Your Romance for an Ideal Soulmate Bond
8. Couples' Spa Retreat for Complete Relaxation with Your Love
Indulge in a rejuvenating couples' spa session at one of Goa's luxurious wellness resorts. Let skilled therapists pamper you with soothing massages and treatments, leaving you both relaxed and revitalized. To make the experience even more special, choose a spa that offers private suites or outdoor cabanas with lush garden or beachfront views. The soothing aroma of essential oils and various massage techniques will leave you feeling relaxed and uplifted.
Location: Here are the best spa centers in Goa:
Sandalwood Ayurveda
Himalayan Therapeutic Studio
Aline's Beauty Care
Rio Luxury Wellness and Spa
Mantra Ayurveda Clinic and Pharmacy
Suggested Read: Beaches In India: Recreate The Wildness With Sand Water And Foam
9. Private Beach Cabana for a Perfect Soulmate Connection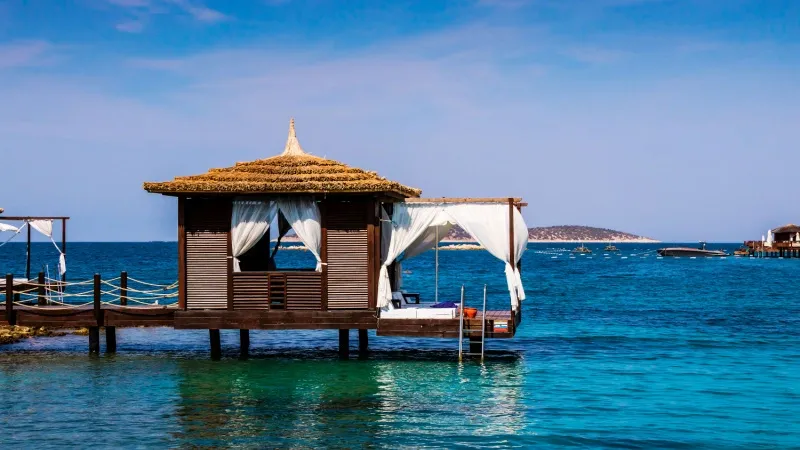 Tghe private beach cabanas are undoubtedly the most romantic places to visit in Goa for couples. Book a private beachfront cabana at one of Goa's upscale resorts for a day of ultimate luxury and seclusion. Enjoy personalized service, gourmet meals, and uninterrupted beach views. Enhance the experience by arranging for a private butler or chef to cater to your every whim. Spend your day lounging on plush sunbeds, sipping champagne, and savoring a specially curated menu as the waves provide a soothing soundtrack.
Suggested Read: Unveiling Paradise at Sun Siyam Olhuveli Maldives: A Perfect Vacation Escape
10. Indulge in Water Sports, One of the Best Things to Do in Goa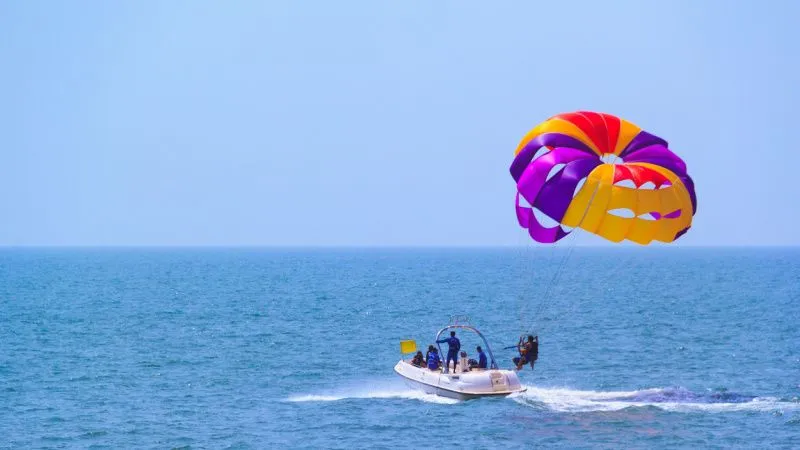 One of the best things is to try watersports in Goa. With its pristine beaches and warm climate, it offers an exciting array of water sports for honeymooners seeking adventure and thrill. You can parasail above the Arabian Sea, taking in breathtaking views from the sky, or try jet skiing, zooming across the sparkling waters hand in hand. For a more intimate experience, indulge in a romantic kayak ride through serene mangrove forests. Snorkeling and scuba diving provide an opportunity to explore vibrant underwater worlds, while a peaceful sunset cruise along the coastline is perfect for couples wanting to unwind. With its diverse water-based activities, Goa ensures an unforgettable and romantic honeymoon experience.
Location: Goa Beaches
Watersports to enjoy in Goa: Parasailing, jet skiing, kayaking, snorkeling, scuba diving, and sunset cruises
Suggested Read: Resorts in Bali That Offers Unbeatable Views & A Comfy Stay
Additional Info:
Best Time to Visit Goa for a Honeymoon: Mid-November through mid-February
Famous Food of Goa: Khatkhatem, Ambadyachem sasav, Breadfruit Phodi, Chidki midki bhaji, Dal, and Mooga gathi
Best Hotels in Goa for Honeymoon
Here are some of the best hotels in Goa for a blissful honeymoon experience:
Taj Exotica Goa
W Goa
The Park
Radisson Goa
Fahrenheit Hotel
Best Honeymoon Resorts in Goa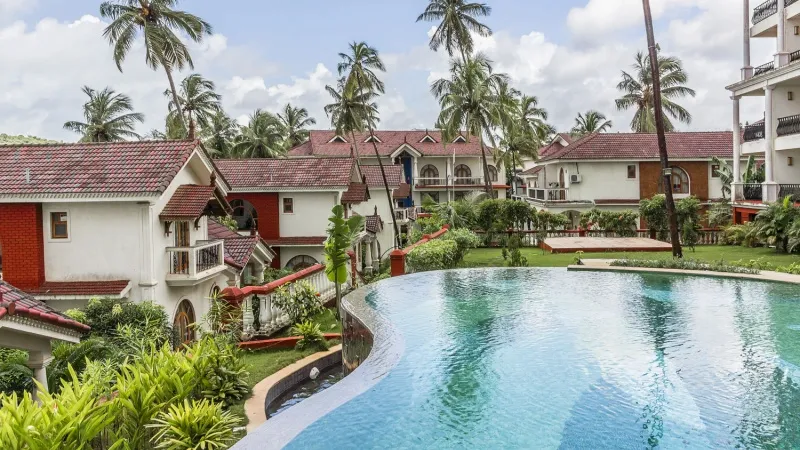 Here is the list of the best resorts in Goa for a luxurious stay close to nature:
Vivanta By Taj
Caravela Beach Resort
Lemon Tree Amarante Beach Resort
Estrela Do Mar Beach Resort
Park Hyatt Goa Resort And Spa
Best Restaurants in Goa
Here are some of the best restaurants in Goa for a world-class culinary delight:
Copperleaf Panaji
Tamarind Café, Varchawadda, Arambol
La Plage, Aswem Beach, Arambol
Thalassa, Ozran Beach
Spice Goa,
Best Malls in Goa: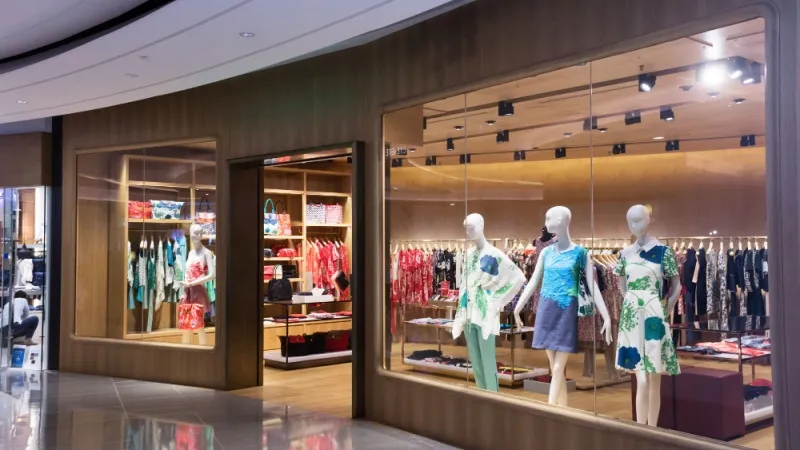 Here is the list of the best malls in Goa for a perfect shopping spree:
Mall De Goa
Caculo Mall
Big G
1930 Vasco
Culture of Goa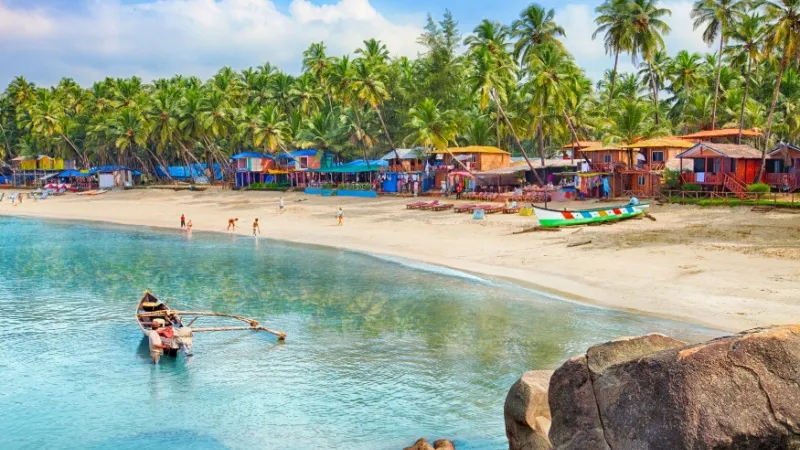 The culture of Goa is woven with diverse influences. Shaped by centuries of Portuguese colonial rule and indigenous traditions, it's a unique blend of east-meets-west. Music and dance, especially the lilting strains of Fado and the energetic rhythms of folk dances like Dekhnni and Fugdi, are an integral part of Goan culture. The cuisine is a fusion of flavors, featuring spicy vindaloo, fresh seafood, and Portuguese-influenced sweets like bebinca. Festivals like Carnival and Shigmo are celebrated with zest, adding color and vibrancy to daily life. The warm hospitality of the locals completes the cultural mosaic, making Goa a place where tradition and modernity harmoniously coexist.
Suggested Read: Top Places to Visit in Varanasi: Experience the Eminence of India's True Culture
How to Reach Goa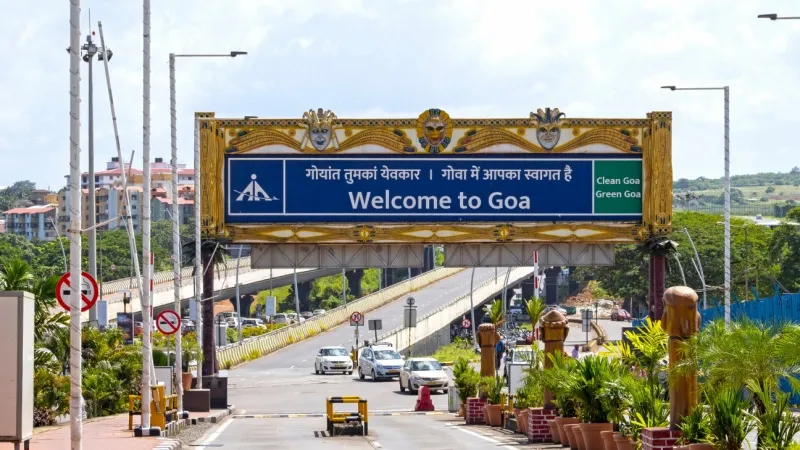 Goa is a popular tourist destination in India and can be reached by various modes of transportation, depending on your starting point. Here are some common ways to reach Goa:
Goa International Airport (Dabolim Airport) is the primary airport serving Goa and is well-connected to major cities in India and some international destinations. You can book a flight to Goa from cities like Mumbai, Delhi, Bangalore, Chennai, and more.
Goa has two major railway stations: Madgaon (also known as Margao) and Vasco da Gama. These stations are well-connected to major cities in India, including Mumbai, Delhi, Kolkata, Bangalore, and Pune. You can check the Indian Railways website or app for train schedules and ticket bookings.
You can reach Goa by bus from nearby cities and states. There are both government and private bus operators that offer services to Goa. The journey may take longer by bus compared to other modes of transportation.
If you're driving to Goa, you can use your own vehicle or rent one. Goa is well-connected to neighboring states via road networks. The roads are generally in good condition, making it a scenic and enjoyable drive.
While not a common mode of transportation, you can also reach Goa by sea. Some cruise lines offer voyages that include a stop in Goa. However, this is a less conventional way to reach the destination.
By Motorcycle or Scooter Rental:
Once you're in Goa, it's common for tourists to rent motorcycles or scooters to get around the state. This provides flexibility and convenience for exploring the various beaches and attractions within Goa.
Suggested Read: Honeymoon in Ooty: Where Love Blooms Amidst Scenic Beauty of Majestic Hills
Travel Tips for Goa Honeymoon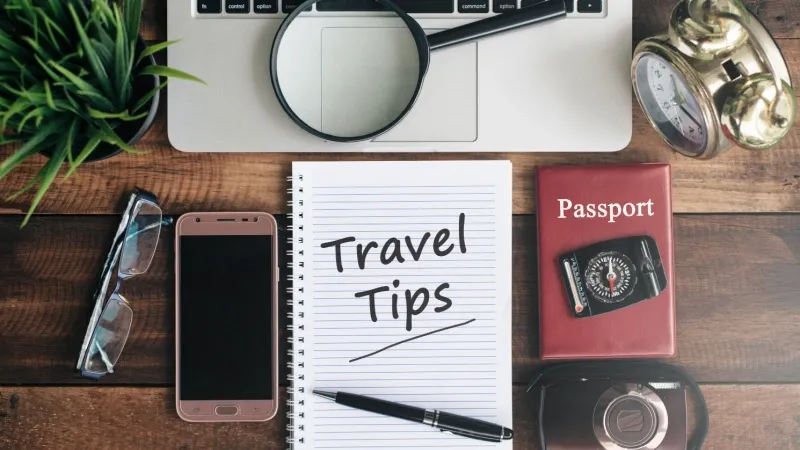 Ideal Time: Plan your honeymoon during the dry and pleasant months of November to March for the best weather.
Resort Selection: Choose a beachfront or boutique resort for a more romantic and secluded experience.
Local Cuisine: Don't miss trying authentic Goan cuisine, especially seafood and traditional dishes like vindaloo and bebinca.
Safety: Be cautious about your belongings on the beaches and in crowded areas, and use reliable transportation options.
Beach Activities: Enjoy water sports, but ensure they are operated by certified providers for safety.
Cash: Carry enough cash as not all places accept cards, and ATMs can be scarce in some areas.
Cultural Sensitivity: Respect local customs and dress modestly when visiting religious sites.
Sun Protection: Protect yourselves from the sun with sunscreen and hats, especially during beach outings.
Nightlife: Explore Goa's vibrant nightlife, but drink responsibly and stay safe.
Local Transportation: Rent scooters or bikes to explore at your own pace, but ensure you have the necessary licenses and follow traffic rules.
Language: Learn a few basic Konkani phrases or Hindi words to enhance your interactions with the locals.
In Goa, love takes on a new dimension as you immerse yourselves in its enchanting landscapes, vibrant culture, and warm hospitality. From serene sunsets to thrilling adventures, your honeymoon in Goa promises to be a cherished chapter in your love story. As you bid adieu to this tropical paradise, you'll carry with you not just memories but the enduring essence of love, adventure, and the magic of Goa's shores. Your Goan honeymoon will forever be a reminder that love, like Goa's waves, has the power to create beautiful, lasting impressions. So, pack your bags and book your Goa honeymoon packages today to start your romantic journey, and let Goa be the backdrop to your love story, etched in the sands of time.
FAQs

Q1. What is the best time for a honeymoon in Goa?
The best time to plan your romantic Goa honeymoon is from November to March when the weather is pleasant and dry, creating the perfect backdrop for beachfront romance and outdoor exploration.
Q2. Which are the most romantic beaches in Goa for honeymooners?
Consider visiting Palolem, a crescent-shaped beach in South Goa known for its pristine beauty and calm waters. Alternatively, Agonda, Vagator, Butterffly and Anjuna beaches offer a serene and intimate atmosphere, making them ideal choices for couples seeking tranquil moments by the sea.
Q3. What are the must-try dishes in Goan cuisine?
A honeymoon in Goa wouldn't be complete without savoring the region's delectable cuisine. Make sure to sample authentic dishes like seafood vindaloo, xacuti (a flavorful curry), bebinca (a traditional Goan dessert), and Goan fish curry. These culinary delights offer a true taste of Goa and will tantalize your taste buds.
Q4. What are the top activities for adventure-loving honeymooners in Goa?
Adventurous couples can add an adrenaline rush to their honeymoon with thrilling activities such as parasailing, jet-skiing, scuba diving, and trekking to Dudhsagar Waterfalls. These experiences offer not only excitement but also unforgettable memories of your time together in Goa.
Q5. Is South Goa or North Goa better for a honeymoon?
South Goa offers a quieter and more secluded experience, with pristine beaches like Palolem and upscale resorts that cater to couples seeking tranquility. On the other hand, North Goa is known for its lively atmosphere, vibrant nightlife, and a wide range of activities, making it a great choice for those who enjoy a more dynamic honeymoon experience.
Q6. What are the best shopping spots for honeymooners in Goa?
Goa offers a plethora of shopping opportunities for honeymooners looking for unique souvenirs and keepsakes. Explore the Anjuna Flea Market and Mapusa Market where you can find an array of items such as clothing, jewelry, accessories, spices and handcrafted goods.
Q7. Are there historical sites and churches to visit in Goa?
For couples interested in history and culture, Old Goa is a treasure trove of UNESCO-listed churches and cathedrals. Explore the Basilica of Bom Jesus, a masterpiece of Baroque architecture and Sé Cathedral, one of the largest churches in Asia, known for its impressive architecture and rich history.
Q8. What's the best way to explore Goa on a honeymoon?
To make the most of your romantic honeymoon, consider renting a scooter or hiring a private cab. This allows you to explore the stunning beaches, charming attractions, and scenic coastal roads at your own pace.
---