Goa is famous for a lot of things, but one of the things that people from all over the world look forward to is the nightlife in Goa. Goa's after-dark parties and liveliness is infamous everywhere, from bright lights to the thumping beats of the music, you'll be intoxicated by the buzzing energy engulfing you from all sides and would get you ready to party the whole night. However, it's important to know the right places to be and the right things to do to enjoy this city's wild side like a true Goan. So, let's delve into that right away.
Nightlife in Goa: Immerse Yourself in the Dizzying Pace of this State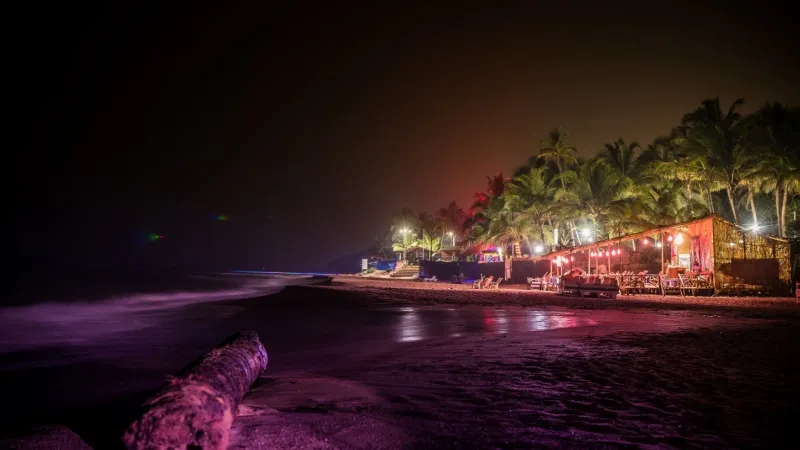 Goa's nightlife feels a lot like a celebration of life because you'll be enjoying yourself to the fullest, you can feel your heart beats syncing to the beats of the music, and the energy pumping through your veins. You'll truly feel alive in that moment. However, partying in Goa isn't the only way to enjoy its nightlife. You can also prefer the calmer side of things because this place is gorgeous at night when everything's shining under the moonlight and there aren't a lot of people around.
Here are the best ways to enjoy the best nightlife in Goa
Camp in Floating Tents
Jam to Your Favorite Songs
Shop at Flea Markets
Party at the Night Clubs
Revel in the Beach Parties
Go on Bike Tours at Night
Enjoy Silent Noise Parties
Watch Theatrical Shows
1. Camp in Floating Tents: Give Your Night a Romantic Turn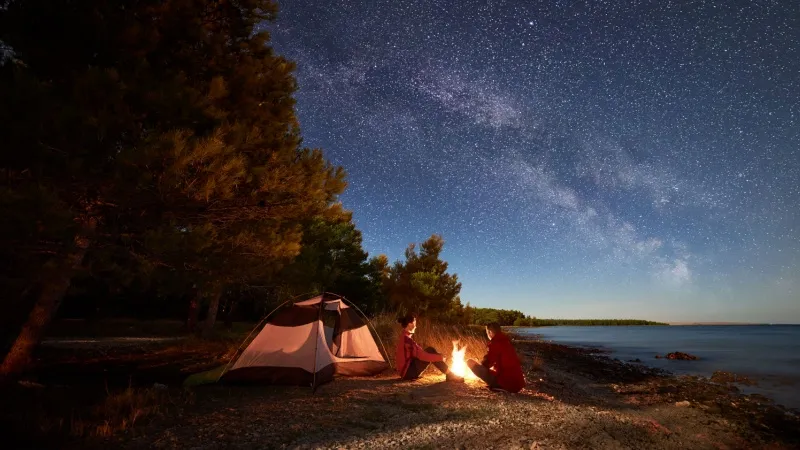 Camping is one of the favorite adventures in India that people indulge in; however, camping in Goa is slightly different. Instead of camping on the ground, you can camp in floating tents under the starry sky. It's one of the best ways to enjoy nightlife in Goa for couples. The tranquil water, the silence of the night, and the moonlight illuminating the sky make for the most romantic way to spend the night. You can even choose to go on a cruise, where live music, delicious food, and dancing would keep you entertained. This activity is for those who wish to laze around in the water, away from the hustle and bustle.
Floating tent locations: Champions Yacht Club, Mayem Lake, GTDC Residency
Timings: 7 A.M to 11 P.M
2. Jam to Your Favorite Songs: Sing Along to the Music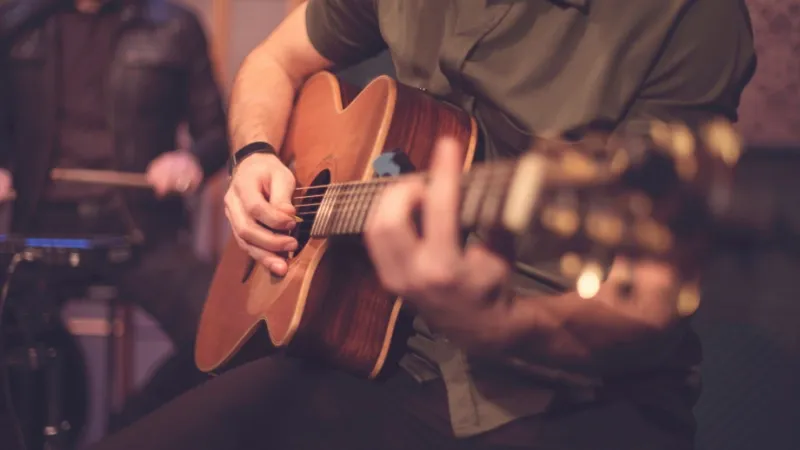 When you're exploring Goa at night, you'll come across several places playing live music. It's quite a common element of nightlife in Goa and the most fun ones because you can sing along to your favorite songs with others. Musicians who travel to Goa conduct such jamming sessions and it gives you a chance to meet your favorite singer or discover a new band that you'll fall in love with instantly, listening to their songs later, on a loop. Sometimes these live music places turn wild with flash mobs, extempore orchestra, and many other performances. These are truly some of the best nightlife places to visit in Goa at night.
Locations: Loekie Café, Arambol, Cohiba, Hideaway, Mustard Cafe
Timings: Evening to midnight
Suggested Read: Tourist Places in Patnitop: A Shimmering Jewel in Jammu & Kashmir's Crown
3. Shop at Flea Markets: Explore the Vibrantly Lit Street Markets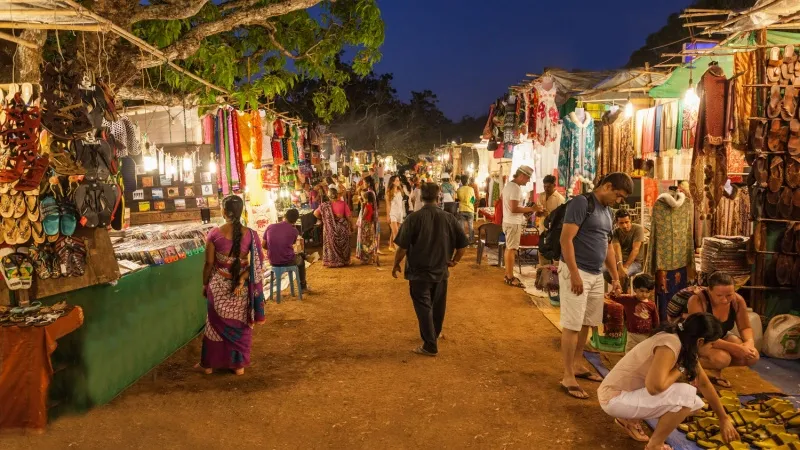 Shopping in Goa is nothing less than therapy, but nothing can beat shopping at night when the markets are brightly illuminated and the chaotic energy from the streets excites you. In addition to shopping, you can also indulge in the scrumptious street food and enjoy the cheerful live music in the background. Be prepared to carry several shopping bags as you explore the market because you won't be able to stop after buying just one thing. So, experience the joys of shopping at night in Goa's streets that are ever bustling.
Famous flea markets in Goa: Mackie's Night Market, Anjuna Flea Market, Saturday Night Market Arpora, Le Souk
Timings: 6 P.M to after midnight
What to buy in Goa: Funky jewelry, home décor, vibrant clothes, bags, footwear, souvenirs
Suggested Read: Adventure Activities in Cheerapunji: For a Rain-Kissed Holiday Away from the Lackluster
4. Party at the Night Clubs: Get Ready for an Unforgettable Night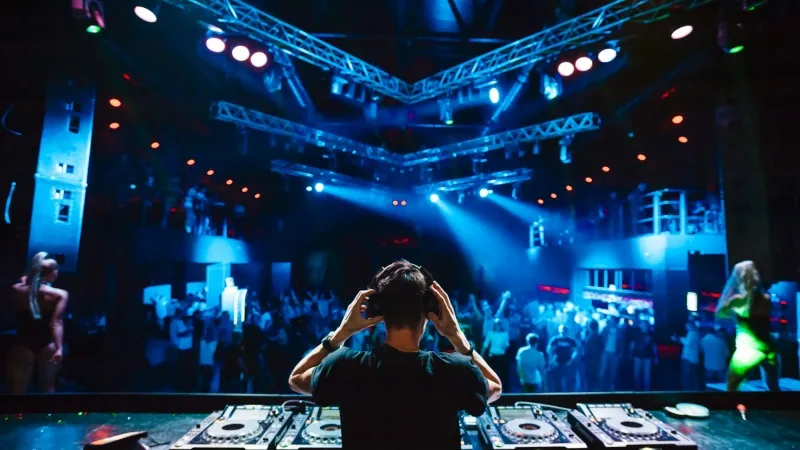 Parties and Goa are synonymous and no matter how hard you try; you can't resist dancing to the loud music. Nightclubs and bars are an invaluable element of Goa's nightlife and to fully experience the chaotic part of this destination, you must indulge in this colorful and wild world. Leave it up to the neon lights, lively ambiance, an amazing selection of music, scrumptious food, and refreshing drinks to set you in the party mood. There's a reason why Goa's famous as the party capital of the country. Regardless of how many times you've been to Goa, you'll always find a new party place because the clubs here are endless. In fact, Goa has some of the best nightclubs that are considered popular places to go in India. So, wear your most glitzy and glamorous outfit to party all night.
Famous nightclubs in Goa: Tito's Bar and Club, Club Cubana, SinQ Night Club, LPK Waterfront
Timings: 9 P.M to after midnight
Suggested Read: Trekking in Ladakh: Start Your Trekking Adventure Right Now!
5. Revel in the Beach Parties: The Perfect Harmony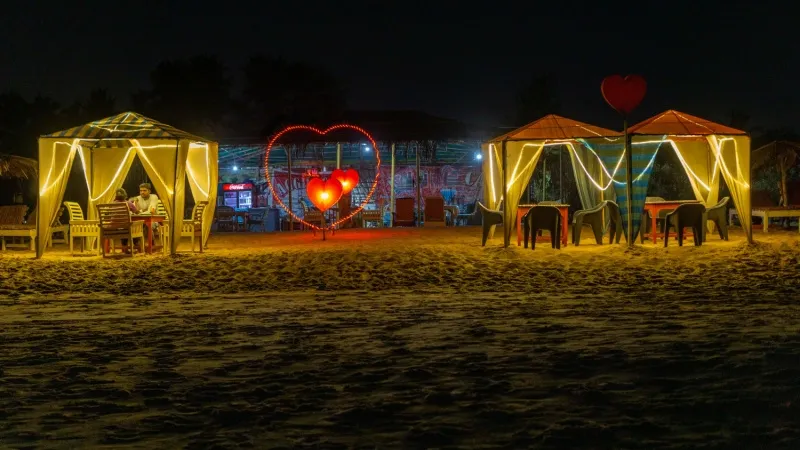 Beach parties are like the combination of two of the most famous things in Goa, which is why this is one of the most famous things to do in Goa. As the sun sets, you'll see the beach shacks lighting up and music playing. The sandy shore becomes the dance floor and the whole mood is set with the moonlight beautifying everything. Beach parties are the best kind of parties; the trance-like state you experience makes everything a whole lot better. Nightlife in North Goa is accentuated by the parties at Anjuna Beach, which is the ultimate party destination for singles to couples. Also, it's not a surprise that the Goa includes some of the best beaches in India, which are a must-visit especially during the night.
Best beaches for nightlife in Goa: Baga Beach, Anjuna Beach, Palolem Beach, Morjim Beach
Timings:  9 P.M to after midnight
Suggested Read: Attractions in Kovalam: A Tourist Destination Exuding Charm and Elegance
6. Go on Bike Tours at Night: Explore Goa's Deserted Streets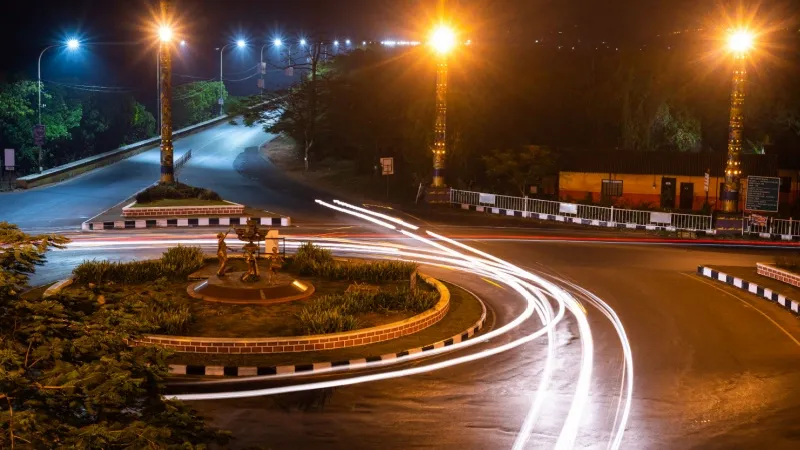 Walking in the streets of Goa in daylight and at night are two completely different experiences. During the day, you'd have seen a flock of people on the streets, the hubbub of the shops, those same places would now be in total silence and solitude. It's exciting to ride a bike on the empty streets, enjoying the sight of the sea and the illuminating lights, and the cool sea breeze. It gives you time to observe Goa when it's still and quiet and it's a marvelous feeling to witness this side of this place. This is one of the things that makes honeymoon in Goa a romantic escapade. You're free to travel anywhere you want, explore all the places you couldn't during the day because everything's slightly better in the darkness of the night.
Timings: Any hour of the night
Where to go on bike tours: Baga Beach, Tito's Street, Shiva Valley, Arambol Beach
Suggested Read: Hill Stations in Rajasthan to Escape the Heat of the Desert
7. Enjoy Silent Noise Parties: An Offbeat Way to Enjoy Nightlife in Goa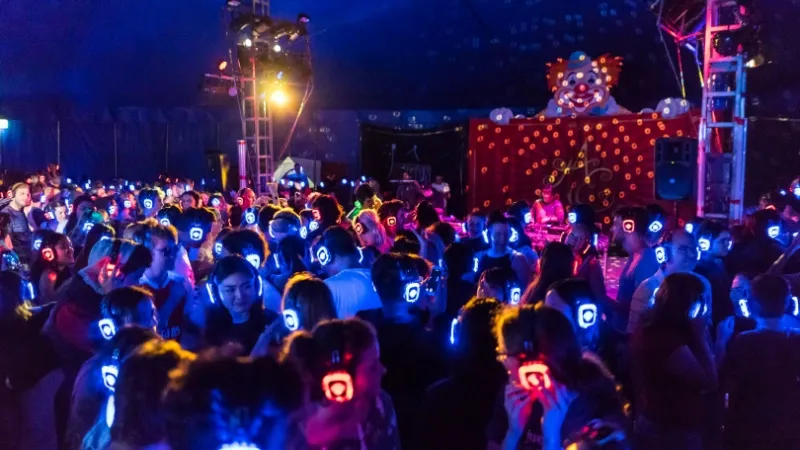 One of the places to visit in Goa that is recently gaining more popularity is South Goa. When it comes to nightlife, this side of Goa has something unique to offer in the form of silent noise parties. You might have heard of this concept, where everyone's wearing headphones with different music playing in them and dancing to their own beats. It's quite a fun and offbeat way of partying, but one that you should experience. Palolem Beach is the best beach in South Goa for nightlife because of this exciting party trend. You can let loose and surrender to the music as you dance your way to the next morning.
Silent Noise Parties locations: Palolem Beach, Canacona, Arambol Beach
Timings: 9 P.M to after midnight
Suggested Read: Fun Things to Do in Mahabaleshwar: Indulge in Thrilling Adventures Amidst Picturesque Views
8. Watch Theatrical Shows: Indulge in Your Artsy Side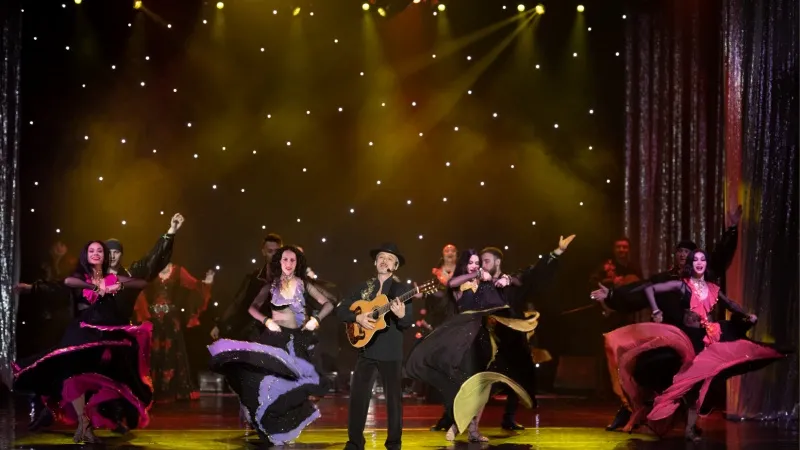 Theatre shows in Goa are another way to enjoy the nightlife in Goa with family. There are several theatre shows that you can watch and lose yourself in the amazing performances by the artists. It'll be even better if you take a local person along with you to translate the regional language at times. It's quite a different take on Goa's nightlife, but one that is famous among tourists. It'll give you a chance to take part in the nightlife of this destination in a unique way and see this place in a different light. So, do give this activity a try on your next holiday in Goa.
Where to watch theatre shows in Goa: Maquinez Palace Theatre, Inox Theatre G Wing
Timings: Till 11 P.M
Suggested Read: Adventures in Lonavala: From the Lens of an Adventure Enthusiast
These were some of the best ways to experience the nightlife in Goa for singles, couples, and those traveling with family. You can enjoy the wild side of this state or indulge in the calm side of Goa; regardless of what you choose, you can bet that you'll have a memorable time here. A simple walk along the beach in the moonlight can make your trip a perfect one, so relax and go where your feet take you. It's time to put on your dancing shoes because the fun and wild side of this city awaits your arrival. Book our Goa tour packages for a revel in the darkness of the after-hours.
FAQs
Q1. Is Goa good for nightlife?
Goa is an excellent place for nightlife because it's considered the party capital of India. From raving nightclubs to floating tent camps, you can enjoy the chaotic and wild side of this state in the best way possible.
Q2. Where can I enjoy nightlife in Goa?
You can visit the vibrant flea markets, dance all night at the nightclubs, laze around in floating tents, go on night bike tours, enjoy the beach parties, and much more. There's no dearth of ways to revel in Goa's nightlife.
Q3. What happens in night clubs of Goa?
The nightclubs of Goa are pumping with energy as you take in the loud music, the dancing feet, neon lights, and the perfect party ambiance to lose yourself in. Delectable food and delicious drinks make everything even better.
Q4. Which beach has nightlife in Goa?
There are several beaches in Goa that are famous for their nightlife, including Baga Beach, Anjuna Beach, Palolem Beach, and many more. These beaches turn into party hubs with lights, music, dance, and food.
Q5. Which is the best beach in Goa for singles?
Patnem Beach and Palolem Beach are two of the best beaches in Goa for singles and they are close to each other in proximity as well. The serenity of the beach during the day, several beach shacks lining the shore, and the fun party vibe during the night make it perfect for singles.
Q6. What are the things to do in Goa at night?
You can shop at the flea markets, enjoy a jamming session at cafes, enjoy a bike tour on the empty streets, party at the beaches or nightclubs, watch theatre shows, and much more. Nightlife in Goa is quite happening, which draws people like moth to a flame.
Q7. Is Goa safe at night?
Yes, Goa is safe at night for everyone, including girls. However, it's ideal to take the necessary precautions like avoiding visiting secluded places. If you stay in crowded places like the beach, then you're safe.
Q8. Which month is best for Goa?
The best month to visit Goa is mid-November to mid-February when the climate's pleasant. You can relax on the beaches and enjoy the nightlife in the cool weather.
---