Panjim in Goa is a place that reflects the best of both worlds, Indian and Portuguese. The same is evident in its restaurants and cafes. The sun-kissed beaches, hippie vibes, and an overall lively atmosphere makes dining here a treat for the soul. Since this state is primarily known for its party vibes, you might miss out on its underlying aesthetic value, which is enhanced by the adorable and charming cafes here. These cafes in Panjim are the perfect place to hang out and relax with your friends. Trust us when we say that these cafes in the city serve the best coffee and delicious snacks to go with it because we know the value of a good cup of coffee.
Best Cafes in Panjim: A Perfect Start to the Day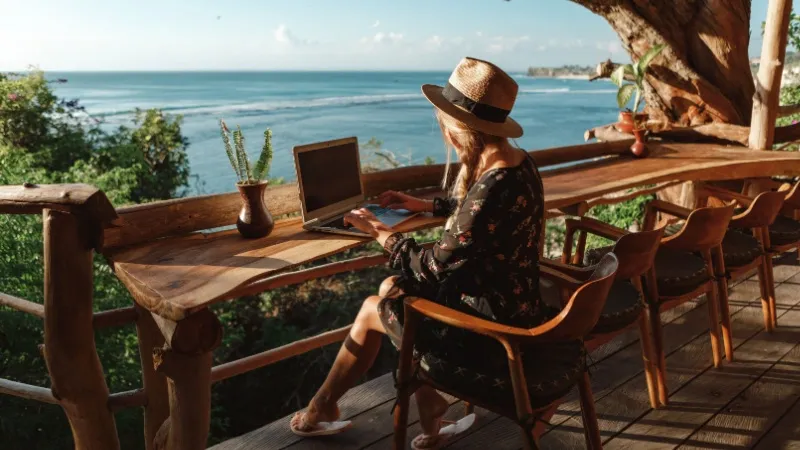 Panjim is one of the most sought-after cities in Goa for cute cafes. You'll find a variety of cuisines being served here along with a wide variety of choices when it comes to beverages. However, that's not all, the aesthetic and alluring vibe of these places accentuated by their interior and an innately cheerful aura makes these places irresistible to the passersby. Therefore, here's a list of some of the most instagrammable cafes you'll come across during your trip to Panjim.
Café Bodega
Black Vanilla
Padaria Prazeres
White Balcao
Baba's Wood Café
Caravela Café and Bistro
Teal
Bubble Café
Café Basil
Cremeux
1. Café Bodega: A Perfect Blend of Good Vibes and Caffeine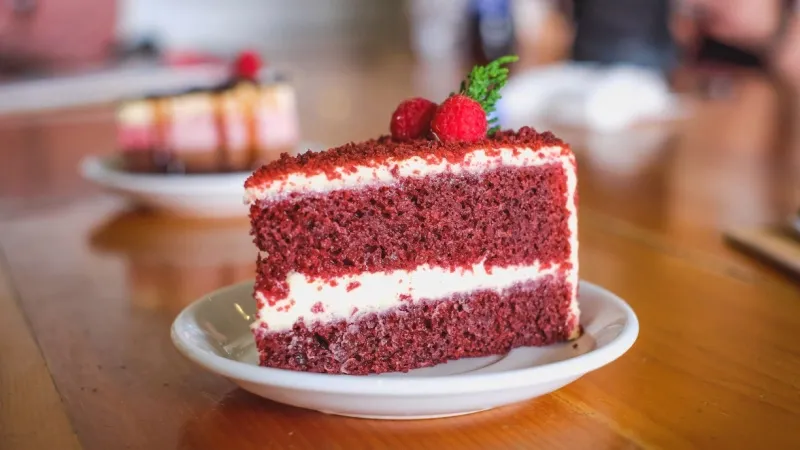 A comforting vibe is the best way to describe this café. With its rustic yet appealing appearance, this café has become a popular spot for tourists and locals alike. The interior of this café feels like sipping a cup of coffee on your balcony, which allows for an easy flow of conversation. There's a feeling of being home that this place exudes, which might be one of the reasons why people flock to this place like bees to honey. As gorgeous as its appearance is, its beverages and food are equally amazing. The perfectly balanced flavors of all the dishes makes this an absolutely must-visit café in the city.
Address of Café Bodega: 63/C-8, Sunaparanta Centre For The Arts, near Lar De Estudantes, Altinho, Panaji, Goa 403001
Timings: 10 A.M to 6:30 P.M, closed on Sunday
Famous food: Eggs Bendict, Banana Pancake, Red Velvet Cake, Turkish Poached Eggs
2. Black Vanilla: Follow the Aroma of Brewed Coffee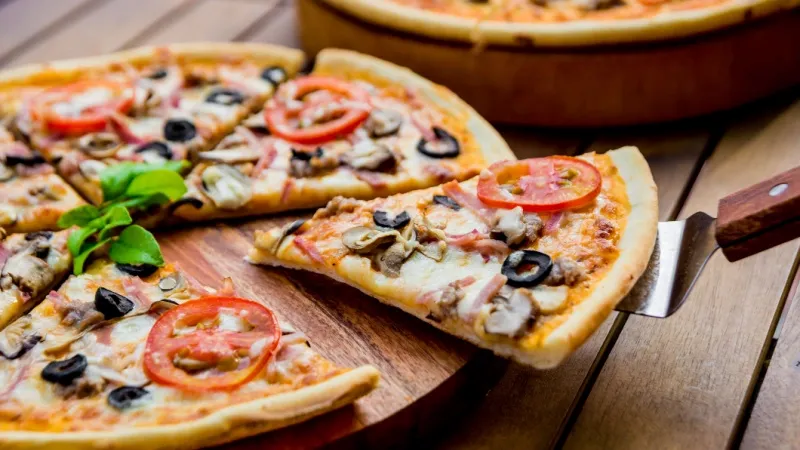 Even the name of this café sounds exotic, right? Well, this French Bakery in Panjim is ideal for those who don't mind a little sugar rush. It's one of the outlets of Bennett & Bernard Gastronomy, so you can already guess that a visit here is going to be worthwhile. With indoor and outdoor seating offering you beautiful views of the city, you'll fall in love with this quaint French café. The interiors of this café exude a romantic and quirky vibe highlighted by its colorful and vibrant décor. If you aren't a sweet tooth, then I recommend that you become one before visiting this café in Panaji because not visiting this place isn't an option, especially if you're on your honeymoon in Goa.
Address: Landscape Excelsior, Dayanand Bandodkar Marg, near Crossword Bookstore, Campal, Panaji, Goa 403001
Timings: 10 A.M to 7 P.M, closed on Sunday
Famous food: Goan Sausages, Salmon Sandwich, Thin Crust Pizzas, Pulled Chicken Sandwich
Suggested Read: Stunning Places To Visit In India To Rejuvenate Your Senses
3. Padaria Prezeres: A Lovely Place for a Coffee Date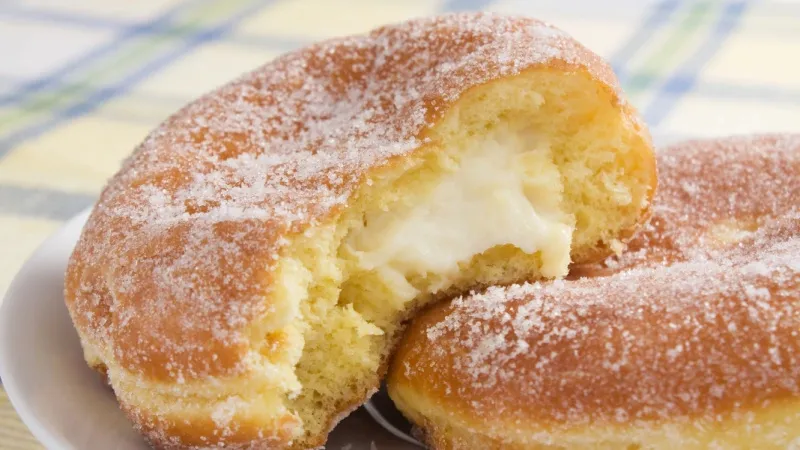 This intimate space for tourists and locals brings forth a minimalist concept with potted plants, wall art, and much more to add a vibrancy in the otherwise pastel colored café. This bakery café serves a slice of Europe to its customers and once you take a bite of their pastries, you'll keep coming back for more. There's an indoor and outdoor seating area and both are equally excellent, where one offers an elegant vibe, the latter offers a view of the city. However, you must make sure to make a reservation and even pre-order your food because the bakery goods here sell fast, and you wouldn't want to miss out on all the European delights.
Address: Celeste Plaza, Ground floor, opposite Models Celebrity, Caranzalem, Panaji, Goa 403002
Timings: 9 A.M to 6:30 P.M, closed on Monday
Famous food: Pasteis De Nata, Custard Berliner, Ham & Cheese Sandwich, Tuna Sandwich
Suggested Read: Honeymoon in Shimla: Bloom Your Romance amidst the Picturesque Landscapes
4. White Balcao: Serving Smiles and Coffee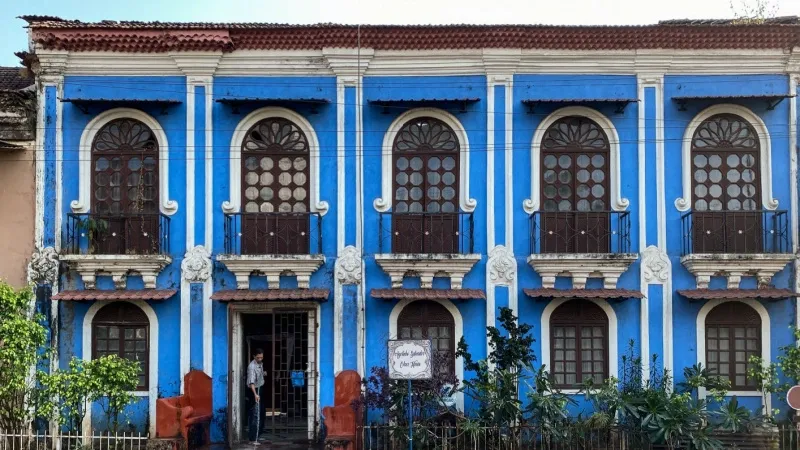 If you wish to immerse yourself in the Goan essence, then there's no better place than While Balcao café to do so. This café is built inside a renovated old Goan house, which offers a serene spot for people to enjoy each other's company. Their great service and even greater menu are why this is one of the best breakfast places in Panjim. The rustic vibe with its blue and white interior reminds us of the beaches in Goa and that's exactly the kind of vibe we're looking for in a café in Goa. You'll feel completely at home during your visit here because there's a unique comfort here that'll make your time here a memorable one.
Address: 4/162/1, next to Bookworm Trust, Fontainhas (quarter), Mala, Panaji, Goa 403001
Timings: 9 A.M to 6:30 P.M
Famous food: Goan Breakfast
5. Café Tato: Revel in the Café Aesthetic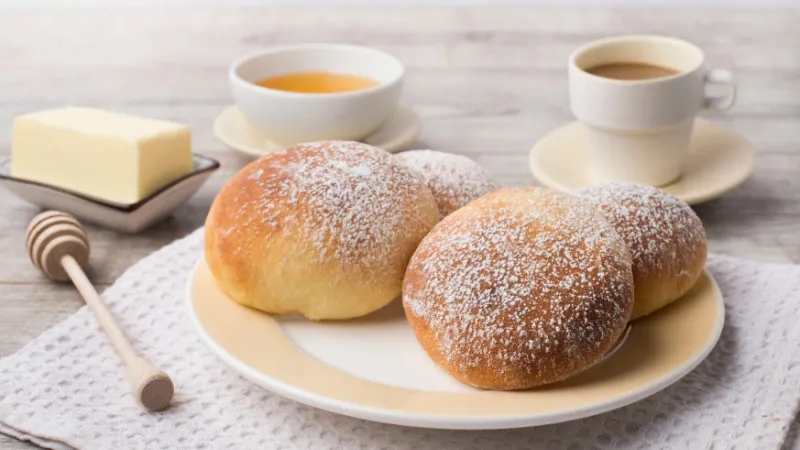 One of the best places to visit in Goa for a step into the Goan culinary scene is this traditional café with a contemporary interior, which perfectly complements the dishes served here. The white interior highlighted by blue and white décor adds the right level of vibrancy and cheerfulness to this café's ambiance. You can expect authentic Goan fare served here with classic dishes for you to try. There's an old-school vibe to this place, which makes spending time here quite soothing. It's perfect for the times when you're too hungry and wish to stop by somewhere for some delicious cuisine. The hearty meals here are enough to keep your hunger satisfied and it's easily the best coffee near me.
Address: Souza Towers, No. G3, Dr RS Rd, Near Municipal Garden, Altinho, Panaji, Goa 403001
Timings: 7 A.M to 8:30 P.M, closed on Sunday
Famous food: Mushroom Samosa, Sukhi Bhaji Mix, Sweet Bun, Chana Masala
Suggested Read: Things to Do in Ooty: Enjoy the Umpteen Number of Adventurous Activities
6. Caravela Café and Bistro: One of the Best Places to Eat in Panjim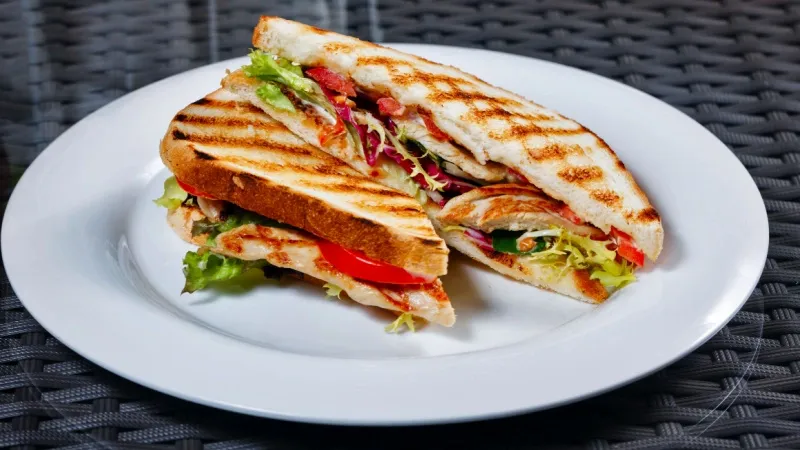 This family-owned café is one of the best Panjim places to eat and offers Goan snacks and dishes to go with it. What makes this café distinct from the others is its décor with wall art, posters, small ceramic jars, and much more. Located in the quiet lanes of Panjim, the vibes of this café match perfectly with its surroundings. It's an elegant and charming place, to say the least, one that should undoubtedly be on your bucket list during a trip to Goa. The food here ranges from pizzas, burgers, and pastas to sandwiches, and much more. However, their extensive breakfast menu is the talk of the town.
Address: 27, 31st January Road, Rua São Tomé, Panaji, Goa 403001
Timings: 8 A.M to 9 P.M
Famous food: Ross Omelet, Smoked Chicken Sandwich, Baked Beans, Hash Browns
7. Teal: An Instagram-Worthy Café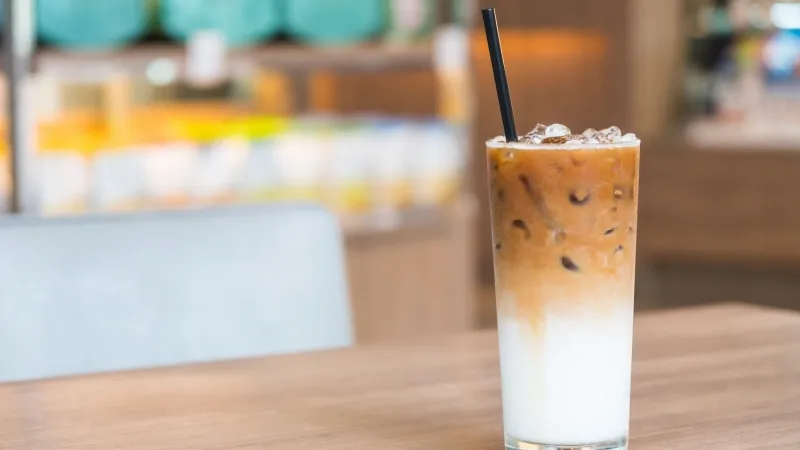 Capturing the perfect essence of a café, this quirky little dining place in Panjim is your best bet to spend some laidback time. Being in the heart of the city, this café is a popular hangout place for a lot of tourists and locals, maybe because it has retained its old-school charm and charming vibe amidst the city's hustle and bustle. The spacious indoor seating area with minimalist décor and the quaint outdoor area with a colorful and lively vibe is an absolutely gorgeous place. The lush greenery surrounding this café and a tall tree in the middle of the outdoor seating adds a rustic vibe to it. You can rely on enjoying the best coffee in the city here, and that should be reason enough to visit this place.
Address: H.No E-365, Rua Miguel Vicent Abreu, Panaji, Goa 403001
Timings: 8 A.M to 8 P.M, closed on Wednesday
Famous food: Egg Salad Sandwich, Apple Pie, Tuna Melt, Iced Latte, Kosha Mangsho Taco
Suggested Read: Places to Visit in Kashmir: Embellished Vistas that Enchant You Beyond Words
8. Bubble Café: Trust the Pearls to Make Everything Better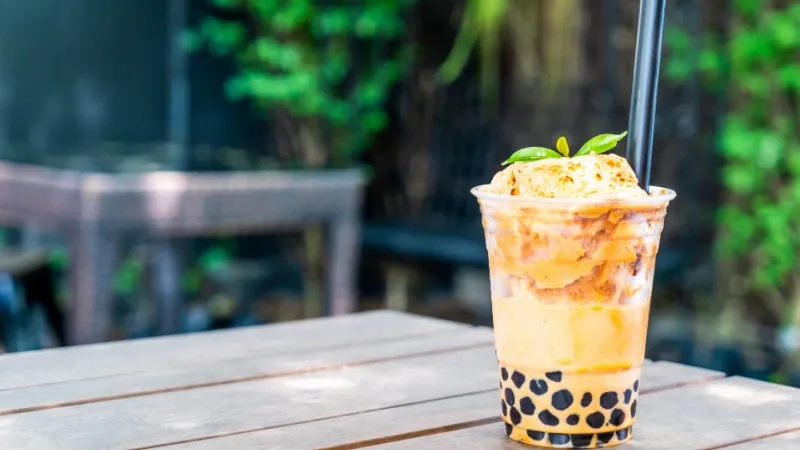 Here's a not-so-quintessential café in the city, which is known for its vibrant and eccentric décor. Decorated with fairy lights and wooden furnishings, this place serves a delicious variety of bubble teas, and your love for this beverage would lure you to this place. Even though there isn't much seating area, it's still a must-visit café for all bubble tea lovers. The flavorful tapioca pearls mixed and matched with your choice of drink is the rejuvenating boost you need while indulging in the things to do in Goa. This is Goa's first authentic Thai boba café and the beverages here are perfectly balanced. Are you convinced yet or should I go on?
Address: Pereira Building, St Inez Rd, Santa Inez, Panaji, Goa 403001
Timings: 11:30 A.M to 11 P.M and 4:30 P.M to 11 P.M (Wednesday)
Famous food: Thai tea, Taro tea, Matcha Boba Tea, Oreo Shake
9. Café Basil: A Brewing Love Story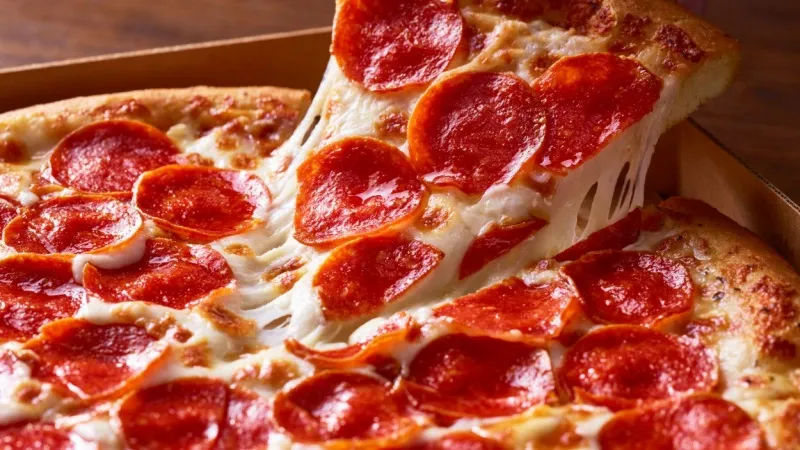 You can't overlook this café because of the fun and lively exterior and an even more fascinating interior with a color scheme of blue, white, and red brightening up the entire place. There's a chilled-out atmosphere here because of the cool décor, such as the famous starry night painting of Van Gogh on the window, a painting of Bob Marley, and much more. The best part is that this is a budget friendly place, so you can hang out here with your friends and indulge in a session of laughs and banter. As for the food, it goes perfectly with the café cuisine, so you can expect a variety of scrumptious quick bites here, such as nachos, burgers, shakes, and much more. If you're lucky, you might visit this café during one of the live performances that is the cherry on top, honestly.
Address: Estrocio Residency, Tonca, Caranzalem, Panaji, Goa 403002
Timings: 11 A.M to 3 P.M and 5 P.M to 9 P.M, closed on Sunday
Famous food: MCR Burger, Buffalo Chicken Wings, Pepperoni Pizza, Chicken BBQ Burger
Suggested Read: Adventures in Udaipur: Let Udaipur Captivate Your Soul with these Activities
10. Cremeux: One of the Top Cafes in Panjim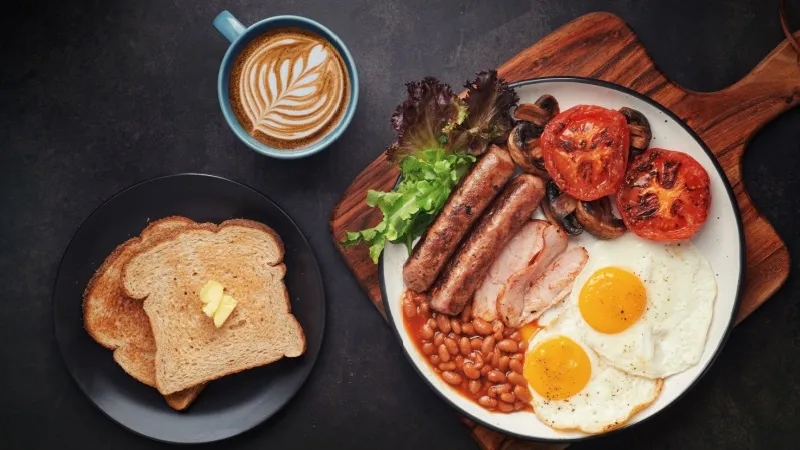 The moment you step into this quaint café, a warm and cozy feeling will envelop you in its embrace and it'll stay with you till the time you leave. Its interior is quite beautiful and rustic, but what's better is the view from here, as you can watch the magnificent Adil Shah Palace from there. You can order any of their cookies to go with their delicious cup of coffee or tea and even take them home if you like. You can expect hearty dishes to be served here and this generosity of the café would make you want to return here for another round. The café likes to take pride in their dishes being made with love and it's evident from the first bite you take. The high-quality ingredients and the overall atmosphere of the café makes your dining experience a delightful affair.
Address: Falcon Apartment, MG Road, opposite Customs House, Altinho, Panaji, Goa 403521
Timings: 8 A.M to 11 P.M
Famous food: Tandoori Chicken Baguette, Cheesy Garlic Bread, Chocolate Truffle Cake, English Breakfast
There's something about the cafes in Panjim that draws you towards them, it might be their inviting ambiance, the aroma of brewed coffee, or their aesthetic appearance. Regardless of the reason, you should undoubtedly visit one of these coffee places in this Goan city to immerse yourself in the hippie vibes and to click instagrammable pictures with cute backdrops. We can assure you that the coffee as well as the side dishes to go with it are paired perfectly and would instantly rejuvenate you. So, once you book our Goa tour packages, consider visiting these coffee hubs.
FAQs
Q1. How can I spend a day in Panjim Goa?
Well, you can start your day by visiting one of the gorgeous cafes in Panjim and then go about exploring the attractions, such as Fort Aguada, Basilica of Bom Jesus, etc. and reveling in the fun vibe of the beaches here.
Q2. What are the best cafes in Panjim?
Some of the best cafes in Panjim are Black Vanilla, Teal, Café Tato, Café Bodega, and many more. These cafes are perfect for hanging out with your friends or family and relaxing in Goa's laidback vibe.
Q3. Which cafes in Panjim are ideal for couples?
Even though all the cafes in this city are couple-friendly, you can visit Café Teal, Black Vanilla, and Caravela Café and Bistro for a romantic time. The aesthetic interior of these cafes is perfect for couples.
Q4. What are the ideal cafes in Panjim for families?
If you're traveling to Goa with family, then White Balcao, Café Basil, and Café Bodega, and Padaria Prezeres are ideal places to visit. Their warm and charming vibe is perfect for spending quality time with family.
Q5. Which café in Panjim serves authentic Goan food?
White Balcao, Café Tato, and Caravela Café and Bistro are famous for their Goan dishes. In fact, they give you a chance to experience a complete Goan fare from the vibe of the place to the dishes.
Q6. What are the opening hours of Café Bodega?
Café Bodega is open from 10 A.M to 6:30 P.M and is closed on Sunday. It's a must-visit café in Panjim for tourists and is popular among locals as well.
Q7. Where is Café Basil in Panjim?
The address of Café Basil is Estrocio Residency, Tonca, Caranzalem, Panaji, Goa 403002. It's an ideal place if you're looking for a relaxing time as it exudes a chill vibe through its décor and overall appearance.
Q8. How many days in Goa are enough?
3 to 4 days are ideal for a trip to Goa as it'll allow you to explore the best that this state has to offer. You can explore the beaches, cafes, and indulge in fun activities as well.
---