Goa has always been the go-to destination for couples, friends, and family. The places to visit in Goa are tempting and alluring, known for their beachy vibes, scenic beauties, and fun activities that engage people from all walks of life. Those looking for a relaxing time or wish to add an adventurous page to their vacation would find themselves in Goa. It's the answer to everyone's amazing vacation dreams. So, let's dive right into the must-visit locations in this heavenly state.
Best Places to Visit in Goa: Experience an Enriching Vacation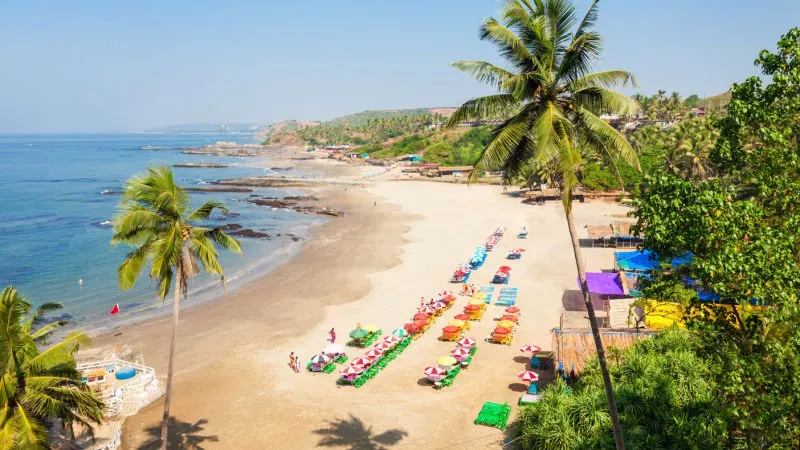 Planning a vacation to Goa is every person's dream because of the brand name it has created for itself as an exciting and adventurous place. This place has everything you need to make your vacation a successful one. If you wish to experience the vibrant nightlife, the leisure beaches, and natural beauty of Goa, then you cannot miss out on these top 10 places to visit in Goa.
Calangute Beach
Dudhsagar Falls
Chapora Fort
Basilica of Bom Jesus
Anjuna Beach
Dona Paula
Cotigao Wildlife Sanctuary
Anjuna Flea Market
Sri Mahadeva Temple
Grande Island
1. Calangute Beach: Experience Hippie Vibes at this Sun-Kissed Beach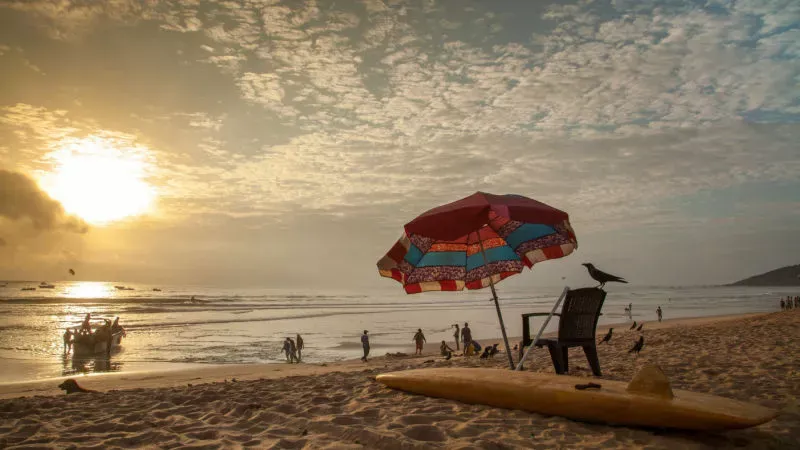 Known as the "Queen of Beaches," this beach is one of the best beaches in Goa because of the perfect combination of crystal-clear water, sandy stretches, and bohemian vibes. The Calangute Beach is a big tourist attraction in the state, which is why you'd always find throngs of tourists here. However, despite the number of people here, it's still a spectacular place to visit when in Goa. You can indulge in the watersport activities, like parasailing, surfing, jet skiing, or lie on your beach blanket, or try the scrumptious cuisine from the nearby shacks. Also, as soon as dusk approaches, you'll notice a shift in energy as the beach turns into a party hub with music, drinks and food.
Best time to visit: During Christmas or in May
Things to do: Enjoy the view of the calm waters, indulge in watersports, relax, and party the whole night
Adventure activities: Jet skiing, parasailing, and surfing
2. Dudhsagar Falls: The Tallest Waterfall in the Country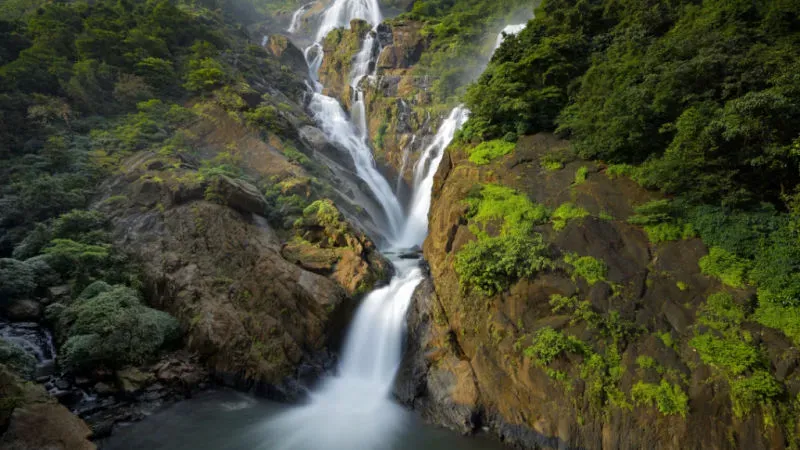 When it comes to this waterfall, it's one of the major attractions in Goa because of the height from which it originates. It's divided into four tiers and is referred to as the Sea of Milk and you'll understand why once you visit this place. It's the most majestic sight that you'll come across in Goa; after all, it's not every day that you see a 310 m high waterfall. The name behind this waterfall is rooted in a legendary myth, wherein a princess who bathed in this waterfall covered herself in milk to prevent the prince from seeing her without clothes. Therefore, it's known as Dudhsagar or the Sea of milk. Quite fascinating! It's one of the best places to visit in South Goa, so don't miss out on it.
Best time to visit: November to December
Things to do: Trek to this waterfall and witness the mesmerizing view of cascading water surrounded by lush greenery
Suggested Read: Things to do in Solang: Valley that is Nestled in Western Bank of the Beas River
3. Chapora Fort: Add a Historical Essence to Your Holiday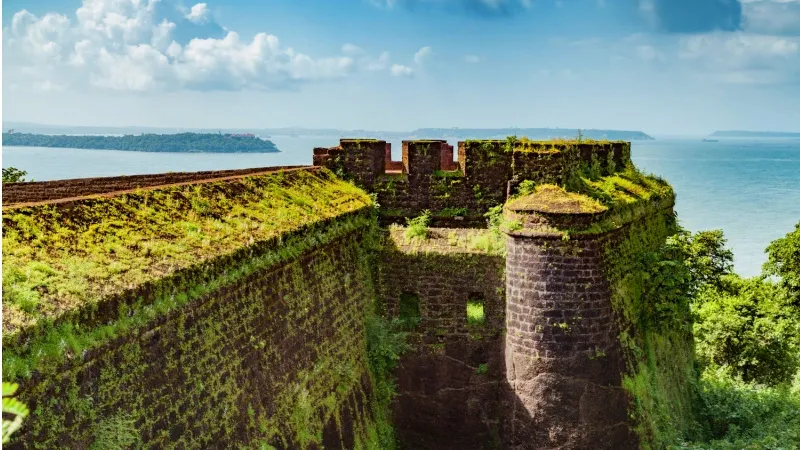 The Chapora Fort might be familiar to some of you because it's the same fort where a scene from the Bollywood movie "Dil Chahta Hai" was shot. This place became a hotspot for tourists once the movie was released in 2001, but this place has a charm of its own. The historically significant fort overlooking the sea and the Chapora river magnifies the beauty of this location. You can explore the fort, admire the sound of the waves, the cool breeze, and the marvelous view of the sunset. It's one of the most popular sightseeing locations as it gives a view of different attractions from everywhere.
Best time to visit: 9:30 A.M to 5:30 P.M
Things to do: Learn about the history of the fort, wait for gorgeous sunset, look over the sea, and click pictures against stunning backdrops
Suggested Read: A Guide to Kerala: Visit One of the Ten Paradises in the World
4. Basilica of Bom Jesus: Soak in the Positive Vibes at the Oldest Church in Goa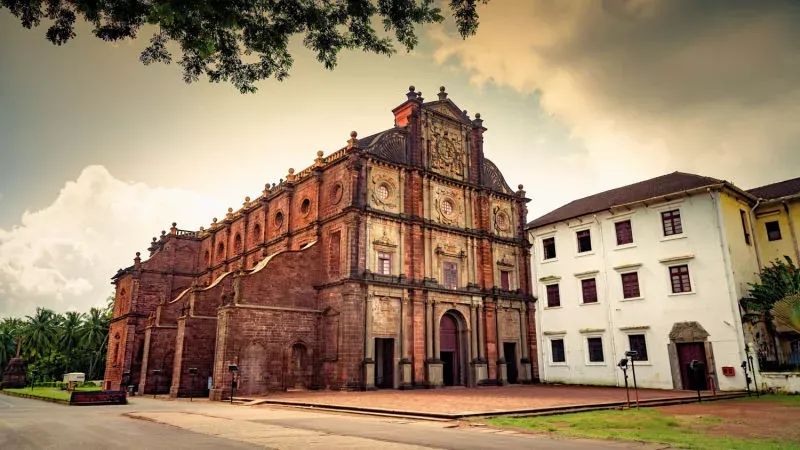 Basilica Bom Jesus is an exemplary example of the beginning of Christianity in the state. The magnificent Baroque architecture and the marble mosaic interior along with precious stones adorn this church. Therefore, this is amongst the best places to visit in Goa and it's also a UNESCO World Heritage Site. It's a historically and culturally significant attraction in the state for Catholics and the tranquility you'll feel here is next level. You'll feel connected to God and would experience a positive energy around you. This would be one of the most enchanting places to visit in India.
Best time to visit:
Monday to Saturday – 9:30 A.M to 6:30 P.M
Sundays – 10 A.M to 6:30 P.M
Things to do: Connect with God, marvel at the intricate designs and architecture dating back to 16th century, and enjoy the peace and serenity inside
Suggested Read: Top Places to Visit in Kashmir: Embellished Vistas that Enchant You Beyond Words
5. Anjuna Beach: The Bustling Activity Hub of Goa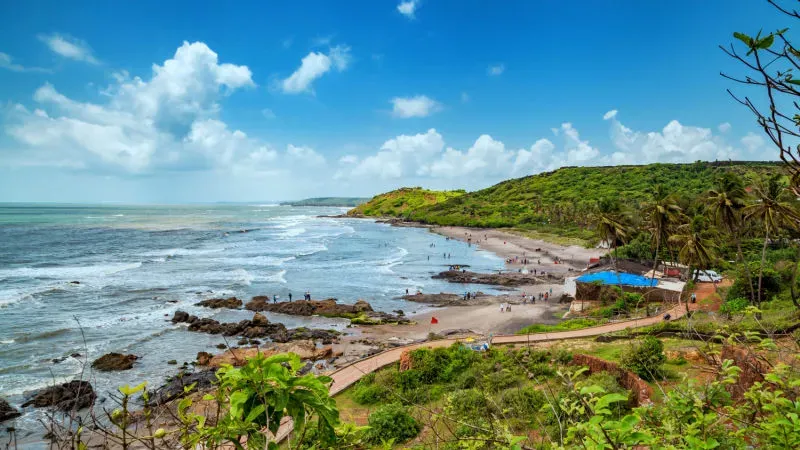 Anjuna Beach is another one of the excellent places to visit in North Goa because of its golden coastline, azure waters, and lively atmosphere. However, it's infamous for its full moon parties and vibrant nightlife. So, you can rest assured that you're in for a wild time here as soon as the sun sets. During the day, you can spend time in the water trying out new thrilling adventures, such as paragliding, scuba diving, water scooter, banana boat rides, and much more. If you're more into a laid-back attitude, then you can just as easily spend leisure time on the shore, sipping a cocktail.
Best time to visit: November to February
Things to do: Party the whole night, enjoy delicious food and drinks, relax and unwind on the beach, and have fun at the watersports
Adventure activities: Paragliding, water scooter, scuba diving, banana boat rides, jet skiing, bumping ride, and snorkeling
Suggested Read: Places To Visit In Munsiyari: Finding Out the Treasures of Munsiyari
6. Dona Paula: For All the Romantics at Heart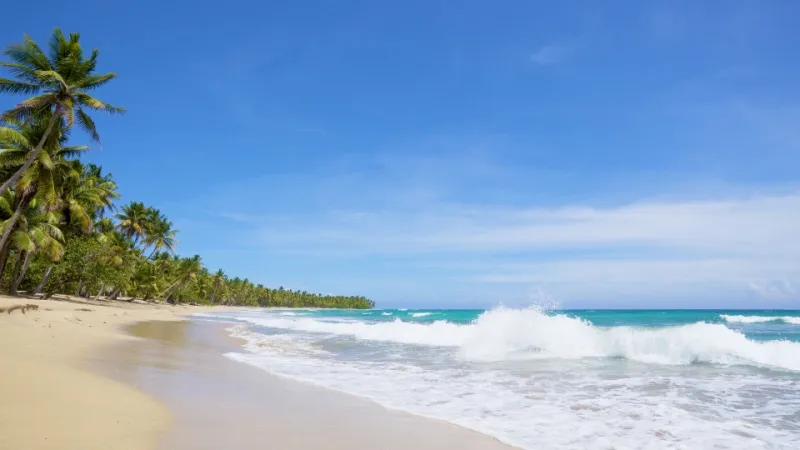 Dona Paula beach is a testament of true love. Dona Paula was the daughter of Goa's viceroy who fell in love with a fisherman and when her father didn't allow the marriage, she jumped off the cliff. Her tragic love story gave rise to this ethereal location from where you can get the perfect view of the Arabian Sea and the Mormugao Harbor. There's also a statue here, which depicts Mother India and Young India; it's also a famous tourist attraction. A few popular Bollywood films like "Singham" and "Ek Duje ke Liye" were also filmed here. So don't miss out on one of the mesmerizing places to visit in Goa.
Best time to visit: 6 A.M to 10 P.M
Things to do: Admire the breathtaking view of the sea, spend time relaxing at the beach, and visit the statues depicting two Indias
Adventure Activities: Water skiing, windsurfing, parasailing, kayaking, ski-bob, snorkeling, toboggan ski-biscuit and sports fishing
Suggested Read: Things to do in Leh Ladakh: Unleash the Adventurer Within
7. Cotigao Wildlife Sanctuary: Venture into the Nature's Paradise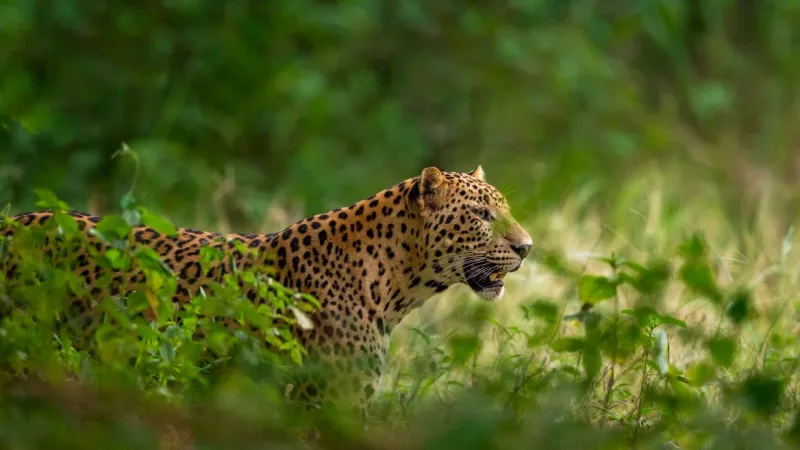 A "places to visit in Goa" list is incomplete without mentioning the wildlife it inhabits. From Sloths and Hyenas to Indian Bisons and Malabar Crested Eagle, you'll find several exotic species in this second largest wildlife reserve. In addition, the natural beauty surrounding you with lush greenery and huge rocks, you'd find yourself in awe of the scenery and the peaceful environment. There's nothing more fascinating than watching these animals in their natural habitat.
Best time to visit: 9 A.M to 6:30 P.M
Things to do: Appreciate the beauty of nature and have an up-close encounter with the wildlife
Suggested Read: Places to Visit in Qatar in Summer: Get Enamored by this Glorious Countr
8. Anjuna Flea Market: Experience Goa the Local Way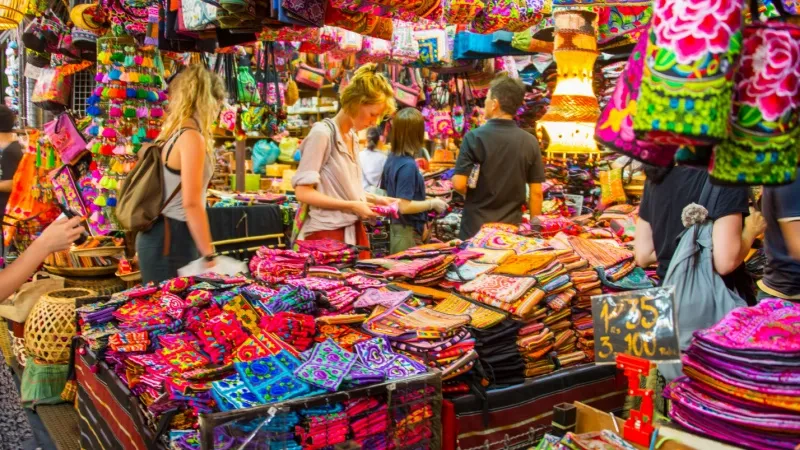 Nothing says more about a state than its local markets because they give us a glimpse of the lifestyle and traditions of the place. Anjuna Flea Market is one of the most excellent places to visit in Goa to shop for trinkets, handicrafts, accessories, bags, and a lot more. You can even buy souvenirs for your friends and family. This market is also known as the Queen of Hippie Flea Market because of the lively and upbeat vibe. Shop as you munch on street food, listen to live performances, and have a gala time.
Best time to visit: 9 A.M to 6 P.M every Wednesday
Things to do: Buy clothes, accessories, souvenirs, etc., listen to the live bands perform, munch on street food, enjoy refreshing drinks, and haggle for prices
Suggested Read: Best Things to Do in Himachal Pradesh: Escape to the Action-Packed Land
9. Sri Mahadeva Temple: Connect with God and Soak in the Positivity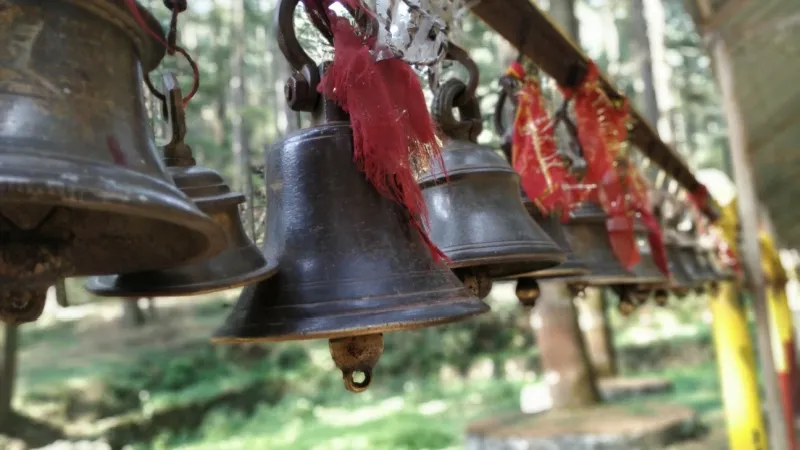 This temple is one of the oldest temples in Goa dedicated to Lord Shiva. When you're planning on things to do in Goa, you should undoubtedly add this place to your list. The spiritual aura and serene surroundings would give you a breather from the bustling city. This temple houses a Shiva Linga and the statue of headless Nandi. However, be careful as you approach the Shiva Lings because it's believed that there is a king cobra sitting near it permanently. You cannot find a more peaceful place than this temple. Check out our India travel packages for visiting such locations.
Best time to visit: September to February
Things to do: Pray to Lord Shiva, admire the architecture of the temple, and enjoy some peaceful downtime in the midst of nature.
10. Grande Island: The Most Thrilling Destination in the State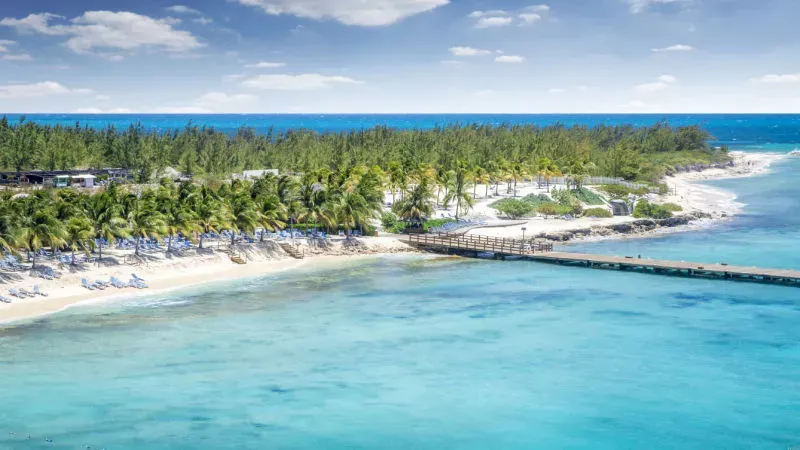 Finally, this island is one of the most popular destinations in Goa. The enthralling seashore, the tranquil environment and the rich greenery make for an amazing combination. The highlight here is the watersport activities that you can indulge in, such as snorkeling, scuba diving, and dolphin spotting. So, if you're looking for adventure in India, this is it. There are many nearby attractions that you can visit as well, including the Aguada Fort, Central Jail, Lighthouse, and so on. Beware of the bats living in this place, due to which this island's also famous as "Bat Island." All in all, you'd have a great time here that you'd always remember.
Best time to visit: 8:30 A.M to 4 P.M
Things to do: Unwind on the beach, get tanned, enjoy the watersport activities, and visit the nearby attractions
Goa is a captivating place where once you visit it, you'd not wish to return. Everyone who explores the places to visit in Goa falls in love with it. Therefore, it's quite a crowd puller in the country and is a major tourist spot for honeymoons, family vacations, and trips with friends. Goa welcomes everywhere with open arms, and you can expect butterflies in your stomach as you visit this enchanting place. So, book our Goa tour packages and see for yourself what a memorable holiday you'll have.
FAQs
Q1. What are the best places to enjoy in Goa?
From the numerous places in Goa that are worth visiting, here are a few of them:
Calangute Beach
Chapora Fort
Anjuna Flea Market
Dudhsagar Falls
Basilica of Bom Jesus
Q2. What should we visit in Goa?
Goa is a land full of exciting and gorgeous places. Some of them are Dona Paula, Grande Island, Sri Mahadeva Temple, Cotigao Wildlife Sanctuary, etc.
Q3. What is Goa famous for?
Goa is famous for its pristine beaches and nightlife. If you're looking for a fun filled vacation, then Goa is the answer with its sandy stretches, exquisite views, and party vibe.
Q4. How many days in Goa is enough?
4 to 5 days are enough to visit the most memorable places in Goa. You can cover several major tourist attractions and there's always a next time to explore this place some more.
Q5. What is the best time to visit Goa?
Goa is a destination where you can enjoy only during temperate climate, which is from November to February. It's the perfect time to visit the beaches and the cultural atractions.
Q6. What is the nightlife of Goa like?
Goa's nightlife is one you'll remember for ages because of how crazy and fun things get. As soon as the sun sets, the beaches turn into party hubs where you can dance to the beats of loud music, eat delectable food and sip refreshing drinks.
Q7. What are the best places in Goa for couples?
Goa is a famous honeymoon destination because of its romantic landmarks and vibes. Couples can relax on the beaches, indulge in watersport activities together, shop at the markets, and admire the scenic beauties.
Q8. What are the best places in Goa for couples?
Goa is a famous honeymoon destination because of its romantic landmarks and vibes. Couples can relax on the beaches, indulge in watersport activities together, shop at the markets, and admire the scenic beauties.
---