Goa has created a name for itself in the tourism industry as the state with one of the best beaches to laze around. Beach bums who wish to spend most of their vacation near the sea must visit the beaches in Goa that are ideal for a laidback holiday. The sandy shores, turquoise blue water, palm trees, and sunshine are a given when it comes to Goa's beaches and it's imperative to spend time here for a wholesome trip. So, are you ready for an idyllic setting, scenic view, and a change from the hectic schedule? Well, head to this fun and exciting state to experience it all.
Best Beaches in Goa: Sandy Toes and Sunkissed Shores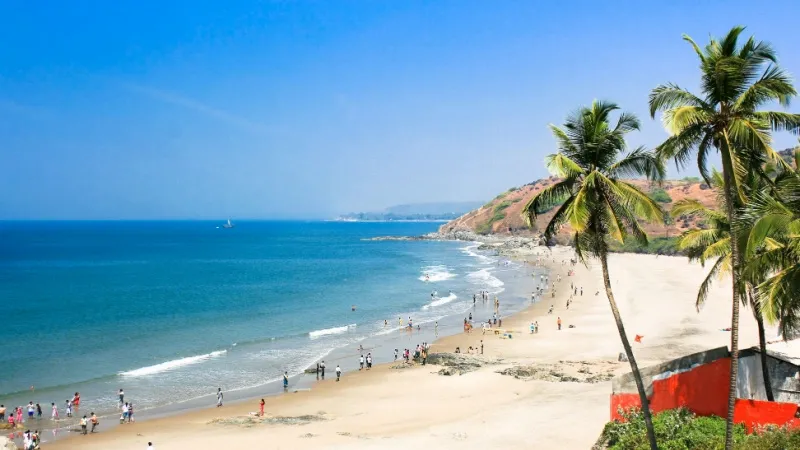 A relaxing holiday awaits as you make your way to the picturesque beaches in Goa. Get sun tanned, stroll along the sandy shores, enjoy the sea breeze, and play around in the waves because that's the only way to enjoy a holiday in Goa. You can't turn away from the numerous beaches in this state because the soothing sound of the sea would call out to you.
Here is the Goa beaches list from North Goa to South Goa
Morjim Beach
Anjuna Beach
Arambol Beach
Baga Beach
Candolim Beach
Miramar Beach
Agonda Beach
Patnem Beach
1. Morjim Beach: A Serene Affair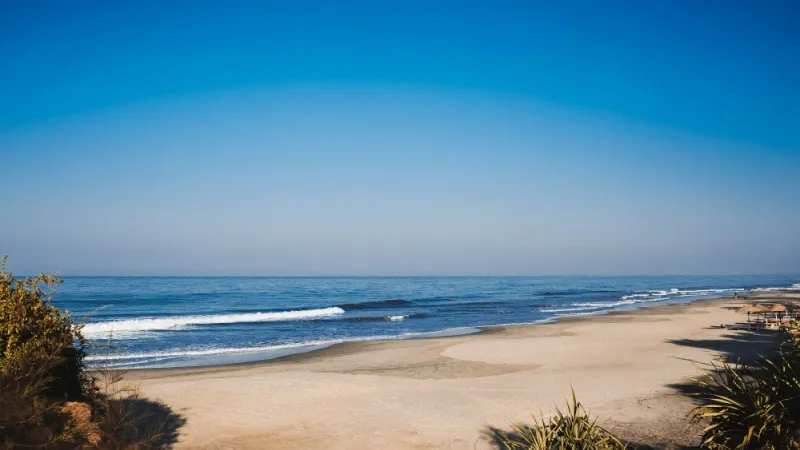 Morjim Beach is one of the most amazing beaches in North Goa, which is secluded from the hubbub of the city. It's a place where you can enjoy a quiet time, admiring the beauty of the sea and the gorgeous views ahead of you. The vast expanse of soft sand with a few shacks dotting the shoreline is perfect to spend some quality time with your loved ones. In addition to that, this mesmerizing beach is home to Olive Ridley Turtles, which is why it's also known as Turtle Beach. These turtles breed on this beach, which is why you'll find several of these adorable animals here. It's also an excellent place to spot birds, such as kingfisher, sand plover, cuckoo, etc., and if you're lucky, you might even spot dolphins in the sea.
Best time to visit: November to February
Location: North Goa
Nearby attractions: Chapora Fort, Shri Moraji Temple, Ashvem Beach, Shri Bhagavati Temple
Things to do: Birdwatching, spot dolphins and Olive Ridley Turtles, Chapora River Cruise, party at night
2. Anjuna Beach: Revel in the Bohemian Vibe
A paradise for beach lovers, Anjuna Beach is by far one of the most gorgeous beaches in this state. The tall palm trees swaying in the wind, the serene waters of the sea, and the unique rock formations add a touch of beauty to this entire place. Therefore, it's among the famous places to visit in Goa that you can't miss out on. You'll truly feel the hippie vibes here with beach shacks lining the shore and a flea market to buy vibrant and local souvenirs. This lively beach is known for its nightlife, so experience the party culture of this state by heading to this beach.
Best time to visit: October to February
Location: North Goa
Nearby attractions: St. Michael's Church, Baga Beach, Chapora Fort, Anjuna Market
Things to do: Windsurfing, parasailing, scuba diving, jet skiing, shopping, and partying
Suggested Read: Offbeat Tourist Places in Uttarakhand: Venture into the Unknown for a Vacation Full of Surprises
3. Arambol Beach: An Unexplored Beach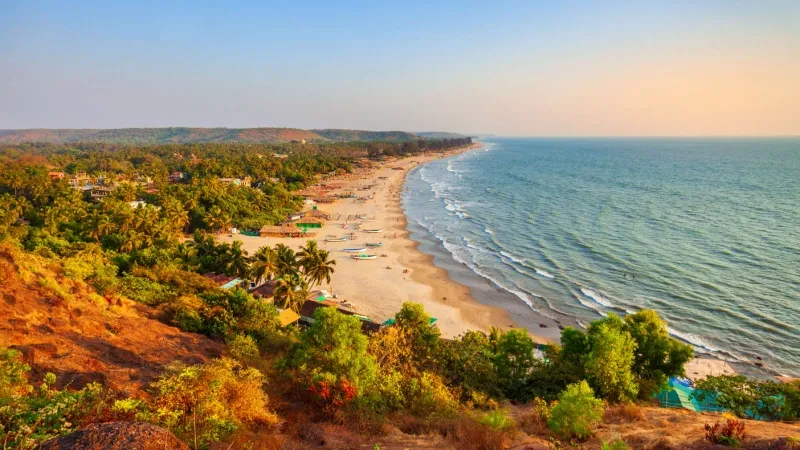 This beach in Goa is located between two cliffs with a 16 km long stretch of sand, but the best part is that it has been off the tourist radar and is now gaining fame gradually. It's the perfect place to surf the waves or even learn surfing from the surfing school nearby. Apart from that, you can also indulge in yoga, tai chi, meditation, and much more because the quiet environment of this place is ideal for some me-time. As the sun sets, the energy here shifts with people playing drums, jamming to songs, and much more. There's a market nearby as well for shopping, making it a among the most popular places to visit in Asia.
Best time to visit: October to February
Location: North Goa
Nearby attractions: Arambol Mountain, Arambol Sweet Water Lake, Querim Beach
Things to do: Yoga, paragliding, shopping, surfing, reiki
Suggested Read: Adventures in Lonavala: From the Lens of an Adventure Enthusiast
4. Baga Beach: A Vibrant Family Beach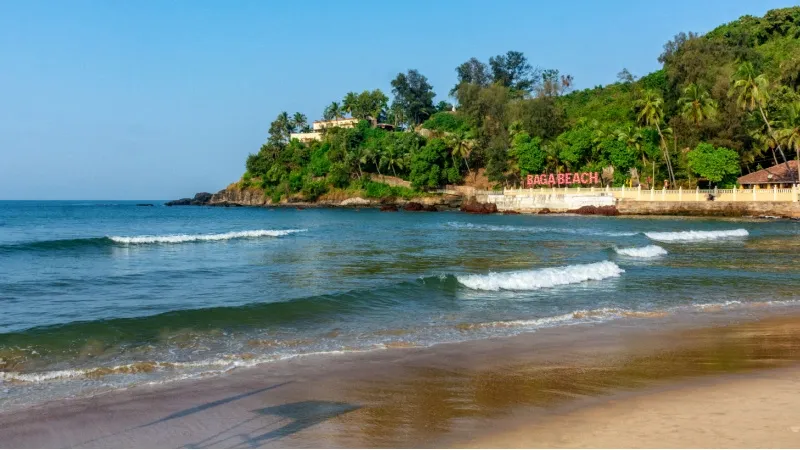 One of the most famous beaches in Goa is this one because regardless of whether you've been to this place or not, you know about it. Baga Beach is the ideal spot for families and friends to relax in the vibrant and lively atmosphere here. If you wish to indulge in the nightlife in Goa, then there's nothing better than this beach. The beach shacks lining the shore turn into party centrals after dark and stay open till late hours. There are several food stalls here dotting the shore, serving delicious sea food and other items for a wholesome day at the beach. Therefore, this beach is among the most popular attractions among tourists.
Best time to visit: October to March
Location: North Goa
Nearby attractions: Chapora Fort, Aguada Fort, Anjuna Beach, Calangute Beach
Things to do: Parasailing, wakeboarding, windsurfing, spotting dolphins, jet skiing, snow park
Suggested Read: Trekking Routes in Himachal Pradesh to Wander into the Wild
5. Candolim Beach: An Alluring Stretch of Seashore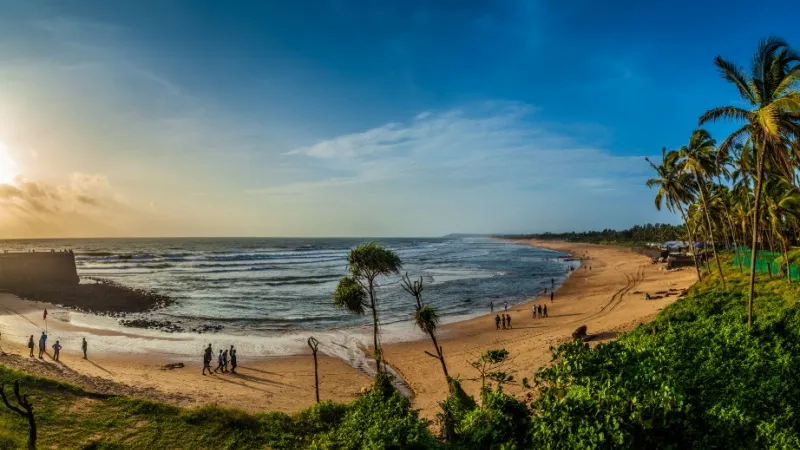 Candolim Beach or the beach with the golden hued sandy shores is the next place on our beaches in Goa list. With an inviting and friendly atmosphere, this beach is a favorite of tourists who wish to experience the joys of beach in a secluded manner. The adventures in Goa are mainly centered around water, and this beach also offers several activities like scuba diving, banana rides, etc. to the visitors. The scenic beauty of this unexplored beach is what makes it a hidden gem in Goa. There are several gorgeous beach resorts in Goa for family lining the shore as well. So, you can walk around the soft sand and spend some quality time with your partner because this is quite a romantic beach for couples and honeymooners.
Best time to visit: October to March
Location: North Goa
Nearby attractions: Aguada Fort, Our Lady of Good Hope Church, Basilica of Bom Jesus, Chapora Fort
Things to do: Scuba diving, banana rides, parasailing, jet skiing
Suggested Read: Attractions in Meghalaya: Plan a Getaway to the Abode of Clouds
6. Miramar Beach: A Picture-Perfect Beach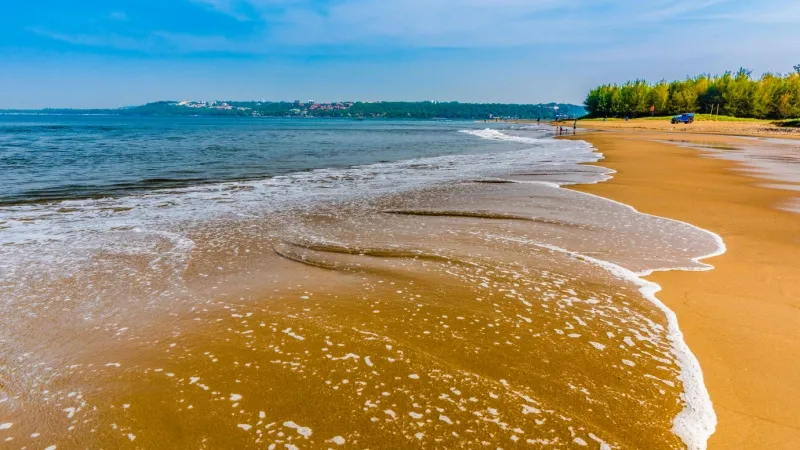 None of the other places to visit in India can beat Miramar Beach in terms of picturesque views of the Arabian Sea. With a combination of soft sand and verdant greenery, this beach is the epitome of beauty. You can swim in the sea, enjoy sunbathing, and stroll along the clean shore. This beach is also known as the Golden Beach because of the golden hue of the sand here. It's the perfect place for rejuvenating yourself as you spend a relaxing and laidback time, listening to the soothing sound of the waves and the chatter of birds.
Best time to visit: November to March
Location: South Goa
Nearby attractions: Goa State Museum, Salim Ali Bird Sanctuary, Reis Magos Fort, Our Lady of the Immaculate Conception Church
Things to do: Bird watching, witnessing the sunset, relishing delicious food
Suggested Read: Tourist Places to Visit in Lakshadweep: Immerse Yourself in the Tropical State of Mind
7. Agonda Beach: The Calmer Side of Things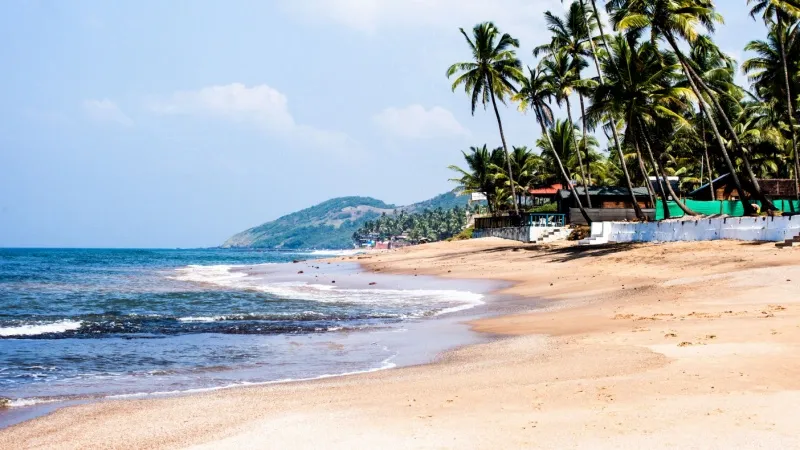 The beaches in South Goa aren't as popular as those of North Goa, but they deserve all the attention because of their natural beauty and serenity. Agonda Beach is one such beach where the sea is calm, making it ideal for visitors to indulge in swimming, so that is one of the things to do in Goa that you can't miss out on. Moreover, you won't find this place packed with tourists, so you can take your time soaking in the surroundings, enjoying the peaceful environment, and admiring the aesthetic view. You'll come across the Agonda Church in the middle of the beach, which is a famous tourist attraction.
Best time to visit: October to March
Location: South Goa
Nearby attractions: Cabo de Rama Fort, Butterfly Beach, Chapoli Dam, Agonda Church
Things to do: Swimming, shopping, yoga, trek to Butterfly Beach
Suggested Read: Bangalore Waterfalls: Witness the Beauty of Nature Up Close
8. Patnem Beach: A Slice of Paradise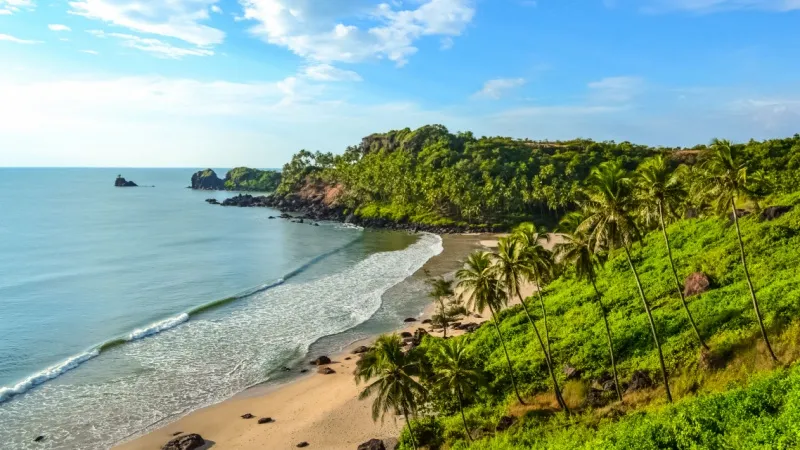 Patnem Beach is the polar opposite of its neighbor beach, Palolem. Patnem is more of an idyllic beach with a calm atmosphere. Its isolated location also plays a role in its seclusion from the city's hubbub. It's a place where you can introspect yourself while looking out at the soft waves, and whenever you feel like diving back into the wild side of things, you can walk to Palolem Beach, which is one of the best night beaches in Goa. Patnem Beach is ideal for those looking for a peaceful retreat. You can laze around in the bamboo huts, do yoga, or just enjoy sunbathing.
Best time to visit: October to March
Location: South Goa
Nearby attractions: Palolem Beach, Canacona Island, Galgibaga River
Things to do: Swimming, sunbathing, shopping
Suggested Read: Top Places To Travel in Shillong: For a Heartful Holiday in Nature's Arms
The beaches in Goa are famous among locals and tourists because of their fun and vibrant essence. The playfulness of beaches paired with the natural beauty and picturesque views make for the perfect combination that one could ask for. Therefore, a trip to Goa is incomplete without spending time at the seashore and basking in the tropical vibes, sunshine and dipping your toes in the soft sand. From children to adults, everyone enjoys a fun time at the beach and the nightlife of Goa is mainly centered around these beaches, so your holiday should also revolve around these sunkissed places. Book our Goa tour packages for a beachy holiday with your loved ones.
FAQs
Q1. Which is the cleanest beach in Goa?
Palolem Beach is the cleanest beach in Goa. You can walk around the sandy stretches, admire the gorgeous views of the palm trees, and enjoy a relaxing time in the sun.
Q2. Why are Goa beaches so famous?
The beaches in Goa are famous because they are the ultimate spot for relaxing under the sun with the lulling sound of the waves. You can also indulge in several watersports, such as parasailing, kitesurfing, scuba diving, etc. for a thrilling adventure.
Q3. What are the best beaches in Goa?
The best Goa beaches include Baga Beach, Arambol Beach, Anjuna Beach, Patnem Beach, Candolim Beach, and many more. They are ideal for peace seekers and adventure enthusiasts.
Q4. Which beach is busiests in Goa?
Calangute Beach is the busiest beach in Goa. You'll always find it packed with tourists because of its beauty, serenity and commercialization.
Q5. Which beach foreigners prefer in Goa?
Even though all the beaches in Goa are famous, Palolem Beach, Candolim Beach, Morjim Beach, etc. are especially famous among foreigners. Since these seashores are less crowded and full of natural beauty.
Q6. Which month is best for Goa beach?
Mid-November to mid-February is the best time to visit Goa beaches. The weather is ideal for relaxing under the sun and enjoying the watersports as well.
Q7. Which beach is best for family in Goa?
Almost all the beaches in Goa are ideal for families, but some of the best ones are Baga Beach, Anjuna Beach, Candolim Beach, Morjim Beach, and Miramar Beach.
Q8. Which beach is famous for party in Goa?
If you wish to enjoy Goa's nightlife, then Baga Beach is famous for its vibrant and lively nightlife. There are several clubs and beach shacks where you can dance, savor food and drinks and party all night.
---