The Saudi Arabia National Day is celebrated every year on 23rd September and this year, the theme of the 93rd National Day is "We Dream and Achieve." This theme emphasizes the country's rapid growth and the motivation to turn their dreams into reality. The festive vibe is at an all-time high during this weekend and you can expect several entertaining activities in every nook and cranny of this destination. From folk dances and music festivals to fireworks and parades; there's a lot to look forward to. So, let's know more about this much awaited celebration in the country.  
What is the Purpose of Saudi National Day?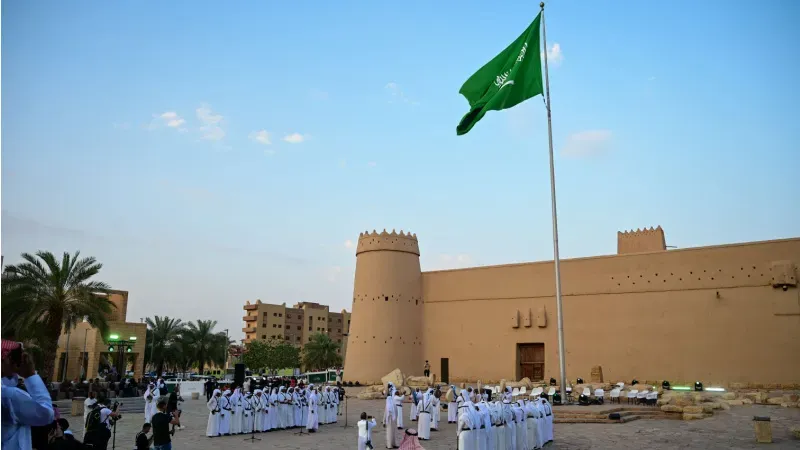 Saudi National Day is celebrated on 23rd September of every year because it commemorates the unification of Najd and Hijaz, two historical regions into the Kingdom of Saudi Arabia. This merger in 1932 became a famous historical chapter for the country and is therefore celebrated every year.
This day also acts as a tie between the past, present, and future. The shared history between the citizens of the country, the cultural heritage of Saudi, everything is celebrated on this date making it a grand festival.
How to Indulge in the Festivities at Saudi Arabia National Day?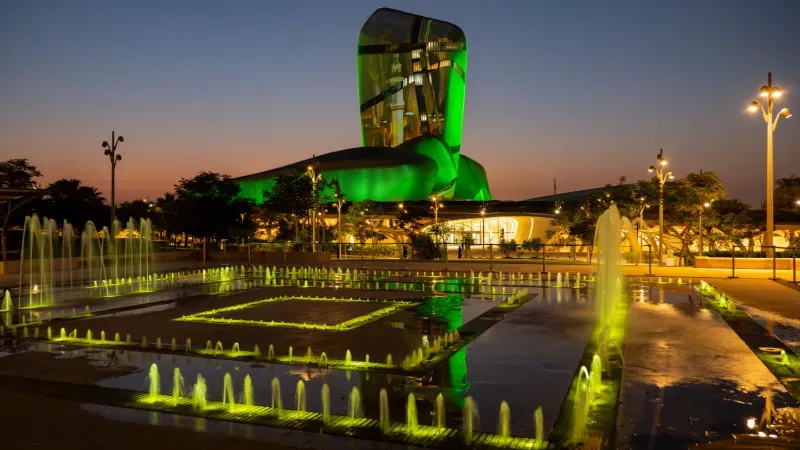 Saudi Arabia is welcoming of people from all over the world who wish to become a part of their national day. Since there are several activities lined up, you'll have your share of entertainment and fun. On this day, the entire country's painted in the colors of the flag, from the streets to the cars, and even the citizens wear white or green clothes to indulge in the festive vibes.
For the 93rd Saudi Arabia National Day, the General Entertainment Authority has released four themed songs "Our Date 2030", "Above the Clouds", "Yes" and "My Home is here" that would invoke the patriotism in you. Apart from this, you can also watch the fireworks show, parade, and soak in the traditionally rich vibes of the country.
Saudi Arabia's flag plays a vital role during these festivities as it's a recurring theme throughout the celebrations. The green color of the flag with the words "There is no God but Allah, and Muhammad is the Messenger of God" written on it in white and a sword below it symbolizes the kingdom's first sovereign ruler, King Abdul Aziz. Therefore, you'll see these two colors, green and white, dominating the entire country during this time.
---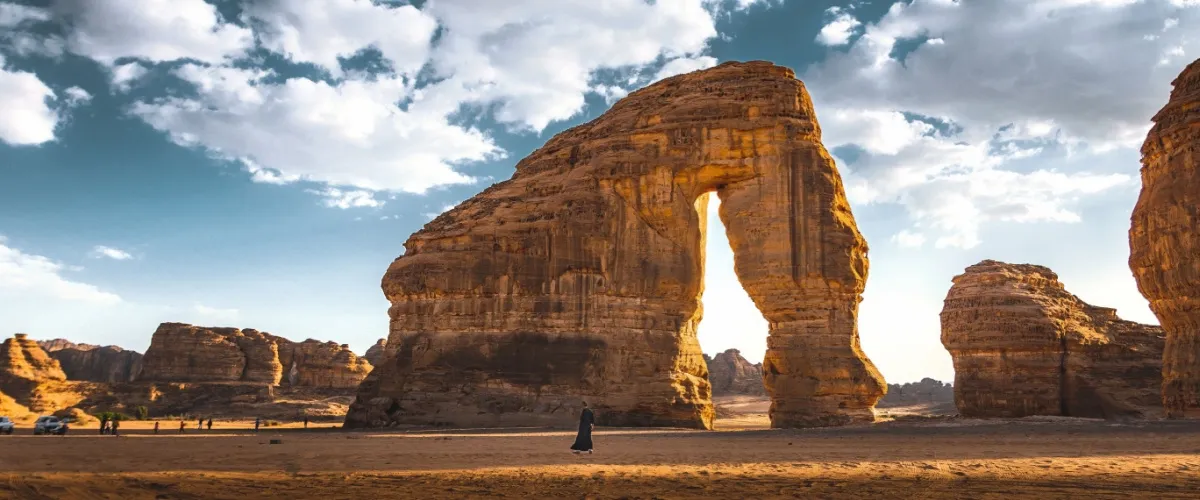 Saudi Arabia Travel Guide for a Complete Know-How of the Country
Saudi Arabia guide includes everything that you'd want to explore in this country and make your vacation a successful one. Traveling in the grand cities without a guide would lead to some of the hidden gems missing out from your sight.
---
Events at the National Day in Saudi Arabia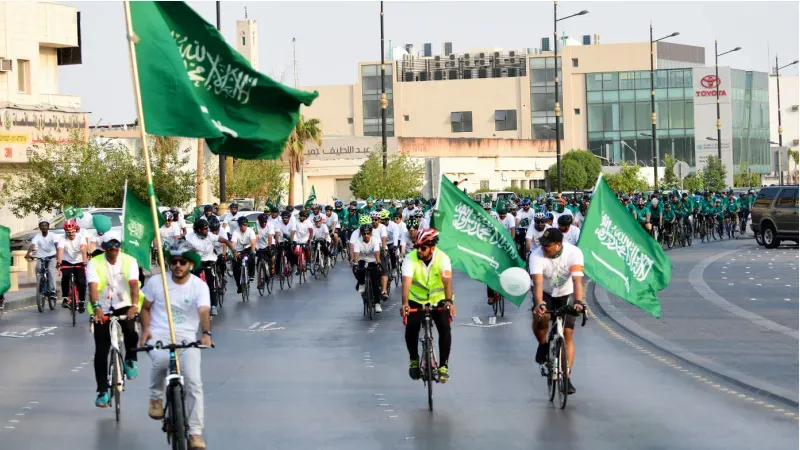 There are numerous events waiting for you at Saudi Arabia National Day 2023, and a lot more that have not been announced yet. You can expect folk dance, music concerts, and several other exciting performances to keep you engaged. Here are some of the events you can look forward to.
1. Azimuth in AlUla: Sway to the Music Beats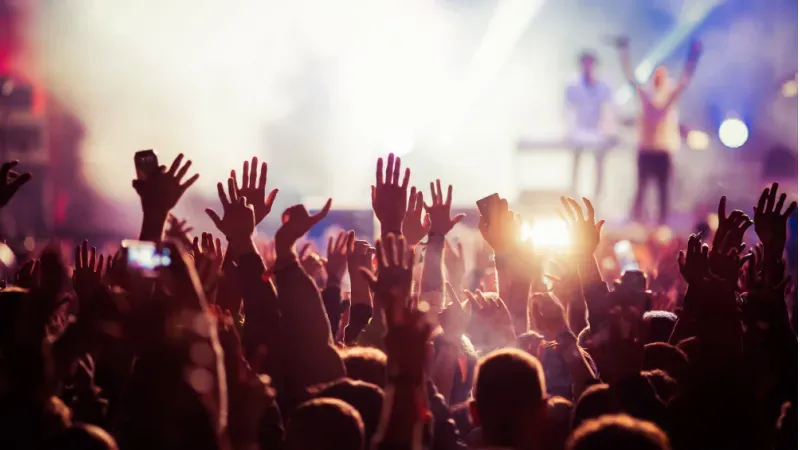 You're in luck because the AlUla music festival is on the weekend of National Day Saudi Arabia 2023, where famous artists like Jorja Smith, Chet Faker, Saint Levant, Shkoon Live, Thievery Corporation, Âme & Dixon, and Tinariwen are about to perform. Also, you can expect the Australian indie rock band Dope Lemon and Australian singer RY X at this music festival.
If that's not all, then 13 regional acts namely Cosmicat, Dish Dash, Baloo, Vinyl Mode, Kayan, Dorar, Sokkary, Zone+, NOMAD, Anmarz, BluePaper, Narkbeat, and DJB10 are also confirmed to perform at the Saudi Arabia National Day.
So, look forward to a music filled celebration from dusk to dawn and enjoy a long weekend this holiday.
2. Folk Dance: Immerse Yourself in Saudi's Culture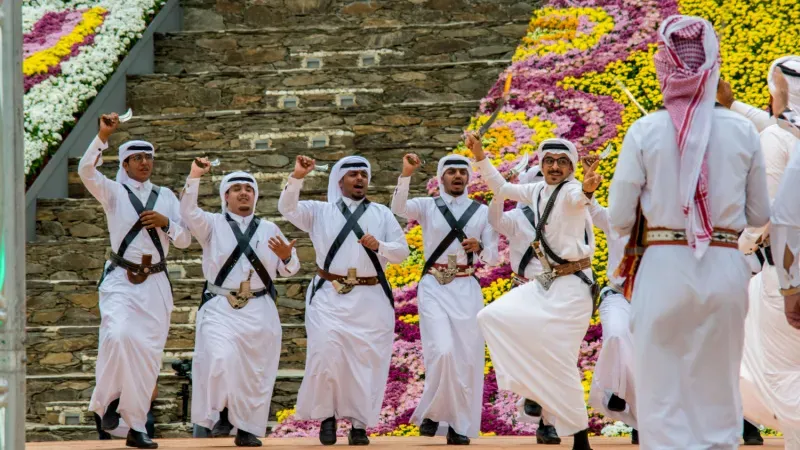 The folk dance performed during the Saudi Arabia National Day consist of five different dance forms picked up from five regions of the country. These dancers wear traditional outfits and represent the country's culture and heritage. It's quite a fascinating addition to the festivities.
3. Art Show: Indulge in Saudi Arabia's Art Scene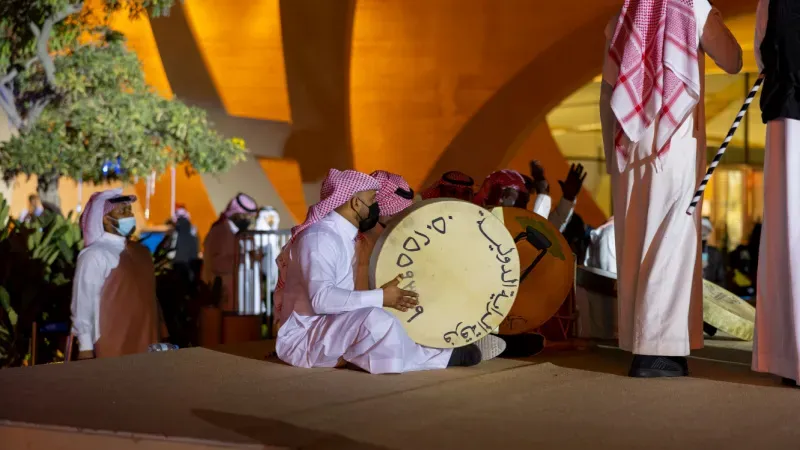 Delve deep into this country's artistic side and witness great work of art during the National Day of Saudi Arabia. You can watch the artists showcase various forms of art, such as music, cultural and traditional paintings, etc. that make this day even more meaningful and worthwhile. It's how you can experience Saudi's heritage at its finest.
4. Saudi Hawks Air Show: Marvel at the Spectacular Air Show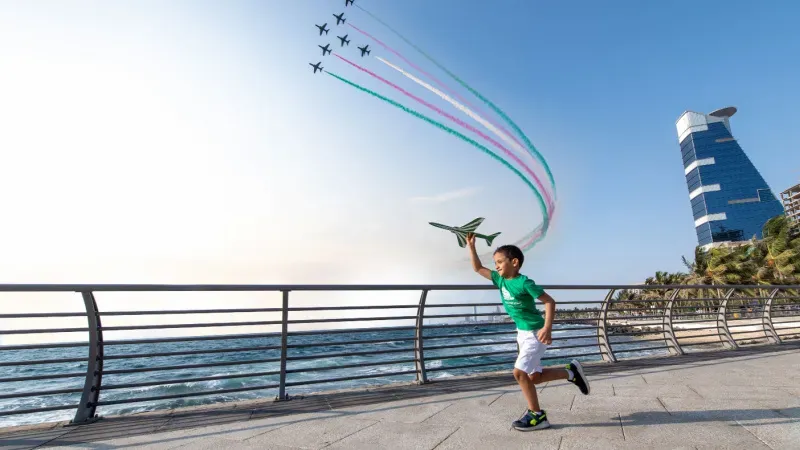 One thing you can't miss out on is the Saudi Hawks Air Show, which is one of the most awaited performances every year. With jetfighters and civil aircrafts performing a show high up in the sky, leaving behind a trail of Saudi colors, you'll be awestruck by the grandeur of it all. It's the largest air show in Saudi's history and you can watch this spectacle from one of the best places to visit in Saudi Arabia, Khobar Corniche, Um Ajlan Park in Riyadh.
5. Poetry Recitations: Listen to a Poetic Form of Love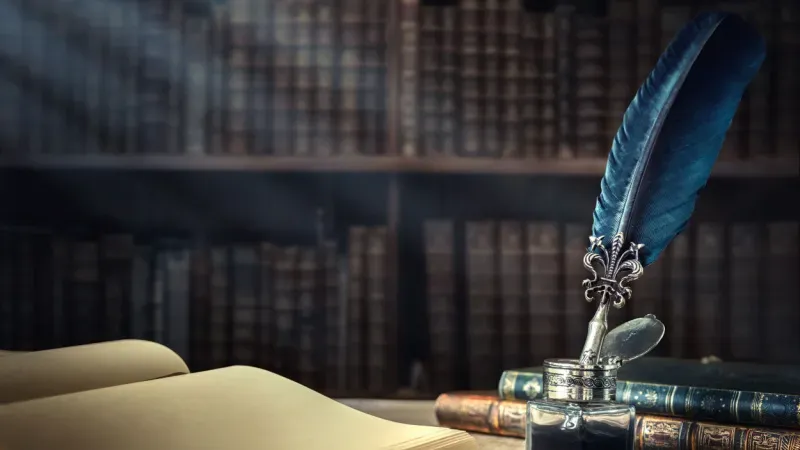 Poetry is the love language of a country like Saudi Arabia, and this love is spread among everyone on National Saudi Arabia Day. Portraying Arabic culture and literature at its best, you can listen to the soothing recitations all day long, exuding positivity and a sense of patriotism in the people. These poetic recitations are a way of expressing their love for the country and it'll truly leave you bewildered by their talent of wording their thoughts in such a beautiful way.
6. Fireworks: Watch the Sky Turn Multicolor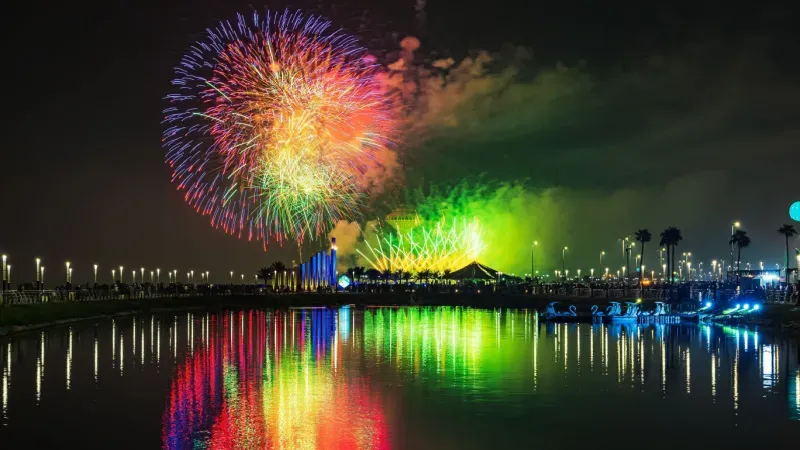 Out of all the events that will take place in Saudi Arabia, one activity that everyone waits for impatiently is the fireworks show that'll light up the whole sky with gorgeous hues. The bright and vibrant lights sparkling in the sky are the perfect way to celebrate the National Day with your loved ones. The magic of everyone coming together to watch this mesmerizing spectacle is in itself a testament to the bond everyone shares.
7. Horse Jumping Competition: An Entertaining Turn to the Celebrations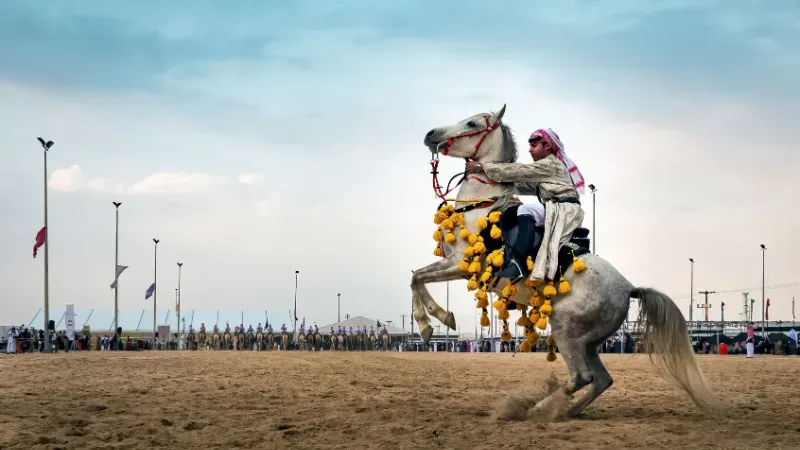 One of the unique things you'll come across during the Saudi Arabia National Day 2023 is the horse jumping competition. Hosted by Almortataz Equestrian center in Riyadh, you can watch the horses win this competition and even cheer for the one you support. It's a fierce competition, one that you can't miss out on.
8. Shopping: Incredible Opportunity to Shop for Souvenirs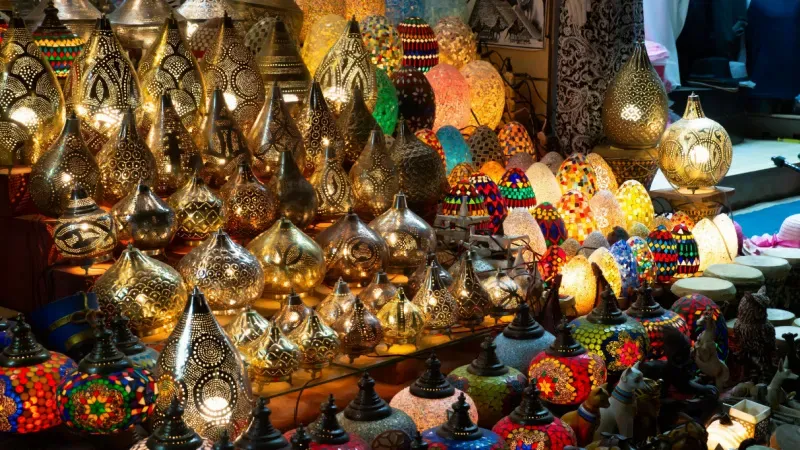 During the National Day, you'll come across several shops lining the streets, especially near Coastal Corniche, which offers you the perfect chance to shop for various items unique to this country. After all, it's one of the popular things to do in Saudi Arabia. So, don't hold back and buy as many items as you can to remember this day by. You'll stumble upon a lot of products that are themed as per the National Day and those are a must-buy.
---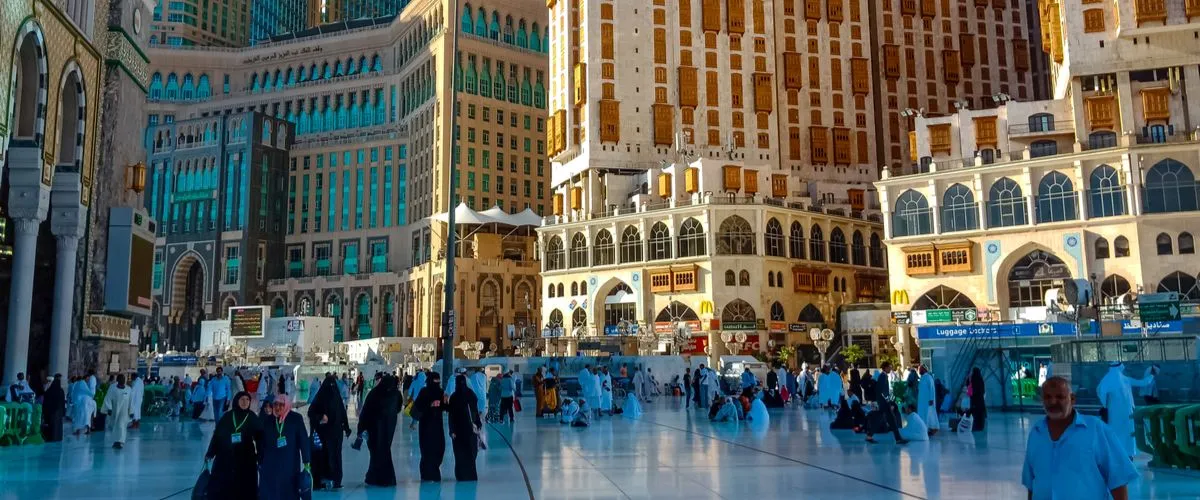 Shop at the Best Markets in Saudi Arabia for Some Retail Therapy
Shopping in Saudi Arabia offers people a different feeling all together as there is a lot to see and explore in the markets. Going to the markets gives people a glimpse into the historical sites of the country.
---
One thing is clear from all this information, that you'll have an immense amount of fun and excitement during this time. Saudi Arabia National Day is a time when the entire country comes alive with their love for the country and there's a spring in everyone's step due to the celebratory vibe. If you wish to be a part of the festivities as well, then you can also dress up in the national colors of the country and respect the cultural and religious sentiments of the people. So, book our Saudi Arabia tour packages and take a dive right into the high spirits of the country. We wish you a Happy National Day Saudi Arabia!
FAQs
Q1. What is the theme of Saudi National Day 2023?
The theme of Saudi Arabia National Day 2023 is "We Dream and Achieve." So, on this 93rd National Day, celebrate the spirit of looking upon the past and moving towards the future.
Q2. How many years is the National Day in Saudi Arabia 2023?
This is the 93rd National Day in Saudi Arabia. This celebration started in 1932 and has continued till date.
Q3. Why is September 23rd National Day in Saudi Arabia?
September 23rd is the National Day in Saudi Arabia because it's the day when two regions, Najd and Hijaz unified with the Kingdom of Saudi Arabia under the rule of King Abdul Aziz.
Q4. What is special about Saudi National Day?
Saudi National Day is a time when the entire country comes together to honor their past and celebrate their future. The entire country is decorated in green and white colors symbolizing the flag.
Q5. What are the colors of Saudi National Day?
The colors of Saudi National Day are green and white as they are the colors of their national flag. You'll come across green and white balloons, cars decorated in these colors, and people wearing clothes following this color scheme.
Q6. How is Saudi Arabia National Day celebrated?
The celebration of the Saudi Arabia National Day is executed with full gusto and there are several events that you can look forward to. From fireworks and poetry recitations to music festivals and folk dance, you'll have an entertaining time here.
Q7. Where can you watch the air show during National Day of Saudi Arabia?
You can watch air shows from Khobar Corniche or Um Ajlan Park in Riyadh. These are the best places to witness the spectacle of jetfighters and civil aircraft.
Q8. How many days are enough for Saudi Arabia?
If you're visiting Saudi Arabia during its National Day holiday, then 3 to 4 days are enough to indulge in the festivities. It'll give you a chance to revel in the essence of this country and its people.
Q9. What day is National Day in Saudi Arabia?
23rd September is celebrated as the National Day in Saudi Arabia. The people of the country rejoice in the festivities on this day.
---