The best favorite pastime for locals is shopping in Saudi Arabia as they love to shop at malls and department stores as they have the finest products and of course for the air conditioning. The best shopping places are Riyadh and Jeddah. The cities have the best malls, shopping centers and local souqs where one can buy souvenirs. What more can anyone ask for when it comes to vacationing in the middle east? Shopping in the middle east should be on the bucket list of things to do.  It is not something people get bored off or rather dislike and is said to be one of the best ways to explore and discover a country.
The experience of exploring the markets and malls in the middle east is absolutely breathtaking and an experience of a lifetime. It opens up one's eyes and mind as it is not something that can be felt anywhere else. People should enjoy the experience and boast about it to their friends and family.
Top Traditional Gifts And Souvenirs While Shopping In Saudi Arabia
Explore the country for its unique products that you may not get anywhere else. It is the land of the wealth, heritage and culture.  It is home to the most ambitious heritage developments, pilgrims and traders. Before going out to shop, just remember to check the prayer times as most shops close for about half an hour couple times a day. You can shop at the malls in the mornings to avoid the afternoon and evening crowds. Shopping in Saudi Arabia is one of the greatest pleasures of life one should enjoy once in a while.  So, what can one buy in Saudi Arabia at the malls and souks? There are several souvenirs you can buy in the lush markets and malls in this country.
1. Dates, Date Jam, Date Serving Dishes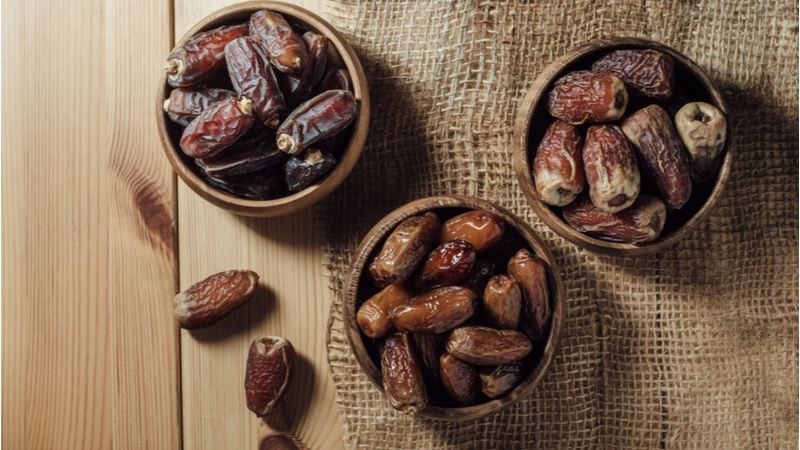 Did you know Saudi Arabia is known for its dates, which is one of the best things while shopping in Saudi Arabia as a present? It is the one product that is found everywhere including the malls. You can buy good quality yet affordable dates at a grocery store like Tamini and Danube. Go to Café Bateel for a beautiful box of dates, which make the perfect gift. The Kingdom center mall has a couple stores where you can get your dates and also at the Riyadh Airport. You should look the Ajwa, Ambar, Safawi and Sukkari dates at the market. Along with these, you should buy date jams and puree for cooking at the grocery stores. You can't serve dates without a yummy dish and so, look for date serving dishes at the souq or at the huge supermarkets.
Where To buy: BURAYDAH, Saudi Arabia
2. Gold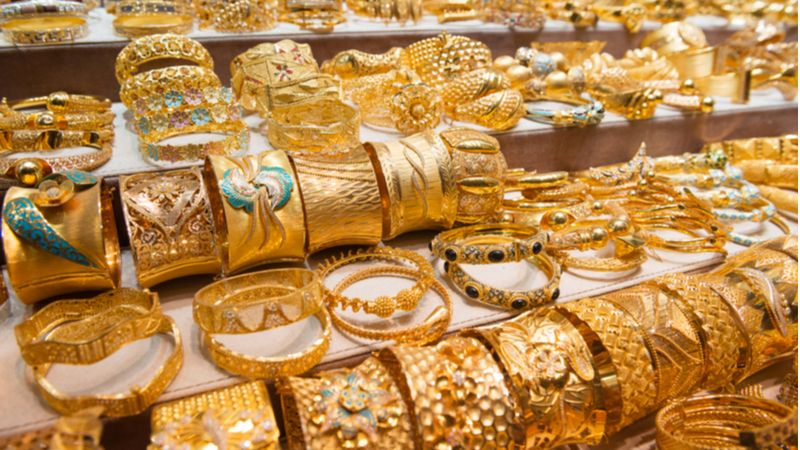 Are you a fan of gold jewelry? Do you wear it on special occasions? You are in luck as wherever you turn, every corner of the market sells gold. Whatever the design, gold is sold by weight in Saudi Arabia. The jewelry made of gold is about 22 karats and bright yellow as white gold is not heard off in the middle east. The 22-karat gold is 92% gold with silver, copper and zinc added to it for durability.  When visiting the gold market, you will probably see huge jewelry on display in Dubai. If you haven't then you should go to the gold souks in Saudi even if you are not going to buy anything.  Gold on display is a rare sight as one doesn't see such things on grand display and so, when looking for jewelry, go to Dirah Gold market, one of the shopping places in Saudi Arabia.
Where To Buy: Dirah Gold market
Suggested Read: Top Malls In Jeddah, Saudi Arabia: A Shopper's Paradise In Saudi Arabia
3. Oud Perfume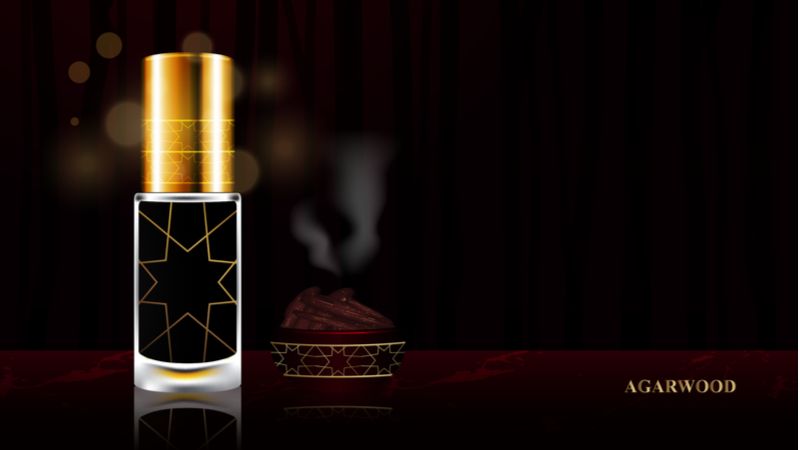 Have you ever heard of a perfume made out of fungus agar tree?  It is true as there is a perfume that is made from such a tree. With the scent filling the air you will know there is a perfume store around somewhere. Extracted from fungus agar tree, Oud is a highly expensive natural perfume in the world and can be found in the souks and perfume stores. One of the many things to do in Saudi Arabia is to buy perfume as a souvenir. The market also sells oud oil that is added to wood chips in the incense burner. You can try Taif rose, which is a lot less pungent if the scent of oud is a bit much. Perfume is said to one of the best gifts you can give anyone on various occasions as people love wearing it.
Where To Buy: GCC perfume market
Suggested Read: Shopping In Oman: A Guide On The Best Places To Shop
4. Camel Milk Soap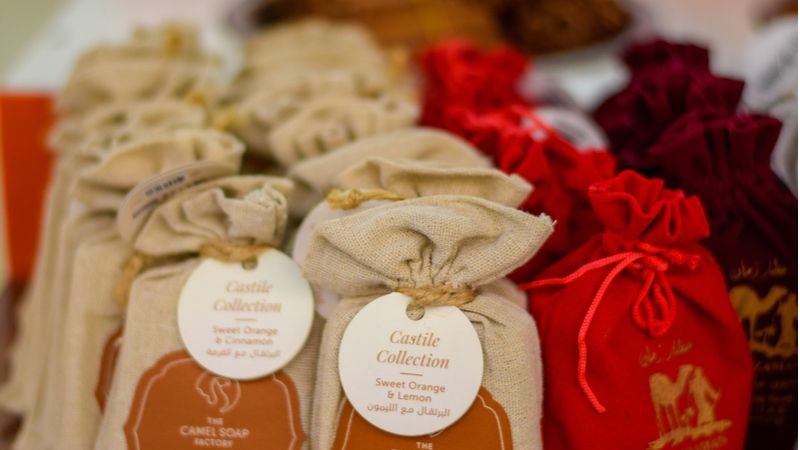 Did you know camel milk soap is used to treat certain skin infections?  Did you ever think of the day you would be shopping for something like camel milk soap? It does have several benefits which does include treating skin infections. It is not easily as one would think but yes you can find in at the Riyadh Airport's duty-free shop. One of the best qualities of the skin care product is the date oil that can be used for all types of skin, or hair and even on the face.  It is not as greasy as one would think and does have a pleasant scent.  Apart from the duty-free shops at the airport, one may find it at the farmers market as well. This is a soap that people should use at least once and see the difference it makes to their skin and hair. These are the things that make Saudi Arabia shopping fun and interesting.
Where To Buy: Duty free shops at the airport
Suggested Read: Shopping In Bahrain: Top Traditional Markets To Visit In The Island Nation
5. Camel Milk Chocolate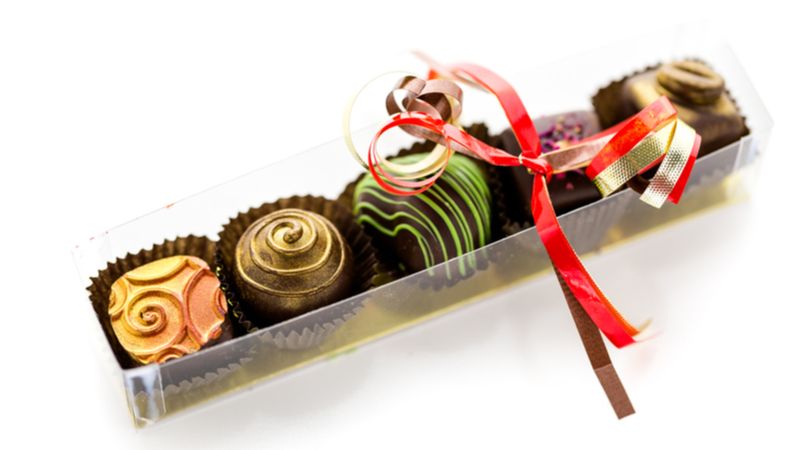 Have you ever eaten camel milk chocolate or have you ever heard of it? Did you ever imagine or picture yourself shopping for something like camel milk chocolate? It is not ordinary chocolate that one often eats once in a while. It is different and a must have at least once. These are things that bring joy to life and of course, a treat to the taste buds. The markets in Saudi don't have it yet but it is being made by Al Nassma, a Dubai based company and makes the perfect gift. It is sold in the malls in Riyadh and at the supermarkets as well. These are certain experiences that one should try out at least once as it is a once in a life time experience that who knows will happen again.
Enjoy the experience of shopping for camel milk chocolate and give your taste buds a treat to something different. You can and should boast about it to your friends and family. It is an ideal experience of shopping in KSA.
Where To Buy: Malls and Supermarkets in Riyadh
6. Dallah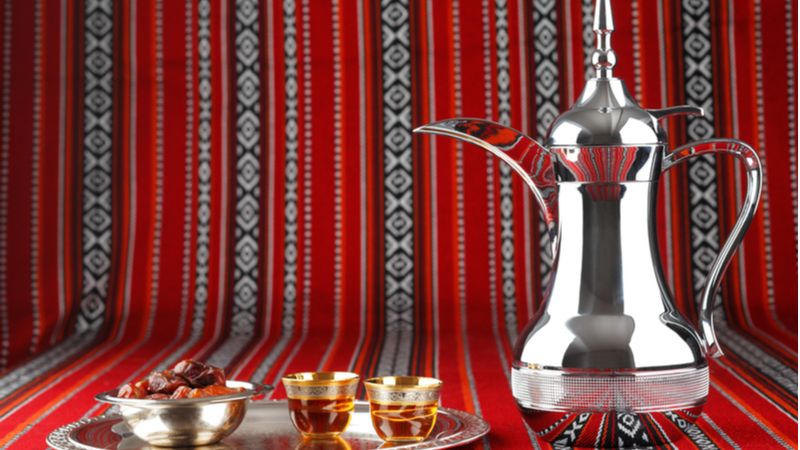 Did you know there is an Arabic way of making coffee? The taste and smell of coffee is different around the world and is of course made differently.One of the most gorgeous Arabian copper coffee pots, Dallah comes in various souvenir sizes and is the perfect present to give people. It takes times and requires several steps making Arabic coffee as the equipment needed to make it is available in Dirah souk, one of the many places to visit in Riyadh. The mortar and pestle are used to grind the coffee and spices as well. They are created from copper and is a little heavy, but one can find a small one which is easy to carry around.
People can even if they like, do a bit of online shopping in KSA. It is a different way of shopping with a lot more options and variety. One of the best things about shopping online is that it can be delivered directly at home.
Where To Buy:  Dirah Douk in Riyadh
Suggested Read: Top Qatar Malls: Your Handy Guide To The Finest Ones In The Country
7. Rugs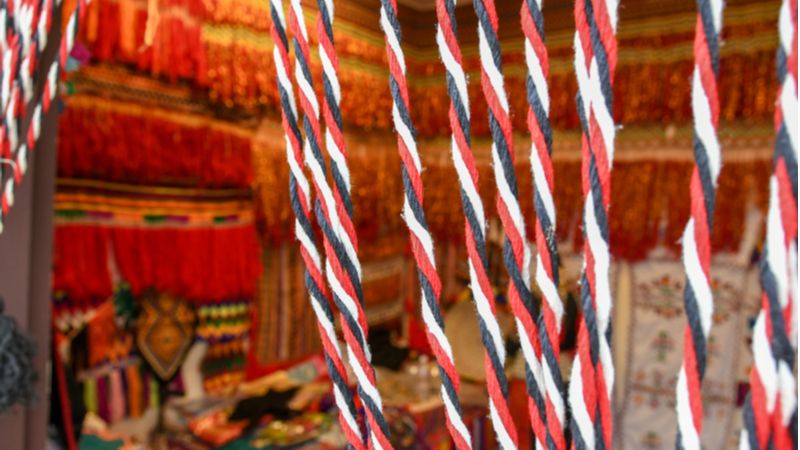 Rugs are one of the common things people shop for all over the world as it is used to decorate homes and offices. The designs are absolutely breathtaking and gorgeous and is not something one would see anywhere in the world. The streets of Dirah souk in Riyadh is filled with shops selling silk and wool rugs made in Kashmir, Turkey and Azerbaijan.  Shopping in the streets of a market is one of the many things to do in Riyadh as it a breathtaking sight to see. The prices are reasonable and the tiny souvenirs or object fit into a suitcase. One wouldn't need a rug, but instead buy a rug coaster. This is again of the many delightful things to do when on vacation in Saudi Arabia. Shopping is one of the many stress busters people enjoy often and should be a fun experience. It is something that should be done at least once as one wouldn't know what they are missing out on.
Where To Buy: Dirah Souk in Riyadh
8.  Scarves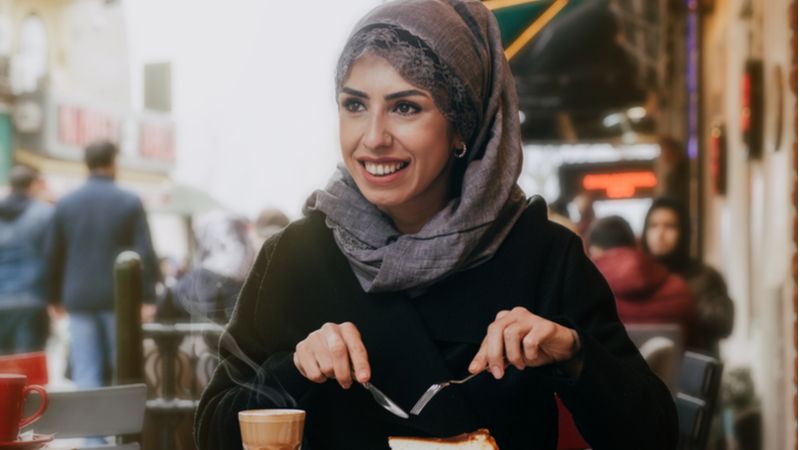 Have you ever worn or seen anyone make an Arabic scarf? This piece of clothing is different and is not something that one would see being made elsewhere. There are a million stores selling traditional Saudi men's red and white headscarves along with scarves for women at the Dirah souk. Tourists can easily find several traditional outfits like abayas, thobes and the fancy gold-embroidered bishts and handmade sandals. Scarves are a part of an outfit that is worn regularly by flight attendants and often by people when going out somewhere. One should look for local artisans making agals and sandals. The Dirah souk is said to be one of the ideal tourist attractions in Saudi Arabia.
Where To Buy: Dirah Souk
Best Shopping Markets in Saudi Arabia to Buy the Souvenir
The traditional markets or Souq are the best places to shop the handicraft, antiques, and souvenirs in Saudi Arabia. From the raw authentic spices to a handwoven traditional outfit, here are some of the best marks to buy every souvenir.
1. Qaisariah Souk In Al Hofuf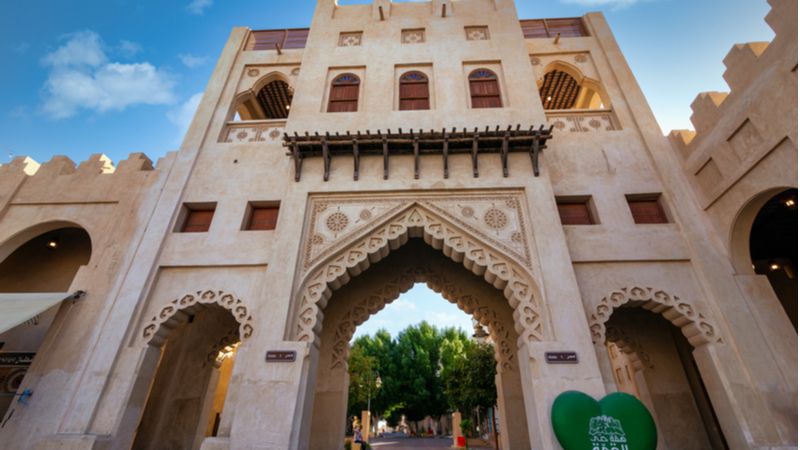 An old traditional Marketplace, Qaisariah Souq is one of the best places in Saudi Arabia to shop. Located in Al-Hasa, the Souq dates back to three hundred years, taking you back to the age when the market used to be a great part of their lifestyle. It was in 2000 when the market got destroyed in a fire accident, and later, it was reopened after renovation. Today the Qaisariah Souq you see is a resemblance to what the market was in the initial days.
The market sells the best of spices and incense, perfumes and clothes too. The old stalls here have the finest collection of traditional and handicraft items you can shop as a souvenir from Saudi Arabia.
Location: King Abdul Aziz, Al Rafaa North, Al Hofuf 36361, Saudi Arabia
Timings: 08:00 am to 10:00 pm
Suggested Read: Striking Places To Visit In Bahrain For An Enriching Travel Experience
2. Deerah Souq
Dheera Souq is one of the best places to visit in Riyadh. The Souq is located close to the historical Al Masmak Fort as the best shopping places in Saudi Arabia.  Also known as Al Thumari souq, this place is a paradise for shoppers who love discovering the old art, antique, and heritage. People here can buy the best products like perfumes, local artwork and so much that relates to the rich culture. You would find a collection of handicrafts and antiques that you won't find elsewhere in the entire Riyadh or Saudi Arabia.
While you are in Saudi, one thing you must not miss buying is some gold jewelry. There are shops exhibiting the royal jewels carved with the best designs and more. This is a top-notch market that has the same collection as many malls in the city.
Location - 3138 Abi Jafar Al Mansour St, Ghirnatah, Riyadh 13242, Saudi Arabia
Timings - The souq is open for 24 hours
3. Souq Shatee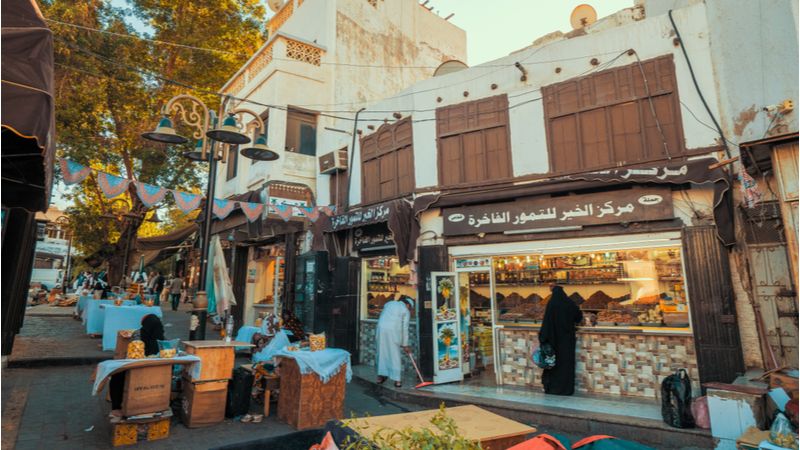 A major attraction in Jeddah for shoppers, Souq Shatee is the perfect place for your Saudi Arabia shopping. The souq has the finest collection of items like your Perfume, accessories, jewelry, shoes, Thobes, fabrics, Abayas, or Home Décor and Plants. There is a collection for your traditional clothing, and other lifestyle fashion material offering something for everyone. This Arabic market is famous for selling any souvenir you may think of while visiting the city.
You will find any piece of fashion and a collection of every assortment of usefulness in all local shops and showrooms. Though traditional souqs or marketplaces are what Jeddah is known for, Souq Shatee is one of the best traditional shopping destinations with every modern and antique collection.
Location: King Abdulaziz road in al-Zahraa district
Timings: Saturday to Thursday:
4:30 PM to 11 PM
9:30 AM to 2:00 PM
Suggested Read: Nightlife In Pattaya, Thailand: Witness The Charisma Of Party Town
4. Al Balad Souk In Jeddah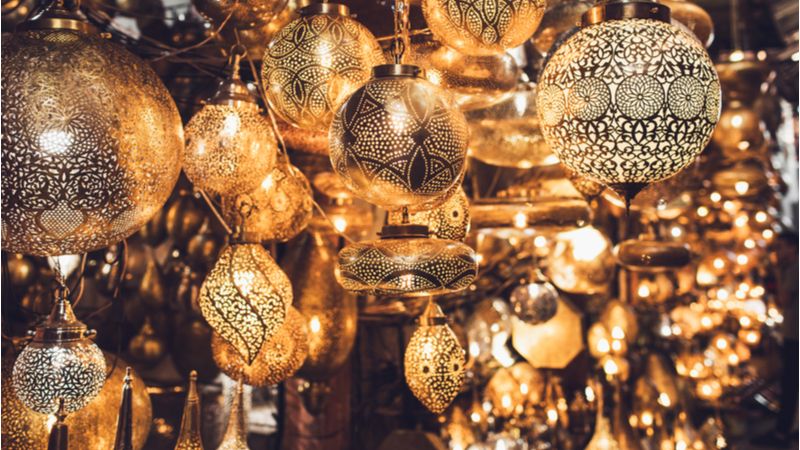 Al Balad is one of the most popular historical attractions in Jeddah that exhibits the heritage and culture of Saudi Arabia. When it comes to shopping in Saudi Arabia, Al Balad Souq is the best place to get the handicraft and other artistic decors.
Authentic shopping can be your thing in Balad as the market here display the best traditional outfits and accessories. From the burkha clad topple-heads to the plastic came and handicraft that includes incense burners, frankincense essential oils, Arabic perfumes, and Oud, the Al Balad Souk is an ideal place to get every authentic item as your souvenir. From your Saudi style jackets to footwear, Al Balad Souk in Jeddah is the right place to get your hands on.
When it comes to restyling your home with some Arabic art and style you can buy rugs and lanterns from the Souk. There is a whole part of the market where you will find colorful decors.
Location: al Balad, Jeddah, Makkah Province
Timings: N/A
5. Souk Okaz In Taif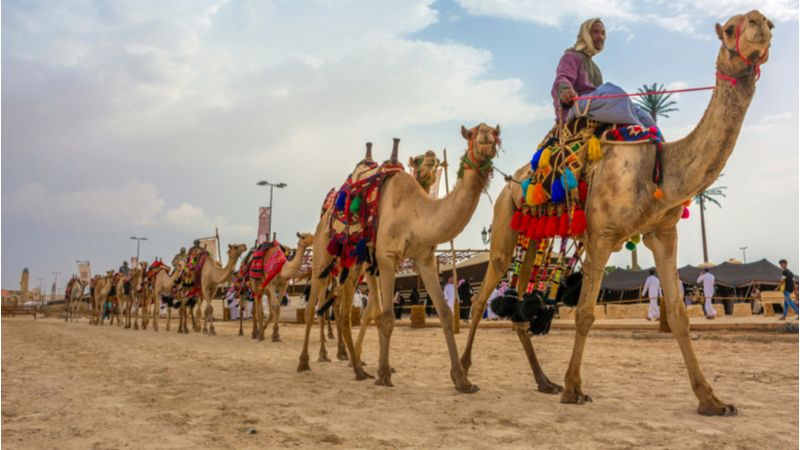 Saudi Arabia has a number of places that bring you the pleasure of shopping. Souk Okaz in Taif is one of the best shopping places in Saudi Arabia where there is a fine collection of home decors, handicrafts, handlooms, and so more. The market was once an open-air market, but today, it is a place where the old culture and tradition are still preserved.
It was during the old time when this market used to be a trading center for exporting and importing goods. Fairs were organized, where traders from the neighboring cities used to gather. Even today, fairs are organized for a cultural glimpse. Retrieving the old tradition, the Souk Okaz festival is hosted every year, when visitors, vendors, traders, and tourists gather to experience the beauty in their own way. This Souk fest is organized by SCTH as a national event where there is storytelling, poetry and, exhibitions organized for participants.
Souk Okaz attracts more than 50,000 visitors, and this can be the best way to discover the art and culture of Saudi Arabia while shopping for the best souvenirs.
Location: 40 km from Taif City, Taif
Timings: N/A
Suggested Read: Kathmandu Malls: Get A Niche Shopping Experience
6. Batha'a Market in Riyadh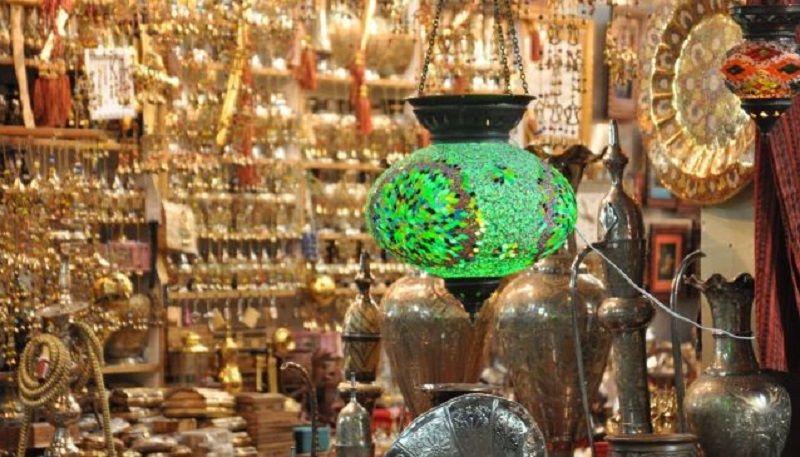 Known as Souq Al Bat'ha or Batha'a Market, this is the best attraction in Riyadh, when it comes to shopping. The market in Riyadh is famous as The Filipino Souk, where there is cultural diversity. The shopping place in Saudi Arabia is today dominated by South Asian, Filipino & Yemeni shoppers. Tourists here often visit to buy clothes, accessories, gold while the locals visit, the places often for household accessories and grocery.
The market has a number of Filipino restaurants, food, accessories, decors, and stores where you can get the best stuff at an estimated price. Thursday morning can be great for some bargaining and budget shopping, but the place is often crowded, and one needs to be attentive. This is an old city market where you can find items from different parts of Asia as well.
Location: Old City Riyadh
Timings:  
Sat to Thu 08:00 a.m. – 10:00 p.m.
Fri 03:00 p.m. 10:00 p.m
Suggested Read: Best Beaches In Jeddah, Saudi Arabia To Relax Your Soul
Travelling to the middle east, a country like Saudi Arabia is a once in a life time experience people should embrace and enjoy. Shopping in Saudi Arabia offers people a different feeling all together as there is a lot to see and explore in the markets. Going to the markets gives people a glimpse into the historical sites of the country.  One can buy the best souvenirs as presents for their friends and family. and So, what you waiting for? Book your flights to Saudi Arabia and have the best vacation ever.
FAQs
Q1. What are some of the things people can shop for in Saudi Arabia?
Saudi Arabia one of the best places to shop for things like Dates, date jam, date serving dishes, gold, oud perfume, camel milk soap, camel milk chocolate, dallah, rugs and scarves. These products are unique and can only be found in the middle east.
Q2. When can people visit Saudi Arabia?
The best time to visit Saudi Arabia is October and November when the weather is pleasant.
Q3. Is there any entry fee to enter any of the market places?
No, there isn't any entry fee to pay when visiting the market places.
Q4. How long is the flight to Saudi Arabia?
The flight is about 15 hours 24 minutes to Saudi Arabia.
Q5. Is it worth visiting Saudi Arabia, moreover is it safe to visit the country?
Yes, it is worth a visit as one gets to discover the various market places and the heritage sites. It is absolutely safe.
Q6. Which are some the most popular market places in Saudi Arabia?
Bisht (Al Owais) Souq, Ad Dirah, Riyadh Seasonal Dates Market, Souq Al Zel, Shaikh Muhammad Ibn Ibrahim Street, Ad Dirah and Souq Makkah, Al-Shemaysi are some of the most popular market places to visit in Saudi Arabia.
Q7. What is a must buy product in Saudi Arabia?
Gold jewelry and rugs are said to be a must buy in this country.
Q8. Is it safe to shop online in the middle east?
Yes, it is safe and the most convenient way to shop for a variety of products.
---