There's nothing more awe-inspiring than the rejuvenating terrains and landscape of Ladakh, a land where the mountains touch the sky. It's perfect for couples who share a passion for adventure and each other. Begin a new chapter of your life in this blissful region in India where the journey is equally gorgeous as the destination. You'll be in the lap of nature from the get-go and will come across a plethora of scenic views that would turn your honeymoon in Ladakh into an absolutely dreamy affair. So, come closer to each other at this soul-stirring destination brimming with intimacy and unspoken promises of love.
Honeymoon in Ladakh: An Unmatched Symphony of Love and Grace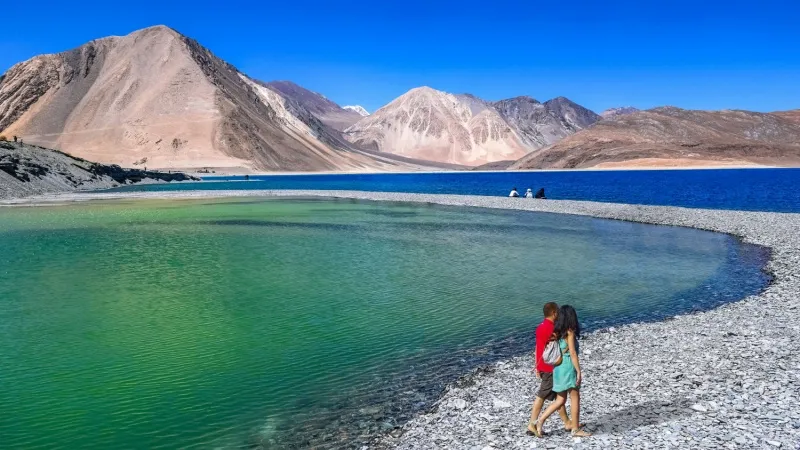 A romantic affair in Ladakh where you can solidify your bond of marriage is the ultimate dream of many. Steeped in culture, traditions, serenity, and adventure, this hill station is nothing less than poetry and it's time for you to revel in this poetic experience. From hiking through the snowy paths to rafting in the crystal-clear rivers, you both will be overwhelmed by the beauty surrounding you. Your hearts will be full of romantic memories and quality time spent with each other.
Here are the romantic places and activities in Ladakh you can indulge in:
Drive Across the Magnetic Hill
Enjoy Camel Safari at Nubra Valley
Take a Boat Ride in Pangong Lake
Watch the Starry Sky at Lamayuru
Indulge in Rafting at Zanskar Valley
Spend Romantic Time at Tso Moriri Lake
Visit Shanti Stupa, the Symbol of Peace & Love
Trek up the Drang Drung Glacier
1. Drive Across the Magnetic Hill: A Place Where Gravity Isn't a Thing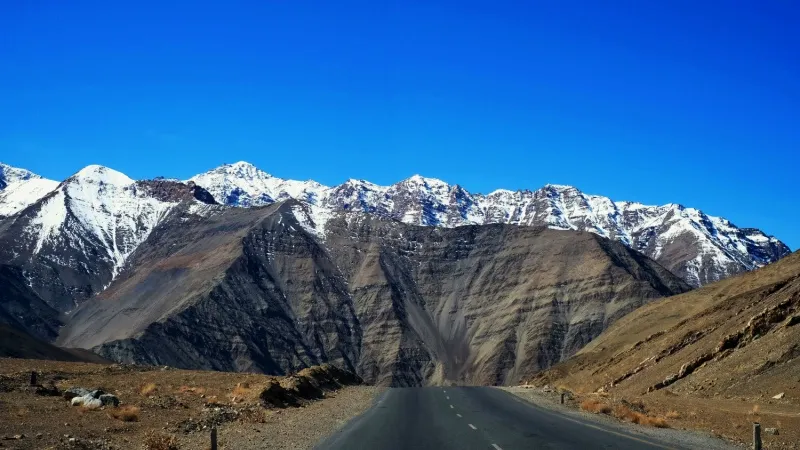 First on our list is this absolutely exciting destination, which is sure to give you goosebumps. The Magnetic Hill or Gravity Hill is a destination that you come across during your trip from Leh to Kargil and Baltik. This road is where the laws of gravitation stop working and if you turn off your car or bike engine after arriving here, then you'll feel the hill pulling your vehicle upwards. There's even a local belief regarding this place that this road once led to heaven and if you do good deeds, then it'll take you to heaven. The reality, however, is that it's a truly magical phenomenon, one that you should experience with your better half because marriage is all about sharing every moment of your life with them.
Best time to visit Magnetic Hill: May to September
Nearby attractions: Gurudwara Pathar Sahib, Basgo Monastery, Ney Valley, Alchi Monastery
Romantic things to do: Experience the hill pulling you towards it, soak in the scenic beauty
Suggested Read: Honeymoon in Goa: Relish a Romantic Escape with Your Bae
2. Enjoy Camel Safari at Nubra Valley: A Romantic Ride Across the Cold Desert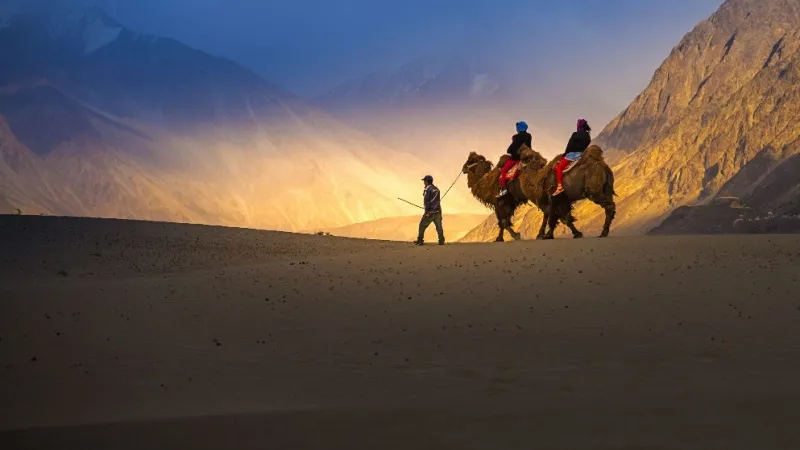 One of the most breathtaking places to visit in Ladakh is Nubra Valley because of its vast expanse of shimmering desert, where you can soak in the picturesque views. This white desert mountain valley is famous for its camel rides, especially among couples. The romantic backdrop serves as the perfect place to enjoy each other's company while indulging in a fun time. What makes this valley even more attractive is its cocktail of landscape as you'll come across a vast sea of desert, flowers beautifying the valley, the serene Shyok River, and the majestic Himalayan mountains. It's the perfect recipe for a memorable honeymoon in Leh Ladakh, which would enhance the feeling of love in you.
Best time to visit Nubra Valley: May to October
Nearby attractions: Diskit Monastery, Yarab Tso Lake, Lachung Temple, Panamik Village
Romantic things to do: Camel/Yak ride, camping, desert safari
3. Take a Boat Ride in Pangong Lake: Recreate Bollywood Romance Right Here
Pangong Lake, the film setting for several Bollywood movies is a must-visit place in Ladakh. The serene, azure water in contrast to the imposing mountains adds the right amount of charm and adventure to your honeymoon. The highlight though is the color changing quality of this lake, where the lake's water changes from blue to red to green as time passes. The tranquil and peaceful aura exuding from every nook and cranny of this place as you boat on the lake. You can completely focus on your partner, recreate Bollywood romance scenes with them and just feel the power of cupid here. The Brahmini ducks in the lake add an extra layer of magic and enchantment to the entire atmosphere.
Best time to visit Pangong Lake: April to September
Nearby attractions: Shanti Stupa, Thiksey Monastery, Leh Palace, Diskit Gompa
Romantic things to do: Boating, romantic walks, jeep safari
Suggested Read: Things to Do in Rajasthan: A Kaleidoscope of History Culture and Adventure
4. Watch the Starry Sky at Lamayuru: One of the Best Leh Ladakh Honeymoon Places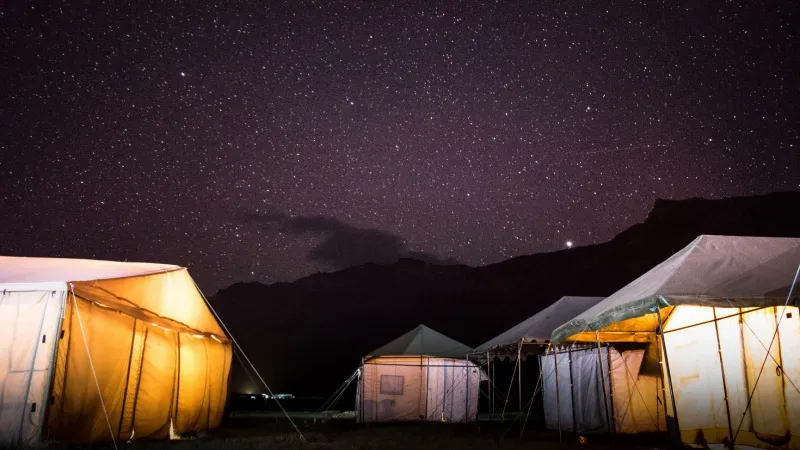 As you're exploring the beauty of Ladakh together, you can't miss out on this exquisite location, Lamayuru, which is also known as the Moon Land of Ladakh. Due to the scenic views and spectacular tourist attractions here, this place should be on your bucket list during your honeymoon in Ladakh. The traditional culture and traditions of the people, the journey to this place, surrounded by pine trees and mesmerizing paths would remind you of Switzerland. Now imagine camping in the starry night sky here with a blanket of peace and quiet engulfing you. You can watch the stars, enjoy a bonfire, and have some alone time in each other's embrace. Even the simple activity of walking with your partner becomes ten times more beautiful here.
Best time to visit Lamayuru: March to September
Nearby attractions: Lamayuru Monastery, Lamayuru Village, Mangyu
Romantic things to do: Camping, romantic walks
Suggested Read: Things to Do in Ooty: Enjoy the Umpteen Number of Adventurous Activities
5. Indulge in Rafting at Zanskar Valley: A Secluded Haven for Lovers
Zanskar Valley is the perfect combination of thrill and beauty, which is why rafting amidst the glorious landscape of white waters and magnificent mountains adds the perfect adventurous quotient to your honeymoon trip in Leh Ladakh. You can even go kayaking here, but a honeymoon calls for rafting where you two can hold each other tight as the rapids hit. The weather is another ideal factor that makes your time here as delightful as possible. If you're looking for even more adventure, then you can embark on one of the famous treks in Ladakh, Zanskar or Chadar Trek, which takes you through the glorious landscapes of this valley.
Best time to visit Zanskar Valley: June to October
Nearby attractions: Suru Valley, Shafat Glacier, Pensi La, Drang Drung Glacier
Things to do: River rafting, kayaking, trekking
6. Spend Romantic Time at Tso Moriri Lake: Ignite Passion at this Alpine Lake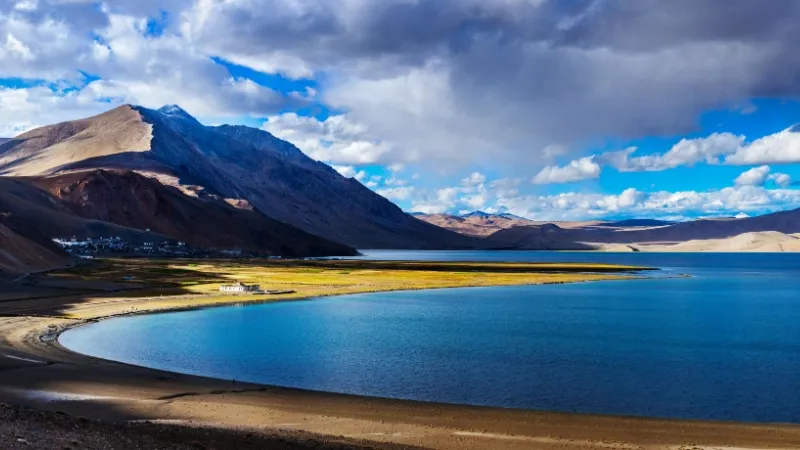 Visiting the Tso Moriri Lake is definitely one of the popular things to do in Ladakh because of its alpine beauty. The view of this lake is straight out of a fairytale with snow-clad mountains, blue lake, lush greenery, and the sound of numerous birds filling the air. This lake is home to thousands of migratory birds, so you can indulge in bird watching as you relax by the lake. Sometimes the most mundane activities can also give a sense of fulfillment, and this is one such activity. Sitting by the lake with your better half amidst nature's bounty is as romantic as it can get. You can also be a part of a wildlife excursion and if you're lucky, you might even spot a snow leopard.
Best time to visit Tso Moriri Lake: April to September
Nearby attractions: Korzok Monastery, Hot Spring at Chumathang Plateau, Tso Moriri Viewpoint, Tsokar Lake
Things to do: Sit by the lake, go on a wildlife excursion, bird watching
Suggested Read: Top Places to Visit in Kashmir: Embellished Vistas that Enchant You Beyond Words
7. Visit Shanti Stupa, the Symbol of Peace and Love: A Spiritual Honeymoon in Ladakh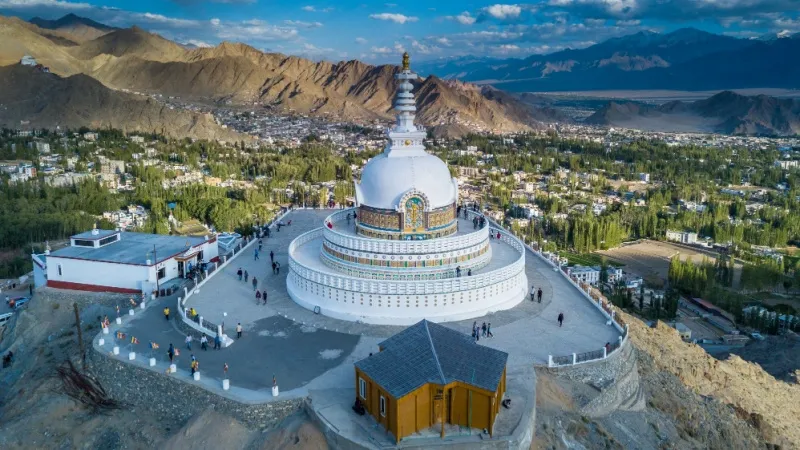 Since Leh Ladakh is famous for its spiritual element, with several gorgeous monasteries, stupas, and other religious attractions, you can bet that visiting the Shanti Stupa would be one of the highlights of your honeymoon. This dome of peace and love is famous for its beauty and magnificence, standing tall against the mighty mountains. The peaceful aura that it exudes would bring a sense of calm in both of you and allow you to soak in the positive vibrations. You'll have to climb 500 steps to reach the top of this stupa, and once you do, you'll be greeted by a jaw-dropping view of Leh city. Witnessing a sunset from here with your partner is one of the most gorgeous views you'll ever come across.
Best time to visit Shanti Stupa: April to July
Nearby attractions: Leh Palace, Namgyal Tsemo, Kyago Tso, Sankar Gompa
Things to do: Revel in the spiritual aura of Shanti Stupa
Suggested Read: Places to Visit in Udaipur: Take a Trip to the "Venice of the East"
8. Trek Up the Drang Drung Glacier: One of the Top Ladakh Honeymoon Places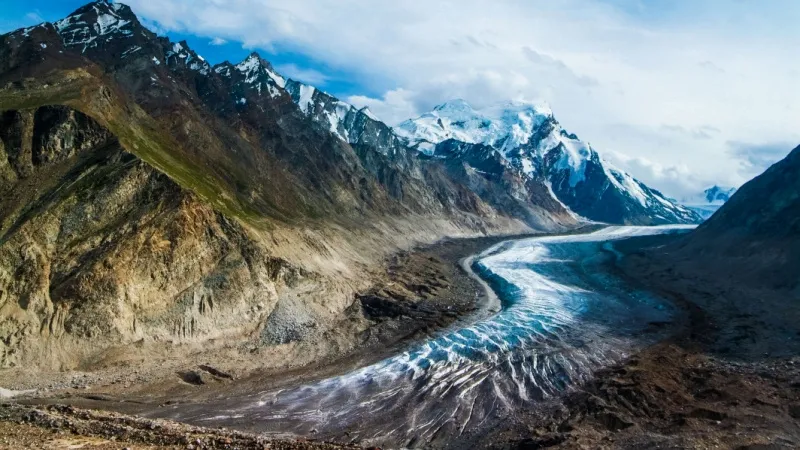 Last on our list is this absolutely incredible tourist attraction in Ladakh, which is considered among the largest accessible glaciers that you must visit with your romantic partner. It's a beautiful haven for newlywed couples and you can expect panoramic views of the Himalayan mountains, a frozen river, and other scenic locations. On your trekking route to this place, you'll come across Suru Valley, which is blooming with vibrant flowers and is a sight to behold. Your Ladakh honeymoon trip would be successful once you visit this beauty.
Best time to visit Drang Drung Glacier: May to September
Nearby attractions: Suru Valley, Pensi-La, Zanskar Valley
Things to do: Trekking, nature walks
A honeymoon in Ladakh should definitely be on every newly married couple's bucket list because of the captivating sights and attractions that this place is famous for. Simply walking around the valleys here is a treat for the soul because of the picturesque and dreamy views you'll get to witness. From the blooming flowers to the snow-capped mountains, everything in Leh Ladakh sounds like paradise and it indeed is a paradise for adventurous couples. The thrilling activities here, like trekking, rafting, and so on are the best way to experience this destination at its finest. So, hurry up and book our Ladakh honeymoon packages for a romantic getaway and feel the love in the air.
FAQs
Q1. Can I go to Ladakh for honeymoon?
Yes, you can absolutely go to Ladakh for your honeymoon as it's a gorgeous destination for spending quality time with your partner. The scenic views and mesmerizing attractions are enough to take your breath away.
Q2. What are the beauties of Ladakh?
Ladakh is a land of alluring beauties, such as Pangong Lake, Drang Drung Glacier, Zanskar Valley, Shanti Stupa, and many more. It enhances your experience in this region to a whole other level.
Q3. Is Leh Ladakh a honeymoon destination?
Yes, Leh Ladakh is one of the most popular honeymoon destinations as it offers the perfect elements that make a honeymoon worth remembering. From the peaceful aura to the adventurous activities and breathtaking views, there's a lot to look forward to.
Q4. How many days are enough for a honeymoon in Leh Ladakh?
5 to 6 days are enough to celebrate love and companionship in this region; however, you can extend your trip because you wouldn't want to return from this dreamy fairytale.
Q6. What are the romantic activities to do in Ladakh for couples?
Honeymooners can experience the joys of indulging in romantic activities in Ladakh, such as trekking, rafting, night camping, camel safari, driving by the Magnetic Hill, and much more. These activities would ignite the spark of love within you.
Q7. Can couples go to Ladakh?
Couples are more than welcome in Ladakh to explore its evergreen beauty and charming attractions that would make you swoon. The stark landscape of this region is quite inviting for couples from all over the world.
Q8. What are the best places for camping in Ladakh for couples?
Camping in Ladakh is a truly memorable experience because of the awe-inspiring views and the starry night sky illuminating everything. Lamayuru and Nubra Valley are two great locations for camping in this region.
---