Udaipur is popular as the land of lakes and palaces because of the rich historical and cultural attractions here. Even though you'd come across several places to visit in Udaipur that would primarily be palaces, you'd still find each of them unique and distinct from the other. The highlight is the lush green Aravalli hills surrounding this destination. It's a royal city in every sense of the word, and there's no better location to plan a holiday to. It's also the reason why it's considered one of the most romantic cities in the country.
Best Places to Visit in Udaipur: Explore Udaipur's Tourist Attractions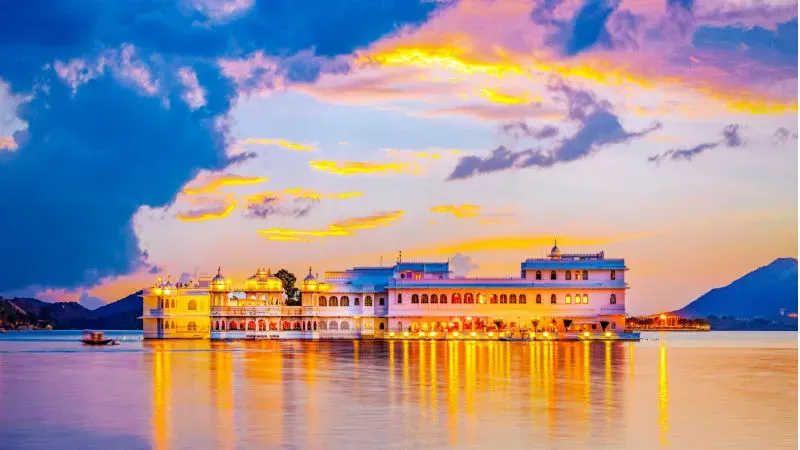 If you're in search of a gorgeous and vibrant location to spend your holidays, then Udaipur is the answer. You'd not come across a more impressive and charming place than this city. With its traditional roots, modern essence, and a major emphasis on heritage, you'd be in awe of this city. It's also one of the most popular destinations for weddings because of its romantic and royal aura, so let's see the top 10 places to visit in Udaipur that you can't miss out on.
City Palace
Jag Mandir
Fateh Sagar Lake
Shilpgram
Vintage Car Museum
Saheliyon ki Bari
Karni Mata Temple
Hathi Pol Bazaar
Sajjangarh Biological Park
Doodh Talai Musical Garden
1. City Palace: Witness the Royal Grandeur of the Rajput Dynasty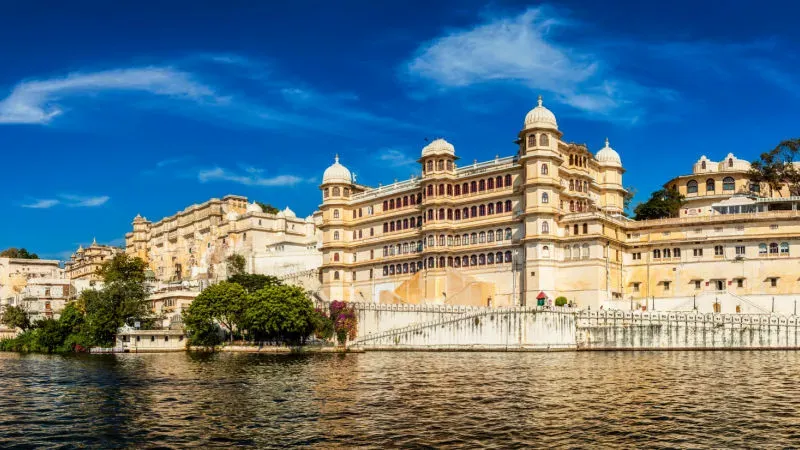 City Palace in Udaipur is one of the excellent places to visit in Udaipur. It's an architectural marvel with its granite and marble structure. This palace exudes royal and luxurious vibes like no other. The multiple hallways, courtyards, rooms, pavilions, hanging gardens, etc. are a testimony to the Rajput Dynasty's grandeur. You'd come to know about various facts regarding this place, such as the kings were weighed against gold on the main entrance and the gold equivalent to the king's weight was distributed among the population. You'll witness history at its best here, so do add this as one of the things to see in India.
Best time to visit: 9:30 A.M to 5:30 P.M
Things to do: Marvel at the magnificent structure, learn about its history, watch the light and sound show
How to reach: You can take a taxi from nearby locations
2. Jag Mandir: A Majestic Tourist Destination in Udaipur
You won't be able to stop yourself from falling in love with the glory of this palace located on an island in Lake Pichola. This yellow sandstone and marble structure is guarded by 8 life sized white marble elephants and the intricate sculptures adorning the place enhance its magnificence. Surrounded by the lake on all sides, it's truly a sight to behold. The royal family used this location as a summer resort or for hosting parties and it was also the inspiration behind Shah Jahan's Taj Mahal. You can also enjoy authentic Rajasthani cuisine in the restaurant inside the palace for a full experience. Therefore, it's among the best places to visit in Udaipur.
Best time to visit: 9 A.M to 7 P.M
Things to do: Explore the grand palace, take a walk in the gardens, enjoy a boat ride in the lake, and eat delectable Rajasthani cuisine
How to reach: You must hire a boat to take you to the palace
Suggested Read: Things to Do in Jim Corbett: A Perfect Getaway to Challenge the Adventurous You
3. Fateh Sagar Lake: Explore the Must-Visit Islands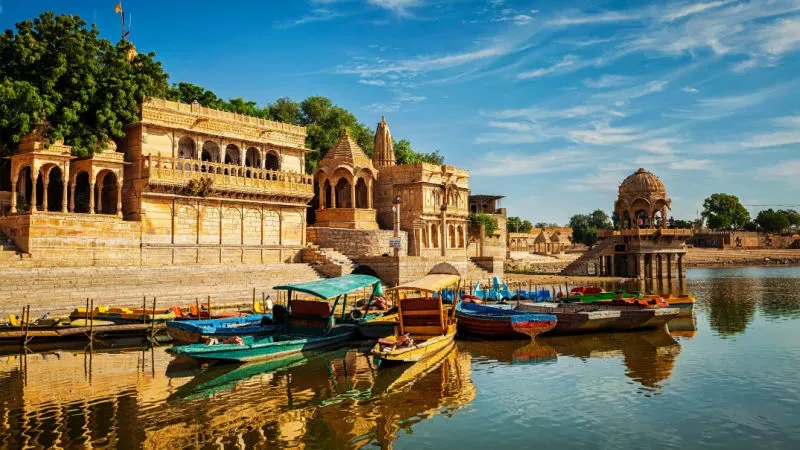 Being one of the popular Udaipur attractions, this artificial lake includes three islands that beautify this lake even more. It's the second largest lake in the city with picturesque views and lush greenery surrounding it. It's an ideal place for relaxation and leisure time. You can spend time on the islands and the attractions there such as Nehru Park, Udaipur Solar Observatory, and so on. You can also enjoy the boat ride to these locations and sightsee the popular attractions from a unique vantage point.
Best time to visit: 8 A.M to 6 P.M
Things to do: Relax and enjoy the boat ride, explore the local attractions on the islands, watch the gorgeous scenic beauty around you, and click insta-worthy pictures
How to reach: You can either hire a cab or a tuk-tuk to drop you near the lake
4. Shilpgram: Check Out the Indigenous Art and Crafts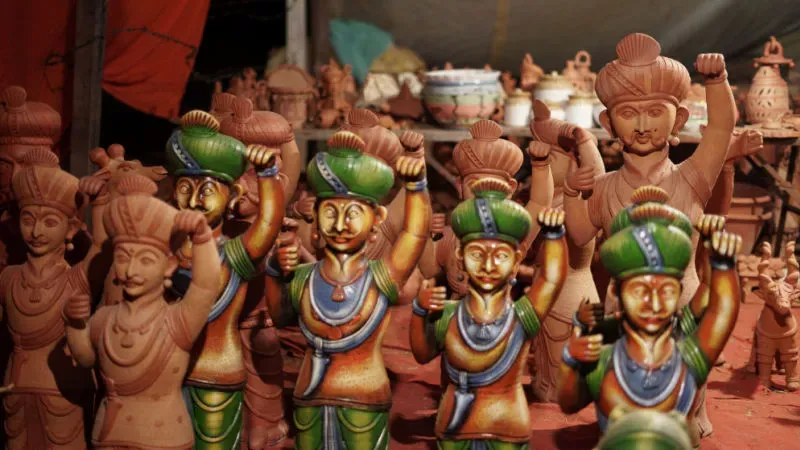 Shilpgram is the art and crafts center where you'd find beautifully handmade paintings, and different art forms. This place emphasizes the need to uphold the heritage and traditions of the rural and indigenous people in the country. It'd feel like walking in a museum of handicrafts and arts that would leave you spellbound and make you appreciate the effort put in by the craftsmen and artists. It's one of the places to visit in Udaipur that you can't afford to miss out on.
Best time to visit: 11 A.M to 7 P.M
Things to do: Admire the craftsmanship of the artists and look around for the various unique arts and crafts surrounding you
How to reach: It's easier to hire a cab from the main city of Udaipur
Suggested Read: Qatar Travel Guide: Discover the Grandeur of Qatar
5. Vintage Car Museum: Reignite Your Love for Vintage Cars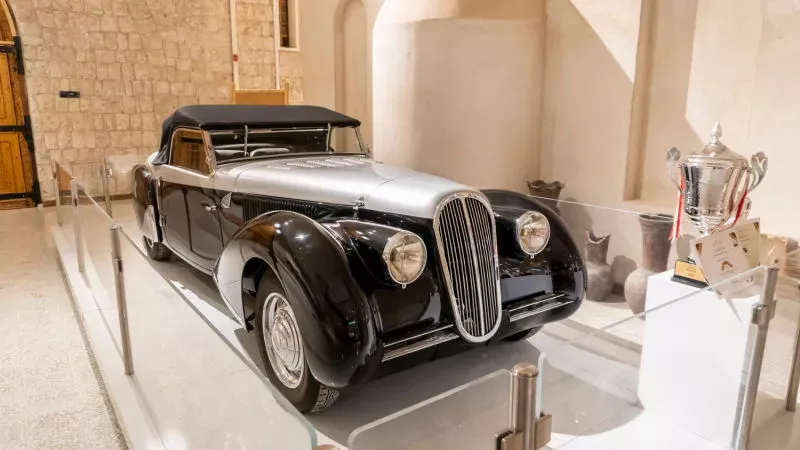 All the car enthusiasts would love to explore this vintage car museum, which houses a huge collection of one of a kind vintage car. From Cadillac to Morris, you'd find several cars owned by the Mewar Dynasty's kings as they were quite luxurious rulers of Udaipur. You'd even come across the Rolls Royce Phantom that was owned by them and was used in a few James Bond movies like Octopussy. These antique cars are a real beauty and you'd be amazed by the variety available in this museum. So do add visiting this place as one of the things to do in Udaipur.
Best time to visit: 9 A.M to 9 P.M
Things to do: Indulge in your desire of owning such vintage cars from this gorgeous collection
How to reach: You can take a taxi from nearby locations or board a bus from neighboring states
6. Saheliyon ki Bari: A Romantic Tourist Spot for Couple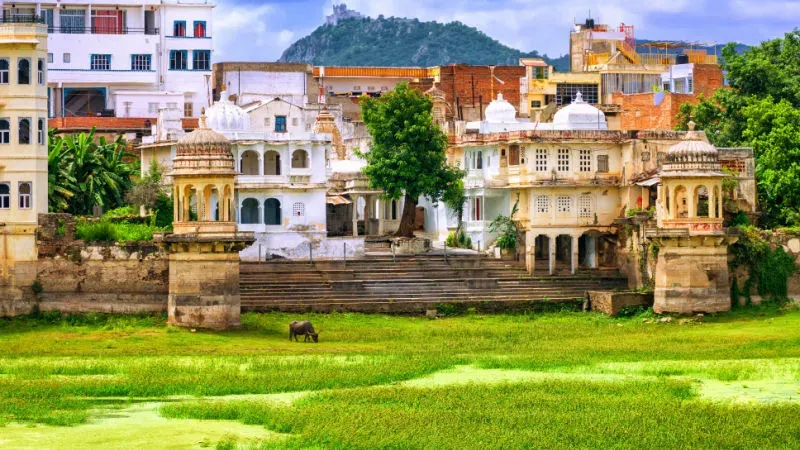 Saheliyon ki Bari is among the Udaipur famous places that would sweep you off your feet with its glorious beauty. This garden was built by Maharana Sangram Singh II for the maidens that accompanied the princess after marriage. Therefore, it's also known as the Courtyard of Maidens. The lush greenery, flower beds, tall fountains, pavilions, lotus pool, and marble statues adorn this garden and is perfect for strolling with your partner. The romantic vibe of the place makes it an ideal destination for couples and honeymooners.
Best time to visit: 9 A.M to 5 P.M
Things to do: Take a walk around the garden, admire the beautiful view of flowers and greenery, and enjoy a romantic time with your partner
How to reach: You can reach here via cabs, public buses, auto rickshaws or cycle rickshaws
Suggested Read: Things to do in Leh Ladakh: Unleash the Adventurer Within
7. Karni Mata Temple: Seek the Blessings of Goddess Karni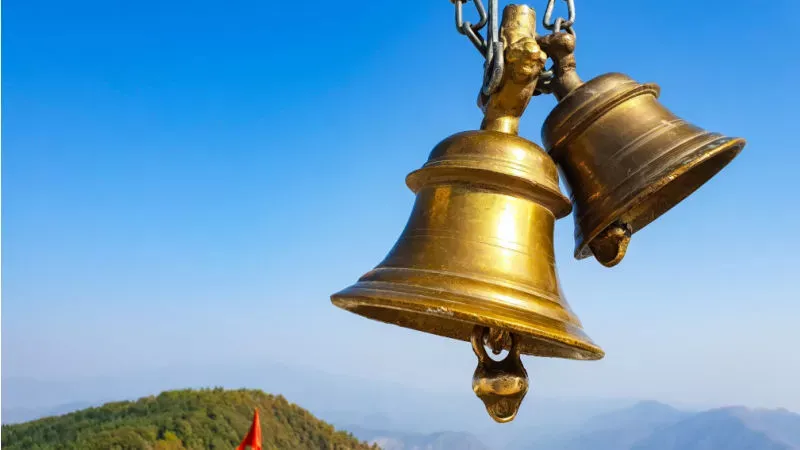 The Karni Mata Temple is one of the excellent places to travel in Udaipur; however, it wasn't easily accessible until 2008, when the ropeway was built to travel to this temple. The captivating architecture of the temple and its vibrancy would mesmerize you. In addition, the tranquil surroundings and the secluded location would make for an amazing location for some peaceful downtime. So, consider this holy shrine as an important part of your Udaipur experience.
Best time to visit: 9 A.M to 9 P.M
Things to do: Pray to Karni Mata, soak in the spiritual vibes, and marvel at the beautiful architecture
How to reach: You can hop on a cable car from Deendayal Upadhyay Park at Doodh Talai
8. Hathi Pol Bazaar: Indulge in Shopping at this Charming Market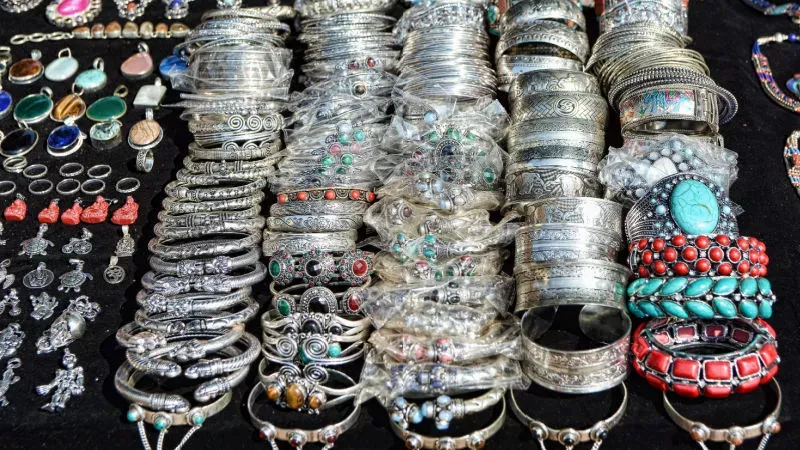 Shopping in a new city is a rite of passage for every tourist and this is one of the Udaipur tourist places that would offer you a fun and engaging time. You'll come across local as well as branded products from hand embroidered bags and beautifully patterned clothes to silver jewelry and home décor items. It's the best place to shop for souvenirs as well for your friends and family. However, when you're visiting this market, you must buy their miniature paintings, hand paintings on silk or Ichhwai Paintings as they are incredibly popular.
Best time to visit: 10 A.M to 10 P.M
Things to do: Buy famous paintings, apparels, accessories, and much more from this vibrant local market
How to reach: It's located near the City Palace, so you can hire a taxi to this bazaar
Suggested Read: Things to do in Khajjiar: It's Time to Plan an Exotic Holiday in Himachal Pradesh
9. Sajjangarh Biological Park: Swoon Over the Magnificent Species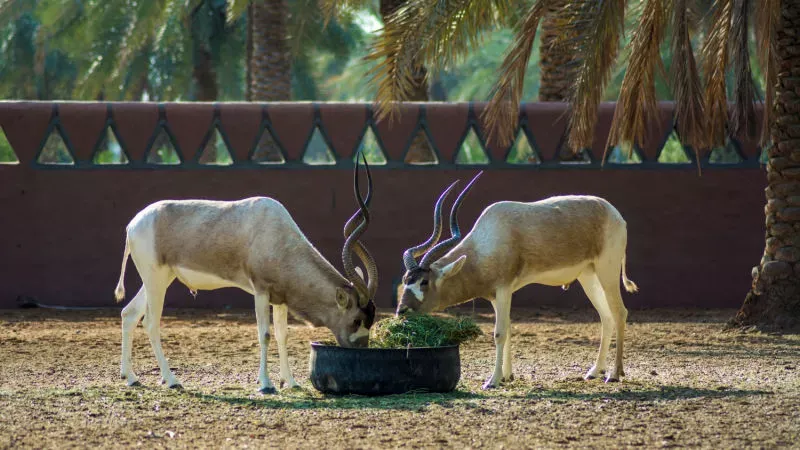 This park is in the foothills of the Sajjangarh Palace and includes over 21 species, such as lions, tigers, ostriches, marsh crocodiles, and so on. You can take a walk around the park and view these animals along the way. These gorgeous species are taken care of in the park by the Zoo Hospital and Nutrition Centre. You can either explore the place on foot or hire a golf cart or a cycle for the same. This wildlife park is the perfect place to indulge in adventure in India because of the beautiful species to look at.
Best time to visit:
Wednesday to Monday – 10 A.M to 6 P.M
Tuesday – Closed
Things to do: Take a stroll around the park and watch wildlife from up close
How to reach: Take a cab, auto-rickshaw or a local bus from the main city to reach here
10. Doodh Talai Musical Garden: A Must-Visit Lake with Family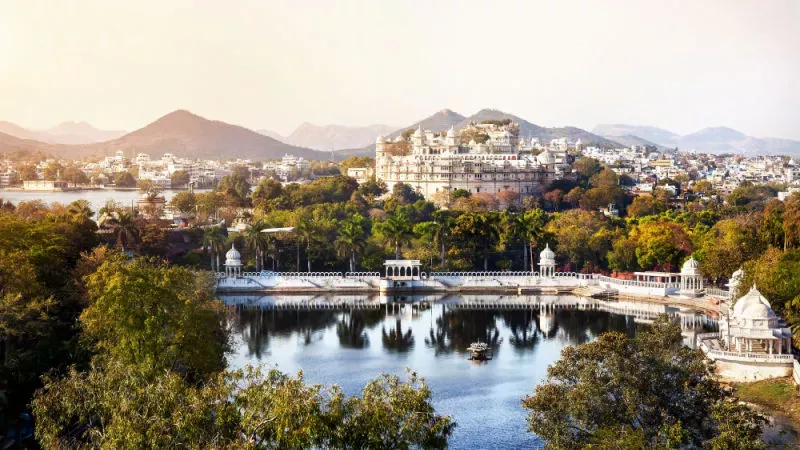 When it comes to this garden, you'd be dazzled by its alluring charm and beauty. The gorgeous view of Udaipur city and Lake Pichola is worth the trip to this location and the serene surroundings is the cherry on top. The sunset from here is a memorable experience because of the shift in atmosphere to a more heavenly feeling. Therefore, Udaipur's considered one of the most popular places to travel in Rajasthan because where else would you find these breathtaking beauties?
Best time to visit: 8 A.M to 10 P.M
Things to do: Admire the picturesque view in front of you and witness the sunset of your lifetime
How to reach: You can hail a local taxi, bus, auto-rickshaw or cab
Now that you're convinced to plan a vacation to this city, you cannot miss out on these swoon-worthy places to visit in Udaipur. This is an enigmatic city that lures you with its charm and beauty to spend a few days here. It's one of the destinations that is perfect for people from all walks of life and is an excellent honeymoon destination as well. The serene and tranquil beauty of this place is unmatched, and you'll see that for yourself by booking our Udaipur Travel Packages.
FAQs
Q1. What is famous about Udaipur?
The gorgeous blue lakes contrasting with the surrounding greenery are what makes this city so famous among the tourists. In fact, the tourist attractions adorning the place, from royal palaces to grand gardens, also contribute to the popularity of this city.
Q2. What is the best time to visit Udaipur?
Since Udaipur is a city in Rajasthan, it's best to visit this location during temperate climate. Therefore, September to March is the ideal time to plan a vacation to this destination.
Q3. How many days in Udaipur are enough?
3 to 4 days are enough to visit this historically rich city. You'll have plenty of time to visit all the tourist spots that are famous and also have time for leisure activities.
Q4. Is Udaipur a honeymoon destination?
Yes, Udaipur is one of the best places for honeymoon because of the romantic attractions and scenery. Couples would find several attractions to explore and things to do together while spending quality time on the beautiful lakes.
Q5. What can I buy in Udaipur?
This city's famous for its arts and crafts, such as embroidered bags, handicrafts, and much more. Apart from this, you can also buy silver jewelry, block print apparel, paintings, home décor items, and much more.
Q6. What is special in Udaipur?
There are several attractions that are special in this city and are a must-visit destination, these include:
City Palace
Lake Pichola
Vintage Car Museum
Jag Mandir
Saheliyon ki Bari
Q7. What are the famous markets in Udaipur?
Haathi Pol Bazaar, Bapu Bazaar, and Bada Bazaar are some of the famous markets in the city. These markets offer local and branded items to tourists and are great for buying souvenirs as well.
Q8. Is Udaipur worth visiting?
Yes, Udaipur's definitely worth visiting because of the grandeur of this city. You'd fall in love with the royalty exuding from every nook and cranny of this place and the breathtaking beauty all around.
---