Turkey is not just a country but a magic in itself, not to mention the spell is casted by the cuisines it has created. It is a land that will make sure that you fall in gluttony till its brim. The savoury and succulent dishes of Turkey have been included in restaurants across the world. Heritage of Ottoman gastronomy, the traditional food in Turkey is known for meat skewers, but there is a lot more to it than that. The rich taste of Turkish food will take you by surprise, and you will be astonished by the plethora of options in its main course, desserts, appetizers, and beverages. Let's delve into the world of Turkish delicacies that has dishes that you just can't have enough.
Traditional Turkish Food For an Impeccable Culinary Ride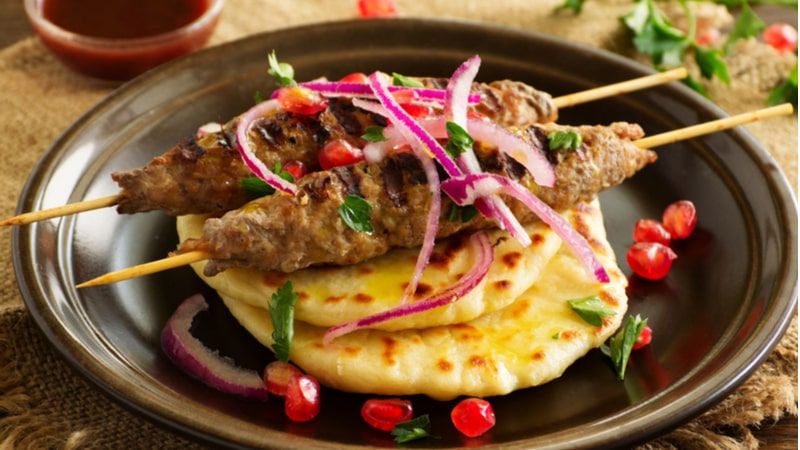 If you travelling in Turkey, and planning to relish on the traditional Turkish food in Turkey. Here is a list if all the delicacies that you would want to try while you are traveling in the country. Check out the list and plan a perfect meal plan for yourself. If you are a foodie then, Turkey is no less than a paradise for yourself.
Döner: Turkish Sandwich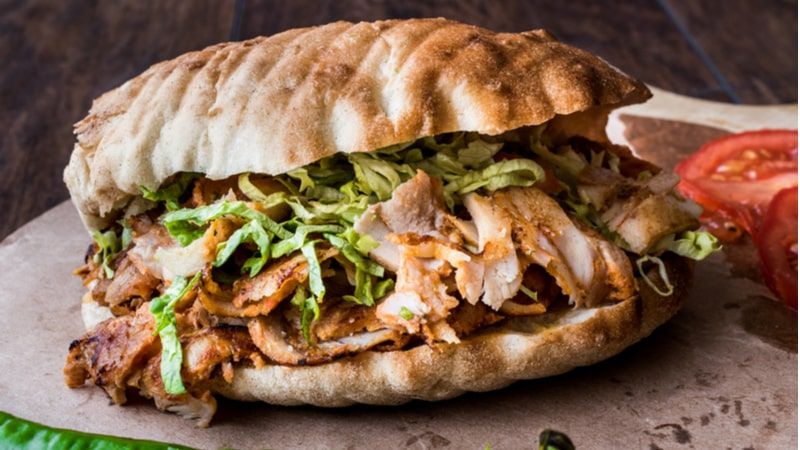 The first thing that you must try in Turkey is Doner and if you are someone who is inclined towards subs and sandwiches, you surely are going to love it. The sandwich is prepared on slow heat in which the meat of is gradually tendered and stuffed with vegetables, spices and spices. Doner is served with traditional dips of turkey. The best part is the vertical rotisserie that infuses multiple flavors into the meat and make every morsel feel like you are walking on paradise. The sliced shavings are filled inside the doner stacked along fresh veggies and dressing. Turkish fast food is healthy so you don't have to feel guilty of gorging a little extra.
Suggested Read: Top Places To Visit In Qatar On Your Next Trip
Corba: Delectable Soup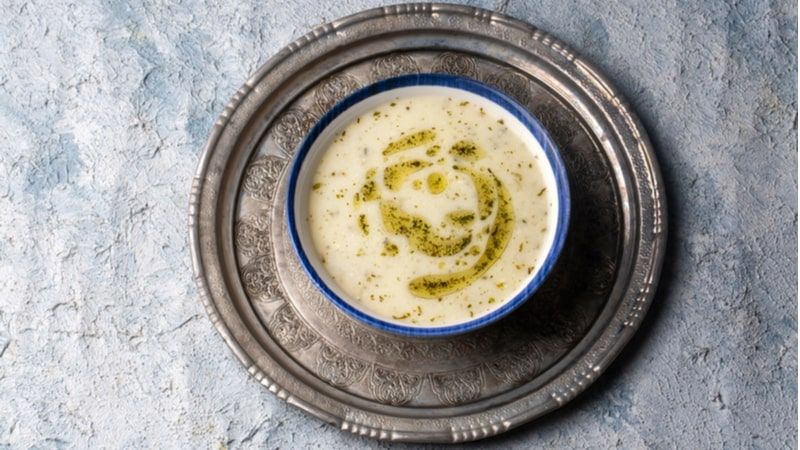 No tantrums here, Corba is a simple soup in which you can choose your options out of lentil and tomato. Turkish people have a different sort of inclination towards their soup. So, no matter how many other choices they might have, but are a little more specific about their soups. While you are there and planning to hog on to most popular food in Middle East then do not miss out on the soup. There are chances that the soup serves in the country will become your comfort food and you would turn to towards it whenever you would want cozy and warm.
Pilav: Savory Rice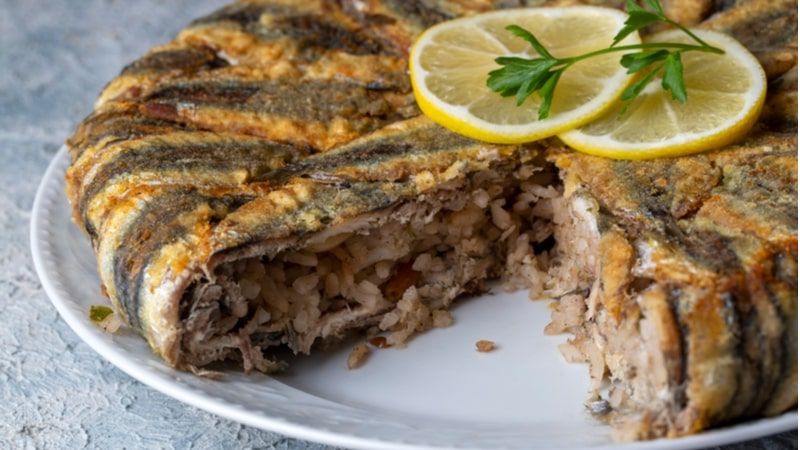 Pilav is the Turkish rice that is full of spices and flavors. It is richly seasoned despite being prepared with simple ingredients. If you want you can customize your order and get some add-ons such as vegetables or meat added to it. There are several restaurants in Turkey that serve this delicacy. The rice is toasted with butter and made sure that it is cooked on slow heat so that it gets richer in taste and texture. You can add some curd or traditional sauces to make it more succulent, don't miss your chance of delving into most popular Turkish food recipes.
Suggested Read: Honeymoon in Turkey: Shun Away the Wedding Blues in Turkish Style
Pide: The Turkish Patty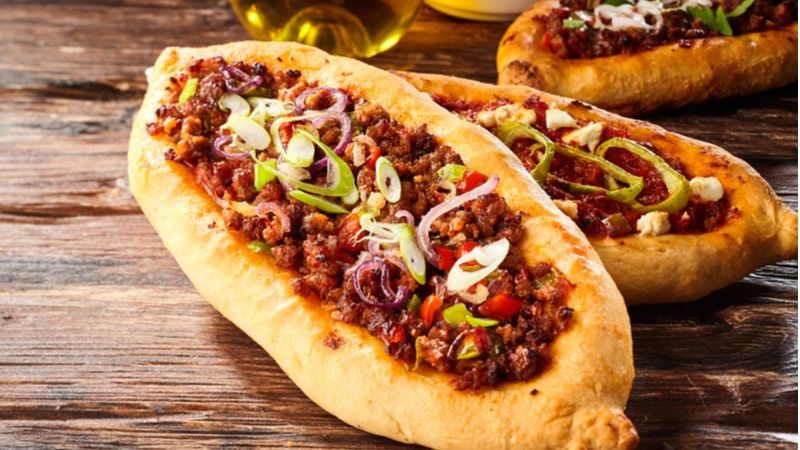 One of the most renowned dishes that is incorporated in Turkish food culture, Pide. This delicacy is very easily accessible in entire country. It is more like a Turkish patty and has been charted in scrumptious and best Turkish food in Istanbul. The best thing is that you can take it away and don't have to follow the table etiquettes to relish on its amazing flavor. While you are out exploring the local attractions you can take a plunge into the pool of authentic flavors with every bite.
Halva: Traditional Dessert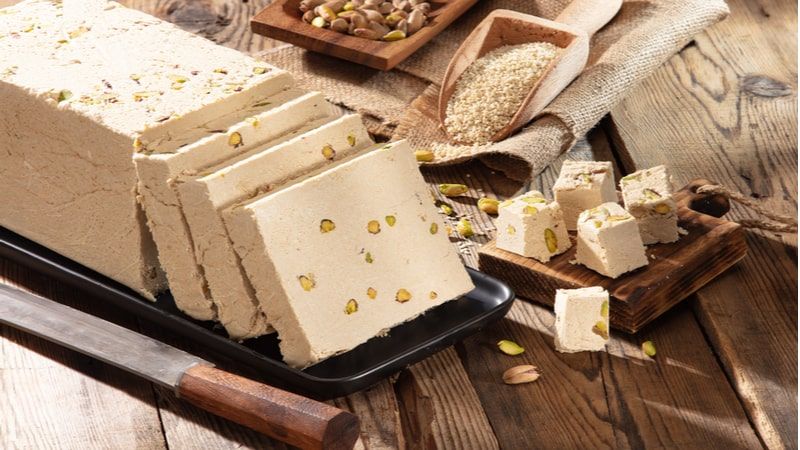 Made from the paste of sesame seeds, sugar and few secret ingredients, Halva is concocted which is no less than a delectable tilism. Getting you hands in Halva is few of those things to do in Turkey that you would remember till eternity. Although, the name might remind you of the Indian dessert but the tastes are poles apart. Halva is one of the most loved Turkish food that with an entirely different way of preparation than the conventional halva that you might have eaten somewhere. If you are in Turkey right now than you need to try it right away.
Güllaç: The Heaven in Disguise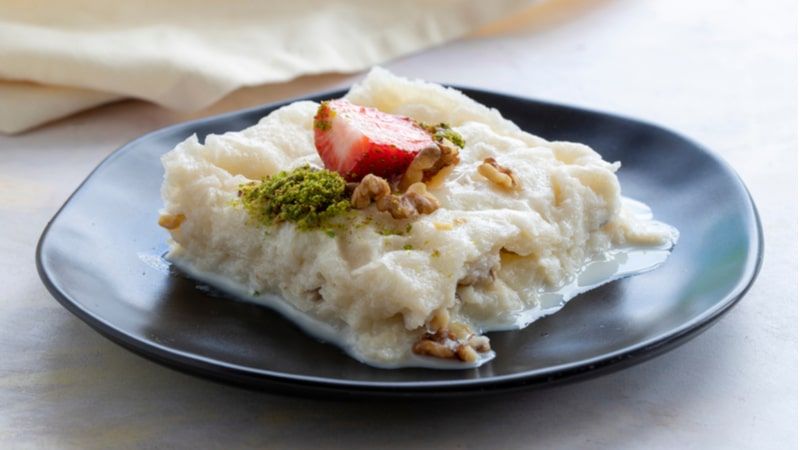 This food item has a different fan base. The Savoury taste is everything to die for. No wonder, it is among the most loved traditional dessert in Turkey. The dish is mostly served in Ramazan and made using dough, milk, rosewater, nuts, and pomegranate seeds. If you have never heard of the dish, it really doesn't matter. Scout for the desserts because they are surely nothing less than heaven.
Suggested Read: Safari In Turkey: An Activity To Witness the Cultural Gems of the Country
Salep: The Orchid Drink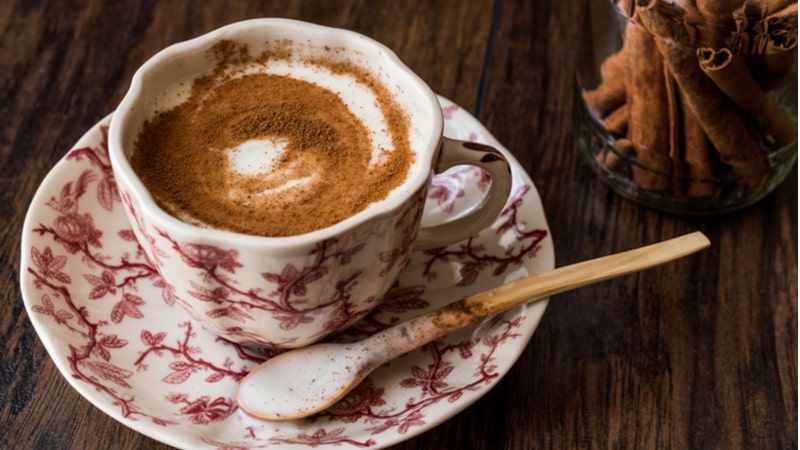 If you are preparing the list of foods eaten in Turkey then your list wouldn't be complete without mentioning Salep. This milky drink is made of Orchids and before garnishing it with cinnamon sticks and cinnamon powder and later served steaming hot.  Alongside choose the best tradition food in Turkey to accompany the drink. Orchids are boiled, dries and grinded to make the drink which is also very beneficial for health. So, if you wish to choose to pick something soothing, you should pick Salep.
Suggested Read: Winters In Turkey: Your Guide On When And What To Do
Hunkar Begendi: Sultan's Delight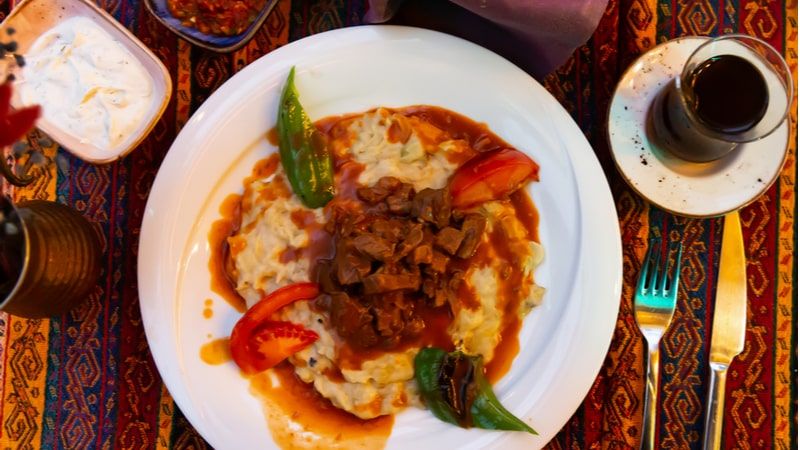 The country is an ultimate solace for all the food lovers out there. Irrespective of your taste and preferences, you will be served with all the requirements. Hunkar Begendi is like a wish coming true for all the meat lovers and almost all the restaurants in Istanbul serve the dish. The preparation of the dish is very unique, during the process meat is marinated and cooked with eggplant and pureed with cheese and butter. The dish will take you on hint of royal taste as it was among the most loved dishes of the royalties of Ottoman empire.
Tursu Suyu: A Synonym for Refreshment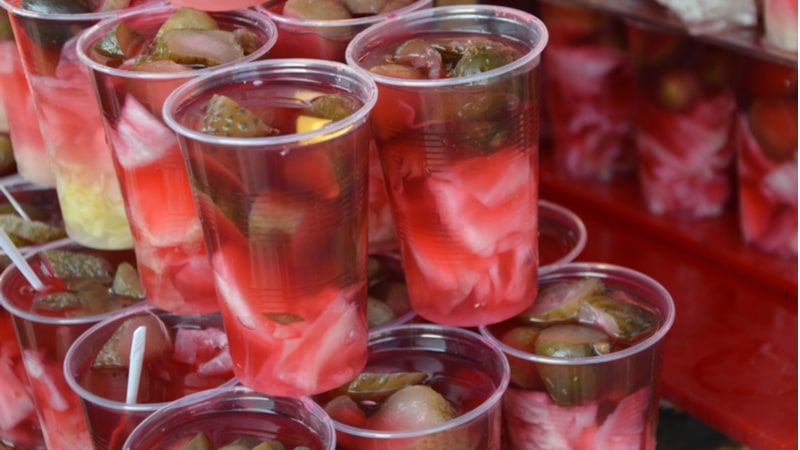 Besides sumptuous food, the country has a wide list of beverages in Turkey, and Tursu Suyu is one unique juice that you must have never come across. Given its diversity in Food, Turkey is one of the best places to visit in Middle East. It is a fresh pickle juice made with eggplant, garlic, fruit leaves and a lot more. Tursu is not only served as an appetizer but us also served as a refreshing drink during hot summer season. The pickle juice in Turkey is a traditional serving that must be tastes atleast once to relish the blast of fresh flavors.
Kahvalti: Healthy Breakfast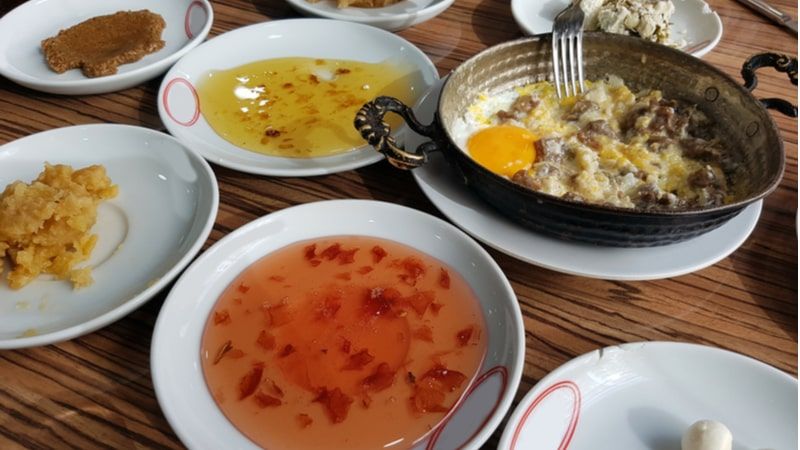 Breakfast is the most important meal of the day. It is acclaimed that the more fulfilling breakfast you take the richer your day is. Kahvalti is one of the most prominent dishes of Turkish food culture and is unique kind of meal that incorporates ingredients that belong to continental cuisines. Kahvalti offers a healthy breakfast option with vegetables served with lip-smacking combination of food. Start your day with healthy food options that cater to the needs of everyone irrespective of their age. If you are on the spree of tasting authentic traditional food in Turkey than starting your day with this amazing option.
Suggested Read: Things To Do In Antalya For A Kindling Getaway
Now that you have come across the best dishes In Turkey, you can easily plan your meals while travelling. Turkey has a plentitude of options for all the foodies out there all you need to do is pick the dishes as per your taste. Every food item served is drool-worthy and once you have tasted the traditional food in Turkey there is no coming back. Start making a list of everything that suited your preferences. If you are planning a vacation then you can consider Turkey as a great option. The country offers unending alternatives for variety of authentic food.
FAQs
Q1. Is Turkish food full of spices?
There are few dishes that are served spicy, but Turkish dishes are not known for their spices. The lip-smacking combination of the dishes is what makes it unique.
Q2. Is Turkey the traditional food of Turkey?
No, Turkey is not the traditional food though people eat turkey in the country. But widely people prefer meat of Lamb, buffalo, goat and chicken.
Q3. Can I have vegetarian food in Turkey?
Turkey serves amazing vegetarian food for all those who don't consume non vegetarian food. You can find vegetarian dished on almost all the restaurant all you need to do is do a little research, pick the dish as per your taste and order is for yourself.
Q4. What are best desserts in Turkey?
For all those who have a sweet tooth, Turkey has many desserts and sweet dishes associated with it. The best desserts in Turkey are:
Kazan Dibi
Güllaç
Mozzaik Pasta
Halva
Q5. Is Kunefe spicy?
No, it's a desert. If you have a sweet tooth you must not return Turkey without trying this, one of the most popular dessert of Turkey.
Q6. What are the best traditional non vegetarian dishes that i can try in Turkey?
If you are a big time foodies and love exploring non veg food items then you must experience the rich and drool-worthy food of Turkey. The best non vegetarian dishes in Turkey are:
Kuzu Tandir
Şiş Kebap
İskender Kebab
Mantı
Q7. What is Turkey famous for?
Turkey is famous of local attractions, architectural marvels and traditional food that not only attracts locals but entices people from across the boundaries.
Q8. What is Kahvalti food in Turkey?
Kahvalti is one of the most prominent dishes of Turkish food culture and is unique kind of meal that incorporates ingredients that belong to continental cuisines. Kahvalti offers a healthy breakfast option with vegetables served with lip-smacking combination of food.
---