What comes to your mind when someone speaks of a winter getaway? A snowy land with endless adventure, ice skating, and cottages with cozy interiors, this is all we need for an adventurous break. Winters in Turkey means discovering this land of fascinating architecture in a different color. Turkey has always amazed travelers for its enthusiastic beauty, vibrant streets, and enriching culture. But if you are planning on a winter holiday, this is the place that turns into heaven, all covered with a thick white sheet of cold snow.
Winter Season in Turkey: The Best Time To Plan Your Visit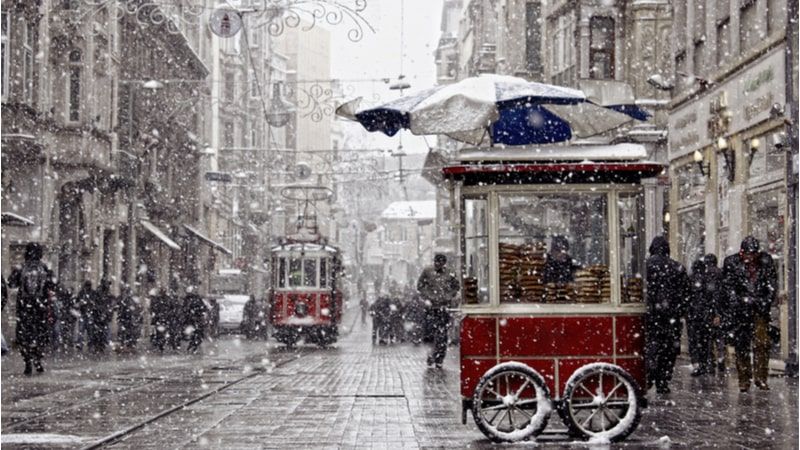 Turkey has never failed to amaze travelers with its exotic beauty and fascinating culture. Now, if you are an adventure freak looking out for some fun, this is the country that will leave you awe-stunned with its incredible vista. The country is worth a visit during the winter, where you can enjoy snowfall, the hot spicy food, and ultimately adventures for an adrenaline rush.
The months from December to February are best for experiencing winters. These months can be chilly with heavy snowfall, opening up opportunities for some thrilling adventures and fun. From skiing to ice skating and snowboarding, challenge yourself with some breathtaking activities.
The Turkey winter temperature ranges from 12 °C to - 12 °C. Here is a detailed guide on the winter temperature as per the city record.
AVERAGE WINTER TEMPERATURES
December: Antalya (12 °C), Izmir (10 °C), Istanbul (8 °C), Ankara (2 °C), Trabzon (9 °C), Erzurum (-12 °C), Diyarbakir (4 °C)
January: Antalya (10 °C), Izmir (9 °C), Istanbul (5 °C), Ankara (0 °C), Trabzon (6 °C), Erzurum (-19 °C), Diyarbakir (2 °C)
February: Antalya (11 °C), Izmir (10 °C), Istanbul (6 °C), Ankara (1 °C), Trabzon (6 °C), Erzurum (-20 °C), Diyarbakir (2 °C)
Planning Your Holiday When It's Snowing In Turkey
Why should one plan a Turkey vacation when it is snowing? Well, apart from adventure, there are many factors that make the season right for your holiday. Let us find out the perks of traveling to Turkey during the winter season:
1. It can be quite inexpensive
Turkey is a summer destination that means winters here are affordable and best for a budget traveler. While many tourists head off to top places to celebrate New Year, Turkey remains the best option for a budgeted traveler to spend a luxuriating eve at this charismatic place. From flights to hotels and food, every facility will fall under your budget.
2. It's quiet and peaceful
Off-season means a lesser crowd and a lot more peace. Winters in Turkey are not so popular, attracting a handful of tourists. This not only leaves the cities empty with limited footfall but offers more accommodation options open. While summers can be really crowded, your winter break is best to discover the real beauty of Turkey.
3. The best Sightseeing Experience
We all want to escape the heat and some long walks during the summers. Winters can be best to explore the nook and cranny of every Turkey attraction and better understand its culture and history. From Antalya to Istanbul, you can stroll around the streets, shop from the markets, explore the cultural sites and discover every fascinating tourist spot in Turkey.
4. Discover An Incredible Vista
Winters are the best way to discover the magical beauty of nature. No doubt, Turkey has the most fascinating architectural beauty, the serene landscape, but winters are surely the best time for planning a holiday. As the snow falls during the coldest month in Turkey, there will be beauty everywhere, covering the hills, the streets, the lake, and every corner of the city.
5. Endless Adventure Options
Winter opens up for endless adventure opportunities like skiing or ice boarding. There are many things to do in Turkey in Winter that will keep you engaged during an enthralling holiday. There are ski resorts that organize winter tours for vacationers, offering them the thrill they need.
Skiing Adventure During Winter Season In Turkey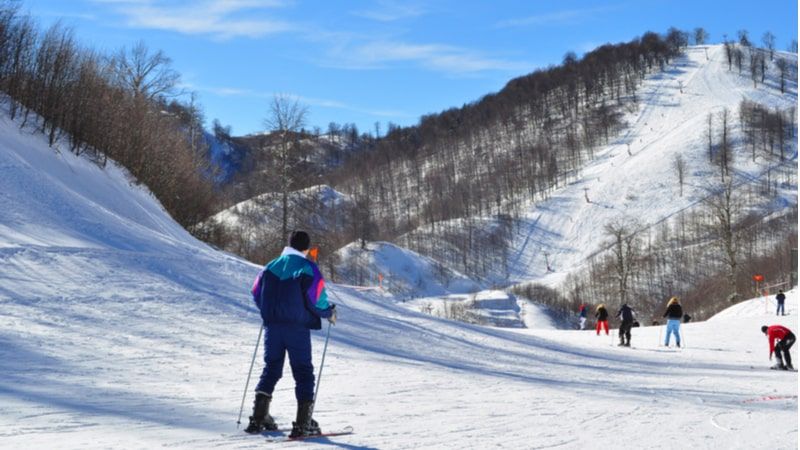 Adventures are best for making any holiday memorable and exciting. In Turkey, there are a number of interesting things to try in winters that will add more fun and thrill to your experience. While some cities in Turkey experience extreme climates with snowfall and chills, some have a moderate climate, perfect for a leisure tour.
Skiing is the best thing for an ultimate thrill. Turkey has the perfect geography that makes it an ideal place for skiing in Europe. The country has some high-altitude mountains that attract more winter tourism, making skiing a popular adventure. While Turkey winters are more about the thrill, it is skiing that is a perfect pick for adventure enthusiasts. The high terrain, snow-peaked mountain ranges, and the forest make this winter sports the best for all skiers. The Saklikent Ski Resort in Antalya is the finest place to try this adventure when it's snowing in Turkey.
Suggested Read: Best 49 Honeymoon Places In The World For A Soul-Satisfying Honeymoon Experience
Top Skiing Resorts In Turkey
There are many skiing resorts in Turkey that offer a very different ski experience with the most serene sight. You can reserve your family's stay at these resorts and enjoy the thrill.
1. Kartalkaya- A Quick Escape From Istanbul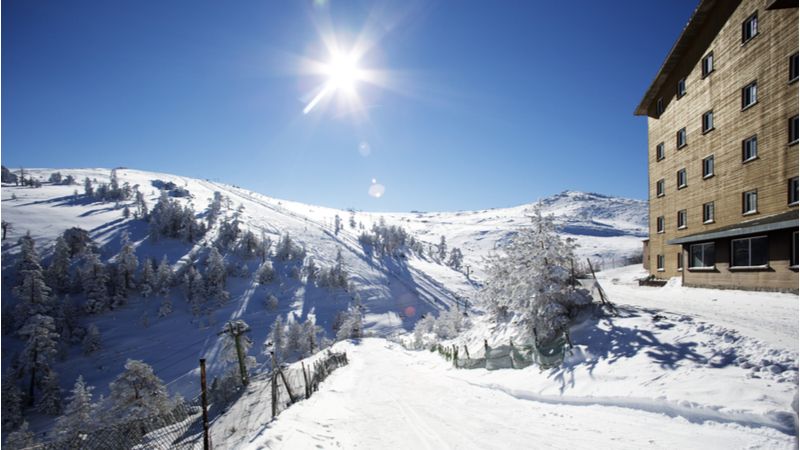 There is no snow in Istanbul, but still one can enjoy the thrill and frill of skiing in the city. Located at a distance of 6 hours away from International Ataturk Airport in Istanbul, you can get a cab for exploring this snow-covered destination.
With a dense pine forest, the resort boasts a serene landscape where you can try adventures like skiing and snowboarding. The entire resort spreads to an area of 20 km offering you 18 skiing lifts and a well-appointed accommodation option. There are the best hotels in Turkey lined at an accessible distance from the ski resort, making it a perfect adventure spot for your Istanbul winter tour. You may also find clubs and bars for a nightlife experience after trying some adventure.
Location: Köroğlu Mountains, Bolu Province, Turkey
Best Time: January
Best For: Intermediate and Beginners
Trails: 14
2. Uludağ- The Largest Ski Resort in Turkey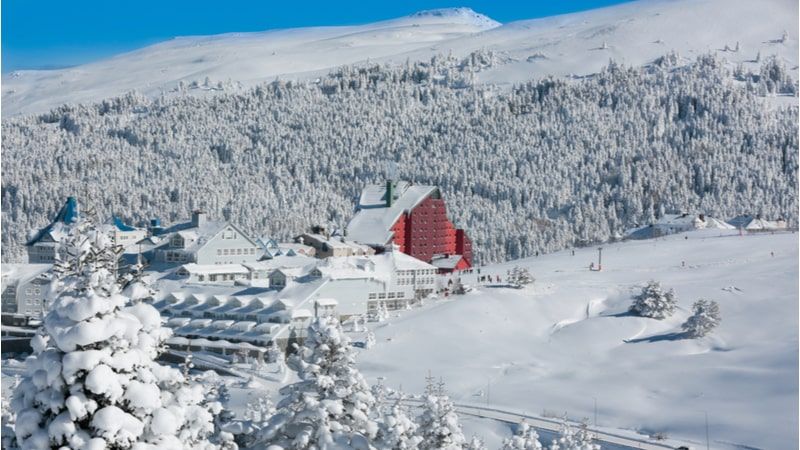 Uludağ has a legend associated with its origin. This is the place where the gods witnessed the great Trojan wars. The Uludağ National Park is home to the largest ski resort for your winter adventure in Turkey. The scattered forest slips make skiing quite intimidating but are best for intermediates.
The resort is located at a distance of 10 kilometers (6.2 miles) from the south of the city of Bursa and 200 kilometers from Istanbul. The connectivity from these two major attractions in Turkey makes it best for locals and tourists. There are 28 kilometers of slopes and 24 lifts for Alpine skiing, offering you the best adventure for your holiday during the December weather in Istanbul. You can try snowboarding, ice skating, and snow biking, at this largest ski resort in Turkey.
Location: Marmara Bölgesi Turkey
Best Time: February
Best For: Intermediate and Advance
Trails: 26
3. Kartepe- A Quick Escape from Istanbul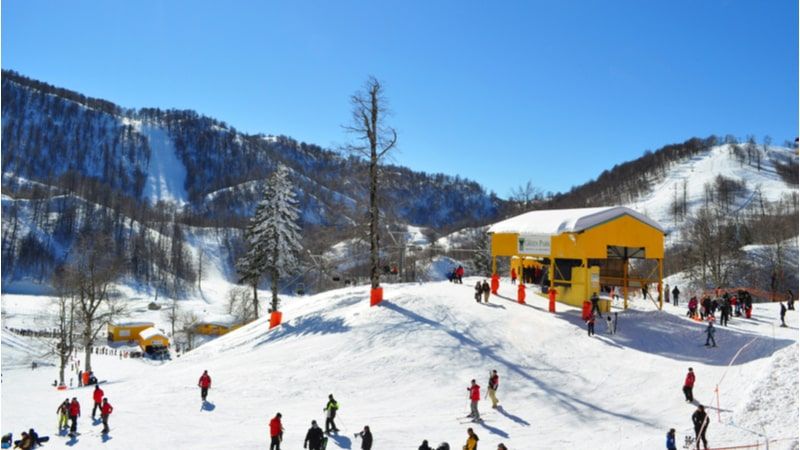 Istanbul winter weather might not be too extreme for witnessing snowfall but it surely is the best point for some thrill. There are many ski resorts located close to the city but Kartepe ski resort is the best skiing center you can plan for. The close proximity to Istanbul makes it an ideal pick for locals and travelers for a day trip.
While Kartepe is a year-round destination, travelers love visiting this place in winter to try some adventure in Istanbul. There are many hotels and resorts located close to the resort for those who are planning an overnight stay. There are four lifts and a dozen runs that make it best for the beginners in the city. The 400 m of the vertical range is just fine for the thrill you need.
Location: Kartepe Yolu, Kartepe, Turkey
Best Time: February
Best For: Intermediate and Beginners
Trails: 12
Suggested Read: Best Places For Pre-Wedding Shoot In The World: Capture The Unflury Memories
4. Palandöken- An Ultimate Adventure Hub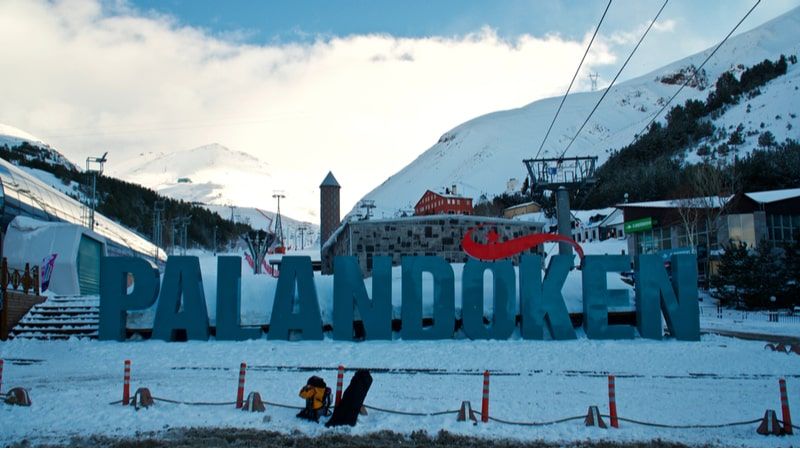 Located in the eastern Erzurum, Palandöken is another fascinating ski resort for spending winters in Turkey. Featuring 55 runs spreading to an area of 71 kilometers, and a zip line and giant swing the resort is an ultimate adventure hub. Palandöken has 12 lifts located within the area of 1821 Hectares. This resort offers every facility that makes it suitable for all-level trainees. There are mountains of vertical range in the surrounding area.
Reaching Palandöken is quite easy as the ski resort is 15 km away from the airport and 4 km from the city center. For easy commuting, there are 10 chairlifts, 1 tele ski, 2 baby lifts, and 1 gondola. You can also find the best hotels for your stay as you plan your holiday in February.
Location: Palandöken Mountain Erzurum Province, eastern Turkey
Best Time: February and March
Best For: Intermediate and Beginners
Trails: 22
5. Erciyes- For The Best Ski Experience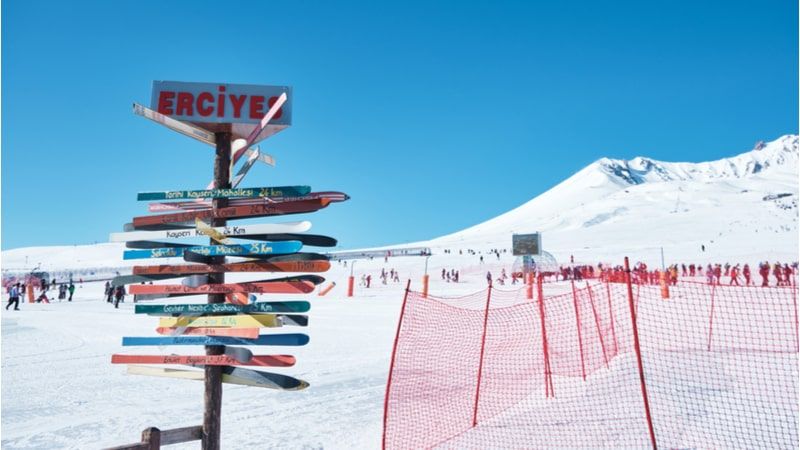 Erciyes is one of the best places to visit in Turkey in Winter for experiencing thrill and adventure. This ski resort is located at an elevation of a 4,000-meter volcanic summit. Erciyes has gained a lot of popularity for its centralized location as it is accessible from major cities in Turkey like Istanbul, Kayseri, and Cappadocia. The resort has been awarded as the best skiing destination in Europe. There are 34 different runs that are best for every skier, from easy to difficult. The 102 kilometers of slopes and nearly 20 lifts make it quite a happening spot for experiencing the best winter adventure.
You can find accommodation options at the center for an overnight stay.
Location: Mount Erciyes Kayseri, Turkey
Best Time: February
Best For: Intermediate and Beginners
Trails: 20
Winters in Turkey can be the most thrilling experience of your life. While some regions experience a pleasing cold climate, some regions offer an incredible vista, covered in snow. The alpines and steep mountains are best to be discovered during the cold winters. Try adventures like skiing and ice boarding that you can add to your holiday mood. Planning your holidays in winter can be really fun and a unique experience for every traveler. So, get your Turkey flight tickets booked today and head off for an enthralling holiday experience.
FAQs
Q1. When does winter start in Turkey?
The winter season in Turkey starts in late November and lasts till March. The temperature ranges between 12 °C to - 12 °C, where some places experience snowfall while some experience a pleasant climate, best for sightseeing and adventure.
Q2. Is Turkey worth visiting during winter?
Yes, discovering Turkey in winters is a different experience as the country exhibits a new look, offering you a serene vista. There are places covered in snow, fewer crowds and one has a lot more accommodation options available. Your winter holiday in Turkey can be inexpensive too.
Q3. What is the best winter adventure to try in Turkey?
Skiing is quite famous in Turkey. The adventure attracts adrenaline junkies from all over the world, offering them a perfect skiing location and resorts too. No matter if you are a professional or beginner, skiing is best for every adventure enthusiast.
Q4. Does Turkey experience snowfall during winter?
Yes, one can find snow in Turkey during December and January. There are places like Atalaya, Bolu, Marmara Bölgesi, Kartepe, and Palandöken where there is a thick layer of snow, covering every corner with a white sheet of ice.
Q5. Are there any ski resorts in Turkey?
If you are an adventure enthusiast looking for some thrilling adventure like skiing, there are many ski resorts, offering you the best experience. Some of the best ski resorts in Turkey are:
Uludağ ski resort
Kartalkaya ski resort
Palandöken ski resort
Kartepe ski resort
Erciyes ski resort
Q6. Can I enjoy skiing in Istanbul?
No, Istanbul does not experience snowfall. But there are many resorts nestled close to the city that offer skiing activities. Uludağ ski resort, Kartepe ski resort, Kartalkaya ski resort, and Palandöken ski resort are some of the best ski centers that are located at an accessible distance from the city center.
Q7. What are the top places to visit in Turkey in winter?
There are many places in Turkey you can visit all year round for their beauty. But for the best winter experiences, Antalya and Istanbul are some of the best places to add to your list. The pleasant climates and close proximity to the ski center make them quite famous for spending winters in Turkey.
Q8. Which is the best ski resort in Turkey for beginners?
Kartalkaya ski resort is the best skiing hub in Turkey for beginners. Located 6 hours away from International Ataturk Airport in Istanbul, the place offers a perfect spot for beginners to try some skiing and other winter adventures. The entire resort spreads to an area of 20 km, offering you 18 skiing lifts and a well-appointed accommodation option.
---