Kuala Lumpur is an attractive city that boasts of its scintillating skyscrapers and iconic attractions like Petronas Twin Towers. People come here to admire the beauty of this place and spend some great time with family or friends. For comfort of travelers, there are various villas in Kuala Lumpur that are designed to offer luxury and comfort to guests so that they do not miss their home on vacation. Check out this list of top 8 villas in Kuala Lumpur to book on your next trip.
Best 8 Villas In Kuala Lumpur
Kuala Lumpur is one of the most fascinating cities to visit in Malaysia. If you want to feel like home away from home, then check out this list of best 8 villas in Kuala Lumpur for a great holiday retreat.
1. Sky Villa
Located just 1.5 hours' drive from Kuala Lumpur, Sky Villa is a spacious villa that offer you with breathtaking scenery and sounds of chirping birds as you wake up amidst natural landscape. Delve into perfect tranquility on the top of the hill where there is no one to disturb you. The tropical rainforest like setting with waters cascading down the river streams, the villa offers an intimate ambience to spend some moments in serenity away from the hustle-bustle of city life. One of the best KL villas with private pool, it also offers other amenities like a game room with myriad of games, jogging track surrounded by lush greenery, BBQ pit, and a balcony offering enchanting views of the surrounding landscape. There are two spacious bedrooms that come with two private bathrooms.
TripAdvisor Rating: N/A
Location: Lot 3G, Jalan Harmonium 1, Tinggian, 44000 Kuala Kubu Bharu, Selangor
Exclusive Features:
Jogging track
BBQ pit
Games room
Private pool
2. Sekeping Tenggiri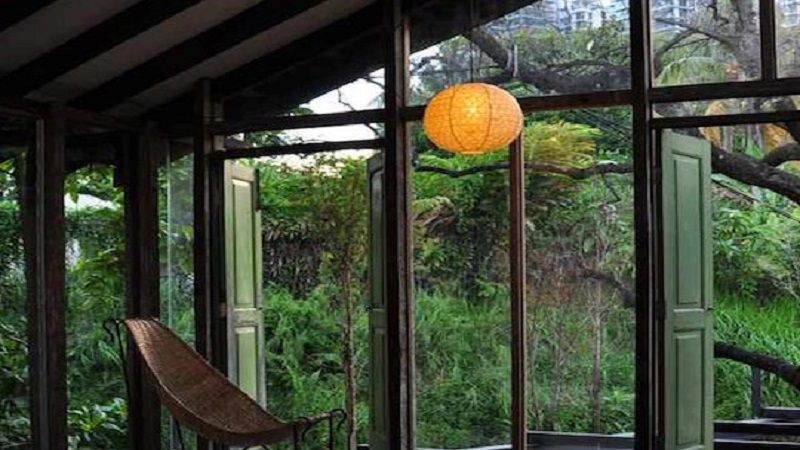 A glasshouse in Bangsar that has been inspired by Balinese theme is one of our top picks in this list of Kuala Lumpur villas. A hidden gem amidst lush green tropical forest setting, Sekeping Tenggiri is a glasshouse that comes with a private pool and a balcony overlooking forest. The villa houses 7 rooms each having an accommodation capacity of 3 guests and all the amenities that will make you will like home like washing machine, kitchenware and others. Other than 7 bedrooms, the villa also houses other amenities like a common lounge area, large swimming pool, 24-hours housekeeping service, fridge & oven toaster, dining area with washing facilities. The rooms are well-equipped with other facilities like air-conditioner, ceiling fan, open wardrobe, Wi-fi access, hot shower and bath towel.
TripAdvisor Rating: 4
Location: No. 48, Off Kuala Lumpur, Jalan Tenggiri, 59100 Kuala Lumpur, Wilayah Persekutuan Kuala Lumpur, Malaysia
Exclusive Features:
Common lounge area
Swimming pool
24-hours housekeeping service
Suggested Read: Things To Do In Kuala Lumpur For An Enchanting Experience
3. Eighty Seven Villa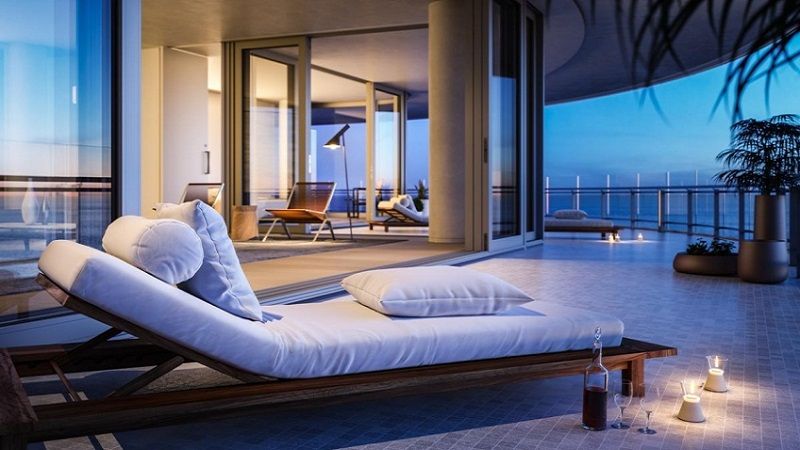 Located just 45 minutes' drive from Kuala Lumpur, Eighty Seven Villa is nestled in a tranquil location thus, it is often rented out for yoga retreats and intimate weddings. The most intriguing feature of this villa are its floor-to-roof ceiling that offer uninterrupted views of the surrounding magnificent landscape. From rustic interiors of the bedrooms to infinity pool, the charm of this villa is beyond words. The villa can accommodate up to 28 guests as there are a total of 7 bedrooms with 10 bathrooms. It is not necessary to book an entire villa if you are coming with a smaller group, just book the ground level of the villa that has only 5 bedrooms suitable for 16 guests. The high-end facilities and serene location of this villa makes it one of the best holiday villas in Kuala Lumpur.
TripAdvisor Rating: N/A
Location: Lorong Pine Lima, Kampung Janda Baik, 28750 Bentong, Pahang, Malaysia
Exclusive Features:
Infinity pool
7 bedrooms
Floor-to-roof ceiling
4. Villa Samadhi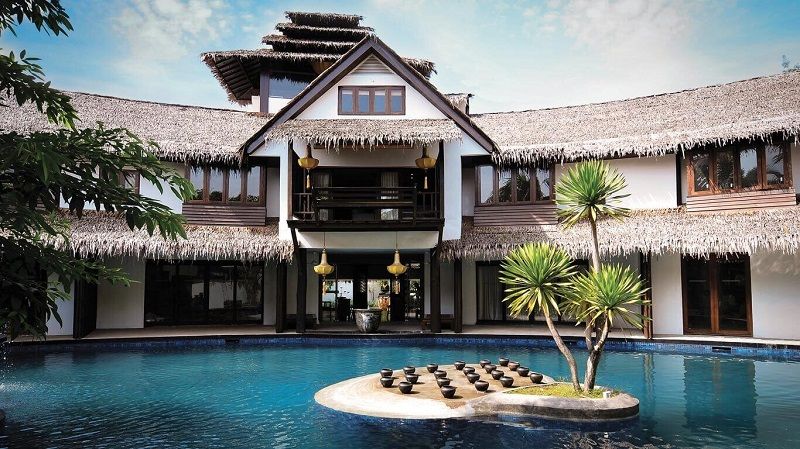 One of the most popular villas, Villa Samadhi in Kuala Lumpur is a gorgeous villa that is located just a 10 minutes' drive from Kuala Lumpur's city center. Boasting of traditional Malay architecture, the villa's main focus is sustainability that enhances the environment. A fusion of rustic interior with modern touches, it is a complete delight for eyes to watch villa's antiques and a unique collection of hilltribe fabrics from Southeast. Crib, Luxe Crib, Sarang, Luxe Sarang and the Loft are some room types available in Villa Samadhi that are equipped with all the modern facilities and some of them even come with a private whirlpool and direct access to the pool and lagoon area.
Lagoon pool is one of the interesting features of the villa where guests can enjoy swimming while non-swimmers can just unwind themselves basking in the sun. Villa Samadhi is located nearby many famous attractions in Malaysia like Petronas Twin Towers, Suria KLCC and other such places.
TripAdvisor Rating: 4.5
Location: 8, Jalan Madge, Taman U Thant, 55000 Kuala Lumpur, Wilayah Persekutuan Kuala Lumpur, Malaysia
Exclusive Features
Private plunge pool
Central location
Lagoon
Suggested Read: List of Top 14 Hotels In Malaysia That Promises A Relaxing Stay
5. Kenny Hills Villa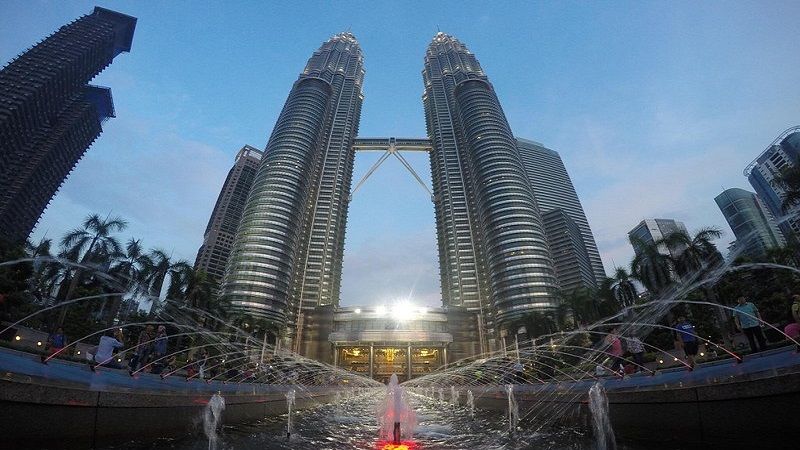 Kenny Hills Villa is one of the best private villas in KL which is located just 3.7 km from then center of Kuala Lumpur. The rooms in the villa are all air-conditioned and comes with access to free Wi-Fi. You can also order groceries from nearby supermarket on additional cost. There is also an outdoor pool in the villa where you can swim or bask all day along with a lush green garden where kids can enjoy playing ball or other games. There are 4 rooms in the villa which are equipped with all the essential facilities like hair dryer, microwave, washing machine, bathrooms and ironing facilities. You can choose among different rooms that come with either pool view or garden view.
TripAdvisor Rating: N/A
Location: 1A Pinggiran Tunku in Kuala Lumpur
Exclusive Features:
Outdoor pool
Free Wi-Fi
Garden area
6. Hartamas Pool Villa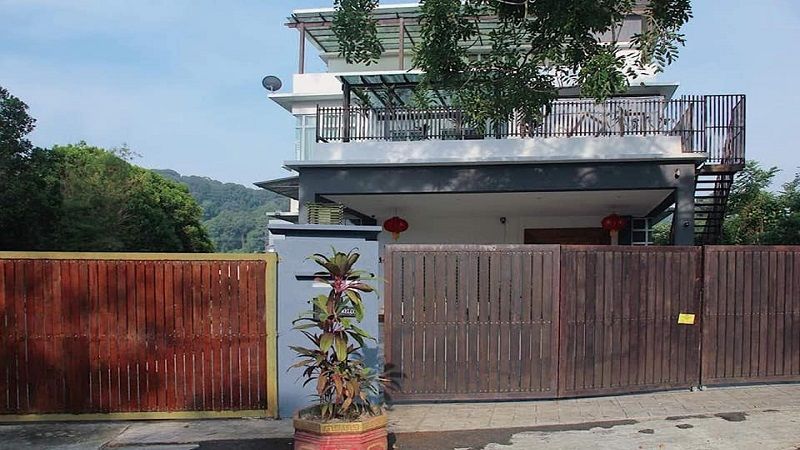 Located just behind Publika shopping mall, Hartamas Pool Villa is a nice home-like villa in KL that also lets you enjoy shopping in Malaysia due to its location which is near the Publika shopping mall. The villa is a secured place as it has its own bodyguard and is ideal for family outings, get together with friends or intimate parties. The facilities available at this villa include an outdoor swimming pool, BBQ pit, fully-equipped kitchen, and portable air-conditioners to be used outside the villa. If you are coming here with your own vehicle then, the villa also has a safe parking space.
TripAdvisor Rating: N/A
Location: Changkat Hartamas 3, Hartamas Heights, 50480 Kuala Lumpur, Wilayah Persekutuan Kuala Lumpur, Malaysia
Exclusive Features:
BBQ pit
Outdoor swimming pool
Free parking space
Portable air-conditioner
Fully-equipped kitchen
7. Villa Sri Ananda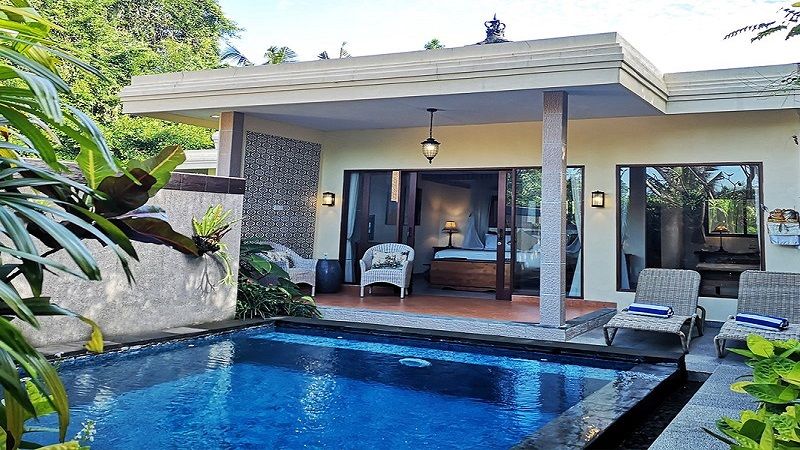 Another in the list of Kuala Lumpur villas is Villa Sri Ananda that is located in the heart of the city nearby many famous tourist attractions in Kuala Lumpur and offers a resort style ambience to guests. The villa occupies an area of around 20,000 square feet and is built in the most unique style. The entry to the villa is through a spacious gallery that leads to living, dining and entertainment area and is decorated with a reflecting pool on one side while on the other side you will notice a lotus-leaved live pond. There are three pavilions around the pool which are surrounded by trees to take you into nature's retreat. There are 4 bedrooms with ensuite bathrooms with all the basic and modern amenities.
TripAdvisor Rating: 5
Location: Bukit Damansara, 50490 Kuala Lumpur, Federal Territory of Kuala Lumpur, Malaysia
Exclusive Features:
Living, dining and entertainment area
Three pavilions
Pool
Suggested Read: Villas In Bali: Experiencing Luxury At The Finest Villas
8. D-Villa Residence Kuala Lumpur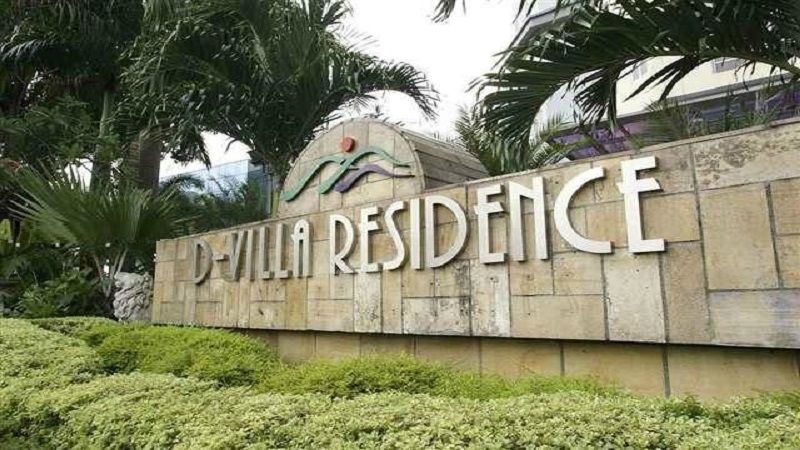 If you are looking for a quaint villa in KL, then D-Villa Residence Kuala Lumpur is just perfect option for you which was opened in the year 2009 in the heart of Kuala Lumpur. The prime location, top-notch amenities make it an ideal place for leisure and business travelers alike. The villa also boasts of a fitness center, 2 dining options and a spa where guests can relax if they want. The residence is located just 46 km from the Kuala Lumpur international airport and a taxi can be hired to reach it easily. It is also located nearby famous shopping malls in Kuala Lumpur like Pavilion Kuala Lumpur.
TripAdvisor Rating: 3.5
Location: 225 Jalan Ampang, Kuala Lumpur 50450 Malaysia
Exclusive Features:
Fitness Center
2 dining options
Spa
Separate living area
Suggested Read: Best Holiday Villas In Thailand Known For Offering Panoramic Views
Malaysia is one of the best destinations to visit in Asia which offers an all-in-one experience to travelers. From mesmerizing beaches to iconic architecture structures, there are so many amazing sights to marvel at in Malaysia. If you are someone who is looking for a tranquil retreat away from the hustle-bustle of city's life, then book any of these villas in Kuala Lumpur to experience serenity at its best. From high-end facilities to intriguing interiors and fetching views, these villas will fascinate you to book your flights to Malaysia super soon.
FAQs
Q1. Which are some famous hotels to stay in Malaysia?
Pavilion Hotel Kuala Lumpur, Hard Rock Hotel Desaru Coast, Four Seasons Hotel Kuala Lumpur, Hilton Kuala Lumpur, Sunway Velocity Hotel, Mandarin Oriental Kuala Lumpur, Four Seasons Langkawi, Grand Millennium Hotel Kuala Lumpur are some of the best hotels to stay in Malaysia besides many other.
Q2. What is the best time to plan a visit to Malaysia?
December to April is considered the best time to plan a visit to Malaysia because rest of the months are mostly hot and humid.
Q3. Which are the best attractions in Malaysia?
Some of the best attractions which one shouldn't miss visiting in Malaysia are:
Batu Caves
Petronas Twin Towers
Perhentian Islands
Mount Kinabalu, Sabah
Gunung Mulu National Park
Penang Hill
Kek Lok Si Temple
Cameron Highlands
Q4. Which malls are worth-visiting in Malaysia?
Some of the famous malls worth-visiting in Malaysia are Pavilion Kuala Lumpur Shopping Mall, Suria KLCC, the Garden Mall, Mid Valley Megamall, Starhill Gallery Kuala Lumpur, Sunway Pyramid, and One Utama Shopping Mall.
Q5. Which are some best resorts in Malaysia for a honeymoon?
Some of the best resorts in Malaysia for a honeymoon are:
Berjaya Langkawi Resort
Nexus Resort & Spa Karambunai
Shangri-La's Rasa Ria Resort & Spa
Pangkor Laut Resort
Cameron Highlands Resort
Q6. How many days are enough for a trip to Malaysia?
Around 3 days are enough for Kuala Lumpur and if you want to explore other places like Langkawi, Penang and others, then come here for at least 10 to 12 days.
Q7. What is Malaysia famous for?
Malaysia is famous for its iconic structure which is Petronas Twin Towers, temples, exotic beauty of Langkawi and bustling town of Georgetown.
Q8. What to buy in Malaysia?
Some of the best Malaysian souvenirs to bring back from the country are pewter goods, baju kebaya, handwoven crafts, Songket, Malaysian batik, Kerongsang and sabah pearls.
---