Kuala Lumpur is the capital city of Malaysia, a must-visit destination on your vacation list, and is also one of the major business centers, thus bringing people together and closer. Being one of the best places to visit, the list of things to do in Kuala Lumpur is quite long. It is the transit point of the world and has the most fascinating wildlife on Earth. The city is now the center of Malaysia to invite and accommodate the rest of Asia, creating a metropolis like no other.
8 Things To Do In Kuala Lumpur That Will Blow Your Senses
Malaysia's pride, Kuala Lumpur caters to the best tourist attractions to explore in Malaysia and is the city with an abundance of gleaming skyscrapers, myriad of natural attractions, charming locals, and colonial attractions.
1. Stand Tall With The Petronas Twin Towers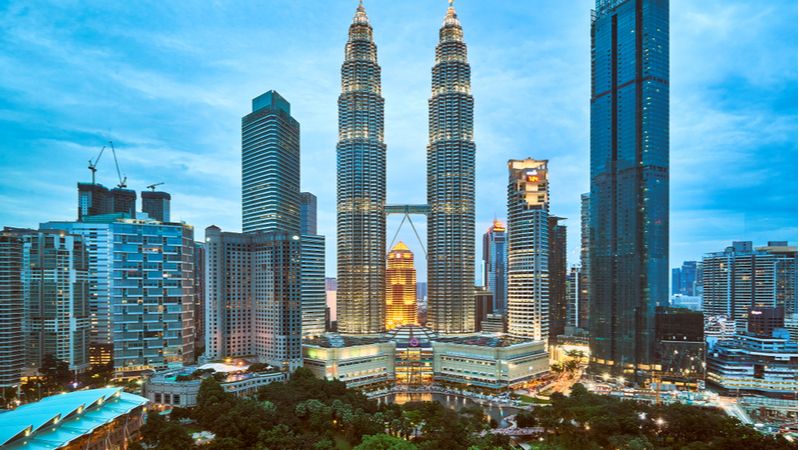 One of the best things to do in Kuala Lumpur is to enjoy this still concrete. Twin tower is among the most iconic places in the world. The towers stand tall presenting you all the epitome of modern architecture and feature the Islamic design as well.  At the base of the Petronas Twin Towers is Suria KLCC, an upmarket shopping mall that is very popular with tourists. This comes under the best tourist attractions in Malaysia that will blow your mind. Although the towers primarily house the corporate headquarters of Petronas Company, it still doesn't fail to mesmerize the tourists. The best attraction here is the double-decked Skybridge, it offers amazing views of the city and is the highest two-story bridge of its kind. The bridge and the tower together form the shape of "M".
Top Attractions of Petronas Twin Towers- Petronas Art Gallery, K.L. Convention Centre.
Timings: Opens at 9.00 AM and closes at 9.00 PM.
2. Taste The Local Nasi Kandar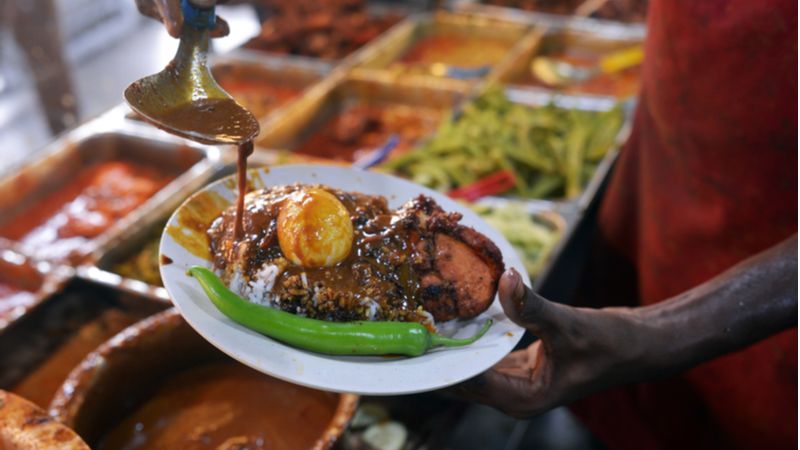 Nasi kandar literally means "rice on the shoulder", ideally it means "mixed rice". Nasi kandar is based on Tamil dishes. It includes curried meat or seafood and also vegetable content such as okra or Asian cabbage. It tastes best when eaten from the local vendors and roaming around the local market of Kuala Lumpur is one of the fun things to do in KL. You will be given a plate of rice and can choose the topping and sauces according to your taste. Try mixing new flavors and get lost in the delicious world of Nasi Kandar. It is a dish for everyone.
Best Places To Have Nasi Kandar - Mohd Yaseen Nasi Kandar, Restaurant Ibramsha Nasi Kandar, Original Kayu Nasi Kanda.
Suggested Read: Best Places To Visit In October In The World To Enjoy Pleasant Weather
3. Look Over To Be Mesmerized By Minnature Malaysia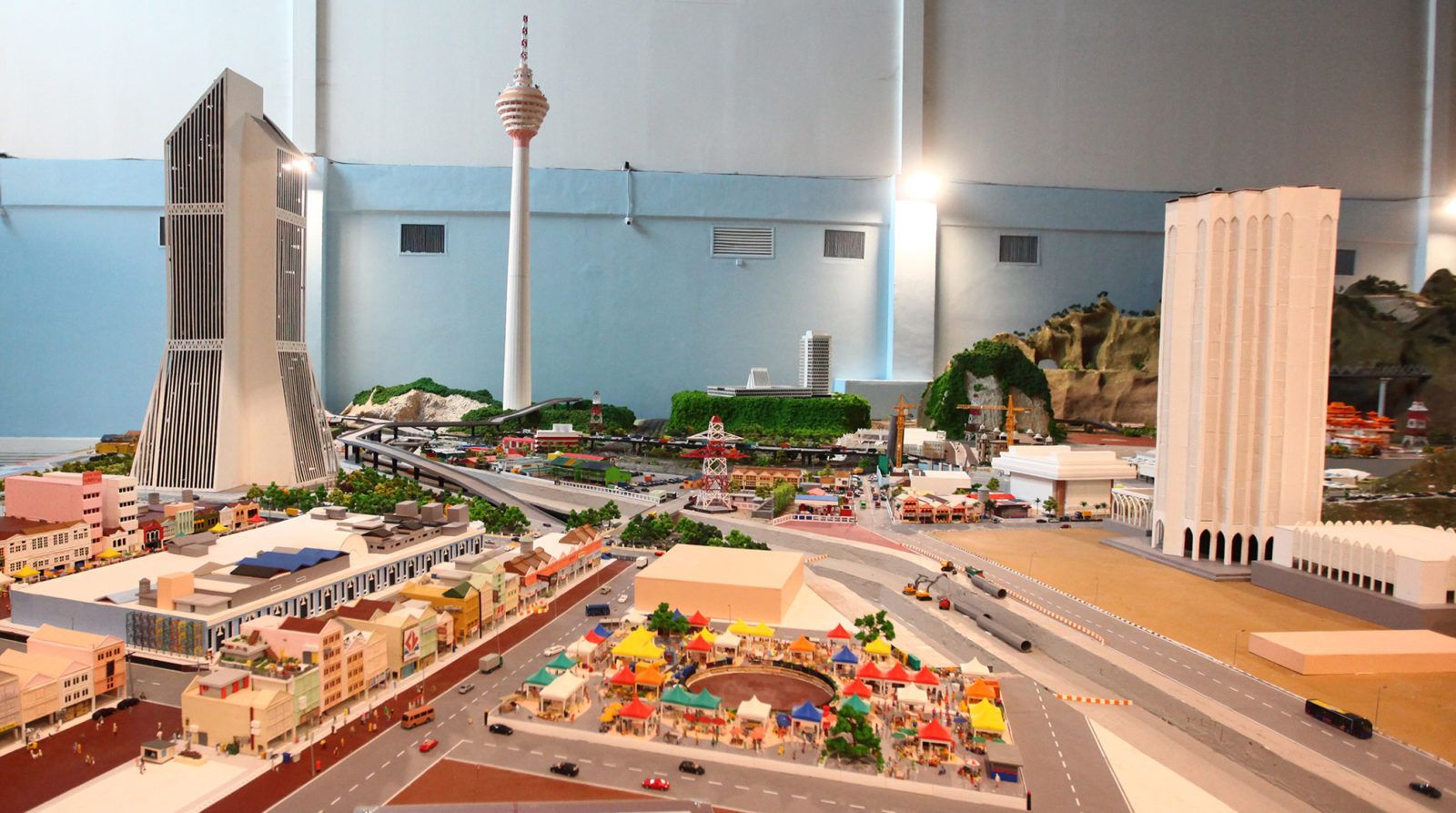 It is the newest and most unique experience in Kuala Lumpur, Malaysia. In fact, one of the best of all the activities to do in KL is to shop for the finest collection of miniatures you will ever find in Malaysia. This is the world of miniature that will mesmerize you with its intricate details. Take a trip down the memory lane of Kuala Lumpur. The artistic work is just meticulous and there are several fun activities to do like treasure hunting, etc. Once you enter the place you will find the culture of Malaysia presented in the form of miniatures. Take your family or go with your friends to one of the best places to visit in Kuala Lumpur (of course I mean Minnature Malaysia).
Timings: Opens at 11 AM and closes at 6 PM (5 PM busiest hour and takes last entry at 5:30 PM)
Entry Fee: For Malaysians, Adult RM 25, Child RM 20; For Foreigners Adult RM 35, Child 20; free for children below 4 years of age.
Suggested Read: Places To Visit In Maldives: Discovering The True Splendor of Nature
4. Climb Up The Batu Caves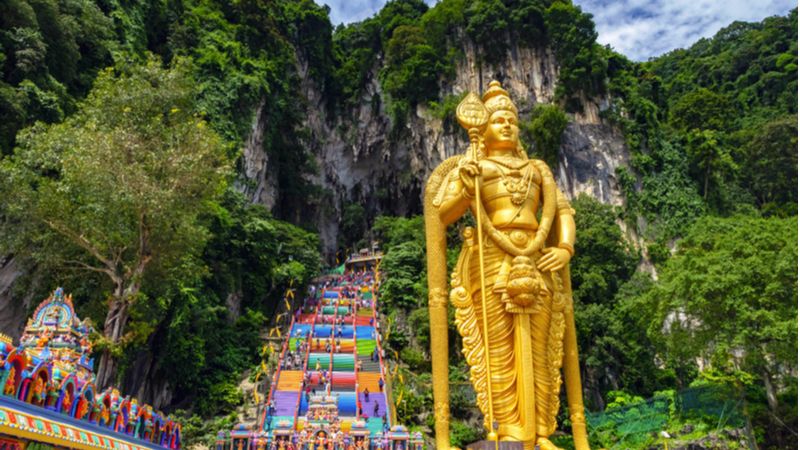 Batu caves don't come second to any place. Climbing up the Batu cave is one of the hella amazing outdoor activities in KL. As soon as you enter the Batu caves you will be taken aback by the gigantic statue of Lord Murugan (the largest statue dedicated to a deity). This is a limestone hill that has a series of caves, it is home to three main caverns.
The caves are muddy and the routes for rock climbing are rated from 5A to 8A+ and thus have something to offer to climbers of all levels. The crags in the surrounding and the limestone hill offer you the best rock climbing in Southeast Asia making this place the home of adventure activities in Kuala Lumpur that will definitely give you a vacation of a lifetime.
Timing: Opens at 7 AM and Closes at 7 PM. Open all year long.
Best Time To Visit: June, July (because of ideal temperature at this time of year)
Suggested Read: Islands In Maldives That Promise A Vacation Of A Lifetime
5. Cherish The Colors With Kuala Lumpur's Butterfly Park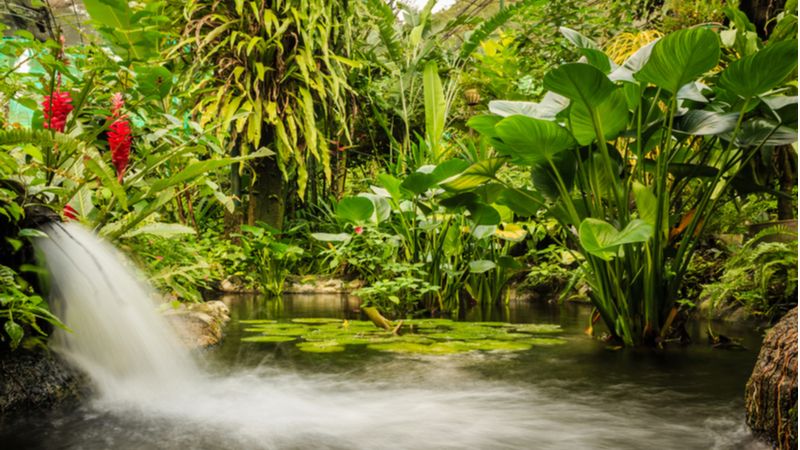 If you are feeling whimsical then, this my friend is just the right thing for you. By the outer appearance, the place might not seem to be amusing, but once you enter inside, you'll see a calm forest. The park is modeled on a forest experience and it features walkways, footpaths, lakes, ponds, and gazebos. Some of the best-rated hotels in Malaysia are in the neighborhood of the park. Kuala Lumpur Butterfly Park's lush grounds are home to 6,000 butterflies from more than 120 species. Wait! Not just butterflies this park has an abundance of flora as well as fauna. It is also famous as a paradise of colorful butterflies. Taking a stroll at this park is one of the many things to do in KL that will leave you astonished.
Entry Fee: For Malaysians, RM 12 for Adults and RM 7 for kids; For Foreigners, RM 25 for Adults and RM 14 for kids. Carrying your video camera will cost an additional RM 5.
Timings: Opens at 9 AM and closes at 6 PM, is open all days of the week.
Suggested Read: Bali Vs Maldives For Honeymoon: Where To Go For The Perfect Honeymoon
6. Stroll Through The Famous China Town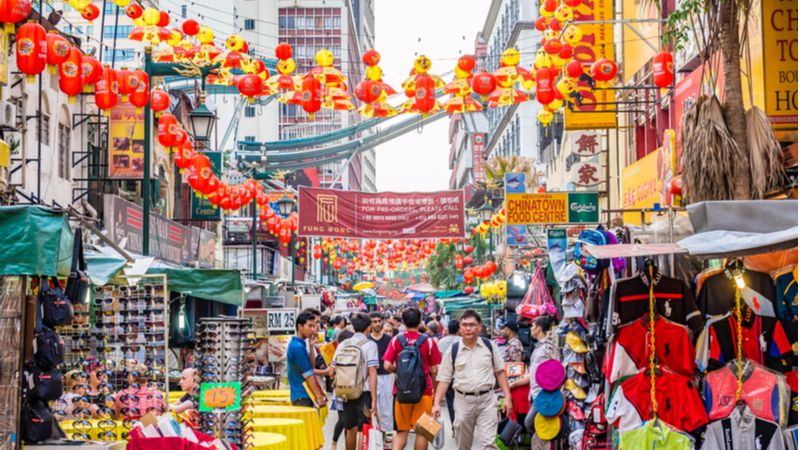 China town is not another concrete world, if something it is just the opposite. The area that never sleeps, the heart of Kuala Lumpur, bringing the city in the list of best honeymoon destinations in Asia, because LADIES its bargain shopping (and for the men out there, there's an amazing strain of clubs and the nightlife is a league of its own!). The place is practically filled with Chinese restaurants and hawker stalls selling delicious, mouthwatering food. China Town is not only about nightlife and shopping, but there are so many activities here as well such as foot massage, etc.
Attractions Of China Town - Sri Mahamariamman Temple, rows and rows of stalls selling food to clothing (almost everything).
Best Restaurants In China Town - Bubble Bee Café, Pit Stop Restaurant & Bar, Shin Kee Beef Noodle Specialist.
Suggested Read: Places To Visit In September In The World: Popular Destinations To Satiate Your Wanderlust
7. Intake The Culture Of National Museum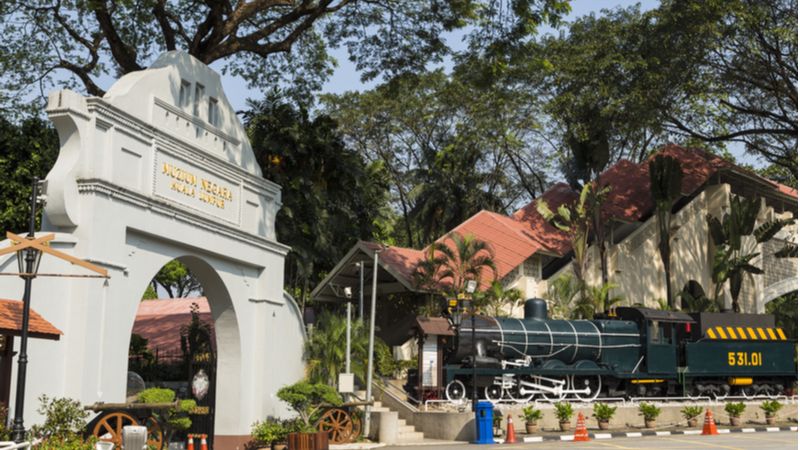 It is located near the lake gardens and is an excellent introduction to Malaysia's history, economy, geography, arts, crafts, and culture. The museum has an exquisite collection of weapons including parangs (machetes), kris (daggers), swords, and miniature canons. Wandering through this museum, you will find an adventurous ride of Malaysia's history and it is also a fun thing to do in KL, as it has so much knowledge to offer. There are many guided tours that take place weekly and are free of cost, yet very informative.
Timing: Daily, opens at 09:00 AM and closes at 06:00 PM, closed on Hari Raya Puasa and Hari Raya Haji.
Suggested Read: Popular Places To Visit In Kerala That Will Bring You Close To Nature
8. Dive Into The Depths Of Aquaria KLCC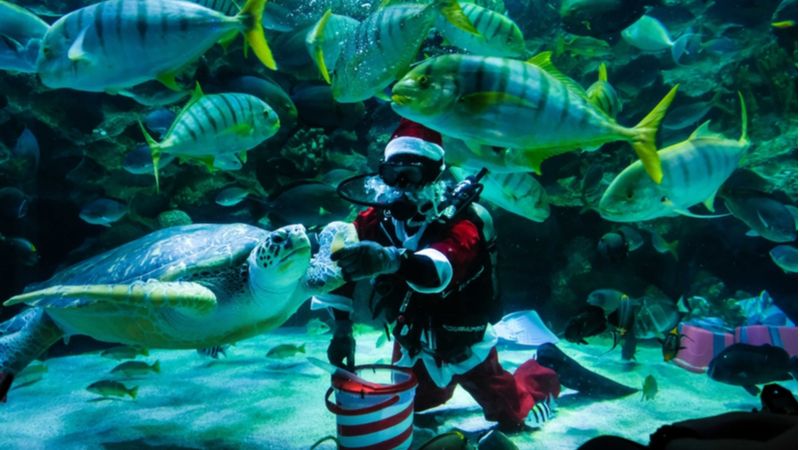 The Aquaria is home to over 150 species of marine life, its star attractions include scary tiger sharks, lethal sea snakes, blue rays, bright coral fish, seahorses, and more. The aquarium is well stocked and welcomes you to take this different yet meticulous stroll of marine life. It is located within the walking vicinity of PETRONAS TWIN TOWER and is the heart of the bustling "golden triangle". The venue is laid out to take its visitors through the different watery landscape and is worth a visit.
Attractions Of Aquaria KLCC – The Tunnel, Weird and Wonderful.
Timings: - Opens at 10 AM and Closes at 8 PM
Kuala Lumpur, the capital city of Malaysia is a diverse area that includes Tamil, Chinese, Malay, and indigenous inhabitants. While there are numerous things to do in Kuala Lumpur, the above are some of the must-dos on your list.  
This city is vibrant in culture and showcases both manmade and natural landmarks with utmost pride. Kuala Lumpur awaits you, and it will take you by surprise. In the race of making money don't forget to enjoy life. Don't wait for the right time, book your flights to Kuala Lumpur now, and see the wonders that your vacation unfolds.  
FAQs
Q1. Is Kuala Lumpur worth a visit?
Kuala Lumpur is the heart of Malaysia, so it is definitely worth a visit. After all the city has so much to offer, you will fall in love with the place as soon as you land there.
Q2. Which is the best place to visit in Kuala Lumpur?
The city is full of fun and adventurous places which you should not miss out on, PETRONAS TWIN TOWER is the place that is talked about the most and is worth your time.
Q3. What is the best time to visit Kuala Lumpur?
It has humid temperatures all along the year and the festivals and sites are as well open all year long. The best time to visit KUALA LUMPUR would be from May to July or December to February. You can plan your visit in December as the whole city is decorated and celebrates Christmas and New Year.
Q4. Is Kuala Lumpur a honeymoon destination?
YES, Kuala Lumpur is a honeymoon destination, and not only that it is among the best places for a honeymoon. There are so many activities for couples to do. There is shopping, there are beaches, there are man-made wonders, the fauna and the animals will all amaze you and will be a romantic getaway.
Q5. Is Malaysia worth a visit?
Malaysia is a place for couples, family, friends, and even for solo trips. Malaysia has so many places to visit and so many activities. YES, it is definitely worth a visit. It's a stroll of magic.
Q6. Which are the best hotels to stay in in Malaysia?
There are many hotels all over Malaysia that provide best-in-class service and have an amazing view as well. To name a few Eastern and Oriental Hotel, Four Seasons Hotel (Kuala Lumpur), Ambong Pool Villas, Grand Hyatt (Kuala Lumpur), Avani Sepang GoldCoast Resort, Gaya Island Resort.
Q7. Which is the main airport in Malaysia?
Kuala Lumpur International Airport is the main airport in Malaysia.
Q8. How many days do I need in Kuala Lumpur?
A week would be more than enough time for you to stay in Kuala Lumpur. You can go visit all the places in this span of time and enjoy the serene beauty of the world.
---