Experience the luxury of best villas in Bali, offering you the most evocating holiday. Bali, being the most popular destination for honeymooners and travelers is always crowded with vacationers. The Indonesian archipelago's scenic islands adorn the charm of tranquil and crystalline beaches, sparking your senses. There are those intoxicating fragrances of raw species, busting sideways, the clamor of fancy tourists and diverse beauty of nature. Around these lush greens and captivating landscape, lies the best resorts and villas you can reserve for a luxuriating stay, embracing the refreshing aura.
Top 8 Villas In Bali For Your Finest Retreat
Bali has the most acceptable accommodation options for every guest laced with some exclusive facilities from a private holiday to a luxury escape. To make your holiday memorable for a lifetime, here are the best villas you can reserve to spend your vacation on the island destination of Indonesia.
1. Alila Villas Uluwatu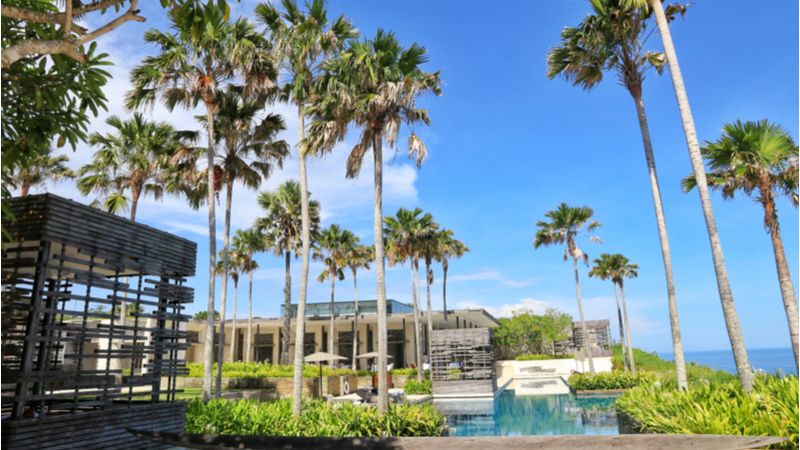 The Alila Villas Uluwatu, the five-star property in Uluwatu is among the luxury villas Bali that is all famed for its incredible architecture and a contemporary touch of design. This property is all set beside the natural settings enhancing the interiors and the warmth of this staycation. Alila Villas Uluwatu In Bali offers it's guest top-notch service and facilities to value their time and money.
Taking care of every need of the visitors, the Alila Villas features a wellness center and spa to rejuvenate your soul in this island destination. You enjoy your day around the best beaches in Bali, and the villas have specialized therapies to ease your mind and soul with the natural and traditional healing methods. Promising all the service, this Bali family villa offer pool view rooms with exquisite bedding and traditional dining space, enriching your experience. And what comes complimentary with your stay is a private pool and cabanas, buffet service and 24 hours assistance.
TripAdvisor Rating: 4.5
Location: Jl Belimbing Sari, Banjar Tambiyak, Desa Pecatu, Uluwatu, Bali
Exclusive Features:  
Private Swimming Pools
The Warung Restaurant
Private Cabanas and Terrace
Spa And Wellness Center
Wedding and Meeting Space
Airport Transfers
2. Monaco Blu Luxury Villas and Spa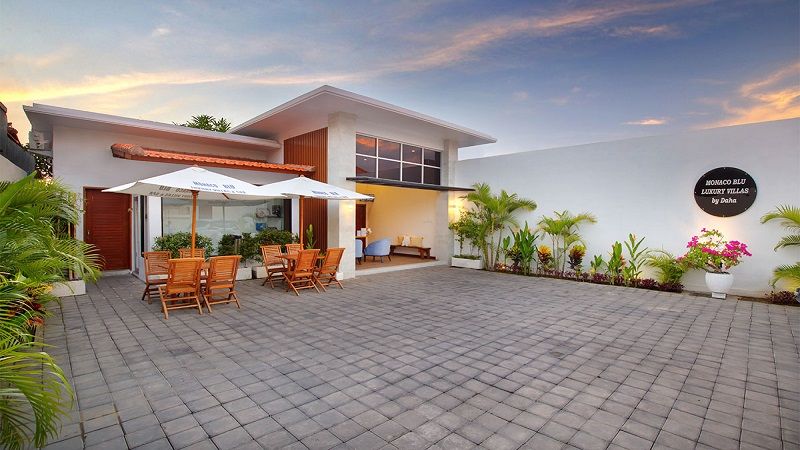 Located in Seminyak, just about 2.5 km from Batu Bolong Beach, the beautiful Monaco Blu Luxury Villas and Spa is the best villa with private pool Bali. Featuring a patio and pool views, this villa consists of 2 bedrooms, a living room, a well-equipped kitchen, and two bathrooms with a hot tub and a bidet. Catering every guest's need, the villa has services like spa and gym to relax during the holiday. Not only that but people at the villa can enjoy a continental or an American breakfast at the best restaurants at Monaco Blu Luxury Villas and Spa. Being of the luxury villas in Bali, the property features dining options and beaches like Métis, Tropicola, Café Del Mar and Desa Potato Head.
You can get both bicycle rental services and car rental services to explore the nearby places to visit in Indonesia. The villa offers the spacious accommodations with an outdoor swimming pool while services like free Wi-Fi, a 24-hour front desk, and a tour desk, a garden and free private parking comes complimentary with your stay. Well, isn't that amazing?
TripAdvisor Rating: 5
Location: Jalan Batubelig 18, 80361 Seminyak, Bali Indonesia
Exclusive Features:  
Private Pool
Shuttle Service
Restaurants and Bar
Spa And Wellness Center
Equipped Kitchen
3. Koenokoeni Villa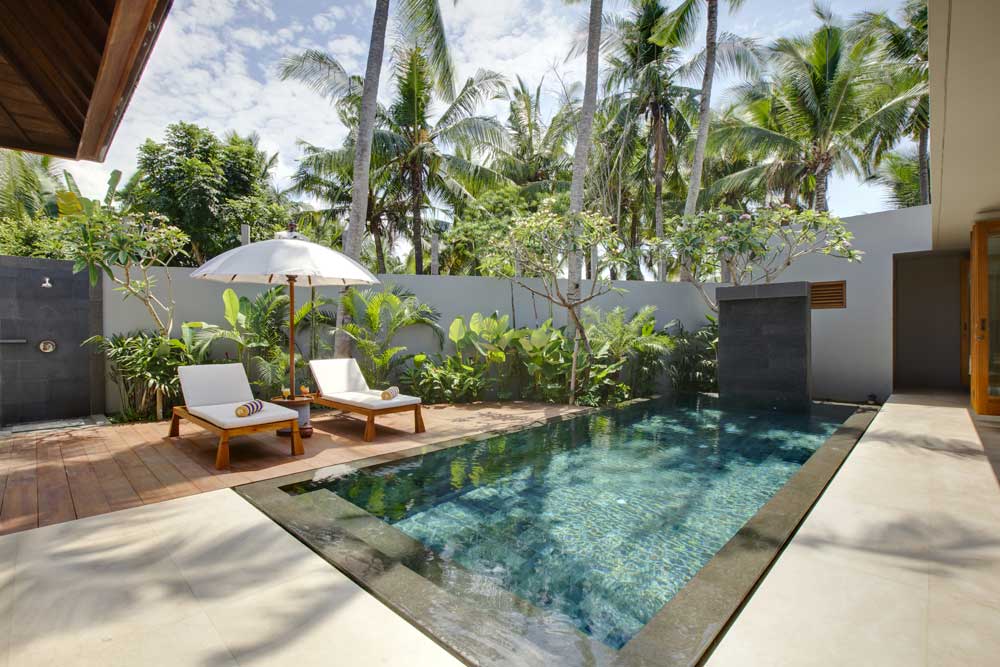 Looking for Bali villa rentals, the Koemokeni Villa is one of the best private villas to spend your holidays. The Petitenget Koenokeni Villa offers spacious and comfortable seating in its lush and green surroundings, offering you the perfect romantic escape in serenity. What's best about this rental villa is the open-air café where you can enjoy the most tempting cuisine of the day.
Reserving your stay at Koenokoeni Villa, get benefitted by its services and facilities like spacious bedroom villa and amenities. Spreading to an area of 2,982 m2 of land, this villa with private pool in Bali has an outdoor shower, a living room and particular dining area with kitchen. You can enjoy in-villa dining with barbeque facilities and other meals for dinner or lunch. Adding on, the guest here can enjoy the spa and sauna, along with some quality time at the pool.
TripAdvisor Rating: 5
Location: Jalan Pura Telaga Waja, Bali
Exclusive Features:  
Private Pool
Spa and wellness center
Outdoor shower
Open Air Café
Airport Transfers
Suggested Read: Finest Spas That You Can Visit On Your Travel In Qatar
4. Amadea Resort & Villas Seminyak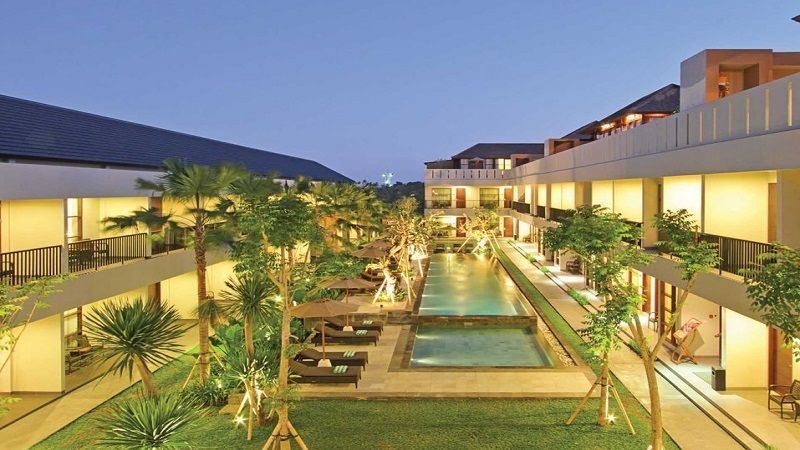 Experience luxury with private pool villa in Bali for honeymoon at Amadea Resort & Villas Seminyak. This award-winning resort and villa have listed the best 86 spacious living area with seven suites and pool. Exhibiting a modern and contemporary style in its interiors and settings, the villa is one of the best properties you can reserve for a joyous time in Bali.
Talking about the facilities and amenities added with every stay, this villa and resort in Bali boast of a private pool and garden to admire the serenity around. You can spend your leisure time at the lap pool included with the best accommodating space. This villa with a private pool in Bali is so perfect for honeymooners to enjoy a romantic time while sipping the best cocktail at the cafes. Those boutique restaurants and cafes here are excellent to organize special dinners with your family or friends.
TripAdvisor Rating: 4.5
Location: Jalan Kayu Aya, Seminyak, Kuta, Seminyak, Bali
Exclusive Features:  
Sap
Private Pool
In-room Dining
Poolside Bar
Cafes and Restaurants
Suggested Read: A Take In The Finest Resorts In Doha, Qatar
6. The Kayu Manis Villa & Spa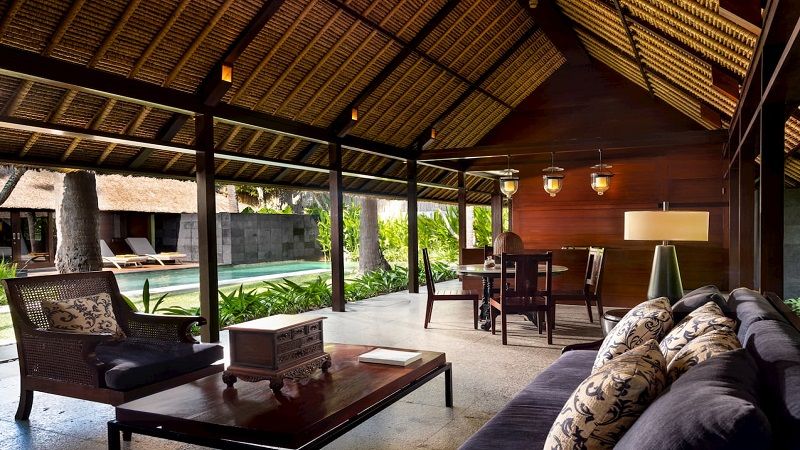 Featuring the best services for your experience in the best Villas in Bali, the Kayu Manis Villa and Spa is a mystical retreat. This private property stands as an ideal escape in tranquility where you can relish the best moment of your vacation. The friendly service and assistance here ensure every guest's comfort and ease seeking the utmost leisure and privacy.
What comes handy with this villa is top-notch facilities like Butler service, airport transfers, spacious accommodating spaces, amenities of need and rejuvenating therapies. The Kayu Manis is a friendly Bali family villa, with space for ceremonies and weddings, a separate dining and spa facilities to relax and ease out in this beach destination. You can enjoy leisure time at the outdoor swimming pool and a garden and a terrace. Guest here can avail a free Wi-Fi and private parking at the Kayu Manis Villa and Spa.
TripAdvisor Rating: 4
Location: Labuan Aji Temukus, 81152 Lovina, Indonesia
Exclusive Features:  
Outdoor Pool
Dining
Spa
Wedding Space
Private Parking
5. Javana Royal Villas
Elegance and luxury come at its best at Javana Royal Villas that is designed with utmost romance. Located in one of the scenic corners of Bali, the villa adorns a tranquil atmosphere and calmness. The natural surrounding and serenity around the resort are perfect for experiencing a tranquilising stay. What's so special about this accommodation is a floating breakfast on a private pool in Bali at this luxurious villa.
While Bali is one of the best honeymoon places in the world, it is the Javana Royal Villas that stands out as a perfect accommodation for honeymooners on the island. You can spice up your love life with some romantic moments amidst the most tranquil settings at Javan Royal Villas. The natural and traditional spa, the enhancing taste of the restaurants and romantic dining facilities is everything thing you can experience at this one of the best villas in Bali.
Choose from the 16 spacious bedroom that offers all your amenities for leisure while a private pool and 24 hours of assistance comes as a complimentary service throughout your stay.
TripAdvisor Rating: 4.5
Location: Jl. Petitenget No.27C, Kerobokan Kelod, Kec. Kuta Utara, Kabupaten Badung, Bali
Exclusive Features:  
Floating breakfast at the private pool
Cafes and Restaurants
Spa
In-Villa Dining
Suggested Read: Places To Visit In Malaysia For The Most Exotic Vacation
7. The Sakaye Luxury Villas & Spa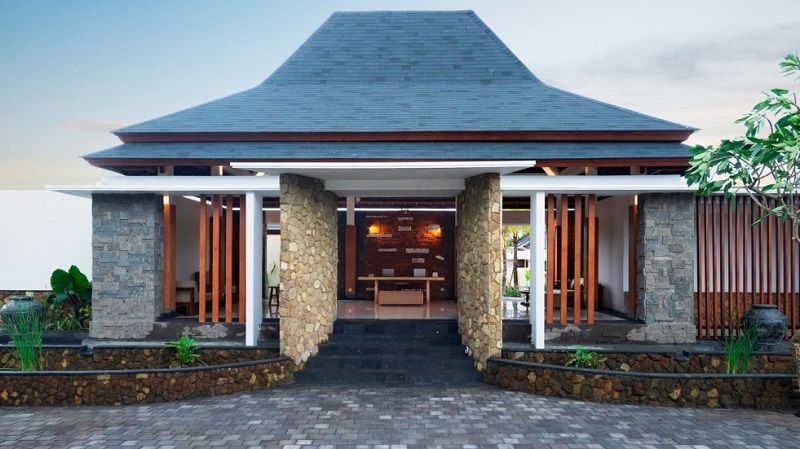 The Sakaye is among the best luxury villas, Bali that has 20 accommodating villas for every tourist. Enclosed within the gardens' most serene view, the Sakaye Luxury villa and spa is so nestled to offer utmost privacy and comfort for the best holiday experience.
You can reserve the most spacious villa suite that will feature exquisite furnishing, comfy bedding, T.V. private bathroom and toiletries. The entire villa is so designed to offer complete privacy with its own entrance to each villa, a private pool and spacious living area for every comfort you need. Exhibiting its most pleasant style and design, this is one of the best villas in Bali, so perfectly endures high modern sort and technology. The Sakaye Luxury Villas and Spa feature the best healing and rejuvenating therapies to ease your soul and mind with modern and Balinese traditional.
Apart from the fantastic architecture, the hospitality and service here will enrich your experience as a vacationer at this private pool villa in Bali.
TripAdvisor Rating: 4.5
Location: Jalan Dewi Sri, 80361 Legian, Indonesia
Exclusive Features:
Private Pool
Spa and wellness center
Restaurant
Fitness center
Free Parking
Suggested Read: Best Holiday Villas In Thailand Known For Offering Panoramic Views
8. Three Gold Luxury Private Villas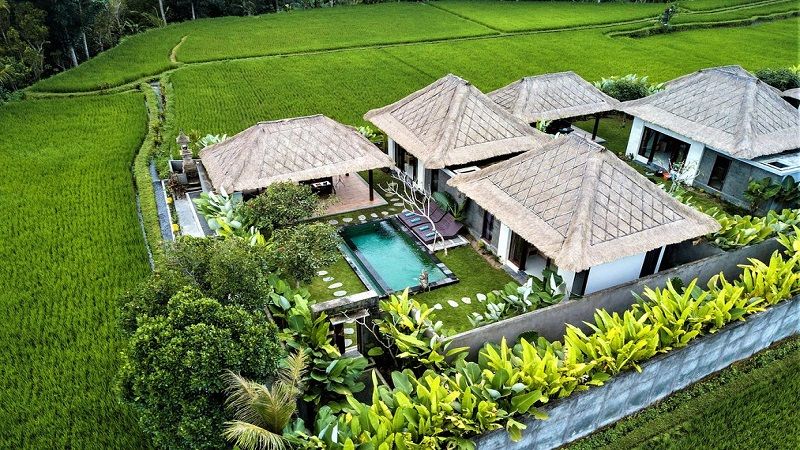 Perched in a scenic landscape of Ubud, the Three Gold Luxury Private Villas offers an intimate stay for a romantic holiday in Bali. Enduring complete privacy and service excellence, this private pool villa in Bali for honeymoon is among the best holiday retreat you can reserve for a romantic honeymoon holiday. With the room facing the rice fields and the lush green panorama, this is one of the best accommodations you can reserve to enjoy the best of Bali.
Every accommodating private space here comes with furnishing and bedding. In contrast, the amenities like TV or a flat-screen TV, shower and bathtub, outdoor pool and private terrace are all included for the best experience. What makes this property your ideal Bali Villa rentals are additional services like the fridge and kettle, parking space and bar where you can relax and feel like home.
TripAdvisor Rating: 4.5
Location: Jalan Dewi Sri, 80361 Legian, Indonesia
Exclusive Features:
Airport Shuttle
Free Parking
Restaurants and Bar
Swimming Pool
Spa and Wellness Center
9. Anusara Luxury Villas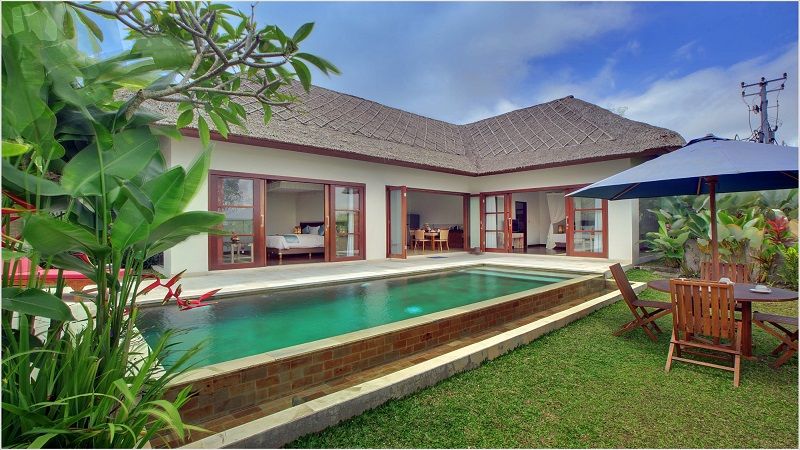 Located amidst the lush green paddy fields, Anusara Luxury Villas is one of the best villas to stay in Bali for a luxury holiday in Bali. Each of the villas here comes with a private pool and an outdoor bed arrangement offering mesmerizing views and immense tranquility. The villas boast of a fusion of contemporary and Balinese architecture with all the top-notch amenities for the comfort of the guests. Offering total seclusion and immense serenity, Anusara Luxury Villas will offer you with bliss of nature and a stay that you will remember for a lifetime.
This 4-star property offers 4 accommodations types which are deluxe suite, honeymoon suite, two-bedroom presidential suite and two-bedroom family suite which are equipped with all the high-end facilities and fetching interiors.
To offer a soul-satisfying experience to guests, the villa also offers a relaxing poolside Balinese massage and spa that will rejuvenate your senses and will offer you immense relaxation. The villa also arranges for a trekking tour to Mount Batur, one of the best things to do in Bali and also cycling tour around the village.
TripAdvisor Rating: 5
Location: Jl. Raya Pejeng Kawan, Pejeng Kawan, Tampaksiring, Kabupaten Gianyar, Bali 80551, Indonesia
Exclusive Features:
Yoga class
Rafting
Poolside Balinese Massages
Cycling tour around the village
Mount Batur trekking
10. Sejuk Beach Villas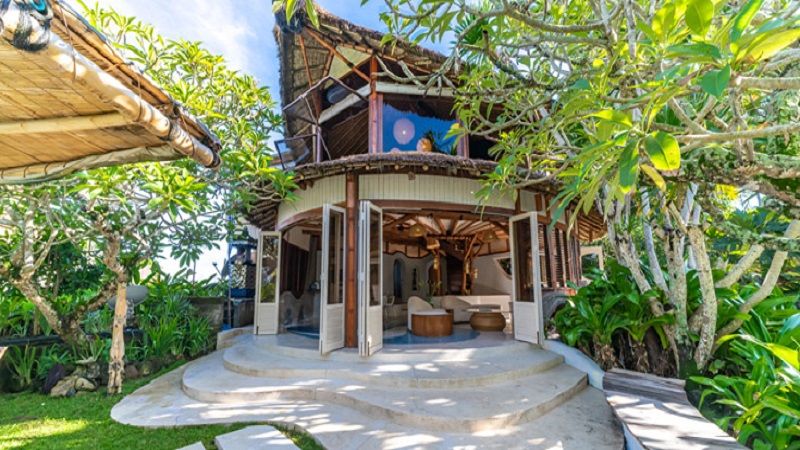 Sejuk Beach Villas is known for its stunning location which is in the middle of paddy fields and Indian Ocean black sand beach. Each of the villas boast of a mix of contemporary and Javanese architecture and comes with modern kitchen and a private pool. Sejuk Beach Villas offer a timeless experience to travelers who are on a honeymoon, family vacation or a get together trip with friends.
The entire property has been divided into different villas known by different names like Villa Kaja Pura which is a 4-bedroom villa set giving direct access to beach, private pool, a modern kitchen and mesmerizing views of the Indian Ocean. Villa Kelapa is a two-bedroom beach villa that offers uninterrupted views of the Indian Ocean. Equipped with Asian interiors and all the major amenities, the villa also offers additional services for families like special menu for kids, games and activities for kids and babysitting services. Villa Madu is a one-bedroom villa located on the Seseh Beach that comes with a beautiful studio, direct beach access, plush king-size bedding and all the top-notch facilities.
TripAdvisor Rating: 4.5
Location: Jl. Pantai Seseh, Munggu, Kec. Mengwi, Kabupaten Badung, Bali 80391, Indonesia
Exclusive Features:
Babysitting and childcare
Access to private beach
Private pools in villas
Private kitchens
Menu crafted specially for kids
Suggested Read: Top Places To Go In May In The World That True Explorers Should Know About
11. Bali Prime Villas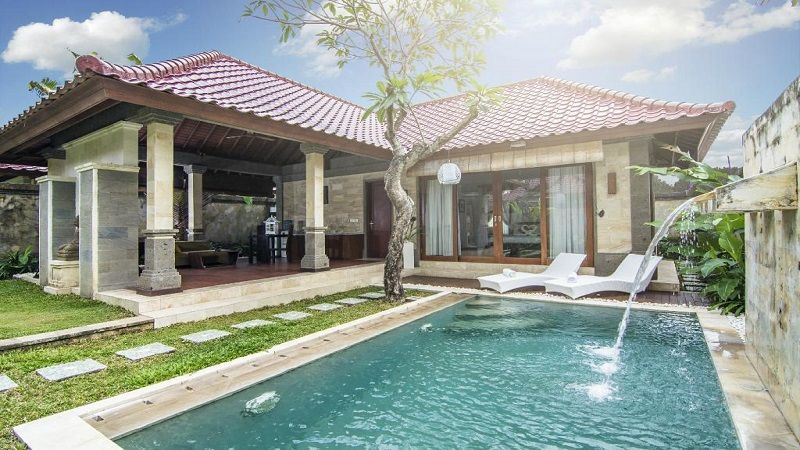 Bali Prime Villas is one of the most famous villas in Bali that is known for its ideal location close to some of the major attractions in Seminyak. It is located just a 40 to 50 minutes' drive from the Denpasar Airport and a mere 10 minutes' drive from Central Seminyak. Experience the charm of tropical living at Bali Prime Villas that boasts of rich interiors which are a mix of Balinese and modern architecture. There are 8 villas here that comes with a private pool, garden, dining area and a living area. It is a perfect place to spend your romantic moments with your partner as the location offers utmost serenity. Experience the best of Balinese hospitality, modern facilities and personalized services at honeymoon private pool villa or a family two-bedroom villa.
Serene setting, friendly staff and availability of personalized services make this a great place to enjoy a comfortable stay with family or friends. Shuttle service is also offered by the villa to and from the airport and also to nearby places in Seminyak.
TripAdvisor Rating: 4.5
Location: No., Jl. Dukuh Indah No.10, Kerobokan Kelod, Kec. Kuta Utara, Kabupaten Badung, Bali 80361, Indonesia
Exclusive Features:
Private Pool
Private Garden
Shuttle Service
12. Theanna Eco Villa and Spa, Canggu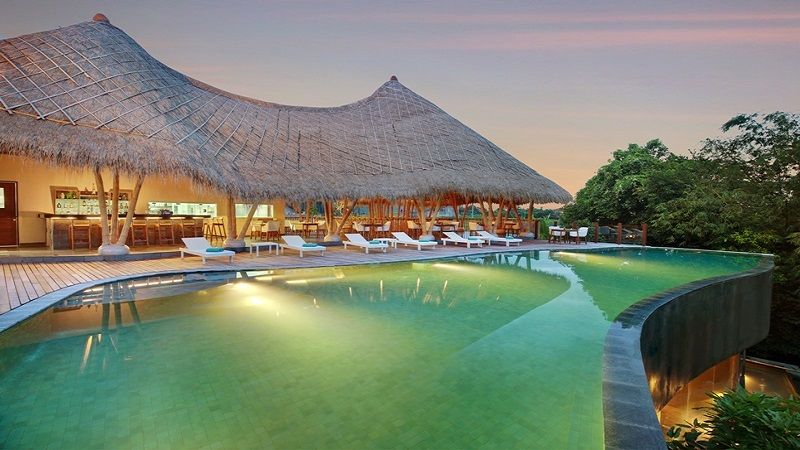 The list of famous Bali Villas will be incomplete without the mention of Theanna Eco Villa & Spa, Canggu that offers the best and a luxurious stay to travelers. Located in close proximity to the best restaurants in Bali, cafes and famous beaches, this resort villa promises high-end 5-star services like in-villa dining, infinity pool, spa facility, in-house bar and restaurant. The villa allows guests to people who are above the age of 16 years which makes it an ideal place for couples to enjoy some romantic moments together.
The villa also features two restaurants – Ketela Eatery & Lifestyle and KAME Restaurant. KAME Restaurant specializes in serving Indonesian cuisine along with different variety of tea amidst a serene ambience. On the other hand, Ketela Eatery focuses on serving healthy dishes which are scrumptious at the same time. The bamboo interiors of this restaurant and the lush green surroundings make this a great place to unwind your body, mind and senses. All these facilities and the ambience of this villa will make your luxury holidays in Bali a memorable one.
TripAdvisor Rating: 5
Location: Pantai Batu Bolong St No.25 A, Canggu, North Kuta, Badung Regency, Bali 80361, Indonesia
Exclusive Features:
In-villa dining
Infinity pool
Spa facility
In-house bar and restaurant
Spa
Suggested Read: Honeymoon Places In Bali: Spending The Most Romantic Holiday In The Islands
While you plan your holiday with the best Villas in Bali, discover the charm and the serenity of the tranquil beaches around. Bali is the most popular destination for vacationers where they can relax and admire the dusk or the dawn, relish the taste of most delighting taste of Balinese food. There are villas in Bali that offer an additional tour of the beaches and attraction around, with the adventure activities that can boost your holiday spirit. So, book your Bali flight tickets, make a bucket list and get ready for the most enthralling holiday of a lifetime.
FAQ's
Q1. Why is Bali the best destination for Honeymooners?
With the beaches and the most enthralling scenery, Bali is one of the most popular destinations, especially for honeymooners. The island destination offers affordable luxury and an exotic vibe with the open-air cafes, the refreshing coastline that makes it an ideal honeymoon destination.
Q2. Where can I get a private pool villa in Bali?
There are resorts and villas in Bali that ensure complete privacy and comfort with private pools. You can book your stay at these villas with a private pool like:
The Sakaye Luxury Villas & Spa
Amadea Resort & Villas Seminyak
Koenokoeni Villa
Monaco Blu Luxury Villas and Spa
Alila Villas Uluwatu
Q3. Should I plan a family holiday in Bali?
Bali is the best holiday destination for every vacationer. From water adventures to the cultural experience, this is a diverse destination to engage people from all walk of life. The island offers some family-friendly resorts and villas that you can reserve for your family holidays.
Q4. What all facilities can I get at the Sakaye Luxury Villas & Spa?
Bali's Sakaye Luxury and spa have 20 spacious accommodating space that offers amenities to offer a hone-like feel. Taking about the services and facilities, the villa has a private pool for guests along with dining space, restaurants and spa.
Q5. How far is Javana Royal Villas from the airport?
The Ngurah Rai International Airport is located at a distance of 19-minute drive from the Javana Royal Villas. The villa offers airport shuttle service for an easy transfer.
Q6. What all places can I visit near Alila Villas Uluwatu?
While you enjoy a stay at Alila Villas Uluwatu Bali, here are the best attractions to explore:
Kamara Beach Bali
Melasti Beach
Ulu Watu Beach
Dothey Bali
Nyang Nyang Beach
Q7. Is there spa therapy available at the Kayu Manis Villa & Spa?
The Kayu Mansi Villa offers an exotic and refreshing feel with the best spa service inspired by Indonesia's traditional methods. The spa facilities here nit inky soothes body but lends you utmost peace to rejuvenate your soul and mind.
Q8. What are the exclusive facilities that make Javana Royal Villas, the best villa in Bali?
The Javan Royal Villas offer an exclusive floating breakfast facility in the private pool to enjoy the meal romantically. Apart from that, the villa provides spa, restaurants and cafes for your leisure holiday.
---