Oman the word is itself has " R'oman'ce' is there anything else that is needed to be said. Oman is a country that has affluent cultural diversity and has everything that one looks for on a vacation. If you are a newly married couple then you must be in quest for a place that will provide romantic as well as adventurous escape. Most importantly a honeymoon getaway should be inclusive of leisure time to shun off all the weariness caused by the hustles and struggles of wedding, Oman a country established for more than 5000 years, amalgamates the modern culture with the gorgeous beaches, lush green park and incredible resorts. Plan your honeymoon in Oman and delve into the perfect post wedding vacation.
Best Romantic Places to Stay During Honeymoon in Oman
If Oman honeymoon is what you are looking for with the aim of relishing the natural beauty and its Middle eastern splendor. Here are few of alternatives where you can laze around, while enjoying the most romantic and luxurious stays, succulent food and adventures.
1. Al Bustan Palace, a Ritz-Carlton Hotel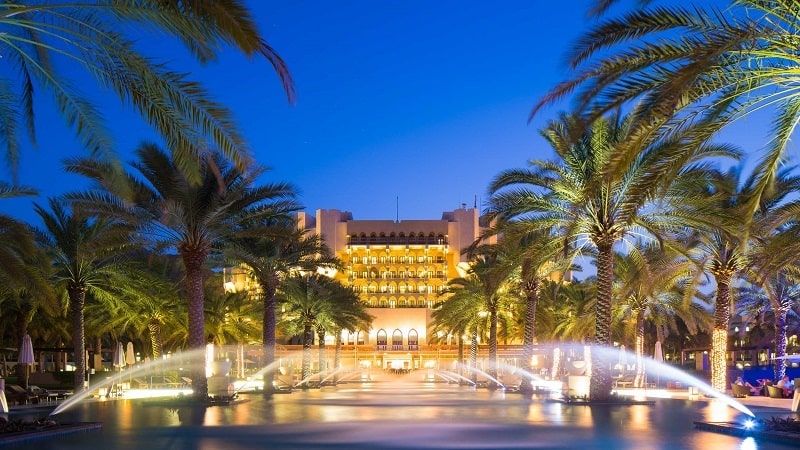 The Ritz-Carlton hotel is nestled between the crystalline Gulf and Al Hajar mountain range is one of the best honeymoon places in Oman. Many couple are observed turning towards AL Bustan Palace for a perfect romantic getaway. Hop in and plan an entire day at to live the fantastic activities that are organized for couple. You can get your hands on the 5 course meal served at the waterfront Beach Pavilion Bar & Grill. The most loved food is the sea food and juicy meat.
Location: OM, Al Bustan St, 114, Oman
Things to do: leisure in pool
2. AL Baleed Resort Salalah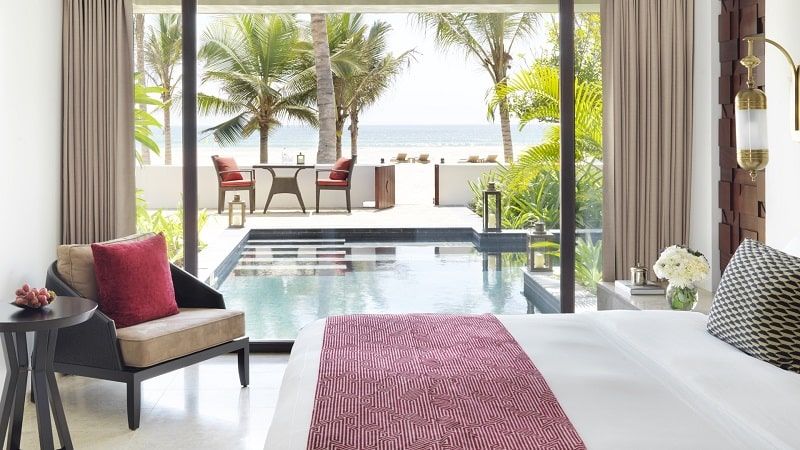 Antara's Al Baleed resort Salalah is first and only luxury pool resort in Oman. With inclusion of garden walkaways and water feature the resort is charted under one of the most beautiful locations for Honeymoon in middle east. Hold your partner hands and go on a long stroll amidst the tall luscious palm trees. Get yourself cushioned into the most relaxing outing right after all the wedding saga.
There is multiple setting where you can find solace such as secluded hideaway, beachfronts or cabanas overlooking the Arabian sea. Choose you setting as per your ad your partner's choice?  Soak up in the the garden, nature sip sundowners. Romance for two or families with regal opulence.  Hide in the courtyard of a garden, or dine overlooking archaeological ruins. Gaze over the white sands and the aqua sea from a luxury beach of its kind.
Locations: Antara's Al Baleed resort, Oman
Things to do: Explore the archeological ruins, soak up in private pool
Suggested Read: Places To Visit In Oman: Top Locations To Add To Your Travel Wishlist
3. Al Mughsayl Beach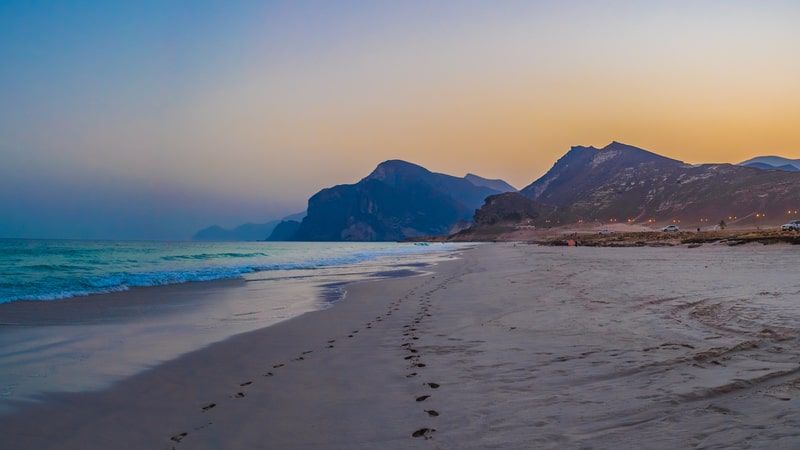 What could be more relaxing than dipping in the cerulean beach enjoy the visas around. Overlook those rocks at the Al Marnif caves and snuggle with enjoying the magnificence. A perfect place to have that personal space with your spouse. Make each moment count, just keep this in mind that these moments are never going to return so love through beautifully. The beach is one of the most popular places to go on Salalah, so you must not miss being here at any cost. There are various adventures that are executed at the beach. If you are a couple who is more inclined towards adventures than you must try them out.
Location: Salalah Oman
Things to do:  Basking, Camel riding, sledging and surfing.
Suggested Read: Things To Do In Muscat: Fascinating Excursions To Look Forward To
4. Damaniyat Islands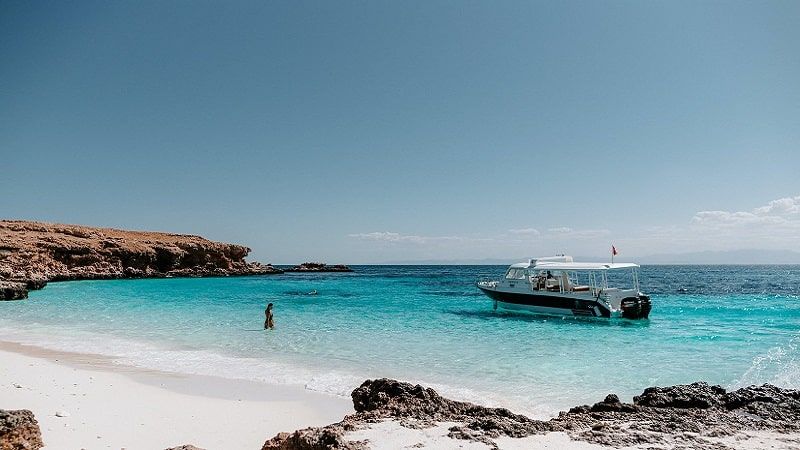 Popularly known as a chain of nine inhabited islands just off the Gulf coast, this stunning place is a short drive away from Muscat. Brimming with shallow coves and serene beaches the island is home for a vast diversity of wildlife animal and aquatic lifestyle. Witness the beautiful sea turtles, sharks and platitude of migratory birds. You can also try adventure sports such as snorkeling, scuba diving all you got to do is hold embrace your partner and take the most beautiful dives with the love of your life closest to your heart. These islands are perfectly places to be visited in September to November.
Location: 20 minutes from Muscat
Things to do: Snorkeling, Scuba diving
5. Oman Fjords, Khasab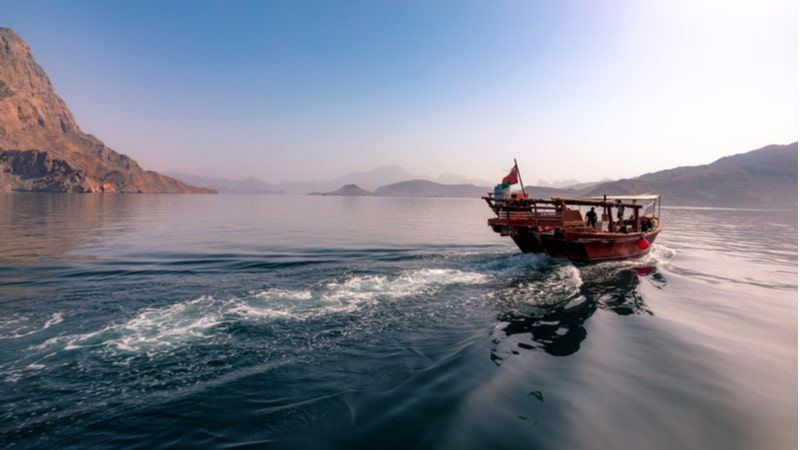 Have you ever wondered how dramatic the sceneries and scenic beauty can be? Well witness the surreal beauty of Oman Fjords, a place where the collision of Hajar Mountains and Persian Gulf takes places. Horizons have always been an epitome of the most romantic destinations and when the red mountains of Fjords penetrate the cerulean water, the view formed is the actual visual treat. From diving deep to enjoying adventure sports, there are many things to do in Oman, that you will never forget. Take a romantic dive and explore the colorful coral and the seabed, and you will never deny that Fjords beautiful place for honeymoon in Oman.
Location: Northern Oman
Things to do: Scuba diving, snorkeling, swimming
6. Mutrah Corniche in Muscat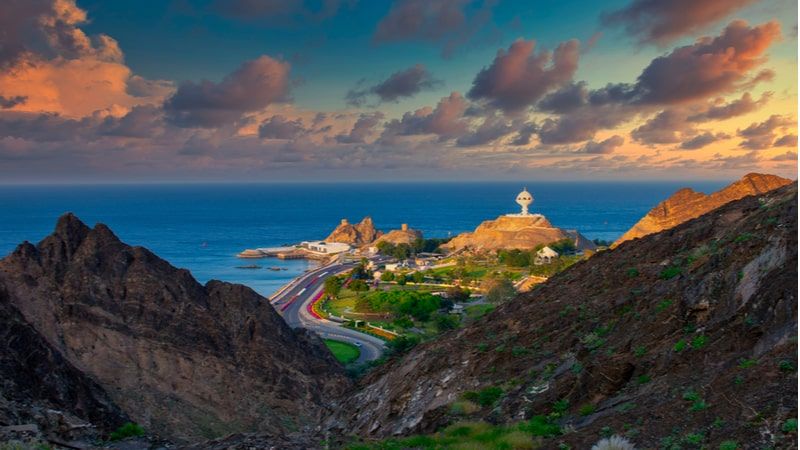 How about holding your partners hand and taking a stroll at the Mutrah corniche enjoying cool breeze blowing through your hair? The wide promenade expands from Gulf to the north of the capital city. There is a stunning waterfront offering a beautiful location to click pictures for your Insta feed.
While walking down you can drop by the Mutrah souq and take the opportunity to delve in some quick shopping. Pick the traditional articles produced locally and relish the authentic food items and beverage while exploring the city on foot. It is recommended to take this walk during night, If you want to explore the nightlife in Oman, head straight towards the capital city that offers amazing pubs.
Location: Mutrah Corniche, Muscat, Oman
Things to do: Long romantic walks
Suggested Read: Top Places To Visit In Qatar On Your Next Trip
Honeymoon in Oman is a dream for many , if you are amongst those who desires a romantic escape in the Middle. Search for the best honeymoon packages and plan a getaway with your life partner. Here are few of the best romantic destination in Oman, that will create a memory of lifetime. If you are getting hitched soon then you can consider Oman, given its stunning resorts, views, mountains, beaches and not to forget the food.  
FAQs
Q1. What is the best romantic destination in Oman?
Oman is a country that is brimming with romantic destination where couples can have the best of their time. Few of the best locations are:
Al Bustan Palace, a Ritz-Carlton Hotel
AL Baleed Resort Salalah
Al Mughsayl Beach, Salalah Oman
Mutrah Corniche in Muscat
W Muscat
Alila Jabal Akhdar
Q2. Where is Al Bustan Palace, a Ritz-Carlton Hotel?
The Ritz-Carlton hotel is nestled between the crystalline Gulf and Al Hajar mountain range is one of the best honeymoon places in Oman. Many couple are observed heading towards OM, Al Bustan St, 114, Oman to reach AL Bustan Palace for a perfect romantic getaway.
Q3. What are the things to do in Al Mughsayl Beach?
For perfect place to have personal space with your spouse, explore Al Mughsayl Beach and make each moment count. Out of many things the best ones are sun basking, Camel riding, sledging and surfing.
Q4. What is the best time to visit Oman?
Oman has a reliably warm climate and, as long as you avoid the scorching summer months between June and August, can be visited at any time. Oman is most pleasant from October through to April, when temperatures are warm but cooler.
Q5. What are the best beaches in Oman?
These are few of the most adored beaches in Oman
Qurum Beach
Mughsail Beach
Qantab Beach
Tiwi Beach
Yiti Beach
Q6. How many airports are there in Oman?
here is the list of 5 airports in Oman. 1. Muscat International Airport 2. Salalah International Airport 3. Duqm International Airport 4. Sohar International Airport 5. Khasab Airport
Q7. What is the popular food in Oman?
Muscat is the dining centre of Oman and and serves sensational food prepared with the authentic techniques. While you are there don't forget to try Ruz al mudhroub, Maqdeed, Muqalab and Maqbous.
Q8. How is the nightlife in Oman?
Muscat being the capital city of Oman offers a lit lifestyle. Don't forget to hop into these clubs to bread the mundane day life.
O'Malley's Irish Pub
Al- Ghazal
Al- Ghazal
Rock Bottom
John Barry Bar
---