Some of the best things to do in Oman is to witness the blend of modern and traditional architecture around the country in mosques, forts and several old ruins. Oman is known for its lush charm in the northern coast, the sea and inland mountains. Oman is celebrated for its culture, history and architectural gems. Oman is not like any other place people have travelled too, as the experience is different and amazing. It should be on everyone's bucket places to visit.
10 Fun Things To Do In Oman For Tourists Visiting For The First Time
Tourists visiting this paradise for the first time, should discover the many fun things to do in Oman.  Tourists will never have a dull moment and will learn a lot about their culture and history. Are you excited about going on a vacation to Oman? There are so many things you should do in Oman on vacation.
1. Wahiba Sands Tour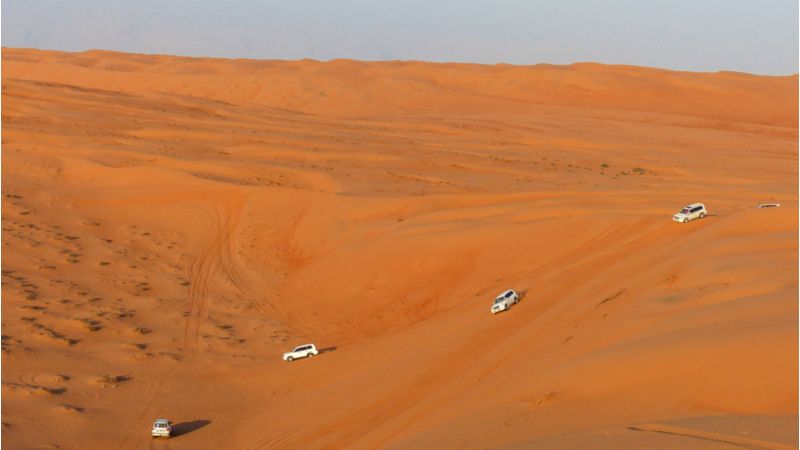 Wahida Sands is one of the top things to do in Oman as it is called the adventure playground of Oman Sounds exciting, doesn't it? It is an exciting tour as it is not a tour one has ever been on before. It captures the middle eastern dessert sand view as far as the eye can see. The desert safaris in Oman will tourists travel through the lavish filled tower shaped dunes which are about 300 feet high. It is one of the most exciting tours tourists will enjoy and is a must do when visiting Oman.
Location: Oman
Famous for: Dune Bashing and Camel Rides
Best Time: October- March
Suggested Read: Best Hotels In Oman For A Joyous Stay
2. Wildlife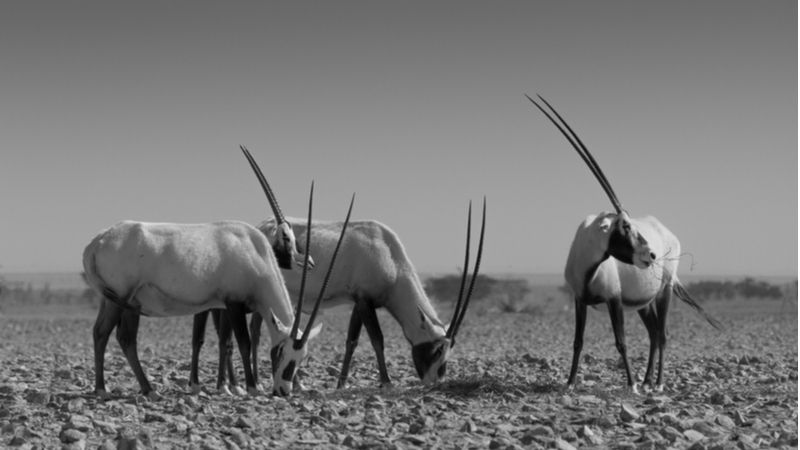 Have you ever gone to a beach just to find a turtle and ask its story? Wouldn't it be interesting to see a turtle speak? It would be in the history of world records. It sounds quite dreamy but several turtles laying their eggs on the seashore and going back to the sea before sunrise will be seen. Apart from the turtles, tourists will see several oryx, leopards, desert foxes, wild cats and ibex.  Spotting wild life is a part of the Oman adventure tours.
Location: Oman
Famous for: Turtles, leopards, desert foxes, wild cats and Ibex
Best time: October- March
3. Beaches
If you haven't been to a place where you will be pampered and relaxed, then you should visit the beaches in Oman. One of the coolest things to do in Oman is visit beaches that have mountains in their backdrop.  The country is known for its deserts and beaches. The most popular beach in Oman is Al- Sawadi beach, situated north of Muscat, which has several sea shells waiting to be discovered. Beaches are one of the best places for a picnic spot.
Location: Oman
Famous for: Sea Shells
Best time: October and April
Suggested Read: Finest Things To Do In Qatar For An Unforgettable Trip
4.  World Heritage Sites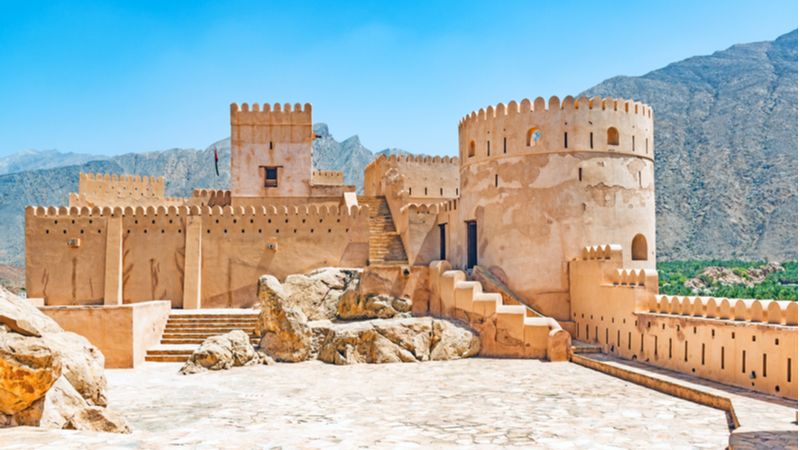 Exploring heritage sites is one of the best things to do in Oman which UNESCO has recognized and has been given special importance. The heritage sites include visiting Afaj irrigation systems and the burial grounds of Ay- Ayn, Bat and Al Ayn.  The view is absolutely amazing as tourists are often filled with amazement as to how these sites have remained intact even after all these years. Oman is one of the many places in the world known for their history and culture.
Location: Oman
Famous for:  Burial grounds and irrigation systems
Best time: March- April
5. Wadi Shab Tours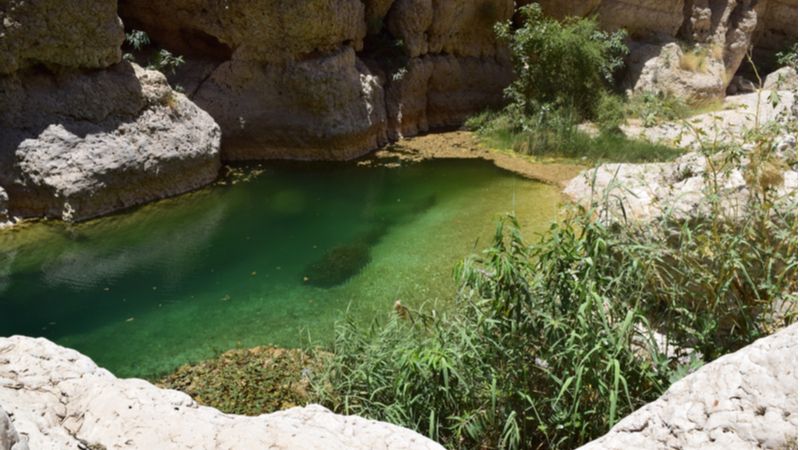 Have you ever dreamt of being amid the grand desert, where you have found a secluded space surrounded by turquois blue water and go about doing things in this wonderful paradise?  You can fulfill your dreams now as the region of Wadi Shab is covered with serene waters flowing through the walls of the Canyon. Tourists can hike in this area or even trek with their friends and even swim.  The wadi shab tours is probably one the many adventures in Oman, tourists from around the world should do.
Location: Oman
Famous for: Hike, Trekking and Swimming
Best time:  November- March
Suggested Read: Things to Do In Dubai For An Exhilarating Vacation
6. Sultan Qaboos Grand Mosque
Sultan Qaboos Grand Mosque is the only mosque in Oman which tourists can access. It is one of the things to do in Oman, situated in the capital city of Muscat. The mosque is known for its splendid architecture and soothing vibes to add calmness to the holiday.  You can spend time before going to the city's sightseeing tour.  Apart from adults, kids should visit the beautiful mosque, the popular picks in the list of interesting things to do.
Location: Sultan Qaboos St, ولاية بوشر، Oman
Famous for: Architecture and Soothing vibes
Best time: Saturday- Thursday, 8 am-11 am
7. Jebel Akhdar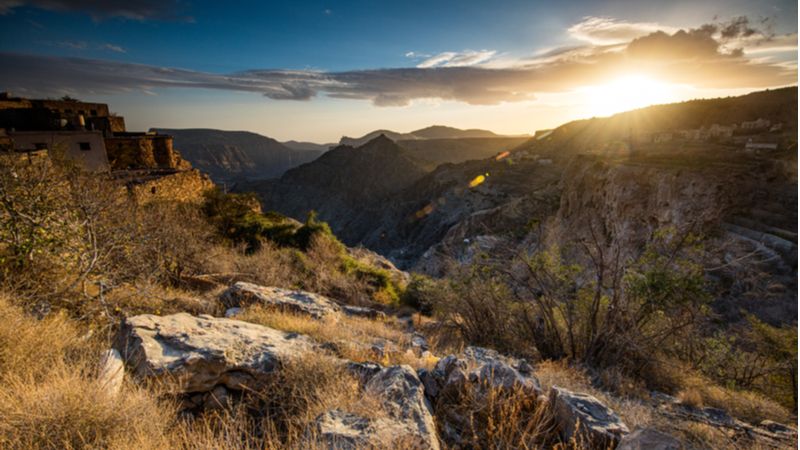 Jebel Akhdar is a region that attracts tourists from around the world for its diverse terrain which include beaches, mountains and deserts.   It is one the places to visit in Oman where people can witness the grandeur and scenic charm.  Jebel Shams and Jebel Akhdar are amongst the top most tourist attractions in Oman. Besides, people would not want to miss out seeing Oman's Grand Canyon that has mountains as tall as 3000 feet. Can you imagine going to Oman without visiting the Grand Canyon?
Location: Oman
Famous for: Maze of wadis and terraced orchards
Best time: March- April
Suggested Read: Best Things To Do In Kuwait That Offers An Incredible Experience To Every Traveler
8. Al Jalali Fort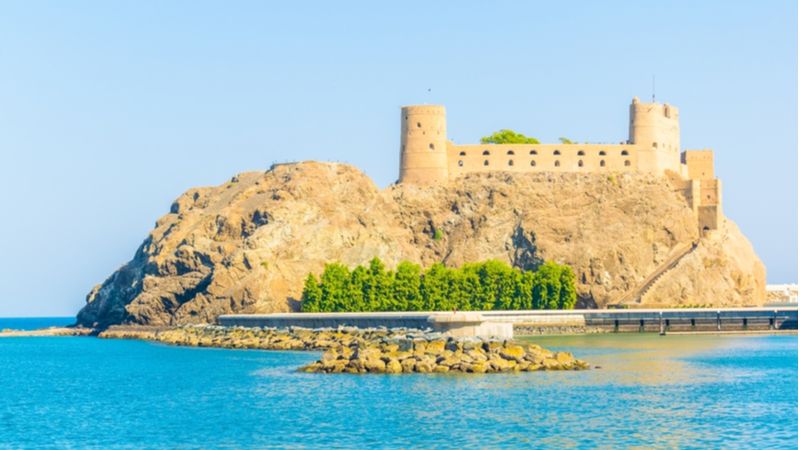 Al Jalali Fort is situated on the harbor on the east side and on the list of places to visit in the Middle East.  Tourists will have to get a special permit to enter the fort, by applying to the National Heritage and Cultural Ministry.  The fort was established in the year 1580's during the Portuguese occupation as a prison for several years. Today, it is a museum of Omani heritage, which tourists should read about or learn about. It is not something you get to visit or see with your own eyes.
Location: Al Bahri Rd, Muscat, Oman
Famous for: Sea of Oman
Timings: 8:30am–4pm
Entry: Strictly based on Permit
9. Royal Opera House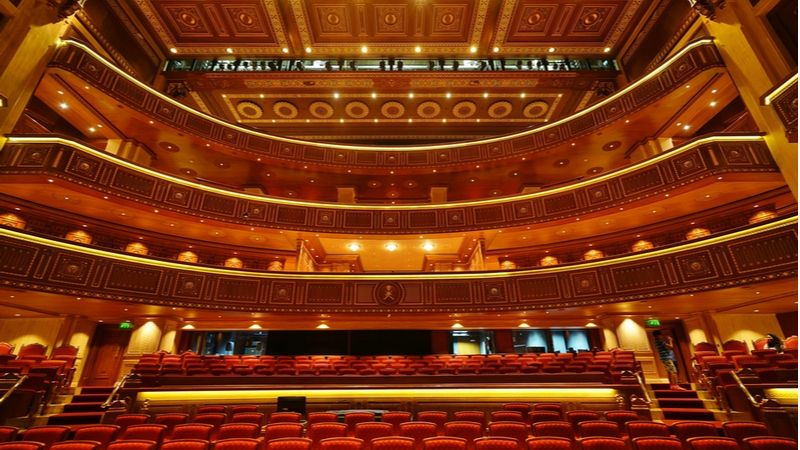 Have you ever been to an opera house? If not, then you are in for a treat as Oman has its very own.  The royal opera house is one of fun things to do in Oman and should be on your list of places to visit. The lights reflect on the beautiful Omani desert rose stone walls, making the opera house a sight to behold.  You should not miss out on the most soul soothing things to do in Oman at night. Gazing at the finest Islamic architecture of the modern era on a private tour of Oman at Night is worth it.
Location: Royal Opera House Al Kharjiyah Street مسقط OM، 103, Oman
Famous for: Musical arts and culture
Timings:  8:30 AM to 10:30 AM
Entry Fee: Adult: OMR 3; Child: OMR 1
Suggested Read: Things To Do In Turkey For An Unforgettable Getaway
10. Muttrah Souk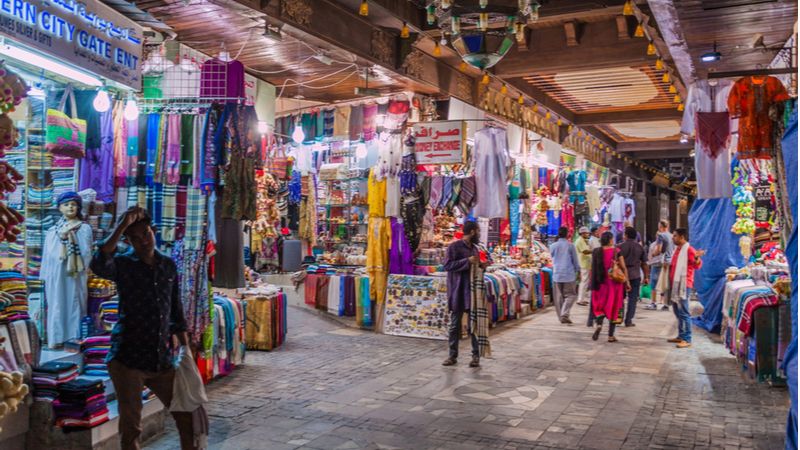 People should not go back home without visiting Muttrah Souk, amidst the vibrant culture and scenic views of Oman. With the range of marketplaces in Oman, some of the them offer local and imported goods like gold and silver jewelry, perfumes, spices, handicrafts and hookah pipes. To add an authentic feel to the most fun things to do in Oman, try the delicacies of the street food and have a fun vacation.
Location: ق مطرح مطرح، مسقط،، Mutrah Market, near Mutrah Corniche, Muscat, Oman
Famous for: Jewelry, perfumes, spices and handicrafts
Timings: 8 AM to 1 PM, 4 PM to 10 PM
Has this enticed you enough? Do you hear the mosques or valleys of Oman calling your friends and you?  There are a few adventures in Oman tourists like you should explore apart from the places to see. Start planning your trip to Oman for the perfect experience amid the interesting things to do. Ensure you pack a few extra clothes in your suitcase as you may feel the need to change and extend your holiday further.  Book your flights to Oman as  it is a place one should visit.
FAQs
Q1. What is the suitable attire to be worn in Oman?
Men have to wear pants when visiting the souk, no shorts. When going to the interior of Oman, it is said to dress conservatively. Women will have to cover the head, wear long sleeve stops and trousers that cover their ankles when visiting the mosque.
Q2. When it is the ideal time to visit Oman?
Oman has a warm climate and to avoid the summer months between June and August, you can visit any time of the year. It is pleasant from October to April.
Q3. Which is the biggest valley in Oman for adventure enthusiasts?
Snake Canyon is the biggest valley for adventure enthusiasts. It is a part of the largest national water park in Oman.
Q4. Which is one place that represents Islamic architecture and the best place to visit in Oman?
The royal opera house is the one place every tourist should visit and not miss out on. It is something one gets to see too often.
Q5. Where can one get gold and silver jewelry and spices?
Oman is famous for its Muttrah Souk as it has everything one looks for in a marketplace. It is a must visit of course for all those who love shopping.
Q6. Are we allowed to picnic on the beaches of Oman?
Yes, people are allowed to have a picnic on the beaches with their family and friends. The beaches are also the best place to pamper oneself for a day.
Q7. Is the entry to Al Jalali Fort free and open to everyone?
Entry to the fort is strictly based on permit, without which entering is difficult.
Q8. What makes Oman so special and different from the other places to visit?
Oman is famous for its mosques, beaches and forts. It is one of a kind that every tourist should visit at least once a year.
---