Dubai, a magical destination with intimate beauty, is perfect for a romantic vacation. This city in the United State Emirates has amazed travelers with its magnificent architecture and landmarks, but a romantic holiday here can be as exciting as you have dreamt of. A honeymoon in Dubai can be romantic, thrilling, exciting, and luxuriating as the city boasts of the finest hotels, the gleaming sand dunes, and a vista that will leave you amazed. As soon as you step into the mystical land of Dubai, every nook and cranny of this city will leave you mesmerized with its splendor.
Why Book A Dubai Honeymoon package? Here are the reasons:
Dubai has a blend of intriguing beauty, architecture, and luxury which makes it one of the most visited destinations in the world. While planning a honeymoon, no other place can be as enthralling as Dubai as it offers a myriad of experiences to make your holiday romantic and memorable. If you are in doubt about choosing this city of UAE as your romantic escape, here are some reasons which will make you fly off to the city as soon as possible.
1. Luxury Escape To Solitude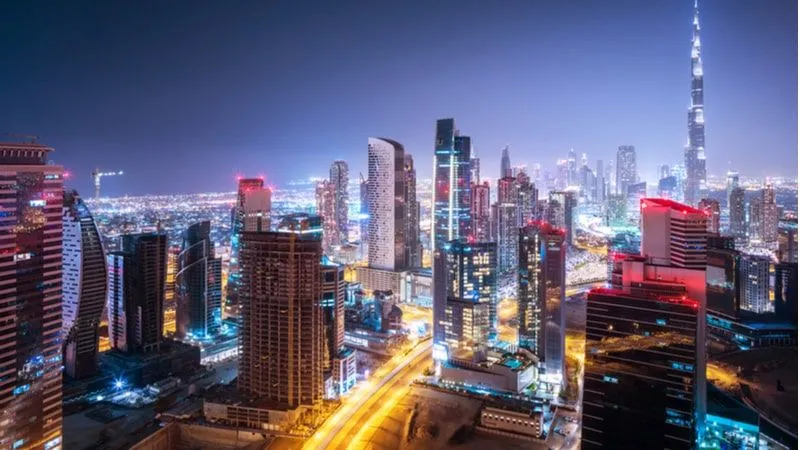 Luxury is something that we will all need when it comes to an intimate holiday. While Dubai is one of the wealthiest cities, it brings you every comfort and luxury to spend time together. There are many luxury hotels in Dubai, and even camps or resorts, which are just perfect for those couples who love privacy and leisure. Not only hotels, but this city also brings you some fascinating tour options and Dubai packages for couples to discover the comfort and luxury you haven't thought of. Be it dinner in Burj Khalifa or overnight desert camping you have options to pick what attracts you the most.
Adding more, there are cruises and private boats where you can delve into the most luxuriating beauty of islands and make every moment count.
2. Romantic Ambiance Around the City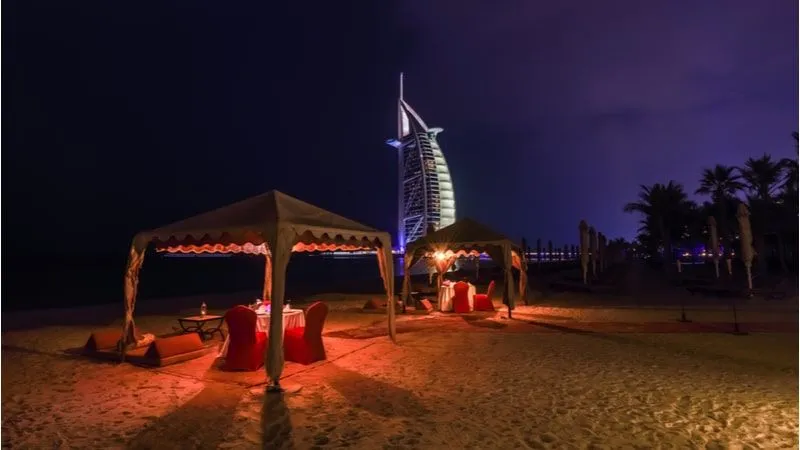 Honeymoon is all about spending a romantic time together, and no other city can be as romantic as Dubai. There is a sense of elegance and comfort that has made it a popular gateway for newlyweds. From its fascinating architectural beauty to other activities in Dubai, you can make your vacation worth every memory. There are hot air ballooning tours and safaris organized specially for honeymooners. Pamper your spouse with a romantic candlelight dinner or book a helicopter ride to make your holiday a bit thrilling.
In short, this is a place where you can spend the longest vacation, where each day of your honeymoon in Dubai will have a new romance to experience.
Suggested Read: Places To Visit In Yas Island, Abu Dhabi For A Fun-Filled Holiday Experience
3. Adventures To Spice Up Your Love-Life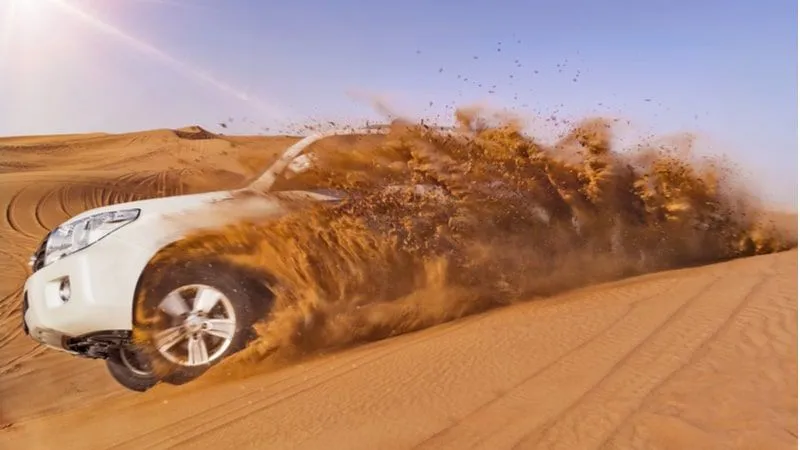 There are couples who love adventure and thrill. Dubai is a destination for all, therefore, one can expect romance with adventure and fun. To spice up your married life and make it more exciting, Dubai is the right place for an adventurous couple. You can book a safari tour or get ready for some dune bashing, kiteboarding, and more. Hop on a 4x4 vehicle or enjoy a Tanoura dancing show with a barbeque dinner. The Dubai Marina and Oman track can be included in your Dubai honeymoon package for 5 days. Water adventures like kayaking or banana boat rides are best for every honeymooner in the city.
4. Leisure For Your Comfy Lifestyle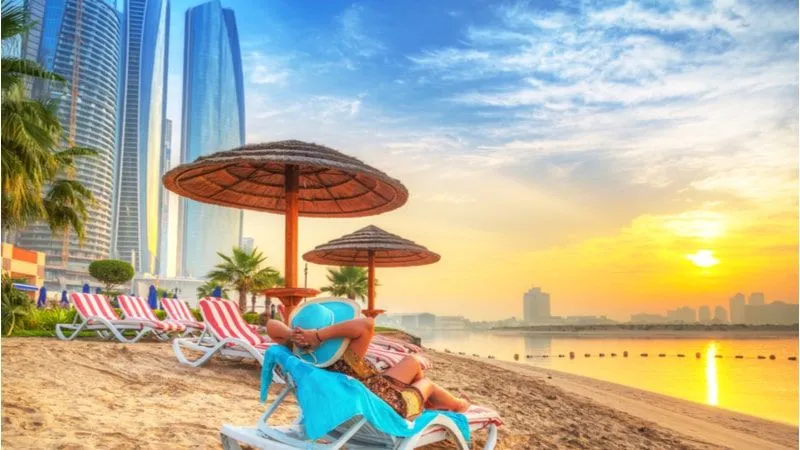 If adventure is not your cup of tea, then Dubai can be your leisure holiday place. This city is an ultimate leisure destination where you can shop, dine and stroll around the streets. There are malls in Dubai that offer comfort with class and every quality you need to meet your standard. Grab some antiques and luxury jewels, home decors, and handicrafts as a souvenir or accessories to decorate your new home. The marketplaces and shopping malls can be a new attraction for honeymooners in Dubai for the couples who need some leisure time to spend the romantic break together.
5. The Intriguing Culture
Above every beauty or architecture, Dubai is mostly famous for its culture and heritage. If the landmarks are iconic, the heritage and cultural beauty of the city are unavoidable. There are old towns and quarters that preserve history in a glamorous manner. The alleys and pathways, the historic neighborhood, and the Lores of the past bring excitement which makes it a famous holiday destination for all. You can make your romantic holiday in Dubai a bit cultural and ethnic by indulging in its rich history and vibrant culture. And don't forget a ride on these traditional dhow boats, which can be quite a romantic experience too.
Suggested Read: Best Waterfalls in the World For Enchanting Your Soul With Their Beauty
Top Honeymoon places in Dubai: Discovering Romance In These Famous Spots
Make your honeymoon more romantic and memorable by discovering the famous spots uniquely. One might have explored these attractions in Dubai, but while you are on a honeymoon, the places can be your romantic spot to spend quality time together. With islands and old towns, the cultural spots, and markets, here is a list of places you must explore for an unforgettable holiday.
1. Palm Jumeirah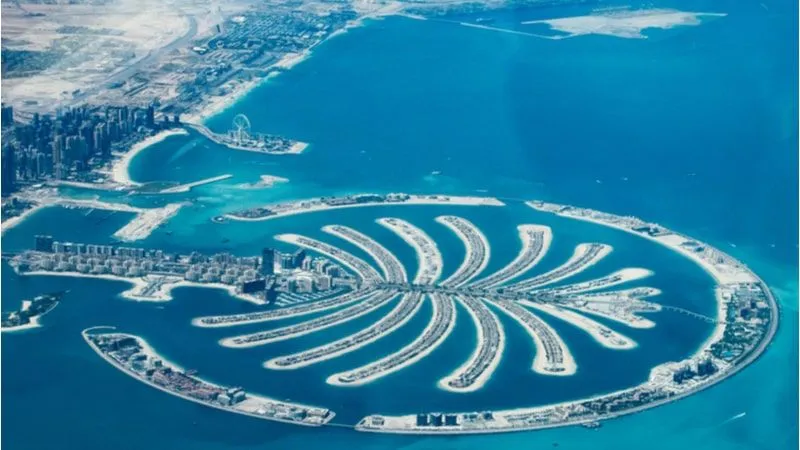 Call it a human miracle or the excellence of technology, Palm Islands justifies very thought and imagination. The Palm Jumeirah is not just a romantic place in Dubai, but it is the most beautiful artificial island you have ever seen. Thinking about what you can do, well there are many adventures available to enjoy with your beloved. There is an Atlantis, Lost Chambers Aquarium, and Aquaventure Waterpark for those who love the thrill and exciting games.
Palm Jumeirah is characterized by its unique shape and is the best attraction in Dubai. The palm shape design is quite a unique feature that makes it so popular among travelers. There are hotels and fancy restaurants, cruises, and other features that will make your honeymoon more romantic and memorable.
Activities To Enjoy:
Spend a day at Aquaventure Waterpark
Swim with the dolphins
Get on a cruise
Explore the beaches
Add on the adventure with Freefall
Best Honeymoon Hotels:
Atlantis The Palm Dubai
Fairmont The Palm Dubai
Dukes The Palm
The St. Regis Dubai, The Palm
Rixos The Palm Luxury Suite Collection
2. Burj Khalifa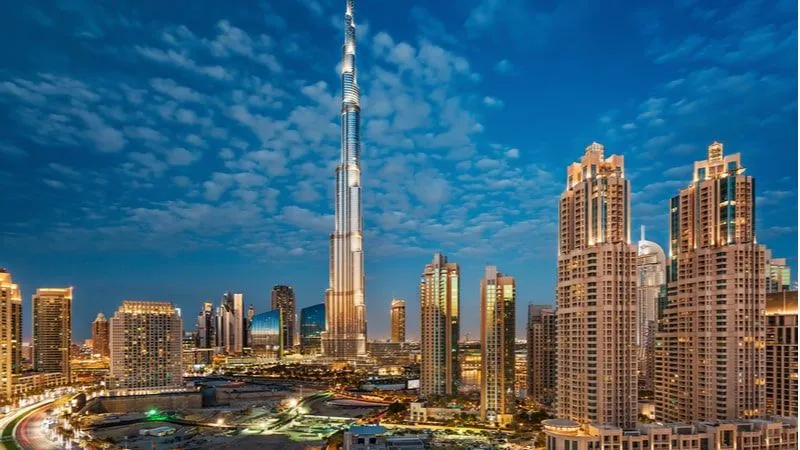 Recorded as the highest building in the world, Burj Khalifa is the epitome of luxury and class. This is one of the most romantic honeymoon places in Dubai, where you can find luxury hotels, restaurants, and a lot more.
Truly a feat of engineering, the building represents the conceptual heart and soul of the city of Dubai. Being a major Dubai tourist attraction for visitors from all around the world, the building features some of the city's finest restaurants and hotels. With a height of 829.8 meters, the building as the observation deck on the 124th and 125th floor of the building gives a staggering view of the city. The world's highest observation deck (555m) is located on the 148th floor of the tower.
Activities to Enjoy:
Reach the top of Burj Khalifa.
Dine at At.mosphere.
Relax at the Armani hotel spa
View the city from the Observation deck
Enjoy the water dance
Best Honeymoon Hotels:
Grand Cosmopolitan Hotel
The Palace Downtown Dubai
Address Fountain Views
Palace Downtown
Manzil Downtown
Suggested Read: Top Places To Visit In Sharjah, UAE For A Family-Friendly Vacation
3. Burj Al Arab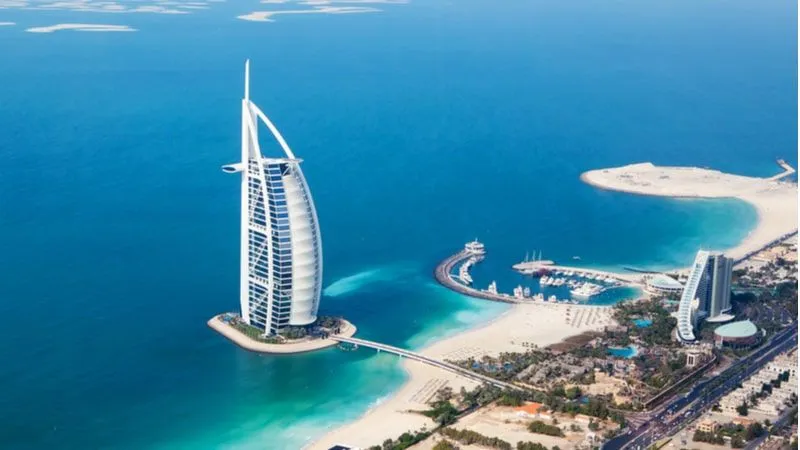 Not just an attraction Burj Al Arab is one of the most romantic hotels in Dubai for honeymooners. This super luxury hotel is quite famous for its incredible architecture and luxuriating features that would probably make your holiday memorable. It's been around for more than two decades that this iconic marvel has received numerous honors and plaudits for its opulence.
The Burj Al Arab is situated on an artificial island about 300 meters off Jumeirah Beach, with a curving bridge connecting it to the mainland. This 5-star luxury hotel claims to be the world's tallest hotel and maybe the world's 7th highest structure. The building is designed to look like a ship sail and has a helipad with a height of 210 meters. There is a spa, jacuzzi, and many cafes in Dubai located here, offering you a complete Dubai Honeymoon package.
Activities to Enjoy:
Pamper Yourself with Some spa
Enjoy a day at a private beach
Banana boat and kneeboard rides
Scuba Diving
Yacht charter
Best Honeymoon Hotels: While Burj Al Arab itself is a luxury hotel and best for your honeymoon stay, there are many hotels nestled nearby if you need a secede opinion.
Burj Al Arab Jumeirah
Jumeirah Al Naseem
Jumeirah Mina A'Salam
Jumeirah Al Qasr
Jumeirah Dar Al Masyaf
4. Al Bastakia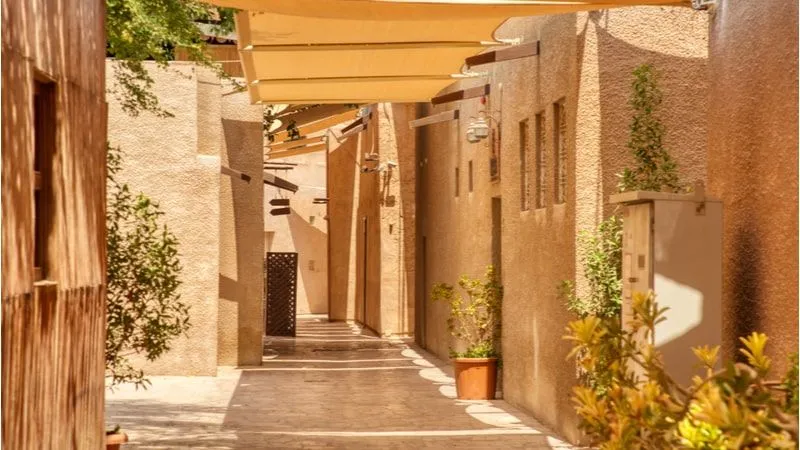 A picturesque district and heritage landmark, Al Baktakis is one of the most pristine locations you can explore with your beloved. Being the most popular attraction in UAE, this place reveals a lot about the culture, heritage, and history of the state. Al Bastakia is also known as the Al-Fahidi neighborhood, and was built in the late 19th century and is included in many Dubai couple tour package.
If you are a history lover, then you can discover a lot about the historical roots of the glamorous star town. It was once home to the wealthy Persian merchants that now occupy the eastern portion of Bur Dubai along the creek. The walls of the limestone and coral buildings are topped with wind towers and are excellently preserved. There are museums and forts that are representing the vintage art and architecture of the ancient Arabs. There are cafes too where you can enjoy a hot cup of coffee together.
Activities to Enjoy:
Wander around streets
Enjoy the traditional coffee at Arabian TeaHouse
Admire the art
Learn about the history and heritage
Explore the forts
Best Honeymoon Hotels:
XVA Art Hotel
Orient Guest House
Arabian Courtyard Hotel & Spa
Al Seef Heritage Hotel Dubai, Curio Collection by Hilton
Hyatt Place Dubai Baniyas Square
Suggested Read: Beaches In UAE: Best Sand And Surf Beaches In United Arab Emirates
5. Dubai Creek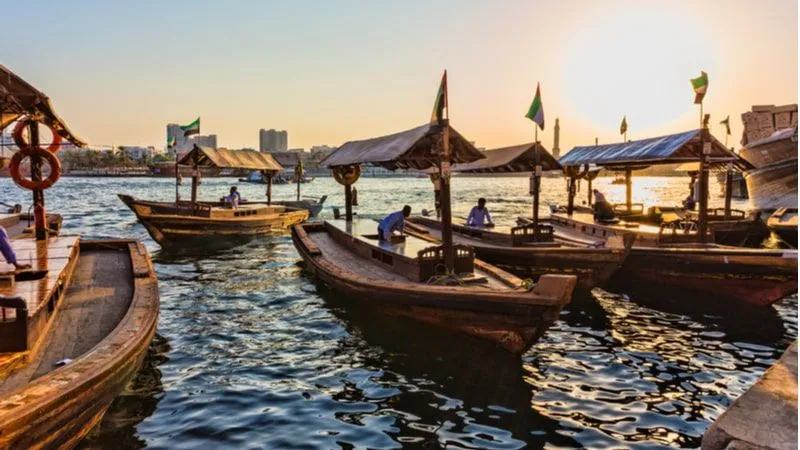 Dubai Creek is a saltwater waterway that runs 6 miles inland and divides the city into two towns: Bur Dubai to the south and Deira to the north. Dubai Creek was a modest harbor for traditional dhow boats arriving from countries as far away as India and Africa at the turn of the twentieth century, but due to the high current flow, it was still unable to receive big-scale transportation. It is now one of the most popular tourist destinations in the Middle East, with live concerts, music, plays, and firecrackers.
The most romantic place in Dubai, the creek is the best place to watch the sunset, which makes it a better place for honeymooners. Due to its traditional appeal, this place is a highly picturesque spot where you can spend quality time and enjoy the beauty around you.
Activities To try:
Enjoy the live music
Spend leisure time
Attend a play
Witness the firework
Explore the cultural landmarks
Best Honeymoon Hotels:
Hotel Rivera
Grand Kingsgate Waterfront By Millennium Hotels
Golden Sands Hotel Creek
Hampton by Hilton Dubai Al Seef
Hyatt Place Dubai Baniyas Square
6. Dubai Marina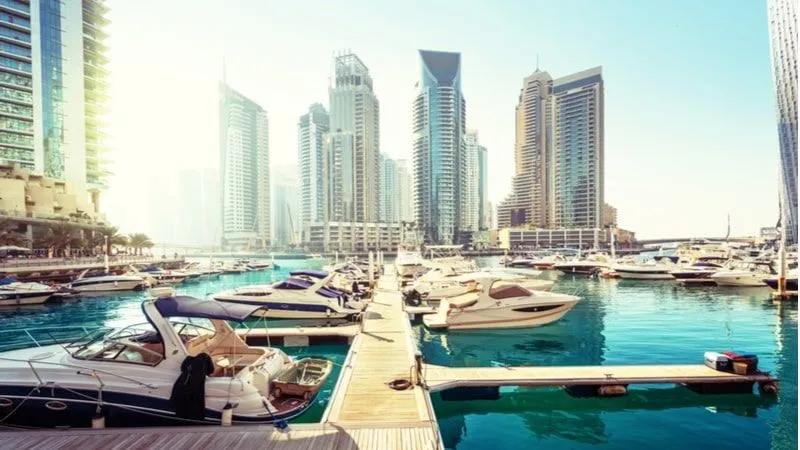 Nothing can be as romantic as an evening at Dubai Marina. This is one of the best honeymoon places in the world, offering a perfect getaway in serenity.
This man-made harbor, located in an area known as "New Dubai," features a plethora of top-notch eateries, outdoor diversions, and intriguing buildings to keep you engaged during your visit. The Marina brings a luxurious lifestyle for every visitor with its picturesque and exquisite waterfront. The Persian Gulf shoreline and the classy restaurants, shopping, and leisure spots here make it an entertainment destination with the best hotel in Dubai for a honeymoon. In fact, the Dubai Marina boasts a variety of upscale accommodation and resorts where guests may enjoy a luxurious stay. According to tourists, the location is a great site to visit with friends and family while on vacation. There are beaches to spend the evenings and witness the skyline.
Activities To try:
Visit The Walk at JBR
Spend an evening by the waterfront
Admire the sunset beauty
Enjoy a Dinner Cruise
Take a Speedboat Tour of the Marina
Best Honeymoon Hotels:
Tamani Marina Hotel & Apartments
Rove Dubai Marina
Address Dubai Marina
Rixos Premium Dubai
Intercontinental Dubai Marina
Suggested Read: Islands In Asia To Witness The Breathtaking Beauty Of Nature
7. Global Village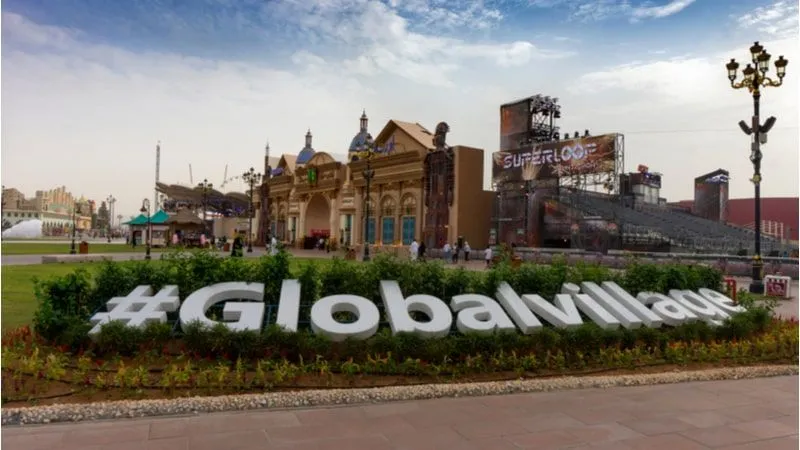 A honeymoon in Dubai can be entertaining, especially when you are in a Global village. Global Village Dubai is said to be the one-stop tourist destination for leisure and entertainment. The village has recorded a footfall of million people from around the world who come to visit the place and spend a luxuriating holiday. To keep people entertained, there are events organized during the winter season, making it the best place to visit in November and February. The pavilions boast a different image by creating an imitation of the landmarks of the country.
What else can one do in this Dubai honeymooner's paradise? Well, it is the ideal place to buy souvenirs from around the world along with local cuisine, rides, and street performers. It is also one of the first cultural, family, and shopping places in the city. You will find restaurants and eateries lined along the streets for some gastronomic experience.
Activities To try:
Take a day trip around the Village
Be a part of exciting live concerts and shows
Witness thrilling stunt shows
Enjoy the haunted house and escape games.
Visit the carnival
Witness a beautiful fireworks display
Best Honeymoon Hotels:
Samaya Hotel Apartment Dubai
Arabian Ranches Golf Club
Studio One Hotel
The Sunshine Villa
S Hotel Al Barsha
8. Dubai Miracle Garden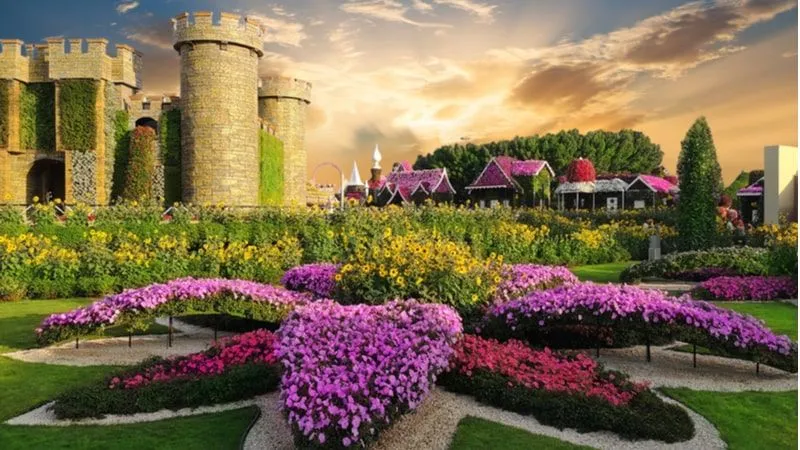 Dubai Miracle Garden is a natural paradise to explore and is the greatest destination for a honeymoon in Dubai. The garden covers an area of 2,000 square meters and contains 100 million flowers. The garden is open during winters and is best to visit in December.
Several constructions made of lovely flowers, such as an airplane, star, heart, igloo, pyramid, and others, can be seen when going here. A flower rendition of the Burj Khalifa is also a significant feature at Dubai Miracle Garden.
You may eat wonderful food at the restaurants and kiosks inside the park, in addition to being treated to stunning sculptures. The location is ideal for couples who appreciate spending time in nature. You can get some cute pictures together as a memory from your honeymoon.
Activities To try:
Get the best pictures
Discover beautiful sculptures
Admire the art around
Eat from the cafes and kiosks
Best Honeymoon Hotels:
Atana Hotel
Ghaya Grand Hotel
Aloft Al Mina, Dubai
Fortune Park Hotel
Jumeirah Creekside Hotel Dubai
Suggested Read: Places To Visit In May In The World That True Explorers Should Know About
9. Dubai Mall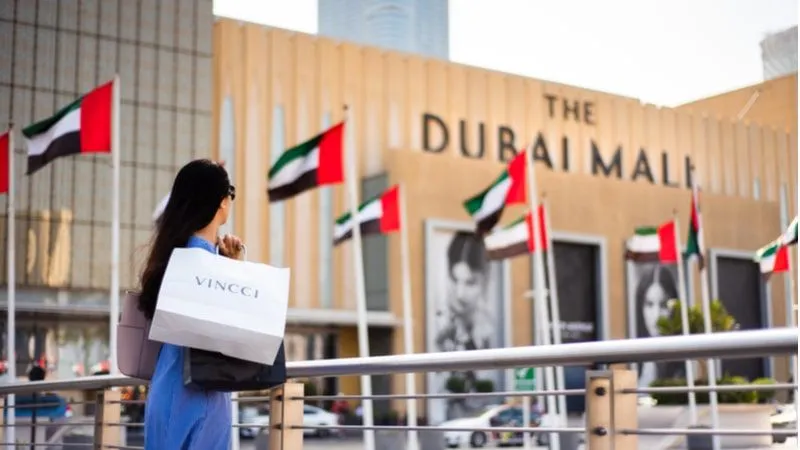 Do not miss out on shopping while you are on your Honeymoon in Dubai. An iconic landmark and a paradise for shoppers, Dubai Mall is a place that is often flooded with people. The classic and chic beauty of the mall is an attraction to admire while the collection will give your wardrobe a luxury touch. Dubai Mall is home to a number of elite brands you need to enhance your style.
The Mall is located inside Burj Khalifa and offers you something much more than just shopping. There are cafes and restaurants for your romantic dinners or you can plan a fun day visiting those theme parks inside the mall. There is even an indoor fountain which is the most Instagram-worthy spot for your feed. This World's largest shopping center brings every entertainment and thrill for a romantic holiday in Dubai.
Activities To try:
Shop the luxury brands
Enjoy dining
Spend time near the fountain
Click some photos
Try the adventures at Dubai Aquarium and Underwater Zoo
Best Honeymoon Hotels:
DoubleTree by Hilton Dubai Business Bay
Radisson Blu Hotel,
Dusit Thani Dubai
Pullman Dubai Downtown
Taj Dubai
10. Bollywood Parks Dubai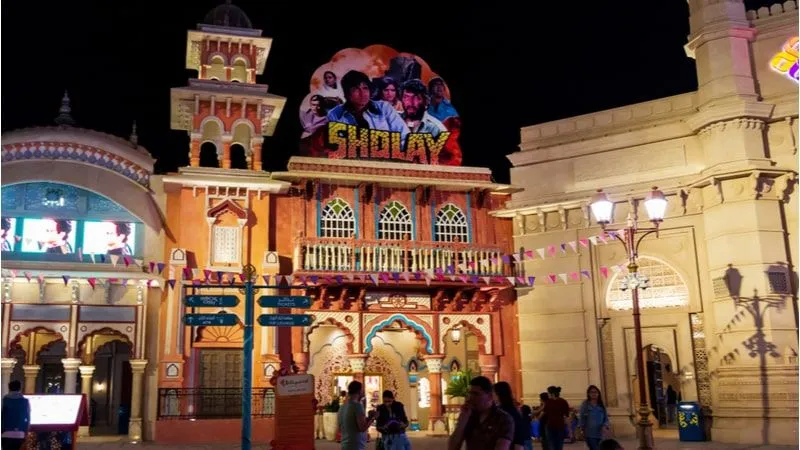 Are you a romantic couple inspired by the love of Bollywood? Well, the Bollywood Parks is the best honeymoon destination in Dubai you can visit for a fun day with your spouse. Spreading to an area of 1.7 million squares, the park will take you closer to the intimate beauty of Bollywood romance, the classic beauty of the era, and every feature that makes you a Bollywood fan. Couples can enjoy some live performances explore the themed zones try every engaging activity.
There are some special landmarks like Entry Plaza Stage, Mumbai Express Stage, Rajmahal Theatre, Stars on Steps Stage, Abra ka Dabra, Bollywood SkyFlyer, Namaste India, Taxi No. 1 that you can visit to get some worthy pictures together. Bollywood Parks also has dining options to enjoy Indian food and beverages. And for your knowledge, the park has a hall named Namaste India, inspired by the famous Amber Fort that can be your perfect wedding destination.
Activities to Enjoy:
Enjoy Bollywood themed activities
Explore the Bollywood zones
Dine-in at the cafes
Enjoy the live performances
Best Honeymoon Hotels:
Rove At The Park
Lapita, Dubai Parks and Resorts, Autograph Collection
JA Lake View Hotel
JA Palm Tree Court
Aloft Dubai South
Suggested Read: Things to Do In Dubai For An Exhilarating Vacation
Plan a perfect honeymoon in Dubai and discover the luxury of different levels. This city of the United States Emirates has lured travelers for ages, and today it is known for the incredible beauty of man and nature. From deserts to artificial islands and other landmarks, this is the place that boasts of excellent technology. You can enjoy adventure or enjoy leisure activities like shopping or a romantic dinner. Dubai, being a famous holiday spot, has the best air connectivity from every country. So, get your flight tickets today and get ready to spend a romantic holiday in this luxury home.
FAQs
Q1. Which is the best time to visit Dubai for Honeymoon?
Dubai experiences a hot climate in summers that make the season unfavorable. The best time to visit Dubai is from November to March, as winters experience moderate and pleasant weather.
Q2. What are the top places to visit during Honeymoon in Dubai?
Dubai with its intriguing beauty, architecture, and luxury makes it one of the most visited honeymoon destinations. Here are the best places that can make your holiday romantic and memorable:
Palm Jumeirah
Burj Khalifa
Burj Al Arab
Global Village
Dubai Marina
Q3. What are the top islands in Dubai?
There are many islands in Dubai that are perfect for a romantic holiday. If you are on a honeymoon, you can explore these islands and enjoy the time with your spouse:
Palm Jumeirah
Bluewaters Islands
Jumeirah Bay Island
Deira Islands
The World Islands
Q4. Is Dubai best for a honeymoon?
Yes, Dubai is one of the best honeymoon destinations, and thanks to its incredible beauty, it is a place to discover comfort and luxury. You will find adventure, leisure, beauty, and fascinating culture that will make your experience memorable and admirable.
Q5. Where can I stay in Palm Jumeirah?
Palm Jumeirah is a private island and a part of the Palm Islands. With its magnificent beauty, it is one of the best honeymoon places in Dubai. While you are witnessing its magnificence, the best accommodation on the island are:
Atlantis The Palm Dubai
Fairmont The Palm Dubai
Dukes The Palm
The St. Regis Dubai, The Palm
Rixos The Palm Luxury Suite Collection
Q6. Where can I stay near Burj Khalifa?
Burj Khalifa is one of the best attractions in Dubai that welcomes thousands of tourists each year. For your romantic stay, the best hotels in and around Burj Khalifa are:
Grand Cosmopolitan Hotel
The Palace Downtown Dubai
Address Fountain Views
Palace Downtown
Manzil Downtown
Q7. Which is the best time to visit Global Village in Dubai?
Global Village in Dubai entertains people by organizing events organized during the winter season. Therefore, it is recommended to visit the village in November and February. You can enjoy local cuisine, rides, and street performers here.
Q8. What are the top things to do in Dubai on a honeymoon?
Dubai is one of the best holiday destinations, especially for honeymooners, where they can enjoy the best adventure and activities. The top things to try in Dubai are:
Spend a day at Aquaventure Waterpark
Reach the top of Burj Khalifa
Pamper Yourself with Some spa
Explore the beaches
Enjoy the traditional coffee at Arabian TeaHouse
---