Abu Dhabi has left no stone unturned to be a leading destination, offering an amazing experience. The excellence can be witnessed in its great architecture and infrastructure that defines its modernized and upgraded lifestyle. Yas Island is one of those places where you can discover luxury, leisure, and adventure. There are many places to visit in Yas Island, Abu Dhabi that define the finest beauty to leave you awe-stunned. If you are on a family tour, Yas island is the place where you can enjoy the holiday to the fullest.
Top Tourist Attraction in Yas Island For A Perfect Holiday
Built over an area of 2500 hectares, Yas in Abu Dhabi is an artificial Island that has redefined luxury and class. The island has a number of hotels, malls, cafes, and adventure sports, lending you the comfort of a luxury vacation. So, while you are admiring the perfectly designed island of this incredible country, here are some best places you can add to your itinerary.
1. Yas Island Ferrari World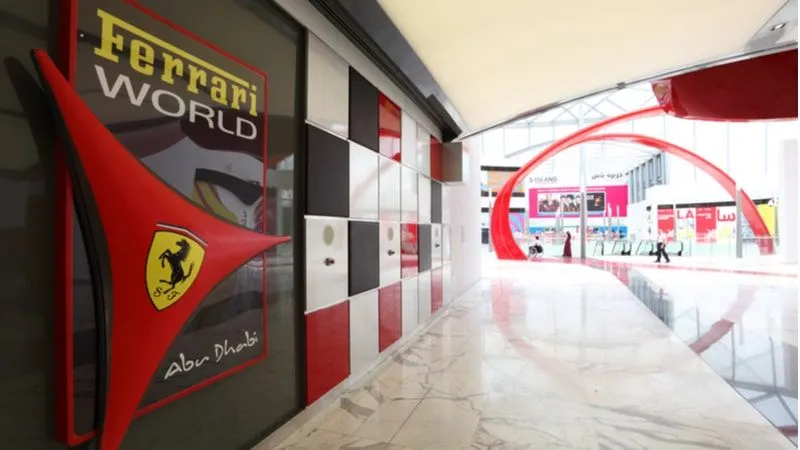 Real adventure awaits you at Yas Island Ferrari World, an amusement park with the world's best rides and games. The Ferrari world has more than 37 rides, which includes Formula Rossa, the most popular ride of this park. The amusement park is the first place to introduce a zip-line in the country. Other amazing highlights of the park are the world's fastest roller coaster, the world's highest non-inverted loop, 40 thrilling rides, and so much more.
To add leisure, the park also features cafes and a seating area where you can relax. You can shop, eat and relax to make the best out of your holiday. This amazing attraction in Yas Island caters to the entertainment of every visitor, irrespective of age.
Timings: 12:00 am to 08:00 pm (please refer to the official site as the operational hours keeps changing on occasions)
Entry Fees: Single Day entry: AED 295
Facilities: Restaurants and Cafes, Adventure games, Rides
Things to do: Enjoy the rides, dine-in at a café, Roller coaster rides, Adventure rides
2. Yas Mall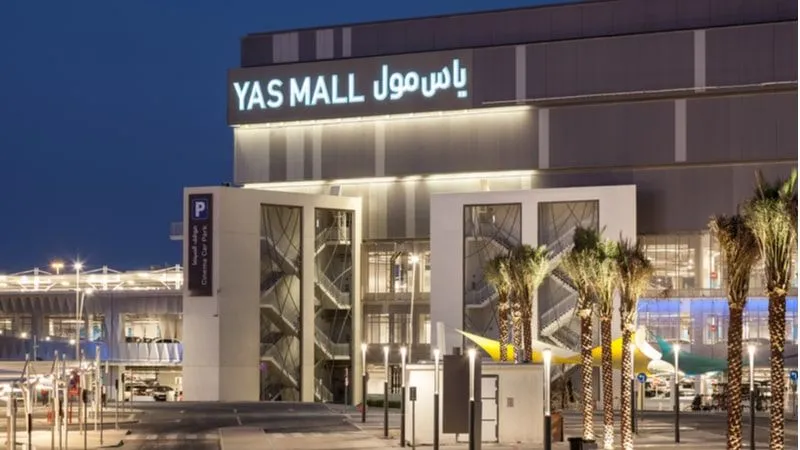 Are you a shopaholic? If Yes, Yas Mall is the best place on Yas Island you can visit on your holiday. This is one of the best shopping Mall in Abu Dhabi that is home to luxury and an upgraded lifestyle. With more than 370 stores, exclusive brands, and entertainment, the mall is a hotspot for every tourist on the island. You can find top brands like H&M, Zara, Victoria's Secret Pink, Adidas, and Mango. There is a separate section for kids, adults, men, and women, while the mall has categorized its exclusive collection for every gender. Get your hands on the best fashion for your home or your workplace.
Kids too can find something engaging to enjoy like the KidZania and other best Yas Island theme parks for kids.
Yas Mall Timings: 10:00 am to 10:00 pm
Facilities: Cafes and Restaurants, Vox Cinema, Fun Work
Restaurants: Black Tap, Al Fanar, P.F Chang's, Costa Coffee
Things To Do: Family Dining, Movie, amusement park, shopping
3. Yas Marina Circuit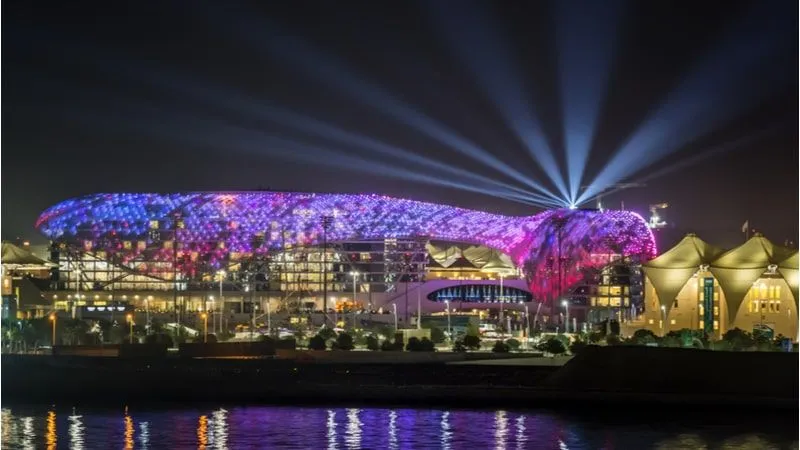 Yas Marina circuit is one of the best attractions in Abu Dhabi that exhibits excellent architecture and use of technology. The marina circuit was designed by Hermann Tilke as a venue for the Abu Dhabi Grand Prix. The circuit hosts formula race cars, being the second Formula One track in the Middle East. Many other events and races are also organized at the circuit that includes the Australian V8 Supercars series, Abu Dhabi Tour cycle race, the Yas V8 400, and more.
The perfect use of art and technology has made the circuit an incredible example of a man-made wonder. With the longest race tracks and other facilities designed with the best breed of technology, Yas Marina is a place to experience a wide range of activities.
Timings: Monday to Saturday: 9:00 AM - 5:00 PM
Entry Fees: Depends on the package and activities
Facilities: Seating Area, Washrooms, Restaurants
Things to do: Enjoy a race, drive your favorite car
Suggested Read: Desert Safari in UAE To Experience the Glorious Sunsets and Landscapes
4. Yas Beach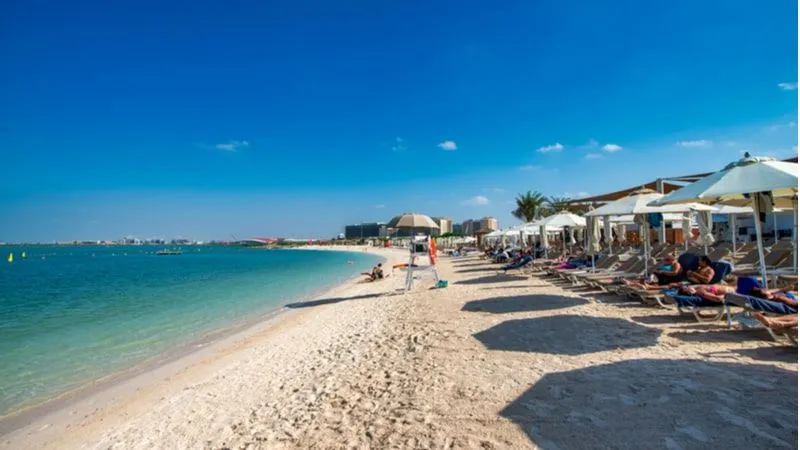 The white sandy shores and luxury ambiance of Yas Beach attraction in Abu Dhabi is some of the most popular places to visit on Yas Island. The crystal-clear waters of the beach offer endless adventures like Kayaking and Snorkeling, sailing, beach games like volleyball and so much more. yas beach activities boasts exclusive facilities like a gym and beach resort, restaurants, and more. It is the beach that has made Yas Island, the best UAE Island among travelers with beach activities and games.
Families can indulge in adventure and leisure activities to enjoy the food, the water games, and more. There are private beach tours organized for the tourist to spend an evening, discovering the serenity around.
Yas Beach Timings: Open all day
Facilities: Restaurants, Cafes, Hotels and Resorts, Mall
Things To Do: Kayaking, Snorkeling, Sailing, Beach games
5. Yas Link Golf Course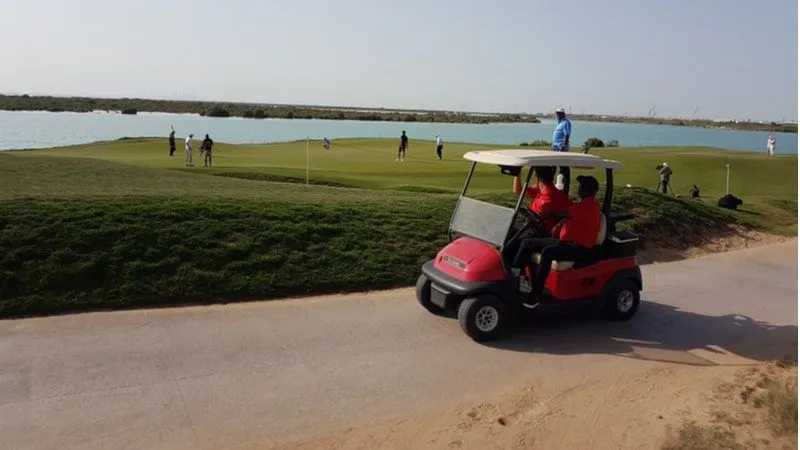 Are you a golf Fan? Well, the Yas link Golf Course, overlooking the serene Arabian Gulf is a paradise to explore and enjoy a golf game. This is one of the biggest and the first golf courses in the country that was designed by Kyle Phillips. The 18-hole course has a challenging beauty that lures golfers from all over the world. There are 9-hole par 3 course and practice facilities also offered to the players. Offering every luxury and amenity, the Yas Golf Course has a clubhouse, golf academy, gym, spa, and practice ranges. Not only this, the course offers quite a leisure activity at its two dining spots, Hickory and Matsu restaurant, which is open for all.
Professionals can enjoy playing a game or get their tickets to watch as many events are organized, inviting the best Golfers of UAE.
Timings: Check with the concerned authority
Facilities: Cafes and Restaurants, Spa, Gym, Clubhouse
Suggested Read: Top Places To Visit In Sharjah, UAE For A Family-Friendly Vacation
6. Yas Gateway Park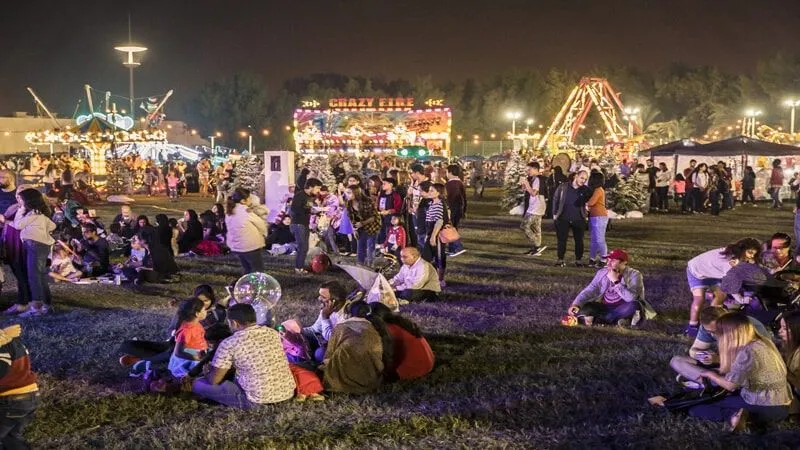 The magnificent land space of Yas Gateway surely makes it the most beautiful leisure spot in the country. With pavements and a well-maintained interior, the park is quite popular among the tourists in the city. This hidden treasure is a spot where you can spend an evening with your family taking a break from every adventure in Abu Dhabi. With the bougainvillea and the manicured grass, the lights, some kiosks, Gateway Park in Yas Island is a treasure to explore.
The Park has two sections as Yas Park North and Yas Park South, designed with the lush landscape to make it an ideal spot for a perfect family outing. You can bring your scooter, running shoes, picnic basket, dog, kite, soccer balls, and every other item you need to make it a perfect day out.
Timings: Open all day
Entry Fees: Free for all
Things To Do: Running, Soccer, Picnic, Cycling
7. Yas Marina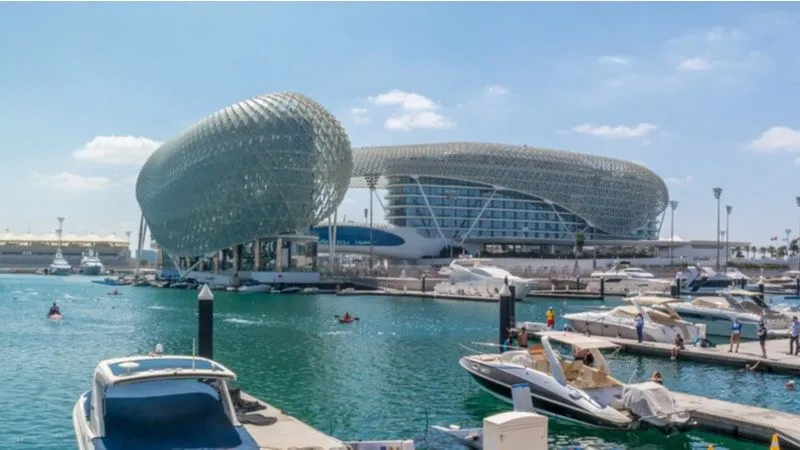 A place to eat, relax and enjoy, Yas Marina is the epitome of luxury and class defined by its excellent service and facility. Dominated by the boats and cruises, this is a spot where you will find endless opportunities to enjoy the day with the best activities. This is one of the best Yacht Marina on Yas Island, offering you a place to dine in a dock. Brimming with the best restaurants in Yas Island, the Marina is surely heaven drenched in luxury.
The venue delivers class in every aspect, be it exotic venue, the waterfront beauty, some delicious food options, and a lot more. Try the Italian cuisines that are prepared and served with an excellent zest. This 227-berth marina is one of the best places to visit on Yas island, featuring restaurants, a coffee shop, a promenade overlooking the W Abu Dhabi, and nightlife entertainment.
Timings: Check with the concerned Authority
Facilities: Washrooms with showers, Valet parking, Track view berths, Buggies
Things to Do: Water adventures, dine-in, enjoy the views
Top Restaurants: Stars N Bar, Iris, Cipriani, Casa De Cuba
Suggested Read: Islands In Abu Dhabi For The Greatest Adventure Of A Life Time
8. Warner Bros. World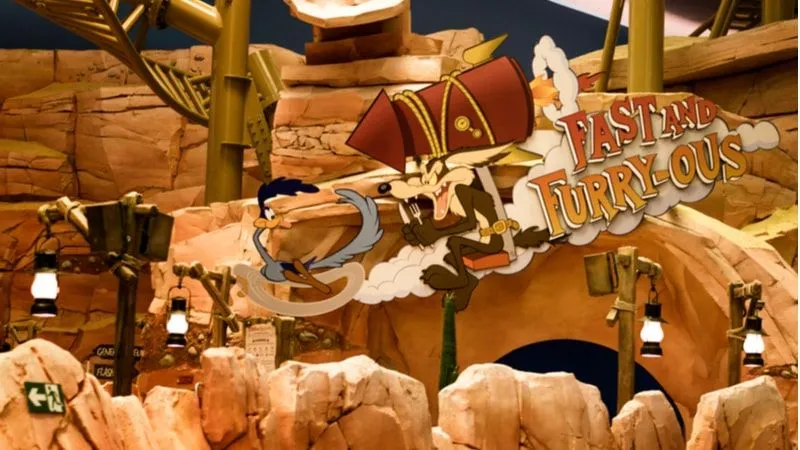 The first-ever Warner Bros world is located in Yas Island Abu Dhabi, which is quite a popular place among tourists and locals living there. This theme park is dedicated to the iconic superheroes and cartoons of all time, where you can spend time with your favorite character. There will be Dynamite Gulch, Bedrock, Gotham City Cartoon Junction, and Metropolis. The Park also features exhilarating rides, interactive entertainment, and many attractions for perfect family time.
The entire park is divided into six sections where you will find the best adventure and entertainment for your day tour. The Park feature also has dining facilities, character rides, and exclusive offers that are meant for your family.
Timings: Monday to Sunday: 1:00 pm - 8:00 pm
Entry Fees: Single Day at AED 2895
Facilities: Washrooms, Parking, Dining space, Restaurants
Things to Do: Adventures rides and games, dine-in at the best café
Suggested Read: Things to Do In Dubai For An Exhilarating Vacation
While you are in Abu Dhabi, no other place is as magnificent as Yas Island. There are many places to visit on Yas Island where you can enjoy a day with family, trying new adventures, luxury, and leisure. The top-notch facilities and services at the island have been attracting travelers to discover the beauty and excellent infrastructure. From food and drinks to adventure games, theme parks, malls, and golf courses, Yas Island is a unique destination for your holidays. You can book your Abu Dhabi flights and book a few nights at the island to delve into its luxuriating beauty.
FAQs
Q1. Where is Yas Island?
Yas Island is an artificial island in Abu Dhabi, built over a total land area of 25 km². The island is a leisure hub where you will find the best hotels, restaurants, cafes, adventure parks, shopping places, and more. The island is known for its Yas Marina Circuit, which hosted the Formula One Abu Dhabi Grand Prix.
Q2. What are the best places to visit on Yas Island?
Yas Island is an ultimate leisure destination where you will find top attractions to shop, eat and dine. Some of the best places you can visit on the Island are:
Yas Marina Circuit
Yas Beach
Yas Island
Yas Links Golf Course
Q3. What are the best hotels on Yas Island?
Yas Island is a perfect getaway to discover luxury and leisure. If you are looking for a perfect place to stay on the island, you can book:
Crowne Plaza Yas Island, an IHG Hotel
Yas Island Rotana Abu Dhabi
Yas Island, Abu Dhabi
Ya Plaza Hotels
W Abu Dhabi
Q4. How can I spend my holiday on Yas Island?
Yas Island is a luxury escape where there is adventure, thrill, and fun. If you are planning a holiday on Yas Island, these are the best things you can try on your visit:
Dining at Yas Marina
Visit the Yas Link Golf Course
Water adventure at Yas Beach
Adventure rides at Warner Bros. World
Visit the Ferrari World
Q5. What are the top dining places on Yas Island?
Indulge in the ultimate taste of the Middle East at the top restaurants and cafes. Offering you the best authentic and fancy food, these are the top restaurants in the city:
Al Fanar Restaurant
Rangoli
Chili's
Cipriani
Paul bakery and restaurant
Q6. Are there any theme parks on Yas Island?
Yas is an adventure island where there are many adventure parks and activities. You can visit Yas Waterland, Warner Bros. World, and Ferrari World. You can try roller coaster rides or fun games like soccer, splash, and more.
Q7. How can I reach Yas Island?
Yas Island is an artificial island in Abu Dhabi connected via many means of transport. There are various ways for reaching Yas Island, as one can easily take local taxis, buses, and Uber to and from Yas Island. The cruise will take 45 minutes.
Q8. Where is Yas Mall?
Yas Mall is one of the best shopping places in Abu Dhabi located on the island. With more than 370 stores, exclusive brands, and entertainment, the mall is a hotspot for every tourist on the island. You can find top brands like H&M, Zara, Victoria's Secret Pink, Adidas, and Mango
---