Lying on the edge of the Arabian Peninsula and surrounded by mighty mountain ranges, Oman offers a delightful experience to all the tourists who love warm beaches, desert areas, cultural and historical sites. It is a great place to experience a plethora of diverse things. The natural landscapes of the country are just alluring and postcard-perfect. The hotels in Oman, their hospitality and services are something that brightens up any trip to Oman a bit more. There are endless exquisite and welcoming hotels in Oman that will surely make your days here more memorable.
Top 9 Hotels In Oman
Here is a list of best hotels in Oman, both luxurious and budget ones to help you plan your stay in this foreign land with ease.
1. Anantara Al Jabal Al Akhdar Resort, Nizwa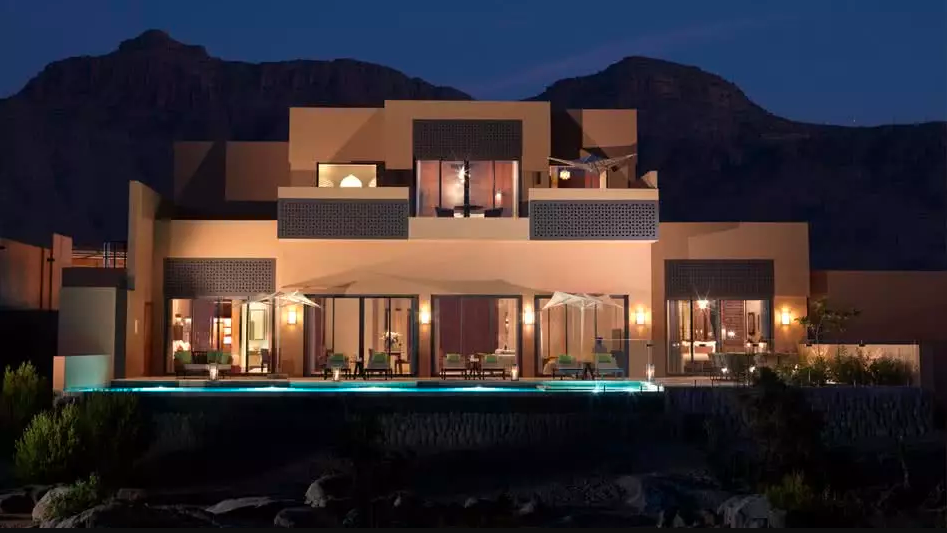 One of the best luxury resorts in Oman, Anantara Al Jabal Al Akhdar Resort is set amidst the high canyons making it one of the highest resorts in the world. Owing to its location, the resort promises enchanting views from the top. The resort boasts of 82 rooms with panoramic canyon views, 33 villas with private pool and also the most luxurious three-bedroom pool villa in Oman. The spacious rooms and suites with high-tech facilities and floor to ceiling windows offer a soothing and comfortable stay to all the guests.
Get the best spa retreat here in an environment which is tranquil and the aroma of incense further accentuates the whole ambience. The hotel also organizes leisure activities in which you can go on hiking the high mountains surrounding the hotel or enjoy mountain biking. The on-site restaurants also offer spectacular views of the mountains while you gorge on the scrumptious cuisines served here. Al Qalaa, Al Baha, Dining by Design, Bella Vista are a few dining options available here. Top-notch meeting facilities are also available here. It is also one of the best honeymoon hotels in Oman.
TripAdvisor Rating: 5
Location: No 110, Al Jabal Al Akhdar, Nizwa 621, Oman
Exclusive Features:
Spa
On-site Dining
Business facilities
Three-bedroom pool villa
Suggested Read: Places To Visit In The Middle East For A Cultural Holiday Experience
2. Al Bustan Palace, A Ritz-Carlton Hotel, Muscat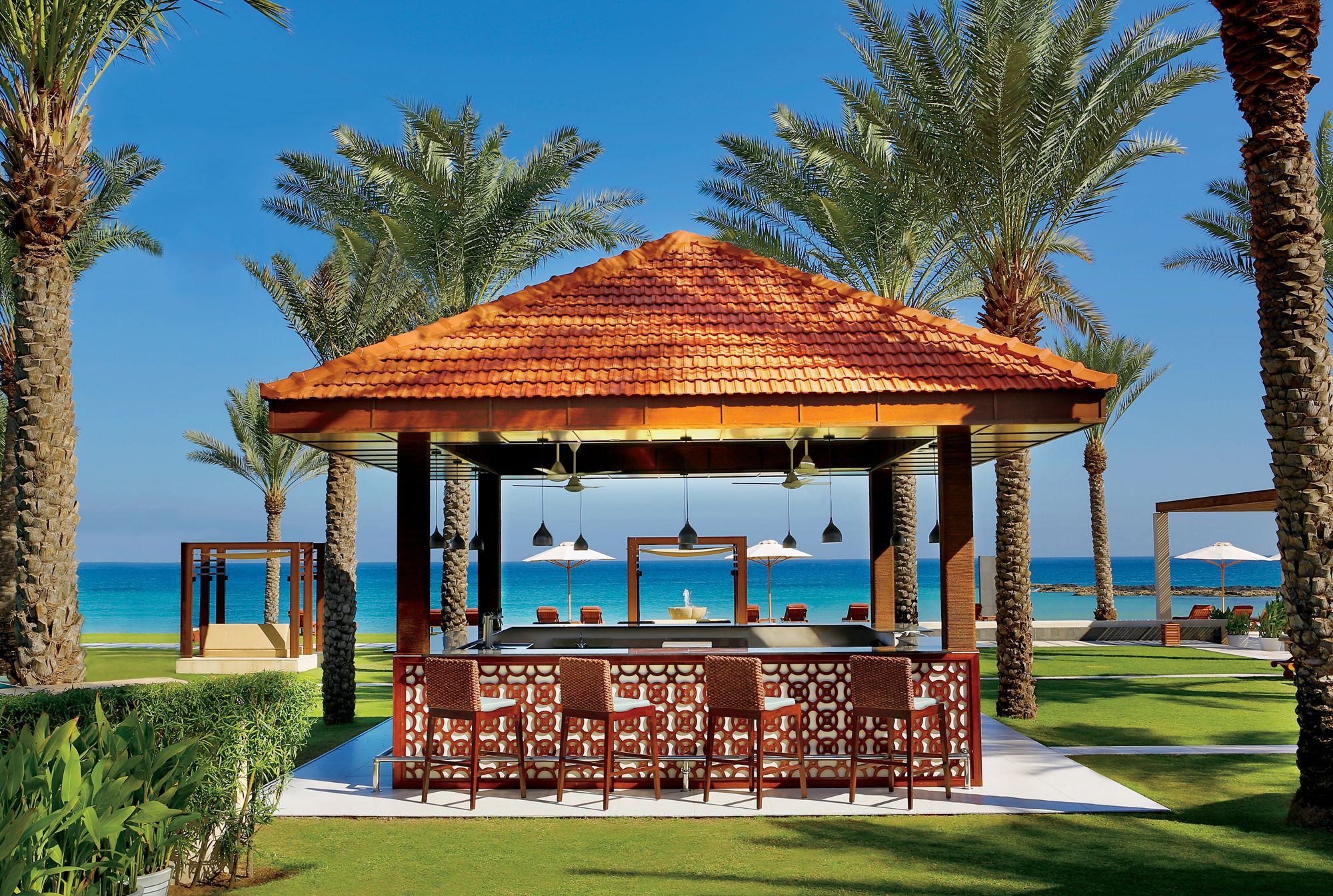 One of the top hotels in Oman for a luxurious retreat is Al Bustan Palace, a Ritz-Carlton Hotel which is a 5-star hotel located between the Al Hajar Mountains and Oman Sea. The design of the hotel is unique, a combination of both traditional and modern interiors. Rooms and suites offer pristine views of either sea, mountain or of a garden area with all the high-end plush amenities.
One of the most alluring parts of the hotel is the beachfront spa that reflects Omani culture both in terms of its design as well as treatment which is done with organic ingredients sourced locally. There are separate areas for both ladies and men with amenities like ice fountains, steam rooms and sauna that makes the resort one of the best Oman luxury hotels.
For all the foodies, the hotel also features 5 dining restaurants offering both local and international cuisines. BLU is a poolside bar from where alluring views of the sea can be admired while enjoying light snacks and drinks. For a signature afternoon tea experience, head to the Atrium Tea Lounge that has ostentatious interiors with around 125 feet high ceiling with a classic chandelier. The Beach Pavilion Bar & Grill is an al fresco dining on the open beach in front of the sea where seafood or grilled snacks can be enjoyed, it is a perfect place to have a romantic candlelight dinner with your partner with perfect views.
TripAdvisor Rating: 4.5
Location: OM, Al Bustan St, 114, Oman
Exclusive Features:
Private Beach
5 Swimming Pool
Kids Swimming Pool
Spa
Meeting Rooms
3. W Muscat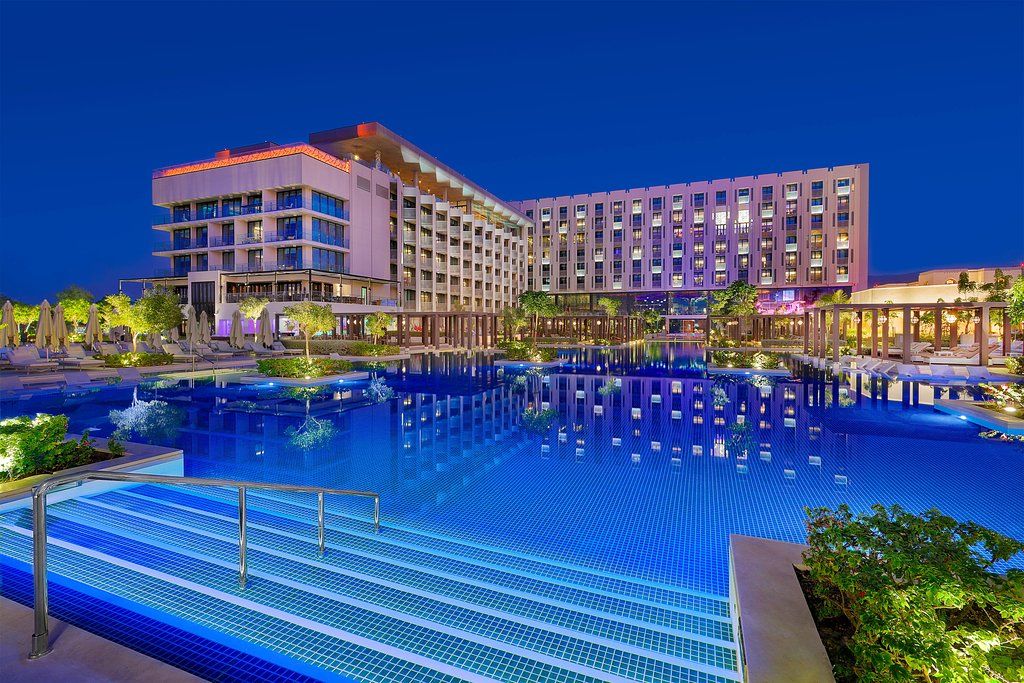 A perfect amalgamation of rich Omani heritage and contemporary design, W Muscat is a 5-star luxurious property with around 279 rooms and suites. It is one of the best hotels in Oman that offers stunning views of the Gulf of Oman of Garden area from the rooms and suites of the hotel. Some of the rooms and suites give direct access to the pool area.
The fitness area equipped with all the modern equipment is open all days of the week and 24 hours so that guests can work out as per their convenience. The hotel also has a well-equipped modern spa that offers bespoke treatment to guests as per their need using all signature methods of healing and rejuvenation.
There are 7 restaurants including a bar serving various cuisines at one of the Oman top hotels. WET Deck specializes in South American cuisine, CHAR offers grilled delicacies, Ba Ban serves authentic Chinese cuisine, Siddhartha Lounge by Buddha-Bar offers relishing dishes in a rooftop setting with a pool bar. The vibrant atmosphere of this place will leave you mesmerized for sure. The WET restaurant offers international cuisine amid a beautiful setting facing the Oman Gulf. Harvest is a seasonal restaurant that serves organic and healthy food.
TripAdvisor Rating: 4.5
Location: Al Kharjiya Street, Shatti Al Qurum Bareeq Al Shatti Muscat OM، 103, Oman
Exclusive Features:
Spa
Fitness Center
7 Event Rooms
Suggested Read: Top Hotels in Turkey: Our Top Picks For A Pleasant Stay
4. Behlys Boutique, Muscat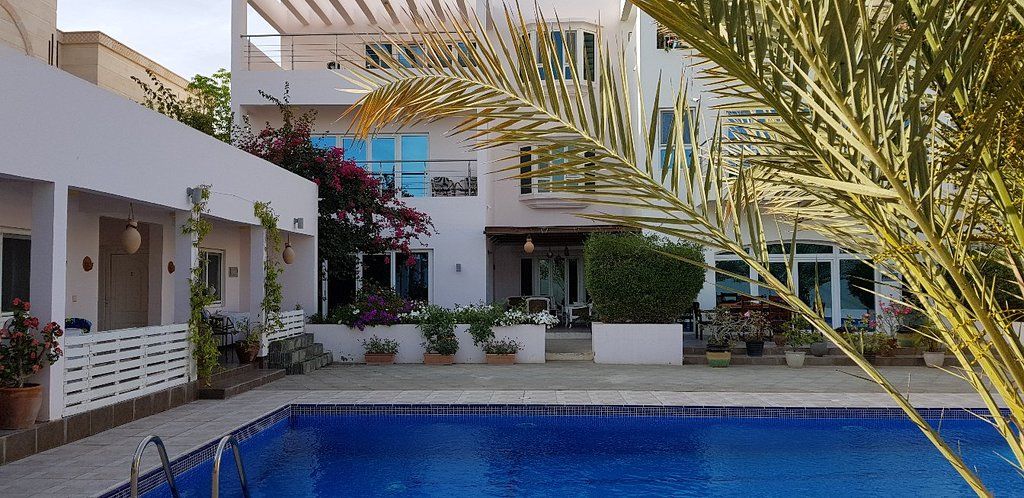 If you are looking for budget hotels in Oman, then we have got you covered. Behlys Boutique Hotel is an ideal accommodation option for those who are a bit tight on budget. Located just a 3-minutes' walk from Al Azaiba Beach, the hotel is a great place to spend a relaxing time amidst the lovely surroundings. There are 10 spacious rooms painted in pastel colors with a touch of vibrant furnishings.
The villas located on the ground floor gives access to the common living room area which comes with free Wi-Fi. There is also a pool inside the hotel where you can swim all day while enjoying the natural sunshine. Superior, Twin, Double Private and Double room are different variety of rooms that can be booked here to enjoy top-notch amenities. The hotel also gives cars on rent to help you explore the city and can also arrange for taxis if you want.  Pick-up and drop-off airport service are also available by the hotel. Sultan Qaboos Grand Mosque, Safari Grill House and Royal Opera House are some of the nearby attractions which can be explored on your stay in Behlys Boutique.
TripAdvisor Rating: 4.5
Location: Way 7014, Villa 793 a/ 793 b, Azaiba, Muscat 130, 7014 Way, Muscat, Oman
Exclusive Features:
Pool
Cars on rent available
Airport service
5. The Chedi, Muscat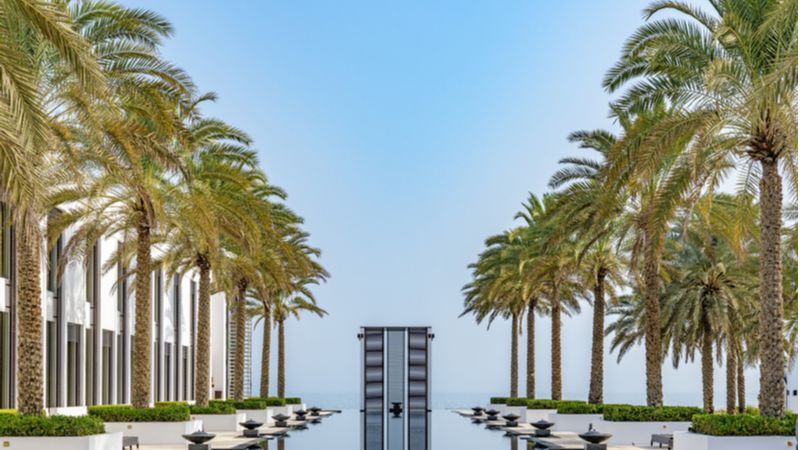 The Chedi, Muscat, is one of the most scenic and prime locations for spending a holiday in Oman. The 5-star property stands overlooking the waterfront, offering you an ideal place for a staycation at one of the best places to visit in Oman. The Chedi resort in Muscat defines a new level of luxury with Omani architecture and a unique Asian zen style.
The Chedi is spreading to an area of 21 acre that offers an entire facility and top-notch service. Located at an accessible distance of 15 minutes from the Muscat international airport, this is one of the Oman top hotels where you can enjoy spa and wellness service, pool view and the fancy restaurants. The restaurants here serve a fusion of international and Indian cuisine, catering the need for every taste.
Talking about the generous space, every room of the resort boasts of a spacious area adorned with every amenity. There is a flat-screen TV, work desk, seating area, expresso machine, and other utility items you need for your leisure stay.
TripAdvisor Rating: 4.5
Location: North Ghubra 32, Way No. 3215, Street No. 46, Mutrah, Masqaţ
Exclusive Features:
Three Swimming Pools
Restaurant and Bar
Free Parking
Airport Shuttle
Suggested Read: Luxury Hotels In Qatar That Offers The Most Exclusive Holiday Experience
6. Hud Hud Camp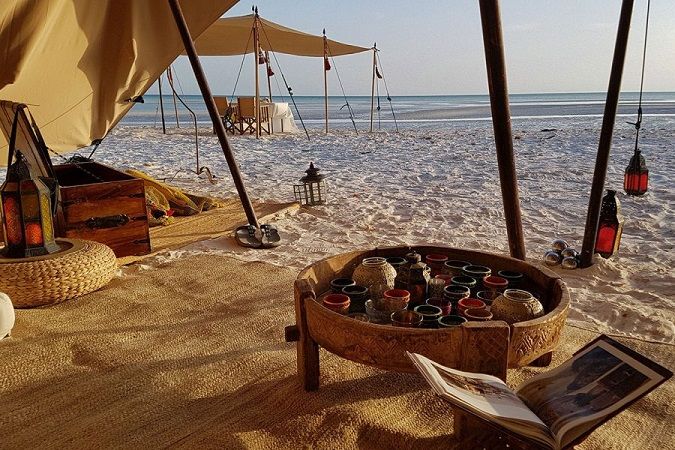 Hud Hud camp offers a unique private camping experience for holidays in best Oman hotels. The accommodating space of Hud Hud camp is designed in an Arabian style that features bedding, private shower and bath, furnishing and other amenities you need for a leisure stay. Each center is equipped with bedspread and towel, carpets, lantern, Egyptian cotton sheet and more. While there is no electricity, television and other fancy modern interiors, the luxury camp offers a complete Nomadic feel for your mobile camp accommodation.
These luxury remote camps are one of the best Oman luxury hotels that travel to the dunes and the mountains, discovering Oman's most exotic beauty. You can sit and relax at your reserved camp that opens up to the view of sunset in the desert.
What enhances the feel of camping here is the unique dining style. Hud Hud camp features majlis with Arabian eating style at family tables. To entrainment the guest, the camps have arranged games and other exciting activities like board games and books, enhancing your experience at the best camp or hotels in Oman.
TripAdvisor Rating: 5
Location: Wahiba Sands, Oman
Exclusive Features:
Private Chef
Seating Tents
Arabian Bedding
Private Bathroom
Majlis
7. Six Senses Zighy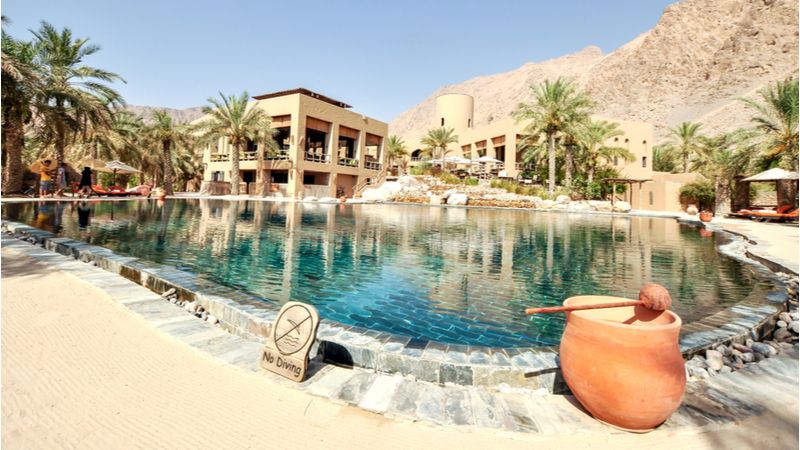 Spend your holidays at the best luxury resorts of Oman located somewhere along the country's rugged and dramatic landscape. Designed to a traditional village of Oman, the Six Senses Zighy Bay is among the best resorts where you can witness the beauty of seas and the iconic Musandam peninsula.
The villas of this serene village are designed with the timbers and stone featuring an Omani style. Those calm and restful colours add on a soothing touch to your holiday mood. Choose from the best pool villa that offers a personal garden and a pool with patio to admire the serenity around.
Unwinding the holiday essence, the Six Senses Zighy Bay has facilities like wellness spa offering you a traditional touch of natural healing. You can spend your time at the gym or try some outdoor yoga offered at this best Oman Hotels.
Dining here can be a memorable and most pleasurable experience as the Zighy Bay has some fine dining restaurant and cafes to serve the guests. The Zighy bar here can be an ideal place to spend the evening after your tiring day to zest up the vacay mood.
TripAdvisor Rating: 4.5
Location: Zighy Bay, Musandam Peninsula, Zighy Bay
Exclusive Features:
Restaurant and Bar
Wellness Spa
Gym
Pool
Outdoor Yoga
8. Ritz-Cartlon Al Bistan Palace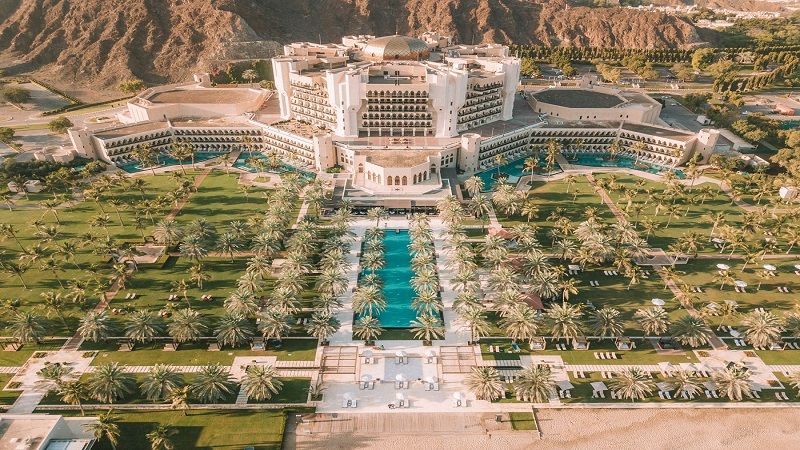 Ritz-Cartlon Al Bistan Palace, one of the luxury hotels in Oman, is not just a popular name when it comes to picking a perfect staycation. Nestled in between Al Hajar Mountains' serenity and the sea of Oman, this is a heritage of Oman where you can embrace the beauty of modern and high-class luxury.
The property is spreading to an area of 200-acre Beachfront region from where you can enjoy swimming and other beach games to add some adventure and fun.
The Ritz-Cartlon Al Bistan Palace has 250 spacious villas with the contemporary design and modern interior that reflect the beauty of Omani tradition and art. You can choose from the room category that features bedding and a private balcony, sea view, mountain view and private seating area.
Ritz-Cartlon Al Bistan Palace's service is not just world-famous, but it is worth your money and time. You can enjoy dining at the fancy restaurant like Turkuaz or Al Khiran Kitchen to celebrate the taste of Oman and every other international cuisine. Adding on to your pleasure, there is wellness and spa facility, activity area and private space for wedding and ceremonies.
TripAdvisor Rating: 4.5
Location: Al Bustan Street, 114, Muscat Governorate
Exclusive Features:
Dining and café
Villas with sea view and mountain view
Spa and wellness center
Meeting space
Ballroom
Suggested Read: Top Places To Visit In March In The World To Experience Balmy Weather
9. Juweira Boutique Hotel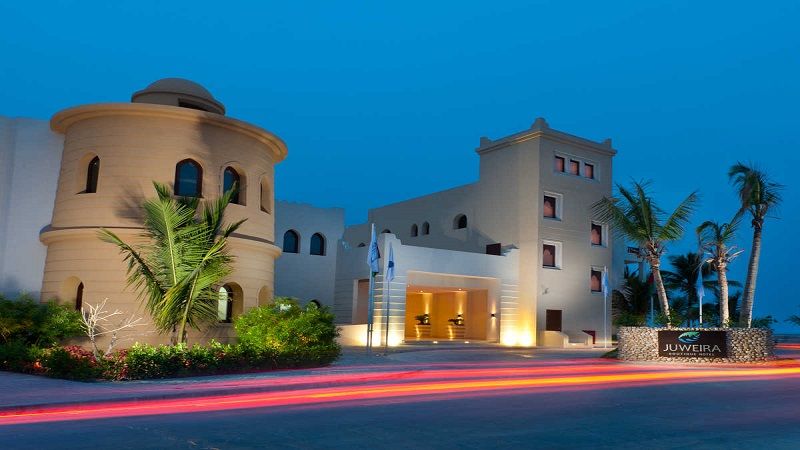 Juweira Boutique Hotel listed as the Oman top hotels, refining the term luxury with its chick style. This 4-star property exhibit an Oriental theme where you have a space for discovering leisure and comfort. The hotel rests elegantly on the marina promenade of Hawana Salah with 21 suites, three family room, 18 apartment and 40 traditions Juweira rooms.
This is one of the most acceptable properties where you can experience the essence of Omani tradition and art with cultural values. Every generous space offered at this luxury hotel in Oman is equipped with the modern interior and high-class technology like tv, bedding, furnishing and more. The rooms offer subtle colours and most exquisite furnishing for your comfortable living making it one of the best Oman luxury hotels.
Juweira Boutique Hotel is all famed for the world-class facilities where you can enjoy dining or other leisure activity. There are two swimming pool, spa center and sauna room for guests to relax and rejuvenate. Engage yourself with the best water sports and games that are organized solely for your entertainment.
TripAdvisor Rating: 4.5
Location: Salalah Beach Resort-Taqa Road
Exclusive Features:
Two swimming pools
Spa and Fitness Center
Business center
Hawana Aqua Park
Speed boat trips
In order to experience an unforgettable vacation, we recommend you to book your flights to Oman at a leisurely pace. The country has so much to offer to tourists from vast deserts to mighty mountain ranges and dazzling Gulf Sea. Besides this, the culture and the rich heritage sites here will lure you to dig into the rich history of this country. With this list of best hotels in Oman, choose your ideal stay to escape into a luxury retreat and enjoy the most refined amenities. If you have stayed in any of these before, then do let us know in the comments section below.
FAQ's:
Q1. How many hotels are there in Oman?
As per the reports of NSCI, there were 359 hotels in Oman in the year 2017.
Q2. What is the best area to stay in Muscat?
Some of the best areas for a stay in Muscat are Ruwi, Al Qurum, Muttrah and Al Khuwair are some of the best areas to stay in Muscat.
Q3. How many days are enough for an ideal trip to Oman?
For an ideal trip to Oman, one should at least spend 8 to 10 days here.
Q4. Which is the best month to visit Oman?
January is considered the best month to visit Oman when the temperature is not high and pleasant for sightseeing and other adventures.
Q5. Can one drink alcohol in Oman?
Drinking alcohol in Oman at public places is prohibited. However, one can drink alcohol at hotels which have valid license to serve alcohol.
Q6. Which are some of the best 5-star hotels in Muscat?
Some of the best 5-star hotels in Muscat are:
W Muscat
Al Bustan Palace, A Ritz-Carlton Hotel
Grand Hyatt Muscat
The Chedi Muscat- a GHM Hotel
InterContinental Muscat
Six Senses Zighy Bay
Shangri-La Al Husn Resort & Spa
Q7. Which are some romantic hotels in Oman for couples?
Some of the best romantic hotels in Oman are:
Sifawy Boutique Hotel
The Chedi Muscat
Anantara Al Jabal Al Akhdar Resort
Zighy Bay
Centara Muscat Hotel Oman
Al Bustan Palace
Al Baleed Resort
Q8. What is Oman famous for?
Oman is famous for its natural landscapes, historical landmarks, vibrant souqs, Omani bread and halva.
---