Traveling to any foreign land is like a dose of refreshment in life which everyone should experience frequently. Enriching yourself with history, culture and different sites of some foreign country is always a good idea. Turkey offers a great experience to all those who are looking to bask on the beaches or wander through the historical sites. Finding a good place to stay in a new place can be quite tricky for many of us, hence we have made this exclusive list of top hotels in Turkey to provide you with a comfortable stay with all the facilities to make your trip joyous.
Top 9 Hotels In Turkey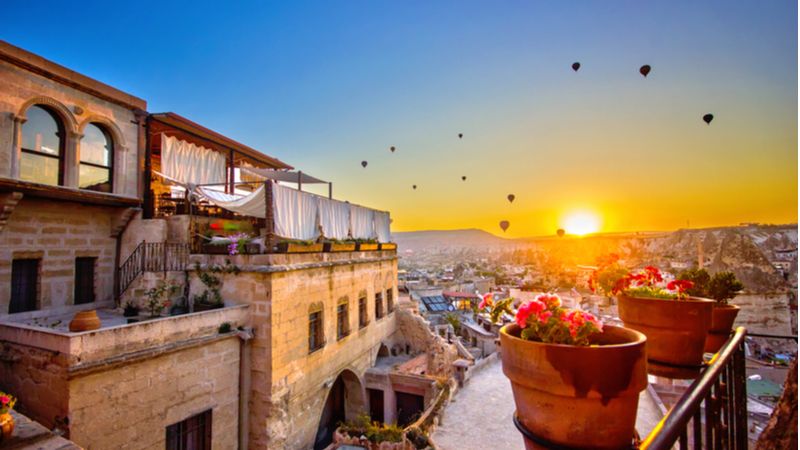 In order to enjoy the true beauty of this Middle Eastern gem, Turkey, we have made this list of top hotels in Turkey exclusively for you to help you get the best accommodation in the country with the most scenic views and amenities.
1. Hotel Villa Turka, Alanya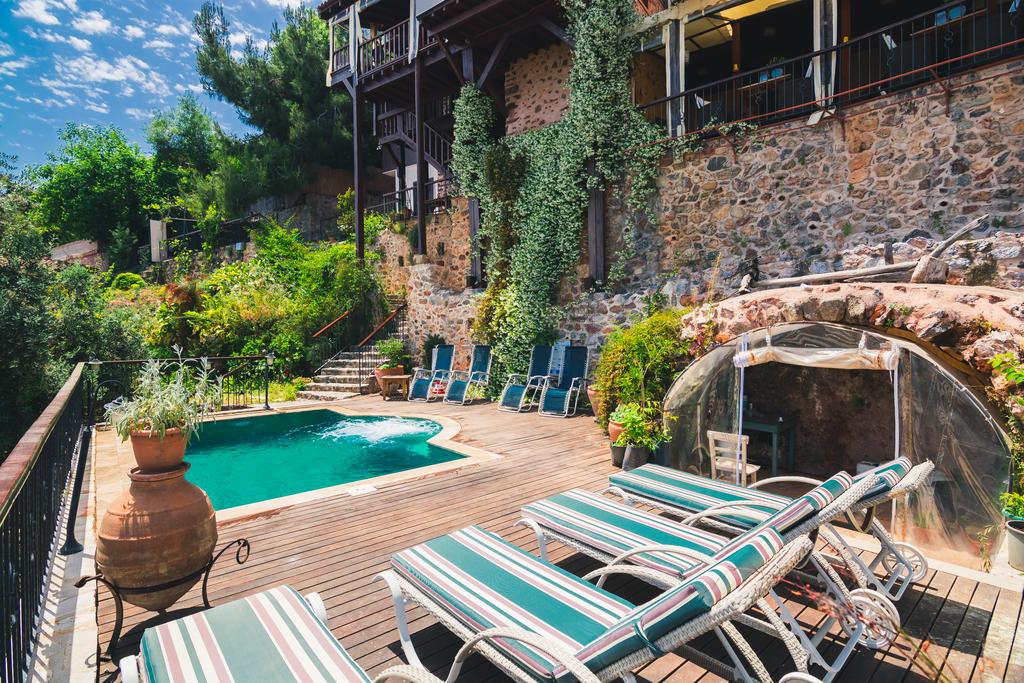 In the list of budget hotels in Turkey, Hotel Villa Turka is an ideal option which is a 4-star boutique hotel located in Alanya Castle. The décor of the hotel will take you back to the old quarters of Turkey, giving a true insight into the culture of the country. From historical mansion with an exotic sea view to deluxe villa and honeymoon suite, there is a wide variety of rooms to choose from which are all equipped with modern facilities and comfort. There is also a pool with jacuzzi where you can enjoy a relaxing bath after the hectic day of adventures or sightseeing. Free tea and coffee is also available which can be grabbed from the reception at any time of the day. With not so exorbitant prices, the facilities of this hotel make it one of the best hotels in Turkey.
TripAdvisor Rating: 5
Location: Tophane, Kargı Sk No:7, 07400 Alanya/Antalya, Turkey
Exclusive Features:
Pool with Jacuzzi
Table Tennis
Real Estate Consulting
In-room Kettle
A Winter Stove
Beach Shuttle
2. Mandarin Oriental, Bodrum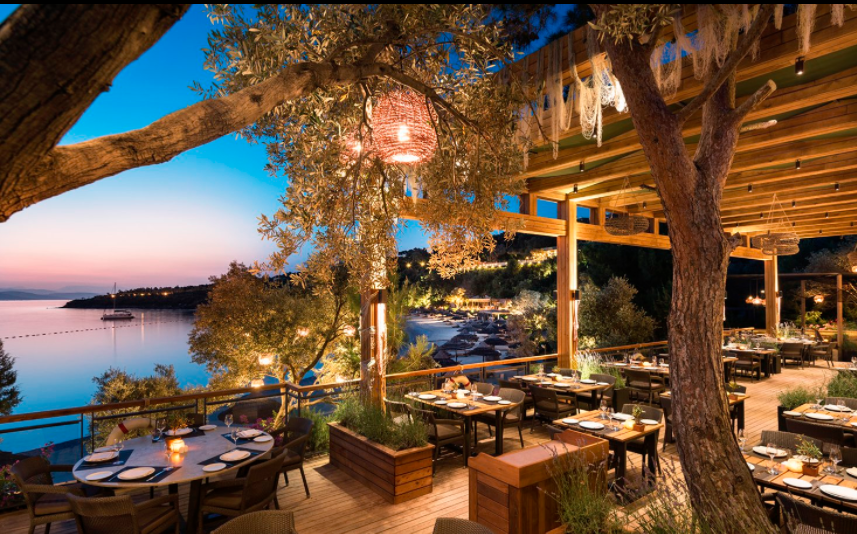 Mandarin Oriental, Bodrum is one of the best hotels in Turkey and a stunning 5-star hotel offering surreal environs and over the top luxurious facilities. Boasting of a private beach and leisure activities, the hotel is a great place to rejuvenate your mind and body. Offering magnificent views of the Aegean Sea, the hotel is set in a tranquil setting, all decked up with superior, elegant and fine interiors. There are different options of rooms and suites available that offer different views that of a sea or a lush green garden. Some of the suites come with a private pool and access to all the high-end amenities and 5-star comforts.
The spa and wellness center of the hotel offers a soothing and healing experience set amidst an idyllic setting. There are spa cabanas built in open overlooking the Aegean Sea. Sauna and steam rooms are also available for you to enjoy a relaxing bath. The hotel is also equipped with both indoor and outdoor swimming pool. It also has great dining and bar options which have sophisticated interiors, beguiling setting and extensive menu. Mandarin Bar, Pool Bar & Restaurant, Sofra, Blue Beach Club & Bar, Assaggio, Kurochan by IOKI and Bodrum Balıkçısı are some dining and bar options available here.
TripAdvisor Rating: 4.5
Location: Golturkbuku Mahallesi 314. Sokak No. 12/1, Golturkbuku 48400 Turkey
Exclusive Features:
Indoor and Outdoor Swimming Pool
On-site Restaurants and Bar
Sauna and Steam Rooms
Spa
Villas
Business Facilities
Suggested Read: New Year 2021: 18 Popular Places In The World
3. D-hotel Maris, Turgut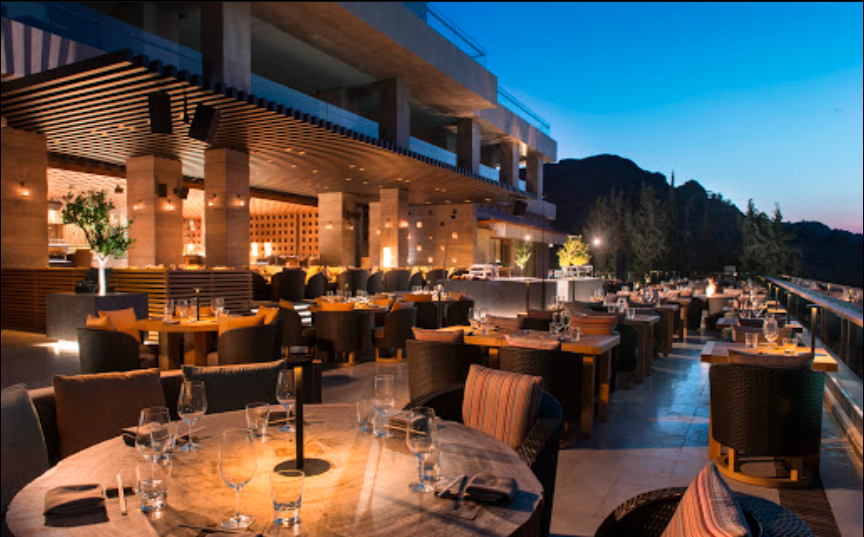 If you are looking for luxury hotels in Turkey, then D-Hotel Maris is a perfect choice that offers 5-star comfort amidst the secluded surroundings where you can connect with nature. It is located at Datça Peninsula, a place where the two seas Aegean and Mediterranean meet each other. This oasis of comfort and leisure offers great options for relaxation, fun and leisure. From exotic dining option to thrilling activities at the white sandy beaches, D Hotel has it all. The interior of each room reflects the fusion of Middle East with West owing to the natural phenomenon that takes place here of Aegean Sea meeting the Mediterranean Sea. The villa, rooms and suites come with a private balcony offering enticing views of the beach or sea.
This top hotel in Turkey offers Mytha Spa which offers an array of personalized treatments using pioneering equipment. Relax and feel the bliss of getting pampered in a soothing environment. There is also a fitness center with a personal trainer to help you work out as per the need of your body. The lower terrace of the hotel has a dreamy poolside area with canopied sunbeds where guests can relax and bask all day soaking in the sunshine.
TripAdvisor Rating: 4.5
Location: Hisarönü Mevki, Yeni Datça Yolu 35. Km, 48380 Marmaris/Muğla, Turkey
Exclusive Features:
Beaches & Pools
Spa & Wellness
On-site Dining
Private Villa
Suggested Read: Stunning Places To Visit In February In The World
4. Caresse, a Luxury Collection Resort & Spa, Bodrum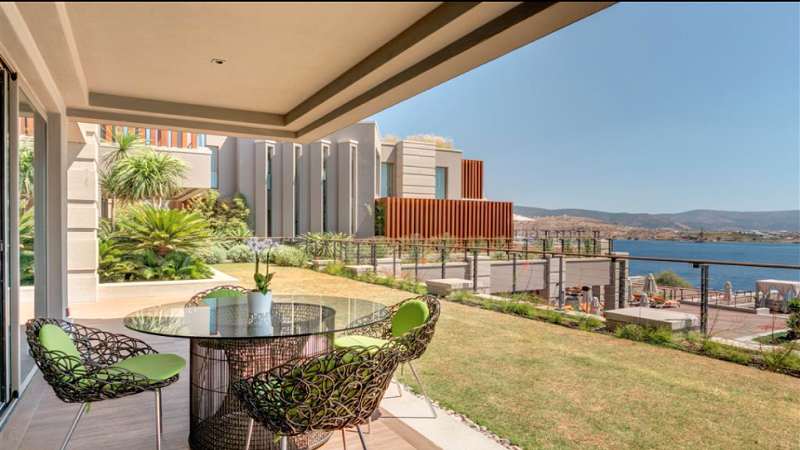 Caresse Luxury Collection Resort & Spa, Bodrum offers exceptional facilities and rooms, suites and a King Villa equipped with modern comfort, chic furnishings and plush appeal in every nook and corner of the rooms. Each of the room type comes with a private balcony or a terrace from where incredible views of the Aegean Sea can be witnessed. One of the best luxury hotels in Turkey, the Caresse allows you to relax, unwind and enjoy the luxury of the resort amidst a serene setting.
Offering a high-end spa and wellness facilities, Caresse uses both traditional and international methods to provide rejuvenating spa treatment to guests who opt for it along with a relaxing sauna and steam bath. There is also a fitness center with all the top-notch and ultra-modern facilities and equipment to help you burn those extra calories even on your vacation. The hotel also boasts of a beachfront restaurant named Buddha-Bar Beach Bodrum Restaurant & Bar which is open for breakfast, lunch and dinner. Day to night fine-dining experience can be enjoyed at the Glass Restaurant which has exquisite décor and menu inspired by international cuisines with an aroma of Aegean flavors. The Glass Lounge offers an open terrace seating where the sunset can be enjoyed while sipping those exotic flavors of cocktails.
TripAdvisor Rating: 4.5
Location: Adnan Menderes caddesi No: 89 Asarlik Mevkii PK, D:225, 48400 225/Muğla, Turkey
Exclusive Features:
Glass Lounge
Spa & Fitness Center
Restaurant & Bar
Suggested Read: New Year in Dubai UAE 2021
5. Kapadokya Hill Hotel & Spa, Cappadocia
The Kapadokya Hill Hotel and spa, located in Gore Cappadocia is one of the most affordable and excellent property for your stay in Turkey. The hotel features the best facilities like Wi-Fi, and spa, wellness center, gym and restaurants where you can relish the leisure moments. You can enjoy dining at the best on-site restaurant that offers you a tempting zest of authentic Turkish food. Kapadokya Hill Hotel and Spa offers an outdoor and indoor pool where you can relax and enjoy your evening.
There are best designed accommodating options available for your luxury stay that only features leisure and comfort, but a very distinct architecture. You can choose to reserve your accommodation from 43 rooms categorized as loft rooms, stone and cave suites. Each living space at this top hotel in Turkey offers amenities like LED TV with Tivibu broadcast channels. Another excellent facility provided to the guests here is a smart TV in their room where they can get all the information about spa, restaurants and other services. Ensuring complete privacy and comfort, guests get access to spacing area private bathroom with your all-needed facilities.
TripAdvisor Rating: 5
Location: Afetevler Mahallesi, Niğde Yolu 4. km Göre Kasabası, 50170 Nevsehir, Turkey
Exclusive Features:
Two Swimming Pools
Fitness Centre with Gym
Conference facilities
Free Parking Space
Walk-in shower
6. Sheraton Bursa Hotel, Bursa
Planning a five-star holiday in Turkey, the Sheraton Bursa Hotel is among the best accommodation you can book for a visit. Located at an accessible distance from the Mudanya-Guzelyali Ferry Port, the Sheraton Bursa hotel is 10 min drive away from the city center.
Each of the stylish rooms and suites here is designed with the best technology and outstanding facilities like a flat-screen TV, furnishing, air conditioning, private bathroom and amenities. You can even book your stay at the club and executive rooms to get access to Executive Club Lounge with complimentary breakfast. There are 171 guest rooms redefining the leisure and luxury for your holidays.
What makes Sheraton Bursa, your perfect luxury hotel in Turkey is the promising services and 24X7 room assistance. The restaurants at Sheraton Bursa offer a delighting taste of international and traditional Turkish delicacies prepared by the world-class chefs. Adding on to your rejuvenating experience, the spa facility here features all your manicure and pedicures, body scrub, massages and more.
TripAdvisor Rating: 4.5
Location: Odunluk Mah. Akpinar Cad. Nilufer, 16110 Bursa, Turkey
Exclusive Features:
Spa And Fitness center
Swimming pool
Bar and Restaurants
Free Parking
7. Celal Aga Konagi Metro Hotel, Istanbul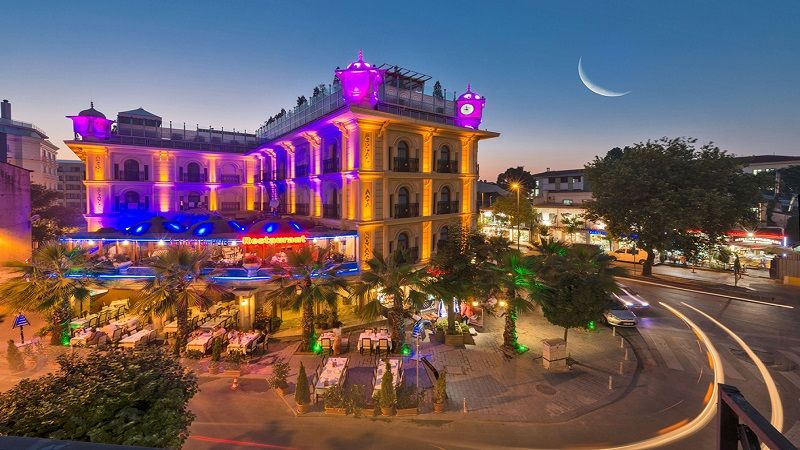 While exploring the best attractions like the Islands in Istanbul, Celal Aga Konagi Metro Hotel is one of the best luxury hotels in Turkey. Featuring the best amenity and facilities for the guests, the hotel has every luxury you need to make your staycation memorable and pleasant. The modern and contemporary design, the fashioned interiors, and the fancy restaurants that are serving the most delighting meal on your holiday have made Celal Aga Konagi Metro Hotel the best in the city.
Choose from the categories offered here, where every room is defined well by premium quality furnishing and bedding. The spacious accommodating unit includes an air conditioning facility, private bathroom, silk carpets, free Wi-Fi, flat-screen TV, and so much more to add to every leisure.
Celal Aga Konagi Metro Hotel being one of Turkey best hotels, has the best wellness center and spa facility where you can rejuvenate your holiday spirit. With the traditional healing techniques, the hotel offers spa and sauna centers to the guests. Keeping your fitness on track, you can even get access to the gym available there.
TripAdvisor Rating: 4.5
Location: Kemalpasa Mah. Sehzadebasi Cad. Celal Aga Konagi No 1 Vezneciler – Fatih, Istanbul, Turke
Exclusive Features:
Spa and Sauna
Wellness Center
Fitness Center
Restaurant and Bar
Pool
Suggested Read: Top Hotels In Seychelles Every Vacationer Would Love To Stay At
8. Park Inn by Radisson, Izmir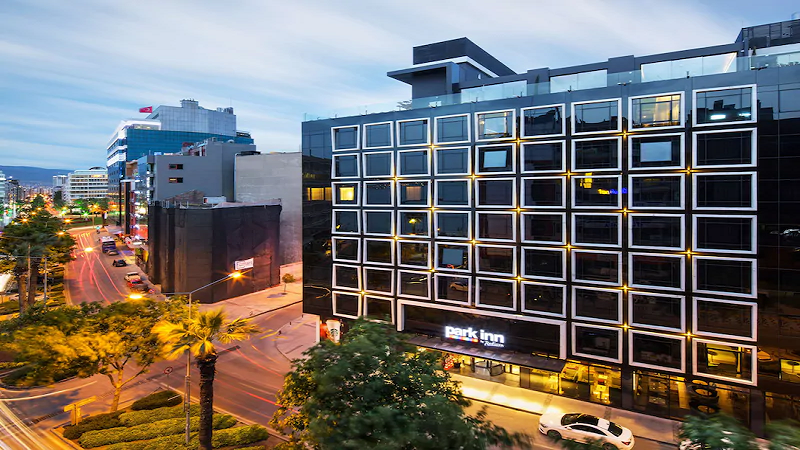 With its stylish architecture, modern furnishing, and easy accessibility from almost every corner of the city Izmir, Park Inn by Radisson is one of the best Turkey hotels for your holiday stay. The hotel is located within few miles from the Adnan Menderes International Airport and close to many other attractions in Turkey.
This luxury property offers 137 rooms for you to choose the best accommodations. With your stay, you will get complimenting amenities like free Wi-Fi, exquisite furnishings, and beddings. The spacious accommodation features private baths, toiletries, flat-screen TV for your entertainment and so more. There is an on-site restaurant and café where you can relish the taste of Turkish food, your favorite cocktails, and drinks.
Catering to the need of every traveler, Park Inn by Radisson has a business center and meeting rooms if you are on an official trip to Turkey. Other facilities that you can enjoy while spending your stay includes a fitness center and a free parking space.
TripAdvisor Rating: 4.5
Location: Cumhuriyet Bulvari No. 124, Konak, Izmir, Turkey
Exclusive Features:
Wellness Center
Fitness Center
Restaurant and Bar
Meeting Room
9. InterContinental Istanbul, an IHG Hotel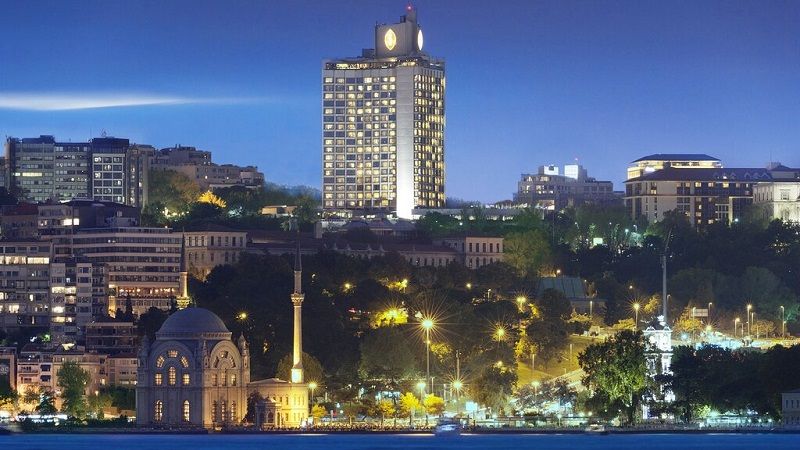 From the famous hotel branch of IHG hotels, InterContinental is one of the best places to stay in Turkey. Featuring the best accommodation and services like spa, fitness center, parking space, free Wi-Fi, the hotel is just a perfect luxuriating place for a staycation.
Now, the rooms at InterContinental Istanbul offer you an overlooking window or balcony from where you can witness the serene landscape of the city dazzling with lights, the skyscrapers. The air conditioning facilities, private bathroom, fancy interiors, and comforting furnishing of the hotel are some additional and complimenting facilities to make your stay leisurely.
Rewind your holiday spirit at the spa and wellness center. Guests staying at InterContinental Istanbul can get access to the fitness club or the spa whenever they want. Well, if there are adventure things to do in Turkey, there is leisure too.
TripAdvisor Rating: 4.5
Location: Asker Ocagi Cad. No :1, Taksim, Beyoglu, 34435 Istanbul, Turke
Exclusive Features:
Wellness Center
Restaurant and Bar
Fitness Center
Swimming Pool
Book your flights to Turkey and experience the its rich culture and heritage. Turkey is a great country full of historical sites, museums, scenic beaches and a lot more to offer. Get mesmerized by the natural beauty or get stunned by its rich history on your trip to Turkey. Whether it's the unique natural phenomenon of Istanbul being lying in two continents of Asia and Europe or the postcard-perfect landscapes of Cappadocia, Turkey has a lot to offer than just this. Book a stay in any of these best hotels in Turkey and enjoy satisfying holiday experience here.
FAQs
Q1. Which is the best area to stay in Turkey for tourists?
Some of the best areas to stay in Turkey for tourists are:
Sultanahmet, Istanbul
Grand Bazaar, Istanbul
Bodrum
Gümbet
Ölüdeniz, southwest coast of Turkey
Q2. How many days are enough for an ideal trip to Turkey?
7 to 10 days are usually enough for an ideal trip to Turkey in order to explore all the major attractions and enjoy thrilling adventures.
Q3. Is Antalya worth visiting?
Antalya is definitely worth visiting, in fact, it is the most visited city in Turkey after Istanbul. Some of the main attractions in Antalya are Old Harbor, Antalya Museum, Hadrian's Gate, Aspendos, Perge and Old Town.
Q4. What are some luxurious hotels in Turkey?
Some of the best luxurious hotels in Turkey are:
Mandarin Oriental Bodrum
Ciragan Palace Kempinski Istanbul
Shangri-La Bosphorus, Istanbul
D-Hotel Maris
Kempinski Hotel Barbaros Bay Bodrum
Caresse, a Luxury Collection Resort & Spa, Bodrum
Q5. What is the best time to visit Turkey?
April to May and September to October are the best months to plan a trip to Turkey in order to enjoy the pleasant weather.
Q6. What are the best honeymoon hotels in Turkey?
Some of the best honeymoon hotels in Turkey are:
Four Seasons Hotel Istanbul at The Bosphorus, Istanbul
Gloria Serenity Resort, Antalya
Tomtom Suites, Istanbul
Cappadocia Cave Suites, Cappadocia
Akra Hotel, Antalya
Q7. Can unmarried couples stay in hotels in Turkey?
Every hotel has its own rules when it comes to unmarried couples staying in the hotels in Turkey. It is always the best to call the hotel in which you are planning to stay and ask them directly about their hotels' rules in this regard.
Q8. What should one avoid in Turkey?
There are certain things which tourists are recommended to avoid in Turkey like:
Do not boast about your wealth.
Avoid traveling in a taxi without an authorized logo.
Do not enter places of worship by wearing obscene dresses or with your footwear on.
Do not disrespect the local culture and traditions of the local people.
Do not hinder the view of a person worshipping at a mosque.
Q9. What are the best restaurants to eat in and around Sheraton Bursa Hotel?
The best restaurants around the Sheraton Bursa hotel are:
Prusa Restaurant
Tiene Vida Restaurant
Zennup 1844
Nevale
Q10. What are all amenities included in rooms at Kapadokya Hill Hotel & Spa?
Every accommodating room at Kapadokya Hill Hotel & Spa comes with the best amenities and facilities like:
Blackout curtains
Air conditioning
Desk
Coffee and tea maker
A flat-screen TV with satellite
Walk-in shower
---