A lot of you might not have heard of Barog, an unexplored gem nestled in Solan district of Himachal Pradesh. This destination has shied away from the tourist eyes for a long time, but it's time to bring it into the spotlight because it's the perfect combination of Shimla's beauty and Himachal's charm, but without the crowd. There are a lot of places to visit in Barog and several unique attractions that would surprise you in the best way possible. It's a part of Himachal but is slightly different from the mainstream image we have of this hill station, which is what makes it worth a visit. So, you can revel in the mountain feel of this city, stroll around the scenic beauties, and become one with nature.
Best Places to Visit in Barog: Unveil Himachal's Secret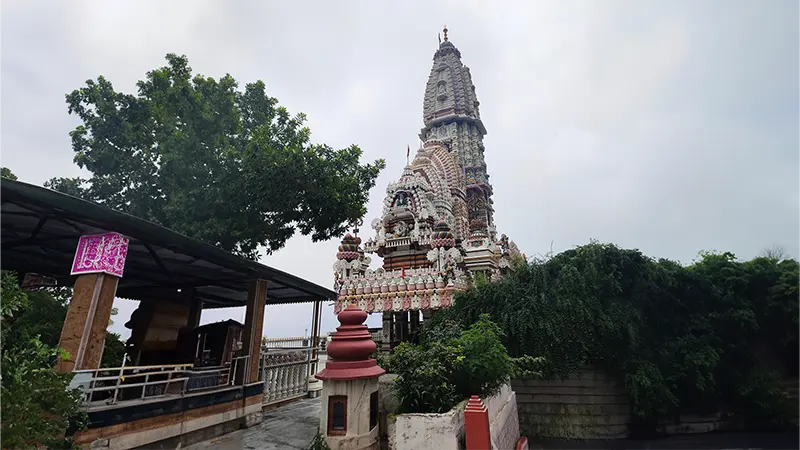 If you've been trying to imagine what Barog is like, then let me stop you right there because this hill station would still surprise you in ways you can't imagine. Being away from the tourist radar for quite some time has allowed this place to remain untouched by people, which is evident in its natural beauty and tranquility. There's an enchantment in the air of this city, which is beyond any explanation, so you must see it for yourself.
Here are the top Attractions in Barog
Choor Chandni Peak
Suketi Fossil Park
Dolanji Bon Monastery
Barog Camping Grounds
Karol Tibba
Grave of Barog
Jatoli Shiva Temple
Dharampur
1. Choor Chandni Peak: One of the Most Famous Places to Travel in Barog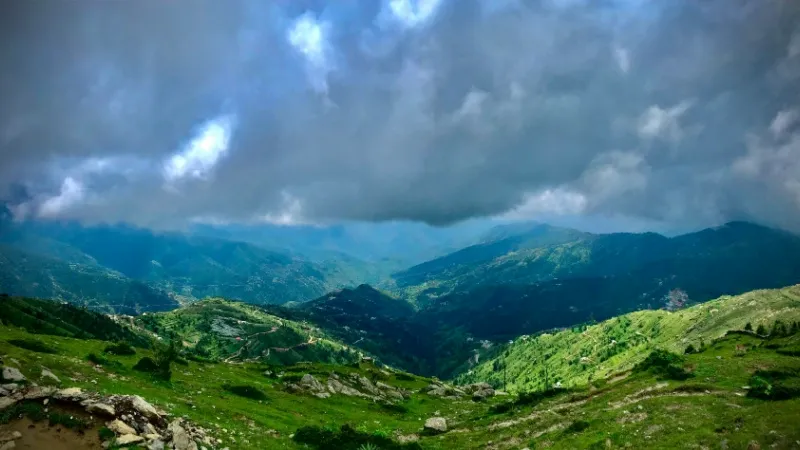 The first place that you should escape to in this gorgeous city is the Choor Chandni Peak, also known as Choordhar Mountains. The best time to visit this place is at night, when the moonlight makes the entire peak appear like there are silver bangles rolling off it, thus the name. Trekking to the top of this peak, located at an altitude of around 3650 m is one of the famous things to do in Himachal Pradesh, the view from the top mesmerizing you are reason enough to consider taking a trip here. There are pine forests beautifying the entire place and Churdhar Temple to seek blessings.
Best time to visit Choor Chandni Peak, Barog: March to May or October to November
Choor Chandni Peak address: Sirmaur District, Solan District, Barog, Himachal Pradesh
Nearby attractions: Kandrour Bridge, Laxmi Narayan Mandir, Rudra Shiva Statue, Jatoli
How to reach Choor Chandni Peak, Himachal: You must travel to Solan via car and then reach the Nauradhar base, which is approx. 72 km away from Barog. From there, you can trek to the top of the peak.
2. Suketi Fossil Park: A Pre-Historic Marvel in the City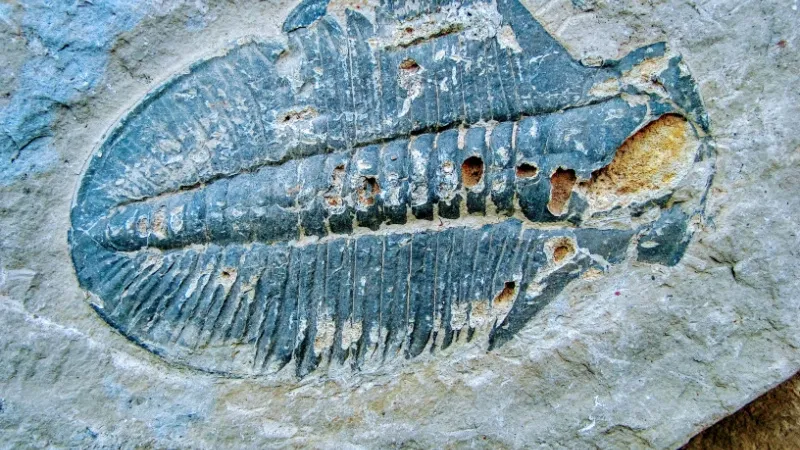 The best part about this park is that it's the first park in Asia that was built in the same place where the original fossils were found. Therefore, it's an attraction of great significance and is among the best places to visit in February in the world. You'll find huge life-size models of pre-historic animals here as well that are made of fiberglass. They are so life-like that you'll be astounded by the animals here, including the model of the extinct giant elephant, giant land tortoise, Sabre toothed tiger and many more. This park is located on the banks of Markanda River and is perfect for strolling around, admiring the marvelous animal models dating back 8.5 million years, and gain knowledge from the museum inside the park.
Best time to visit Suketi Fossil Park, Barog: February to December
Suketi Fossil Park timings: 9:30 A.M to 5 P.M
Suketi Fossil Park address: NH 72, Nagal Saketi, Himachal Pradesh 173001, India
How to reach Suketi Fossil Park: You can travel via car to this location, which is approx. 237 km away from Barog.
Suggested Read: 5 Best Places to Visit in Narkanda: Refresh Your Soul Near Nature's Bliss
3. Dolanji Bon Monastery: A Peaceful Environment Awaits You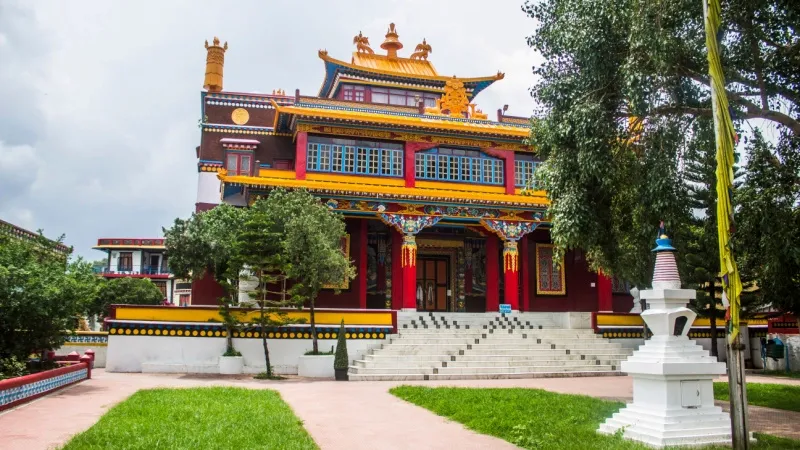 If you wish to immerse yourself in the Tibetan culture, then what better way to do that than by visiting this monastery, one of the places to visit in Barog, Himachal Pradesh. The peaceful and serene aura of this place is enough to soothe your mind and even though it was established as a small cultural heritage, it now houses around 120 monks. You can witness Tibetan practices and traditions here, and if you're lucky, you might even get to be a part of the Bon dances here during New Year and other occasions. The gorgeous surroundings and warm hospitality by the monks would leave you spellbound.
Best time to visit Dolanji Bon Monastery, Himachal: February to November
Dolanji Bon Monastery timings: 9 A.M to 6 P.M
Dolanji Bon Monastery address: Dolanji, Ganyar, Himachal Pradesh 173223
Nearby attractions: Jatoli Shiv Temple, Kali ka Tibba, Scandal Point, Dharon ki Dhar Gorkha Fort
How to reach Dolanji Bon Monastery, Barog: It's convenient to travel via a cab or taxi to this attraction as it's around 22 km away from Barog.
Suggested Read: Honeymoon in Shimla: Bloom Your Romance amidst the Picturesque Landscapes
4. Barog Camping Grounds: Among the Top Barog Tourist Places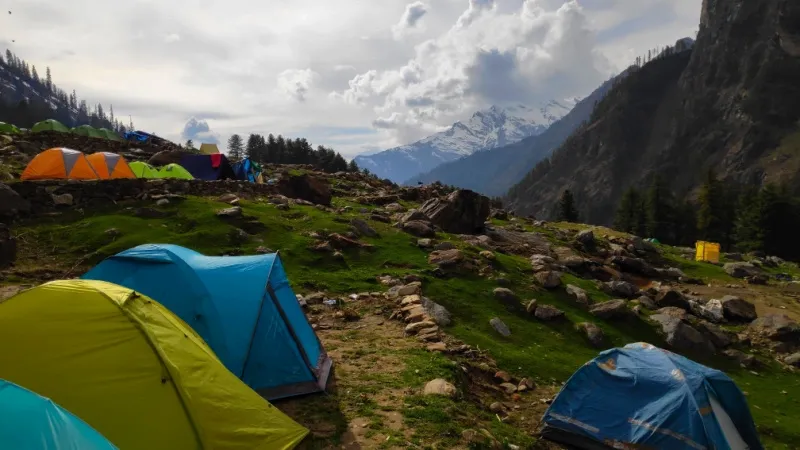 As the name suggests, this place is ideal for camping with the breathtaking view of the Solang Valley, Choor Chandni Peak, and lush greenery surrounding you from all sides. You can enjoy some alone time in the lap of nature or spend quality time with your friends or partner. It's quiet a romantic place, and you can consider Barog as one of the many honeymoon destinations in India. You can spend the night under the starry sky in a tent, enjoy a bonfire, go on nature walks, and much more. The camps are equipped with all the basic facilities to make your stay here comfortable, and it'll definitely be one of the highlights of your trip.
Best time to visit Barog Camping Grounds, Himachal: April to September
Barog Camping Grounds address: Barog, Solan
Nearby attractions: Choor Chandni Peak, Solan Valley
How to reach Barog Camping Grounds: You can easily travel via road to this camp site, either by bus or car.
Suggested Read: Trekking Trails in Himachal Pradesh to Wander into the Wild
5. Karol Tibba: A Mythical Attraction in Himachal Pradesh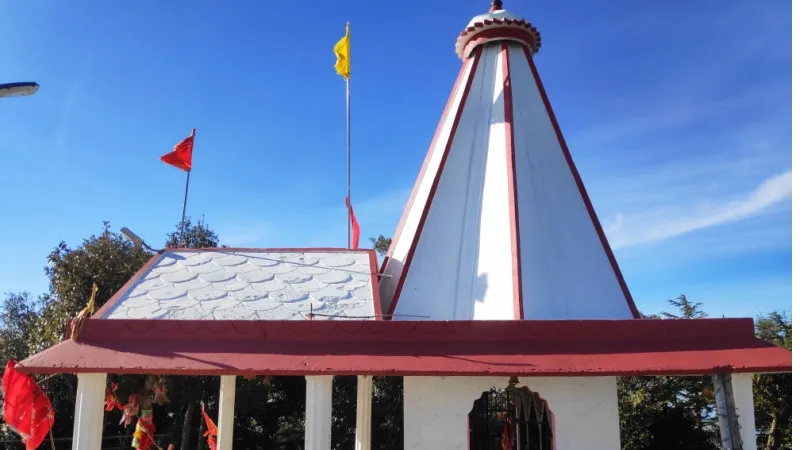 One of the most underrated places to visit in Himachal Pradesh is the ridge of Karol, which includes several mythical tourist attractions. There's a cave here, called Pandav cave, which is believed to be the place where the Pandavas resided for a few days. Apart from that, this cave is the longest one in Himachal, connecting Karol with Pinjore. Trekking up this hill, you'll come across scenic views of pine forests, and even a temple at the top. What would make this entire effort worthwhile, though, is the glorious panoramic view of the city. It's the ideal place for nature lovers, adventure enthusiasts, and photographers, so count this among the places to visit near Barog.
Best time to visit Karol Tibba, Barog: April to June or September to December
Karol Tibba address: Barog, Solan
Nearby attractions: Mohan Park, Maa Shoolini Temple, Pandava cave, Dagshai
How to reach Karol Tibba, Himachal: You can travel via cab or taxi to the base of the hill, which is approx. 11 km away from Barog, and then trek the rest of the way for around 2 to 3 hours.
Suggested Read: Things to Do in Mcleodganj for a Heart-Pumping Thrilling Holiday
6. Grave of Barog: The Terrifying Truth Behind this City's Name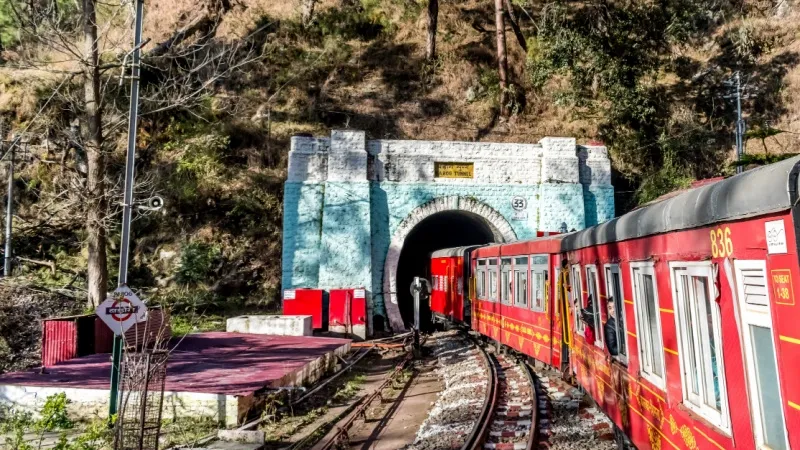 Now, let's get to the reason behind why this city is named Barog. There was an engineer named Barog who was assigned the duty to construct the longest tunnel in the world here. However, he failed to do so because of a miscalculation, and committed suicide out of humiliation. This tragic story led to this city being named after him. Barog's grave has become a tourist spot and people who travel to this place visit this location as well to pay their respects. There's a gorgeous garden near the grave as well. So, you can visit this offbeat place, which is a vital part of the local sightseeing tour.
Grave of Barog address: Nr. Railway Station, Barog, India
Nearby attractions: Jatoli Shiv Temple, Barog railway station
How to reach Grave of Barog, Himachal: You can reach here via a cab or taxi.
Suggested Read: Things to Do in Bir Billing: Fly High in the Adventure Capital of India
7. Jatoli Shiva Temple: Seek Blessings at One of the Oldest Shiva Temples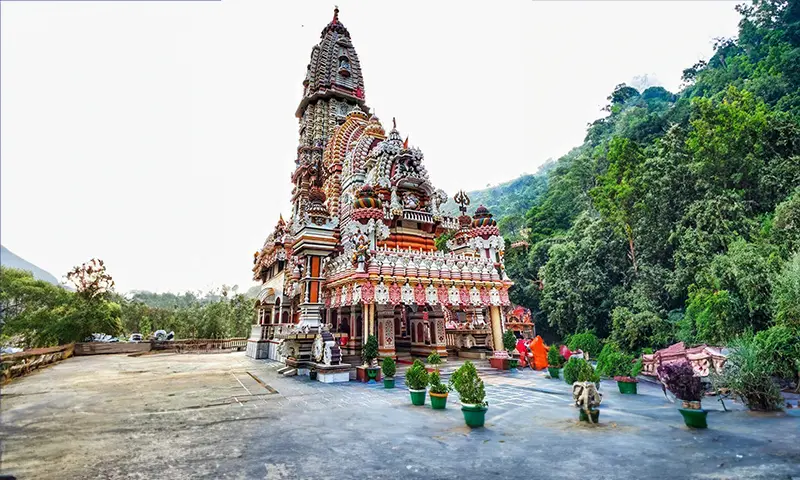 One of the places to see in Barog that you can't miss out on is this attraction in Barog, which is one of the oldest Shiva temples. It houses an ancient shivlinga in it, which is revered by people from all across the world. Barog is famous for this tourist attraction and is known for it because it's quite possibly the highest temple in Asia, which automatically makes it one of the many places to travel in India. The impressive architecture, interior, designs, etc. are awe-inspiring and the morning prayer at this temple is absolutely soul stirring, so visit this temple during the morning aarti, if possible, to revel in Lord Shiva's name.
Best time to visit Jatoli Shiva Temple, Barog: 6 A.M onwards
Jatoli Shiva Temple timings: 4 A.M to 8 P.M
Jatoli Shiva Temple address: Barog, Solan, Himachal Pradesh
Nearby attractions: Maa Shoolini Temple, Kal Tibba Temple, Dharon ki Dhar Gorkha Fort
How to reach Jatoli Shiva Temple, Himachal: You can travel via a cab or taxi to the temple, covering a distance of around 15 km.
Suggested Read: Things to do in Solang: Valley that is Nestled in Western Bank of the Beas River
8. Dharampur: Marvel at the Royal Heritage of this City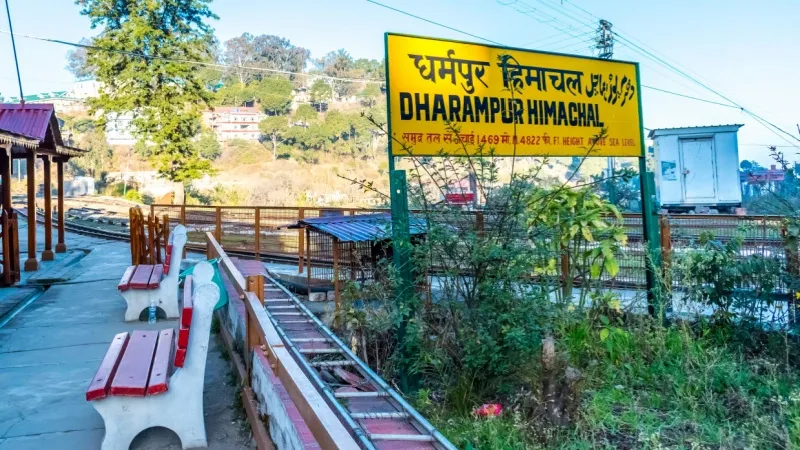 As we come to the end of our list, here's one of the top places to visit in Barog that would enrich your experience in this city even more. Soaked in royal charm and heritage with beautiful attractions, including Japanese Gardens, Laxminarayan Temple, Lady Wilson Museum, and many more, you'll love spending some time here. Another famous thing to note here is that this place has one of the most popular hospitals in India to cure tuberculosis. So, immerse yourself in the royal history of this place on your visit to Barog.
Best time to visit Dharampur: October to December
Dharampur address: Himachal Pradesh
Nearby attractions: Japanese gardens, Laxminarayan Temple, Lady Wilson Museum
How to reach Dharampur, Himachal: Cab or taxi is a convenient option to travel to Dharampur, located at a distance of around 8 km.
Barog is an emerging tourist destination in Himachal Pradesh because gradually people are getting acquainted with this place and viewing it as ana attraction in this hill station. The places to visit in Barog are the major reason as to why this hill station is coming into limelight, with lush greenery, glorious mountains, and breathtaking scenic views, you can't resist stopping by this city. It'll be a refreshing change from the usual tourist spots you visit in Himachal, so book our Himachal Pradesh tour packages to take a trip to this hidden gem.
Karol FAQs:
Q1. What is Barog famous for?
Barog is famous for its mountain feels and tourist attractions, including the Barog railway station, which has a tragic story associated with it. The Grave of Barog, Jatoli Shiv Temple, and many more attractions are the reasons behind Barog's popularity.
Q2. Which is the best season to visit Barog?
July to September are the best months to visit Barog. It's the monsoon season during that time and the entire city turns greener and even more gorgeous due to moderate rainfall.
Q3. How many tunnels are there in Barog?
There are 103 tunnels in Barog currently with the Barog tunnel being the longest on the Kalka-Shimla railway route, which is also a UNESCO heritage site. It's an 1143.61m long tunnel.
Q4. What is the climate in Barog?
Barog's climate during summer ranges from 94°F (35°C) and 72°F (22°C). During winter, the climate ranges between 61°F (16°C) and 41°F (5°C).
Q5. What is the height of Barog from sea level?
Barog is located at an altitude of approximately 1,860 m from sea level. It's a charming city in Himachal Pradesh and ideal for nature lovers and adventure junkies.
Q6. What are the best adventure activities to do in Barog?
You can indulge in trekking, camping, nature walks, and much more. There are several fun things to do here while admiring the scenic beauty surrounding you.
Q7. How to reach Barog?
You can reach Barog by taking a flight to Chandigarh International Airport and then traveling to this city via road. You could also take a road trip to this place from nearby cities like Shimla, Delhi, etc. People traveling via train can board a train to Kalka railway station or Shimla railway station to reach Barog.
Q8. How high is Barog railway station?
Barog railway station is 1,531 m high and lies on the Kalka-Shimla railway track. It's a small railway station in Solan.
---