Nestled amongst Himalayan peaks so grand, Narkanda's beauty sweeps across the land. Orchards bloom, snow-capped dreams take flight, In Himachal's embrace, a serene delight.
Have you ever dreamt of trekking up to a place with snow all-around, a charismatic temple on the hilltop, very blissful aura and spectacular mountains in the backdrop? Mesmerized?  Painted in white hues, like a snowy wonderland, Narkanda is a thrilling holiday spot for nature enthusiasts. The gorgeous town is situated in the majestic Indian state of Himachal Pradesh. The renowned hill station is blessed with scenic charm of nature with picturesque landscapes in the backdrop that charms every traveler. Situated at an altitude of 8886 feet, this beautiful destination promises a heavenly holiday where one can explore the ancient temples, enjoy nature walks amidst mesmerizing apple orchards and relish skiing in the snowy landscapes. With the blissful aura and picture-perfect scenery, there are many top places to visit in Narkanda for an ideal holiday experience. Want to know more about this divine hilly paradise? Bingo! Keep reading!
Top Places to Visit in Narkanda: Rendezvous with Nature for a Thrilling Holiday Adventure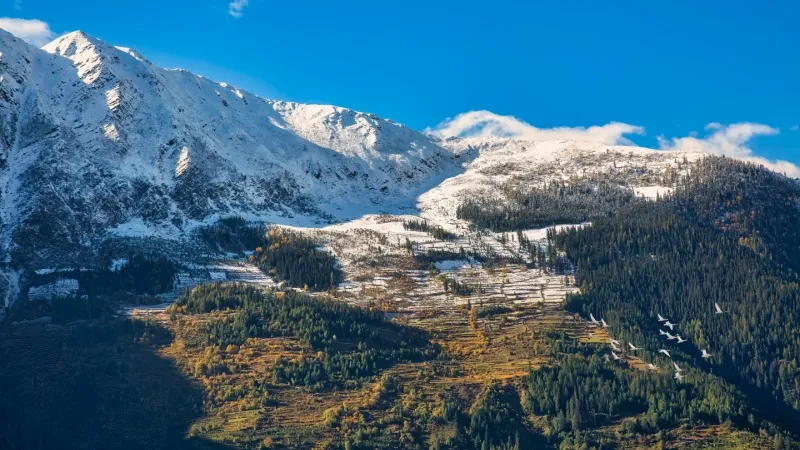 Tucked away in the majestic Himalayas, Narkanda is a pristine destination that remains untouched by the usual tourist crowds. This hypnotic hill station is famous for its enchanting vistas, quaint villages, and a myriad of outdoor adventures. Whether you're an avid skier, an ardent trekker, or simply seeking a tranquil getaway, Narkanda will captivate your heart with its simplicity and natural grandeur.
Here are the best places to visit in Narkanda for a blissful holiday delight away from the humdrum:
Hatu Peak
Hatu Mata Temple
Tani- Jubbar Lake
Kacheri
Skiing Point Narkanda
1. Hatu Peak: One of the Best Places to Visit in Narkanda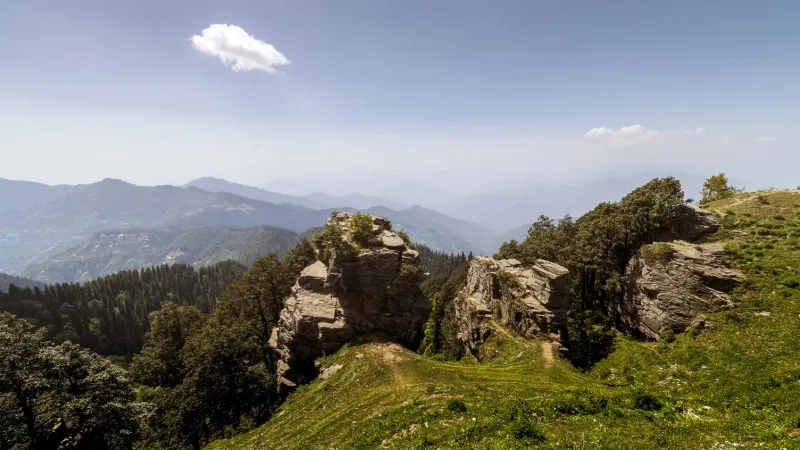 Blessed with an enchanting charm of nature, Hatu Peak is one of the top places to visit in Narkanda for an ultimate thrilling holiday experience. Nestled amidst the spectacular mountains, the peak provides panoramic views of the mighty Himalayas. Tourists can reach here via trekking and unwind in the lush green vistas. The traditional area breathes the classic aroma of ancient Haku Temple at its summit, attracting numerous devotees all year round. The peaceful atmosphere, lush green forests and occasional snowfall make it one of the offbeat destinations in Himachal Pradesh for a holiday away from the humdrum. Adventure enthusiasts can indulge in skiing and paragliding for an enthralling delight.
Places to Visit Near Hatu Peak: Hatu Mata Temple and Tani-Jubbar Lake
Things to Do in Hatu Peak, Narkanda: Nature walks, trekking and photography
Suggested Read: Trekking Trails in Himachal Pradesh to Wander into the Wild
2. Hatu Mata Temple: Seek the Blessings of the Divine Goddess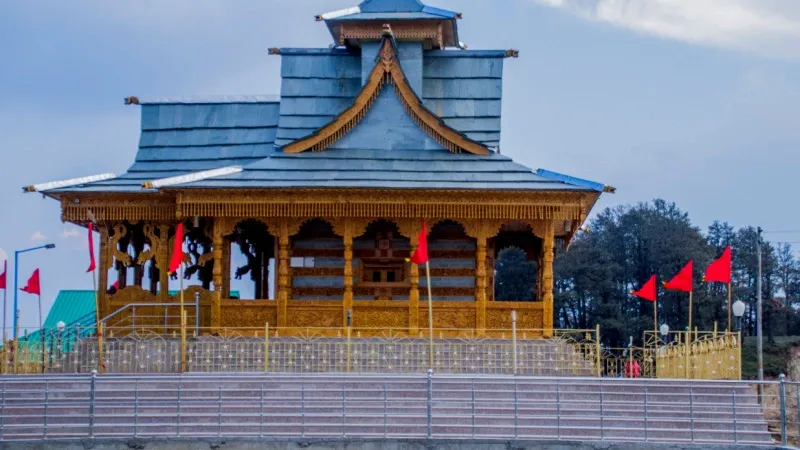 One of the best places to visit in Himachal Pradesh, Narkanda is also famous for its religious significance. Perched at an elevation of about 3400 meters, the temple is dedicated to Goddess Hatu, who is believed to protect the devotees and bless the region. The pilgrims and trekkers can reach the area by trekking amidst the pristine natural beauty and absorb the divine aura. According to an ancient legend, it is believed that a devoted local woman, Hatu, discovered a stone idol of Goddess Durga on the top of the hill. She prayed and meditated every day and built a shrine that with time evolved into the present temple. The regional Goddess, with the blessings of the Goddess Durga, protects the devotees. With breathtaking views and charismatic vibes, this place is amongst the best places to visit in Narkanda Himachal Pradesh in summer.
Places to Visit Near Hatu Mata Temple: Hatu Peak and Tani-Jubbar Lake
Things to Do in Hatu Mata Temple, Narkanda: Offer prayers in the temple, soak the blissful vibes, relax and meditate and enjoy nature walks
Suggested Read: 12 Jyotirlingas in India: The Ultimate Source of Divine Grace

3. Tani-Jubbar Lake: Relax in the Peaceful Surroundings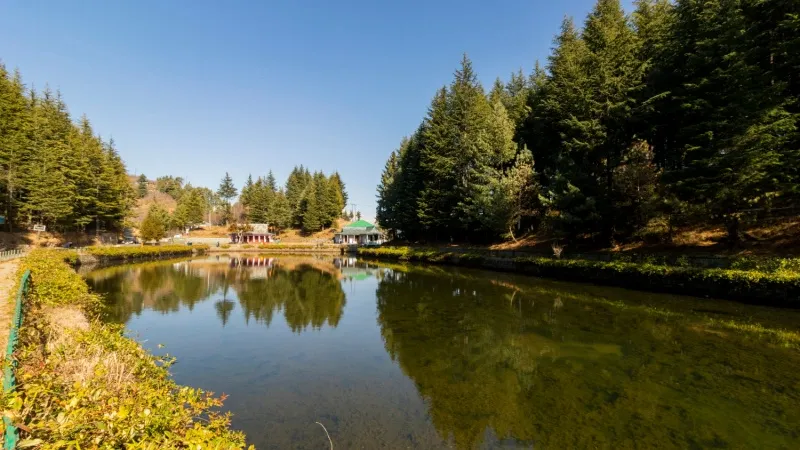 Tani-Jubbar Lake, located in the enchanting hills of Himachal Pradesh, India, is a picturesque freshwater lake renowned for its natural splendor. Nestled amidst lush greenery and surrounded by snow-capped peaks, the lake's crystal-clear waters reflect the stunning landscape, creating a mesmerizing sight. This hill station is a heaven for mountain lovers and adventure seekers to seek a break from the hustle and bustle of city life. Tani-Jubbar Lake also holds cultural significance for locals, who believe it to be the abode of Nag Devta, a serpent deity. The site offers opportunities for boating and picnicking, making it an ideal destination for nature admirers and those yearning for peaceful serenity. It ranks among the top places to visit in Narkanda in July.
Places to Visit Near Tani- Jubbar Lake: Kacheri, Hatu Temple
Things to Do in Tani- Jubbar Lake, Narkanda: Boating, picnicking, nature walks and photography
Suggested Read: Honeymoon in Shimla: Bloom Your Romance amidst the Picturesque Landscapes
4. Kacheri: The Gorgeous Village to Embrace the Culture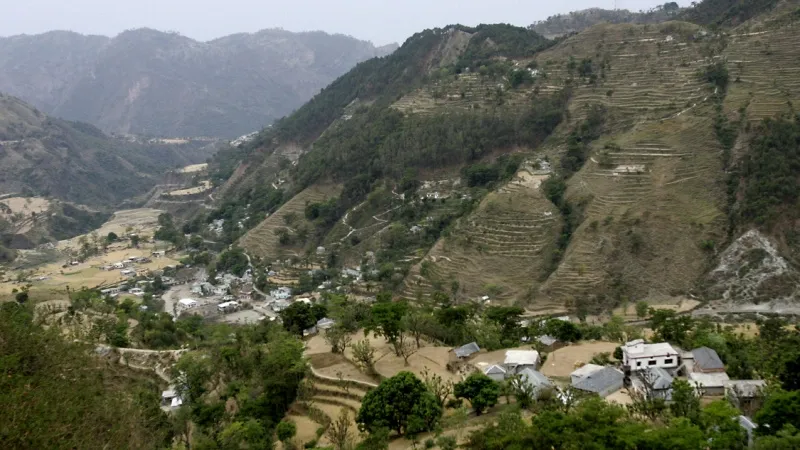 Renowned for its apple orchards and lush green landscapes, Kacheri offers an idyllic escape for nature enthusiasts and adventurers alike. Kacheri is a serene village located in the Narkanda region of Himachal Pradesh, India. Situated amidst the majestic Himalayas, this picturesque hamlet offers a perfect blend of natural beauty and tranquility. The village's pleasant weather and scenic vistas make it one of the ideal places to visit in Narkanda in May. The nearby Hatu Peak and Tani-Jubbar Lake further add to the charm of the area. Kacheri's quaint atmosphere and warm hospitality make it an offbeat yet delightful destination for travelers seeking a peaceful retreat in the lap of nature. Trekking and camping are one of the best things to do in Himachal Pradesh.
Places to Visit Near Kacheri: Hatu Peak and Tani-Jubbar Lake
Things to Do in Kacheri: Trekking, camping, indulge in local culture and traditions and savor local cuisine
Suggested Read: Hill Stations in India to Ditch the Summer Heat at these Winter Wonderlands
5. Skiing Point Narkanda: Enjoy Skiing Amidst the Snow-Clad Mountains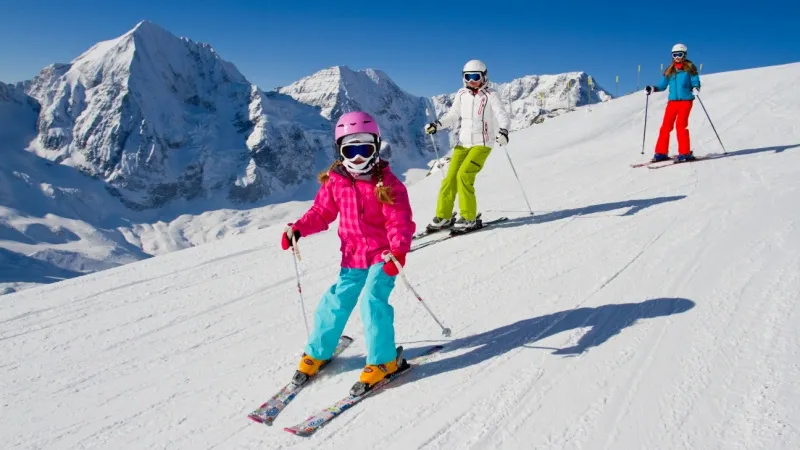 Narkanda, H.P is a paradise for skii enthusiasts and nature admirers. The gorgeous Skiing Point is an amazing place for a heavenly escape amidst the natural scenery. The ravishing winter destination is located at an altitude of approximately 2,700 meters, it offers thrilling skiing experiences amidst the snow-covered slopes of the Shivalik Range. During winters, the region transforms into a snowy wonderland that is suitable for both beginners and experienced skiers. Capture the panoramic views and stroll in the milky snow-clad hills and dense forests to embrace mother nature. Skiing courses and equipment rentals are available, making it accessible to all skill levels. Don't miss visiting this place this winter, as it is one of the best places to visit in Narkanda during December.
Location: 7F54+V2W, Narkanda, Himachal Pradesh 171213
Timings: 9 AM to 6 PM
Places to Visit Near Skiing Point in Narkanda: Stokes Farm, City Shopping, Mahamaya Temple, Kacheri
Things to Do Near Skiing Point in Narkanda: Nature Walks, skiing and photography
Suggested Read: Best Places To Visit in Shillong: For a Heartful Holiday in Nature's Arms
Best Things To Do in Narkanda: For a Thrilling Escape Close to Nature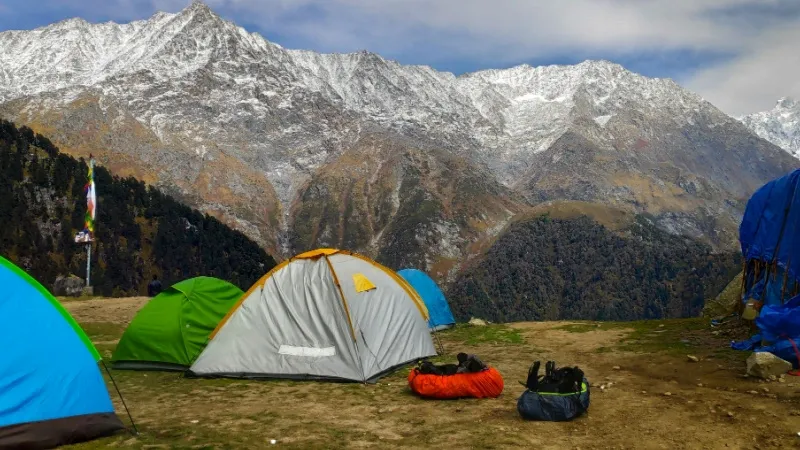 Narkanda is a beautiful destination in Himachal Pradesh, India, known for its scenic beauty and adventure opportunities. Here are some of the best things to do in Narkanda for a delightful holiday experience:
Trek to Hatu Peak, the highest point in the region, for breathtaking panoramic views of the surrounding mountains and valleys.
Enjoy camping in nature's lap and embrace the peaceful landscapes.
Enjoy skiing on the snow-covered slopes of the Shrikhand Mahadev Range.
Relax near the Tannu Jubbar Lake, a serene and picturesque lake surrounded by lush greenery.
Vist the hypnotic Apple Orchards and learn about apple cultivation in Fagu.
Visit Stokes Farm, known for its experiments with apple farming at higher altitudes and taste different apple varieties.
Pay a visit to the ancient Mahamaya Temple, which holds religious significance for the locals.
Keep your binoculars ready and explore the area for birdwatching opportunities.
Click panoramic photographs of the stunning scenery.
Savor the delicious Himachali cuisine at local eateries. Don't miss out on trying regional specialties like Dham, Sidu, and Babru.
Travel Tips for a Holiday in Narkanda: For a Hassle-Free Holiday Retreat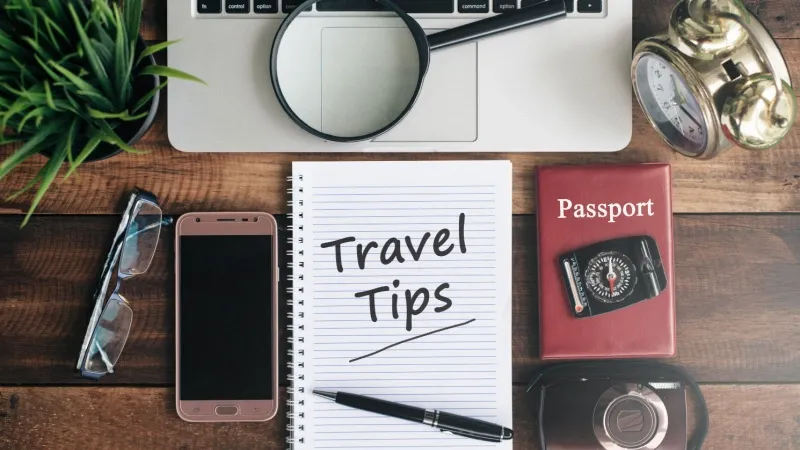 Check the weather conditions before traveling, as Narkanda experiences cold winters and mild summers. Pack accordingly with warm clothing for winter trips.
Book your accommodation in advance, especially during peak tourist seasons, to ensure availability and get the best tour packages of Narkanda.
Narkanda is at a considerable altitude, so acclimatize slowly to avoid altitude sickness. Drink plenty of water and take it easy during the first few days.
Public transport options in Narkanda are limited, so consider hiring a taxi or having your vehicle to explore the region comfortably.
Carry essential items like sunscreen, sunglasses, insect repellent, and a first aid kit. Also, keep your camera handy to capture the scenic beauty.
While there are ATMs in Narkanda, it's advisable to carry enough cash, as they may not always be reliable due to network issues.
Bring comfortable and sturdy footwear, especially if you plan to go trekking or explore the apple orchards.
If you plan to go skiing, consider renting equipment in Narkanda rather than carrying it from elsewhere.
Respect the local customs and traditions of Himachal Pradesh. Dress modestly while visiting religious places.
Preserve the natural beauty of Narkanda by not littering and respecting the environment.
How to Reach Narkanda?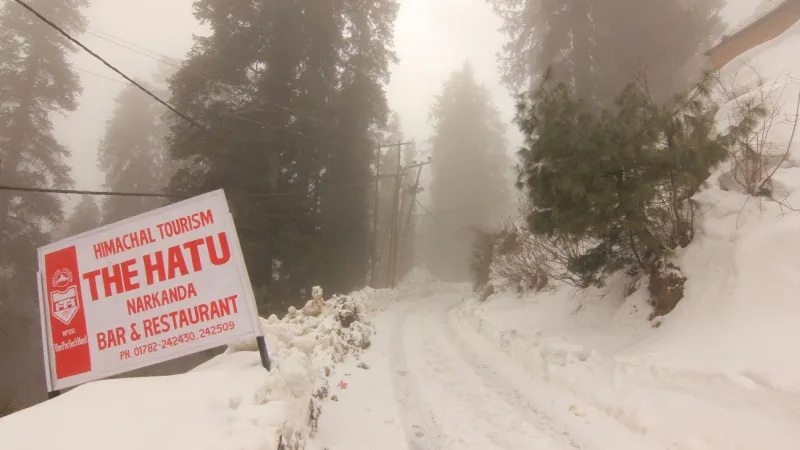 From Shimla: Narkanda is approximately 65 kilometers from Shimla, and the drive takes around 2 to 3 hours. You can hire a taxi or take a local bus from the Shimla bus stand to Narkanda.
From Delhi: Narkanda is approximately 420 kilometers  from Delhi. The journey by road takes around 8 to 10 hours. You can either drive by car or take a bus from Delhi to Shimla and then proceed to Narkanda.
The nearest airport to Narkanda is Jubbarhatti Airport, located near Shimla, at a distance of about 70 kilometers (43 miles). From the airport, you can hire a taxi to reach Narkanda.
The nearest major railway station to Narkanda is Kalka, which is well-connected to major cities like Delhi and Chandigarh. From Kalka, you can take a taxi or hire a local bus to reach Narkanda, approximately 180 kilometers (112 miles) away.
Himachal Pradesh Road Transport Corporation (HRTC) operates regular buses from cities like Shimla, Chandigarh, and Delhi to Narkanda. You can find both regular and deluxe bus options.
Best Restaurants in Narkanda: To Taste the Delicious Himachali Cuisine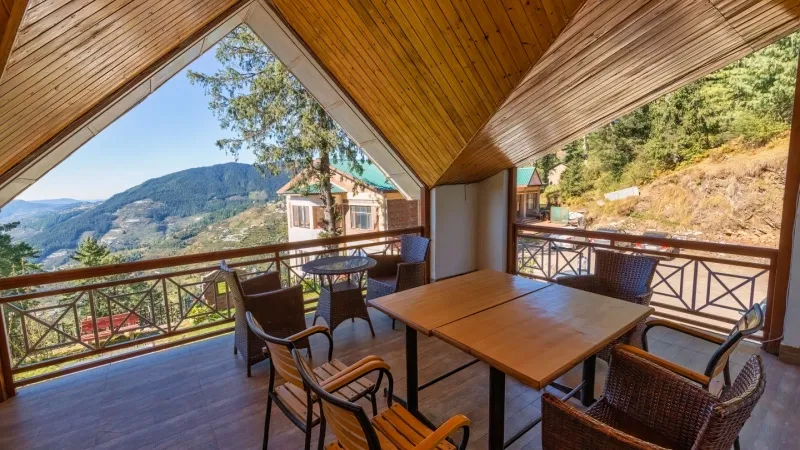 Shyam Bhojnalaya
The Himalaya Inn & Restaurant
Romeo Dhaba
Negi Dhaba The New Hilmalayan Dhaba
Hatu Restaurant & Bar
Hotel Mahamaya Palace Narkanda
Best Hotels in Narkanda, Himachal Pradesh: Relish a Luxurious Stay and World-Class Hospitality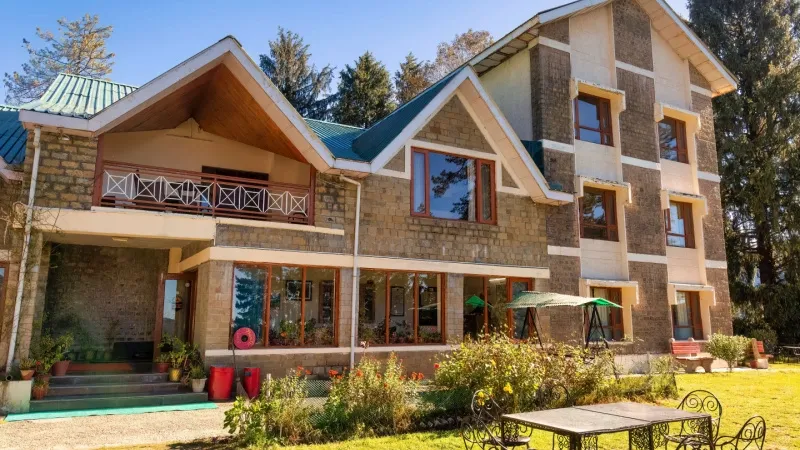 Sukoon Narkanda Cottages
Hotel Snowflake
Oaktree Homestay
Hill Top Resort Narkanda
The Northern Retreat Resort
The enchanting landscapes of Narkanda are pure bliss. From the misty mornings, soul-stirring sunsets to the warmth of Himachali hospitality, a holiday in Narkanda is a perfect way to enchant your moods. There are many places to visit in Narkanda that will surely cast its spell on you, leaving you longing for another rendezvous with its beauty. With numerous places to visit in Narkanda, a vacation in Himachal is all that you want. So, what are you waiting for? Book your Narkanda tour packages today to enjoy a blissful getaway. From the enthusiastic adventure activities to charismatic temples and delicious food, this majestic town is calling you to kiss the nature!
FAQs
Q1. What is the best time to visit Narkanda?
Narkanda is beautiful throughout the year, but the best time to visit is from April to June and from October to February. The summer months offer pleasant weather, while winter transforms the place into a winter wonderland, perfect for skiing and snow activities.
Q2. How can I reach Narkanda?
Narkanda is well-connected by road. The nearest major railway station is Shimla, and the nearest airport is Jubbarhatti Airport in Shimla. From there, you can hire a cab or take a local bus to reach Narkanda.
Q3. Are there any adventure activities in Narkanda?
Yes, Narkanda offers various adventure activities like skiing, trekking, and hiking. Hatu Peak is a popular trekking destination, while the slopes during winters are perfect for skiing.
Q4. When can I enjoy skiing in Narkanda?
The best time to enjoy skiing in Narkanda is during the months of November to March. At this time, one can find thick cover of snow. Visit here between 10 AM to 5 PM for best experience.
Q5. Are there accommodation options in Narkanda?
Yes, Narkanda has several accommodation options, including hotels, guesthouses, and resorts, catering to different budgets and preferences. Make sure you book the hotels in advance to avoid any hassle during peak seasons.
Q6. What are the nearby attractions from Narkanda?
Some nearby attractions include Shimla, Kufri, and Chail, which can be easily visited on a day trip from Narkanda. One should plan an itinerary in advance and don't miss to add adventure activities for a blissful experience.
Q7. Can I witness snowfall in Narkanda?
Yes, Narkanda receives snowfall during the winter months, typically from December to February. It offers a magical experience, especially for those visiting for the first time.
Q8. Why is Hatu Temple in Narkanda so famous?
Hatu Temple in Narkanda is renowned for its ancient significance and breathtaking panoramic views of the surrounding landscapes. Hatu Temple can be reached by a short trek or by road, offering visitors a chance to experience both adventure and spirituality.
---