Australia beaches top the world in terms of magnificent sand and surf, with over 10,000 beaches on its coasts. Some beaches are marine and other wildlife playgrounds, and the most gorgeous beaches are so large or secluded that you won't have to compete for towel space. Here's a quick rundown of some of Australia's best beaches, which are known for their surfing, swimming, wildlife, and natural beauty. On the east coast, this puts Brisbane, Sydney, and Melbourne in the spotlight. Adelaide, South Australia, is frequently neglected, but not in this case. Tasmania is also worthy of mention. Australians enjoy being outside, which is why they excel in so many sports. They also enjoy going to the beach, which is totally normal!
Top 10 Beaches in Australia to Awaken Your Senses
Given Australia's nearly 27,000 kilometres of coastline, the statistic is perhaps understandable. Because Australia's population is concentrated in a few areas, it's no surprise that the most popular beaches are located near coastal cities. Let's take a look at a few of them.
1. Coogee Beach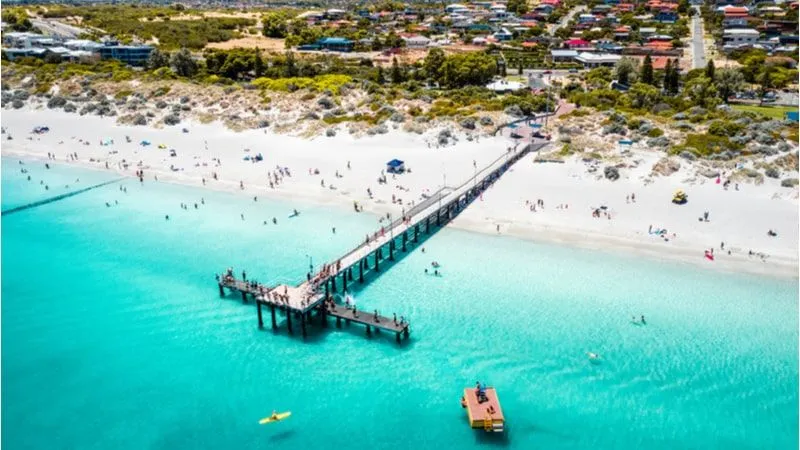 Coogee Beach is an excellent family-friendly beach with moderate surf. The promenade area contains revitalised parklands and repaired old structures. The majority of the facilities are located in the middle of the beach, near the Arden Street bus stop, with showers, change rooms, and toilets.
Upscale restaurants are now competing with fish and chip outlets and an increasing number of boutiques. The park leads into Grant Reserve, which features an enclosed grass and a children's playground as the shoreline curves south. A path leads to the area's most contentious element, the women's pool. Wylies Baths is right next door, and it has an ocean pool with a magnificent wooden platform that is a suitable length for laps.
Coogee is an excellent starting point for the coastal walk to Bondi, which follows a well-marked trail with beautiful ocean vistas.
Location - 111-131R Beach Street, Coogee NSW 2034, Sydney, Australia
Timings – Open for 24 hours
Facilities and Services -
Showers
Changing Rooms
Toilets
Watersports Equipment
Things To Do – Go for a swim, relax at the beach and take a walk on the iconic coastal walkway to Bondi
2. Glenelg Beach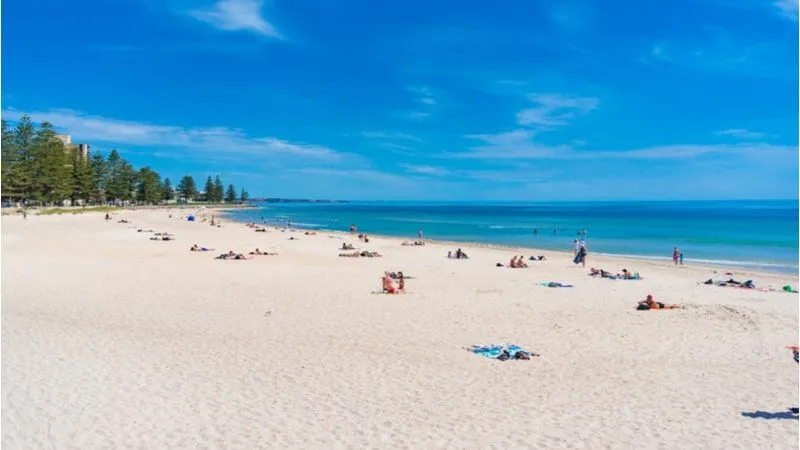 Glenelg Beach is Adelaide's most popular city beach, with a lively ambiance and a welcoming setting for everybody. It is well-known for its broad beach, spectacular sunsets, rich heritage, and bustling shops, sidewalk cafés, and a variety of entertainment options.
Wondering what to do here? Well, why not try swimming , afterall it is considered to be of the best things to do in Australia. You can also wander the jetty, grab a bite to eat, and watch the sunset over the ocean. A vacation to the beach isn't complete without an ice cream or gelati - or two - and Glenelg has plenty of places to indulge. During the warmer months, the Glenelg Foreshore Playground and Moseley Square are beehive of activity, offering a wide selection of family-friendly entertainment and recreational activities.
Location - Cnr Jetty Road, Colley Terrace Glenelg, Glenelg, Adelaide, South Australia, 5045
Timings – Open for 24 hours
Facilities and Services -
Barbeque
Café
Food and Refreshments
Kiosk
Picnic Area
Restaurant
Free Wi-fi.
Things To Do - Take a dip, or stroll the jetty, or grab a bite to eat and watch the sunset over the ocean.
3. Congwong Beach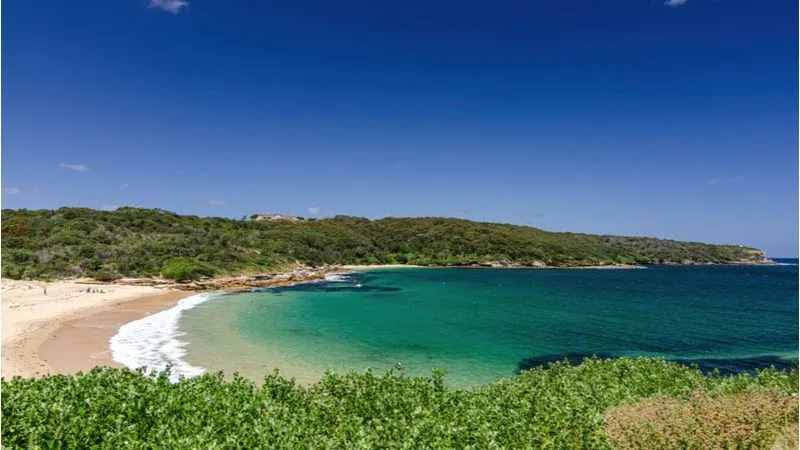 Congwong Beach is a pristine 150-metre length of sand located at the tip of La Perouse in a small area of northern Kamay Botany Bay National Park. It's a beautiful site famed for its abundance of fish and shellfish. This remote suburb, bounded to the east by Henry Head and to the west by historic Bare Island, is more significant than most people know.
Congwong is a one of the finest places to visit in Australia when talking about a vacation with families, and children. It also a good place for snorkelers, and divers. In fact, this is one of Sydney's most popular scuba diving spots. Dive directly off the beach to see a variety of marine species (seahorses, anglerfish, and Pygmy pipefish) and reach depths of up to 19 metres. There is also plenty of surface swimming with the sandy bottom visible for those of us who prefer to swim on the surface.
Beachgoers lounge on towels and seek shade under colourful tents. On vast, cappuccino-colored sandstone bluffs, some people take up private spaces. On the rocky stretch between Congwong and its seductive Neighbour, Little Congwong, we adore the swirling dusty reds and mustards.
Location - 1532R Anzac Pde, La Perouse, South-east of Sydney CBD, Australia
Timings – Open for 24 hours
Facilities and Services -
Things To Do - Indulge in water sports like swimming, snorkeling, scuba diving, take a stroll around the beach, and sunbathe at the beach.
Suggested Read: Places To Visit In Switzerland For Discovering The Swiss Splendors
4. Shelly Beach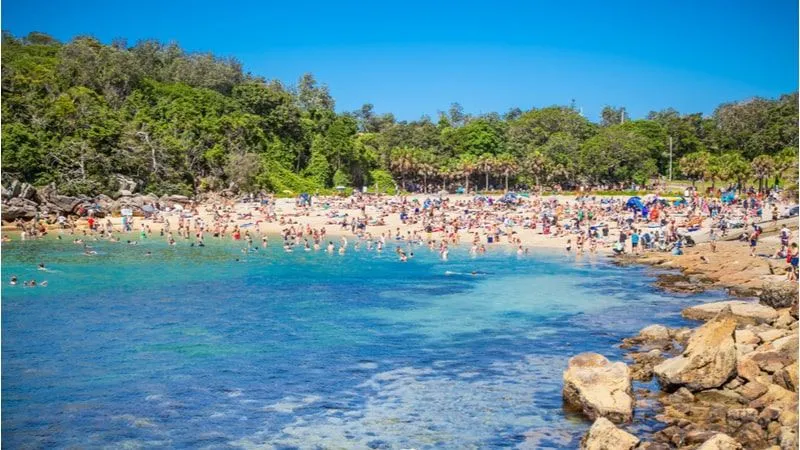 Thousands of tourists visit Sydney's beaches each year, but there's more to see than the well-known Manly and Bondi beaches. Shelly Beach, Manly Beach's less-known neighbour, is renowned for surfing, snorkelling, and scuba diving, among other activities. The small marine reserve is one of the best beaches in Australia and is also ideal for families because it provides sheltered water. Take the simple trail to the headland after your swim for spectacular views out to sea. Alternatively, stop by one of the area's buzzy cafes, The Boathouse Shelly Beach.
Shelly Beach is part of Cabbage Tree Bay, a protected marine reserve close to North Head and Fairy Bower, and is located in Manly. Showers, toilets, and a cafe are available at Shelly Beach, as well as two free electric barbeques, ideal for a family picnic. The Boathouse, a beachside cafe, also one of the best places to visit in Sydney, offers a more formal dining experience. During daylight hours, a pay-and-display carpark is accessible at Shelly Beach.
Shelly Beach, which has a maximum depth of about 12 metres, has become popular with scuba divers and snorkelers alike due to the great diversity of marine life that can be seen in very shallow water. Take a stroll over the headland's bush pathway, which offers amazing views of North Head and the Northern Beaches.
Location - Manly, a suburb of Sydney, New South Wales, Australia
Timings – Open for 24 hours
Facilities and Services –
Showers
Toilets
Water Sport Equipments
Eateries
Things To Do - Grab a bite to eat at The Boathouse Shelly, take a walk around the bush track, indulge in water sports such as snorkeling and scuba diving. Surfing and swimming.
5. Bondi Beach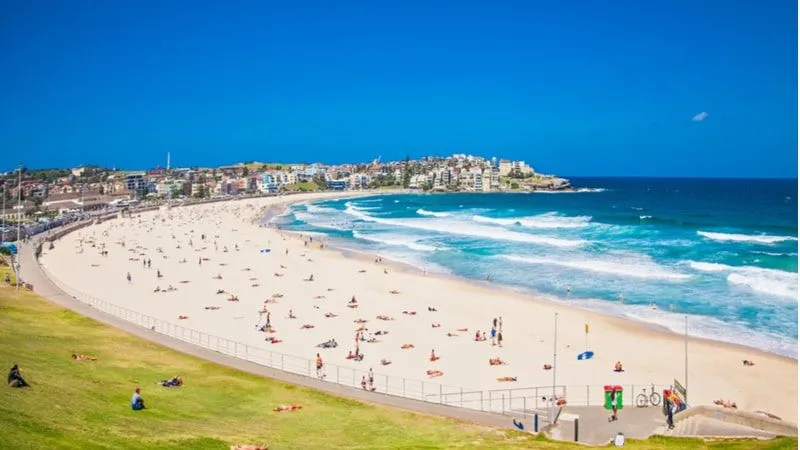 Bondi Beach is well-known all over the world. The sun-kissed lifeguards have appeared in numerous films and television shows. The sight of the curled beach, sunbathers, swimmers, and surfers welcomes you upon arrival, just a short bus trip from the heart of Sydney.
The oceanside pool's water isn't the warmest, but it doesn't stop locals from swimming there all year. It's a laid-back atmosphere with informal bars and cafes. Both walkers and joggers enjoy the cliff-top seaside trek from Bondi to Coogee. Bondi's appeal is enhanced by trendy restaurants and boutique shops.
Definitively Bondi Beach in Sydney is one of the world's best beaches, and of course it is one of the finest honeymoon destinations in the world. It's the nearest ocean beach to the city (5 miles/8 kilometres), has consistently decent (albeit busy) waves, and is ideal for a rough-and-tumble swim (average water temperature: 70°F/21°C). If the sea isn't cooperating, try the kid-friendly saltwater sea baths at each end of the beach, which were both upgraded in 2019. The Bondi Pavilion offers free beach-friendly wheelchairs for adults and children.
At either end of the beach, surfers carve out sandbar breaks; it's also a fantastic spot for beginners. Bondi Pavilion has lockers and changing rooms (small/medium $4/6) for rent.
Location – East of Sydney, Australia
Timings – Open for 24 hours
Facilities and Services –
Kid's friendly salt baths
Toilets
Water Sports Equipment
Changing Rooms
Lockers
Beach friendly wheelchairs
Things To Do - Go for a walk around the beach, relax at the beach, swimming, try out snorkeling, shop, and eat at trendy restaurants.
6. Surfer's Paradise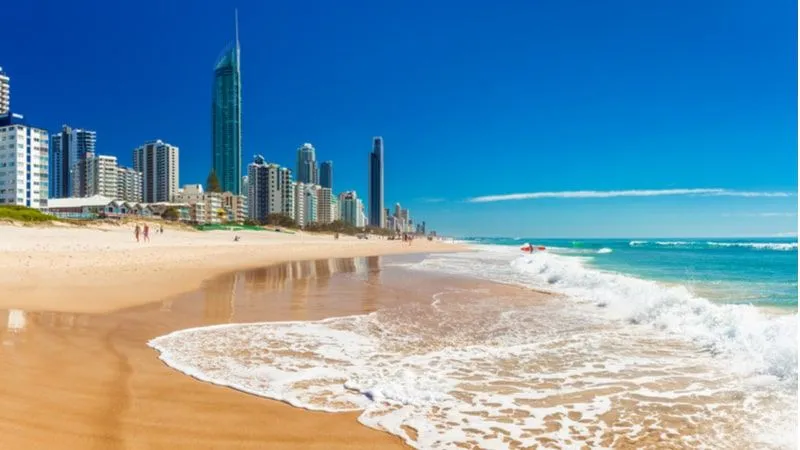 The beautiful sand and warm, clear waters at Surfer's Paradise are well-known. It's a resort (looking for one of the best hotels in Australia, your list starts here) 80 kilometres south of Brisbane on the coast, whose appeal with visitors has steadily grown over the years. The high-rise skyline is well-known, and the shops, cafes, and nightlife all contribute to the city's visitor appeal.
Surfers Paradise Beach in Australia is located in the heart of the Gold Coast region of Queensland. Swim and surf along this two-kilometer stretch of golden sand and rolling surf, which is guarded by three lifeguard towers, all of which keep an eye on designated swimming and surfing areas. Riding a wave here is high on most visitors' bucket lists, and it's easy to do with hire boards and surf lessons available, as well as beach breakers that stretch the entire length of the beach. The outer bar, with moderate swell and offshore breezes, provides the greatest conditions for more experienced surfers.
The beach itself is backed by a walled foredune, with lots of signposted access roads from the esplanade to the sand and lined in seating spaces and barbecues with ocean views for those who want to just sit back and relax. The nearby foreshore sector is a swarm of activity, with towering beachfront hotels, alfresco eateries, and night markets.
Location – Center of Queensland's Gold Coast, Australia
Timings – Open for 24 hours
Facilities and Services -
Barbeque
Public Toilets
Water sport equipments
Things To Do - Try out kayaking or Canoeing, go for Fishing, Surfing, and Swimming
Suggested Read: Cambodia Beaches One Needs To Know About
7. Brighton Beach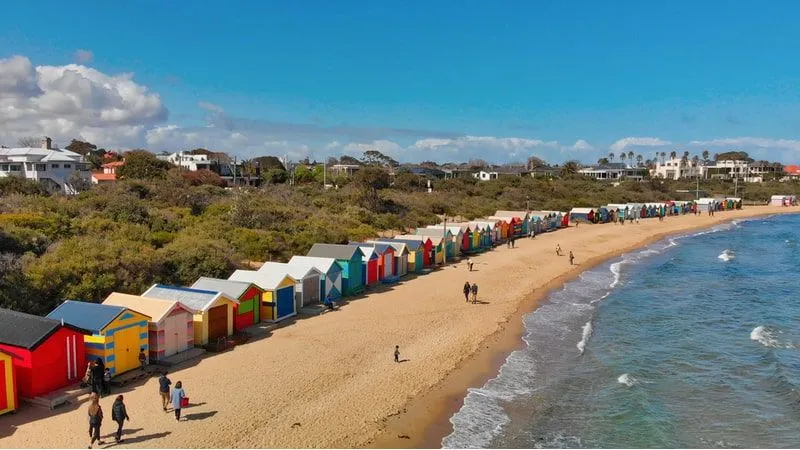 Victoria has plenty of wildness to explore, but one of the nicest beaches in the state is only 30 minutes south of Melbourne. Brighton Beach is known for its fine golden sand, quiet ocean water, and wonderfully attractive bathing boxes. Brighton Beach is one of Australia's most picturesque beaches, with over 80 modest, colourful wooden structures lining the seafront.
Brighton, named after the English seaside town, is an upmarket bayside neighbourhood in south Melbourne. Its beach, on the other hand, is best renowned for its vividly painted bathing boxes (beach huts), which were built over a century ago and are currently the only ones remaining in metropolitan Melbourne. The boxes, which are completely owned by locals, are now changing hands for around A$260,000, albeit on an infrequent basis. There are also the ancient Brighton Baths, a pier, and a variety of eateries along the shore.
Location - 11 kilometers from Melbourne, Brighton Melbourne, Victoria, Australia
Timings – Open for 24 hours
Facilities and Services -
Brighton Baths (along the beach)
Colorful bathing boxes
Cafes
Things To Do - Relax at the beach, go for a swim, indulge various watersports, and explore the area and attractions around.
8. Noosa Main Beach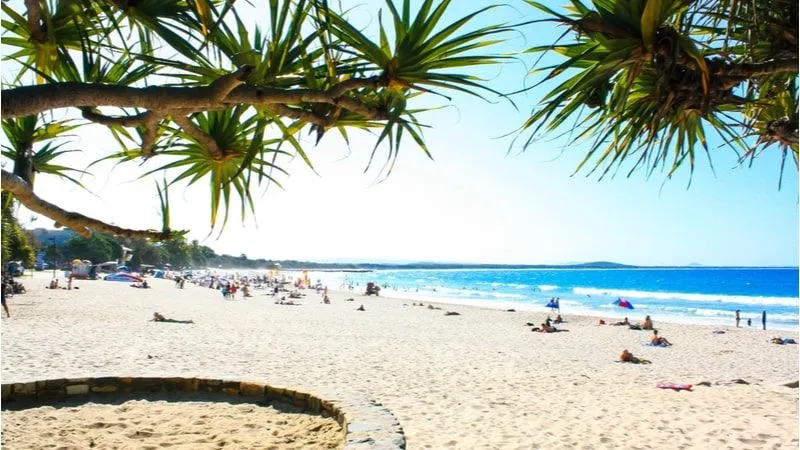 Noosa is a popular, well-liked destination and one of the best places to visit in November in the world. While surfers flock to the Point, where longboards are especially popular, swimmers can enjoy some good waves on Noosa Main Beach. It's one of the east coast's few north-facing beaches, with gentle to moderate waves that are suitable for families and first-time surfers.
Following that, you can mingle with the glitterati in one of the town's chi-chi cafes. (Hint: Alexandria Bay in Noosa National Park is the area's nudie location for individuals who enjoy taking their clothes off for an all-over tan. It's a local "secret" and a short walk away, so you won't hear much about it. The surf is also rather hot there.).
Location - Sunshine Coast, Queensland, Australia
Timings – Open for 24 hours
Facilities and Services -
Toilets
Watersport equipments
Things To Do - Go for a swim, try out different water sports, and explore the local area.
Suggested Read: Top Places To Visit In Qatar On Your Next Trip
9. Four Mile Beach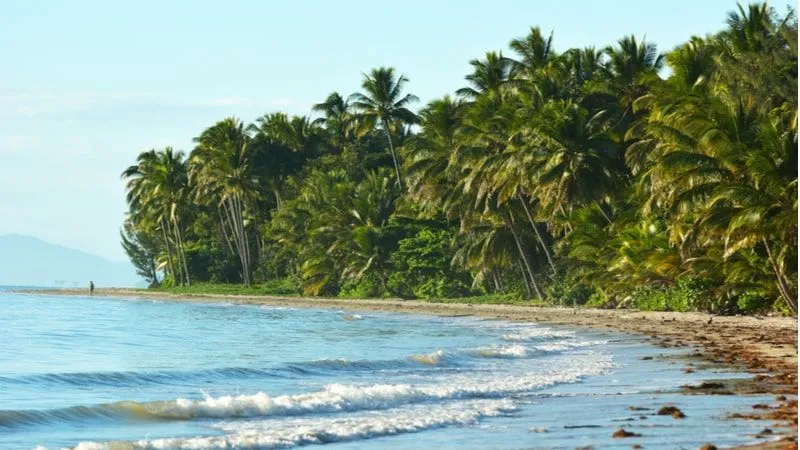 Even in Queensland, this magnificent length of sand has few equals. The waters seem attractive, but the venomous box jellyfish appear at particular periods of the year. A tiny mesh prevents them from reaching swimmers, and bottles of vinegar are placed at stretches along the beach as a precaution in case you get stung. Don't let this deter you; both the beach and the brilliant blue waters are a fantastic delight when visiting Port Douglas, which serves as a launching point for trips to the Barrier Reef.
This wide swath of squeaky sand sweeps around the peninsula's eastern edge in a near-perfect arc of sand and swaying palms; access is from the town's main highway, Macrossan St, and various locations south. In front of the surf life-saving club, there's a patrolled swimming area (with stinger net in summer) and sun loungers for hire.
Location – Port Douglas, Australia
Timings – Open for 24 hours
Facilities and Services -
Vinegar bottles in case of a jelly fish bite
Watersports equipments
Fish mesh for protection of swimmers
Things To Do - Take a nice relaxing view of the beach, go for swimming, and explore the area around
10. Turquoise Bay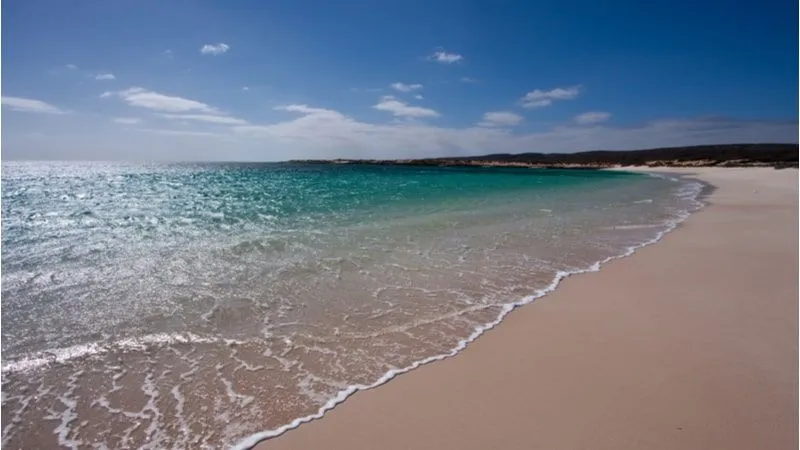 Turquoise Bay's main draw is Ningaloo Reef, which is more appealing than the beach. It faces the Indian Ocean and is part of the Cape Range National Park. It's a fantastic spot for scuba diving and snorkelling; the colours are spectacular, and turtles and octopuses are frequently spotted.
Because some of the currents can be quite strong, novice snorkelers or dives should seek assistance. The sand on this gorgeous stretch of beach is so enticing, and those who simply want to rest with a good book for the entire day will get a suntan.
Location - Cape Range National Park, Australia
Timings – Open for 24 hours
Facilities and Services -
Things To Do - Try out swimming and other watersport activities, look out for some effervescent reef fish and relax at the beach
Suggested Read: Tourist Attractions in Phuket That Would Leave You Spellbound
Beaches are a popular hobby in Australia. Beach culture encompasses the 'no concerns' mentality that defines so much of Australia, whether it's a game of cricket, an early morning surf, or a snooze in the sun. A beach screams tranquilly and relaxation, and with so much coastline to explore, it's easy to discover a secluded stretch of sand to yourself. So, what are you waiting for tehn? plan a visit to Australia today!  
FAQs
Q1. Which are the best beaches in Australia?
The best beaches in Australia are Bondi Beach, Coogee Beach, Four miles beach, Whitehaven Beach, Turquoise Bay, Noosa Main Beach, Brighton Beach, Surfer's Paradise, Shelly Beach, Congwong Beach, Glenelg Beach, and Coorong Beach.
Q2. What is Australia famous for?
Australia is known for its beaches. More than any other nation in this world, it is know for the beautiful and pristine beaches. Each with their own unique blend of natural beauty, remoteness, or proximity to major cities swinging the odds in their favour.
Q3. Where can I find clearest water in Australia?
To find the clearest waters in Australia one can head to Whitsunday Islands. The region is widely recognized for being a gateway to the Great Barrier reef. The many white sand beaches offer a brilliant contrast to the stunning turquoise water that maintains its pristine clarity thanks to an abundance of coral reefs.
Q4. Which is the largest beach in Australia?
The largest beach in Australia is Coorong Beach. It runs for around 220 kilometres, between Port Elliot in the north and Cape Jaffa in the south — and it's considered the longest as well as the biggest beach in the country. It is every bit of serenity.
Q5. How many beaches are there in Australia?
There are more 10, 000 beaches in Australia. it is said that if for 27 years you visit a new beach daily even then you would not be able to visit them all. There is no doubt why the nation is known for its beach. Every single one is unique and each one prettier that ever.
Q6. What is Bondi Beach famous for?
Bondi Beach is famous for its world-class restaurants, proximity to the Sydney CBD, relatively safe swimming conditions, and 1km strip of white sandy beach. This beach has rightly earned its reputation and is one of the nicest beach in Australia.
Q7. What is the best time to visit Australia?
Australia is best visited in the months from September to November and March to May. These months have pleasant climax and the weather remains calm, that means its neither too cold nor too hot. This is the span that most of the tourists visit this nation. This makes it perfect to have a walk around Australia.
Q8. Which are the best places to visit in Australia?
The best places to visit in Australia are Sydney Harbour, New South Wales, Great Barrier Reef, Uluru-Kata Tjuta National Park, Northern Territory, Great Ocean Road, Victoria, Kakadu National Park, Northern Territory, Cape Tribulation, Queensland, Lord Howe Island, New South Wales, Darwin, Queensland, Alice Springs, Northern Territory, and Adelaide, South Australia.
---