Phuket, consisting of islands and beaches is a thriving city in Thailand that is popular among travelers when it comes to Thai vacation. Endowed with the most serene and surreal beauty of the shores, there are the best places to visit in Phuket to enjoy the nightlife and some adventure like water sports and more. Discover the blue-green waters of the ocean along the soft sandy beaches while you stroll around, exploring every corner of the city. People here welcome every tourist with an open arm, making it one of the most tourist-friendly destinations in the world.  
Top 20 Tourist Attractions in Phuket That Would Leave You Spellbound
Excited about your holidays in Phuket? There are a number of places you can add to your bucket list that will offer a promising experience. From the beaches to the markets and the monuments, here is a list of the best attraction you must explore on your holidays.
1. Tiger Kingdom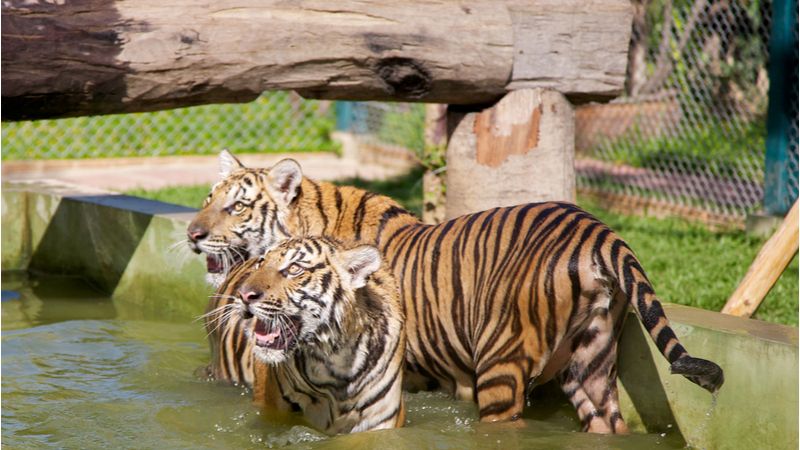 Now there is no need for those long safari tours in the wilderness as The Tiger Kingdom offers travelers the best wild sightseeing in Phuket. Conserving the population of big cats in their preserved environment, the kingdom allows a close encounter with these majestic creatures. Located along the foothills of Patang, the Tiger Kingdom houses the species of Indochinese tigers.
You will be given 10 minutes with each of your chosen cats where you can spend some thrilling time with them. The tigers here are well-adjusted to human interaction but, we must respect their behavior and privacy. Ensuring the safety of both visitors and the wild cats, there are trainers appointed with all.
Location: Kathu, Phuket, Thailand
Timings: Every Day from 09:00 am to 05:00 pm
Entry Fees: 500 THB
2. Phi Phi Island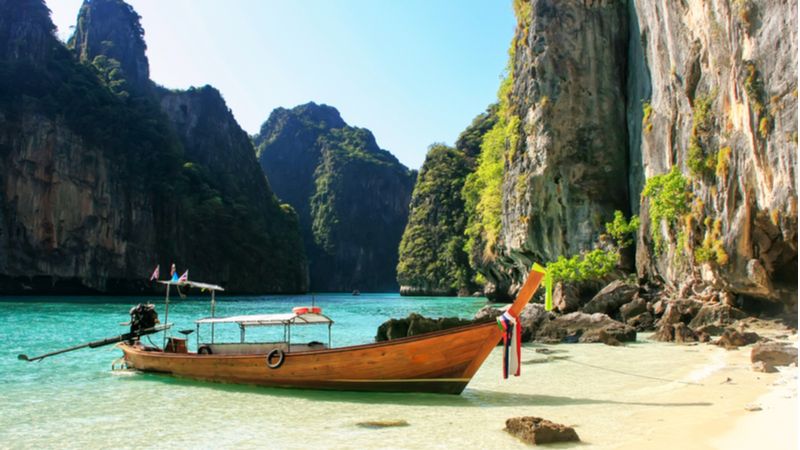 Not just an attraction to see in Phuket, Phi Phi Island is one of the best beaches in Thailand that is popular among every holidaymaker. The green emerald waters and the soft glittering sand along the shores have made it a place to relax and admire the serene beauty of this island destination. Over the span of years, Phi Phi island has emerged as one of the best tourist spots, adding to the tourism in the country.
The island today is even a popular spot for movie shooting and more. There are adventure tours organized for the enthusiasts, while the whole sublime beauty of the region is enough to keep you engaged for the day.
Location: Island of Phuket
Timings: N/A
Famous For:
King Cruiser Wreck
Shark Point
Anemone Reef
Restaurants and Resorts
Suggested Read: Unexplored Islands In Thailand You Need To Know About
3. Koh Panyee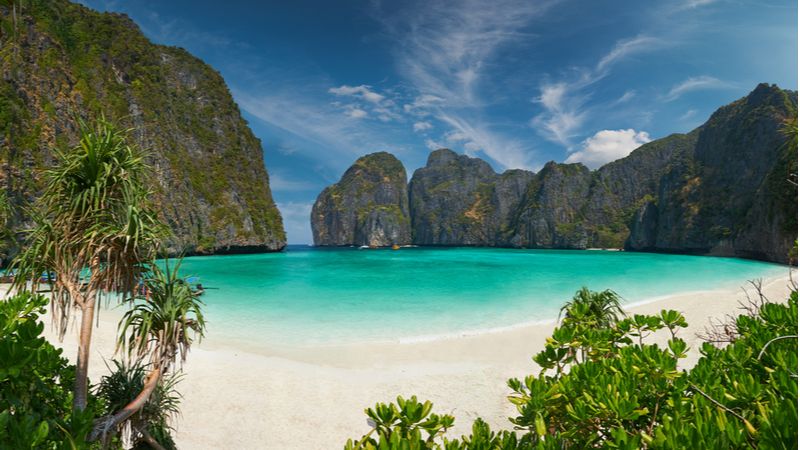 A fishing Thai village, Koh Panyee is one of the most beautiful places to visit in Phuket, where you can discover the magnificent limestone cliffs. The village is home to more than 350 families who are living here permanently, making it one complete community. There are some authentic restaurants where you can relish the taste of traditionally made Thai food.
If you are looking for souvenir shopping in Thailand, Koh Panyee has the best markets that sell the handicraft. Day tours are organized to Koh Panyee, or you can even find some budget hotels or villas in Thailand for an overnight stay.
Location: Phang Nga Province
Timings: N/A
Hotels and Villas: Khao Chang View Resort, Krasom Homestay, Jamesbond Bungalow Koh Panyee, Palms Hill Resort
4. James Bond Island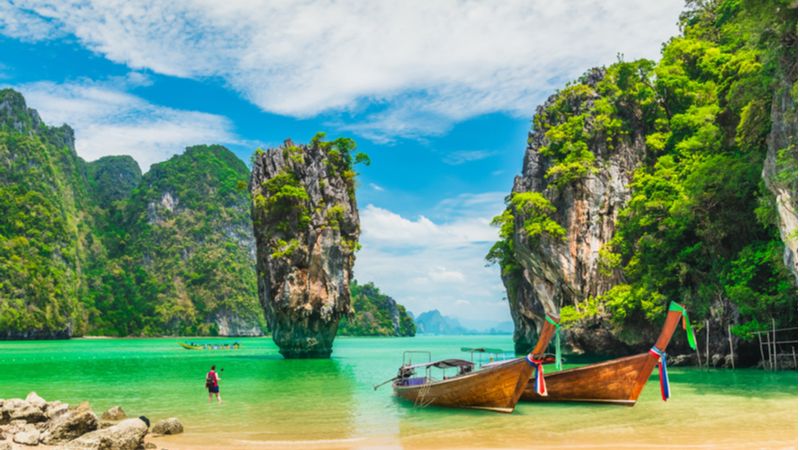 It is the islands that have made Thailand, one of the best honeymoon destinations in the world. While Phuket is known for exciting nightlife and some fancy restaurants, there are attractions like James Bond Island that you must visit.
With a limestone cliff, on the center of the island, the destination has marked a prominent place in the list of many travelers. The lush green beauty of the region, the caves, and the dramatic landscape have made it one of the must-see places in Phuket. There is diversity with an abundance of flora and fauna, the untamed terrains that house some rare species of wild plants, and the Ice Cream cave making it so popular to visit in Phuket.
Location: Northeast of Phuket
Timings: N/A
Famous For:
Kayaking
Sailing
Surfing
Cave tour
Swimming
Suggested Read: Top Places To Go In Qatar On Your Next Trip
5. Big Buddha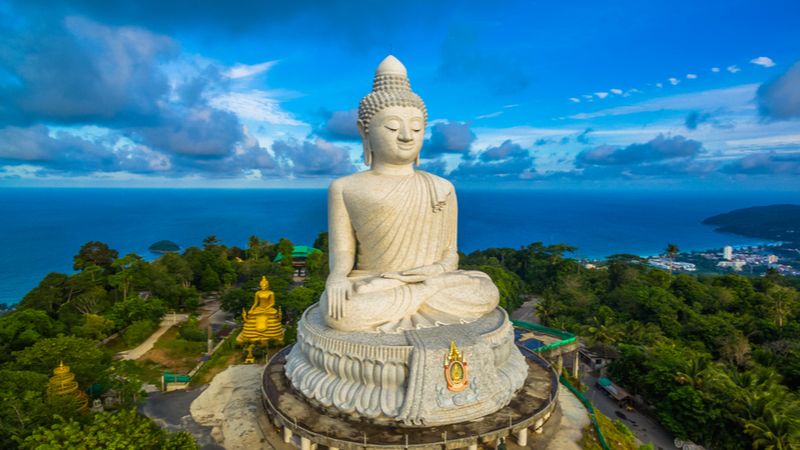 One of the significant attractions in Thailand, Big Buddha is among the best things to see in Phuket.  This marcel is officially known as Phraphutthamingmongkhol-akenagakhiri Buddha. The giant structure is 45 meter tall that overlooks the entire city of Phuket and other places like Karon beaches, Kata and Chalong Bay. The statue holds a spiritual value for travelers and locals living here. It marks the excellence in architecture that even makes it an iconic landmark in the country. Made with white marble, the Bug Buddha Statue is rightly perched within a serene landscape offering an incredible sight to witness.
Location: Po Lin Monastery
Timings: Every day from 6 am to 7.30 pm
Entry Fees: Free
6. The Old Phuket Town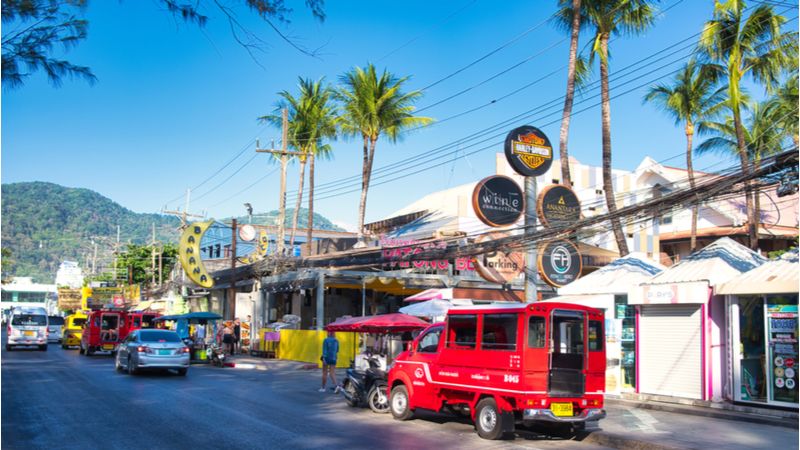 Listing the old town as the best places to visit Phuket can sure be the best experience. This old town in Phuket is home to some of the boutique cafes and colonial plaza, the temples, and some best hotels in Thailand. The rich and diverse history of the place makes it an exciting addition to your holiday list, where you can dig deeper into its history and learn every fascinating thing about the culture prevailing here for ages.
Whether it is shopping or eating, the old Phuket town has every delighting thing you possibly want to experience. You can feel the vivid and vibrant beauty at the weekly markets that are hosted by the locals.
Location: Karon Road, T. Karon, Muang, Karon Beach, Thailand
Timings: N/A
Famous For:
Local art and Craft
Authentic food
Boutique Cafes
Best Hotels:
WOO Gallery & Boutique hotel
Baan Baan hostel
Old Phuket Resort Karon Beach Hotel
Suggested Read: Places To Travel In Malaysia For The Most Exotic Vacation
7. Soi Bangla Road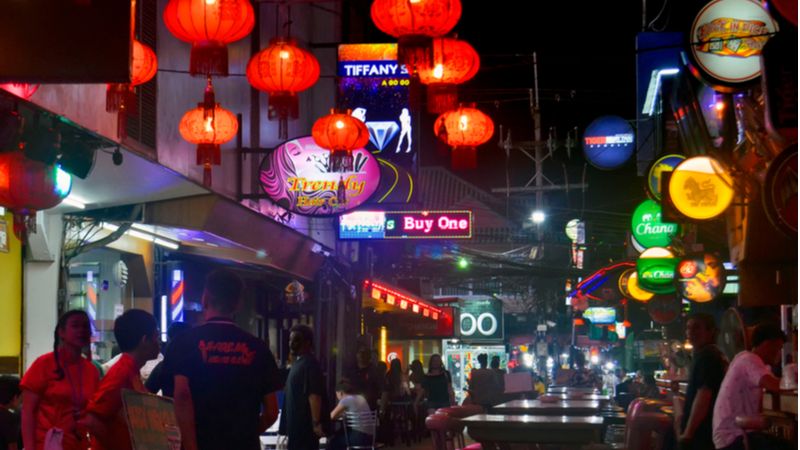 Phuket is a paradise for those who love clubbing and partying. Soi Bangla Road is among the top tourist attractions you can enjoy the best nightlife in Thailand. There are restaurants and bars lined along the street of Soi Bangla Road that offer the best budget experience to all. From rooftop bars to DJ nights, Live music and every other entertainment, there are endless options you can choose to celebrate the evening with your friends.
Even if you are not a fan of partying, take a stroll around to feel its vibrant and happening vibes.
Location: Tambon Patong, Amphoe Kathu, Chang Wat Phuket
Timings: Opens after Sunset
Entry Fees: N/A
8. Patong Beach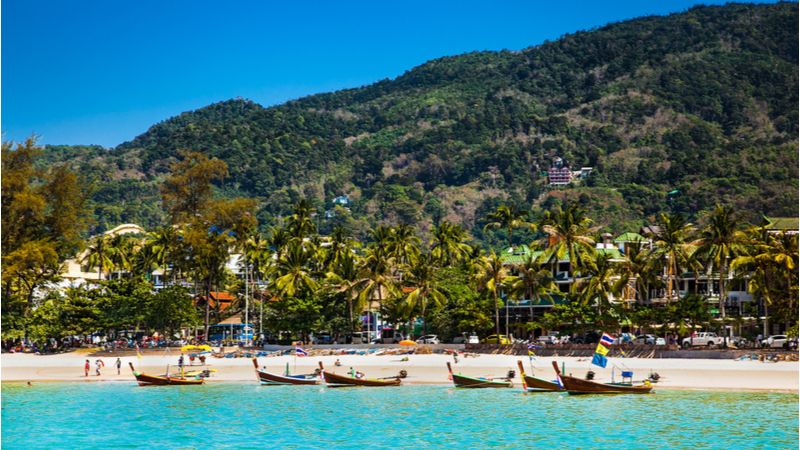 Adventure and leisure, that's all, to sum up, the features of Patong Beach. Plan your trip from November to April, which is the best time to visit Phuket, and head off to this enthralling destination to experience the adrenaline. From activities like snorkeling to diving, swimming, and the happening nightlife can be the top things on your travel list. The crystal-clear waters and the fancy cafes lined along the shore are perfect to relax while seeking leisure in its natural surroundings.
What is so popular about Patong Beach is its diversity. The marine flora and fauna have made it a famous sight for diving.
Location: West Coast, Phuket
Timings: N/A
Famous For:
Swimming
Snorkeling
Scuba Diving
Cafes and Restaurants
Parasailing
Suggested Read: Stunning Places To Go In Indonesia For An Ideal Getaway
9. Phuket Bird Park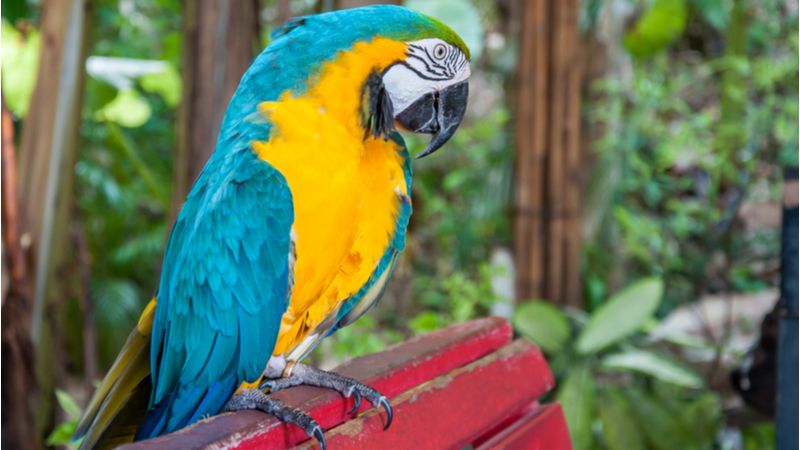 One of the most enthralling attractions in Phuket is Phuket Bird Park which is spread in an area of around 12 acres of land and houses more than 100 species of birds. The Park has birds from different continents like Asia, South America and Africa. It is a great place for wildlife enthusiasts and nature lovers as the park has vibrant species of birds. Phuket Bird Park also organizes live bird shows and various other activities for the entertainment of the visitors. You will come across birds like hornbills, ostriches, drawing birds, macaws, eagles and many other in the park. You will also be fascinated to see these birds solving Maths questions, quizzes and imitating voice of visitors which is a fun way to interact with them.
Location: 3 6/2 Chao Fah Tawan Tok Rd, Wichit, Mueang Phuket District, Phuket 83000, Thailand
Timings: 09:00 am to 05:00 pm
Entry Fee: Approx. 408 THB
Famous for: Different species of birds, bird shows
10. Bang Tao Beach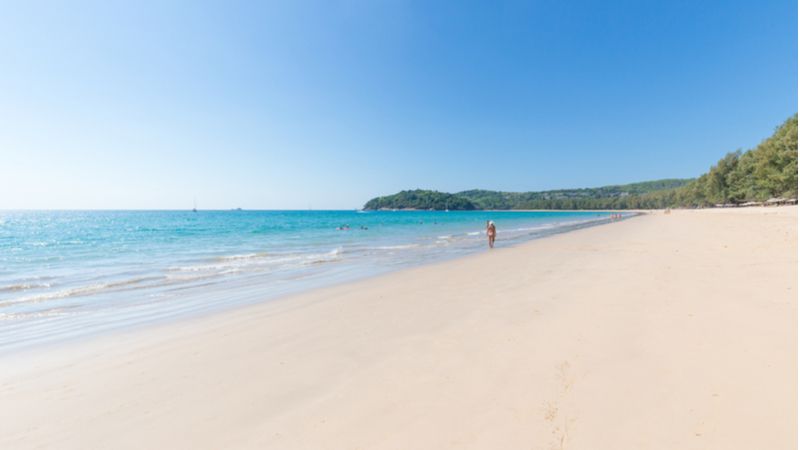 The beaches in Pattaya, Phuket and other places in Thailand are surreal and one cannot underestimate the level of relaxation that these sandy shores offer to the visitors. Bang Tao Beach in Phuket is one such beach which is second longest beach in Phuket and offers a surreal experience to beach lovers. You can capture enthralling views of the sea and rocky hills surrounding the beach, offering a magnificent view. This 6 km long strip of sandy coastline is dotted with high-end resorts, fancy boutiques and top-notch restaurants thus, one can expect to enjoy an extravagant vacation on the Bang Tao Beach. The beach is also famous to offer a thrilling nightlife experience as there are several night clubs where you can enjoy drinks and dance while enjoying stunning vistas. Not just luxurious offerings, the beach also has several budget-friendly options of resorts and cafes which are suitable for someone who is a bit tight on budget.
Location: West coast of Phuket
Timings: 24 Hours
Entry Fee: Free
Famous for: High-end restaurants, boutique stores and luxurious resorts
Suggested Read: Places To Visit In Pattaya That Will Leave You Longing For More
11. Elephant Jungle Sanctuary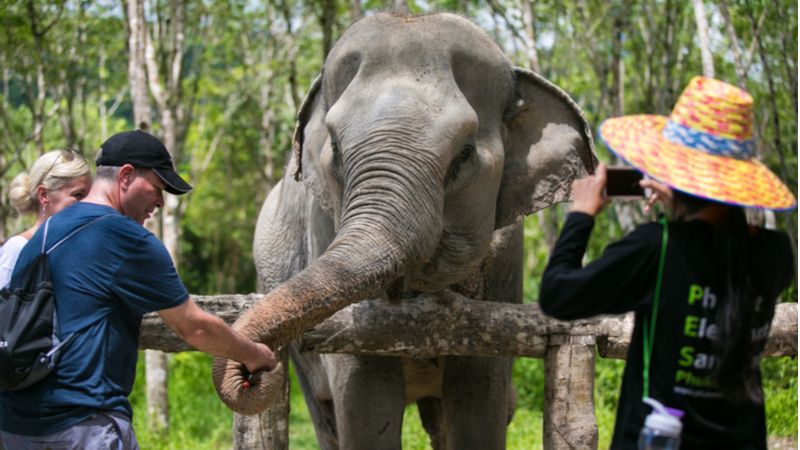 There is no dearth of places inspired by nature in Phuket, from bird parks to animal zones, you will find everything in Phuket that is rich in flora and fauna. One of the best places to visit in Phuket with kids is Elephant Jungle Sanctuary where you can have fun with elephants which is also a national animal of Thailand. People come here to enjoy with these mighty creatures who are found roaming freely in their natural habitat. Visitors can feed them, play, bath these elephants and can also take part in programs conducted here wherein you will come to know about the breed and instincts of elephants. Hiking to the nearby areas is also possible here for adventure seekers along with a Thai lunch amidst woods.
Location: 2/12 Kathu, Kathu District, Phuket 83120, Thailand
Timings: 07:00 am to 05:00 pm
Entry Fee: Approx. 2400 THB
Famous for: Feeding, bathing and having fun with elephants
12. Phuket Zoo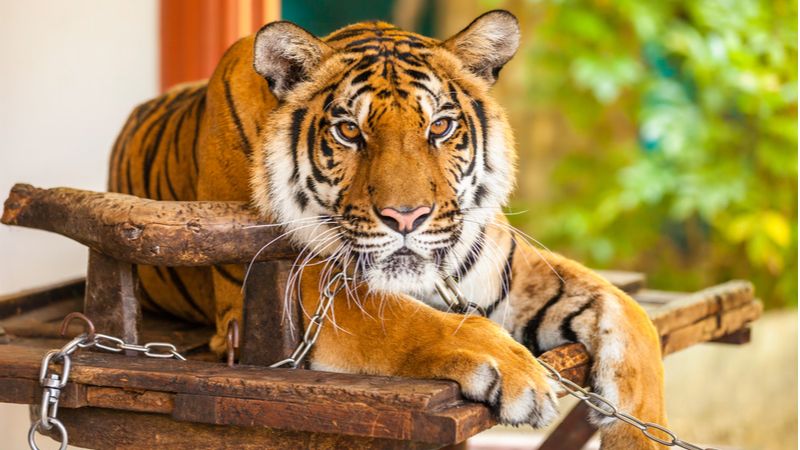 Phuket Zoo is full of amazing attractions for both kids and adults. One can spend a gala time here seeing different zoo animals and their activities. Spread in an area of around 4.8 hectares, Phuket Zoo houses animals like tigers, lions, crocodiles, monkeys, and several other species of fauna. The whole zoo has been divided into different sections like an orchard garden, aquarium, and a bird park. Visiting this place and witnessing several shows is one of the best activities to do in Phuket. Different shows are also conducted by the zoo authorities like elephant shows where elephants are seen playing soccer, performing dance, races and several tricks for the entertainment of guests. Other popular shows conducted here are monkey and crocodile shows.
Location: 23 Soi Pa Lai 2, Chalong, Mueang Phuket District, Phuket 83130, Thailand
Timings: 08:00 am to 05:30 pm
Entry Fee: Adults: 400 THB; Child: 200 THB
Famous for: Different shows like elephant show, crocodile show, monkey show, orchard garden and an aquarium
Suggested Read: Main Airports In Bangkok: Major Connecting Points Of Bangkok With Rest Of The World
13. Karon Viewpoint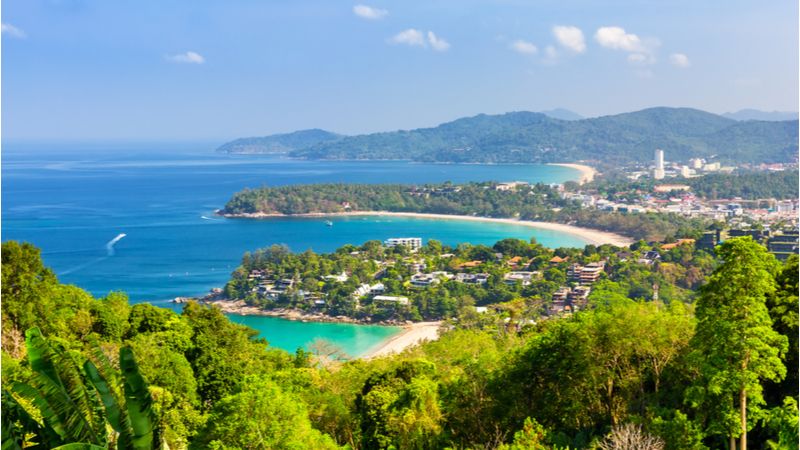 One of the most popular tourist places in Phuket, Karon Viewpoint is known for offering stunning vistas of three beaches, namely Karon, Kata Yai and Kata Noi. This place is also popular by the name of Khao Sam Haad which in Thai means Hill of Three Beaches. Stunning places like these make Phuket one of the best places to visit in Thailand both for couples and family. Do not forget to carry your cameras along with you when you come to this place as you will not be able to resist yourself after seeing the mesmerizing views from the top of the hill. There are also some cafes and restaurants near Karon Viewpoint which travelers must visit in order to delight their taste buds with local Thai cuisine.
Location: 4233 Karon, Mueang Phuket District, Phuket 83100, Thailand
Timings: 24 hours
Entry Fee: Free
Famous for: Offering stunning views of Karon, Kata Yai and Kata Noi beaches and surrounding landscape
14. Rang Hill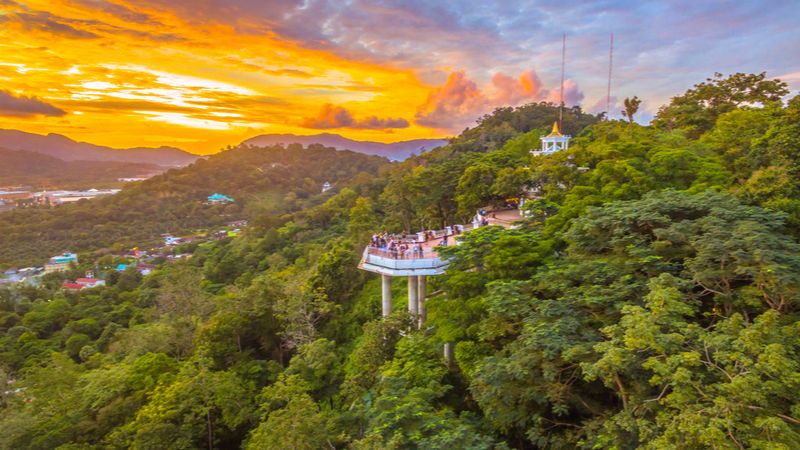 Another one of the most popular attractions in Phuket is Rang Hill from where enchanting views the entire island, crystal-clear Andaman Sea, verdant valleys and statues of Big Buddha is visible. It is one of the favorite hangout places of the local people of Thailand who come here for a relaxing stay with their families over the weekends. Besides offering splendid views of the landscape, the hill also features a park which is an ideal place to visit with kids as there is a separate playing area for kids, a fitness center for adults, quite a few of cafes and restaurants and an open terrace offering enthralling views of the area around the park.
Location: Northwest of Phuket City
Timings: 24 Hours
Entry Fee: N/A
Famous for: Offering stunning views of the Phuket city, cafes and restaurants
Suggested Read: Places To Visit In Bangkok, Thailand For An Unforgettable Vacation
15. Bangla Road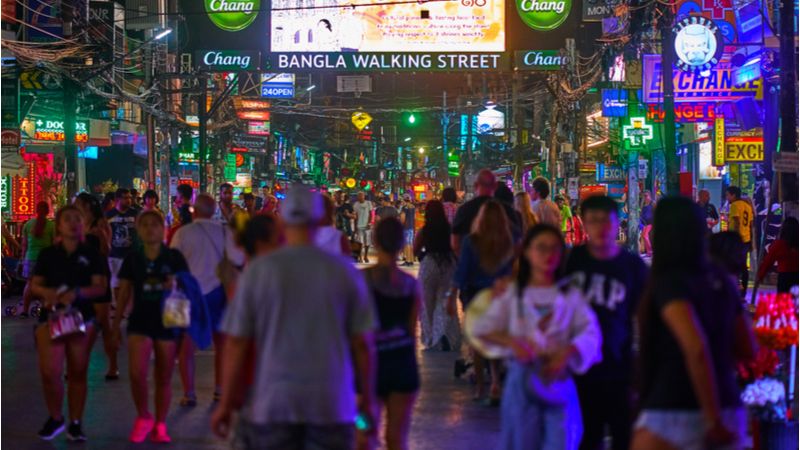 If you are looking for a thrilling nightlife experience in Phuket, then without a doubt head to Bangla Road which is known for its night clubs and bars, live music, dance, drinks and a lot more. Another intriguing part of Bangla Road is that you will not find any movement of traffic in the evening and just people strolling through the street, sound of live music, and live performances that are even performed on road by several artists. At night, you will find this place full of sound, energy and life where people are seen dancing and enjoying a great night. Some of the most reputed bars and clubs can also be found in Soi Bangla lane. Besides the street performances, Bangla Road is also known for ping-pong shows and also for shopping from the local small shops located here.
Location: Close to Patong Beach
Timings: 24 Hours
Entry Fee: Free
Famous for: Night clubs, bars, Ping-ping shows, street performances
16. Similan Islands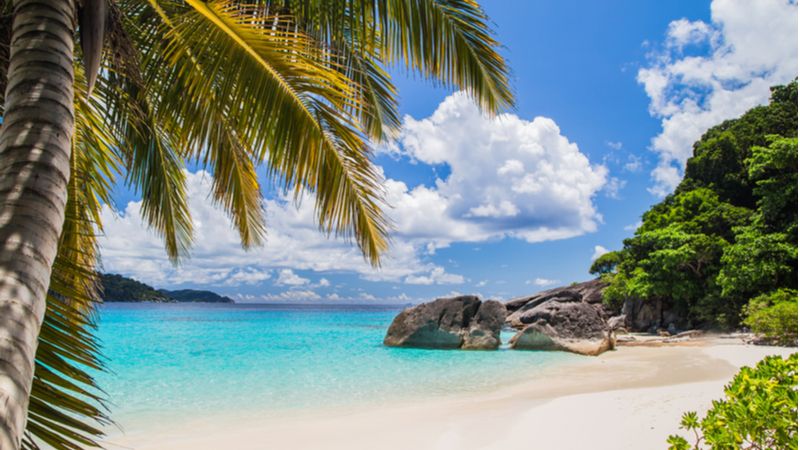 Phuket can surely be added to the list of best honeymoon destinations in Asia as this place is home to so many intriguing islands that are fascinating and eye-catching. Not just the stunning views but Similan Islands also offer opportunities to indulge in myriad of water sports like snorkeling, scuba diving, beach volleyball and swimming. Scuba diving here will leave you awestruck as the island is quite rich in marine life and witnessing which from close is definitely a great experience. Even if you do not want to indulge in any of the water sport, you can still enjoy your time on the island to the fullest by going for long walks, beachside dinner, sunset views and a lot of other leisure activities.
Location: Southern Thailand
Timings: 24 Hours
Entry Fee: Free
Famous for: Stunning views, leisure activities, thrilling adventures like snorkeling, scuba diving, beach volleyball and swimming
17. Phang Nga Bay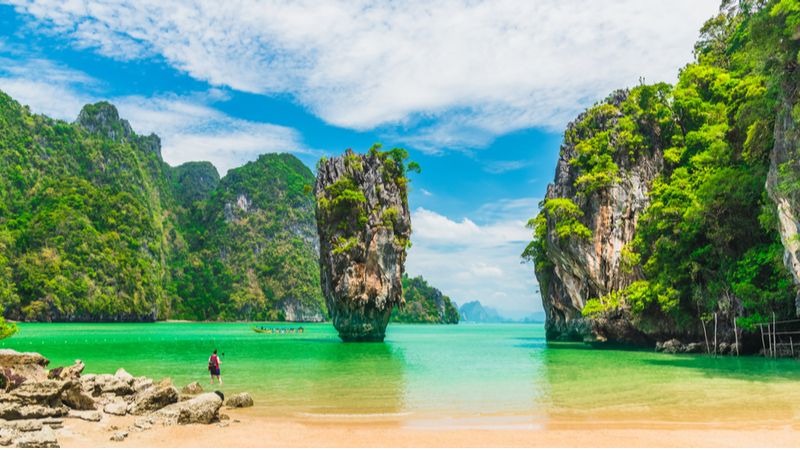 If you are in Phuket, you surely cannot miss to visit Phang Nga Bay which is one of the most beautiful places in Phuket and also a perfect location for couples on a honeymoon. Couples can spend some relaxing time here soaking in the natural beauty of nature or indulging in several leisure activities and thrilling adventures. Surrounded by naturally formed limestone cliffs, caves, and verdant valleys, Phang Nga Bay is a paradise which looks heavenly beautiful. There are several Instagram-worthy spots here where you just need to take your camera along with you and you will get some Insta-worthy pictures in no time. This place also houses some of the best hotels and resorts where a luxury stay can be booked and mesmerizing views of the bay can be enjoyed.
Location: Southern Thailand
Timings: 24 Hours
Entry Fee: Free
Famous for: Limestone cliffs, caves, and verdant valleys
Suggested Read: Places To Visit In Singapore For The Restless Mind And Wandering Soul
18. Phrompthep Cape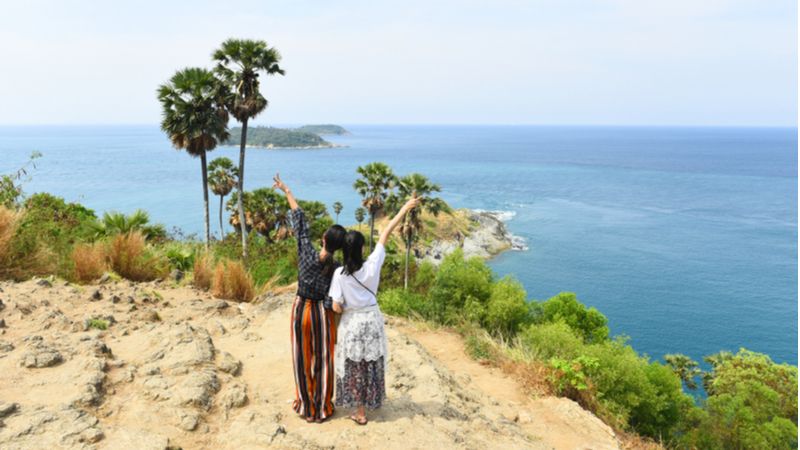 Phrompthep Cape is one of the best places in Phuket to capture surreal views of the sunset. Many people come here in the evening to witness mesmerizing views of the sunset and also to witness tranquility. On top of the hill, you will also find a small shrine and a lighthouse displaying several facts about maritime and its history. Another thing to do here for a delightful experience is to visit Promthep Restaurant which is known for serving rich delicacies along with serene views of the surrounding landscape. The lighthouse also has an open terrace standing on which will offer you clear views of Phi Phi Islands, Koh Racha Noi and Koh Racha Yai. You will also discover some small shops here selling handicrafts and small knick-knacks, shopping from here is surely better than many malls in Phuket as you will get things which you won't find anywhere.
Location: Rawai, Mueang Phuket District, Phuket 83100, Thailand
Timings: 24 Hours
Entry Fee: Free
Famous for: Stunning views, lighthouse and Promthep Restaurant
19. Karon Temple Market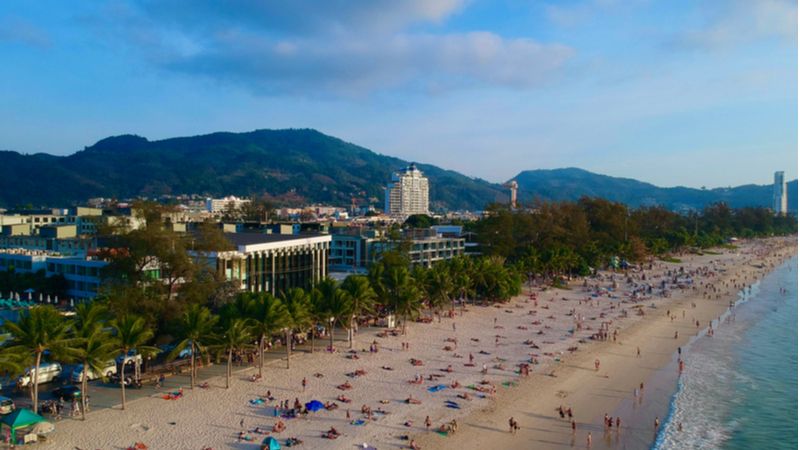 No trip is complete without a bit of shopping where you can get souvenirs for your friends and family members and what could be better than a local market. Karon Temple Market is one of the best street markets in Phuket where you can shop for cheap jewelry, batiks, affordable clothes, souvenirs, beach wear, coconut bowls, and other items at very affordable prices. You can also do bargaining with the shopkeeper if you are good at it and can get the products at your desired quoted price. Other than shopping, Karon Temple Market is also famous for street food and local restaurants serving Thai cuisines, seafood and other dishes.
Location: Patak Rd, Karon, Mueang Phuket District, Phuket 83100, Thailand
Timings: 04:00 pm to 10:00 pm every Tuesday and Saturday
Entry Fee: Free
Famous for: Street shopping experience
Suggested Read: Places To Visit In Switzerland For Discovering The Swiss Splendors
20. Trick Eye Museum
One of the best fun places to visit in Phuket is Trick Eye Museum where you can spend a great time with your family or friends. Transfer yourself from the land of islands to an entertainment world where everything appears to be real but it is actually not. The art installations and paintings here are unreal but appear to be realistic due to the 3D techniques that have been used during their making. There are over 100 paintings, installations and sculptures here offering you a world full of opportunities, fun and entertainment. From feeling like riding an elephant to wrestling with sharks, flying on Aladdin's magic carpet to relaxing on the beach, you can enjoy every activity here you have ever dreamed of. It is a great place to visit in Phuket especially when you are traveling with family.
Location: 130 1 Phangnga Rd, Talad Yai Mueang Phuket District, Phuket 83000, Thailand
Timings: 10:00 am to 07:00 pm
Entry Fee: Adults: 450 THB; Children: 270 THB
Famous for: 3D techniques, fun and entertainment
How To Reach Phuket?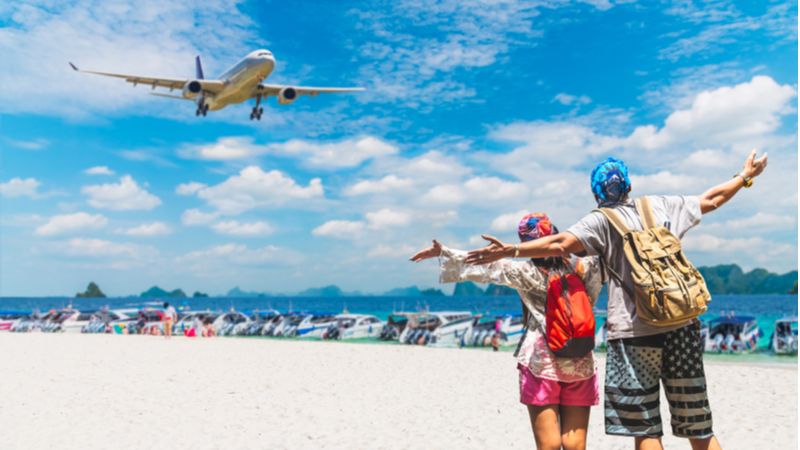 Phuket, a blooming and dazzling city in Thailand, is connected to almost every country or continent. The Phuket International Airport is served by many top airlines that make it easy to reach this holiday destination at anytime and anywhere. Phuket International is the second busiest airport in Thailand after Bangkok. The airport is approximately 32 km from the city center, connected with many local transportations. There are mini busses and cabs or taxis available to wander around the city.
The beaches here can be best explored with Island hopping tours that are organized throughout the year, irrespective of any best time to go to Phuket.
With these best places to visit in Phuket, you can now spend the most exciting holiday. Try out the adventure and discover the beauty of nature that has blessed Phuket with surreal beaches and long captivating shoreline. Offering you a fun-filled vacation with a never-to-be-missed nightlife, Phuket can actually make your vacation a memorable journey for a lifetime. Adding to your leisure, you can find the best resorts and villas to experience its luxury. So, book your Thailand flights and get set for a luxuriating retreat.
FAQs
Q1. What are the top attractions to explore in Phuket?
The top attraction in Phuket that you can visit on your vacations are:
Phi Phi Island
Bug Buddha
Tiger Kingdom
Old Phuket Town
Koh Panyee
Q2. Are there any beaches in Phuket?
Yes, Phuket is home to some charming islands and beaches. The famous beaches you can visit here in Phuket are:
Freedom Beach
Patong Beach
Kata Beach
Karon Beach
Nai Harn Beach
Q3. How long shall I stay in Phuket?
Phuket is one of the most beautiful places in Asia that is best for all your holiday mood. One can easily spend 4 to 5 days here, exploring every nook and cranny. There are beaches and markets, clubs and restaurants that offer ultimate entertainment and fun.
Q4. What is the best time to plan a holiday in Phuket?
The months from November to April are the best time to visit Phuket. The temperature then is pleasant and perfect for all your sightseeing and beach tours. Being the peak season, most of the tourist places might get crowded, but it is worth a visit.
Q5. What is there to do in Phuket?
Phuket is a destination for every traveler where there is so much to do and enjoy. While you plan your trip to this island city in Thailand, the best thing you can do is to explore every beach. There are adventures like diving and sailing while the shopping markets and cafes are always open for welcoming the tourists.
Q6. Where can I stay near Phi-Phi island?
Phi Phi Island, being the top attraction in Phuket, has the best hotels and resorts nearby. You can book your stay in any of the top hotels like:
U Rip Resort
PP Mountain Beach Resort
Phi Phi Cliff Beach Resort
Phi Phi Maiyada Resort
Blu Monkey Phi Phi Island
Q7. How many are there in Phuket?
Phuket International Airport is the only airport in Phuket that connects the city with many international destinations. There are regular flights operated by top airlines in the world.
Q8. How is the nightlife in Phuket?
Nightlife in Phuket is the main attraction that lures the tourist. Once the sun sets, some clubs and restaurants entertain the visitors with the best food and events like DJ nights or live music. You can even enjoy a beach party in Phuket.
---