Every country is defined by its authentic flavor that is hard to resist. With the best food destinations in the world, you can indeed plan out a vacation to taste some of the best food. There are various delectable hot spots besides all the world-famous dining destinations serving the traditional taste of its land. If you are planning to explore the fantastic travel destinations all around the world, then we have got a list for you! This list contains the 8 incredible travel destinations for food lovers with the specialty you won't find elsewhere.
Top 8 Travel Destinations for Foodies Around The World
Serving the authentic taste and the most relishing flavor, here are the best 8 destinations you can explore as a foodie. These places will lend you an unforgettable gastronomic experience with the best restaurants and the savoring zest from the streets.
1. Manila, Philippines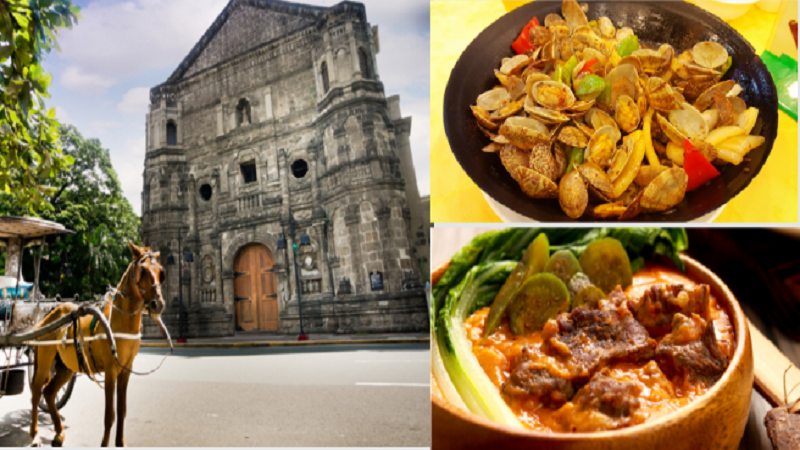 There is no other destination except Thailand when it comes to savoring the taste buds with real Asian bite. Bringing up the diversity from every region, there are so many specialties available to list the best. What makes Manila an ideal foodie destination, is the Filipinos and their use of every ingredient from the Philippian land to make the most of it. You can try various authentic dishes such as Kare Kare, Crispy Pata, Pancit Guisado, Bulalo, Palabok, etc. So, while you are exploring the attractions in Philippines, the best thing to do is, to relish the taste of street foods and other cuisines served at their best.
Best Restaurants: Spiral Restaurant, My Kitchen by Chef Chris, Sky Deck View Bar, Sky Deck View Bar, Café Ilang-Ilang
Best Food To Try: Kare Kare, Chicken Adobo, Crispy Pata, Lechon Pancit Guisado, Bulalo, Palabok
Best Desserts To Taste: Turon, Halo-Halo, Buko Salad, Leche Flan, Ube Halaya, Saba Banana
Suggested Read: Top Hotels In Philippines To Experience The Best Comfort
2. Dublin, Ireland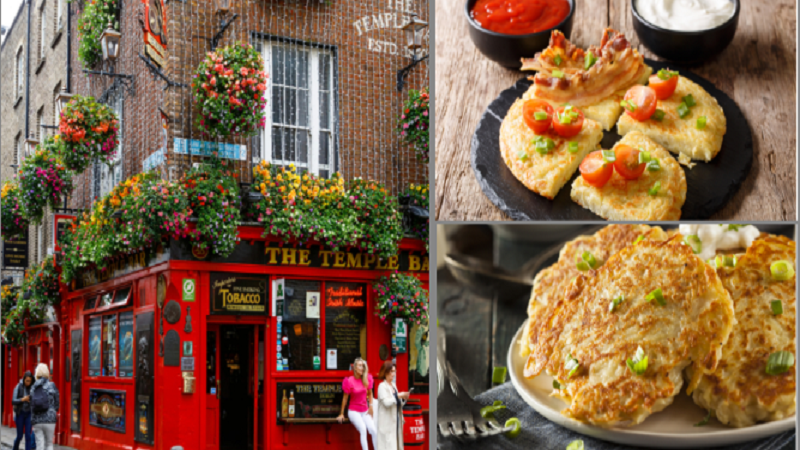 The Dublin food scenes are exploding in quality and diversity, making it the best food destinations in the world. There are many tempting options such as Fish Burger, Avocado Eggs, Chicken Shish, Kimchi and Pork soup, Green Eggs, Gambas and more. You will find a plentiful selection of fine dining restaurants. When it comes to having the taste of traditional cuisines, then you can opt for any busy local eatery serving lunch and dinner at affordable prices. Add on some fine restaurants to your list of best attractions in Ireland, and be prepared to discover the hidden taste of Dublin.
Best Restaurants: Bite Café, Fire Restaurant, CrackBird, San Lorenzo, Coppinger Row, The Greenhouse
Best Food To Try: Irish Stew, Kimchi and Pork soup, Coddle, Chicken Shish, Colcannon,
Best Desserts To Taste: Nutella Cheesecake, Banoffee, Panna Cotta, Churros smores, Praline and chocolate tartlet
3. New York City, United States of America (USA)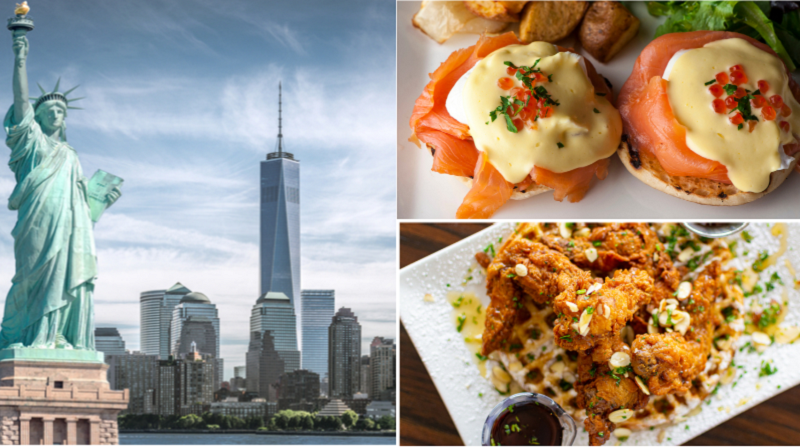 One can plan the best food vacations in New York City known as the "Culinary Capital of the World" and a paradise for the food lovers. Form Michelin Starred Restaurants to street vendors, the city offers a wide variety of cuisines such as Ramen Burger, long pasta, New York Pizzas, Street hot dogs, and cronuts. The best thing about this city is the high number of talented chefs who make every dining experience a memorable experience of a lifetime. New York City has a lot to discover with its restaurants, malls, and other attractions in the United States of America.
Best Restaurants: Mercado Little Spain, Teranga, Olmsted, The Four Horseman, Le Bernardin
Best Food To Try: Chef Salad, Chicken Divan, Delmonico steak, Eggs Benedict, General Tso's chicken
Best Desserts To Taste: Grapefruit Givré, Soufflés, Husk Meringue, Linzer Cookies, Tiramisu
Suggested Read: Top 10 Places To Visit In March In The World To Experience Balmy Weather
4. Melbourne, Australia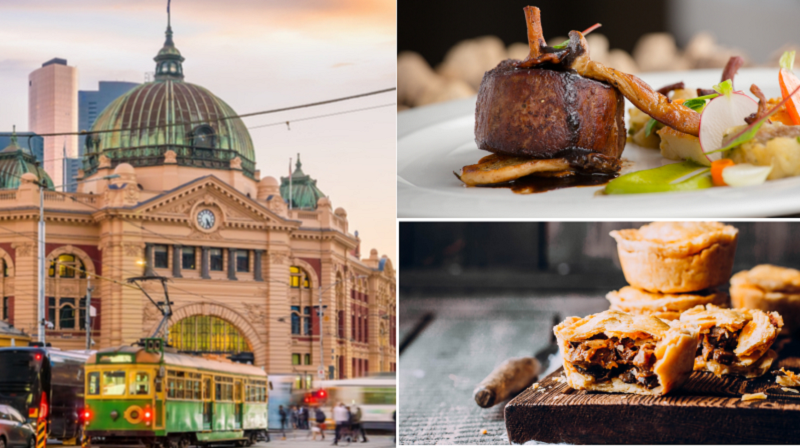 Melbourne has many great restaurants to check around the town and enjoy a lavish meal with family. Being one of the best food destinations in the world, the Melbourn city of Australia has listed some of the best restaurants for visitors, especially in and around Flinders Lane. You can book your cheap flight ticket to Australia to enjoy the Melbourne Food and Wine Festival that is hosted each year, gathering foodies from all over the world. This festival takes place in March featuring the best culinary chefs creating indelible dishes to sample and host the event.
Best Restaurants: Kazuki's, Brae, Anchovy, Di Stasio Citta, Minamishima
Best Food To Try: Margherita Pizza, Fried Chicken and Wings, Spag Bol, Dim sims, Barbecue Snags
Best Desserts To Taste: Dark Chocolate Delice, White Chocolate Cheesecake, Mango Alfonso, Nutella Pizza
Suggested Read: Best Places To Visit In Australia Which Should Be On Every Traveler's Bucket List
5. Monmouth County, New Jersey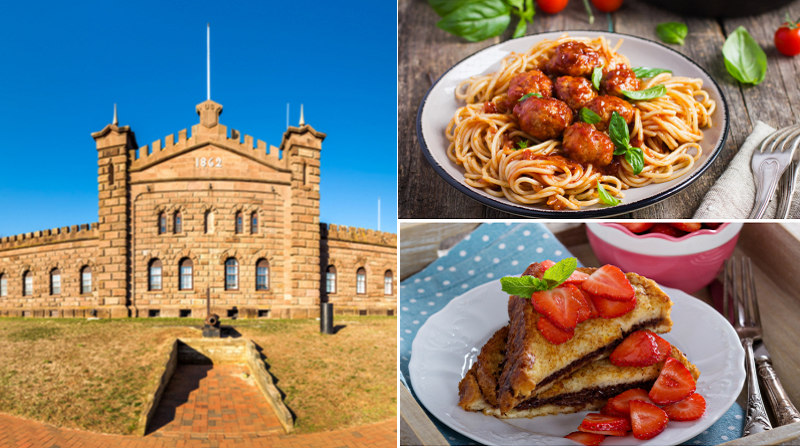 Book your cheap flights to New Jersey and enjoy the disproportionate count of outstanding eateries. Monmouth County is the best travel destinations for foodies, where they can discover the authentic flavors of raw spices and enjoy a scrumptious meal. You can relish your taste buds with Atlantic Lobster at Moby's Lobster Deck located in Highlands or can enjoy a raw bar and locals calms with a beautiful sea view across Sandy Hook Gateway National Recreational Area.
Best Restaurants: Meemom's, Playa Bowls, Casa Comida, Broad Street Dough Co., Porta
Best Food To Try: Sesame Chicken, Tacos, Frittata, Spaghetti and Meatballs
Best Desserts To Taste: Nutella-stuffed French Toast, Ice Cream, Caramel Apple Pancakes
6. Mumbai, India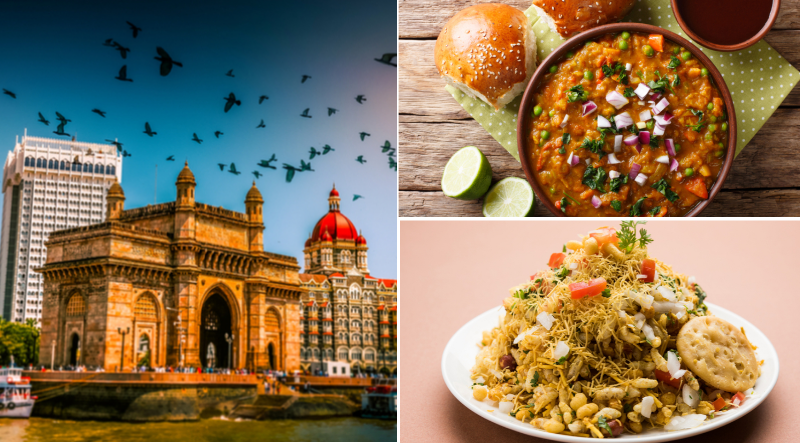 India, no doubt, is the best foodie destinations in the world that serves a great variety of taste. Every region of the country is defined by its authentic taste offering the authentic touch of Indian spices. No matter which state or tourist attraction in India you are visiting, you will always find a wide variety to choose from. You will never have any trouble in figuring out what to eat. While you will find incredible street food and excellent restaurants in India to try a traditional taste, Mumbai is the perfect destination, known for all its street food that you must visit as a foodie.
Best Restaurants: The Konkan Café, The Calcutta Club, Poppadum, The Bohri Kitchen, Peshwari ITC
Best Food To Try: Vada Pav, Kanda Poha, Bun Maska, Mava Samosa, Keema Pav
Best Desserts To Taste: Mysore Pak, Ras Malai, Barfi, Gulab Jamun, Kulfi
Suggested Read: Top Hotels In India For A Grand Stay In The Land Of Cultures
7. Galicia, Spain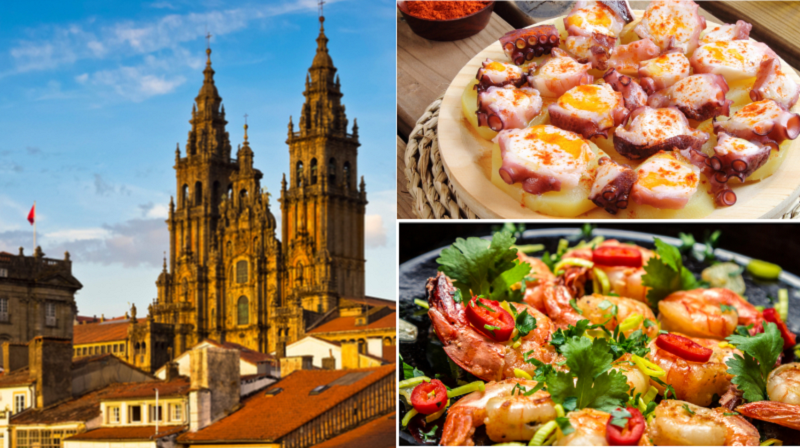 Located in the northwest corner of the country, Galicia has a unique culinary culture that makes it the best food destinations for every foodie in the world. The city is more about boiled octopus, hearty stews and fresh seafood platters leaving you with an appetizing taste of its classic spices and traditional cooking methods. With your flights to Spain, you can head out to enjoy the typical dishes such as Caldo Gallego, Pimientos de Padron, Tarta de Santiago and more.
Best Restaurants: Abastos 2.0., Restaurante As Garzas, A Pulpeira de Melide, Marisquería Ríos, Pulpeira O Fiuza
Best Food To Try: Crispy Squid Rings, Tortilla de patatas, Paella,Carrillada, Anchovies
Best Desserts To Taste: Tarta de Santiago, Galician Filloa, Bica, Galician Cheesecake, Doughnuts
8. Mexico City, Mexico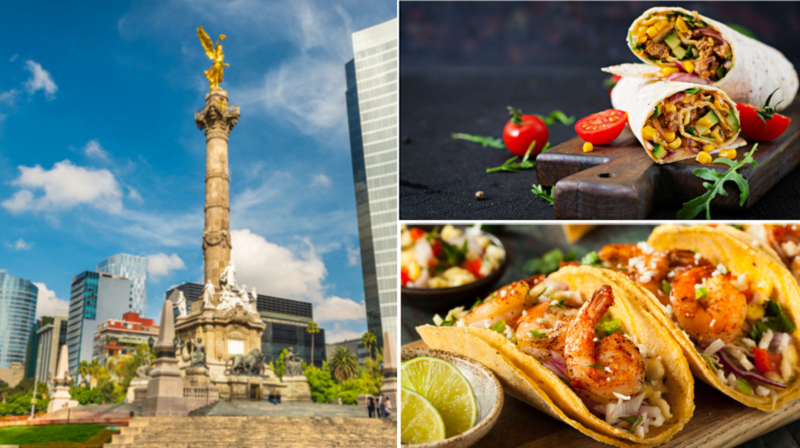 Mexico City is among the greatest cities in the world that offers another level of food option to the visitors for the best food vacation. To dig into the authentic Mexican dishes, you can ask any local person about this world's food paradise. The city offers various food options such as carnitas, enchiladas, guacamole, burritos and Al Pastor. You'll find street food in nearly every corner of the town serving regional Mexican food and some fancy restaurant at hotels in Mexico to relish the real taste of Mexico.
Best Restaurants: Porfirio's Coapa, Zesta Punta, Cambalache Plaza Oasis, La Vicenta Vallejo, Cambalache Plaza Oasis
Best Food To Try: Quesadillas, Camotes, Pambazos, Tacos, Tortas de Tamales
Best Desserts To Taste: Jericalla, Cocada, Flan, Churros, Tamales, Pay de Queso
Food is the best way to discover the beauty of culture and tradition across the world. With a diversity of art, history and lifestyle, every region in the world is defined by its own taste offering up a vast list of best food destinations in the world. From the traditional cooking method to the hospitality, every corner of the immense continents has redefined its culinary art with a unique touch of authenticity and traditions. So next time you travel, make sure to discover the most tempting taste of the best food destination.
FAQ's
Q1. What are the best destinations to explore for the food tour?
Foodies around the world should plan the best food vacation in countries like:
India
Philippines
United States
Spain
Ireland
Q2. What are the best restaurants in New York to dine-in?
For a lavish dinner in New York, you can reserve your table at:
The Musket Room
HanGawi
Indian Accent
Manhatta
Ocean Prime
Q3. What are the famous foods served in India?
India serves a considerable diversity of taste from the north to the south. The best cuisines you can try in the country are:
Malsa Dosa
Chole Bhature
Dhokla
Butter Chicken
Biriyani
Q4. What is the best cuisine to taste in Spain?
The best cuisines you can try in Spain for an unforgettable taste are:
Crispy Squid Rings
Tortilla de patatas
Paella
Carrillada
Fried fish
Q5. Where can I enjoy a family meal in New Jersey?
Reserve your table at the best restaurant in Monmouth, New Jersey to enjoy a meal with your family at:
Meemom's
Playa Bowls
Casa Comida
Broad Street Dough Co.
Porta
Q6. Are there any authentic deserts of dishes to try in New York?
New York is among the best travel destination for foodies around the world that serves the authentic taste of dishes like:
Chef Salad
Chicken Divan
Delmonico steak
Eggs Benedict
General Tso's chicken
Q7. Which country is best known for the diversity of food?
India is one of the best food destinations where you can discover a diversity of religion and taste. Starting from the north to south, east and west, every corner of the country has its own flavor offering a vast assortment.
Q8. What traditional foods can I enjoy in the Philippines?
The Philippines serves the soulful Filipino food and the best cuisines like:
Kare Kare
Chicken Adobo
Crispy Pata
Lechon Pancit Guisado
Bulalo
---