Puducherry is famously known as the French capital of India because of the heavy influence of French colonizers. This holiday destination has several mystical places to visit in Puducherry and it sure knows how to keep the tourists engaged and entertained. There are several tricks up the sleeve of this union territory, so get ready for an exciting and mesmerizing vacation full of beachy vibes, adventure, and historical essence. You'd be amazed by the beauty and magnificence that this location boasts of, and the picture-perfect scenic beauties would sweep you off your feet.
Ethereal Places to Visit in Puducherry: An Incredibly Dreamy Destination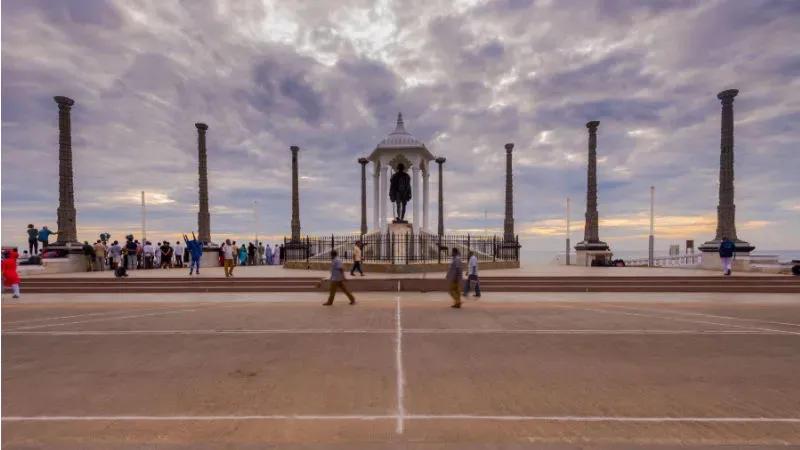 When you're visiting this quaint location, you'd be greeted by gorgeous vistas of lush greenery, French-influenced architecture, and a rustic touch to the entire place. Everything seems rosy-colored and makes you want to prolong your stay. This destination has all the potential to become your dream vacation, from sun-kissed beaches to the hidden gems; you'd find it all right here. Here are the must visit places in Pondicherry that you must explore.
Paradise Beach
Auroville Beach
Sri Aurobindo Ghost Ashram
Promenade Beach
Basilica of the Sacred Heart of Jesus
Botanical Garden
Sri Manakula Vinayagar Temple
Pondy Bazaar
Veerampattinam Beach
Serenity Beach
1. Paradise Beach: The Most Romantic Beach in Pondicherry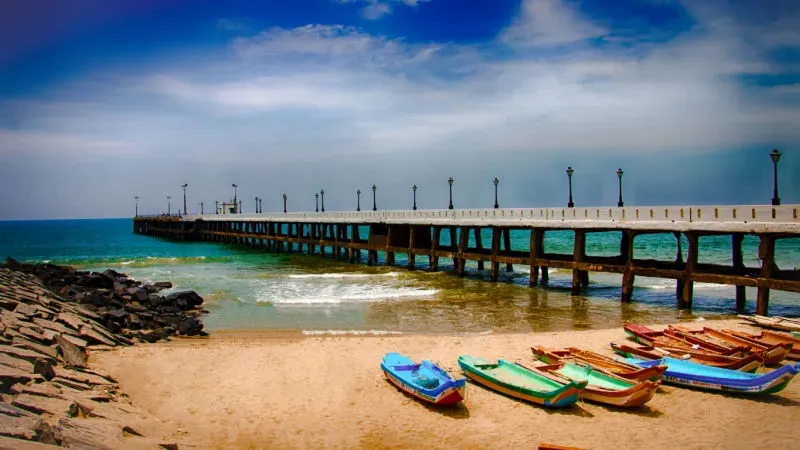 As the name suggests, this beach is an absolute favorite of all the tourists because it's secluded from the rest of the city. You can enjoy here all by yourself with only a few tourists around and go for a walk along the shore with your partner. The cool breeze paired with the sea waves makes for an excellent combination. There are a few beach shacks as well to munch on food and sip on coconut water. You'd fall in love with this place and if you stay till dusk, then you'd get to witness the most breathtaking sunset that would enhance your experience manifold. So, this is one of our first places to visit in Puducherry.
Best time to visit: November to March
Things to do: Relax on the beach, go for a walk, munch on street food, click aesthetic pictures, and indulge in some bird watching
Adventure activities: Jet skiing, kayaking, and canoeing
Time Required: 1 to 2 hours
Nearby restaurants: The Spot by Villa Shanti, Finz, Hot Breads
Nearby hotels: Le Royal Park, Annamalai International Hotel, La Grrande Malar
Tips: Carry extra set of clothes, take food and water as there aren't many eateries nearby, and don't throw waste on the beach
How to reach: You can reach the Chunnambar boat house from the main city via auto and then take a ferry to the beach
2. Auroville Beach: An Unexplored Beach with Tranquil Surroundings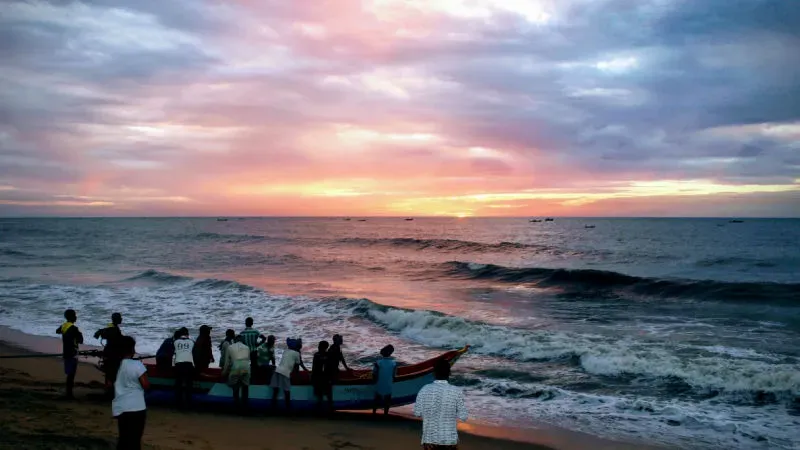 The Auroville Beach is the perfect escape from the crowded cities and offers a respite to travelers. This place has been maintained with the utmost dedication by the ashram and it's clear from the clean shores, the crystal-clear water, and the rich greenery. This beach is named after the Auroville town, which is a "Universal Town," where people from different cultures live together in harmony. People from all walks of life would find this beach an entertaining and relaxing location. So, if you're in search of peace and solace, then this is one of the best places to travel in India.
Best time to visit: 7 A.M to 6:30 P.M
Things to do: Soak in the peaceful atmosphere, view the popular lighthouses, lie on your beach blanket and watch the tranquil waters
Time Required: 1 to 2 hours
Nearby restaurants: The Spot, Mango Hill Restaurant, Auroville Bakery
Nearby hotels: L'Amby Bay, Ostel.in Pondicherry, Tanto Far Beach Guesthouse
Tips: You should carry your own food and water and taking an auto rickshaw to reach the beach is convenient
How to reach: You can reach here via an auto rickshaw or a bus
Suggested Read: Things to do in Jibhi: Enjoy the Lovely Chirpings of Birds in the Midst of Nature
3. Sri Aurobindo Ghosh Ashram: Soak in the Spiritual Vibes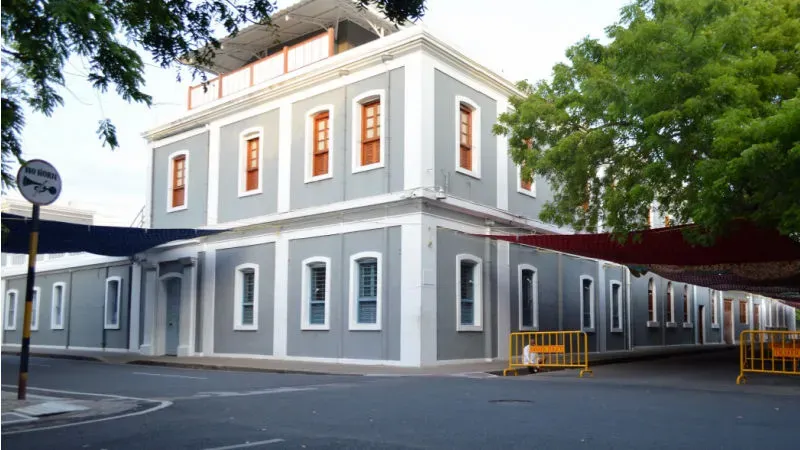 The Aurobindo Ashram is for those seeking spirituality and wishing to lead a simple life. The moment you visit this place, you'll see the shift in energy and how positive everything around you would be. You can experience simplicity here and it's the perfect opportunity for you to relax with your family. There's even an entertainment aspect every evening where people sing and dance with each other. It's the perfect place to take a break from the bustling city life. Also, this ashram's only situated in Pondicherry and it has no other branches, which makes it one of the perfect places to visit in Puducherry.
Best time to visit: 8 A.M to 11: 30 A.M and 2 P.M to 6 P.M
Things to do: Understand how to lead a simple life, spend leisure time, and enjoy the evening entertainment
Time Required: 1 to 2 hours
Nearby restaurants: Dilliwaala 6, De BlueFin Seafood MultiCuisine Restaurant, Sauce N' Toss
Nearby hotels: The Promenade, Hotel Villa Des Gouverneurs, Maison Perumal
Tips: You can't carry cameras inside and you must also deposit your bags outside, children below 3 years of age aren't allowed inside
How to reach: You can either hire a cab or use a public transport
4. Promenade Beach: Feel the French Influence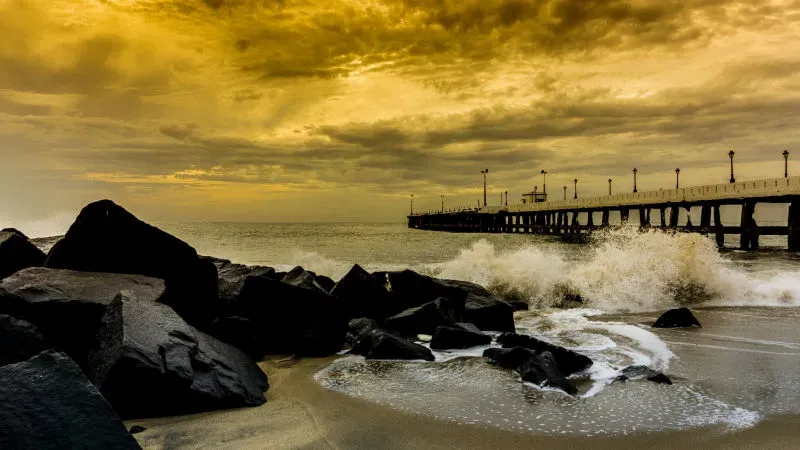 Seaside Promenade is a place with strong French roots as is evident at first sight. This beautiful and well-maintained promenade is the ideal place for spending leisure time. Its shore is lined by black rocks, resulting in its name as the "Rock Beach." View the vast expanse of Bay of Bengal from here and admire the colonial essence in every building. You can walk along the promenade while enjoying the picturesque views with the eateries and local attractions adorning the place that make this place an excellent Pondicherry sightseeing location.
Things to do: Stroll along the promenade, admire the gorgeous view of the sea, and marvel at the colonial essence
Time Required: 2 to 3 hours
Nearby restaurants: Blueline Restaurant, Wildfish Bistro, Marc's Cafe Store
Nearby hotels: Cours Chabrol, Lotus Bay View Hotel, A La Villa Creole
Local Attractions: The War Memorial, Mahatma Gandhi Statue, Dupleix Park
Tips: You must eat the local cuisine here, the vehicles only operate from 7:30 A.M to 6 P.M, stay till sunset
How to reach: A car or public transport are the best ways to reach this place
Suggested Read: Things to Do in Bir Billing: Fly High in the Adventure Capital of India
5. Basilica of the Sacred Heart of Jesus: Seek Blessings at God's Abode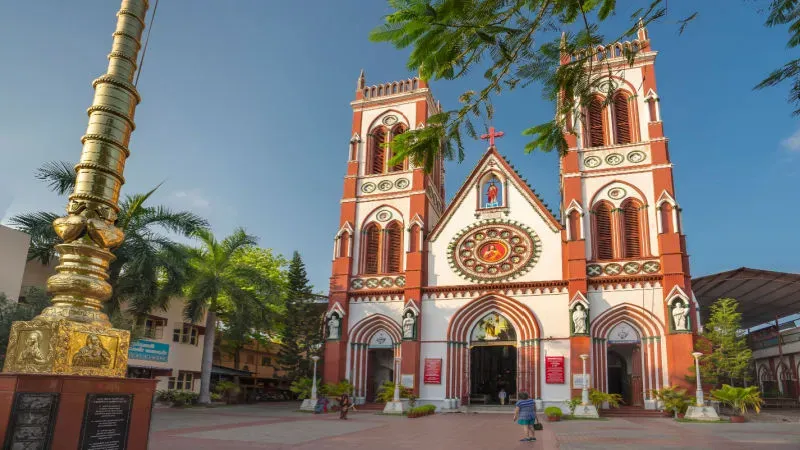 When it comes to this church, you'll be charmed by the gothic architecture and regal vibes of this place. Biblical words are etched on the entrance and famous festivals, such as Christmas are celebrated with enthusiasm. The peaceful and tranquil atmosphere would put you at ease and would give you the much-needed time to enjoy some me-time. Your trip to Pondicherry would be incomplete without visiting this holy and sacred place at least once. After all, it's one of the most unique places to visit in Pondicherry.
Best time to visit: 5 A.M to 8 P.M
Things to do: Pray to Lord Jesus and let the serene atmosphere take away your worries
Time Required: Approximately 1 hour
Nearby restaurants: Le Mirage, Les Chefs, Baker Street
Nearby hotels: La Maison Royale, A La Villa Creole, Hotel South Avenue
Tips: Respect the customs and traditions of the place and wear decent clothes
How to reach: You can take any local transport, such as a bus to reach this location
6. Botanical Garden: The Perfect Picnic Spot for Families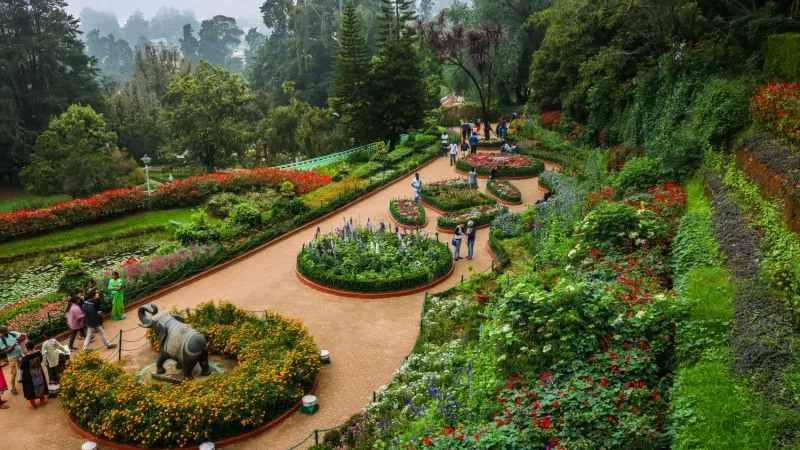 This botanical garden was established in 1862 by a French colonist, so you'd come across a heavy French influence here along with several exotic species of plants. It's an ideal spot for relaxing and having brunch with your family and friends. There are other attractions here as well, including aquariums, fountains, train rides for children, and a Japanese Rock. There's even a flower festival every year, which is one of a kind and attracts a major tourist influx. So, consider this as one of the most excellent Pondicherry tourist places here.
Best time to visit: 10 A.M to 5 P.M
Things to do: Plan a picnic, spend some peaceful downtime amidst rare flowers, walk around the garden admiring its beauty, and check out the other attractions as well
Entry fee: Around INR 20
Time Required: 1 to 2 hours
Nearby restaurants: Zuka Choco La, The Spot, Baker Street
Nearby hotels: Devis Grand, The Residency Towers, Palais de Mahe  
How to reach: You can take a cab to the garden
Suggested Read: Switzerland Travel Guide: Take a Trip to this Undeniably Gorgeous Country
7. Sri Manakula Vinayagar Temple: Pray at One of the Oldest Hindu Temples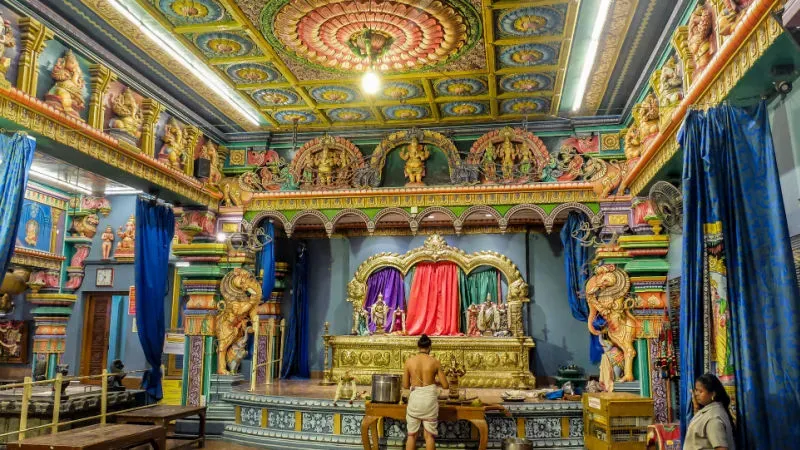 The Sri Manakula Vinayagar Temple was establish approximately five centuries ago and is one of the oldest Hindu temples in Pondicherry. It enshrines a huge idol of Lord Ganesha or Vinayaka. There's a myth surrounding this temple as well wherein a Frenchman attempted to remove this idol several times, but it reappeared every time. He finally believed the power of the God and became his devotee. The gorgeous interiors of the place with Dravidian style architecture would mesmerize you.
Best time to visit: 5:45 A.M to 12:30 P.M and 4 P.M to 9:30 P.M
Things to do: Seek blessings of Lord Ganesha, soak in the serene spiritual vibes, and marvel at the beauty of the temple
Time Required: 1 to 2 hours
Nearby restaurants: Paris Restaurant, Cool Cat Tifen, Surguru
Nearby hotels: The Promenade, Pleasant Inn, Anna Residency
Tips: Respect the culture and tradition, wear decent clothes
How to reach: You can either drive or walk to the temple
8. Pondy Bazaar: Buy Traditional Items from this Local Market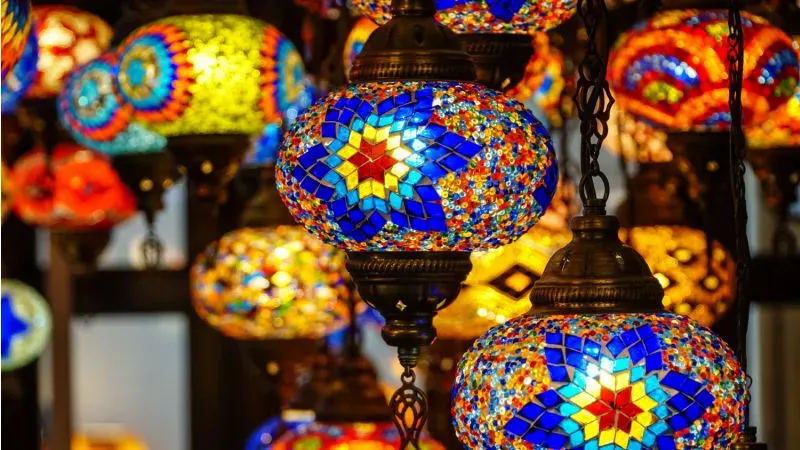 Pondy Bazaar is famous for its traditional crafts and handmade art, which makes for a perfect souvenir to take back home for your loved ones. You'll even get a glimpse of the daily life of people, such as the silversmiths and goldsmiths going about their work. There are also famous cafes around the place for you to try local delicacies. This is one of the places in Pondicherry where you can shop as much as you want at affordable rates, and it'd feel like taking home a piece of this gorgeous destination.
Best time to visit:
Monday to Friday - 9:30 A.M to 8 P.M
Saturday - 10 A.M to 1 P.M and 3 P.M to 8 P.M
Sunday – Closed
Things to do: Shop for handicrafts and traditional items, buy souvenirs and munch on the local delicacies
Time Required: 2 to 3 hours
Nearby restaurants: Athira Sweets and Snacks, Banana Leaf Barbeque Restaurant, Orange Restaurant
Nearby hotels: Le Pondy Paradise, French Breeze Residency, Homestay Hotel La Villa Pondi Cherie Guesthouse
How to reach: You can walk or take an auto rickshaw to reach there
Suggested Read: Things to do in Almora: Discover the Thrill of Adventure in Almora's Wilderness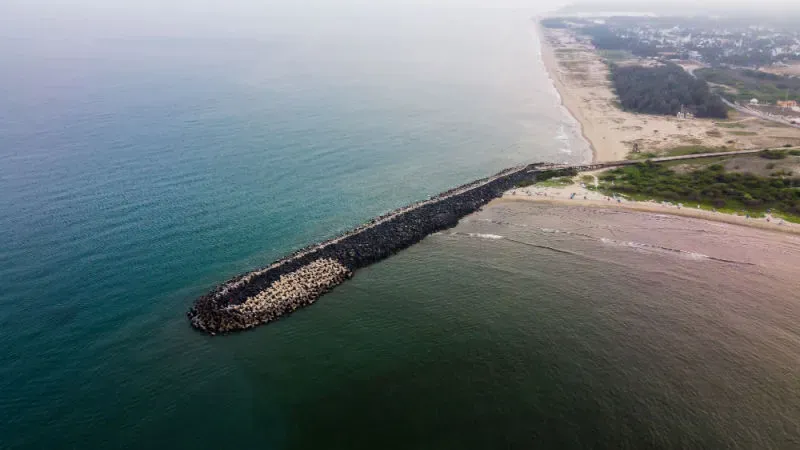 This beach is in the Veerampattinam town and is one of the most gorgeous beaches in Puducherry. If you're visiting this place, you must add this location as one of the things to do in Puducherry. You'll be surprised by how clean the beach is, which is because of the smaller number of tourists here. Not a lot of people are aware of this longest beach in Pondicherry, so you can enjoy the secluded aspect of this place. You can relax, get tanned, watch the fishermen at work, and enjoy being a beach bum.
Best time to visit: 4 A.M to 9 P.M
Things to do: Relax on this sun kissed beach, take a stroll along the shore, and observe the fishermen at work
Adventure activities: Fishing
Time Required: 1 to 2 hours
Nearby restaurants: H2K Spot, Sea Zone, Hot Kitchen
Nearby hotels: Vigneshawara Residency, RKN Beach Resorts, Le Poshe Luxury
Tips: Carry sunglasses and hats, wear sunscreen, avoid throwing garbage on the beach
How to reach: You can reach there via a bus or hire a cab
10. Serenity Beach: An Excellent Location for Surfing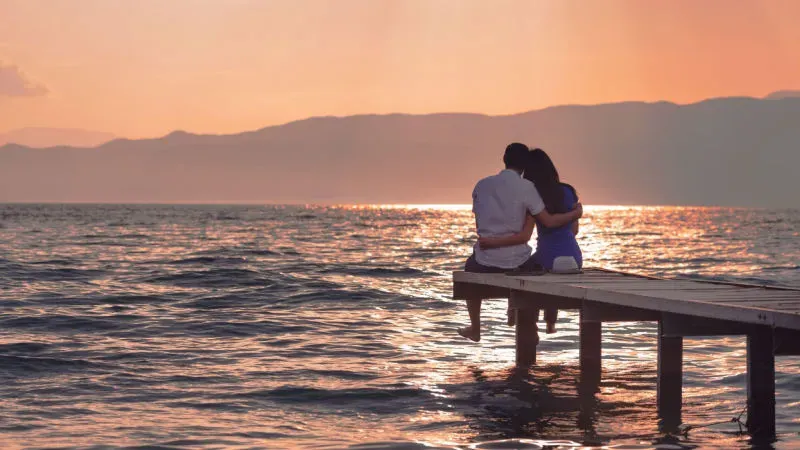 As is evident by its name, this beach boasts of a serene and peaceful atmosphere where you can unwind, enjoy sunbathing, and much more. The sparkling waters of the Bay of Bengal and the lush greenery make for an ideal combination to spend the day relaxing. The waves crashing on the golden sands are perfect for surfing. You can also enjoy a walk along the shore, the romantic sunrise, and the local street food. There are other water sport activities that you can indulge in as well. Such beaches are what make Pondicherry the best honeymoon destination in Asia.
Best time to visit: Open all day
Things to do: Take a romantic walk on the beach, witness a beautiful sunrise, eat the delicious street food, and enjoy watersport activities
Adventure activities: Surfing, swimming, and fishing
Time Required: 1 to 2 hours
Nearby restaurants: Theevu Plage, Le Memorizzzz, Shyama's Kitchen
Nearby hotels: White Pearl Residency, La Taara, Le Aham
Tips: Carry water, a beach blanket, and extra set of clothes
How to reach: You can board a bus to the bus station and then take an auto rickshaw from there to reach the beach
The places to visit in Puducherry are never-ending and you'll find several places worth your time here. From pristine beaches to marvelous temples and other cultural attractions; there's a lot to look forward to. As a tourist, everything that you're looking for is right here, which is why it's counted as a must visit destination for honeymooners, families, and friends. So don't waste any more time and book our India travel packages right away.
FAQs
Q1. What are the famous places in Pondicherry?
The popular places in Pondicherry are:
Aurobindo Ashram
Auroville Beach
Pondy Bazaar
Basilica of the Sacred Heart of Jesus
Q2. Is Pondicherry worth visiting?
There's no doubt that Pondicherry is an excellent destination for a vacation for couples, families, and friends. It offers exciting and fun things to explore and indulge in during your holiday and its beaches are the highlight.
Q3. How many days are good for Pondicherry?
3 to 4 days are sufficient to visit Pondicherry and to explore this idyllic destination. You'll have enough time to explore its charming cities, carefree beaches, and historically significant attractions like temples and churches.
Q4. What makes Pondicherry unique?
Pondicherry's uniqueness stems from its French essence, which is why it's known as the "French Capital of India." The charming locations with secluded and unspoiled beaches, people of different cultures living together in harmony, all make this union territory unique.
Q5. Which months are best for Pondicherry?
October to March are ideal months to visit Pondicherry. During these months, the climate of the place is pleasant and slightly less warm.
Q6. Which are the popular beaches in Pondicherry?
There are several famous beaches in Puducherry, including Auroville Beach, Paradise Beach, Serenity Beach, etc. These beaches are unspoiled by the tourists and offer a breather from the bustling cities.
Q7. Which beach is best for sunset in Pondicherry?
Watching a sunset from the beach will always remain a special moment for everyone because of the magnificent view it offers as the sun sets into the sea. Serenity Beach, Promenade Beach, and Veerampattinam Beach offer a mesmerizing view of the sunset.
Q8. What are the adventure activities in Pondicherry?
The beaches in Pondicherry offer several exciting adventure activities, such as jet skiing, kayaking, swimming, fishing, canoeing, and surfing. These watersport activities would entertain you and enhance your experience.
---