Coonoor, one of the most underrated holiday destinations in India is a must-visit for everyone. If you're traveling to Ooty then a reroute to Coonoor is absolutely necessary; otherwise, your trip is incomplete. Being the second largest hill station of Nilgiris, this place is abundant with nature and its marvels. The charm and elegance exuding from this hill station is unlike any other you've experienced till now. The natural beauty of this place is something you'll talk about for days after your return and thanks to the mesmerizing places to visit in Coonoor, you'll have a lot to explore. So, let's delve into this hilly paradise and uncover the layers of beauty of this hill station.
Best Places to Visit in Coonoor: Feel the Mountain Breeze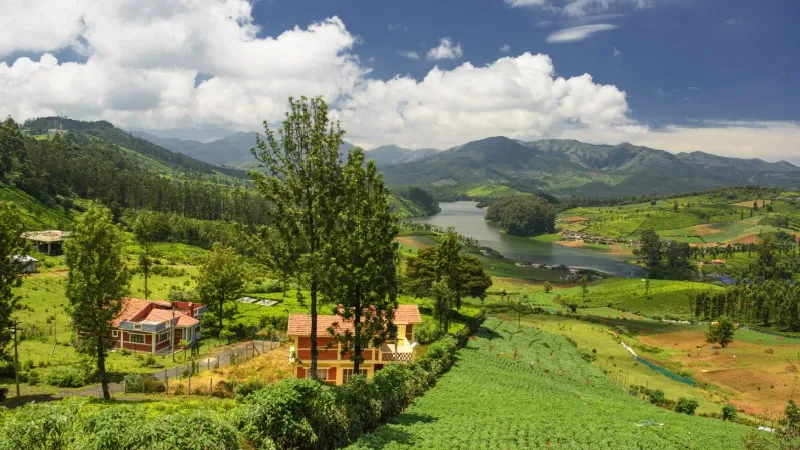 Since this hill station is a natural paradise and perfect for adventure junkies, it should be on every tourist's bucket list. A stark contrast to the bustling city of Ooty, this place is a serene escape to the mountains, where the breeze would whisper sweet nothings into your ear. From natural to man-made beauties, there's a lot to look forward to here, but let's begin with its attractions.
Here are the places to visit in Coonoor that you must explore.
Sim's Park
Droog Fort
Catherine Falls
Heritage Train
St. Geroge's Church
Law's Falls
Dolphin's Nose
Ketti Valley
1. Sim's Park: Walk Amidst Vibrant Floras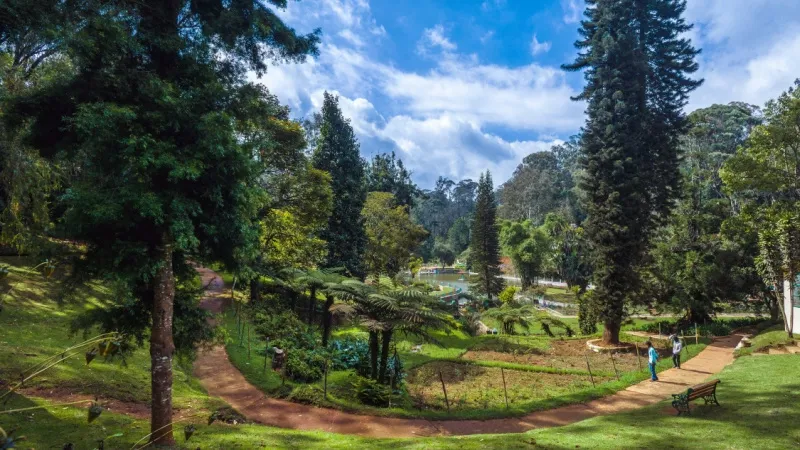 First on our list is this gorgeous botanical garden, which is filled to the brim with exotic and rare flower species. There's also a Rose Garden here with the finest varieties of roses that would leave you in awe of their beauty. Sim's Park is one of the most famous attractions in Coonoor because of the scenic views of the mist-covered hills and colorful flowers around you. You can even indulge in boating here or simply walk along the beautiful pathways, admiring the place. The park is divided into different sections pertaining to different flowers and is structured like a terraced flower bed. The highlight is that this is one of the places to visit near Coonoor Railway Station, so you can easily access this garden on your vacation.
Timings of Sim's Park: 7 A.M to 6 P.M
Address: Walker's Hill Road, Coonoor, Tamil Nadu 643101
Things to do: Boating in the lake, strolling around the garden
How to reach: You can take a toy train to Coonoor and then hire a taxi to take you to the park.
2. Droog Fort: A Mythological Tie to Mahabharata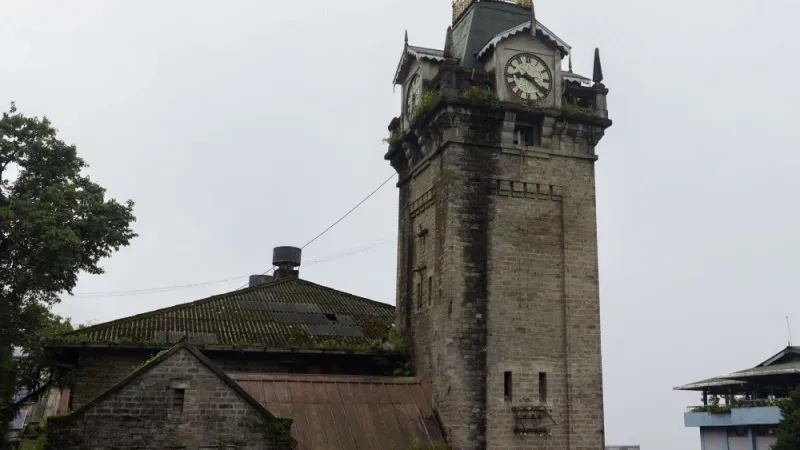 This mythological and historical attraction in Coonoor is among the best places to visit in India, especially for history buffs. This fort was built by Tipu Sultan to protect his reign, but there's a mythological legend behind this place as well. According to the locals, this fort was the home of a local demon, Bakasura, which is why this attraction is also known as Bakasura Malai. However, this fort is no longer the same and there's only a single wall and watchtower left, but it offers panoramic views of the hill station. It's an ideal destination for adventure enthusiasts as the trek to this location is worth it.
Timings of Droog Fort: 6 A.M to 6 P.M
Address: 8RFC+G72, Coonoor, Burliyar, Tamil Nadu 643103
Things to do: Trekking, watching the scenic views from the top, bird watching
How to reach: You can take a local train, bus or cab from Ooty or take a taxi from Coonoor itself as the fort is around 14 km away.
3. Catherine Falls: Unwind in the Arms of Nature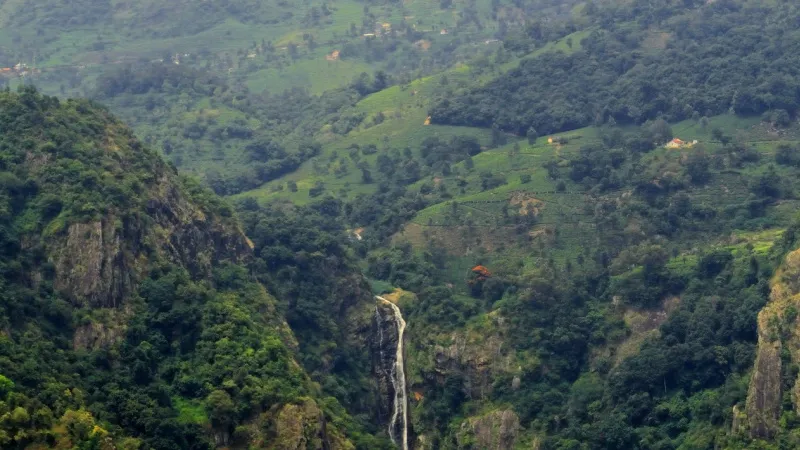 Waterfalls in hill stations hit differently because of the abundant greenery and mist-covered hills surrounding them. Similarly, this double cascading waterfall wades through the rocky surface of the mountain, past the thick vegetation to offer a surreal view to the tourists. The serene and picturesque environment here would invite you to spend some relaxing time here, away from the city's hustle and bustle. The only sound you'll hear is of the water crashing on the ground and it's truly a hypnotizing experience. Another highlight of visiting this waterfall is the journey to it as you'll have to trek amidst the lushness of the forest to reach here. So, don't miss out on this memorable opportunity.
Timings of Catherine Falls: 9 A.M to 6:30 P.M
Address: 9VM5+C5W, Tamil Nadu 643201
Things to do: Trekking, picnicking, bird watching, unwinding
How to reach: You can travel via bus or taxi from Ooty to this waterfall or take a cab directly from Coonoor as it's around 21 km away from there.
4. Heritage Train: A Rollercoaster of a Ride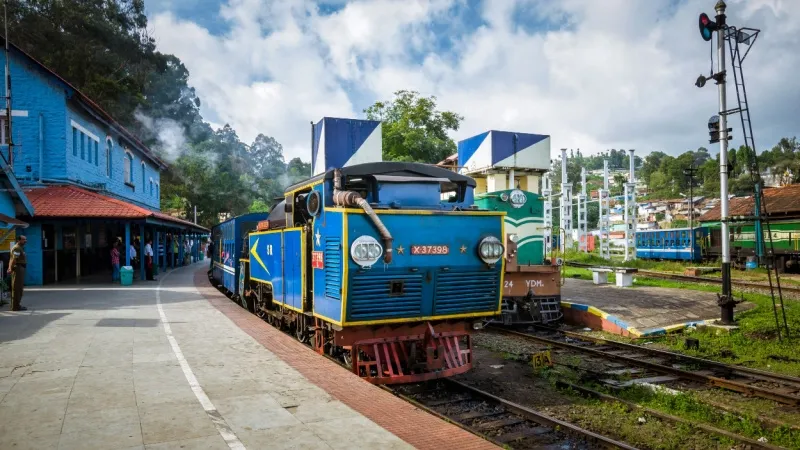 Among the many things to do in Coonoor, the most popular activity is to ride on the heritage train or the Nilgiri Mountain Railway at Coonoor. This train has been featured in many movies and tv series and you'll understand why once you get onboard. Traveling through the undulated hills and verdant green landscape, this ride would resemble a rollercoaster one. You can enjoy the sights of lush tea estates, gorgeous bridges and hills, milky white waterfalls, and much more. The entire journey would feel like a dreamy affair, which is why it's quite a favorite escapade for locals and tourists.
Route: Ooty to Mettupalayam
Duration: 5 hours
5. St. George's Church: One of the Best Places to Explore in Coonoor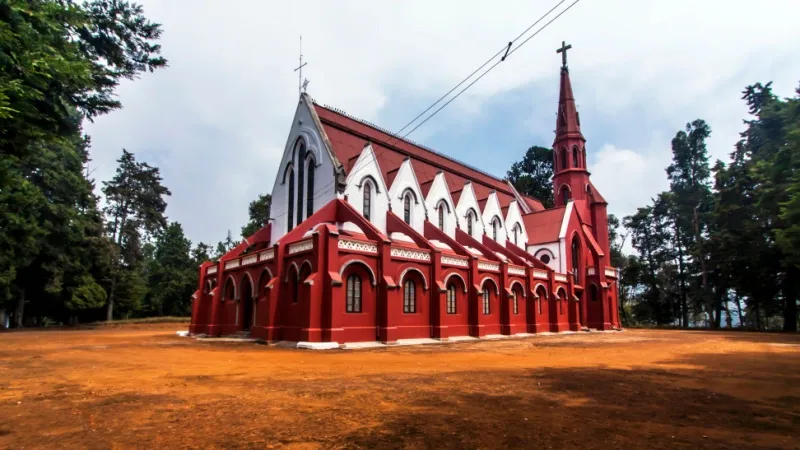 Unlike other churches in Coonoor, which reflect the British architecture at its finest, the St. George's Church inclines towards the gothic side. From its red sandstone exterior to its white marbled floor, everything spells regality. You'll find paintings of St. Michael, St. Geroge, and other beautiful décors that blends in beautifully with the aura of this place. Due to its building style, this tourist attraction in Coonoor is also known as "Cantonment Church" and when the military controlled this church during the Raj era, it was known as "Garrison Church." The rich history of this place is what makes it one of the best places to visit in Coonoor in 1 day.
Timings of St. George's Church: 9 A.M to 5 P.M (Monday to Saturday), 7 A.M to 12 P.M (Sunday)
Address: Wellington Barracks, near MRC canteen, Wellington, Tamil Nadu 643231
Things to do: Soak in the positive aura, pray to God, learn about the history
How to reach: You can either reach here via a toy train or take a cab to this church from Coonoor. The distance is approximately 4 km.
6. Law's Falls: A Soulful Retreat to Nature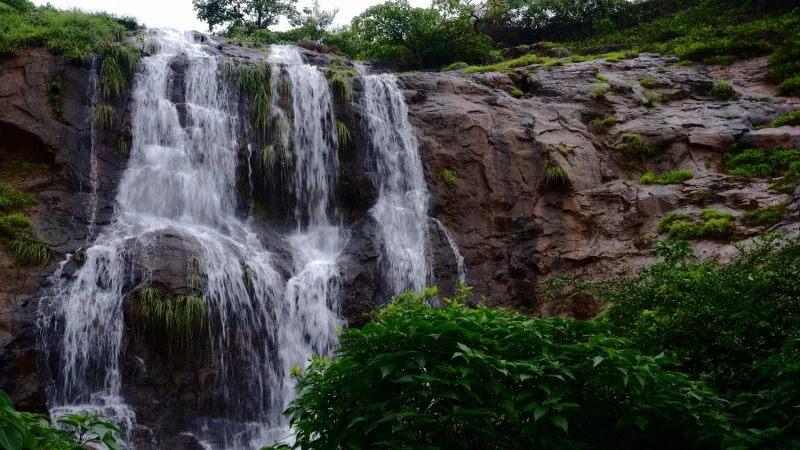 Law's Falls, named after Colonel Law, is a breathtaking waterfall, falling down the hill in multiple cascades into a water pool. It's a sight to behold as the water gushes down from a height of around 180 ft, making it one of the best places to travel in Tamil Nadu. This waterfall is located amidst hills and rich greenery, which makes it a perfect picnic spot for locals and tourists alike. The best time to visit this waterfall, which is among the best tourist places to visit in Coonoor Tamil Nadu is during monsoons because that's when the beauty of this place enhances manifolds. Nature lovers would absolutely love this place and find it hard to return from this serene and tranquil bubble.
Timings of Law's Falls: Open 24 hours
Address: 8QJX+QX6, Coonoor, Tamil Nadu 643238
Things to do: Picnicking, soaking in the scenic views, bird watching
How to reach: You can board the Nilgiri Toy Train to Coonoor and then take a taxi to this waterfall, which is 7 km away from this hill station.
7. Dolphin's Nose: A Panoramic Viewpoint from the Top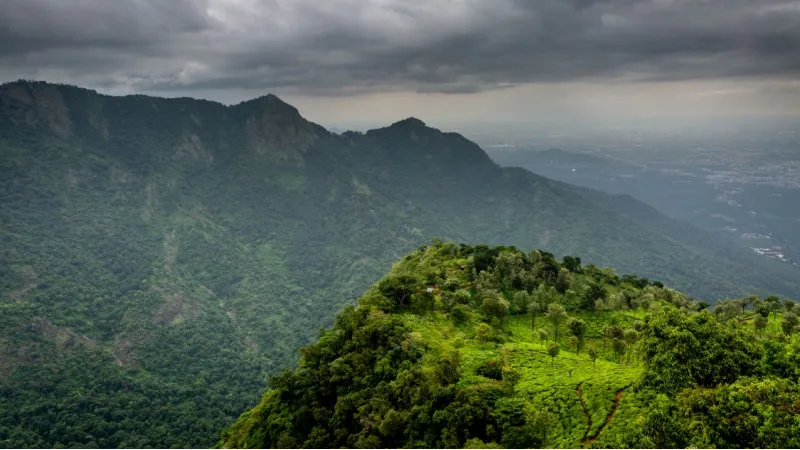 This viewpoint in Coonoor is one of the hidden gems in this hill station and derives its name from its shape, which resembles a Dolphin's nose. Surrounded by canyons, dense forests, and mist-covered hills, you'll be in awe of the jaw-dropping views from here. You can even get a clear view of Catherine Falls from here, apart from that, you'll get an unobstructed view of the ravines, valleys, and other gorgeous attractions. A 180-degree view of the entire hill station is truly a magical feeling; therefore, it's a must-visit location for all. Witnessing a sunrise or sunset from here would make you want to sit here and admire the views indefinitely.
Timings of Dolphin's Nose: 9 A.M to 6 P.M
Address: Dolphin's Nose, Coonoor, Tamil Nadu, 643103, India
Things to do: Watching sunrise or sunset, photography, horse riding, boating
How to reach: You can take a bus or travel via train to Coonoor and then take a taxi or cab to this viewpoint as it's approximately 12 km away.
8. Ketti Valley: Switzerland of South India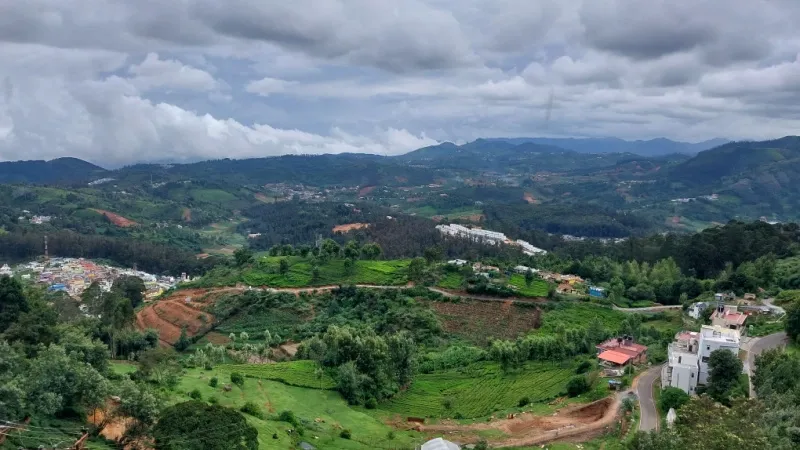 Venture into the second largest gorge in the world, where a fantasy land awaits. Surrounded by majestic mountains, lush green landscape, and a serene atmosphere, it's one of the tourist places in Coonoor that make it the top destination for honeymoon in India. The Todas and Badagas are two indigenous tribes here that indulge in farming and cultivation, in addition to that, there's a Shivalinga temple here as well and you'll also see the manufacturing of Pony Needles here. The journey to this destination is an even more mesmerizing one as you'll have to reach here via a toy train, so you can revel in the picturesque views on the way.
Timings of Ketti Valley: 12 A.M to 12 A.M
Address: Ketti Valley, Coonoor, Tamil Nadu, 643215, India
Things to do: Explore the tourist spots, marvel at the views, watch the sunrise or sunset
How to reach: You can easily reach this viewpoint via cab from Ooty or Coonoor as it's around 13 km away from the latter.
Additional Information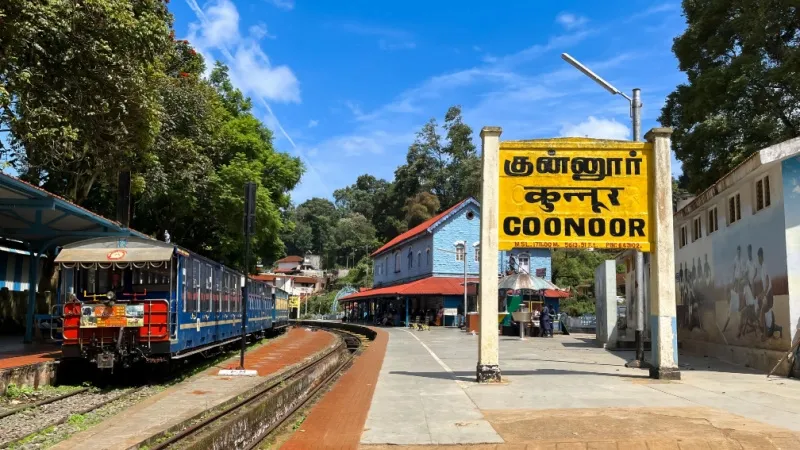 Here are a few more factors that you must keep in mind while making travel plans to Coonoor.
Best time to visit in Coonoor:
October to March is the best time to visit Coonoor because that's when the weather's at its finest and you can experience the full feel of vacationing at a hill station.
How to reach Coonoor:
Air – You can take a flight to Coimbatore International Airport (CJB) or Peelamedu Airport, which is the nearest airport to this hill station, at a distance of around 44 km.
Rail - Coimbatore Junction is the nearest railway station to Coonoor at a distance of approximately 71 km.
Coonoor is a slice of paradise for nature lovers, adventure enthusiasts, honeymooners, families, and people from all walks of life. You'll have a complete package of fun, relaxation, and memorable moments here that would make your vacation here worthwhile. As for the places to visit in Coonoor, you'll be awestruck by the absolutely gorgeous locations here from the waterfalls and viewpoints to the churches and forts. The reason why this place is a must-visit is because of the abundance of natural beauty it possesses within it, which will act as a retreat from city life. So, book our Coonoor tour packages for a holiday in the lap of nature.
FAQs
Q1. What is Coonoor famous for?
Coonoor is famous for its Nilgiri tea production and is the second largest hill station in the region. The lush greenery of this place is what makes it famous among tourists.
Q2. What is Coonoor also known as?
Coonoor is also known as the "Jewel of the Nilgiris" because of its vast tea plantations, verdant greenery, and high level of Nilgiri tea production. The picturesque views from this hill station are awe-inspiring.
Q3. What are the best places to visit in Coonoor?
Some of the must-visit places in Coonoor include Sim's Park, Catherine Falls, St. George's Church, Law's Falls, Ketti Valley, etc. These are famous tourist attractions in this hill station.
Q4. How many days are required to visit Coonoor?
5 to 7 days are enough to explore the tourist spots and soak in the mountain vibes of this place. You can even extend your trip because this hill station is truly a heavenly escape from reality.
Q5. Is there snowfall in Coonoor?
Snowfall in Coonoor isn't a frequent occurrence even in winters, but if you're lucky, then you might experience snowfall here from December to February. There is a high chance of snowfall during these months.
Q6. What is the distance between Ooty and Coonoor?
Coonoor is approximately 20 km away from Ooty; therefore, it's a must-visit destination if you're planning a trip to Ooty. It's a serene and peaceful retreat amidst nature.
Q7. Can we visit Coonoor in December?
Yes, you can visit Coonoor in December as December to February is when Coonoor experiences winters and even though the temperatures are ideal for a visit, you'll still notice a drop in temperature during winters.
Q8. Is Coonoor a safe place to visit?
Coonoor is a safe place to visit for people from all walks of life. However, you should still take basic precautions to ensure your safety.
---