Can't decide which hotel to book for your Maldives holiday yet? Well, we're here to point you in the direction of Hard Rock Hotel Maldives, a five-star hotel which'll take care of all your vacation needs. You can truly let go of all responsibilities here and enjoy complete relaxation because you'll be surrounded by the best facilities and world-class hospitality. This is what a vacation in Maldives should consist of and this hotel would ensure that you experience exactly that. You'll find "music" a constant theme in this hotel, which is incorporated in every nook and cranny of this place, so if you're a music lover, this is the perfect place for you. The top-notch amenities here are another reason why this hotel should be on your list of stays in Maldives.
Hard Rock Maldives: A Dreamy Symphony of Luxury and Beachy Vibes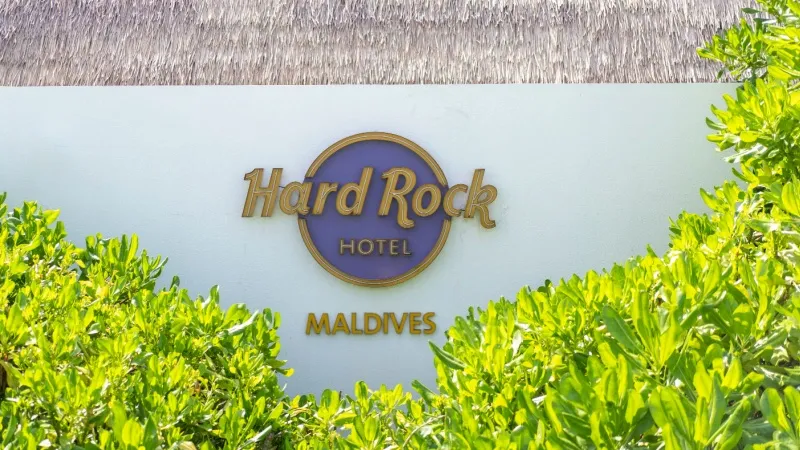 A stay in Hard Rock Hotel Maldives would acquaint you with the luxurious side of things because the resorts in Maldives aren't like the regular ones. They are the epitome of elegance, beauty, and opulence, which would leave you awestruck.
Located in Eh`mafushi South Malé Atoll, this hotel overlooks the sparkling ocean, surrounded by lush greenery, and away from the city's hustle and bustle. You'll be grateful for having stayed here to truly revel in the essence of this country. As for your holiday, it'll undoubtedly be a soul-stirring one because you'll be in proximity to the capital city, with plenty of opportunities to explore this country.
Address: Akasdhoo, South Male Atoll, Male, 20029, Maldives
Accommodation in Hard Rock Hotel Maldives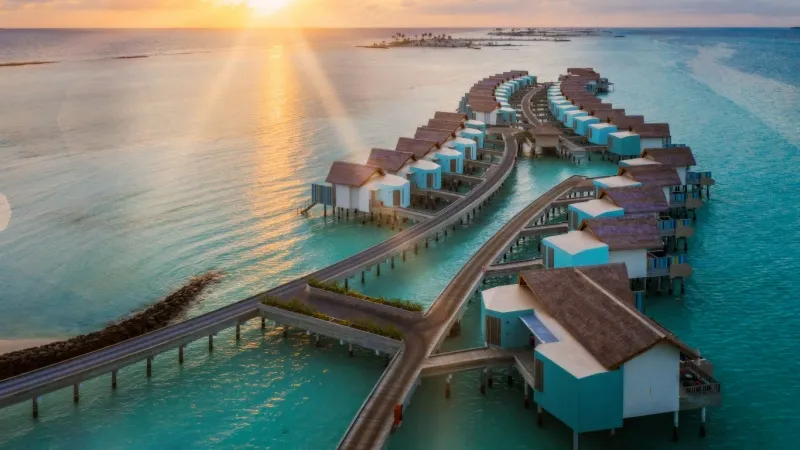 As I mentioned earlier, music is ingrained in this hotel's core and it's evident even in the Hard Rock Maldives rooms and villas available here. With each villa as gorgeous as the other one, it'll be a challenge to choose the one you'd love to stay in. Here are the options available for you to choose from.
Rock Star Villa: Living the Rockstar Life
Immerse yourself in the truly lavish setting of this villa with private boat docking, a tuk-tuk bar, an infinity pool, a private butler, Jukebox, large outdoor living area, and much more. Overlooking the crystal-clear ocean, this one-bedroom villa is every traveler's dream.
Rock Royalty Overwater Pool Villa (2-Bedroom): No Less than Paradise
This spacious oceanfront villa with a terrace and an infinity pool is the best way to spend your holiday in Maldives. You'll have a butler service available along with other amenities to make your stay here as comfortable as possible.
Diamond Overwater Pool Villa: A View of the Horizon
One thing that distinguishes this villa from the other villas in Maldives is its never-ending views of the ocean. You'll have direct access to the lagoon and the villa would consist of a private terrace, a plunge pool, and sun loungers, a king or double bed among other things.
Platinum Overwater Pool Villa: The King of All Villas
One thing you can't get over is the tropical color scheme of this villa, which includes a king-size bed or two double beds, a plunge pool on the private terrace, sun loungers, and direct access to the shimmering lagoon. With ocean views to keep you company, it's an absolutely breathtaking villa to stay in.
Platinum Overwater Villa: Soak in the Beachy Vibes
Revel in the glorious views of the ocean from your private terrace or get sun tanned on the sun loungers. You can spend time in the water whenever you want and even experience living outdoors on a lounge net. It's definitely a villa you must look forward to during your stay.
Gold Beach Pool Villa: It Doesn't Get Better Than This
Stop! Don't try to resist the allure of this mesmerizing villa with a king-size bed, a plunge pool, direct access to the lagoon, an en suite bathroom with double vanity sinks, high walled bathtub, a sofa bed, as well as charming ocean views pulling you towards it.
Gold Beach Villa: A Relaxing Retreat for the Wandering Souls
It's important to choose the right villa for yourself on a holiday because it's the place you'll call home for a few days. So, this villa in Hard Rock Hotel, Maldives is a gem with a king-size bed or two double beds, private sun loungers, a sofa bed, an en suite bathroom with double vanity sinks. The highlight though is the direct access to the beach.
Silver Family Suite Duplex: The Perfect Villa for a Family
If you're traveling to Maldives with family, then you can't miss out on this villa in the hotel, which is ideal for a family with kids. You'll have access to the master bedroom and sofa bed on the ground floor, which are connected to the upper floor via a staircase to the kids' room with bunk beds. So, you can enjoy your privacy while staying connected.
Silver Beach Studio: An Ideal Hideaway from the City's Humdrum
You're in for an amazing time at this villa, which offers a king-size bed or two double beds, a terrace with stunning ocean views, and direct access to the sandy stretches of the beach. You'll also have access to sun loungers, indoor showers, and many more top-notch amenities as well.
Silver Sky Studio: A Simplistic Way of Living
If you're more of a person who believes in the simple pleasures of life, then this villa is perfect for you. With a king-size bed, private balcony, and waterfall showers, you can revel in the serene views of the ocean from above the ground.
Suggested Read: Things To Do In Male For Ultimate Maldivian Vacation
Dining at Hard Rock Maldives Hotel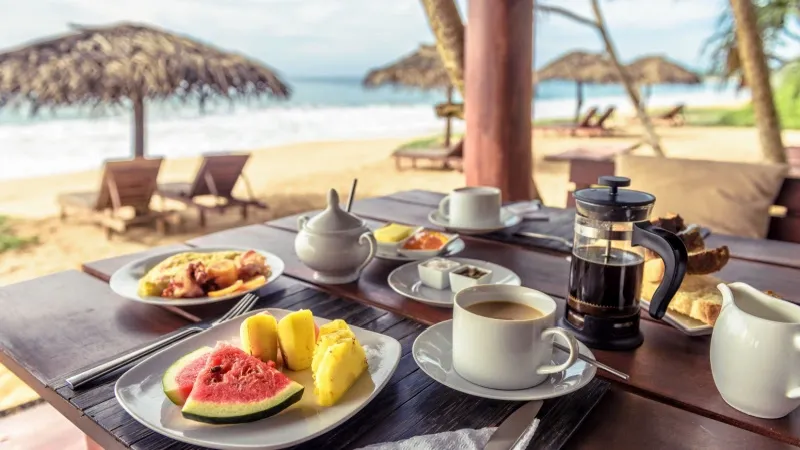 Food is the way to a person's stomach and this hotel understands it the best. You'll find yourself dining here every day of your vacation because of the vast variety it offers the guests. Here are all the places you can dine at for a scrumptious meal to energize you.
Hard Rock Café Maldives: Relish American Delights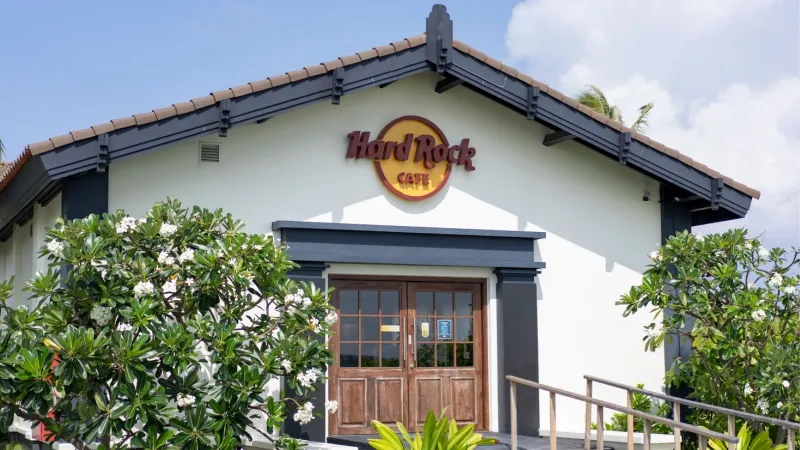 An American café through and through, the Hard Rock Café in Maldives is one of the most famous restaurants in Maldives. You can savor classic American dishes here that suit its café theme and the oceanfront views with live music sets the right tone. You can visit this place at The Marina Crossroads from 12 P.M to 12:30 A.M; it's closed on Tuesday, though.
Sessions: An Open Kitchen Restaurant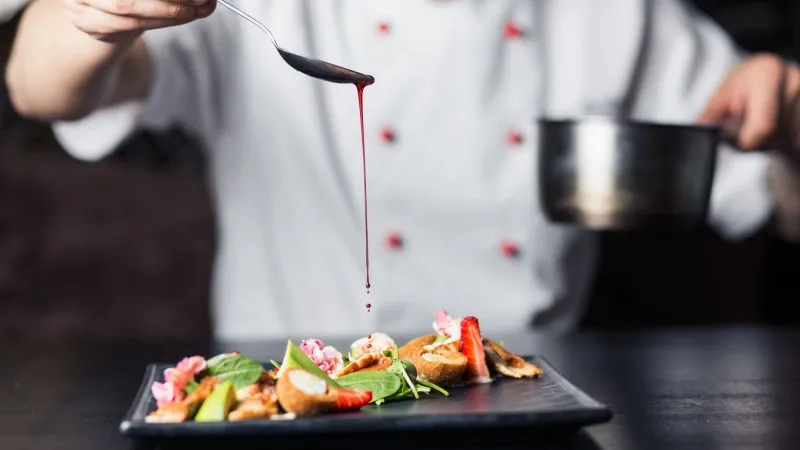 Indulge in global flavors with a contemporary twist at this restaurant. Prepared with fresh, high-quality ingredients, you can keep yourself entertained with the open-kitchen theme and the gorgeous views of the sea. You can even sign up for the Private Chef's Studio, which is accessible to only 12 guests, where they'll immerse themselves in the world of culinary art. This restaurant's open for breakfast (7 A.M - 10:30 A.M), lunch (12:30 P.M - 3:00 P.M) and dinner (6:30 P.M - 10:00 P.M). There are themed buffet dinner nights as well (7 P.M - 10 P.M).
The Elephant and the Butterfly: Delve into Mexican Roots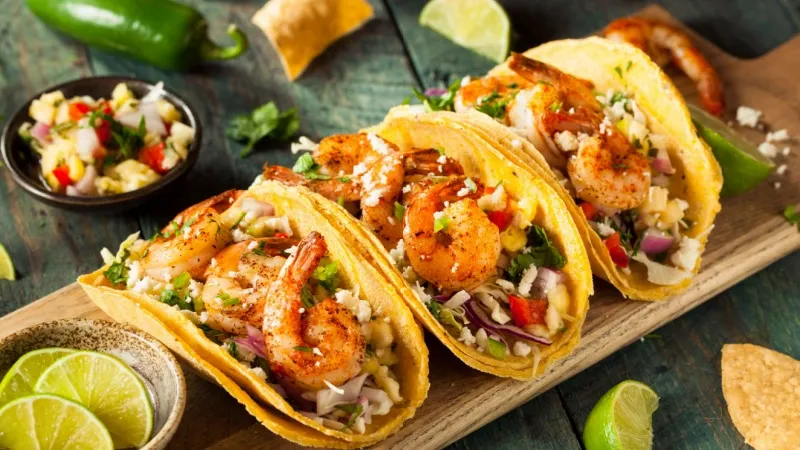 Taste the aromatic flavors of Mexican cuisine at this oceanfront restaurant, where delicious dishes are served elegantly as you overlook the gorgeous blue ocean. You can also pair your food with a quality wine recommended by the hotel's in-house sommelier. Mexico's love of colors is perfectly depicted in this restaurant. It's open for lunch (11:30 A.M – 4 P.M) and dinner (6:30 P.M - 10 P.M - a la carte) (7 P.M – 10 P.M - buffet themed nights)
Suggested Read: Kuramathi Island Resort: Your Ultimate Travel Guide to Kuramathi Island Resort
Pool Bar: A Relaxing Spot to Dine and Lounge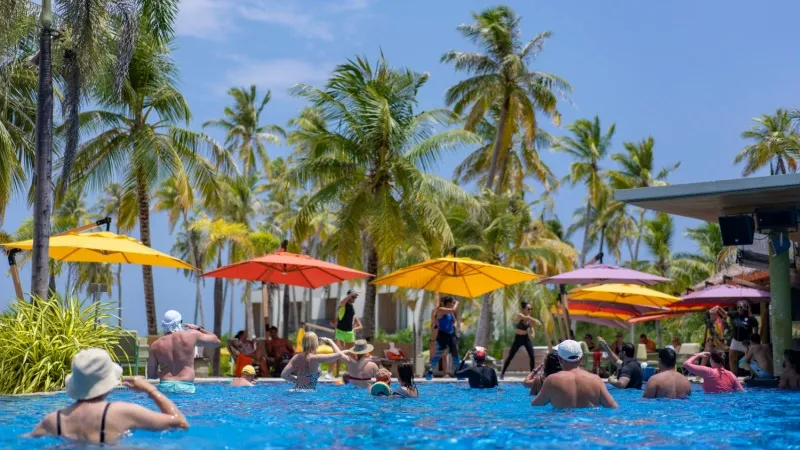 Nothing can beat the laid-back ambiance of a pool bar, where you can enjoy your favorite drinks and Pan Latin quick bites to go with it. The infinity pool merging into the Emboodhoo lagoon is the right spot for watching a sunset and lazing around to truly embrace the holiday vibe. You'll feel the shift in energy as the sun sets as the entire bar turns from a pool by day to a lounge at night. There are underwater stools, a waterslide, and much more to make it an amusing time for you here. You can visit this place from 9 A.M to 11:30 P.M.
Private Dining: A Romantic Rendezvous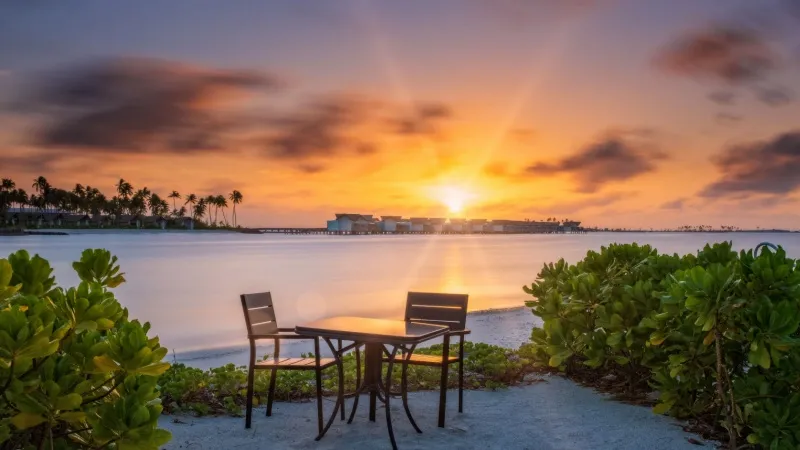 There's something really special about private dining and Hard Rock Resort Maldives understands this. So, to make your romantic time here even more memorable, you can request private dining by the beach, where you can choose between a set menu or barbecue-style dishes. You can create your own custom menu for a personalized touch. Relishing scrumptious dishes with your partner as you watch the waves touch the seashore is a surreal experience.
Dining at The Marina Crossroads: Exploring the Dining Arena of Maldives
If you wish to dine at other places apart from the ones at the hotel, then you can visit The Marina Crossroads, which is famous for its culinary collision of various cuisines. There are several restaurants in Maldives available here for you to choose from depending on your mood.
Suggested Read: Restaurants in London: Savor the Flavorsome Cuisines Soaked with British Delight
In-villa Dining: Enjoy the Dishes from the Comfort of Your Room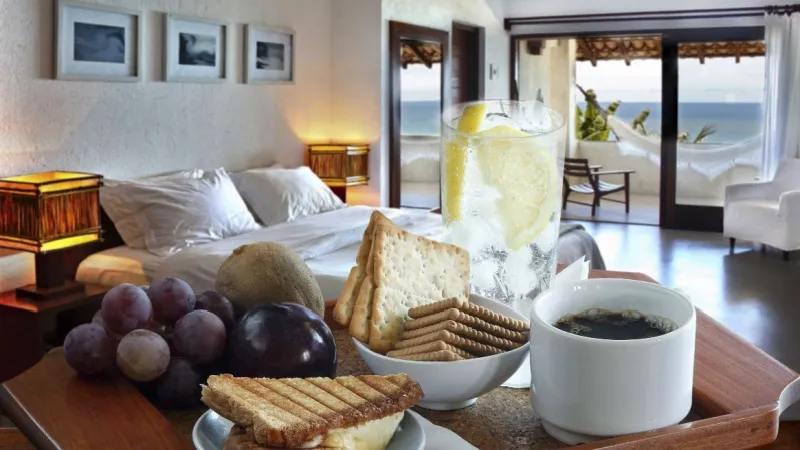 If you're not in the mood to leave your comfortably cozy bed during your stay in Hard Rock Maldives, then you can simply request for in-villa dining. You can order anything from grilled dishes to pasta, pizza, etc. And spend some more time lazing around. It's also perfect for a movie night or late-night binging.
Things to Do at Hard Rock Hotel Maldives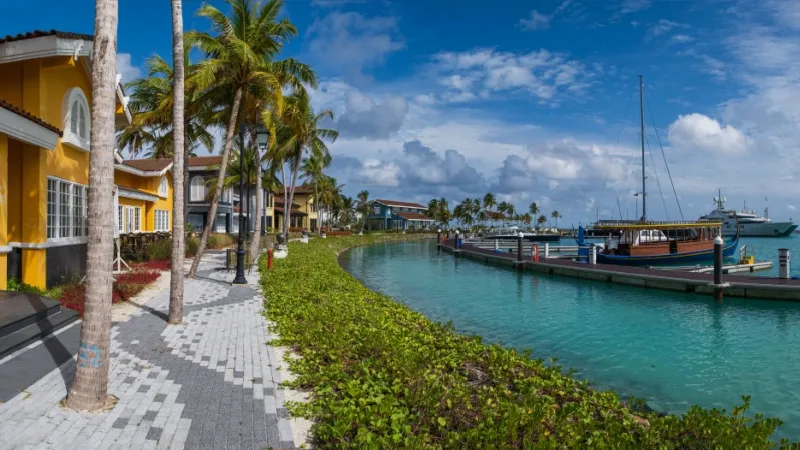 One thing you can't skip when vacationing in this incredible country is the adventure activities in Male that would keep you engaged the entire time. There's a lot to explore in and out of this resort, so let's check it out.
The Marina Crossroads: The Hub of Leisure and Entertainment
Since The Marina is connected to the hotel via a footbridge, it's easily accessible by the guests and a perfect spot to hangout. You'll come across retail shops and numerous dining options here. Also, there are several activities to indulge in here that would take your holiday in Maldives up a notch. You can shop, savor delicious dishes, relax by the beach, and much more.
Marine Discovery Center: Learn About Maldives' Conservation Efforts
The Marine Discovery Center is a must-visit place in Maldives because it'll acquaint you with this country's efforts toward the conservation of the ecosystem. This immersive coral propagation program would let you indulge in something unique and meaningful. It's located opposite Hard Rock Café at The Marina Crossroads, so do indulge in this adventure in Maldives.
Maldives Discovery Center: Delve into the Core of this Country
It's imperative for you to know more about this country you're holidaying in to enjoy it in an even better way. That's when this discovery center comes into play as it'll take you on a guided tour of the place and let you engage in interactive activities with the locals to immerse yourself completely in the colors of Maldives. The tour is divided into five zones, such as coral reef walk-through, the Maldivian's way of life, local arts and crafts, and so on.
Discover Local Artists: Get in Touch with Hard Rock Maldives' VIBE Manager
If you're in search of the latest events in Maldives, then you should head to the VIBE Manager of the resort, who'll guide in the direction of the upcoming events and parties that you can check out. You can explore the local artists performing at various events or explore the offbeat places to travel in Maldives during your holiday.
Weekly Entertainment: Rely on the In-house Entertainment
Even though there are several things to do on the gorgeous islands in Maldives, there are a lot of entertaining and amusing activities lined up by the resort as well that makes it a complete package. There's live music by the band Deviate, which became famous when they started playing in this resort. There's a daily sundown ritual as well, where you can listen to live music while watching the sunset. Apart from that, there are weekly performances that are planned by the hotel, and these include:
Equatic Vibe - every Friday
Karaoke night
Pool party
DJ night at The Elephant and The Butterfly
Roxity Kids Club and Teen Spirit Club: An Engaging Atmosphere for Your Child
If you're traveling with your children to Maldives, then you know that you might need a break from them at times and explore the place on your own. Well, the Roxity Kids Club and Teen Spirit Club are perfect for such parents who can leave their children in a world of music-inspired characters and entertaining activities t
Io enjoy some time alone. They'll constantly be under the care of the hotel's crew and would have a fun day in the indoor and outdoor spaces. It's open every day from 10 A.M to 6 P.M
Suggested Read: Indian Restaurants in Maldives to Savor Indian Cuisine
Spa Facilities at Hard Rock Maldives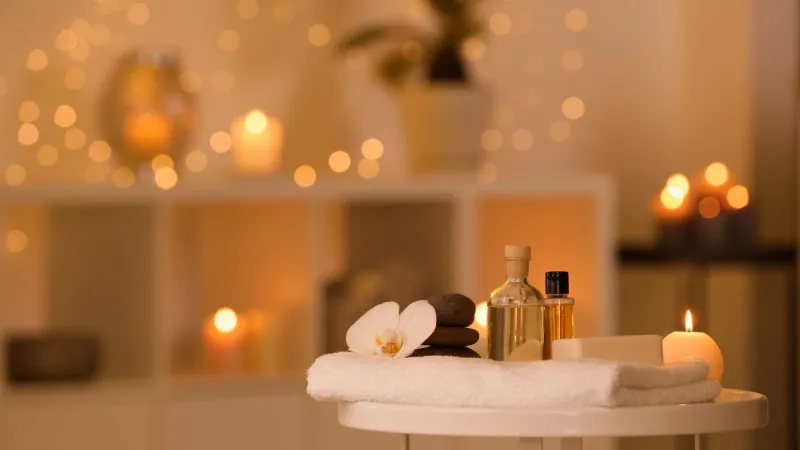 A spa is one of the most vital parts of any resort because after an exhausting day of wandering around the island, you might want to relax in a calm atmosphere with aromatic fragrances wafting towards you. Rock Spa in Hard Rock Maldives is that escape from reality you're looking for.
It's an indulgence that you can't resist, especially when these soothing spa treatments are paired with a musical melody. The oceanfront rooms at Hard Rock Maldives Spa make the entire process even more calming as you can listen to the sound of the waves and truly go into a holiday trance. Since, this hotel is among the popular honeymoon places in Maldives, there are even couple spa treatments for you to try.
Timings: 10.30 AM - 7.00 PM
Events at Hard Rock Hotel Maldives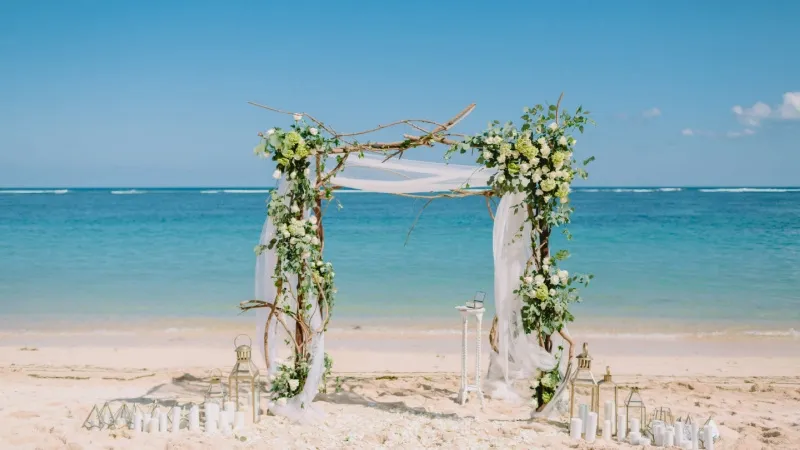 One of the highlights of your stay in this hotel is that you can plan an event here from business meetings to weddings. So, if you're not planning a trip to Maldives for leisure, but for a purpose, then this hotel would strive to make the execution of your event as smooth as possible.
Business Meetings: Brainstorm in a Gorgeous Setting
You can now plan your business meetings in a serene location with Hard Rock Resort. Their event hall at The Marina Crossroads is the ideal place to host a meeting as it has a meeting space that can accommodate 20 trade booths. With a multipurpose setting, you can use this space for all kinds of events by coordinating with the professional planners and caterers. If you prefer an outdoor venue, then The Marquee is the right choice.
Weddings: Turn Your Wedding into Timeless Classics
A wedding in Maldives is every couple's dream and this hotel aims to bring your dreams into reality. Your wedding would be etched in the memory of the guests because this picture-perfect occasion with spotless beaches, turquoise blue water, and a gorgeous backdrop would remind you of a fairytale romance. You can leave everything in the hands of the professional planners in the hotel as they'll focus on even the minutest detail to make your wedding exactly like you imagined. Trust this resort when it comes to unconventional weddings.
Suggested Read: Hotels In Singapore That Provide Luxury At Its Very Best
Facilities at Maldives Hard Rock Hotel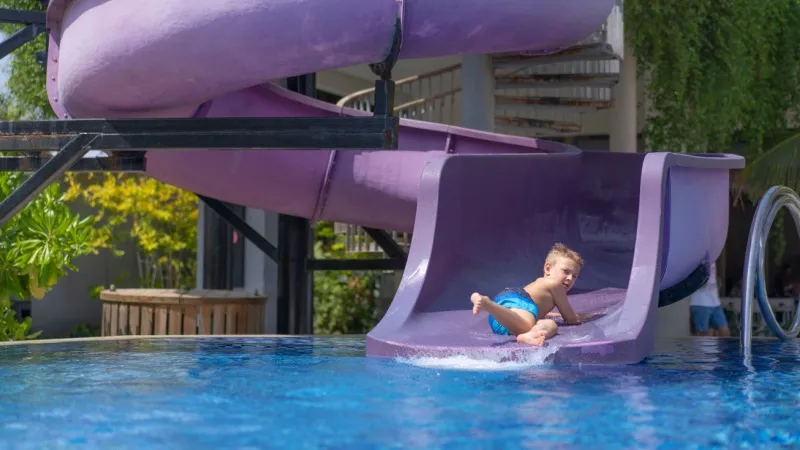 The facilities at this resort in Maldives are the cherry on top because it's the attention to detail that distinguishes this hotel from others. So, here are the facilities you can use during your stay here.
Pool and waterslide
Spa
Retail shop
Kids club
Fitness center
Musical instruments
Yoga classes
On-site laundry and dry cleaning
Travel Tips
Some things that are important to note during your stay in Maldives and this hotel are as follows:
Stay hydrated throughout the trip
Make use of all the facilities at the resort
Explore the attractions and activities in Hard Rock Hotel
Pack light and carry comfortable clothes
Apply sunscreen frequently
Keep sunglasses and hat handy
Convert your cash into Maldivian currency
How to Reach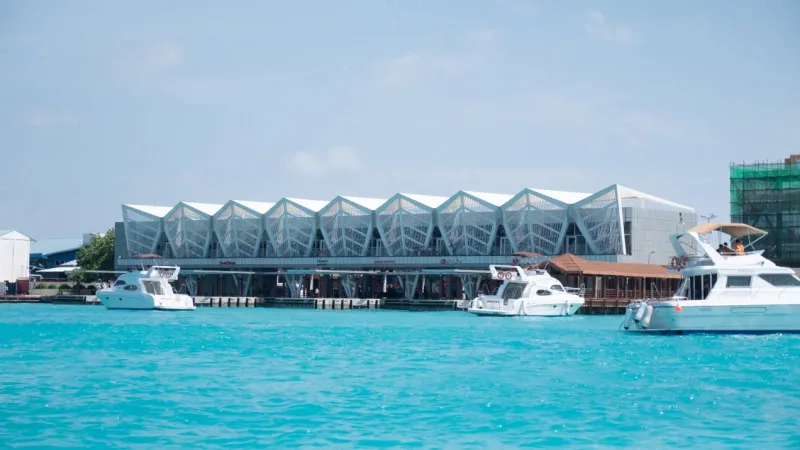 To reach Hard Rock Maldives, you must take a flight to Male International Airport. From there, you can enjoy an approximately 20-minute speedboat ride to the South Male Atoll as the resort is around 8 km away from the airport.
I hope this blog convinced you to book a stay at one of the most prestigious resorts in the country, Hard Rock Maldives. You'll be greeted with warm hospitality and a luxurious vibe exuding from its state-of-the-art interior. Your entire stay here from the moment you enter till the time you check out would be a slice in paradise. You can rest assured that you can avail yourself of the best services and amenities here to make your holiday in this country worth remembering. So, don't resist any longer and book our Maldives tour packages right away.
FAQs
Q1. How far is Hard Rock Maldives from Male?
Hard Rock Maldives is approximately 10 km away from Male International Airport. You'll have to travel via speedboat to the resort, which takes around 20 minutes.
Q2. What island is the Hard Rock Maldives?
Hard Rock Maldives is located in Emboodhoo Lagoon. It's a gorgeous island surrounded by lush greenery and crystal-clear water.
Q3. Is Hard Rock Maldives good for families?
Yes, Hard Rock Maldives is perfect for families as it includes family-friendly accommodations, there's a kids club as well and a large outdoor space to indulge in fun activities. So, this hotel is ideal for families.
Q4. How many rooms does Hard Rock Maldives have?
Hard Rock Maldives includes 178 gorgeous rooms, suites, villas, and overwater villas, thar are perfect for your stay. Each room overlooks the Indian Ocean, offering picturesque views to admire every day.
Q5. What are the facilities offered by Hard Rock Hotel Maldives?
Hard Rock Hotel offers the guests a swimming pool, kids' club, gym, retail shop, access to musical instruments, and much more. You can even take yoga classes in the comfort of your room.
Q6. Are there restaurants in Hard Rock Resort Maldives?
Yes, there are several restaurants in and around the resort. You can dine at The Elephant and The Butterfly, their pool bar, or request private dining as well. You could also go to The Marina Crossroads and dine at the Hard Rock Café or other restaurants.
Q7. Is Hard Rock Maldives a 5-star hotel?
Hard Rock Maldives is a five-star hotel in Maldives, which ensures a premium stay for all its guests in every aspect. You can find all the facilities under one roof at this resort.
Q8. How many days are enough for Maldives?
6 to 7 days are sufficient to soak in the breathtaking beauty of this country. You can indulge in an extravagant lifestyle for a few days and enjoy all the luxuries this destination has to offer.
---