Vietnam. Officially called the Socialist Republic of Vietnam, has a vast coastline. While this reflects in Vietnamese Cuisine (It has a huge dependency on fish & seafood.), the exposure to the Gulf of Thailand & the South China Sea means that the country is blessed with an overwhelming number of beaches. The beaches in Vietnam are integral to exploring the Southeast Asian nation, with some of its must-visit attractions being magnificent cliffs, awe-inspiring boulders & peaceful coves. Whether you plan on having a crazy beach party with friends or are a solo traveler seeking to discover yourself, the 3400-kilometer-long coastline will make sure that you are spoiled for choice.
The Ultimate List Of The Best 20 Beaches In Vietnam
Tropical islands, powdery sands, turquoise lagoons, unique landscapes… Vietnam is nothing short of a paradise! While this hypnotic beauty is probably the biggest reason you should explore the beaches of Vietnam, the best bit is that these attractions have not been commercialized, unlike other countries. What's more, the long-stretched land is one of the cheapest countries in the world, ensuring that your trip will not burn a hole in your pocket!
1. My Khe Beach/Cua Dai Beach (China Beach)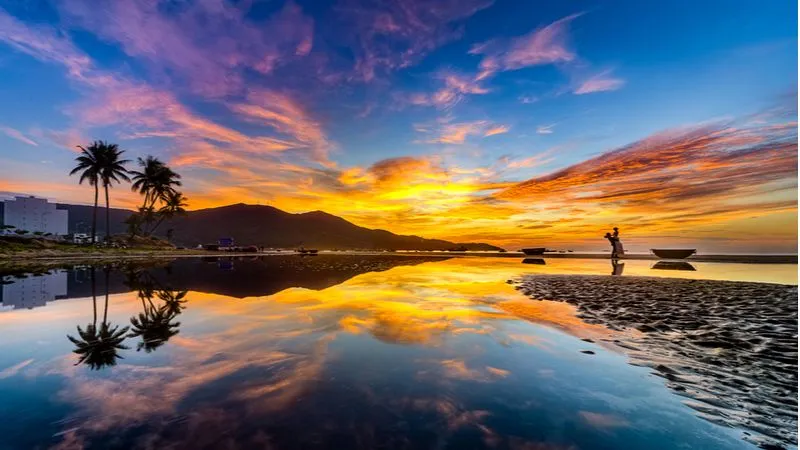 Known as My Khe Beach in the north & Cua Dai Beach in the south, this is situated in the 'Da Nang' (Also written as one word) municipality & its bordering 'Quảng Nam' province. (Vietnam is divided into provinces as well as municipalities.) Popular with locals more than foreigners, this is not just a must visit for beachgoers, but for history buffs too. While the tourists who drop by refer to it as 'China Beach', the place was central to the Vietnam War. Surfers can spend their time riding waves, while others can get a feel of Vietnam, catching a glimpse into the lives of its people.
Location: As aforementioned, this beach, among the best beaches of Vietnam, can be accessed in Danang. If you want to spend a whole day at My Khe Beach, it might be a good idea to book a resort room in Hội An, a town which was once a trading port.
Facilities: There are no cafés or restaurants here, which means that you bring a picnic basket & have a lovely picnic!
Famous For: Solitude
Things To Do: Surf off the coast of Da Nang or feast upon the beauty of this place with your senses!
Suggested Read: Best Beaches In Maldives For A Sun-kissed Soothing Experience
2. Ong Lang Beach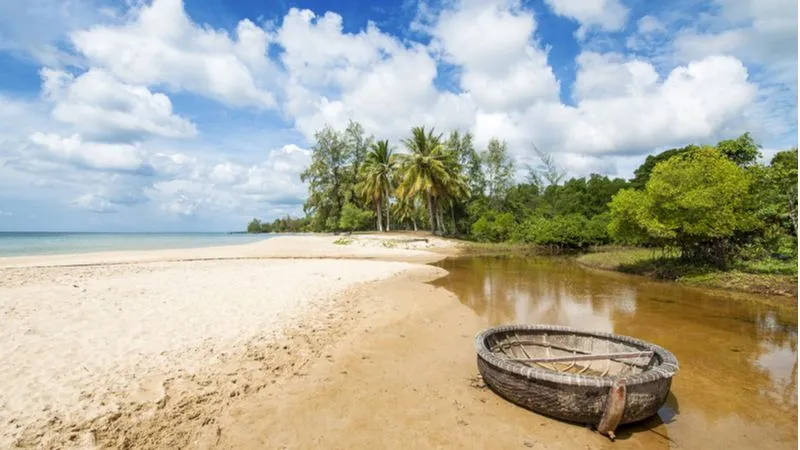 As you may know, Vietnam includes numerous islands. The largest of them being 'Phú Quốc', in the 'Kiên Giang' province. Travelers swear by the beauty of this island, & hence, naturally its beaches too, of which the romantic Ong Lang makes it to our list of recommended beaches in Vietnam. This white sand location (like other beaches of Phú Quốc), with its clear waters, is ideal for snorkeling & swimming. Simply relax & unwind if swimming or snorkeling are not your things, & don't forget to watch the sunset if you are traveling with your love interest!
Location: To elaborate on what has been stated above, Ong Lang is situated in the center-west of Phú Quốc. The island is in the Gulf of Thailand. If you are afraid that a day trip to this beach would result in a hectic trip, do know that there are resorts on the island to be stayed at.
Facilities: Toilets (Not very well maintained so make a point to visit your hotel room bathroom.), bars, sunbeds & scooters (to go around the island) on rent
Famous For: Being the most beautiful beach of Phú Quốc
Things To Do: Bring your beloved here on a beach date―love is in the air of the island!
3. Nha Trang Beach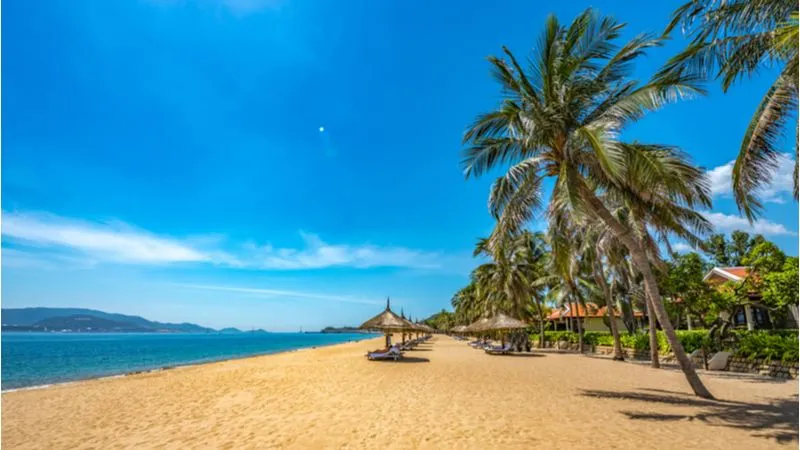 If you are torn between beaches that are isolated but offer scenic views (Since they feel unsafe) & beaches that are easy to access but not picturesque, we have the perfect of Vietnam beaches for you ―Nha Trang! A perfect amalgam of scenery & activity, the attraction takes its name from the coastal city of Nha Trang, which also happens to be the capital of the 'Khánh Hòa' province. Located on the South-Central coast of the country, this beautiful 'plage' (as the French would call it!) is rather popular & your gateway to quieter islands.
Location: As aforementioned, Nha Trang is located in Khánh Hòa province. It shares its border with 'Ninh Hoà' district in the north (Provinces are further subdivided into districts, cities & towns.) 'Cam Ranh' town in the south & 'Diên Khánh' district in the west.
Facilities: Lifeguards, restaurants, bars, stalls (for drinks & refreshments), beach chairs & umbrellas on rent
Famous For: Being a favorite among swimmers
Things To Do: Have a cup of tea from one of the seaside cafés as breeze blows & catch up with friends!
Suggested Read: Stunning Beaches In Mexico For An Exotic Beach Holiday Like Never Before
4. Bai Dai Beach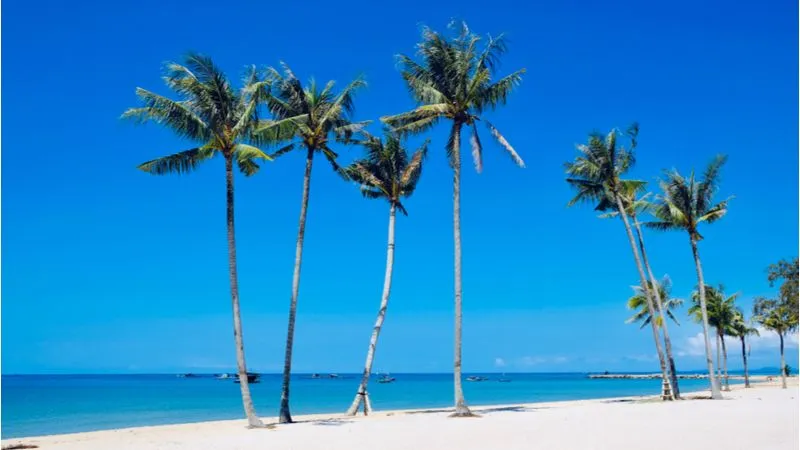 The name White Sand Beach might cause some confusion since several of the beaches of Vietnam exhibit spectacular white sands, so just know that this is a beach in Cam Ranh, the town neighboring Nha Trang. The town is known for silky sand beaches, & this one is no exception. Like the previous Nha Trang, Bai Dai is also in the Khánh Hòa province. This is a quieter beach, & kid friendly due to its shallow waters. The beachside restaurants serve fresh & delicious fish dishes, lovely with chilled beer. Think of it as a hidden gem!
Location: To elaborate on what's mentioned above, the beach falls in 'Cam Hai Dong' commune. (Districts, cities & towns are subdivided into communes, townships & wards.) It is a beach of the Cam Ranh Bay, with the bay being at an inlet of the South China Sea.
Facilities: Restaurants, cafés, beach chairs & surfboards on rent
Famous For: Being quieter than the beaches in Nha Trang
Things To Do: Devour fresh & tasty grilled seafood at one of the restaurants for a healthy lunch!
5. Doc Let Beach
Ask any local in Vietnam for Vietnam beach vacation ideas & they are sure to recommend this chalk white sand beach, situated some 50 kilometers from the heart of Nha Trang. (If you are wondering why so many of these beach attractions are located in or around Nha Trang, know that it is pretty much the "Hawaii of Vietnam".) Offering atmospheric resorts to unwind at (This would give you the convenience of toilets & showers.), this 18-kilometer stretch is your escape from the stress of life. The pure blue waters at the foot of glowing sand must be how heaven looks like!
Location: Falling in the "Riviera of the South China Sea" (Another nickname for Nha Trang!), Doc Let is a coastal region. It is a part of the 'Hon Khoi' peninsula. (Pro Tip: When in the region, don't forget to visit the Hon Khoi Salt Field, esp. If you are a photographer!)
Facilities: Toilets (Not very well maintained, so visit the bathroom of your hotel room before leaving.), restaurant, karaoke bars, beach chairs & umbrellas on rent
Famous For: Being a stress-busting holiday destination in Vietnam
Things To Do: Well, this is one of the beaches in Vietnam to visit when you want to do nothing!
Suggested Read: Beaches In Bali: Top Serene Locations That You Can't Afford To Miss
6. Mui Ne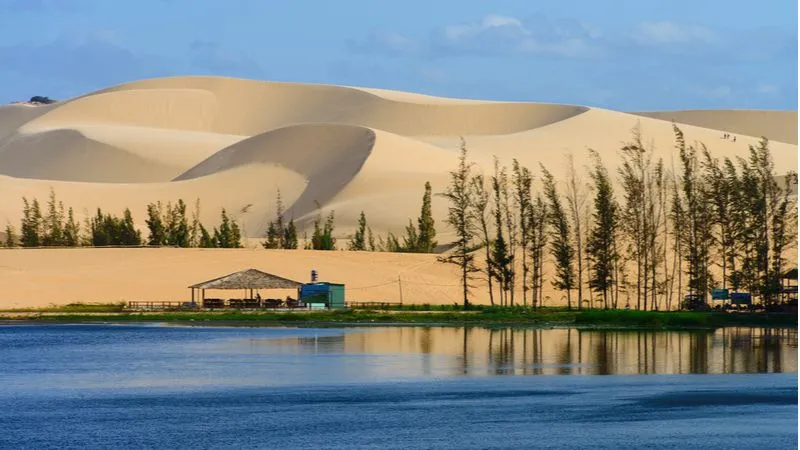 The charming Mui Ne Beach is near the large 'Ho Chi Minh City' municipality. (Also called 'Saigon', so don't get confused!) (Ho Chi Minh is actually the largest city of the multicultural country, so it is very significant.) Situated in the Southeast region which is officially called 'Đông Nam Bộ', this fun beach is a visual treat with towering palm trees & tall dunes. In fact, not just this beach in Vietnam, but even a drive to it is a mesmerizing experience, as you witness the desert on one side of the road & the coastline on the other. With its seductive vibe, it is the perfect spot for a beach date!
Location: As stated above, this beach is near Hi Chi Minh City, in the fishing town of 'Phan Thiết'. Phan Thiết is itself located in the 'Bình Thuận' province, which is a situated in Vietnam's 'South Central Coast'. (Also called 'Nam Trung Bộ')
Facilities: Parking, restaurants, cafés, bars, surfboards on rent
Famous For: Being one of the top places to visit in Vietnam
Things To Do: Either try kitesurfing or just observe kite surfers gliding over the surface of the sea!
7. Long Beach
Yet another of Phú Quốc's places, for beach holidays in Vietnam (like the previously listed Ong Lang Beach) is Long Beach. This sophisticated, must-visit beach for swimmers is accessible from 'Dương Đông', the island's main town. (Not to be confused with the 'Long Beach' in Thailand.) As the name suggests, it is a long stretch that can be central to your trip, since the area has numerous resorts, restaurants & bars, for a comfortable stay. There is little wonder why it is flocked by tourists, even though one sees crowds of locals here too!
Location: To expand the stated information, Long Beach is in the Dương Đông area of Phú Quốc, which is in proximity to the southwestern coast of Cambodia. Dương Đông can be directly arrived at by some ships, while the others dock at Vong Beach, 15 kilometers away.
Facilities: Parking, toilets (Once again, we recommend using the bathroom of a local restaurant than those at the beach.), lifeguards, restaurants, bars
Famous For: Its sheer length
Things To Do: One of the top things to do in Vietnam is swimming in the clear waters of Long Beach!
Suggested Read: Beaches In Thailand: Top Locations For A Happening Holiday Amidst the Sun & The Sand
8. Ha Long Bay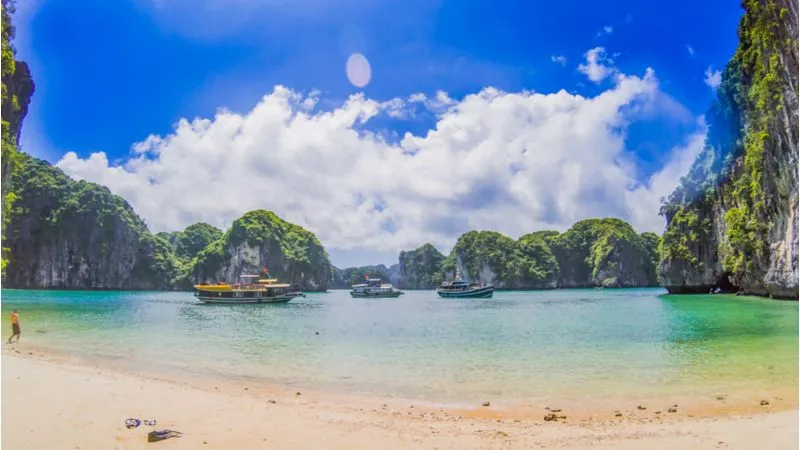 Also written as one word, i.e., 'Halong', this is not really a beach but a bay, & yet was still worth mentioning due to its UNESCO World Heritage Site status. Like any bay, it has several beaches on its shore. Some of the unmissable ones are the Ti Top Beach, Tuan Chau Island Beach & Bai Chay Beach. The bay is probably Vietnam's foremost water body & a thought about it evokes memories of crystal-clear water, naturally occurring caves & awe-inspiring limestone pillars.
Location: Hạ Long Bay falls in 'Quảng Ninh' province of Vietnam. The bay is a part of the larger 'Gulf of Tonkin', which is further an arm of the vast South China Sea. A renowned nominee of the 'New 7 Wonders of the World', this is a must go-to for anyone taking a beach vacation in Vietnam.
Facilities: Will greatly vary depending on which of the bay's beaches you hit.
Famous For: Same as above
Things To Do: Visit the 'Cát Bà Island', a part of an archipelago of the same name, & go snorkeling!
Suggested Read: Best Places To Visit In April In The World: To Feel The Bliss Of Vacation & Festivities
9. Hon Chong Beach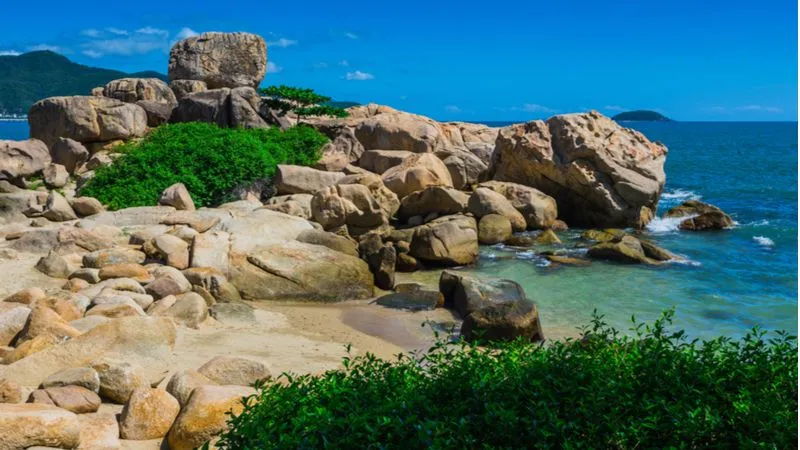 There are many reasons why Vietnam features amongst the finest honeymoon destinations in Asia and one such reason is the Hon Chong Beach. Nestled to the north of Nha Trang, this is one of the best beaches in Vietnam particularly because of less crowd and its setting. Mostly secluded, the beach offers some majestic night views across the bay to the city center. This is a place that is particularly famous for its restaurants that serve the best of seafood to visitors.
One can spend time at these restaurants savoring delicious food and admiring the views around. In fact, there are many ancient temples, markets, and much more around the beach where visitors can visit and have the most amazing time shopping and exploring.
Location - The Hon Chong Beach is located just to the north of Nha Trang
Facilities - There are a number of seafood restaurants here where visitors can have the best of food, water sports are offered here
Famous For - Restaurants, ancient temples, markets
Things To Do - Engage in water sports, have a meal at any restaurant, go shopping in the market, explore the ancient temples
10. Ho Coc Beach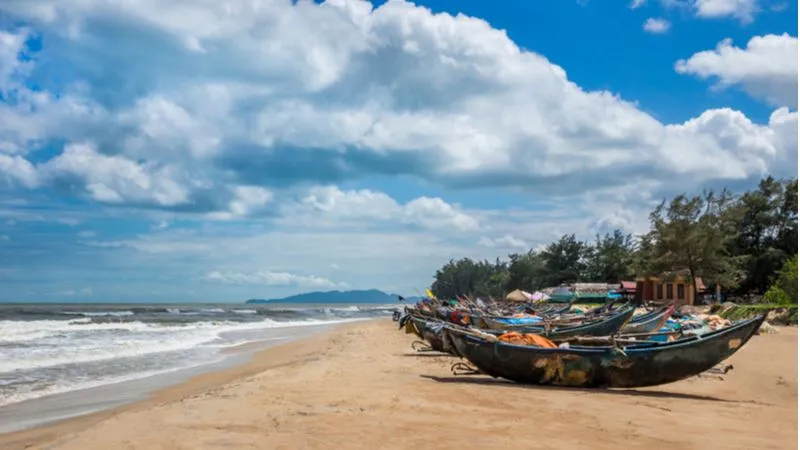 Now here's a thing, there aren't many beaches in Vietnam that would offer you a secluded environment you would expect particularly because of the public that comes here. However, Ho Coc Beach is an exception. Often referred to as a deserted beach, Ho Coc has a five kilometers stretch of golden sand.
If you're looking for a calm place on your beach holiday in Vietnam, well, the Ho Coc Beach has to be one on the list. Featuring its crystal clear waters and fine stretches of dunes, the beach offers perfect conditions for travelers to enjoy in a calm setting. One can even visit the nearby Binh Chau Hot Springs to have some soothing time. Alternatively, visitors can even opt to explore some nearby locations like the dragon fruit farms or other nature reserves around the beach. And hang on? Who can forget an afternoon sip of coconut water?
Location - The Ho Coc Beach is located in Bà Rịa Vũng Tàu Province, in Xuyên Mộc District of Vietnam
Facilities - water sports, washroom, parking, accommodation at Ho Coc Beach Resort, etc.
Famous For - The Ho Coc Beach is famous for its secluded environment where visitors can come and spend a calming time
Things To Do - engage in water sports, visit dragon fruit farms or other nature reserves, stay at the Ho Coc Beach Resort
Suggested Read: Istanbul Beaches, Turkey To Soak In The Beauty Of Sandy Shores
11. An Bang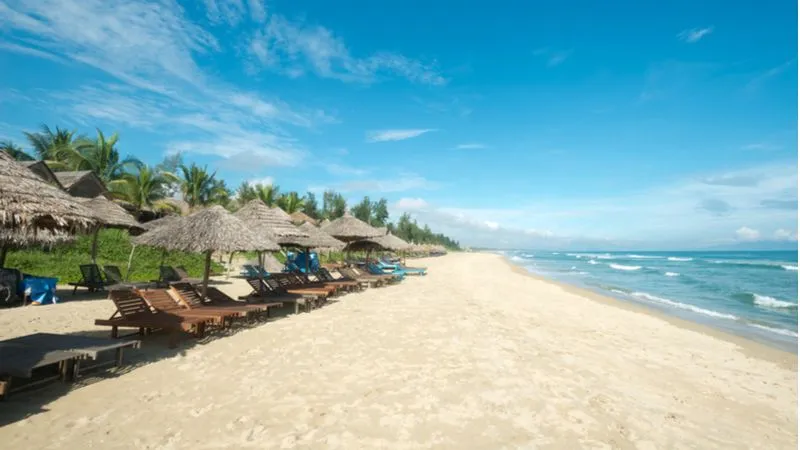 One of those top beaches in Vietnam that has proved to be highly popular amongst travelers and locals alike, the An Bang beach is another fine place that travelers have got to explore on a holiday. The beach features soft sand and has a number of restaurants that are lined up here where one can sit and have the most satisfying time with friends and family.
The best part? There are no restrictions on sitting and enjoying a drink here. One can buy a drink from the restaurant, have a nice meal or two and spend time watching the amazing sunset view right from the beach here. What's more? Just off the shore of the An Bang beach lies a perfect diving spot. One can even go swimming here without worrying too much about anything.
Location - The An Bang Beach is located in close proximity to the popular Cua Dai Beach
Facilities - There are many restaurants at the An Bang Beach, Water sports at the beach, etc.
Famous For - The An Bang Beach is famous for its off-shore diving spots, swimming, water sports, and a number of restaurants located at the beach
Things To Do - Diving, swimming, sunbathing, dining at restaurants
12. Ninh Chu Beach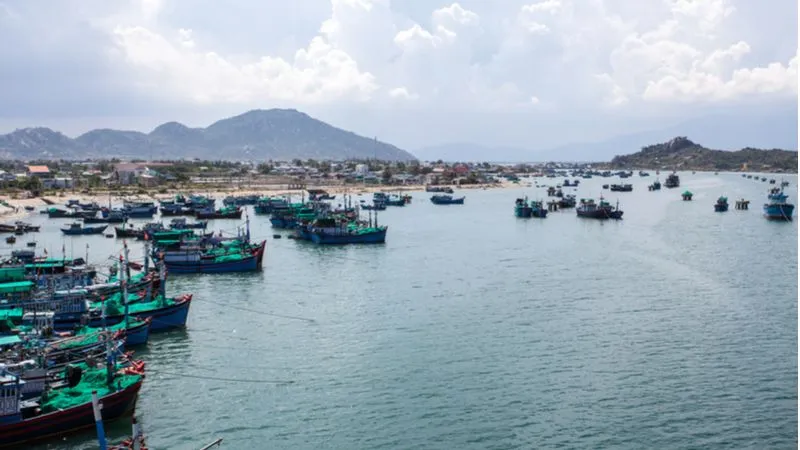 Ninh Chu Beach lying towards the northeast of Phan Rang city is one of Vietnam's best beaches. Tucked away from the chaotic cities, the beach is ideally set to take you away in serenity and spend some quality time. The clean waters and soft sand make it perfect to relax, and enjoy the breathtaking views.
There are resorts and cafes around the Ninh Chu beach for travelers to come, visit and stay overnight. Not being so popular among the tourists, the beach stands as a clean and captivating attraction with blue water and golden sand. This 10 km beach is never crowded, which leaves it quiet and peaceful for strolling around and witnessing the beauty of sunrise and sunset. There are many other attractions to visit near Ninh Chu Beach.
Location - Northeast of Phan Rang city, Vietnam
Facilities - You can find some of the best Cafes, Restaurant and Campsite near the beach.
Famous For – Fishing, Vinh Hy Bay
Things To Do – Beach tours
Suggested Read: Best Beaches In Sharjah For Discovering A Shimmering Beauty of The Coast In Desert
13. Quy Nhon Beach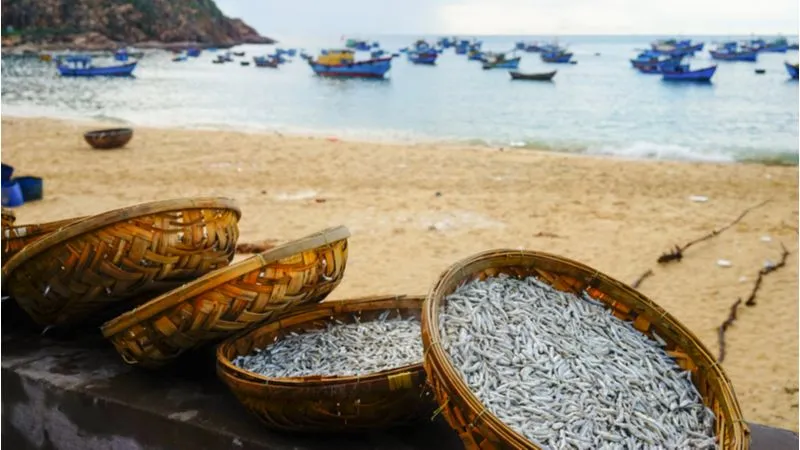 The Quy Nhon Beach is perched between Nha Trang and Da Nang. Back in time, the beach was once the capital of the Kingdom of Champa, but today, it is known as an unspoiled attraction for the best beach holiday in Vietnam. Ky Co and Eo Gio are the two major points of attraction that must not be left unexplored.
The beach adorns the beauty of soft sands and clear water, along with dramatic rugged cliffs that appear to be conquering the sea. A Buddhist temple rests peacefully next to the beach that is not just an attraction but a great remain from the past. What's the best thing about the city is the speed boat, the only one to reach this fascinating beach in Vietnam.
Location - Binh Dinh Province, Vietnam
Facilities - Quy Nhon Beach is a remote region therefore, it is difficult to find any facility nearby.
Famous For – Ky Co and Eo Gio Beach, the Buddhist temple
Things To Do – Speed Boat ride, Leisure tour
14. Star Beach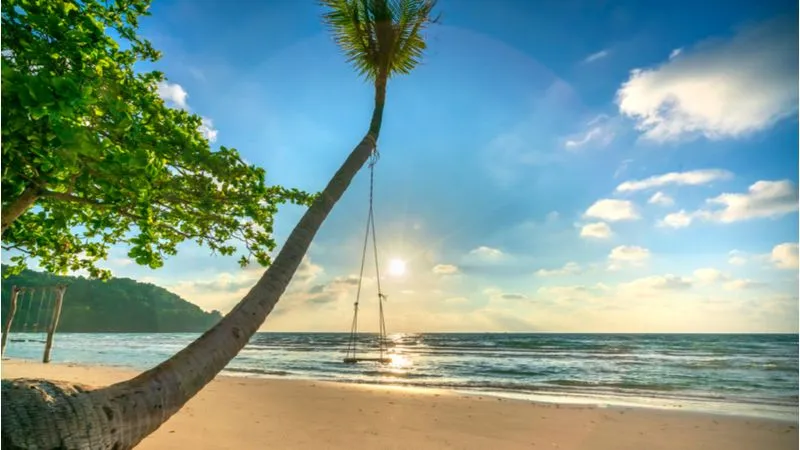 Star beach located on Phu Quoc Island is an impressive one. Although it is not as popular as Long Beach, it is still pristine and beautiful. It is an underdeveloped beach and doesn't get many tourists, yet it is one of the most serene beaches on the Pho Quoc island. Star Beach is goes by the name of Bai Sao among the locals and has stupendous white sand and calm and azure blue water. As mentioned before, it is not very popular among tourists, still, if you wish to have a nice and secluded day at a Beach, you can plan a day's visit to this beach.
The turquoise water and the dazzling white sand, coupled together with gently swaying palm trees, is definitely a site, that you should not miss. You can go snorkeling or rent kayaks (in the season). There are also some restaurants lined up against the pale water. Star Beach is sitting 4 km away from the airport. Its proximity to the airport certainly makes it easily accessible. The key feature or as some the highlight of the beach is that it lights up in the night because of the presence of plankton. Together with calm water and white sand, this lightning up of the beach is truly a delight to watch.
Location: Starfish Beach, Rạch Vẹm, Phú Quốc, Kien Giang, Vietnam
Facilities: Kayaks, restaurants, equipment for water sports
Famous For: White powdery sand and azure blue water, that is, its beauty
Things To Do: Walk around the shore, in the season rent out a kayak, and try out snorkeling.
Suggested Read: Famous Beaches In Kerala, India Perfect To Experience The Warmth Of Nature
15. Da Nang Beach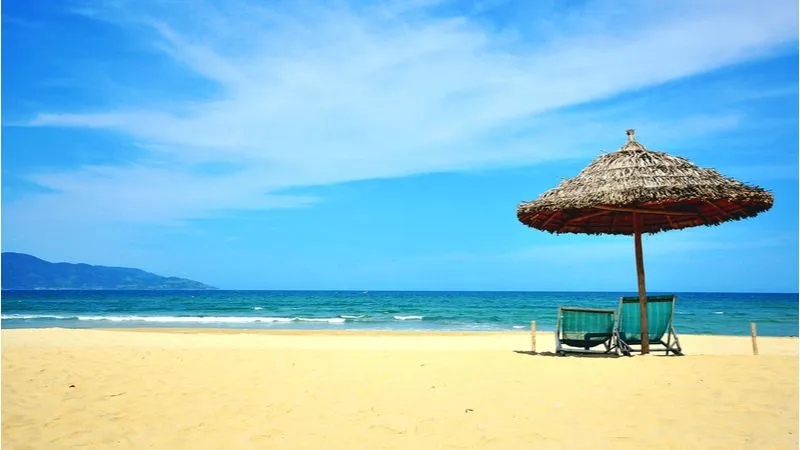 Danang Beach is situated on the coast of Vietnam, shower its charm upon everyone who arrives at this marvelous beach. Da Nang was of significant importance in the Vietnamese war, yet this fact is overshadowed by the beauty and pristine of the beach. Da Nang Beach is an alluring stretch of white sand and palms swaying in with the idyllic calm water. The beach is also blessed with picturesque coral reefs. It is one of the best beach for destination wedding in the world.  It is the purest form of divinity and fabulousness. If in Vietnam, you should, no you must visit Da Nang Beach.
A trip to Vietnam is actually incomplete without visiting this mystical beach, once. You can find marble mountains located right in the middle of the beach. Da Nang Beach is a collection of three beaches together-  My Khe, My An, and Non Nouc. It is known for its breathtaking sunsets. The view of the sunset is no less than any Gogh Painting. It is best visited during the months of February to May. So make sure you add this beach to your list. Da Nang Beach is one hella awe-strucking.
Location: Da Nang beach is located in central Vietnam. It stretches for almost 30 kilometers.
Facilities: Water sports equipment, beach chairs for relaxation
Famous For: Da Nang Beach is famous for its clean water and sand.
Things To Do: Try out different water sports such as windsurfing, swimming, and yachting
16. Bac My An Beach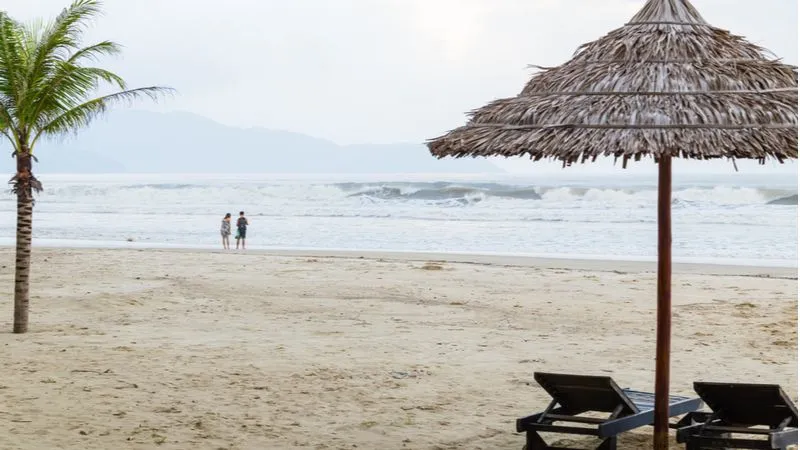 Bac My An Beach is considered one of the cleanest beaches in the area. It is situated in Da, Nang, Vietnam. It is one of the most beautiful beaches in Vietnam. The white sand shore and the crystal clear water a pure delight to watch. Not only watch, but you can also in fact enjoy a nice and cozy swim here. It is among the best and finest honeymoon destinations in the world. Bac My An Beach is worldwide famous for its pure white sand and water and it is regarded as one of the most appealing tourist attractions in Dan Nang and it lures out both national and international visitors.
Bac My An Beach is one of the finest places to visit in Vietnam. It is a perfect destination for all kinds of travelers. The water here is not very deep, yet it is perfect for a swim. You can enjoy seclusion with your partner at this Beach or can plan a picnic with family here. If you want you can also choose to stay at one of the many private hotels at the beach. In fact, the majority of the land is owned by private hotels. Bac My An Beach is well connected with small eateries, so you can grab a bite to eat, while you enjoy the placid view here. It is a suitable destination for all kinds of travelers.
Location: Danang, far about 7 km from the city center to the southeast, situated in Bac My An ward, Ngu Hanh Son
Facilities: Eateries and a lot of private hotels, and thus enjoys the facilities of the same as well
Famous For: White sandy shores stretching along with the pristine natural landscapes
Things To Do: Enjoy some peace and tranquility, stay in a hotel nearby, and grab a bite to eat.
17. Tien Sa Beach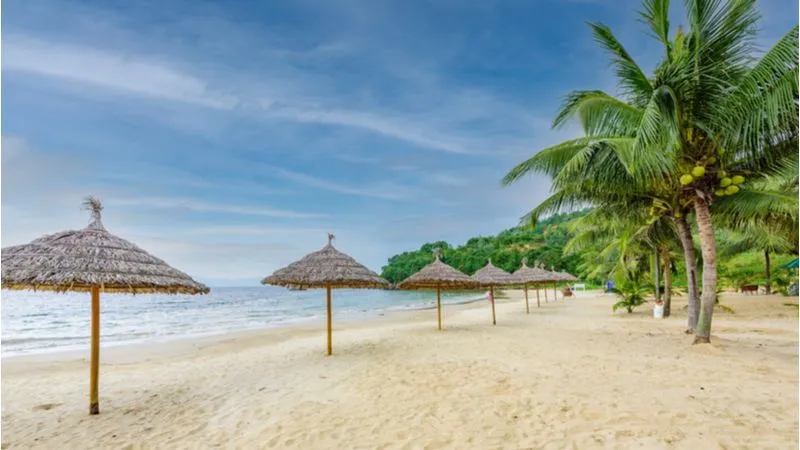 Planning a visit to Vietnam? Then Da Nang must be on your list. If it is then, a visit to Tien Sa Beach, is necessary. It is so beautiful and serene that one cannot take his/her eyes from the view. The crystalline water the soft and clean sand, together will for sure make your trip to this beach a memory that will last forever. A plus side of Tien Sa beach is that it is located on the upscale side and in turn it not very cluster. You can enjoy a couple's day out at this pristine beach, or you can even plan a fun picnic day with your friends or family, or going can have a secluded and laid back day.
The beach is very clean and the environment will definitely make you feel relaxed, calm, and stress free. This beach is one the best places to visit in Asia. As soon as you set your foot on the beach all the anxiety is taken away by the beauty of this amusing beach. Tien Sa Beach is one of the best beaches in Asia. There is also a beautiful resort at this beach and apart from this resort, there are many eateries serving some of the best delicacies of Vietnam. You should definitely try the food out here while you enjoy the picturesque view of this alluring beach.
Location: Bãi biển Tiên Sa, Da Nang, Vietnam. It is located on the upscale side of Da Nang
Facilities: Eateries serving the best Vietnamese food, resort, and a laid back environment
Famous For: Crystalline water and soft sand. It is a hidden gemstone.
Things To Do: Stroll along the shore of the beach, plan a picnic on the beach, soak in the beauty of the Tien Sa Beach and enjoy the facility of the spa at the nearby beach
Suggested Read: Beaches In Antalya, Turkey That Every Beach Bum Would We Thrilled To Visit
18. Cua Dai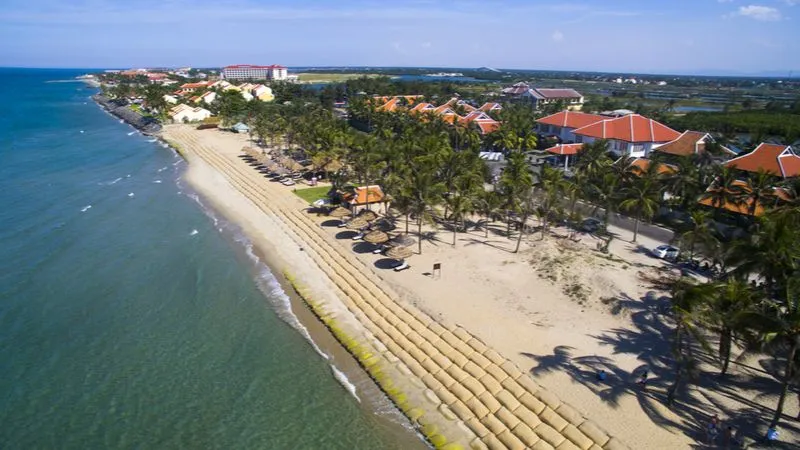 Cua Dai beach is one of the best gems in Vietnam. Located at a distance of approximately 2.5 miles from Hon An city center. It is renowned to be one of the best jewels when it comes to the beach gems of Vietnam. Cua Dai Beach is famous worldwide for its white and soft sand, crystal clear blue water, tender waves, and bright yet warming sunlight. It is a beach that is purely beautiful and gives the utmost level of comfort and calmness. Are you planning for a pre wedding shoot on a beach? Then Cua Dai Beach is one of the best beaches for a pre- wedding shoot in the world. Cua Dai Beach is quite crowded during the weekend, so if you wish to visit it at a more secluded time, you can plan your visit during the weekdays. You can get a completely different experience here. The beach is a tourist hotspot, but it is maintained very well.
The beach is unique in its own beautiful and mystical ways. You can try out the biking experience here. Explore the nothings of the town on the bikes, enjoy a trip around the town. Cua Dai Beach is the definition of calmness and fun. There are also plenty of water sports that you can indulge yourself in. A ride of adventure and calmness is what this beach takes you on.
Location: Located near Hoi An, Vietnam. It is very popular among tourists.
Facilities: Water sports equipment, resorts, bike rides, and eateries.
Famous For:  Most beautiful beaches near Hôi An, soft sand and blue warm waters.
Things To Do: Hop on to a bike ride experience, indulge yourself in various water related activities.
19. Vung Tao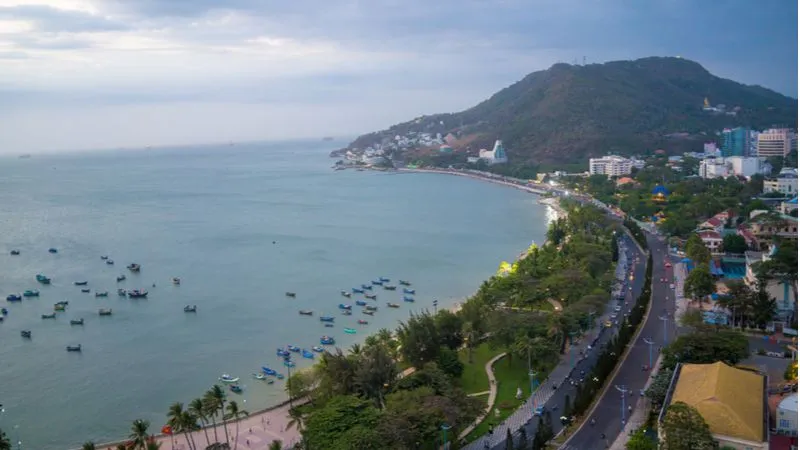 Vung Tau beaches are among some of the most liked beaches in the South of Vietnam. These beaches are some of the most interesting beaches in Vietnam. Vung Tau is a city that has a lot of attractions and the best among them are the beaches. The first Beach is Bai Truoc. Located in the West of the city, the places where the sun goes down. It has the most beautiful sunset and is considered as the facade of Vung Tau City. It has the best location and is opted for by many eateries and exquisite restaurants.
Bai Sau Beach is opposite to Bai Truoc or often called the Back Beach. It is one of the most exciting beaches in the province. People from all over the world come here to indulge in swimming and entertainment. Paradis is an upgraded swimming and relaxing area with modern hotels. Another famous beach in Vung Tau is Bai Dua. It is also very famous by the name of Lang Du, among the locals. The sea goes far to the land the mountain rocks go back from land to beaches. It also welcomes a big number of tourists every year.
Location: The beach is within walking distance from Ho Chi Minh City Center, Vietnam. This is the border of the South and the West of Vietland, where we can see the sun on the East Sea, both rising and setting.
Facilities: Eateries, hotels, swimming facilities, Paradis, and various water sports.
Famous For: Beautiful beach with its many hotels and dining areas to stay at
Things To Do: Soak up the sun, get closer to Vung Tau's giant Jesus statue, hike to Vung Tau's photogenic lighthouse, go wild at Hồ Mây Culture and Ecotourism Park, and Indulge in Vung Tau's seafood and markets
Suggested Read: Pattaya Beaches: Beauties With Calmness And Jollyness
20. Quan Lan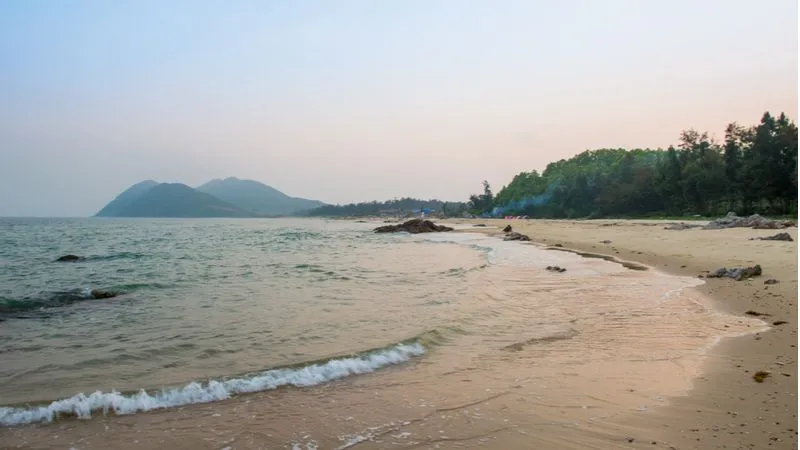 Quan Lan island is a beach in itself. It is a famous tourist attraction in Vietnam. This is one of the best islands in Asia and is an amazingly beautiful sandy beach and it surrounds the jungle full of exotic fauna and flora. Quan Lan, Bai Tu Long is situated in the east of Ha Long Bay. It is for sure an awe-strucking view and has a well-known neighborhood. The beach is getting popular more and more with each passing day. It is absolute bliss to watch and the landscape is so mesmerizing that it looks like a piece of a masterpiece painting. You can opt for fit cruising itineraries as a response to the growing demand for the beach.
There are a lot of things to do here. The picturesque beach is calm yet full of adventures. If you are looking for adventures then you can start out at Bai Lang Park. The beach at Quan Lan Island is protected by jungle with rich flora and fauna. There is calmness and as you go in further and further. The whole aura of the beach is splendid. It is surrounded by limestones karsts. It is also a World Heritage Site. You can begin to marvel at this beach and indulge yourself in the various activities to get the best of the island.
Location: Quan Lạn is an island in Ha Long Bay, located about 34 miles (55 kilometers) from Halong City, in Bai Tu Long Bay, Vietnam.
Facilities: Water sports equipment, cruise facilities, eateries, and adventure park
Famous For: Unspoiled natural scenery, Casuarina trees growing on white sand dunes, and its wild fauna.
Things To Do: Indulge yourself in the various activities offered by the beach such as Bai Lang park, take a part in the cruise, stroll along the shore and enjoy the serenity of the beach.
And here you go! Here is our list of the beaches in Vietnam which you must visit on your trip to the country. Make any of these the center of your relaxing vacay & choose from these resorts in Vietnam to stay at. The incredible coastline of the idyllic country is lined with innumerable beaches, each with its own unique personality. As you move from one beach to the next, don't forget to sample vibrant Vietnamese cuisine, easily available at thousands of stalls across the country. All in all, if you are a beachgoer, the paradisiacal destination is guaranteed to knock you out!
FAQs
Q1. What are the nicest beaches in Vietnam?
Apart from our list above, we would also like to suggest SUP Otres Beach, Non Nuoc Beach & Khlong Prao Beach.
Q2. Can you swim in Vietnam beaches?
Of course, you can! Our preferred spots for swimming are the Nha Trang Beach, Lonely Beach & Thuan An Beach. Choices greatly vary depending on the part of Vietnam you visit though. Make a point that the beach is safe & supervised by lifeguards.
Q3. What is the most famous beach in Vietnam?
The Nha Trang beach's popularity can be guessed from the fact that it is often referred to as the "heavyweight champion" of Vietnamese beaches.
Q4. Are things cheaper in Vietnam?
In one word, "yes"! Vietnam is one of the most economic countries in the world to visit! (Do have a look at these airports in Vietnam as you plan your trip, to get more information on travel.)
Q5. How many beaches are there in Vietnam?
The extent of beaches in Vietnam can be gaged from the fact that the marine country has a coastline extending to 3,400 kilometers, blessing it with hundreds of beaches!
Q6. Which is better: Hanoi or Ho Chi Minh?
Hanoi & Ho Chi Minh are both top places to visit in Vietnam. While we have mentioned the latter while discussing Mui Ne, the capital city of Hanoi caters to a different type of tourists. It is recommended for those who want a deeper insight into the lives of the Vietnamese people, while Ho Chi Minh is good for those who want to experience luxury & the laid-back aura of resorts.
Q7. What are the best vacation spots in Vietnam?
As aforementioned, both Hanoi & Ho Chi Minh are prime places which can be your bases in Vietnam. While we have stated our top recommendation in the latter, Hanoi can be your gateway to beach attractions like the Cát Bà Island, Do Son Beach & Tuan Chau Beach.
Q8. What is Star Beach, Vietnam known for?
The famed Star Beach or 'Bai Sao Beach' falls in the township of 'An Thới', on the 'Phú Quốc' island. It is renowned for its unspoiled blue waters & complementing powdery, white sands.
---