Nestled amidst the golden sands of Rajasthan, Jodhpur stands as a mesmerizing testament to beauty and charm. The city's ethereal blue hues paint a vivid canvas against the desert backdrop, captivating every visitor's heart. These best places to visit in Jodhpur from the majestic Mehrangarh Fort, towering proudly over the city, to the bustling markets exuding vibrant colors and rich aromas, Jodhpur weaves a spellbinding tapestry of culture and heritage. With its timeless palaces, intricately carved havelis, and warm hospitality, Jodhpur invites you to step into a world where royalty and enchantment converge, leaving indelible memories that linger long after you bid farewell to this regal oasis.
Best 10 Places to Visit in Jodhpur: In the Land of Majestic Forts and Palaces, Jodhpur Stands Tallest
Best 10 Places to Visit in Jodhpur that speak volumes about this exquisite jewel in Rajasthan's crown. The Blue City of India, Jodhpur, is a fantastic destination for a vacation in Rajasthan. Let's examine these locations in more detail and discover what makes them so unique.
Mehrangarh Fort
Umaid Bhawan Palace
Jaswant Thada
Ghanta Ghar
Toorji
Rao Jodha Desert Rock
Chamunda Mata Temple
Kayalan Lake
Chand Baori
Tripolia Market
1. Mehrangarh Fort: A Hill, Guards Jodhpur with Its Magnificent Architecture and Awe-Inspiring View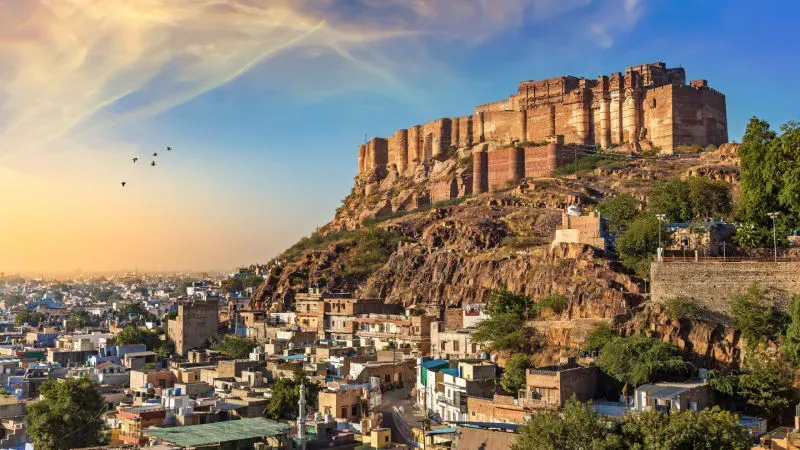 Rao Jodha constructed the beautiful Mehrangarh Fort, one of the top Jodhpur tourist attractions, about 1460 A.D. It is regarded as one of Rajasthan's most magnificent hill forts. It makes sense that it is one of the top tourist destinations in Jodhpur, Rajasthan. One of the nicest things to view in Jodhpur is the fort, which rises about 100 feet above the city skyline and is so expertly constructed that you won't be able to tell where the hill ends, and the walls begin. This grandeur in red sandstone is unbeatable and magnificent and is covered in an odd beauty.
Hours of Operation: 9:00 am to 5:00 pm
Quick Fact: Film sets frequently use Jodhpur's Mehrangarh Fort. It served as one of the filming locations for The Dark Knight Rises, which was released in June 2012.
Built in: 1459
Constructed By: Jodhpur Royal Family
2. Umaid Bhawan Palace: A Royal Retreat Like No Other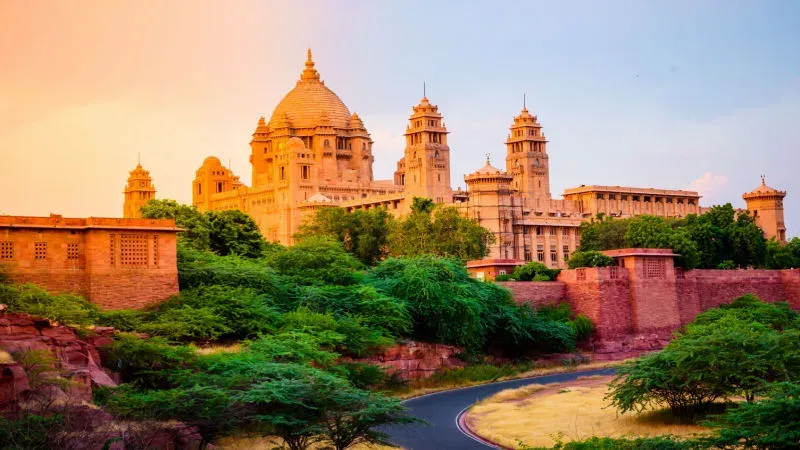 Umaid Bhawan Palace is one of the places to visit in Jodhpur if you want to see the luxurious side of the city. Step into exquisite luxury at Umaid Bhawan Palace in Jodhpur, a celebrated destination when it comes to famous places in Jodhpur. This palace is one of the largest private residences in the world, named after Maharaja Umaid Singh, the grandfather of the current owner, Gaj Singh. The palace has several features that make it a magnificent structure and has 347 rooms and is managed by the Taj Hotels Group. This palace is one of the best attractions in Jodhpur and has a prominent place in Jodhpur attractions. In part of this magnificent building there is also a museum. Be sure to visit the magnificence that spreads in every corner of this palace. So, if you want to see the best attractions in Rajasthan, make sure you plan a vacation to Jodhpur and explore this amazing place.
Hours of operation: 9 A.M to 5 P.M
Quick Fact: Marwar was hit by famine in the 1920's and the people relied on Maharaja Umaid Singh to help them out. That's when the king decided to build a new castle and give people work through that. Thus, this palace was built to help the people go through tough times.
Built in: 1943
Constructed by: Maharaja Umaid Singh
Suggested Read: Hill Stations in Rajasthan to Escape the Heat of the Desert
3. Jaswant Thada: A Peaceful Oasis in the Heart of Jodhpur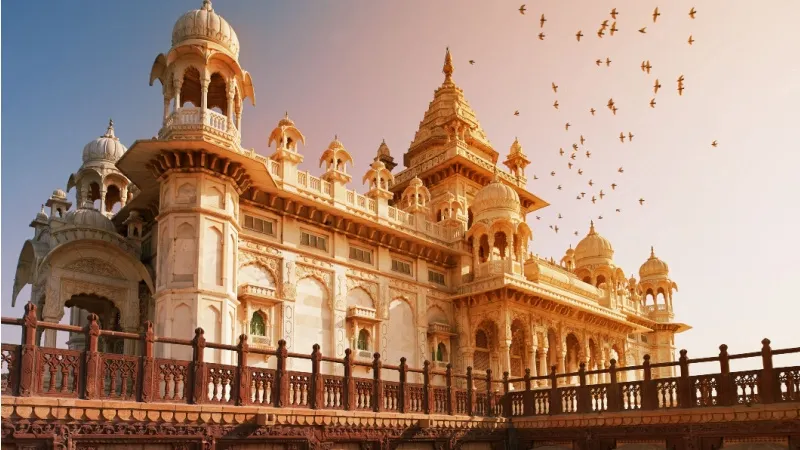 Your visit to Mehrangarh is accompanied by a trip to Jaswant Thada, surely one of the best tourist spots in Jodhpur. A majestic white marble tomb monument stands next to that Mehrangarh fort. Built in 1899 AD. in memory of Maharaja Jaswant Singh II, the main spa has portraits of several Rathore rulers. When you visit places in Jodhpur, you will feel peace everywhere in this place. You also notice that it is more like a temple for worshiping dead rulers. Also known as the Marwari Taj Mahal, this monument has beautifully intricate carvings. A large, terraced garden, a pond and finely carved gazebos multiply its charm. Visit on a sunny day to see its beauty in full bloom. When it is kissed by the sun's rays, the very thin marble plates of which it is composed shine golden. Make a request here. Locals believe that the monument will grant your wish.
Hours of Operation: 9:00 am to 5:00 pm
Quick Fact: The common cremation site for the Jodhpur royals is known as the Pond of the Gods at Jaswant Thada.
Built in: 1459
Constructed By: Maharaja Sardar Singh
Suggested Read: Tourist Attractions in Darjeeling: Breathe in the Fresh Mountain Air
4. Ghanta Ghar: A Symbol of Jodhpur's Rich History and Culture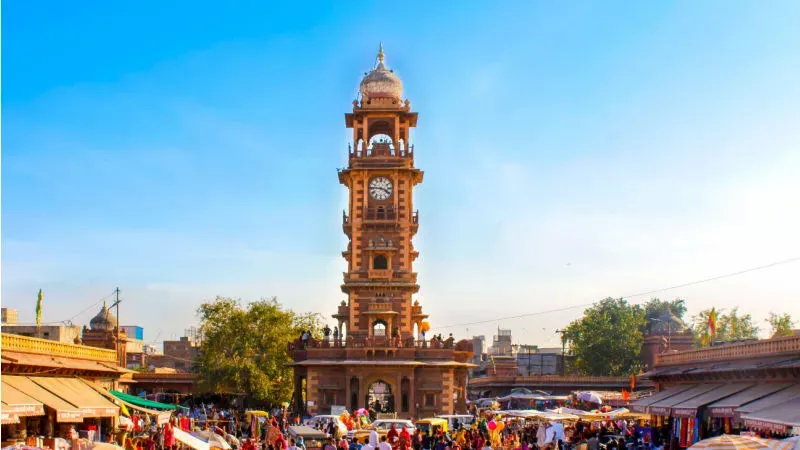 One of the most well-known attractions in Jodhpur is Ghanta Ghar, also referred to as the Clock Tower. This Ghanta Ghar was constructed by Maharaja Sardar Singh when he ruled the region in the early 1900s and is close to Sardar Market. Travellers commonly go there because of its proximity to a well-known market.
Hours of Operation: 10 A.M to 8 P.M
Quick Fact: Maharaja Sardar Singh commissioned the construction of this tower
Built in: Between 1880 and 1911
Constructed by: Maharaja Sardar Singh
Suggested Read: Activities to do in Uttarakhand: Time to Indulge in Adventurous Escapades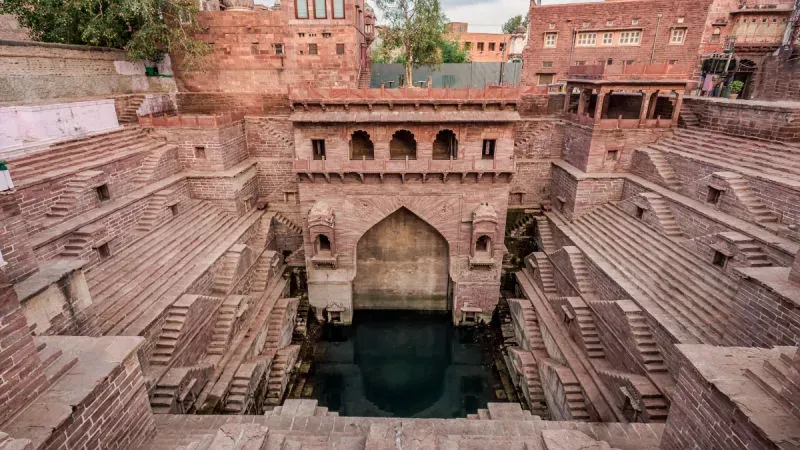 Toorji ka jhalra is another well that is well-known in Jodhpur. The step well is important during the Gangaur festival, which is a celebration of women. The area is now home to a large number of stores and eateries, making it one of Jodhpur's most visited locations.
Hours of Operation: Open 24 hours
Quick Fact: The Queen-Consort of Maharaja Abhaya Singh constructed this well because the royal women were in-charge of public water works during that period.
Built in: 1740
Constructed by: Queen Consort of Maharaja Abhaya Singh
Suggested Read: Adventure Activities in Mcleodganj for a Heart-Pumping Thrilling Holiday
6. Rao Jodha Desert Rock: Explore the Natural Beauty of Jodhpur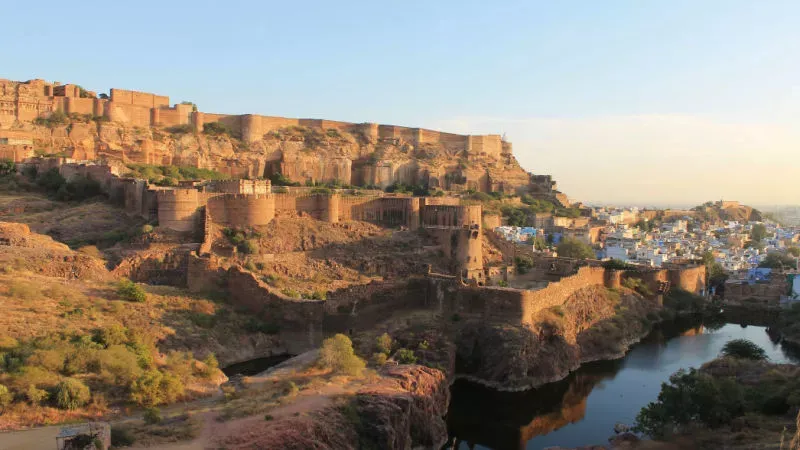 The Rao Jodha Desert Rock Park in Jodhpur is a park next to the Mehrangarh Fort and spans 72 hectares of land. The park was established in 2006 to promote nearby vegetation and restore the environment of a stony area. More than 80 distinct plant species from the well-known Thar Desert can be found in the park. The Rao Jodha Desert Rock Park is one of the most popular tourist destinations for adventure in India. The greatest way to experience Jodhpur's sights is to meander through the park and take in the untamed desert flora.
Hours of Operation: 8 A.M to 5:30 P.M
Quick Fact: This park is located on a volcanic rock with vertical columns, which is why it's considered a National Geological Monument
Built in: 2006
Suggested Read: Adventures in Mount Abu: Add an Adventurous Page to Your Vacation
7. Chamunda Mata Temple: A Spiritual Journey to the Heart of Rajasthan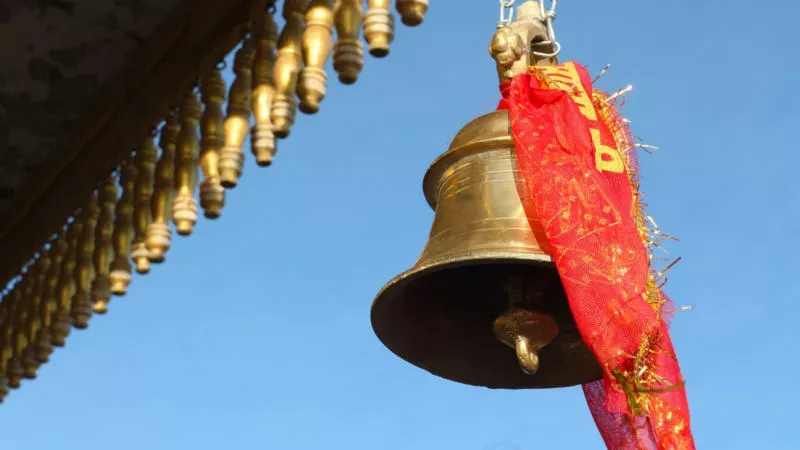 The Chamunda Mata Temple is immensely important to Jodhpur's culture and its residents. The temple, which sits at the tip of Mehrangarh Fort, offers stunning vistas and is reputed to deliver the city from all its problems. According to legend, the kings and queens used to make daily offerings to the temple. For a tranquil vacation, it is one among the must-see tourist attractions in Jodhpur.
Hours of Operation: 5 A.M to 10 P.M
Quick Fact: It's believed that the Goddess protected the people of this city by taking an eagle's form and warning the villagers of the impending disaster
Built in: Between 1416 and 1489
Constructed by: Rao Jodha
Suggested Read: Attractions in Gangtok, Sikkim to Create Special Memories
8. Kayalan Lake: A Tranquil Escape from the Hustle and Bustle of City Life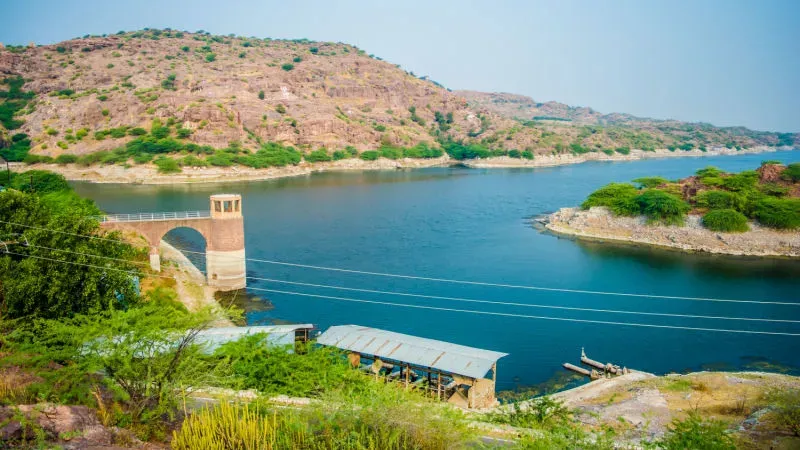 One of the most stunning man-made lakes, Kaylana Lake is situated west of Jodhpur. The lake, which spans an area of 84 square kilometers , is open to guests all year round. One of the best vacation spots in Jodhpur is here.
Hours of Operation: 8 A.M to 6 P.M
Quick fact: This lake used to be a hunting ground earlier
Built in: 1872
Constructed by: Pratap Singh
Suggested Read: Fun Things to Do in Gangtok to Experience the Adrenaline Coursing Through You
9. Chand Baori: A Stunning Example of Ancient Architecture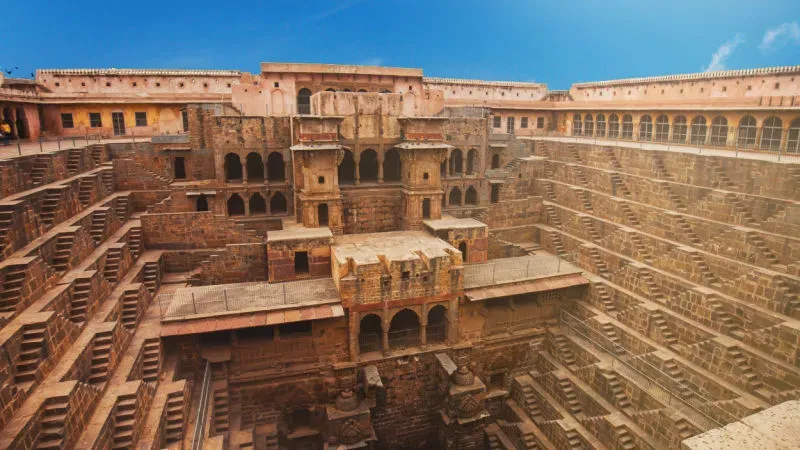 A well-known stair in Jodhpur, Chand Baori was built in the ninth century. This magnificent step well, one of the biggest in the world, entices visitors with its unique characteristics. The step well is the largest stepwell in India and one of the most famous attractions in India, which is 64 feet deep with 13 storeys. This is one of the top tourist attractions in Jodhpur.
Hours of Operation: Open 24 hours
Quick Fact: This well was built by the king for the daily use of the locals
Built in: 9th century
Constructed by: King Chanda
Suggested Read: Places to See in Cherrapunji: Listen to the Mountains Calling You
10. Tripolia Market: A Wonderland of Intricate Handicrafts and Artistic Brilliance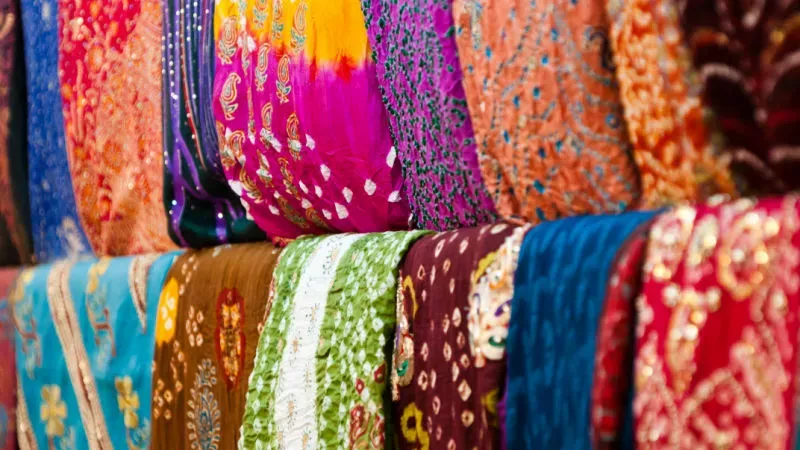 Visit Tripolia Market if you want to purchase some high-end attire and footwear in the Jodhpuri fashion. This location is ranked as one of the top destinations in Jodhpur, where you can find some very amazing collections of batik sarees, wooden crafts, and metal accessories. One of the top things to do in Jodhpur is to visit this well-known marketplace.
Hours of Operation: 10 A.M to 10 P.M
Quick Fact: Hassle for the prices of the products
What to Buy: Batik sarees, silver jewelry, wooden craftwork
Suggested Read: Places to Travel in Tawang: Travel to Ladakh 2.0 for an Unforgettable Holiday
In the heart of Rajasthan lies a city that beckons with its unrivaled beauty and rich heritage. Jodhpur, with its enchanting blue alleys, majestic forts, and warm hospitality, promises an experience that will leave you awe-inspired as they are said to be the best places to visit in Jodhpur. Whether you wander through its narrow streets, immerse yourself in the bustling markets, or marvel at the intricate architecture, Jodhpur unfolds a tale of grandeur and timeless charm. So, dear traveler, come and embrace the magic with Jodhpur tour packages. Let its colors, flavors, and stories ignite your senses, creating memories that will last a lifetime. Discover the royal wonders of Jodhpur, and let its beauty captivate your soul.

FAQs
Q1. What is Jodhpur famous for?
Historically, the Kingdom of Marwar, which is now a part of Rajasthan, had Jodhpur as its capital. Jodhpur is a well-known tourist attraction with numerous palaces, forts, and temples situated in the desolate Thar Desert.
Q2. How many days are enough to explore Jodhpur?
It is highly advised to spend at least 5 days in this marvelous land of art to experience the beauty of nature and history.
Q3. Which activities can we indulge in in Leh Ladakh?
You can indulge in various activities in Jodhpur like dessert safari, shopping, paragliding, ziplining and other exciting experiences. Apart from this, you can visit the famous palaces in this blessed land.
Q4. Which are the popular places to visit in Jodhpur?
Famous places to visit in Jodhpur are:
Chand baori
Kayalan Lake
Chamunda Mata Temple
Toorji
Umaid Bhavan Palace
Q5. What can one buy from Jodhpur as a souvenir?
Don't forget to shop at Nai Sarak, the busiest market in Jodhpur, for the traditional bandhej or tie-dye fabric. Bring home intricately patterned, vividly colored tie-dyed saris, suit pieces, Jodhpuri coats, and turbans from this store.
Q6. What is the famous food of Jodhpur?
Dal Bati Churma, it is the most well-liked local dish in Jodhpur. Its popularity can be determined by the sheer number of eateries that specialize in nothing but "Dal Bati Churma."
Q7. Which month is best for Jodhpur?
October marks the onset of peak season in Jodhpur with weather turning pleasant.
Q8. Is Jodhpur worth visiting?
Absolutely, yes. Jodhpur is somewhat removed from the "Golden Triangle" that many tourists to Northern India typically visit (New Delhi, Jaipur, and the Taj Mahal), but it is still worthwhile to include on your itinerary.
---