Canada is known for its natural beauty, from icy peaks and forests to secluded Islands and beaches the wholesomeness is beyond comparison. The county offers a wide variety of tourist attractions that entice people from across the globe. There has been a hype about the island of Canada, which offer a great holiday destination, a relaxing environment for leisure to enjoy the holidays. While tourists are here, they can enjoy various leisure and adventurous activities including water sports, basking, diving into beaches, boat riding and much more. Here is a list of 10 astonishing islands, that one must visit in Canada
10 Astonishing Canadian Islands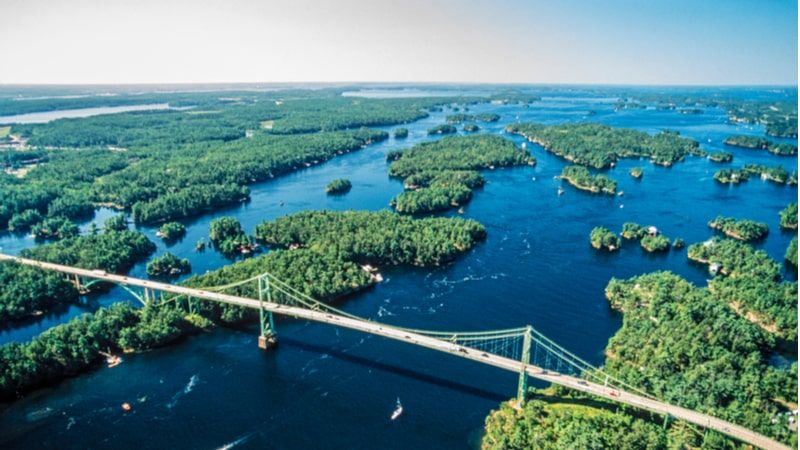 Canadian Islands have a lot to offer to the tourists. From mesmerizing views to Pristine beaches and audacious adventurous sports, tourist get everything here. The tranquility and calmness of the island and beaches will call you back and again after you have been here once. From smallest to largest island in Canada offers all the brilliant facilities that would make your trip worthwhile.  Check out the list of referring to few of the best Islands in Canada and plan your next trip accordingly.
1. Gulf Islands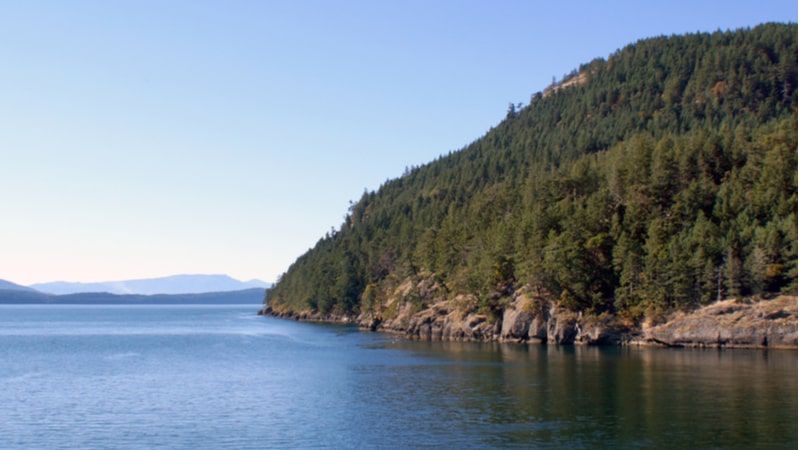 Located in the Strait of Georgia, Gulf Island is found between Vancouver Island and mainland British Columbia. According to the National Geographic channel, it is one of the world's best coastal destinations. With a plethora of excellent recreational and adventure activities on Gulf Island, tourists can enjoy the best of their time. A few of the activities on the island are boating, hiking, cycling and diving. Throughout the year, this paradisaic island offers numerous options for outdoor adventures. The Gulf Islands are famed for the inhabited artistic communities locally produced recipes, and drinks however, the credit goes to its Mediterranean-style climate.
Best Time To Visit: Gulf can be visited throughout the year but, still it is preferred as a place to visit in May and June.
Things To Do: Kayaking, Canoeing, Whale Watching, Sightseeing, Hiking
Best Places to Stay: Harbour House Hotel, Mineral Springs Resort, Wisteria Guest House, Motel 6 Saanichton, BC - Victoria Airport
2. Magdalen Islands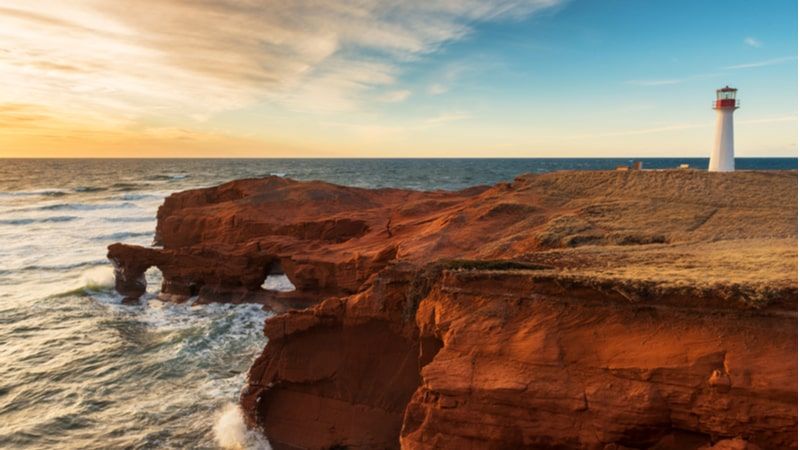 Picked from the best, the Magdalen Islands archipelago incorporates eight major islands. The islands are known for their unique culture, natural surroundings and gastronomy. The moment you step on the island, the first thing that would instantly strike the eyes is the mesmerizing red and grey sandstone cliff. These sandstone cliffs are always under erosion, so they end up forming attractive shapes and create caves like fragile structures. Yet, another worth noticing attraction is rolling hills and farmland.
Best Time To Visit: The best months to visit the Magdalen Islands are July and August
Things To Do: Lobster Fishing Excursion, Kayaking at Sunset, Kite Flying, Biking, Kitesurfing
Best Places to Stay: Auberge Madeli, Auberge la Salicorne et Escapades , Centre Nautique De L'Istorlet
Suggested Read: Canada Shopping: Top Markets And Things to Take Home to Relish The Trip to The Nation
3. Prince Edward Island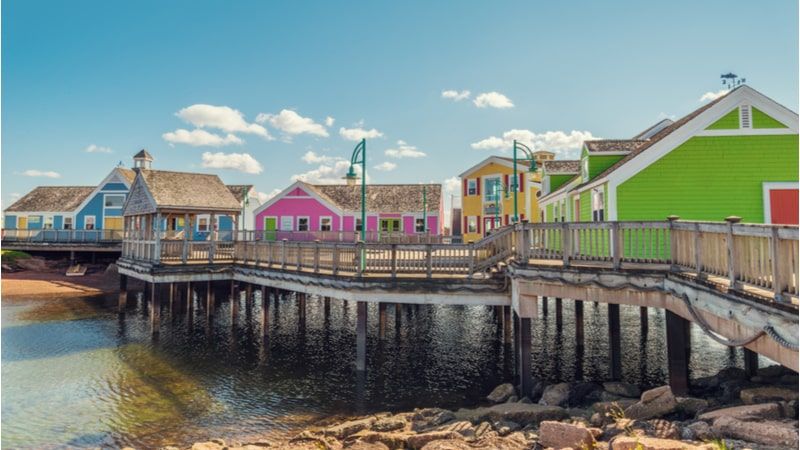 Prince Edward Island is Canada's smallest province in terms of area and population also, it is among is one of three maritime provinces. Counted altogether it produces 25% of the country's potatoes. Popularly known for its annual arts festival, the Charlottetown Festival, hosted at the Confederation Centre of the Arts as well as the Island Fringe Festival that takes place around Charlottetown. The island's red cliffs juxtaposed against white sandy beaches – as well as for being the setting for Anne of Green Gables. Those who are looking for venues for their big day, guys this is one of the best wedding destinations in the world where you can enjoy a n intimate function with all the close friends and family.
Best Time To Visit: The best times to visit Prince Edward Island for ideal weather are June 18th to September
Things To Do: Sightseeing, cultural tours, Fly Fishing
Best Places to Stay: Inn on the Harbour, The Holman Grand Hotel, Prince Street Suites, Lucky-Star, The Great George and Hampton Inn
4. Fogo Island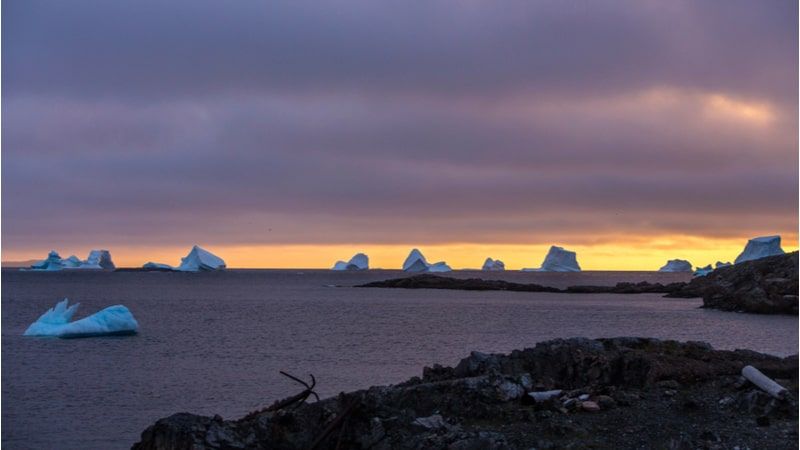 Not many know about this remote location and the untouched landscape of Fogo Island. If you are planning to visit the island, do not forget to check out Newfoundland, which is currently a must-visit destination in Canada. Fogo Island Inn and its spectacular design is the new limelight, drawing more curious eyes to the island with its exceptional services and rooftop spa. The art studio of the Inn, along with the haphazard rocky coastline, delivers a surrealistic calmness.
Best Time To Visit: the best time to visit Fogo Island is the summer, from mid-June to mid-September.
Things To Do: Lion's Den Hiking, visit Museum and Craft Shop, nature hiking, boat building, whale watching, Rooftop hot tubs, cycling, bonfire.
Best Places to Stay: Casa Marisa 2.0, Hotel Residencial Savana and Hotel Ocean View
5. Sable Island
Sable Island, is located at a distance of 300km in the southeast of Halifax. It is uninhabited, and its seclusion serves as one of the best romantic honeymoon destinations. It is also known as the Graveyard of the Atlantic, as 350 ships are resting dead here since it has been discovered. A home to feral horses, it is also popular as Sable Island Ponies, and these horses are well sheltered away from humans and are kept secured by law. It is a hidden gem on the world map with pretty sandy beaches, wild horses, biggest grey-seal. Although it is a very Secluded place accessible only by plane or boat before visiting one needs to seek permission from the Parks Canada authority.
Best Time To Visit: June to the end of October.
Things To Do: Beach surfing, Bird watching, hiking, Boating, Biking
Best Places to Stay: The Sutton Place Hotel Halifax, The Lakes at Ben Eoin Golf Club & Resort, Prince George Hotel.
Suggested Read: Islands in Singapore: The Most Picturesque Coastlines In The City
6. Vancouver Island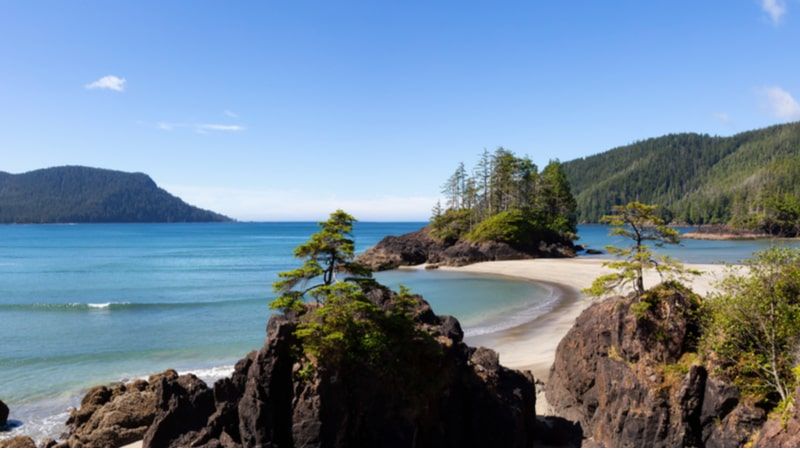 The largest Pacific Island east of New Zealand and off Canada's Pacific Coast, Vancouver Island is popular among travelers for its mild climate and thriving arts community. What makes it a must-visit place in Canada is its ancient history, splendid design & architecture, and incredible coastline. Excursionists can enjoy phenomenal adventures here, including a hike on the West Coast Trail, discovering the Cowichan Valley, whale watching, exploring Tofino and winter skiing. Not only this the Island boasts magnificent rainforests, beaches, mountains, lakes and pristine rivers. If you are planning a vacation, and searching for the best places to visit in March, consider Canada and if you have already been here, then start researching other places to visit in North America.
Best Time To Visit: March to May and September to November
Things To Do: Explore Port Hardy, Visiting Juan de Fuca Provincial Park, Whale Watching, Kayaking, Fishing, Golfing, Skiing
Best Places to Stay: Salty Towers Oceanfront Cottages, Two Beaches Boutique Suites, Anchors Inn Waterfront Cabins, Qualicum Breeze Beach Resort, Tofino Hummingbird Cottage
7. Manitoulin Island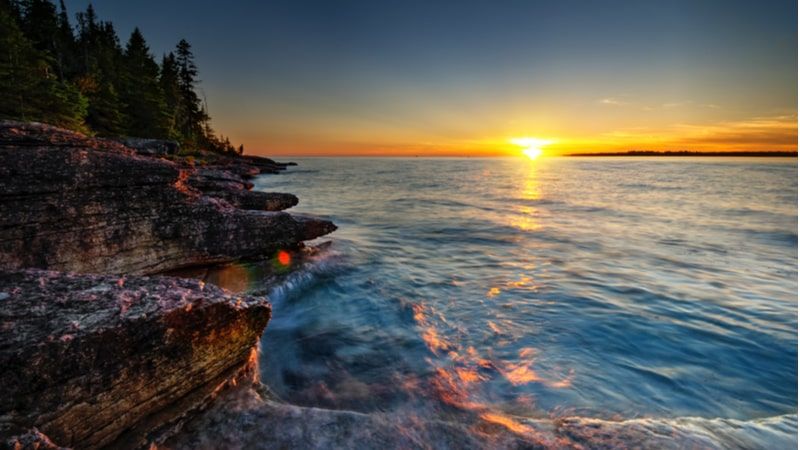 Manitoulin Island is home to many lakes, and it is the world's largest freshwater lake island. Having a lot of uniqueness, the island has an island within a lake, within an island within a lake. Confusing enough? Well, this is the charm of this incredible laid-back destination where the excursionists relish their lonesome time and indulge in relaxing outdoor activities such as kayaking, long hikes, boardwalk, fishing.  One of the most interesting things to do in Canada is, exploring Manitoulin and spirit island Canada and discover the unknown facts, that are generally not know to the people. Manitoulin Island in Ontario boasts natural beauty, and it is a best kept secret island in Canada with freshwater lakes.
Best Time To Visit: August
Things To Do: Fishing, hiking, paddling, and playing on the beach
Best Places to Stay: The Hawberry Motel, My Friends Inn Manitoulin, Wayside Motel Manitoulin, Huron Sands Motel and Restaurant
8. Haida Gwaii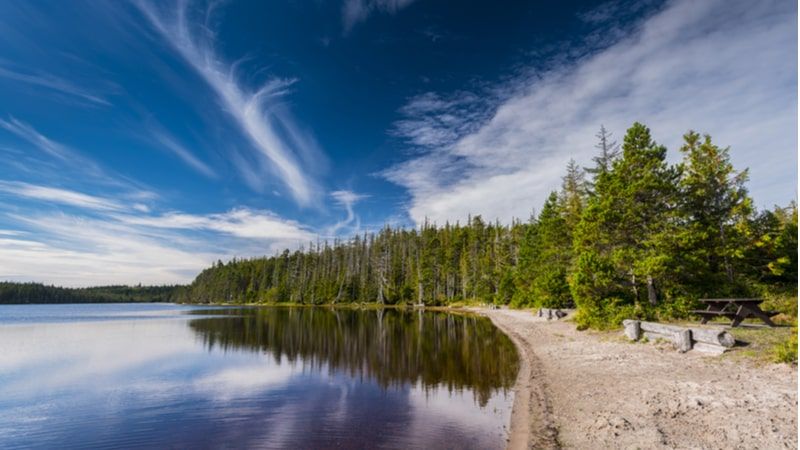 Earlier famous by the name, Queen Charlotte Islands, Haida Gwaii is a remote archipelago located offshore of British Columbia. An amazing fact about the island is that only 12 people are allowed onshore in a single go. The reason for such restriction is the protection of its unblemished wilderness dotted by ancient village sites. The Haida Gwaii Island is home to vast species of rare animals are that are very rare. It is claimed that the stunning island gives an all at once experience of thrill, serenity and astonishment to the visitors. Its peaceful coves, dense jungles and pristine beaches, make it one of the best romantic places for couples, who are searching for unfathomed honeymoon destinations in the world.
Best Time To Visit: May
Things To Do: Explore Gwaii Haanas, Fishing, Visit Townhill, Discover North Beach, Whale watching, Museum visiting
Best Places to Stay: Premier Creek Lodging, Sea Raven Motel, Gracie's Place, Echo Bay Lodge, Northern Shores Lodge
9. Baffin Island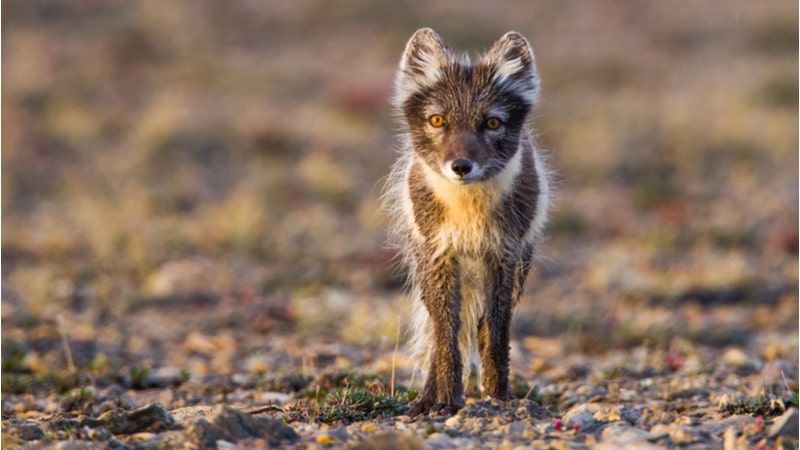 Also known as the Arctic Playground of Canada, Baffin Island is the fifth-largest island in the world. And biggest island in Canada.  The island stretches over 335km from Greenland, across the Davis Strait. Millions of birds, whales, walruses, and polar bears, are spotted around the island, given to its remote Arctic landscape. The population of Baffin Island is approximately 11,000. The incredible premium locations of the island make it a perfect tourist destination for travelers, looking for tranquility. One such prime spot is the Northern Lights.
Best Time To Visit: April to June
Things To Do: See the Northern Lights, Cruise jaunt, Bird watching, Arctic adventure
Best Places to Stay: None
Suggested Read: Best Places To Visit In October In The World To Enjoy Pleasant Weather
10. Cape Breton Island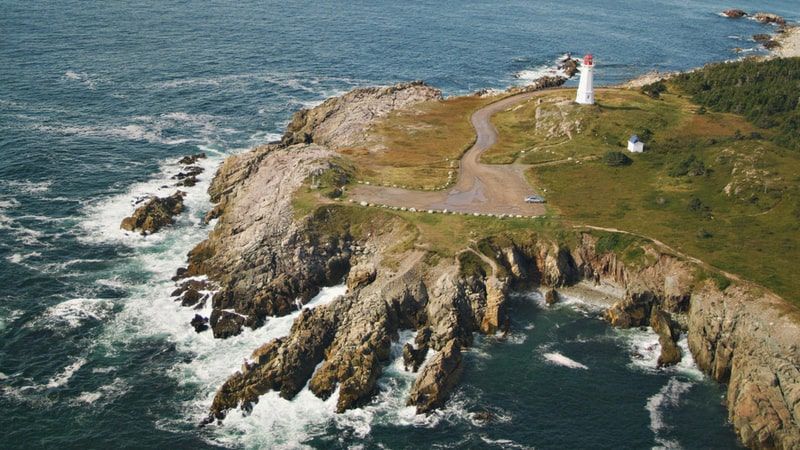 Located in Nova Scotia, Cape Breton Island is quite popular among travellers. Included in the list of the world's most beautiful coastal drives given to its Cabot Trail. The Island offers incredible beaches, fishing villages, picturesque hikes, Marine animal spotting and a lot more. However, the most famous with the tourist is hiking and camping experiences along with the gold courses. The culture and history of the Cape Breton National Parks entice the visitors to know more about the places.
Best Time To Visit: May to October
Things To Do: Kayaking, Fishing, Marinas, Yacht Clubs & Ports, Boat Tours, Whale Watching. Dipping in Beaches
Best Places to Stay: Hampton Inn by Hilton Sydney, Telegraph House Hotel, Maritime Inn Port Hawkesbury, St Ann's Motel & Cottage
Now that you have come across the details of the Island in Canada, it would be a lot easier to plan a trip. No matter from which part of the world you are. Exploring Canadian Island would be a fun and adventurous task for you, so wait no more and book a flight to Canada as soon as you get time. The different culture, weather and the crystal-clear beaches amalgamate to get to an out of the world experience.
FAQs
Q1. Which is the largest island in Canada?
Baffin Island, is the largest island in Canada. With a total land area of 5,07,500 km².
Q2. Which is the best island to visit in Canada?
Canada has a long list of beautiful islands but few of them have a magnificent beauty and must be repeatedly visited on every trip to Canada. One such island is Cape Breton Island in Nova Scotia which is a breathtaking Canadian island offering a combination of nature, history, and culture.
Q3. How to reach Haida Gwaii?
There is no availability of connecting public transport thus, Haida Gwaii is accessible only by plane or ferry. It takes approximately 2 hours to reach the islands from Vancouver
Q4. Where is Haida Gwaii Island located in Canada?
Located off the northwest coast of British Columbia, Haida Gwaii is a perfection when it comes to experiencing the serenity and rugged jungles BC is famous for.
Q5. What are the things to do in Magdalen Islands?
Visitors love exploring the red cliffs and unspoiled beauty of the islands. Other adventurous things to do are Lobster Fishing Excursion, Kayaking at Sunset, Kite Flying, Biking and Kitesurfing.
Q6. Where are the Gulf Islands located in Canada?
The Gulf Islands are located in the Salish Sea between Vancouver Island and the mainland coast of British Columbia.
Q7. What to do in Gulf Islands British Columbia?
The gulf islands offer a plethora of excellent recreational Gulf Island few of them are Kayaking, Canoeing, Whale Watching, Sightseeing and Hiking
Q8. How long does it take to reach Fogo Island?
It is required to take a ferry to Change Islands, it takes 15 minutes from there to reach the Fogo Island. A direct ferry to Fogo Island takes 45 minutes.
---