Showing 1 Surat Tour Packages
Surat, located in the Indian state of Gujarat, is known for its rich history, cultural heritage, and modern-day development. The city has several historical sites and monuments that attract tourists from all over the world. It is also famous for its food, and visitors can try traditional Gujarati dishes like Dhokla and Thepla, as well as street food like Sev Usal and Khandvi. This unique place has a vibrant cultural scene and hosts several festivals and events throughout the year. The most famous festival is the Navratri festival, during which the city comes alive with traditional dance and music performances. The city also has several parks and gardens, including the beautiful Sardar Patel Park, a popular spot for picnics and relaxation.
There are several Surat tour packages available for visitors. These packages offer a convenient and organized way to explore the city and its surroundings. You may easily choose a package that fits your interests and budget to enjoy a hassle-free and memorable experience at this place.
Read More...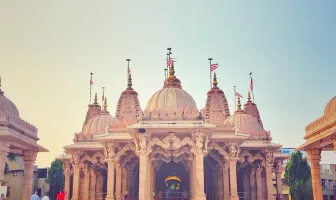 3 Nights 4 Days Surat Tour Package
Cab Facilities

Airport pickup-drop

Hotel Stay
Tried and Trusted
We're trusted worldwide by 10 million travellers just like you.
Your 1 Stop Travel Partner
Your search ends here. We've got your entire trip covered.
Reliable Support
We're here for you. Reach out to us anytime by phone, email, or chat.
Safe & Secure Payments
All online transactions are 100% encrypted & secure.