Showing 1 Najaf Tour Packages
The holiest city in Shia Islam, Najaf, is located in central Iraq and is popular for its significant religious sites. It is a sacred place for many Muslims where they visit on pilgrimage tours to pay their respects and perform religious rituals. The Najaf tour packages are a great way to explore important religious sites in Iraq andt familiar with their rich history and culture, museums, markets, and historical places.
Read More...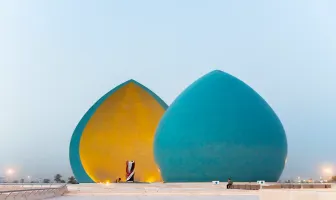 Najaf and Baghdad Tour Package for 5 Nights 6 Days
Al najaf

(2N)

Baghdad

(3N)
Cab Facilities

Sightseeing

Airport pickup-drop

+2

More
Tried and Trusted
We're trusted worldwide by 10 million travellers just like you.
Your 1 Stop Travel Partner
Your search ends here. We've got your entire trip covered.
Reliable Support
We're here for you. Reach out to us anytime by phone, email, or chat.
Safe & Secure Payments
All online transactions are 100% encrypted & secure.