Showing 1 Fujairah Eid Tour Packages
The beaches in Fujairah, UAE, are famous for being quiet and peaceful. There are several stunning locations offshore for sports like scuba diving and snorkeling. If you want to make this Eid more enjoyable for your family or friends, Fujairah Eid packages are without a doubt the best way to celebrate Eid. Visitors can perform Eid-ul-Fitr Namaz in the most beautiful Mosques of Fujairah such as Sheikh Zayed Mosque, Rashid Bin Saeed Mosque, and Sakamkam Mosque.It is believed that worshiping in these mosques leads to a different relationship with God and all the prayers offered here are also accepted. There are unlimited luxurious hotels and resorts in Fujairah with top-class hospitality, and you will be surprised with different types of traditional foods.
Read More...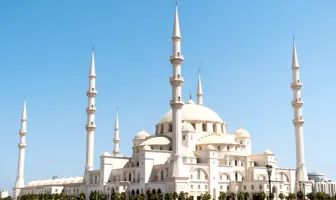 Dubai and Fujairah 5 Nights 6 Days Tour Package
Cab Facilities

Airport pickup-drop

Breakfast

+1

More
Tried and Trusted
We're trusted worldwide by 10 million travellers just like you.
Your 1 Stop Travel Partner
Your search ends here. We've got your entire trip covered.
Reliable Support
We're here for you. Reach out to us anytime by phone, email, or chat.
Safe & Secure Payments
All online transactions are 100% encrypted & secure.