Showing 1 Bora Bora Tour Packages
Bora Bora is an idyllic paradise situated in French Polynesia, in the South Pacific Ocean. With its crystal-clear waters, palm-fringed beaches, and stunning lagoon, it has become a popular destination for travelers seeking an escape. Activities such as snorkeling, scuba diving, hiking, exploring local villages, and indulging in luxurious resorts and spas are some of the attractions on offer. From the vibrant culture to the warm hospitality, Bora Bora is a surreal island escape, a romantic destination that will take your breath away with its beauty. It is an unforgettable destination for travelers seeking a relaxing escape, with its stunning landscape, vibrant culture, and warm hospitality. Bora Bora tour packages offer a great way to experience all this paradise offers.
Read More...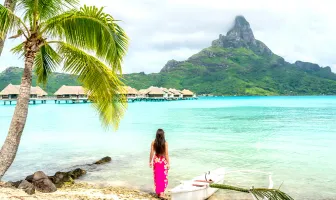 5 Nights 6 Days Bora Bora Honeymoon Package
Cab Facilities

Sightseeing

Airport pickup-drop

+2

More
Tried and Trusted
We're trusted worldwide by 10 million travellers just like you.
Your 1 Stop Travel Partner
Your search ends here. We've got your entire trip covered.
Reliable Support
We're here for you. Reach out to us anytime by phone, email, or chat.
Safe & Secure Payments
All online transactions are 100% encrypted & secure.