Singapore, a destination that brings you a modern masterpiece with its dazzling skylines and scintillating attractions. With the islets, the sanctuaries, and a myriad of tranquil landmarks, this island destination of Southeast Asia is the right escape for your leisure holidays. Villas in Singapore have set a trend of staycation where you can rejoice, relax and reinvigorate leisure to your life. If you fancy luxury and comfort for your holiday experience, you must book a weekend at the best villas that not just offer you solace but a luxury home to spend your vacation.
8 Best Singapore Villas Promising You A Tropical Holiday
Samadhi villa Singapore
Resorts World Sentosa Beach Villas
Siloso Beach Resort
D'Kranji Farm Resort
Capella Singapore
Sofitel Singapore Sentosa Resort & Spa
CSC at Changi
Amara Sanctuary Resort Sentosa
What's the idea of a luxury holiday without a private stay? Well, villas are the best accommodation option you can get for your upcoming vacation in Singapore. And to make it a bit easier, we have tailored a list of the best villas for a promising staycation.
1. Samadhi Villa Singapore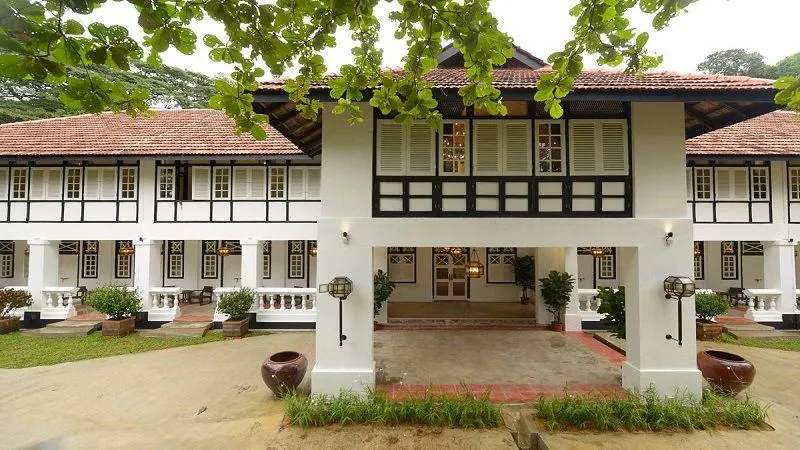 The Samadhi Villa welcomes you to a world of heritage and excellence. This luxury villa is exulting each of your fantasies with its tranquil setting. Boasting luxury, class, and perfection in style, the villa has a remarkable appearance and ambiance. There some colonial-era furnishings that define the beauty of its 20 spacious rooms.
The villa is sprawling over an area of 22 hectares in Labrador Nature Reserve. The peaceful and calm surrounding makes it a perfect staycation for families and honeymooners who are looking for a serene getaway. Following the legacy, heritage and art, every corner of the Samadhi Villa is renovated from the old colonial garrison of 1920.
There is a restaurant, a library lounge, and pool areas for the guests to entertain themselves at one of the best Singapore Villas.
Location: 20 Labrador Villa Road 119193
TripAdvisor Rating: 4 stars
Exclusive Features:
Restaurants
Lounge
Indoor and Outdoor Pool
Activities
2. Resorts World Sentosa Beach Villas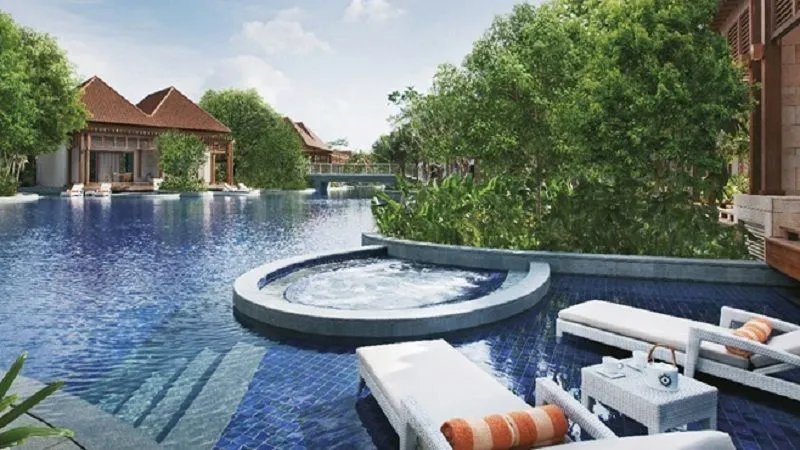 Listed as one of the top Singapore hotels, the Resorts World Sentosa Beach Villa is the finest accommodation you can find for your beach holidays. Sentosa Beach is a major attraction that is known for its beauty and adventure. Located just close to this serene beach, the property is the finest royal villa in Singapore that you can book for a luxuriating weekend getaway.
The rooms here are appointed well with modern conveniences and furnishing. Many rooms have direct access to outdoor pools, a private outdoor shower, and a private jacuzzi. You can choose from the categorized rooms and get the best service for your holiday stay.
The Resorts World Sentosa Beach Villa has its in-house restaurant where you can enjoy breakfast, or main course lunch and dinners.
Location: 8 Sentosa Gateway Resorts World Sentosa 098269
TripAdvisor Ratings: 4 stars
Exclusive Features:
Outlet dock
Private Jacuzzi
Swimming pool
Spa and Massage Room
Private outdoor shower
Suggested Read: Nightlife In Singapore: Top Places To Enjoy Party Vibes In The Country
3. Siloso Beach Resort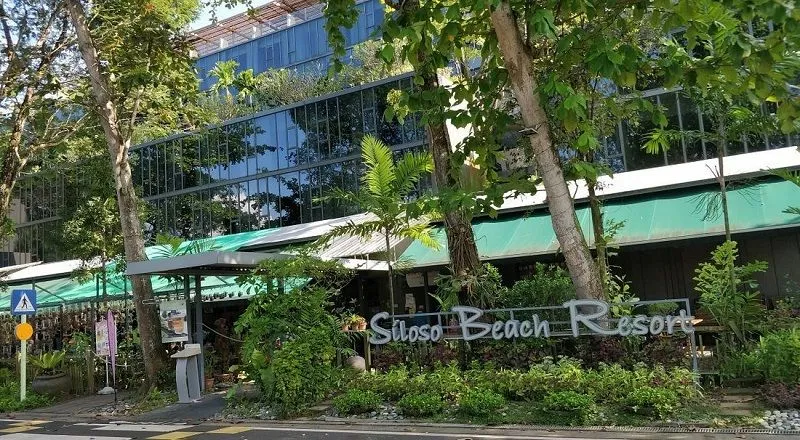 While Sentosa Island one of the most beautiful islands in Asia, a holiday amidst its serene and captivating beauty is a dream. The Siloso Beach resort is the best villa in Singapore with a private pool that brings up a luxuriating experience with a home-like feel.
Opened in the year 2006, the eco-resort overlooks the magnificent view of the South China Sea from the best accommodating units like sea-facing rooms, family rooms, roof garden suites, and villas. The surroundings are lush green and refreshing to make it an ideal holiday retreat for families. You will find some exotic flora and fauna in the lawn area, adding more to its aesthetics.
Indulge in water adventures or try the best dishes from the restaurants, enjoy your day at the pool and explore the best beach around while you are staying in one of the luxurious Singapore villas- the Siloso Beach resort.
Location: 51 Imbiah Walk Sentosa 099538
TripAdvisor: 3 stars
Exclusive Features:
Private Pool
Restaurants
Indoor Gym
Conference Room
Luggage room
4. D'Kranji Farm Resort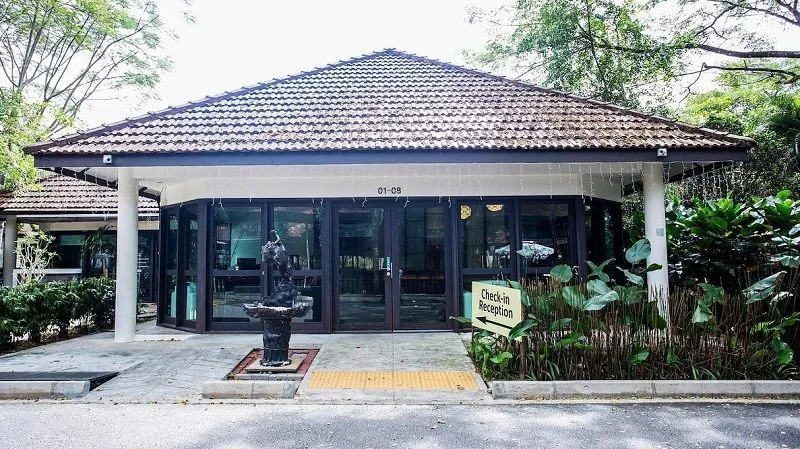 You can now get a villa in Singapore for rent while you are on a long vacation. The D'Kranji Farm Resort welcomes you to an exclusive property that boasts exclusive features and vast space.  What makes the resort so unique and different from other villas is the location.
D'Kranji Farm Resort is located in Kranji, the countryside attraction in Singapore. The Gallop farm is a great place for those who need a tranquil holiday destination, away from the chaos. Spreading to an area of 50,000 sqm, the resorts offer you many options to choose the best from 35 luxury and cheap villas in Singapore. Each villa offers every amenity and leisure you need. There is television, satellite connection, a private balcony and exquisite furnishing in every room of D'Kranji Farm Resort.
Location: 10 Neo Tiew Lane 2, 718813
TripAdvisor: 3 stars
Exclusive Features:
Swimming Pool
Private Balcony
Tour and activities
Steam Room
Jacuzzi
Suggested Read: Hotels In Singapore That Provide Luxury At Its Very Best
5. Capella Singapore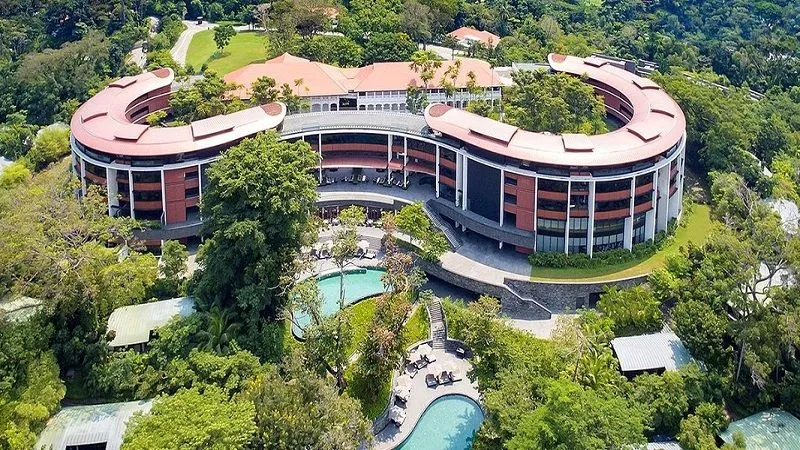 Perched somewhere between the green lush beauty of the rainforest and the mesmerizing vista of beaches in Sentosa, Capella is among the top luxury villas in Singapore. This is one of the most romantic properties for a honeymoon in Asia.  
Capella features 38 villas with an outdoor terrace, a private pool, and every modern amenity. The spacious units are best for a family stay that are well-appointed with fancy furniture and classic decors. One- or Two-Bedroom Villas of the property has a private terrace, private jacuzzi, and a plunge pool. You can spend leisurely time admiring the beauty of the landscape while relaxing at the pool. And something you cannot miss, the Mediterranean breakfast at the fancy restaurant of Capella Singapore.
Location: 1 The Knolls, 098297
TripAdvisor: 4.5 stars
Exclusive Features:
Private Pool
Outdoor tennis court
Full-service spa
Balcony or patio
Restaurant
6. Sofitel Singapore Sentosa Resort & Spa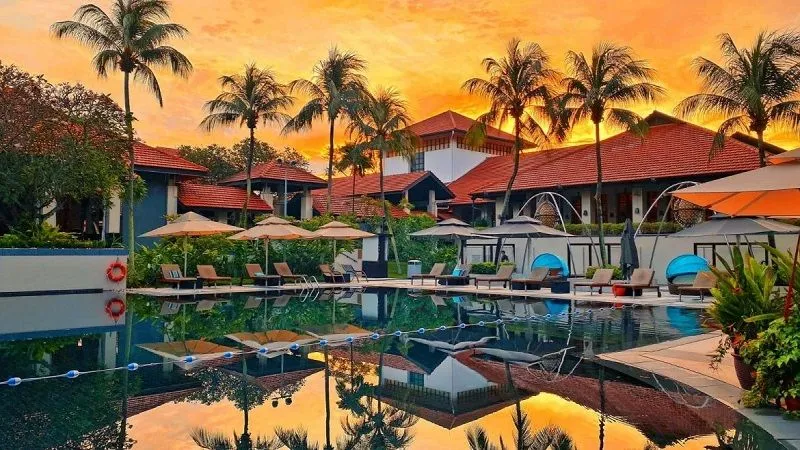 Live in style and luxury at Sofitel Singapore Sentosa Resort and Spa that present you with the experience of staying at one of the best Singapore Villas. Creating a fusion of culture and leisure, this premium villa has the finest collection of modern decors, vast living area, complete assistance, and royal essence to embrace at the best holiday destination in Asia.
This Sentosa Resort and Spa feature the best-accommodating unit, which includes a fully furnished room with exquisite Outlook, garden view, suite for every family, and some imperial villa styled for a lavish stay. You can even look for a private pool villa in Singapore at Sofitel Sentosa resort and spa.
The furnishings and design are inspired by the French art, while the cuisines served at the restaurants savor a relishing French taste. As vacations are best for self-pampering and entertainment, you can get the benefit of spa sessions during your staycation.
Location: 2 Bukit Manis Road, Sentosa, 099891
TripAdvisor: 4.5 stars
Exclusive Features:
Private Pool
Full-service spa
Restaurant
Garden and Terrace
7. CSC at Changi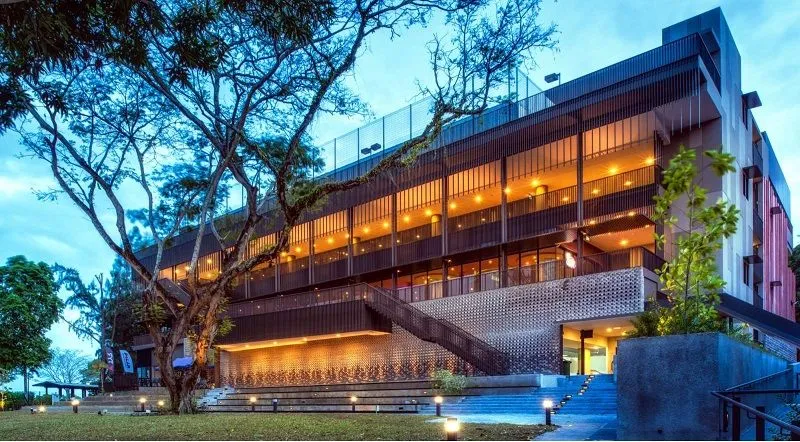 Looking for the best villa booking in Singapore? CSC @Changi is one of the most beautiful Beachfront rental villas you can get for a luxuriating family holiday. Offering you more than 23 accommodating units, a Beachfront villa is a premium unit when it comes to seek leisure and spend quality time.
You can pick from the three categorized units- premier, deluxe and superior. Each room has amenities like furniture, a fridge, toiletries, air conditioning, and more to make your stay pleasant.
Guests living at CSC @ Changi get access not only to the beach club but also to the pools. You can enjoy many activities and the best adventure activities in Singapore while staying at this family villa.
Location: 2 Netheravon Road, 508503
TripAdvisor: 3 stars
Exclusive Features:
Swimming Pool
Beach club
Restaurants
Activities
Suggested Read: Islands In Sri Lanka To Discover Heaven On Earth On A Perfect Vacation
8. Amara Sanctuary Resort Sentosa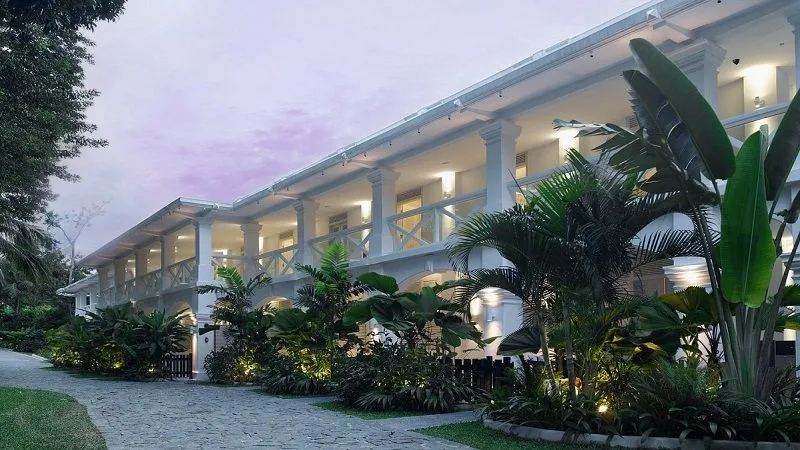 Discover the comfort and ultimate luxury at Amara Sanctuary Resort Sentosa. Featuring one of the best Singapore Villas for a lavish and royal stay, the resort has the finest accommodating units with all your fascinating amenities and facilities. Designed in a contemporary style with 140 spacious and well-appointed rooms, the villa offers a unique and pleasant ambiance to relax and enjoy the staycation. The surroundings are tranquil and peaceful, while the interior of the room boasts magnificent luxury and class.
Dining at Amara Sanctuary Resort Sentosa is exclusively special. There are restaurants to cater to the best cuisines, both authentic and international dishes that are world-famous. Guests living at Amara Sanctuary Resort Sentosa get access to the gym and outdoor pools.
Location: 1 Larkhill Road, 099394
TripAdvisor: 3 stars
Exclusive Features:
4 Swimming Pools
Meeting rooms
Restaurants
Outdoor bar
Fitness center
Singapore is a tropical holiday destination that offers a high-end vacation and a luxury experience of staying close to the most magnificent vista. There are islands, beaches, and forests with the best villas in Singapore that you can choose for your next staycation in this Asian county. No matter what you are looking for, an adventure holiday, a family getaway, or a romantic vacation, there is a perfect accommodating villa for every traveler in Singapore. So, what are you waiting for? Get your Singapore flight tickets booked today and set off on an enthralling holiday.  
FAQs
Q1. Is Singapore a honeymoon destination?
Singapore, with its balmy beaches and magnificent nightlife, is one of the best honeymoon destinations in the world. There are luxury villas, fancy restaurants, and beautiful islands that make the place romantic enough for a honeymoon.
Q2. Is there any beach villa for a holiday stay in Singapore?
The best beach villas in Singapore are:
Resorts World Sentosa Beach Villas
Siloso Beach Resort
Capella Singapore
Q3. Which is the best time to visit Singapore?
You can plan a holiday in Singapore from February to April. Singapore experiences a tropical climate but these months are best for all your beach activities.
Q4. What are the best places to stay in Singapore?
The best places to stay in Singapore are:
Resorts World Sentosa Beach Villas
Siloso Beach Resort
Sofitel Singapore Sentosa Resort & Spa
Capella Singapore
Amara Sanctuary Resort Sentosa
Q5. Why is Sentosa Island so popular?
Sentosa is one of the famous islands in Singapore that is known for the best award-winning spas, resorts and villas, rainforests, and sandy beaches.
Q6. Which is the best villa for honeymooners in Singapore?
There are many honeymoon hotels in Singapore, but if you are looking for the best romantic villa, you can choose to stay at Capella that offers an outdoor terrace, a private pool, and other luxury amenities.
Q7. Is there any villa in Singapore for rent?
D'Kranji Farm Resort and CSC @Changi are the best affordable villas in Singapore for rent.
Q8. What are the best things to do in Singapore?
For an exciting tropical holiday in Singapore, you can enjoy a beach tour and add on an adventure with scuba diving or snorkeling. There are national museums, galleries, and temples that you can visit.
---