Welcoming travelers from every corner, the cities in Hong Kong offers a serene and sublime staycation with the top Hong Kong hotels. From Disneyland to other leisure spots like Victoria Harbor and Long Ke Wan Beach, every corner here is vibrant and filled with the most enthralling views. This tourist destination of Asia caters the need of every traveler offering a wide range of activities and adventure. The Hong Kong skyline, adding charm to the surreal beauty is the most magnetic attraction for tourist here. No matter where you chose to stay, these beaches, the waterfronts and the mystic skylines will be complimenting your holiday in Hong Kong.
Book Your Accommodation With The Best Hong Kong Hotel Price
Hong Kong lends you the real leisure and luxury you are looking for, to spend a memorable holiday in this magnificent destination. The finest accommodations here are not just luxurious but offers a satisfactory service proffering complete value for your money. Before you plan a vacation in Hong Kong, here are the best hotels where you can reserve your stay to get a promising experience.
1. Hong Kong Disneyland Hotel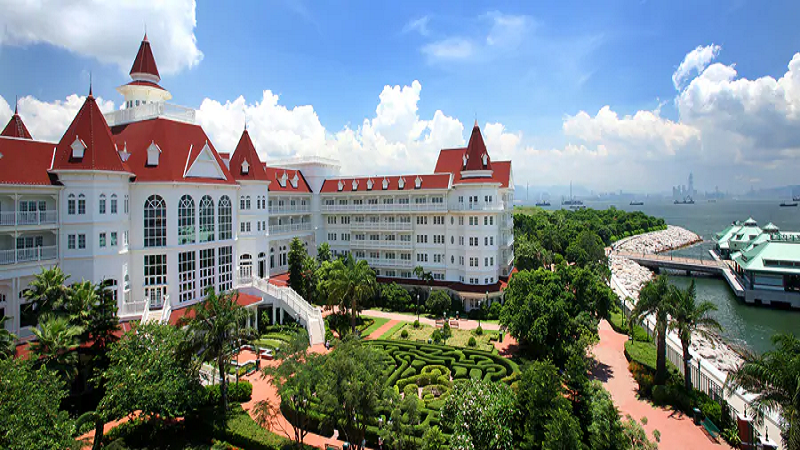 Locates in one of the most popular attractions, Hong Kong Disneyland Hotels is the most famous place to stay for your holidays. Standing close to the South China Sea, the property is the best hotel in Hong Kong when it comes to a family vacation.
With the 400 rooms, divided into categories depending on the features and amenities, the guests have a comprehensive option to reserve the ideal stay. While the facilities offered may differ, every room is spacious and is laced with exquisite furnishing and elegant interiors. The Victorian touch of wood-crafting can be observed while the décor boasts of modern technology and accessories such as air conditioning, flat TV and toiletries etc. Reserve the ideal room category depending on the perfect Hong Kong hotels price you are getting.
Activities for entertainment and leisure are arranged with life Disney music performance. There is a kid's area where there are fun games and rides for kids to enjoy. The indoor pool, outdoor pool, playground are some features that make the Hong Kong Disneyland hotel, best for your family holiday.
TripAdvisor Rating: 4.5 stars
Location: Disneyland, Lantau Island, Hong Kong China
Exclusive Features:
Indoor and Outdoor Pool
Kids Play Area
Garden Maze
Restaurant and Bar
Official Website: https://www.hongkongdisneyland.com/
Suggested Read: Best Places To Visit In Hong Kong That Are The Awe-Inspiring Masterpiece
2. Grand Hyatt Hong Kong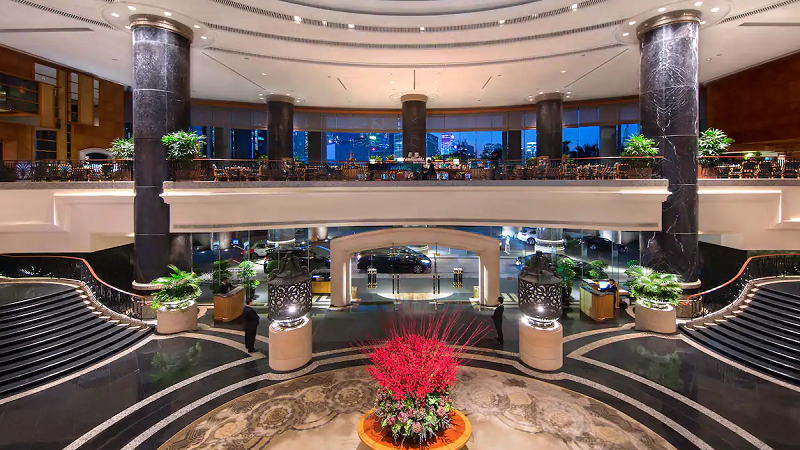 A short distance from the major attraction and tourist spots make the Grand Hyatt, the best hotel in Hong Kong. Overlooking the famous Victoria Habour, the hotel is just a few miles away from the shopping attractions, the MTR station and international airport that is 40 min drive from the hotel.
With its magnificent styling and architecture, Grand Hyatt offers 542 to accommodate families and honeymooners on vacation. The spacious and well-furnished rooms are equipped with amenities like TV with satellite connection, separate bathroom with toiletries and minibar. The marble flooring in the bathrooms makes the interiors chic and elegant. Choose from the different room category that even includes a sea-facing accommodation.
There are these fancy eateries and restaurants to make the property one of the best Hong Kong Honeymoon hotels where they can enjoy a candlelight dinner and spend quality time together. The Grand Hyatt Hong Kong ensure the leisurely entertainment and fun activities for the guests while they are spending their holidays here. There is a play area where one can enjoy a tennis game or get indulged in fitness workouts at the gym.
TripAdvisor Rating: 4.5 stars
Location: No.1 Harbour Road Wan Chai, Hong Kong China
Exclusive Features:
Pool
Babysitting
Restaurant and Bar
Gym and Spa
Business Centre
Official Website: https://www.hyatt.com/
Suggested Read: 7 Fancy Places To Celebrate New Year's Eve In Doha, Qatar
3. Marco Polo Hong Kong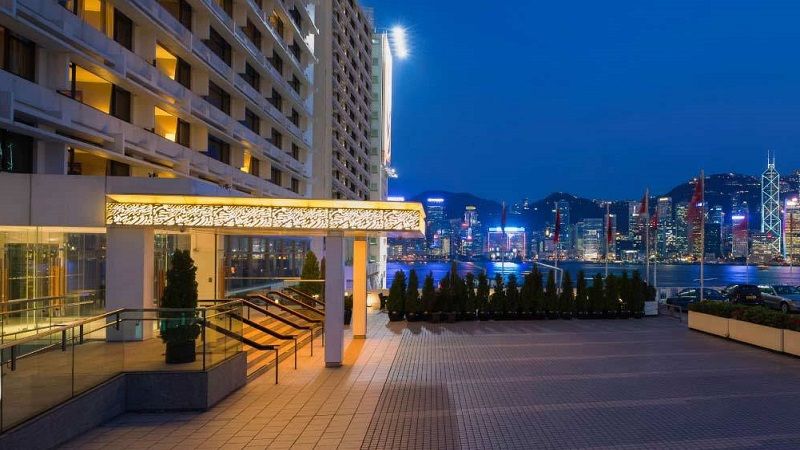 Enjoy your staycation at the most luxurious and elegantly designed hotel, Marco Polo, that offers the serene view of Victoria harbor. The facilities like pool, gym, restaurant and bar, the spa and room service make this an ideal hotel in Hong Kong for vacationers.
Every room of the Marco Polo features a spacious area and furnishing to compliment the soothing aura. From the TV to the minibar, tea and coffee maker, furniture and a large window to offer harbor or sea view, the garden view and pool view from the room. A wide range of accommodations options are there for the guests who can choose from the Superior room categories to the deluxe room, harbor view room and Continental club. Some room includes a private deck to enjoy the leisure evening and admire the vibrant skyline of Hong Kong.
The Marco Polo Hong Kong offers banquets and meetings room to organize business meets and ceremony. The adequate dining facility and catering makes it an ideal pick from the luxury hotels in Hong Kong where you can enjoy the continental and authentic dishes with an exciting flavor.
TripAdvisor Rating: 4.0 stars
Location: No.3 Canton Road, Harbour City, Tsim Sha Tsui, Kowloon, Hong Kong China
Exclusive Features:
Pool
Restaurant and Bar
Gym
Business Centre
Banquets
Piccolo Kids Club
Official Website: https://www.marcopolohotels.com/
Suggested Read: New Year 2021: 18 Popular Places In The World To Celebrate New Year
4. The Murray, Hong Kong, A Niccolo Hotel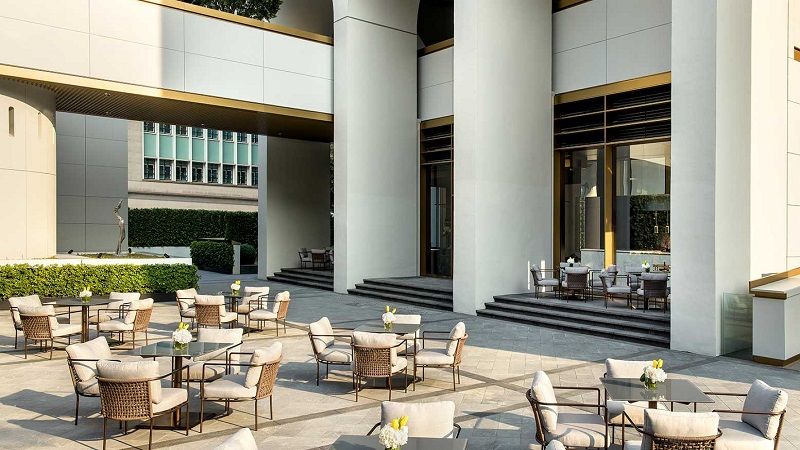 One of the newly built luxury accommodations in Hog Kong, the Murray is one finely style piece of art that offers the guest a leisurely stay for holidays. With 25 floor structure, the hotel offers 336 spacious rooms and five best dining area of the city. The Niccolo room is set on the 25th floor of the building as a banquet or hall for organizing meetings and events. These additional features make this property one of the best hotels in Hong Kong and an ideal pick for every visitor, be it a vacation or a business trip.
Focusing on the interiors and the rooms, every single accommodating space is defined with utmost luxury and subtle beauty. The contemporary look and modern furnishing with TV, air conditioning and other amenities define the interiors. Well, room categories like superior, deluxe, grand and suites are there to pick the most desirable accommodation for your holiday in Hong Kon.
Get benefits from the services that come complimentary with the stay at one of the best Hong Kong hotels like 24x7 help desk, room assistance, pool and gym, spa and other exciting experience.
TripAdvisor Rating: 5.0 stars
Location: No.22 Cotton Tree Drive Central, Hong Kong China
Exclusive Features:
Pool
Restaurant and Bar
Gym
Meeting and Banquet halls
Babysitting
Official Website: https://www.niccolohotels.com/
Suggested Read: 12 Stunning Places To Visit In February In The World To Experience The Best Of Your Vacation
Staycation in Hong Kong is not just about leisure but some thrill and fun. This fascination destination of Asia is connected well by other countries by indirect or direct Hong Kong flights. Being a hub for tourists, every luxury property here is defined in elegance and with a sophisticated touch of man's creation. Nestled around the prominent tourist places, these hotels feature a spacious, accommodating region followed by pool and spa, gym and additional facilities. Avail every possible service at the top hotels in Hong Kong while you are on a journey to discover the magnetic panorama.  
FAQ's
Q1. What is the best hotel in Hong Kong?
Many luxury properties in Hong Kong offers the best service. The best hotels are:
The Landmark Mandarin Oriental
The Ritz-Carlton
The Peninsula Hong Kong
The Mira
Grand Hyatt Hong Kong.
Q2. What are the best places in Hong Kong to stay?
Hong Kong is a tourist hub that offers some popular places to stay like:
Tsim Sha Tsui
Mong Kok Yau Ma Tei
Shatin
Cheung Chau Island
Lantau Island
Q3. What are the luxury hotels in Hong Kong?
One can experience luxury and comfort in Hong Kong with the best hotels like:
Island Shangri-La
Marco Polo
The Conrad
The Grand Hyatt
Ritz-Carlton Hong Kong
Q4. Where is the most affordable place in Hong Kong to stay?
There are many budget hotels in Hong Kong for tourists like:
Royal Park Hotel
SoHotel Hong Kong
Harbour Plaza Metropolis
Warwick Hotel Cheung Chau
The Fleming, Hong Kong
Q5. Is there any budgeted hotel in Hong Kong?
Hong Kong offers many budged and affordable hotels for the tourist without compromising much on the services. These hotels do not have a pool or spa facility, restaurants and other complementary service but ensure a comfortable stay under your budget. You can book the properties like:
Cosmo Hotel Mongkok
Hung Hom Bay
Hotel ICON
Q6. Which is the nearest hotel to the airport in Hong Kong?
There are some best properties to stay near the airport in Hing Kong like:
Regal Airport
Hong Kong Skysite Marriot Hotel
Hong Kong Disneyland Hotel
Novolet Citygate
Q7. Which is the best place to stay with family in Hong Kong?
The Disneyland Hotel in Hong Kong is an ideal family accommodation. Being close to the famous theme park and other shopping attraction, the hotel offers a great entertaining option as well.
Q8. Is there any sea-facing property in Hong Kong?
One can find the best sea-facing hotel in Hong Kong like:
Silvermine Beach Resort
Hong Kong Gold Coast Hotel
Royal View Hotel
Concerto Inn
Bayshore Inn
---