A country that boasts of its rich cultural heritage and modernity, Qatar is widely renowned for its festivals around the world. Festivals that not only represent the country's culture and art, but also its modern outlook.
Besides, here's a thing, the festivals in Qatar are diverse in every way, and there's absolutely no shortage of it. While some are based strictly on sacred beliefs, other festivals push the boundaries. So if you're heading on a trip to Qatar and thinking of attending any festival, here's our round-up of some of the best festivals that this country celebrates annually.
Best Festivals To Attend In Qatar
Qatar has an altogether different spectacle during festivals and promises a true delight to the travelers arriving every year. Besides, here are the top festivals that the country celebrates every year.
The Aspire International Kite Festival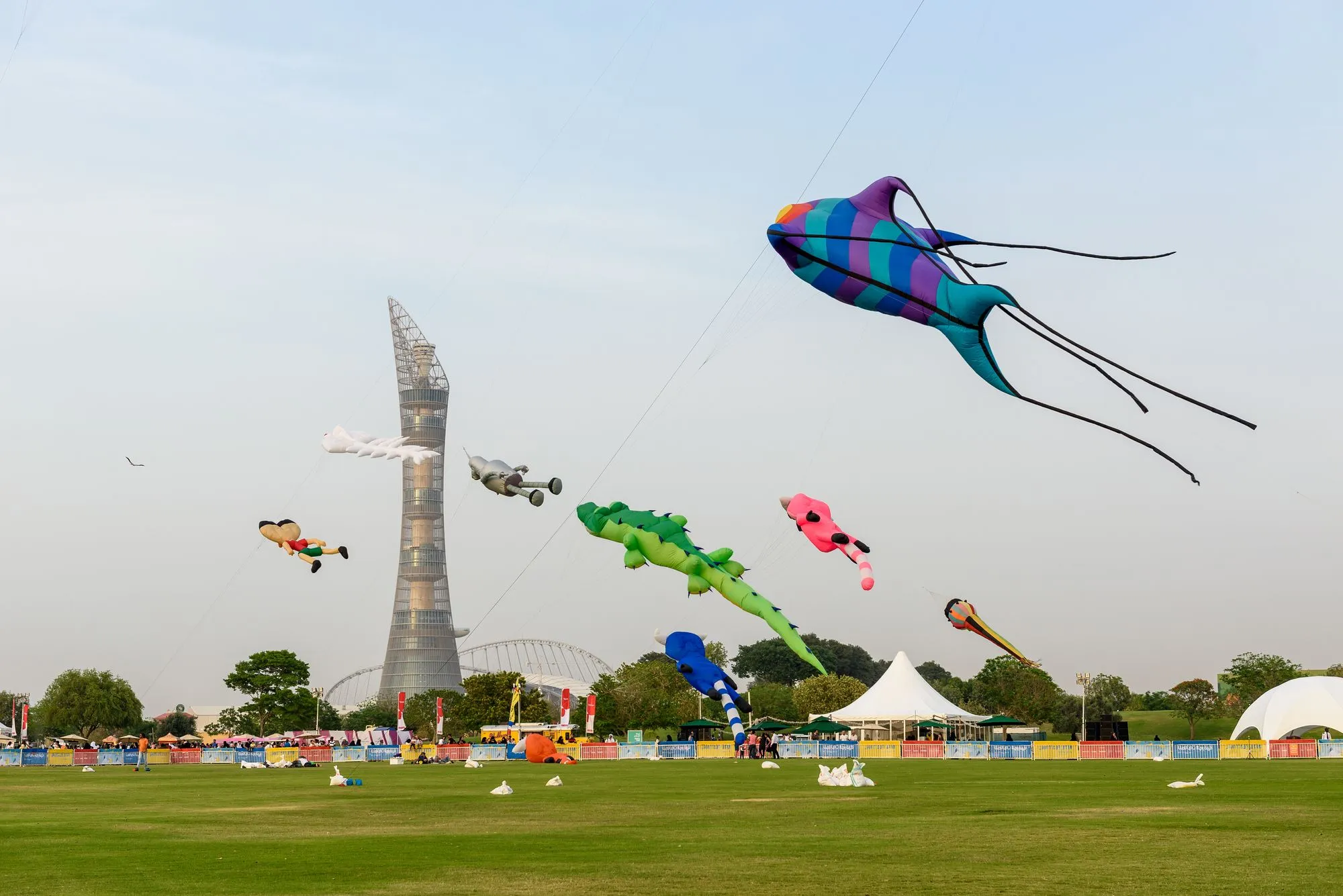 A time of the year when the sky over Aspire Park speaks for itself, the Aspire International Kite Festival is one of the most thrilling Qatar tourist attractions. The festival is held in the month of March every year when families from around the world come together and enjoy the spectacle for 3 days.
There are various events during this time, from family workshops about kite making to parades and other competitions that visitors can enjoy. What is notable about the festival is that most kites you see flying in the sky are traditionally designed and form one of the main attractions of the place.
So why not book a flight to Qatar and come over to witness this amazing spectacle?
Must Read: Discover Qatar with the 6 most historical places to take a plunge back in time
The Qatar International Art Festival
Are you fascinated with art? Ever long to have a chat with artists and get to understand them better? Well, the Qatar International Art Festival is an opportunity to do so. Held every year during late October or early November, the festival takes place only for 6 days and attracts visitors from all around the world.
Talking about the features, this festival showcases some of the finest works from over 200 artists around the world. There are exhibitions, panel discussions, creative exchanges, live displays of paintings, fashion shows, and so much more for the visitors to enjoy.
What is more exciting is that this festival is held at the Katara Cultural Village which is again one of the most iconic sites in Doha and all of Qatar. Besides, if you're an artist and wish to get artwork displayed, you need to apply well in advance for that. As for the public, the exhibition and live displays are free of charge.
Ajyal Film Festival
Another mesmerizing spectacle to watch in Qatar is the Ajyal Film Festival again held at the Katara Cultural Village in Doha. The Festival, as they say, has everything for all age groups and offers attractions like video gaming competitions, modern music events, movie screenings, panel discussions with notable personalities and so much more.
Held for a week, the festival is all about celebrating the motion arts and gives a unique spectacle. From filmmakers to musicians and even artists from around the world come to join the festival. As for the visiting charges, there are none and the entry is free to all and for all activities.
Katara Traditional Dhow Festival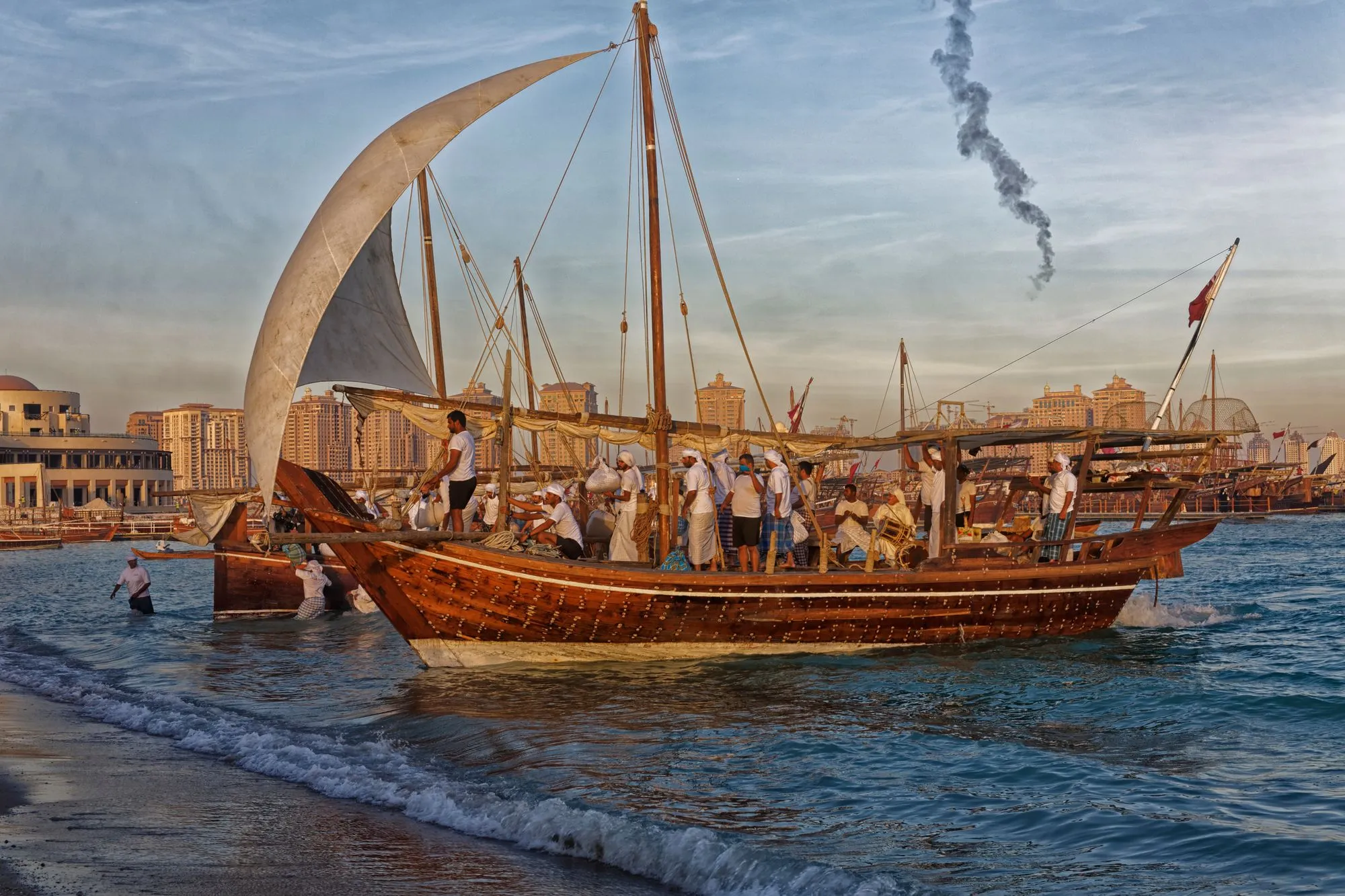 Another festival that has become one of the top Qatar attractions for tourists is the Katara Traditional Dhow Festival. The festival is celebrated at the Katara Village in Doha and usually takes place in the month of December.
What is special about this festival is that it celebrates the traditional dhow boats which have taken sailors and travelers into the Arabian Sea and much beyond over centuries, and continue to do so. It includes about 70 boats of different sizes and designs that remind of the traditional times.
What else? Travelers coming to see the festival in Qatar can even get a sight of art exhibitions and the well-renowned marine firework show. Likewise, in case you're longing for a ride, you even have a chance of sailing in one of the dhow cruises in exchange of a nominal fee for a 30-minute tour to the Pearl.
Suggested Read: Family Hotels In Qatar: Where To Stay During Your Family Holiday In The Country?
Doha Cultural Festival
Now if you're possibly thinking of making a trip to Qatar and wondering what makes the travelers book a flight ticket to Qatar and come rushing to the country, well, the answer lies at the Doha Cultural Festival. One of the most important festivals in Qatar, the Doha Cultural Festival is all about highlighting the local traditions and art.
This is a festival that offers enormous fun to the visitors. Whether you think of music performances, art exhibitions, photography and so much more, there's a lot to look forward to at this event. But hang on, what about the finest attraction of this festival?
Well, the centers of attraction at the Doha Cultural Festival are singing and poetry reading performances that remind of the old tradition of storytelling in Qatar. As for the venue, there's no one venue in Doha where the festival takes place. The event is organized at multiple venues and the performances are specifically chosen in order to make it appealing for all the public.
Eid Al-Fitr
A festival that carries immense importance in the lives of not just the natives of Qatar but to all the Muslims living around the world, Eid al-Fitr is the most sacred festival in Qatar. Also known as Ramadan, this is a festival that is celebrated for 3 days after a month-long fasting, prayer and reflection period.
What is exciting at this time in Qatar is the vibe of the country. There is a festive mood all around and the country is decorated with lights and other things. Visitors coming during this time can expect to witness a lot of night fireworks, amazing meals and so much more. The businesses in the country are more or less shut during this festival and there's a national holiday.
But now here's a question, how is Eid al-Fitr celebrated by the natives? Well, the families in Qatar usually celebrate Eid al-Fitr at their homes. As for the restaurants and hotels, there are many that offer heavy discounts at this time of the year owing to the ongoing festivities.
So if you're particularly interested about what it's like to celebrate Eid al-Fitr in Qatar, be sure to visit here and experience yourself. Having said that, though, the dates of the festival do vary and are never the same. Hence, the travelers need to be mindful of the same.
Qatar International Food Festival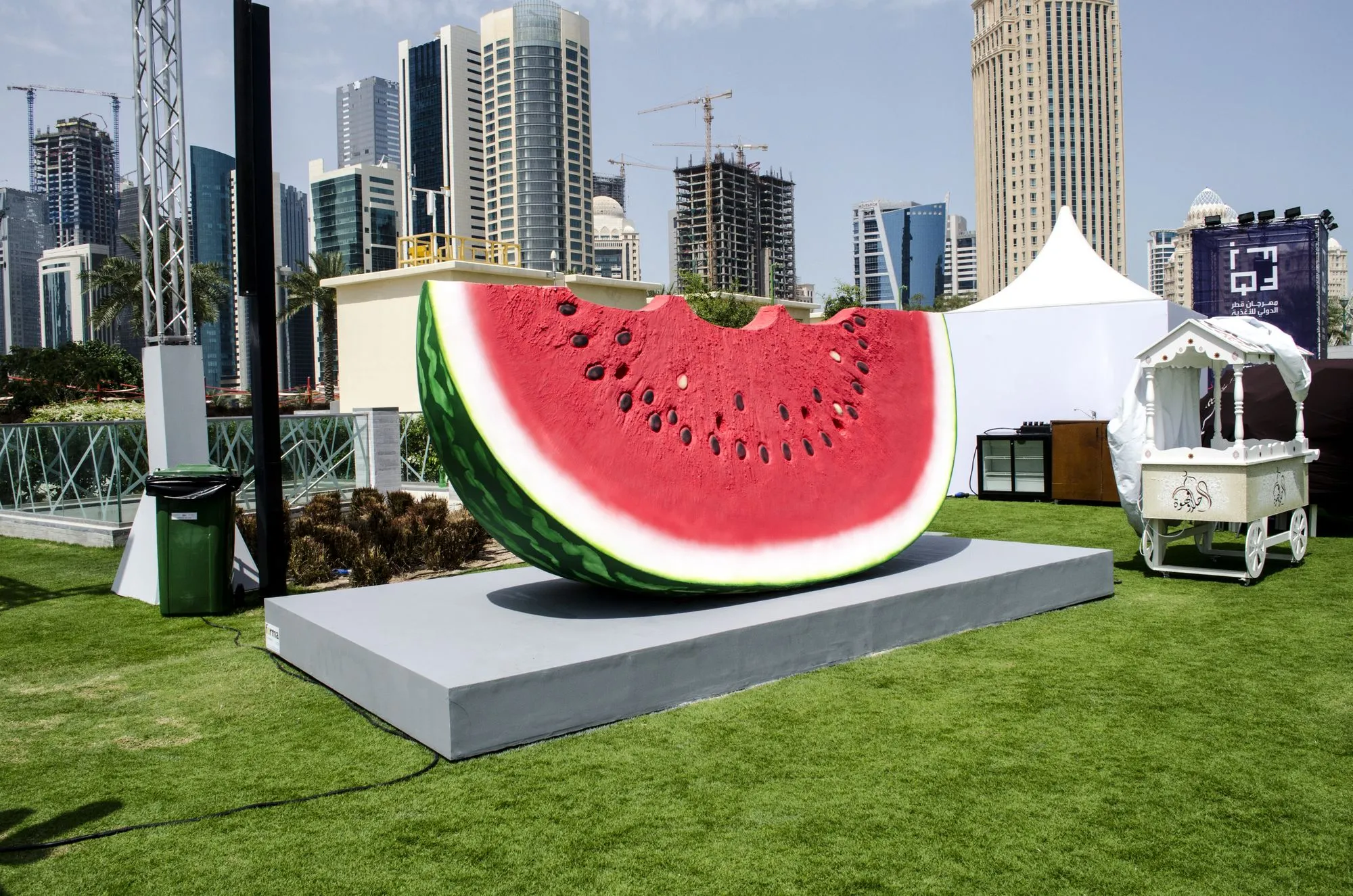 Are you a foodie? Can't wait to get your taste buds jumping with joy? Well, how about visiting Qatar during the months of March and April? A time when every foodie wants to go Qatar, this is when you get to the finest of delicacies by chefs from around the world at the Qatar International Food Festival.
A festival that boasts of its rich foodie experience, travelers get a lot of things to be excited about. There are events like live cooking shows by professional chefs, food workshops for visitors, organized farmer's market, and farm to table experience that is a true highlight of the festival.
What is exciting about this festival is that even if you're a home chef or an entrepreneur, you can come and be part of the festival, showcase your cooking skills. There are cultural performances that are based on a particular theme which varies every year.
As for the venue, they keep on changing every year, so you not only get to see the iconic venues, but you can also enjoy what the festival has to offer.
Suggested Read: A Take On The Top Qatari Dishes And Where To Find Them In Doha?
The Qatar Marine Festival
Another festive attraction that any Aquafile would be thrilled about is the Qatar Marine Festival. Organized every year at the Katara Cultural Village in Doha, this festival boasts of its wide range of programs that surround marine life. Travelers can get to witness programs like cultural, environmental, sport, education and much more which are all related to marine.
What's more? There are many more activities that families coming here can enjoy. From sand art displays to mini golf setup, there's everything for a perfect family time around. As for the performances, the plays are performed by over 300 artists on a well-designed stage which is an amazing spectacle to watch.
However, families coming to the festival need to be vary of the Pearl fishing methods while they enjoy other activities like papermaking, painting, ceramics and other arts and crafts, etc.
Souq Waqif Spring Festival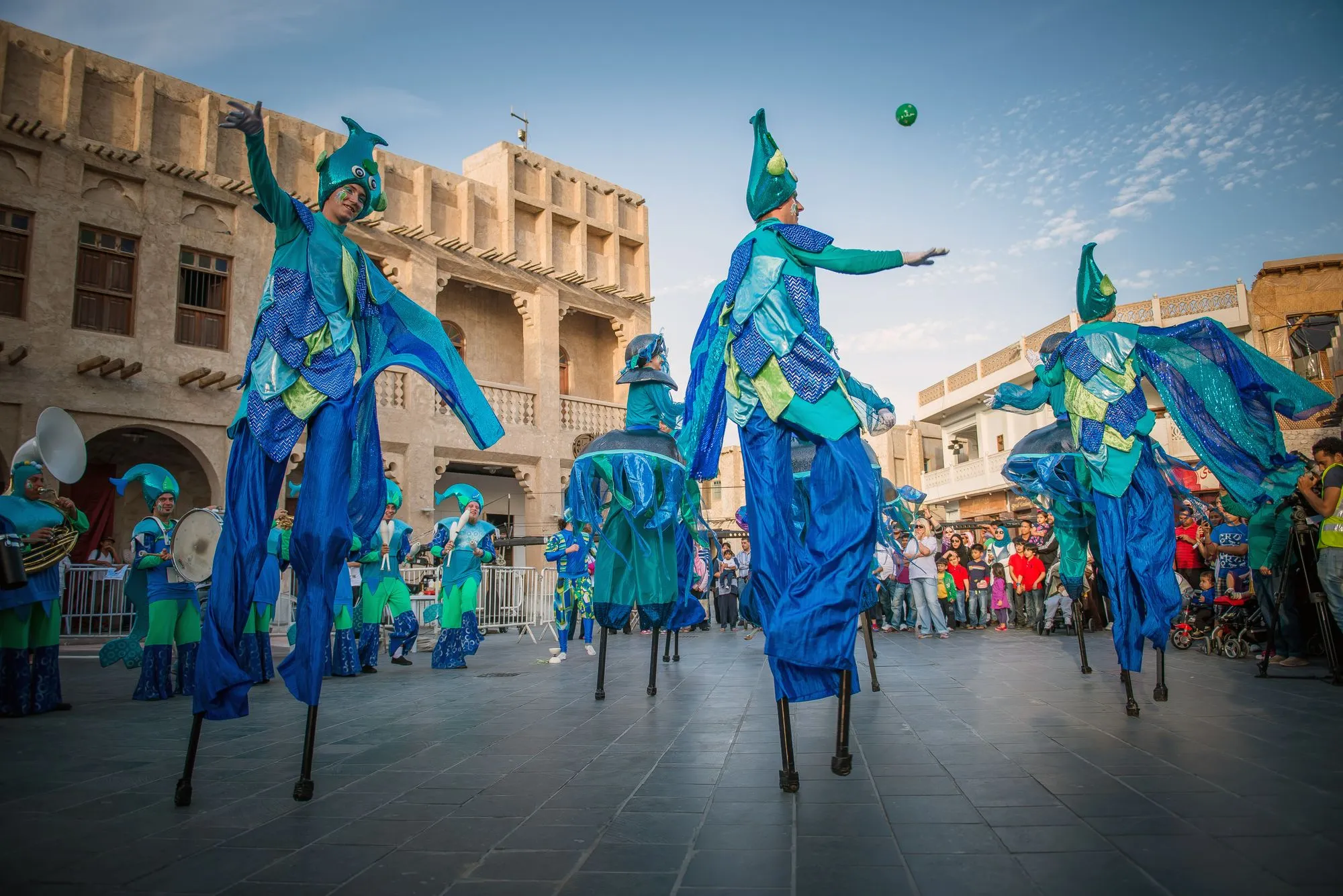 One of the most iconic places in Qatar, Souq Waqif is again a place that features amongst the prominent Doha attractions in the region. A traditional market based on an ancient trading sight; Souq Waqif comes alive during its annual spring festival. Held for 15 days during the period of late December to early January, there's no better place than this during the time.
Various activities like magic shows, art exhibitions, volleyball, carnival rides and so much more are all up for grabs during this time at Souq Waqif. Speaking of the shops, there are more stalls and shops than usual during the spring carnival at the market and it's unlike anything you've ever seen.
So why not head over to Doha during the late December or early January to witness this amazing spectacle?
Now here's a thing, we know about the famous festivals that Qatar offers to the travelers coming to the country. Let's discuss the best time to make a trip to Qatar apart from festival times.
Best Time To Visit Qatar
A middle eastern country as it is, Qatar experiences a subtropical type climate with extremely hot temperatures and least rainfall. This is a time when the temperatures surge beyond 40 °C easily making sightseeing virtually impossible.
However, when it comes to the best time, spring and autumn are considered as the best seasons to travel to this part of the world as the evenings are pretty cool at this time. Ideally, any traveler looking to travel to Qatar should opt for a time between November to early April.
During this time, the temperatures in the country stay pleasant, allowing perfect conditions for sightseeing. The majority of tourists visiting Qatar, visit during this time only and it is a peak season of Qatar tourism. Besides, if you're looking to attend either of the festivals on your travels, November to April is the time when most of the renowned festivals are organized in Qatar.
How To Reach Qatar?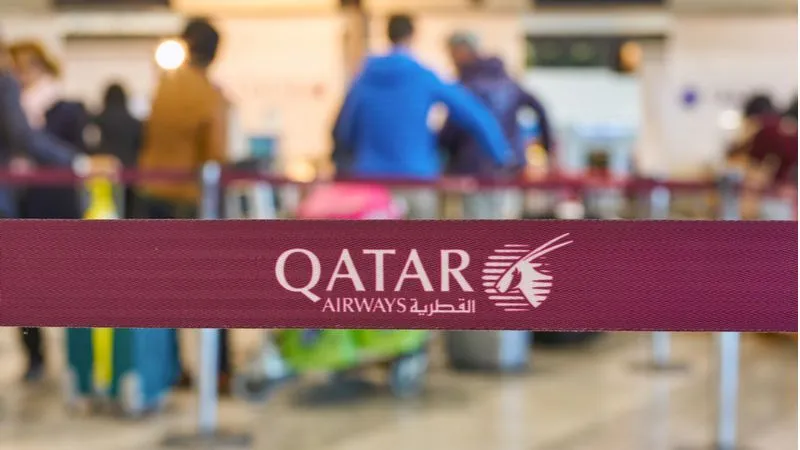 Reaching Qatar isn't so much of a hassle. The country is well-connected with virtually every popular destination around the world and is one of the largest transit gateways for overseas travelers today.
Having said that, there are no rail networks or waterway passages for travelers coming here and by Air or road remain the only two options. Travelers can easily book a flight to Qatar online or contact their local travel agencies for the same. There are cheap flights available to this country. On the other hand, if your idea is to travel by road, then traveling through Saudi Arabia is the soul option you have.
There are regular buses that run between the two countries which are a popular mode of transport to Qatar. However, travelers need to be mindful of the delays that occur due to long custom checks that can take up to 4 hours. Hence, planning your trip accordingly is advisable.
A country that continues to surprise travelers, Qatar offers not just its charm but also its various festivities. This is a country that has preserved its rich history and the festivals here are a reflection of it. From recognizing the historical dhows to showing its love for art through various exhibitions in festivals, travelers can expect a trip of a lifetime in this part of the world, and it only gets better.
FAQs
Q1. Is Qatar a safe country?
Situated in eastern Arabia, Qatar is one of the safest countries in the world owing to its low crime rate and fully equipped security setup. The country is a safe haven for not just travelers but also who wish to live there.
Q2. What are the top festivals in Qatar?
The top festivals in Qatar include- Aspire International Kite Festival, Qatar International Food Festival, Doha Cultural Festival, Katara International Marine Festival, Eid-al-Fitr, and so on.
Q3. How much money should I bring to Qatar?
An ideal sum to spend on your travels in Qatar would QAR213 per day.
Q4. Is food expensive in Doha?
Even though Doha is one of the most expensive cities in the world, expenditure on meals can vary. On an average, a full meal costs around QAR17 in Doha.
Q5. What is the coldest month in Qatar?
The coldest month in Qatar is January when the average high temperature reaches a mere 21.7°C while the low temperatures are around 13°C.
---