Ubud, a town in Bali, Indonesia, is one of those places where a vacation for a week or so would not feel enough, because there are so many things to do in Ubud, and so much to explore. The town has an abundance of greenery is a traditional Balinese land where you can witness the culture of the land with every waking second. The place has the power to throw away all your stress and worries, so you can have a relaxing and rejuvenating vacation. Ubud is a magical land with rich culture, flora, and fauna and is a promising destination for a luxuriating experience.
8 Things To Do In Ubud  For An Urbane Vacation  
Ubud is a town on the island of Bali, Indonesia, and is the art and culture capital of the island. A normal walk around the town is in itself an amazing adventure.
1. Take A Look At Blanco Renaissance Museum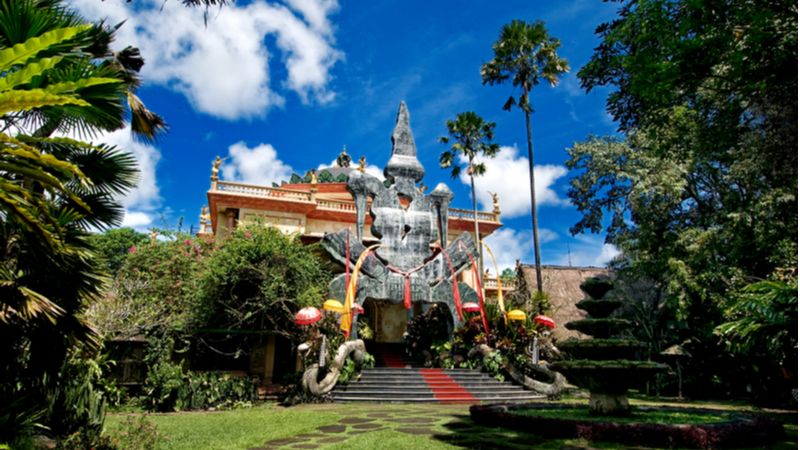 This is the studio and art gallery of late Don Antonio Blanc. He was known for his engraving artwork of unclad Balinese women. The gallery's provocative artwork is mainly for art lovers and adults. The museum also has a palatial garden with exotic birds and, gorgeous parrots, where the children (if you are on a vacation with them) can enjoy nature's beautiful creatures. There is also a gift shop and a café with Asian and European cuisines. A museum tour is among the top things to do in Ubud, Bali. As you enter the museum, you will see a vast marble hall lined with the works of Blanco. Some pictures will bring a smile to your face and some might make you feel cringe, but overall, the museum is a whimsical location to be at.
Location: Jalan Raya Campuhan, Ubud, Gianyar, Bali 80571, Indonesia
Timings: Opens at 9 AM and closes at 5 PM
2. Meet The Smartest Animal At Ubud Monkey Forest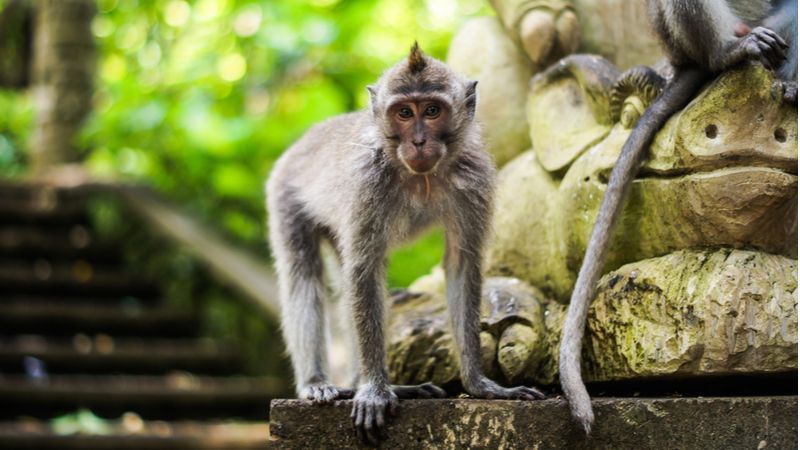 The forest is also known as the Sacred Monkey Forest of Padangtegal. It is based on the concept of Tri Hita Karana. But remember to behave like an adult, although the monkeys are very friendly and sweet, giving them food or teasing them might trigger them. It is one of the finest places to visit in Indonesia, for an amazing visit. The forest is a characteristic woods asylum that is home to a crowd of dim. The Monkey Forest was formed with a vision and the mission of the forest is to conserve the area according to the concept Tri Hita Karana. It also has temples, that too not one or two but three, made up of Pura Dalem Agung, Pura Beji, Pura Prajapat( they were believed to be dating since the 14th century).
Location: Jl. Monkey Forest, Ubud 80571 Indonesia
Timings: Opens at 8: 30 AM and closes at 6 PM
3. Embrace The Glory Of Nature At Bali Bird Park & Reptile Park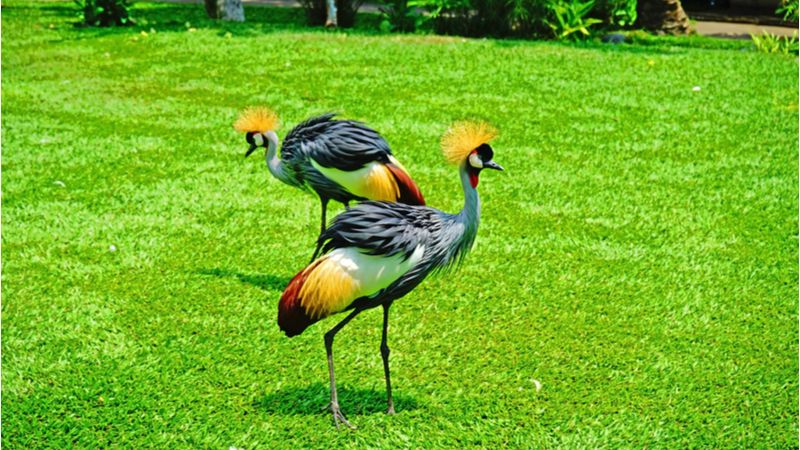 Spread over the area of two hectares with the finest tropical gardens, is Bali Bird and Reptile Park. It is a great family attraction (well... it is a great attraction for every kind of traveler). If not going to this place, you are missing out on the best things to do in Bali as it is unique and educational. The park lets you have a closer look and even lets you touch several tamed birds. You can also admire many exotic birds which the park has, from their dedicated enclosures. The park's mission is to breed these exotic and endangered animals in captivity, and to protect them. This place will take your breath away from these beautiful and exotic animals. It also has a 4D Avian Theater.
Location: Jalan Serma Cok Ngurah Gambir, Singapadu, Batubulan, Sukawati, Gianyar, Bali 80582, Indonesia
Timings: Opens at 9 AM and closes at 5:30 PM
Suggested Read: Villas In Bali: Experiencing Luxury At The Finest Villas
4. Stroll At The Campuhan Ridge Walk
Pronounced as "chahmp-oo-hahn", this stroll is going to be a quick getaway from the city's hum of motor traffic. This is a free and simple trek. The walk is not very long and so it is not tiring. In fact, this is one of the most pleasing and relaxing adventure activities in Ubud that you must try. The trail of this walk/trek starts at the historical origin of the town, the Campuhan (confluence) of the Wos River. The climb will give you a chance to appreciate the cool natural air and the beauty of the region. The edge you walk along is surrounded by lush green forests and rivers on each side, so bring a camera the place is beautiful and there is so much to capture. The best time to go for this activity is early morning or late noon.
Location: Jl. Raya Campuhan, Ubud 80571, Indonesia
Timings: Opens at 7 AM and closes at 5 PM
Suggested Read: Honeymoon Places In Bali: Spending The Most Romantic Holiday In The Islands
5. Shop At Ubud Art Market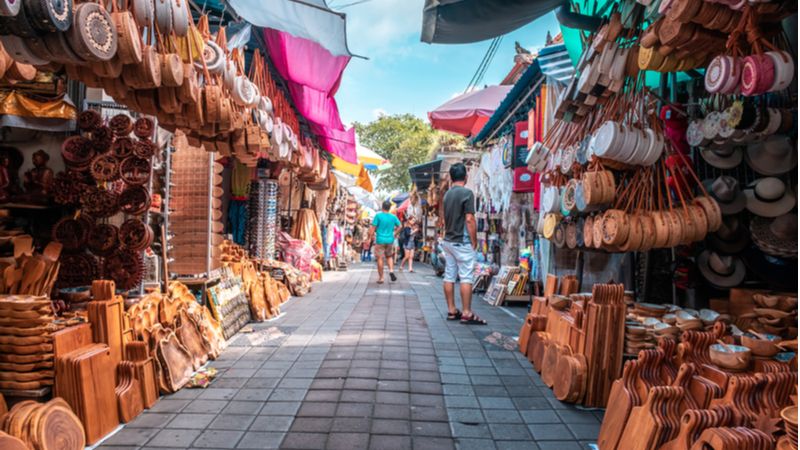 The market offers exemplary Balinese items, universal and international assortment. The items on these shops do not have barcodes or price tags so bargaining is an option here. But when done, do so politely and don't forget to smile. The market is different from the usual markets you see in cities. The shops here display the true and mind-boggling craftsmanship of the Balinese. This market is a great place for finding beautifully woven silk scarves, lightweight shirts, statues, kites, handmade woven bags, hats, and many other handcrafted products. The rich culture, the absolutely stunning sites, and the astounding craftsmanship of Balinese have made Ubud among the best honeymoon places to go in Asia. You will fall in love with the place.
Location: Jalan Raya Ubud, Gianyar, Bali 80571, Indonesia
Timings: Opens at 8 AM and closes at 5 PM
6. Have A Bath Under Nature's Shower At Tibumana Waterfall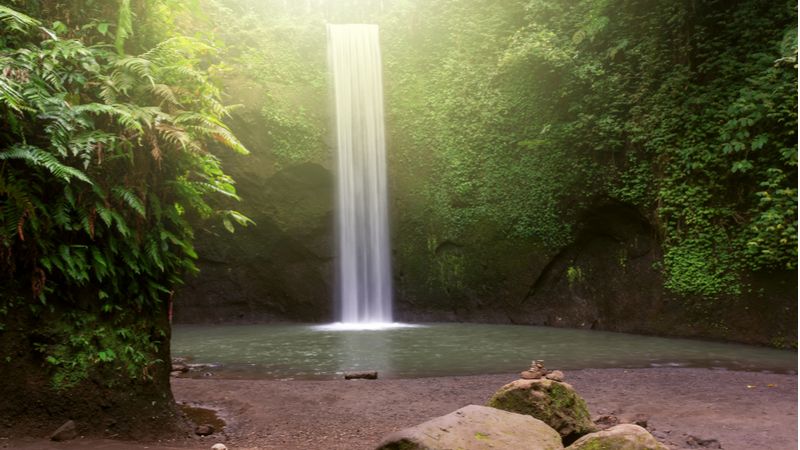 One of the finest tourist attractions in Bali, Tibumana Waterfall is one of the quietest waterfalls in Ubud, and is located 40 mins away from the main city. A waterfall is itself a treat to the eye, and this one is quite as well, so in all it is a perfect spot. The ride to the waterfall is so magnificent, it might feel like you have entered Bali 20 years ago. Although the location of the mall is quite isolated, once you reach there, there is no chance in hell that you will not fall in love with the scenery. The waterfall is just picture-perfect and so enchanting that it might feel unreal. The water is shallow (not more than 6 feet deep) so don't dive, but yes just a swim can reinvigorate your senses. Driving to the waterfall is among the fun things to do in Ubud that will leave you mesmerized.
Location: Apuan, Susut district, Bangli regency, Bali, Indonesia.
Visitors are advised to confirm the timing of the place with local authorities.
7. Stride Along The Tegallalang Rice Terraces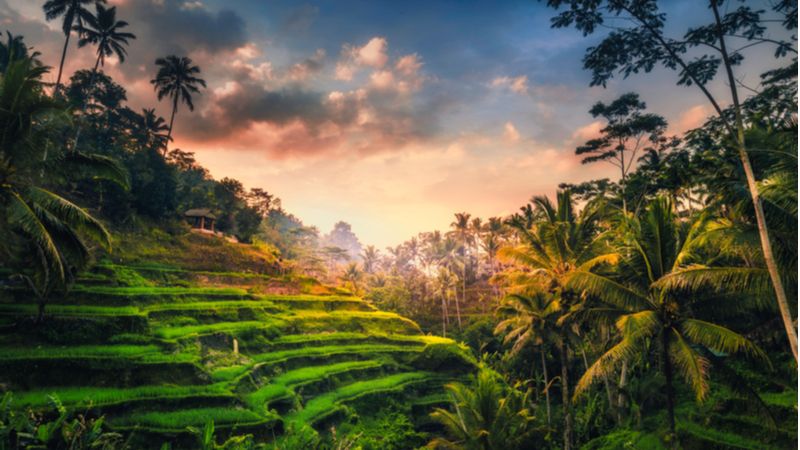 The Rice terraces offer a scenic outlook. The high roadside is breezy, fresh, and cool. The paddies are a well-known spot for tourists. for all the nature lovers and painters, this location is your dreamland. This place has numerous cafes and art kiosks near the ledge.  The local elders who own and cultivate the land often invite visitors to sample their green coconut drinks, as well as to purchase woven hats that they make from coconut leaves. They might even pose (for you for a small fee). The terrace is the perfect opportunity to picture Bali, with the dramatic views. Reaching these paddies is an adventure in Ubud, that one must experience.
Location: Jalan Raya Tegallalang, Tegallalang, Gianyar, Bali 80561, Indonesia
Timing: Not applicable
Visitors are advised to consult with local authorities.
Suggested Read: Things To Do In Doha For A Happening Holiday In The Middle East
8. Dance With Strings At The Setia Darma House Of Mask And Puppets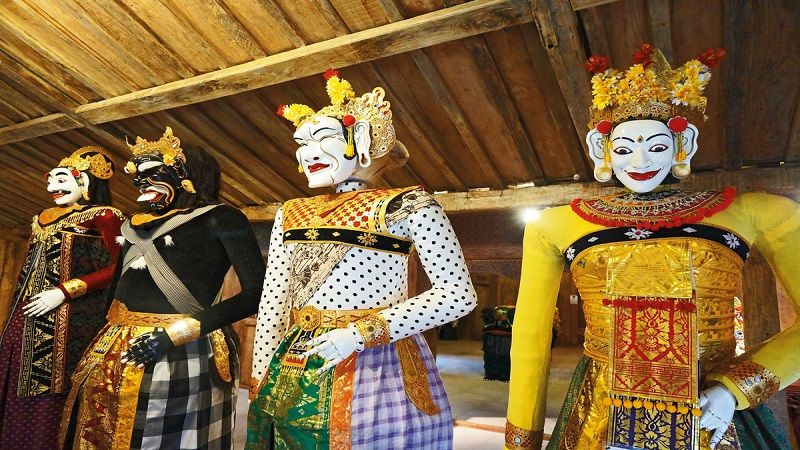 The collection at this museum mainly includes traditional and usually sacred masks, contemporary specimens collected from local village craftsmen, and Balinese puppets and masks. It is Indonesia's most colorful heritage collection. The museum features around 1,300 masks and over 5,000 puppets. The puppet show is usually in the evening. The purpose of this museum is to educate, entertain, and preserve the cultural heritage of the country. The museum is not far from some of the best-rated hotels in Indonesia and covers more than 1 hectare of land.
Location: Jalan Tegal Bingin, Mas, Ubud, Kemenuh, Gianyar, Bali 80582, Indonesia
Timings: Opens at 8 AM and closes at 4 PM
Ubud is a promising town, that you will fall in love with as soon as you set foot in the town. It has some remarkable architecture and not to forget the greenery is just "wow". If making a list of things to do in Ubud, boy......it is going to be a long one. The cultural center of Bali is famous for its art and culture. The town was, recently voted as the most fascinating city in Asia, and it absolutely lives up to its reputation.
Ubud is nestled in the foothills of Bali. It has grown at a great speed. That said, the town still has terraces, rivers, and forests. In the race of coping up with others, this town has shown amazing development, whilst sticking to its root. If you haven't already, then book your Ubud plane tickets now, and have a relaxing vacation.
FAQs
Q1. What is the best time to visit Ubud?
The best time to visit Ubud is during the warm season. June to September is the best time suited for you.
Q2. Which are the best hotels in Bali?
Kayumanis Nusa Dua Private Villa & Spa, Anantara Uluwatu Bali Resort, The Apurva Kempinski Bali, InterContinental Bali Resort are some of the best hotels in Bali.
Q3. Which is the nearest airport to Ubud?
Ngurah Rai International Airport is the nearest airport to the beautiful, green city, Ubud.
Q4. Is Ubud a destination for a family vacation?
Yes, Ubud is a destination for family vacations. The place has many places to visit with your family.
Q5. Which is the best place to visit in Ubud?
The town is full of marvelous places and sites that will amaze you. The best place to visit in Ubud would be Bali Bird Park and Reptile Park.
Q6. Are there waterfalls in Ubud?
Yes, Udub has waterfalls. It has around seven waterfalls that include Tibumana Waterfall, Tukad Cepung Waterfall, Nungnung Waterfall, Leke Leke Waterfall, Kanto Lampo Waterfall, Tegenungan Waterfall, and Sumampan Waterfall.
Q7. How much time do I need in Ubud?
A span of 3 days to a week would be enough to embrace the perfect town. You can visit the town's best attractions within this time period.
Q8. What is Ubud famous for?
Udub is known for its art and culture. Although the town has many sites to visit that are a delight to watch, the art and culture of the town are its main attractions.
---