Ask anyone of their most preferred tourist destination in Southeast Asia or a Southeast Asian country on their bucket list, & there are more chances than not that the reply would be Thailand! More popular than ever, Thailand is lined with attractions like the Wat Pho, Jim Thompson House, Wat Arun, Chatuchak Weekend Market & Wat Phra Kaew. But like any country, there are things to do in Thailand that your vacation is incomplete without. We are presenting a list of such diverse activities, for tourists with a variety of interests, so that no matter what you like, be it wildlife or shopping, you are covered!
8 Things To Do In Thailand That Your Vacation Is Incomplete Without
Considering that Thailand is known for a whole range of places (some of which are aforementioned), from ornate Buddhist temples to tropical beaches, there are many amazing activities that you can enjoy in the "Land of the Smiles" (Nickname for Thailand). With many of these things featured in movies, they have gained traction over the past couple of decades. Covering must-see Thai attractions as well as recommended experiences, this is the ultimate list of the best things to do in Thailand.
1. Take A Tour Of The Grand Palace, Bangkok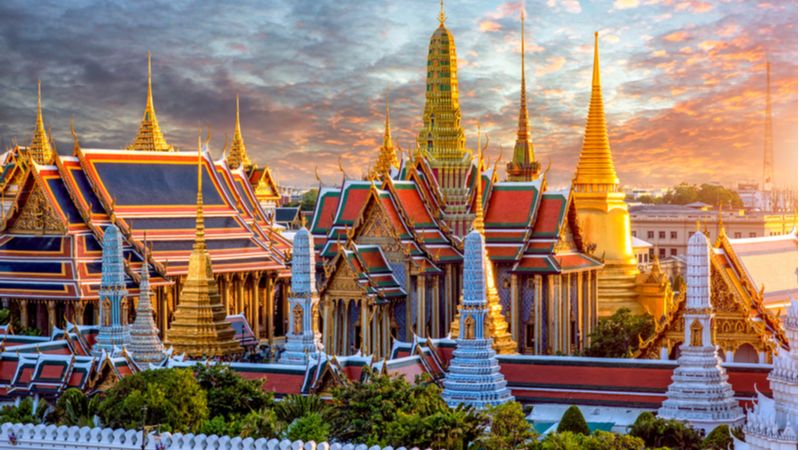 With two of seven Thailand's international airports located in Bangkok/Greater Bangkok, the most famous attraction of Bangkok, located in the 'Phra Nakhon' district can be your first stop. (Bangkok is divided into fifty districts.) Synonymous with the Thai capital, this complex of buildings, with its spectacular golden temples, exudes royalty. After all, it is the residence of the Thai kings! You are guaranteed to be dazzled by the architecture of the palace, having been home to Thai royalty for 150 years now! Built in 1782, it has also served as the seat of the government as well as the coastal country's court. Of all the activities in Thailand, this one is suggested for everyone—we believe that your trip to Thailand is incomplete until you have experienced the grandeur of the Grand Palace.
Famous For: Having been the home of the Thai emperors for one-and-a-half centuries!
Location: As stated, the Grand Palace is situated in the heart of 'Krung Thep Maha Nakhon' (Thai name for Bangkok). This is since it is in Phra Nakhon, the central district of the capital city. The easiest way to reach the attraction is through the BTS Skytrain.
Suggested Read: Things To Do In Bali: A Guide To Plan The Most Exciting Holiday In Indonesia
2. Enjoy A Ferry Ride To The "James Bond Island" (Khao Phing Kan), Phuket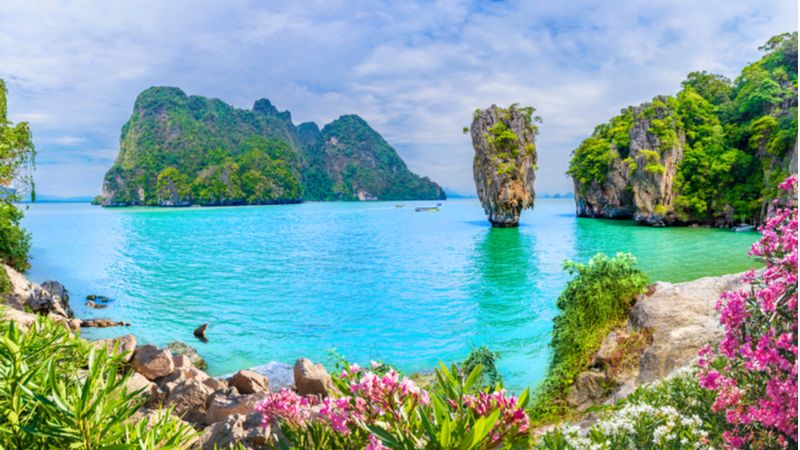 You may have guessed it! The James Bond Island is called so because it was popularized by a movie of the secret agent series—The Man with the Golden Gun. The location of the 1974-classic is the 'Phang Nga Bay' in 'Phuket'. (As you must have heard, Phuket is an island. Interestingly, it is a city & a province too!) While the bay occupies the area between mainland Thailand & Phuket island, Khao Phing Kan (The correct name for the James Bond Island) is in its north-west. The island has a distinctive, 20-meter-tall limestone tower landmark, some 40 meters away from its shore. It also presents good opportunities for swimmers. An absolute must-visit if you are a James Bond fan, cruises to the island mean sailing through the mentioned bay, overlooking rocky cliffs emerging from emerald-green waters.
Famous For: Being the only place in the world (apart from Halong Bay) with limestone karst towers!
Location: To elaborate on the above, Khao Phing Kan can be reached the most easily from 'Krabi', the jungle town (Has lush mangrove forests) in the province of same name. The relaxing place lies on the western coast of southern Thailand. You can take a long-tail boat from here.
3. Head For The Horizon & Go Island Hopping, Thailand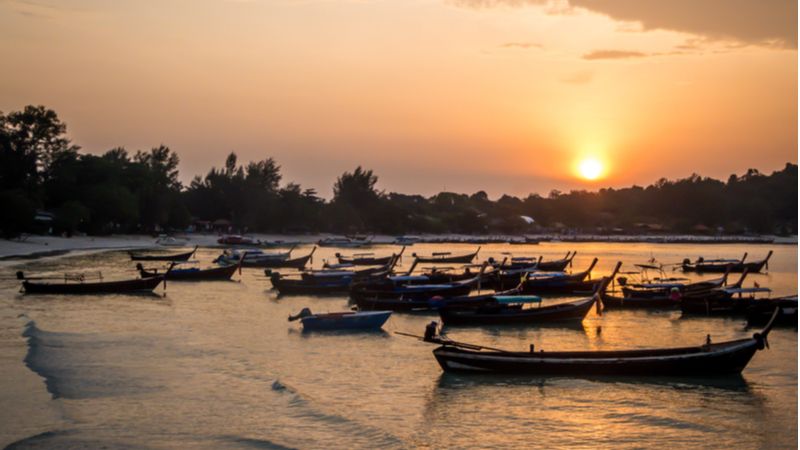 Of our favorite things to do in Thailand is going island hopping! In case you didn't know, the Kingdom of Thailand (That is its official name!) encompasses (Hold your breath!) around 1430 islands! While it goes without saying that a large proportion of this number is uninhabited, over time, several of these islands have been developed for tourism. Approximately 300 of these islands may be visited & their beaches cherished, activities like scuba diving enjoyed & lives of locals observed/experienced! Think beyond mainland 'Siam' (The former name of Thailand) & you will realize that there are plenty more activities in Thailand that you can indulge in. Don't get overwhelmed, run a research & zero down on an island you really want to visit. Then, go island hopping, moving to other amazing destinations via ferries or buses.
Famous For: Each island has something unique for travelers, be it white-sand beaches or snorkeling!
Location: Thai islands may be present in the Gulf of Thailand, or the Andaman Sea. The ones that are located in central gulf are easily reachable from the mainland. All in all, if you take our strong recommendation of island hopping, we suggest 'Ko Samui', 'Ko Tao' & 'Ko Pha Ngan'.
Suggested Read: Best Things To Do In Paris For An Exotic Experience In This French Capital
4. Treat Your Taste Buds At A Floating Market, Bangkok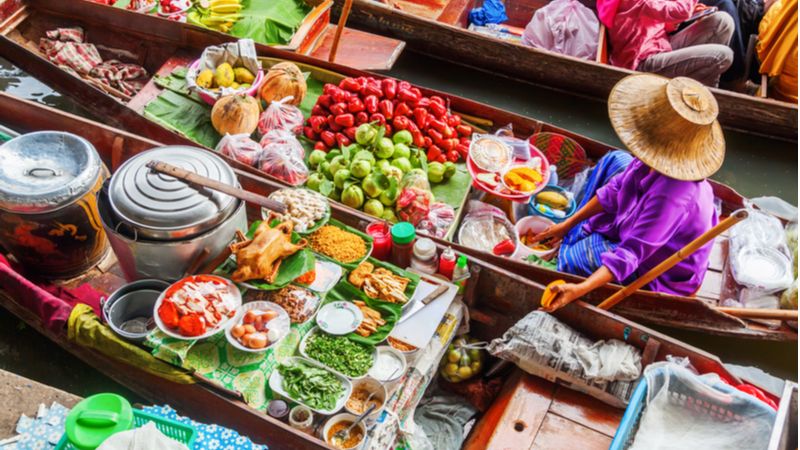 Here is yet another of the top things to do in Thailand, Bangkok, like the tour to the unmissable Grand Palace. Bangkok's floating markets form the backbone of tourist experiences in Thailand. We are sure that you must have seen them featured in television reality shows or in travel guides. If you are in a relationship with food, these colorful floating markets, selling local cuisine, coconut water & fresh fruit are the place for you, as opposed to the 'somewhat similar' gondolas of Venice! These markets are spread throughout the touristy city of Bangkok, as well as its neighboring provinces. Make a point to visit if you want to catch a glimpse of the lives of the Thai people, with these floating markets being as popular with locals as they are with foreigners. Goes without saying, don't eat before coming here!
Famous For: A taste of authentic Thai food, as well as souvenirs!
Location: As aforementioned, there are multiple floating markets. We advise experiencing 'Damnoen Saduak', the most popular of them all. Located about 95 kilometers from vibrant Bangkok, it will truly result in a well-spent weekend. Alternately, you could head to 'Khlong Lat Mayom', which is right in the city. Simply take a boat when at either of these markets.
5. Hike To The Koh Phi Phi Viewpoint, Krabi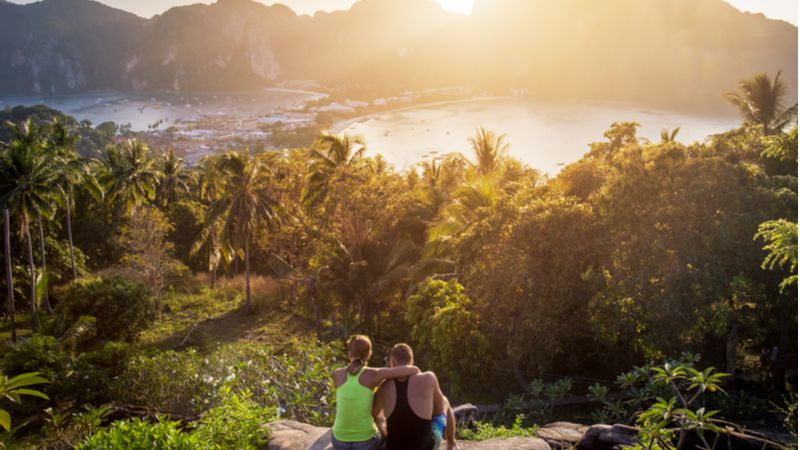 Foremost, also written as 'Ko Phi Phi' (The word 'Koh' or 'Ko' means 'island' in Thai language.), this is a chain of 'Phi Phi Islands' in the Krabi province, which we have mentioned earlier. A group of six islands, it is located between Phuket & the coast of the 'Straits of Malacca'. Arguably the most beautiful part of Southeast Asia, the lovely archipelago (Chain of islands) is a heaven—turquoise waters, sandy beaches, natural caves, towering rock formations! With so much natural charm, it is unsurprising that one of these islands, 'Ko Phi Phi Le' was the location of the Leonardi DiCaprio-starrer, The Beach. While the islands are picturesque, no matter which nook or corner you go to, for the most enchanting view, hike up to the Koh Phi Phi Viewpoint, one of the most fun things to do in Thailand! We insist!
Famous For: Koh Phi Phi Le & 'Koh Phi Phi Don', the two largest islands of the chain!
Location: While there are multiple viewpoints, we are limiting ourselves to the viewpoint of Ko Phi Phi Don, the largest island. There are a few things you ought to carry with yourselves—plenty of water (It's a half-an-hour-long trek.), insect repellent cream (Wear before you start.) & sunscreen lotion.
Suggested Read: Things To Do In Seychelles: For A Serene Getaway Into Nature's Retreat
6. Make A Prayer At Doi Sutep Temple, Chiang Mai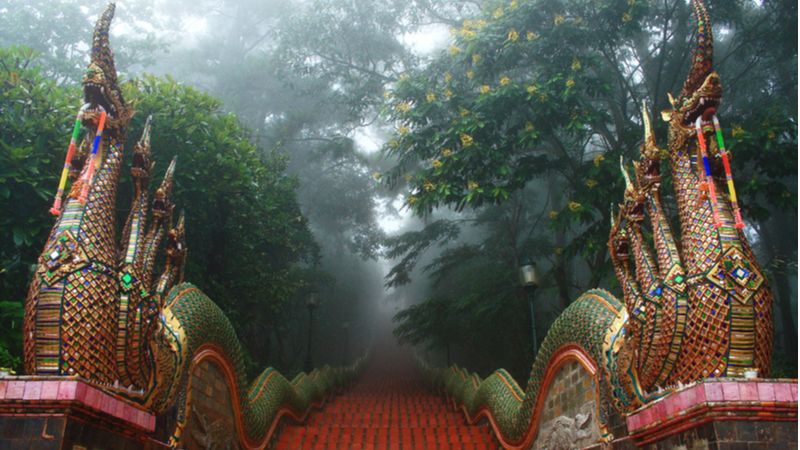 First things first, Chiang Mai (Also written as one word) is a mountainous city in a province of the same name. Chiangmai is blessed by over 300 temples, with Doi Sutep (Also written as 'Doi Suthep') being the most significant one. So much so that it is a part of life in this northern Thai city. A local saying, translated, says that you have not been to Chiang Mai if you have not sampled khao suey (A noodle & coconut milk dish) or witnessed the view from Doi Sutep. (The temple is atop a mountain of the same name.) Indeed, it is among unmissable things to do in Thailand. The most-visited of all temples here, it is of tremendous importance to Buddhists. It is one of the holiest Buddhist sites in the country.
Famous For: Impressive views of the countryside that will make for postcard-perfect clicks!
Location: To expand the above information on Doi Sutep, which has made to our list of places to visit in Thailand, you need to reach Chiang Mai first. The most convenient way to go to this land of colorful tribes is to take a train from Bangkok, which would take 12-13 hours on an average. Take a taxi from there.
7. Rock Climb At Railay/Rai Le Beach, Krabi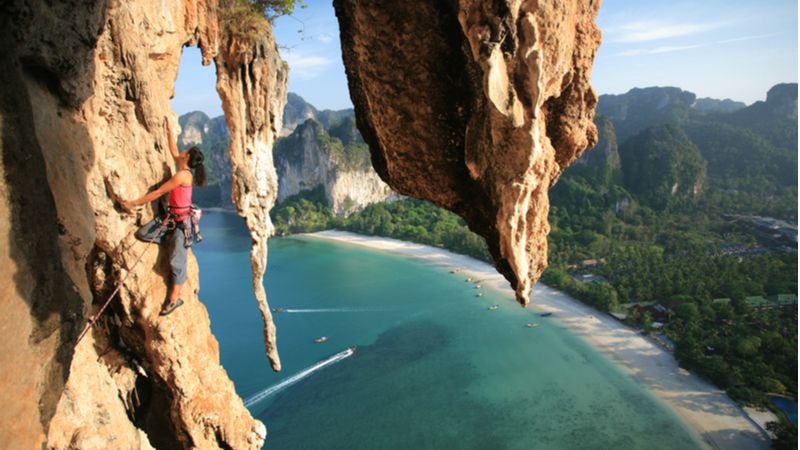 Another of top 8 things to do in Thailand, in Krabi involves the Railay Beaches & Caves. The name 'Railay Beach' is misleading though, since it is a peninsula, not a beach. In fact, it contains four beaches. With its exact location between Krabi & the resort town of 'Ao Nanag', the secluded Rai Le now features on more bucket lists than ever before. While rock climbing here is a must for those seeking adventure in Thailand, one can very well enjoy a lazy day here too, feasting their eyes upon the tranquil seashore & lying down on the white sands. Rock climbers from all over the world come to conquer the giant limestone formations here. Combined with stunning views of the sea & plenty of opportunities for 'rope climbing' as well as 'bouldering', there is little wonder that this place is a climber's paradise!
Famous For: Being Thailand's foremost rock-climbing destination! (Those who are not adventurists may want to hit other beaches in Thailand.)
Location: For one, please know that Railay Beach is only accessible through water due to blockades posed by mountainous limestone cliffs. Once you are in Krabi, any travel agent can help you with your transfer to Rai Le. You will first be taken to 'Klong Jilad' pier (Think of it as a dock.), from where you will need to board a boat.
Suggested Read: Top Places To Visit In March In The World To Experience Balmy Weather
8. Get A Sak Yant Tattoo, Ayutthaya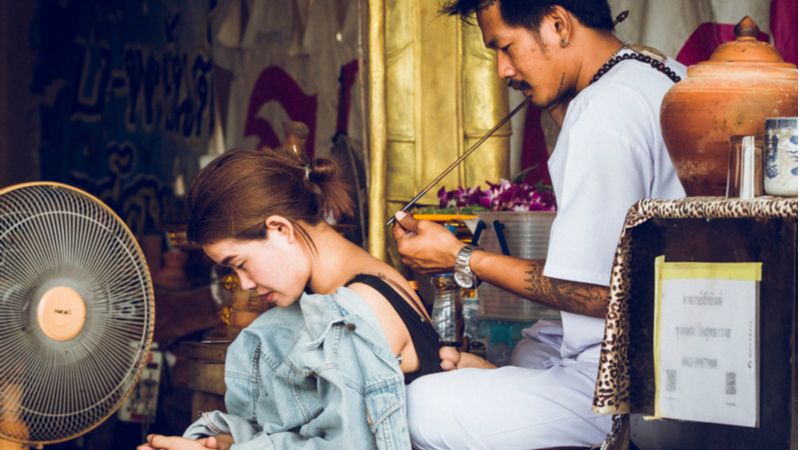 To begin on a simpler note, Ayutthaya, or 'Phra Nakhon Si Ayutthaya' is a city of historic importance in Thailand. It is located to the north of Bangkok, in a province of same name. Having discussed the location, a sak yant tattoo (Also written as 'sak yuant') is a traditional tattoo form comprising of sacred designs, done by a monk, & believed to carry magical powers for its bearer. Among the best things to do in Thailand is getting one of these—a souvenir that would stay with you for life! To elaborate on the design part, the tattoos consist of ancient geometrical shapes, blended with Buddhist prayers. Sak yuant tattoos are made using a metal rod, as opposed to a tattoo gun. While you can get one of these & be a part of a 2000-year-old practice at many places in Thailand, getting it at Ayutthaya, a UNESCO World Heritage Site, has its own charm!
Famous For: The monk decided what do you need protection from & determining an appropriate tattoo design!
Location: Ayutthaya is a city municipality located in the 'Chao Phraya' valley, with Chao Phraya being the primary river of the country. A simple way to reach is to take the BTS Skytrain from Bangkok to the 'Mo Chit' station, from where you can take a van to your destination. The van ride will take about an hour.
Suggested Read: List Of Top Hotels In Thailand That Promises A Comfy Stay
Filled with classic beaches, decorated temples, opulent palaces & well-preserved ruins, Thailand offers endless opportunities to travelers to help them live their lives to the fullest. Whether you decide to kickstart your trip by touring the Grand Palace in Bangkok, or by exploring the James Bond Island in Phuket (One of the international airports of Thailand is in Phuket.), the Land of Smiles is lined with diverse hotels, suiting every pocket. If you have been to the country, don't forget to share with us some of your favorite things to do in Thailand in the comments section at the bottom of this post!
FAQs
Q1. What should we do in Thailand?
Apart from our top picks above, you may want to visit the Similan Islands via speedboat & do snorkeling if you are looking for adventure in Thailand. For seekers of spirituality, a pilgrimage to Wat Arun/Wat Chaeng is a must.
Q2. What to do in Bangkok, Thailand?
While two of our above suggestions are for the populous city of Bangkok, assuming that you want to spend a few days there, do pay your respects at Wat Arun. Don't take a taxi to move around the city, but ride a cheaper (but more fun!) tuk-tuk instead.
Q3. What is Thailand famous for?
Thailand is known for its globally famous curries, artistic Buddha statue souvenirs, paradisiacal Phuket island, fun tuk-tuk rides & unparalleled martial arts. The list, quite frankly, could go on forever!
Q4. What is famous in Thailand to buy?
If you are planning to buy gifts for family & friends from Thailand, or simply want souvenirs for yourself, the following are great ideas:
Silk scarves
Thai silver bracelets
Thai spices
Flower-shaped soaps
Handbags woven with elephant design
Q5. Is Thailand cheap to visit?
Absolutely! Thailand is among the 10 cheapest countries in the world! For an even more economical trip, visit the Southeast Asian nation during the low season.
Q6. What should I not miss in Thailand?
Considering that this question may be interpreted in a multitude of ways, we would mention the top attractions in Thailand, based upon tourist reviews. These are,
Wat Pho
Wat Phra Kaew
Wat Arun
Big Buddha Phuket
Sanctuary of Truth
In case you are wondering, the repeatedly used term 'wat' is a Thai word, literally meaning 'enclosure'. Derived from Sanskrit, simply speaking, it is usually used for temples.
Q7. Where is the best place to vacation in Thailand?
For one, you cannot miss Bangkok, not just because it is the capital city of the country, but also since it is home to some great places to visit in Thailand, like,
Wat Pho
Wat Phra Kaew
Wat Arun
Wat Suthat
Wat Benchamabophit
With 2 of the above 8 top things to do in Thailand based in Krabi, it is another fabulous place to vacation. Let us also mention our favorite attractions in the coastal region:
Khao Khanap Nam Cave
Ko Phi Phi Lee
Ko Poda
Ko Ngai
Ko Hong
Q8. What is the best month to go to Thailand?
The best time to visit Thailand is from November to March, when it is dry & cool.
---