Egypt, the land of Pyramids is one destination for travelers looking out for a luxury vacation. With the plethora of wonders around, the cities here offer the most fascinating attractions that make Egypt your holiday destination. Discover the best places to stay in Egypt that not only boast of the dramatic beauty of art but are enclosed by the charm of nature and the magnificent man-made wonders. Drenched in its vintage and rustic look, the cities in Egypt are characterized by their own charm that hides something for every visitor. From the family tours to heritage exploration, make your visit worth and memorable by reserving the best places and their best hotels in Egypt.
Best Hotels To Stay in Cairo, Egypt
If anything can be infuriating yet magnificent and beautiful, it is the Cairo city of Egypt. Adorned by the high raising miniates, the echo of muezzins' and the symphonies of the city chaos, the Cairo city is one fascination destination, perfect for your vacation stay in Egypt. The capital city, housing more than 17 million of the population and plethora of culture is a tourist hub where one can reserve the ideal accommodation for a break.
The Nile Ritz-Carlton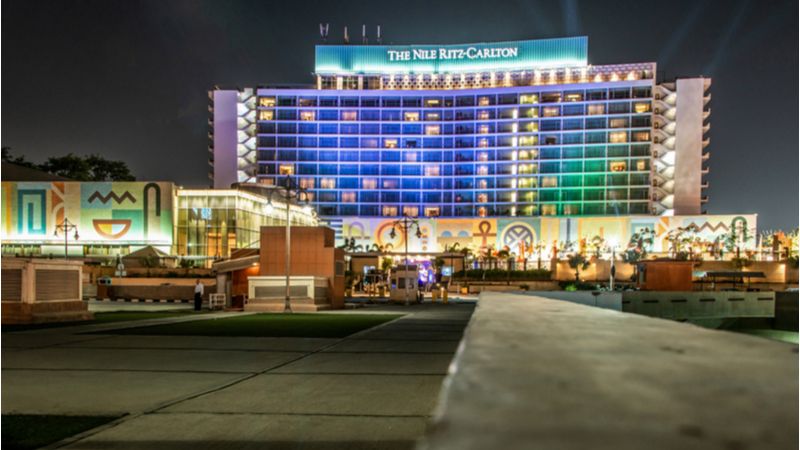 Beholding the richness of heritage, culture and art of Cairo, Egypt the Nile Ritz-Carlton is one iconic hotel that proffers luxury. Set elegantly to overlook the gratifying view of Nile River, this property is a quintessential pick for every business traveler or family leisure.
Promising a world-class service and hospitality, the Ritz-Carlton at Cairo pampers its guests with fully furnished spacious suites, facilities like spa and gym, a fancy dining area and pool. The 331 equipped rooms include 5o suites, lending you a wide range option for reserving your accommodation in Egypt.
Here recreation comes in every step, especially when it comes to redefining your savoury experience with fine dining. Restaurants here features open seating in the green space that even opens up to a view of Nile, serving you the taste of seafood, Egyptian delicacies and international cuisines.
Location: 1113 Corniche El Nil, Cairo
Official website: www.ritzcarlton.com
Hotel Ratings: 5star
Nearest International Airport: Cairo International Airport is at a distance of 17.4 km.
Kempinski Nile Hotel
Lying close to the best attraction in Egypt, in the center of the Cairo city, the Kempinski Nile Hotel is an example of luxury defined in elegance. Featuring as one of the best chains of hotels in Egypt, the Kempinski welcomes the guest with utmost warmth and hospitality to make their time worth-a-while.
The 133 rooms of the hotel are spacious, overlooking the breathtaking serenity of Cairo. Indulged yourself with an exceptional boutique experience of the room that not only features amenities but a design that makes it a luxury to the next level. While, you will have room categorized on the base of facilities and preference, each of the room and suite here traits of marble flooring, exquisite furnishing and contemporary décor.
Cairo, being the best city to stay in Egypt, has lined up the finest eatery in Kempinski Nile hotel where one can relish the taste of Italian cuisines and Ottoman dishes. Don't forget to unwind your leisure experience here with spa and gym facility.
Location: 12 Ahmed Ragheb Street, Qasr El Dubara, Muḩāfaz̧at al Qāhirah
Official Website: www.kempinski.com
Hotel Ratings: 5 stars
Nearest International Airport: Cairo International Airport at a distance of 18 km.
Suggested Read: Best Places To Celebrate New Year In The USA
Sheraton Cairo Hotel & Casino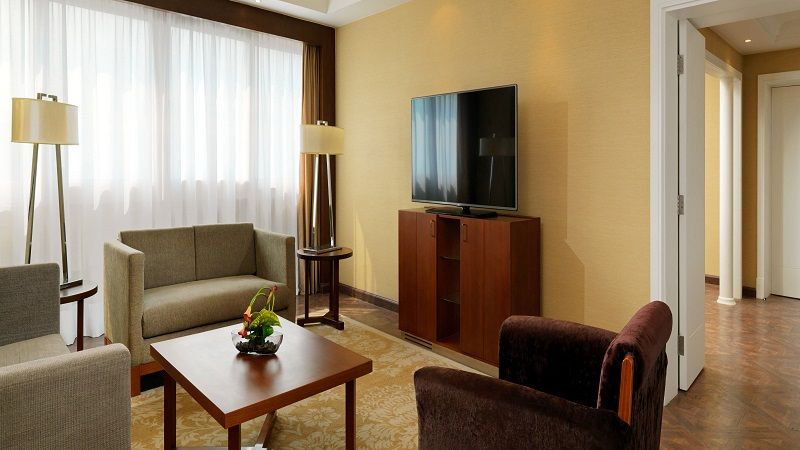 Lying close to the Nile Riverbank, the Sheraton Cairo Hotel & Casino is a modernized property that is designed with a touch of Egyptian art. Laced with luxury facilities and exciting features, this premium accommodation in Egypt is perfect for those who are looking for leisure satiation.
Choose from the room categories that are offered here to the guest based on preference and services. Most of the spacious room here comes with a separate balcony and scenic landscape of Cairo city. With the amenities and complimentary services, the Sheraton Cairo Hotel & Casino is one of the most reliable destination to stay in Egypt.
Dining and leisure here come as an expectational vacation experience while the spa service is there for every gest to rejuvenate and relax during the break. El Mawardia, Rawi and the Giannini are the three-fine dining eateries here that serve the traditional and continental cuisines in its chick and elegant ambience.
Location: Galae Square, Cairo, GZ
Official website: www.marriott.com
Hotel Ratings: 5 stars
Nearest International Airport: Cairo International Airport at a distance of 18.8 km.
Best Hotels To Stay In Luxor, Egypt
Luxor, with its grandeur of natural beauty, monuments and historical amusement is right called the Open-air museum. Resting close to the Nile river amidst the modernized city, Luxor is embraced by the beauty of temples and tombs. Referred to as the scenic attraction, this is one of the best areas to stay in Egypt during vacation. Find out some of the best luxury hotels here to experience leisure at its best.
Jolie Ville Resort & Spa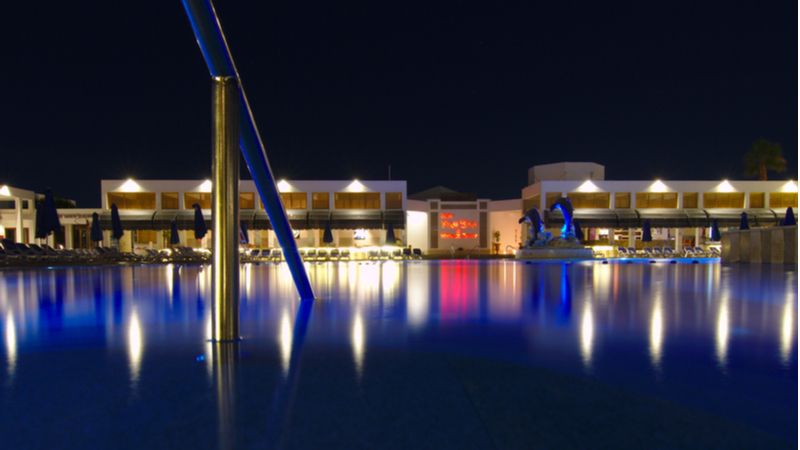 Unblemished in luxury and tranquility, the Jolie Ville Resort & Spa is one of the best accommodation options in the Luxor city of Egypt. Nestled in the Kings Island, this oasis property is enclosed within a scenic area of 150 acres, where there are gardens that overlook the Nile River. While the land is a paradise with a surplus of wilderness, the luxury resort of Egypt is a scenic gateway for a rejuvenating holiday.
The suites and room offered by the Jolie Ville resort are furnished and equipped with amenities to deliver a home-like feel. Choose from the varied option among the 507 rooms that include 10 Executive Suites, 178 standard rooms, 211 superior deluxe rooms, 95 deluxe rooms, 11 Jolie Suites, 2 Royal Suites and 3 Royal Villas. Each accommodating room here opens up to the view of gardens and the River Nile. Discover the excellence of facilities with dining and spa that is offered, at this best hotel in Egypt.
Location: Awameya Road, Kings Island, Luxor, Luxor Governorate
Official website: http://www.jolievilleluxor.com/home
Hotel Ratings: 5 stars
Nearest International Airport: Luxor International Airport at a distance of 7.7 km.
Hilton Luxor Resort & Spa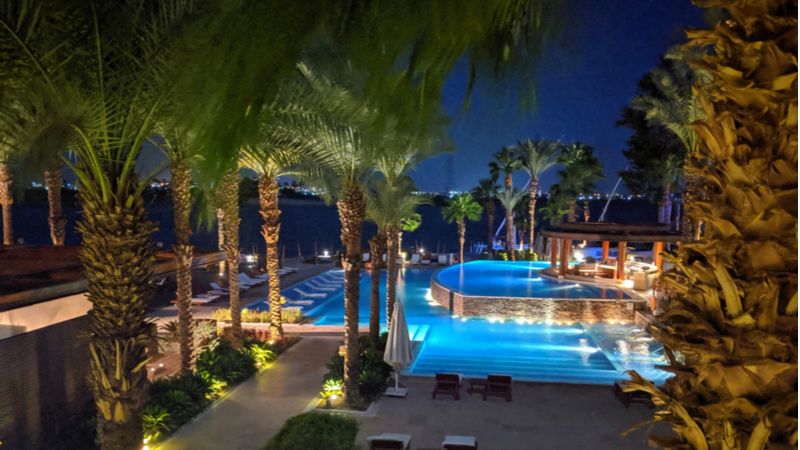 Discover Egypt with the premium accommodating property of Luxor at Hilton Luxor Resort and Spa. With a quick distance from the international hotel, the resort is aa quick escape to experience leisure and luxury. The luxury resort of Egypt is adorned with the most vibrant hues, where each room is decorated elegantly with contemporary and subtle interiors.
While the rooms of Hilton Luxor Resort exhibit cosy and comfy interiors, the facilities here are premium and up-class. Get a free WIFI during the stay while the cafes here are known for a delightful taste of international cuisine. Pamper yourself in the spacious pool while enjoying the leisure with the sap service offer to every guest. With four bars, pool and fitness and gym center, this accommodation in Egypt, Luxor add on an indulgent experience to the boutique stay.
Location: El Karnak El Gadid St., Luxor, Luxor Governorate
Official website: https://ar.hilton.com/en_ar/
Hotel Ratings: 5 stars
Nearest international Airport: Luxor International Airport at a distance of 7.6 km.
Sofitel Winter Palace Hotel, Luxor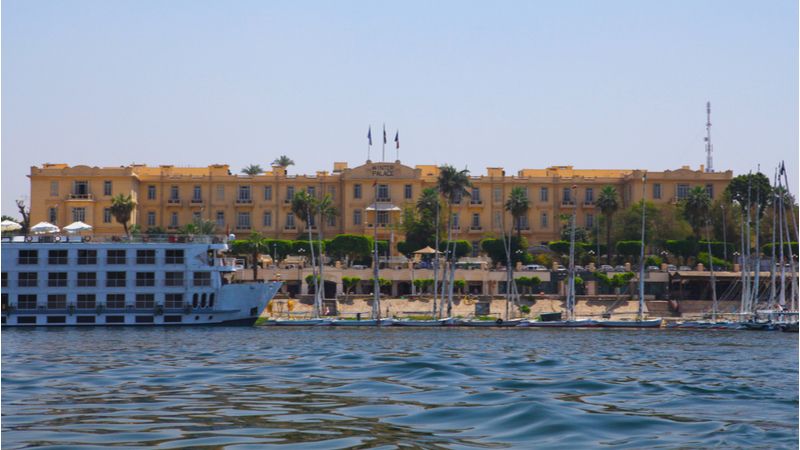 Elegantly set close to the bank of River Nile, the Sofitel Winter Palace, Luxor is one of the luxury properties offering a stay in this beautiful city of Egypt. With its Victorian style of architecture, the hotel offers an imperial experience of leisure and comfort in its sophisticatedly designed rooms.
The Sofitel Winter Palace hotel of Luxor lying in the core of Luxor city is close to the major attractions like markets and the Medamud Temple. 92 well furnished rooms are equipped with amenities to lend you a homely feel. The facilities like mini bar, private bathroom and toiletries, TV and satellite channels makes it a famous place to stay in Egypt.
Entertainment comes complimentary with your stay as the Palace hotel has a perfect dining area, café and bar to make your stay relaxing. With facilities like night clubs and library, this place is an ideal accommodation option for every traveler.
Suggested Read: Best Places In The World To Celebrate New Year
Best Hotels In Egypt Near Pyramids Of Giza
Giza is the third-largest city and one of the most beautiful destinations of Egypt to explore. The city is a home for the ancient Pyramids, the Giza Plateau, temples and history that makes it a wonder for tourists. Lying next to the western bank of Nile and towards the South West of Cairo city, Giza houses some magnificent accommodation option for your stay in Egypt.
Grand Pyramids Hotel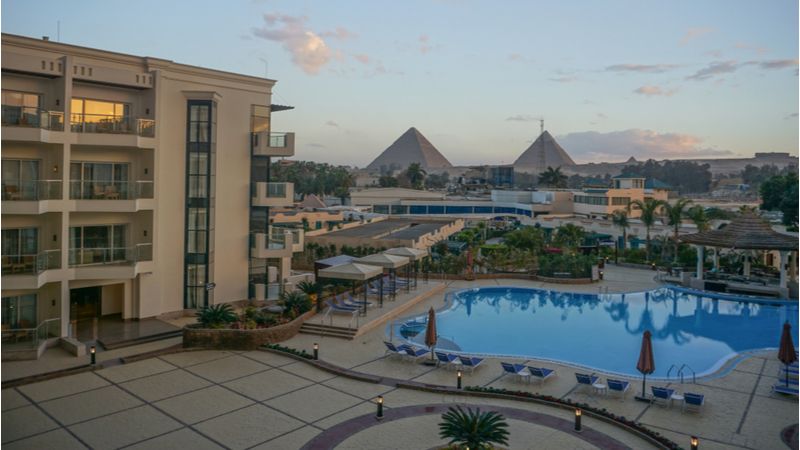 With the lush green gardens and the scenic landscape around, the Grand Pyramid Hotel close tp the Giza Pyramids is one spectacular property to witness the sublime beauty of Egypt. The spacious premises of this Grand Pyramid hotel houses three swimming pools and offer rejuvenating service like the spa and sauna, making the hospitality worth your time and money.
Rooms here are fully air-conditioned while amenities like exquisite furnishing and TV, DVD, toiletries etc. Each of the appointed 239 rooms has a separate balcony that overlooks the city of Giza, opening up to the landscape of Giza Pyramids, making it the best hotels in Egypt, Cairo. Special arrangements are allotted for business travelers, family tours and couples to make their stay memorable.
Dining here offers a classic and zestful experience where you can taste the cuisines from every corner of the world, blending with the authenticity of Egypt. The hotel offers three dining outlets where you can pick from international cuisines and traditional dishes.
Location: 53 Studio Misr Road Mariottia Pyramids, Giza, Cairo, Egypt
Official website: http://grandpyramidshotel.com/
Hotel Ratings: 4 stars
Nearest International airport: Cairo International Airport is at a distance of 27.4 km
Steigenberger Pyramids Cairo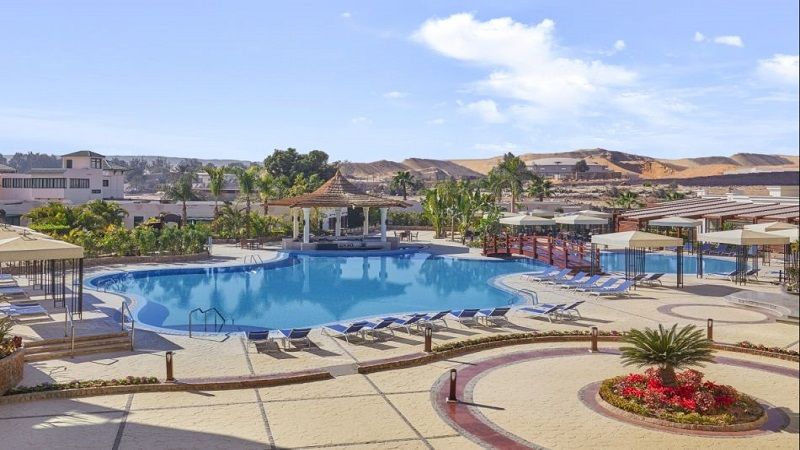 The Steigenberger Pyramids Cairo is one luxury property that is an absolute place to stay for vacation in Egypt while embracing its pristine magnificence. With a closer distance to the Great Pyramids of Giza, this accommodation here is the best choice you can elect to spend your holidays in the Greater Cairo region. The attractions like New Egyptian Grand Museum and Great Sphinx are at an accessible distance that makes the place, a perfect staycation.
Reserve your night-stay any of the well-furnished room that overlooks either the pool area or the Pyramids. Ensuring complete comfort and a homely feel, the Steigenberger Pyramids Cairo hotel aids services like 24-hour help desk and free WIFI service. Here the rooms include everything for your ease,  from the beddings, furniture, TV and DVD players etc., adding on more comfort to your stay.
This best hotel in Egypt features a fine dining option along with buffet breakfast. There are restaurants and bars that not just offers a portion of great food, but a great ambience as well.
Location: Alexandria Road, Pyramids, Giza, 45345 Cairo, Egypt
Official website: https://www.steigenberger.com/
Hotel Ratings: 5 stars
Nearest International airport: Sphinx International Airport is at a distance of 26.6 km.
Cairo Pyramids Hotel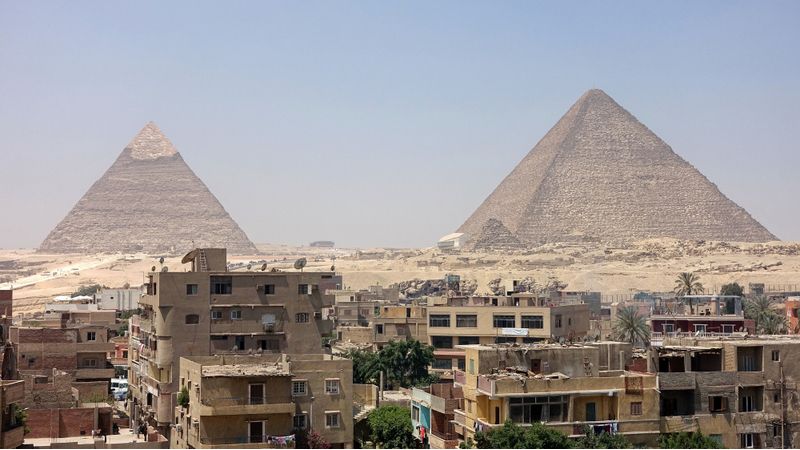 The Cairo Pyramids Hotel Mena House near Giza in Cario is one property you can choose for a family vacation in Egypt. Set in the scenic landscape, the hotel overlooks the magnificent panorama and the pyramids. The entire property exhibits the art and architecture of Egypt in its interiors, making in one piece of art.
This hotel in Egypt near the pyramids has added more to its service with pools and sauna, spa ad gym. Every room of the hotel here is furnished elegantly with facilities like TV, Hairdryer, air conditioning and every amenity you need for a leisure stay. The spacious suites allow enough room for a family to stay with ease and comfort.
Location: 01 Cairo - Alexandria Road, Giza, Cairo, Egypt
Official Website: http://cairopyramidshotel.com-cairo.com/
Hotel Ratings: 5 Stars
Nearest International Airport: Sphinx International Airport at a distance of 26.2 km
Best Hotels For Stay In Aswan, Egypt
A very relaxed Town that is known for its friendly people and heartwarming hospitality, Aswan is one best place to stay in Egypt. Nestled towards the southernmost end of Egypt, Azwan is adorned by the monuments, temples or Philae and Kabasha. Being a center for travelers the town has listed the best family hotels you can reserve for your visit.
Suggested Read: New Year Eve 2021 in Dubai UAE
Sofitel Legend Old Cataract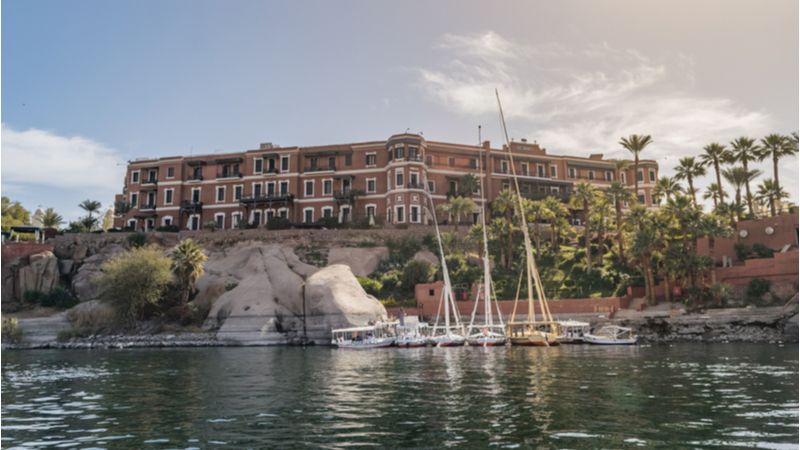 The Sofitel Legend Old Cataract is one luxury hotel in Aswan that takes you close to the major tourist attractions of Egypt. With a unique touch of Victorian art, the hotels feature an elegant style when it comes to interiors. With its closer distance to attractions like Elephantine Inland and the Nubian Desert, the property stands as one best accommodation in Egypt.
The suites here are spacious, offering facilities like private bathrooms, wooden furnishing and amenities like air conditioning. Setting an example for luxury that comes with comfort, the property has listed rooms that are categorized by the facilities, interiors and capacity. There is an indoor and an outdoor pool where one can spend the leisure time during your holiday stay in Egypt.
Dive into the culinary bliss with the authentic dishes served here with a classic ambience. The Terrace café, overlooking the Egyptian skyline is one fine eatery here where you can relish the taste of Egypt and other international delicacies.
Location: Abtal El Tahrir Street, 99999 Aswan, Egypt
Official Website: https://all.accor.com/
Hotel Ratings: 5 stars
Nearest International Airport: Aswan International Airport at a distance of 14.8 km.
Picking up the best accommodation that features comfort and world-class service, book your hotels in Egypt to make your travel easy. Being a country of fascinating art and heritage, Egypt has some enchanting attraction that you can add to your bucket list. Discover the history and the facts while you chose to stay in the best-picked places of Egypt. With the beauty of the Giza Pyramids and Plateau to the craftily built temples, Egypt has framed itself to one-stop for every traveler around. So, if you are planning a vacation in this land of amusements, make sure you add the mentioned places to stay in Egypt, to your bucket list for a lifelong experience.
FAQ's
Q1) What are the best places to visit in Egypt?
Cairo
Giza Pyramids
Valley of the Kings
Alexandria
Q2) Which is the best city to stay in Egypt?
Cairo is the best city to stay in Egypt because there are endless accommodation option and attraction. The Giza Pyramids and Plateau lie at a shorter distance, making it a top city in every traveler's list.
Q3) How far is Giza Pyramids from the city center of Cairo?
The road distance between Cairo and Giza is 22 Km. Driving is one of the shortest and most convenient ways to reach the attraction.
Q4) What are the best hotels in Egypt for families?
Kempinski Nile Hotel
Sofitel Winter Palace Luxor
Hilton Luxor Resort and Spa
Steigenberger Pyramids Cairo
Q5) Is there any international airport in Aswan?
The Aswan International airport or also known as Daraw Airport is an international airport that lies16 km towards the southwest of Aswan.
---