Oman is a land of culture and heritage where there is a plethora of historical sites to explore. Talking of tradition and heritage, shopping in Oman is another fascinating activity you can try for some fun and a cultural experience. While there are many malls and shopping complexes where there are thousands of brands and fancy outfits displayed to suit your style, something authentic and traditional can never go out of fashion. There are streets that house Souq and old markets selling the best souvenir that you can take back home from your holidays.
The Best Traditional Markets And Souq in Oman For Shopping
Looking out for the places that sell some of the best antiques and handicrafts in Oman. Here is a list of some of the best shopping places you can visit to buy the best art and craft from Oman.
1. Nizwa Souq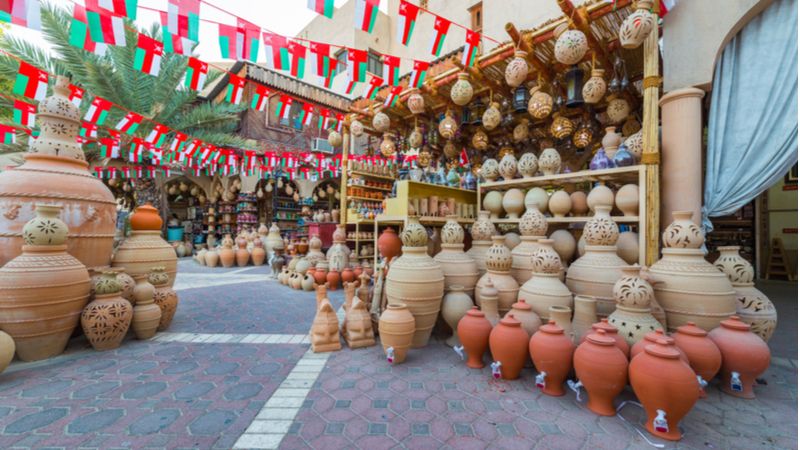 Nizwa, a city in Oman is best known for the souvenirs like handicrafts and other antiques. Nizwa Souq is the oldest marketplace and one the best place for Oman shopping that is nestled in the province of Nizwa Fort. From authentic Oman textiles to the jeweler and other hardware items, this is the best place where you can get an affordable rate for all your desired accessories. The street here has vast options to shop pottery, dates, and even fresh fruits.
Adding to its design the Nizwa Souq flaunts its vintage and rustic charm, where there are old architectures, traditionally built houses, and shops that are dating back hundreds of years. The scattered vegetation of palms even makes it just a wonderful Arabian city in Oman. Apart from the antiques and décor items, Nizwa Souq conducts a weekly market for cattle and goats on Friday. You can see trading for livelihood and get a glimpse of this old heritage of Oman.
Opening Hours:
Saturday to Thursday: 9 AM to 4 PM
Friday: 8 AM to 11 AM
Location: Nizwa City Center, Next to Nizwa Fort, Nizwa
2. Muttrah Souq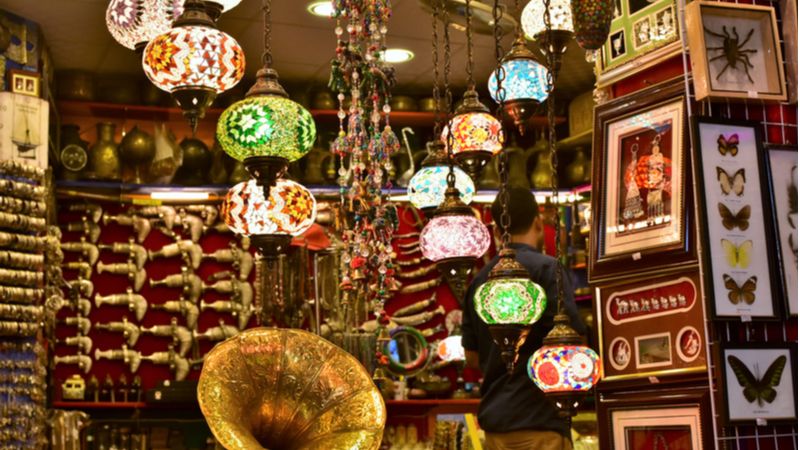 The old traditional marketplace, where you can get the best list of things to buy in Oman, Muttrah Souq is worth visit when it's about shopping. Even if it's not about shopping, the place is among the best attractions in Oman you can add to your itinerary. The vivacious streets, with all the old shops, and some antique or traditional goods, make it a fascinating place where you can stroll for the whole day. The Omani jewelry and the handicrafts made of wood, are the specialty that you must buy as a souvenir. You can see the potters crafting some of the best pottery while the Arabian perfumes spread their magical aroma in the air.
Even known as the "Market of Darkness" the Souq is a maze where the sunlight is blocked by the small alleys and it is quite possible for you to get lost in those small narrow lanes.
Opening Hours:
Monday to Thursday: 8:00 am to 1:00 pm
Friday: 5:00 pm to 9:00 pm
Sat and Sun: 8:00 am to 1:00 pm
Location: 8 Street 125, Mutrah, Muscat
Suggested Read: Shopping In Qatar: Top Things To Buy
3. Al Husn/Haffa Souq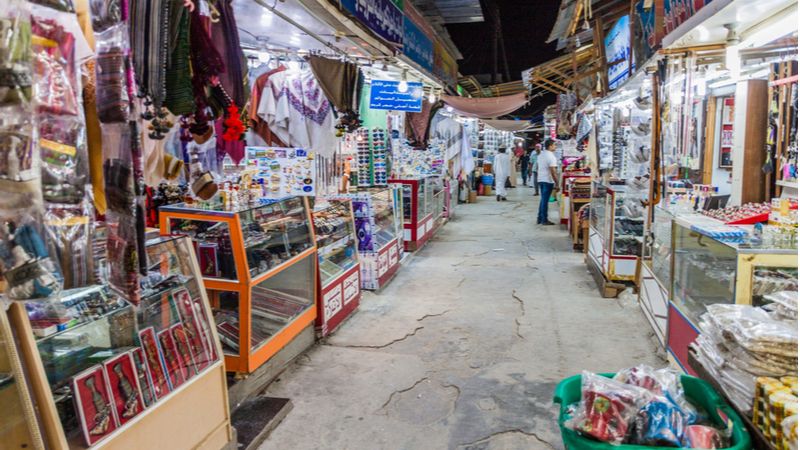 Located just close to the beachfront of Sultan Qaboos, the Al Husn Souq is one of the best shopping places in Oman for some traditional shopping. While there are quite small shops that are arranged along the pedestrian, you can still get the best clothing and accessories to buy. Ditching those fancy Malls in Oman, Al Husn Souq or Haffa Souq is just a perfect spot where you can get your hands on attar, frankincense, bukhoor, and other local items. Al Husn is popularly known for the collection of frankincense as najdi, hawjari, sha'abi, and shazri.
If you want to experience the real beauty of this traditional souq, plan your visit at night when the entire area is illuminated with the lights. The traditional Dallah, or coffee pots, turbans, essential oils, and cosmetics are some of the best things you can buy. The Al Husn Souq also has some best gold shops in Oman with every intricate jeweler you need to buy.
Opening Hours: Sunday - Saturday: 9 AM to 11 PM
Location: Al Husn Souq, Sultan Qaboos Street, Salalah 211
4. Omani Heritage Gallery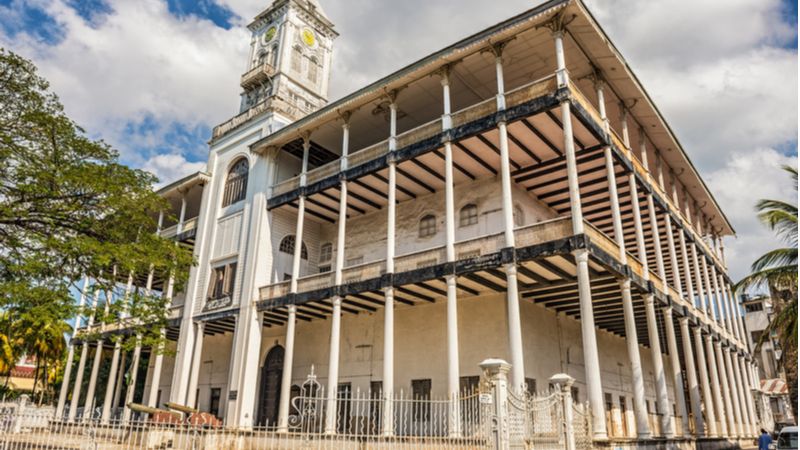 A non-profit organization, Omani Heritage gallery is the best Oman shopping place where you can get the best collection of art and handicraft. Promoting the local artists in Oman, taking a tour of the gallery is the best thing to do in Oman. Keeping the art and heritage alive, the collection here includes artifacts, sculptures, weaves, paintings, and more. You can explore the gallery to admire the skills and precious heritage of Oman that resides in every corner of this Oman Heritage Gallery.
Even if you find the place, a bit expensive, you are getting quality in return. While every item displayed here is original and of utmost quality, they make a great survivor to take back home as a gift from Oman. Handbags, wallets, home décor, jewelry, and other items as bookmarks and embroidered items are some of the best things to buy in Oman from this Omani heritage gallery.
Opening Hours: Saturday to Thursday: 10 AM to 8 PM
Location: Jawharat Al Shatti Shopping Center, Muscat
Suggested Read: Top Markets For Shopping In Bahrain To Choose From
Souvenirs To Buy From The Best Shopping Places In Oman
Oman offers the best art and handicraft when it comes to shopping. Now when you know the best marketplaces and Souq to visit, here is a list of things you can buy as a gift for your family or friends from Oman.
1. Pottery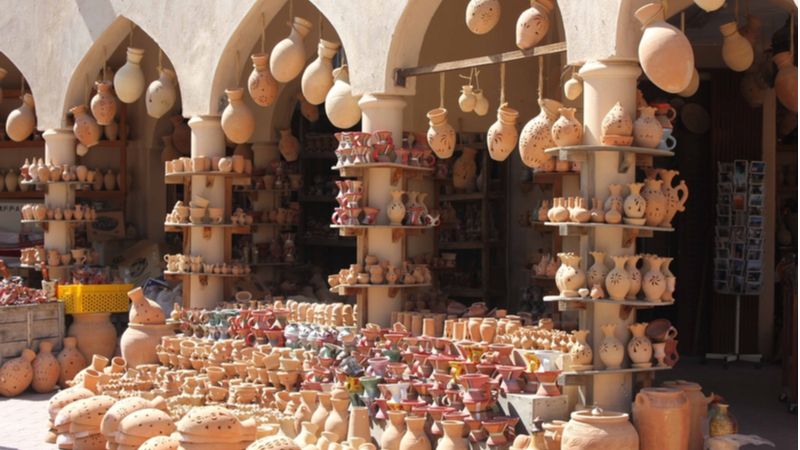 Most of the Souq in Oman have the best collection of pottery that includes utensils, traditionally designed cups, and more. Pottery has always been a part of Omani culture, be it for decorating homes or as their storage units. Earlier, the people of Oman used to store grains, or carry water, make Frankincense burner and other items of utility with pottery.
Even today, you will find a number of shops selling some beautifully made pottery pieces that are further decorated with beautiful colors. You can get some tea-light holders or other decorative items.
Where to Buy: Bahla and Muttrah Souq Oman
Suggested Read: Best Oman Hotels For A Joyous Stay
2. Frankincense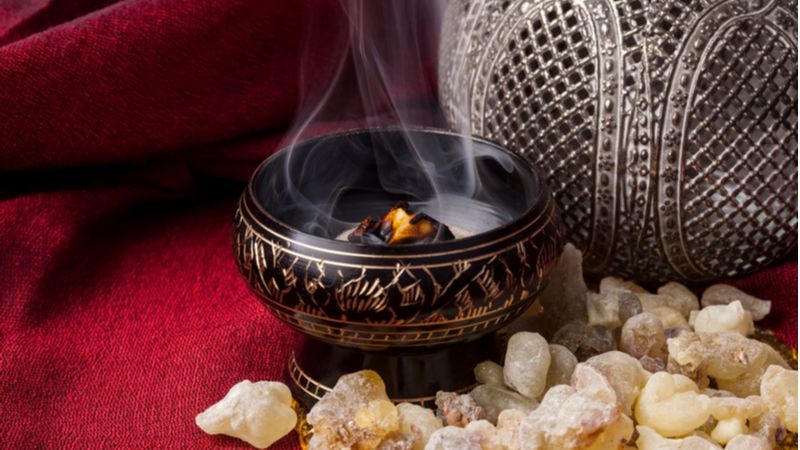 Frankincense is the best thing to buy in Oman. You can find a vast collection of Frankincense being sold in almost every traditional marketplace. Digging back to the history of Oman, Frankincense has been a part of Omani culture for a very long time. These were used as aromatic incenses, essential oils, and as a therapeutic remedy. Earlier in times, they were used as a prestigious gift given to kings.
Frankincense is made from the bark of the Boswellia tree. When burnt, the bark produces a very pleasant aroma. With ample healing properties, this is a treasure that is used widely in the country.
Where to buy: Nizwa Souq Oman
3. Silver Craft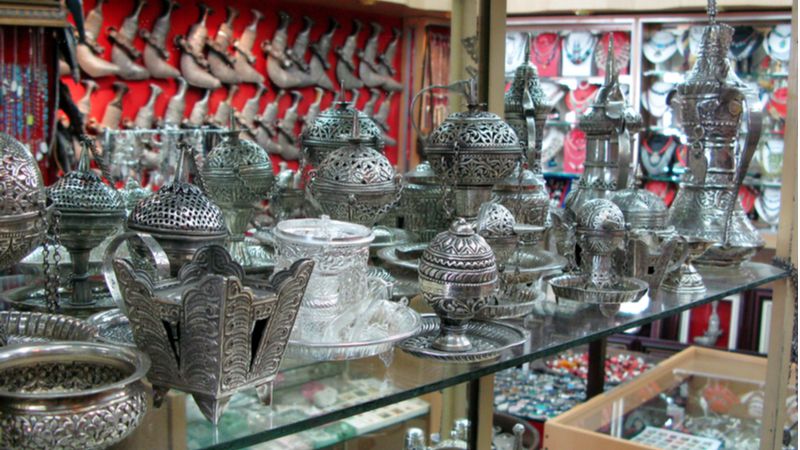 There are many silver and gold shops in Oman, but silver crafts and pieces of jewelry are the most popular things you can get by shopping. The quality of silver is found in Oman as compared with the other attractions in the Middle East and Arab. The small bottles of perfumes and the jewelry box, the incenses burner and other silver items can be easily found here at many Souq.
Look out for the quality of art that decorates these handmade silver craft items. Most of the inscriptions are inspired by Islamic design and calligraphy. You can get silver decor items and silverware with a day of Oman Shopping.
Where to buy: Nizwa Souq and Muttrah Souq
Suggested Read: Best Oman Beaches: An Expedition To Serenity Away From The Humdrum Of Cities
4. Omani Clothes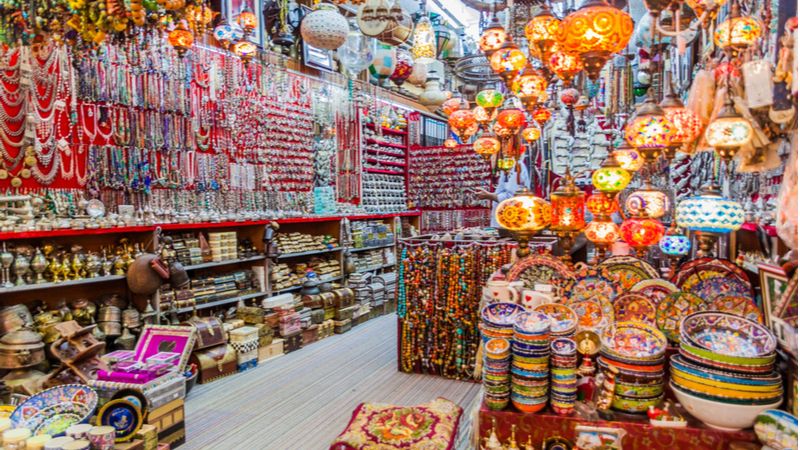 Traditional clothes make a great souvenir, and when we talk about Omani clothes, the vibrant colors, and the unique design make it a completely different fashion for the tourists. The traditional clothing of Oman is unique and quite appealing. Men mostly wear deshdasha that is a white colored long piece of cloth. They carry the khanjar and kummah to complete their traditional look. Women here are mostly seen in colorful traditional clothes with a matching or contrasting colour. They even carry a black abbay on the top that you can easily get from any Souq in Oman.
Many old and new markets, and the best malls in Muscat and other parts of Oman are selling traditional clothing that you can take back as a memorable souvenir from the country.
Where to buy: Muttrah Souq, Muscat
The authentic and traditional beauty in Oman can be experienced well at the marketplaces and old Souq. Shopping in Oman is surely the best experience you will ever get as the vibrant markets and the quality of art and crafts displayed is indescribable. From the home decors to the art, sculptures, jewelry, and clothing, you can make a vast list of things you want to buy as a memorable present from your Oman holiday. Now, as you know the best shopping places, the best markets and the best item you should get, boom flights to Oman and bring back the most valuable souvenir.
FAQs
Q1. What are the best things I can buy from Oman?
Oman is best known for its craft and traditional values. If you are looking for the best things to buy in Oman, you can get:
Pottery art
Silver Accessories
Perfumes
Clothes
frankincense
Q2. Is there any Souq in Oman?
Yes, Oman, like any other Arabian country houses old traditional markets called Souq. The best Souq for Oman Shopping are:
Nizwa Souq
Muttrah Souq
Al Husn Souq
Q3. Why is frankincense so widely sold in Oman?
The use of frankincense in Oman is since they were used as royal gifts to the kings. The yellow seeds are used because of their therapeutic property.
Q4. How do Omani people dress up traditionally?
A traditional dress of Oman includes deshdasha, khanjar, and the kummah for men. Women wear dresses with scarves and a black abaya.
Q5. Which is the most famous craft in Oman?
Silbercraft and Pottery is the oldest craft that is prevailing till now in Oman. Almost every Souq in Oman sells the best pottery materials like utensils, traditional cups, and more.
Q6. Can I get silver from Oman?
Yes, Oman is known to have the best quality of silver among other Arab nations. There are silver decors and jewelry easily available to buy.
Q7. Which is the best souvenir I can buy from Oman?
If you are looking for some of the best things to buy from Oman, you can take back the traditional clothes. The vibrant attires with jewelry make the best gift.
Q8. Where is the Omani Heritage gallery?
The Omani Heritage Gallery is located in Jawharat Al Shatti Shopping Center, in Muscat. It is an NGO that is established to promote local art and artists.
---