Experience romance and the most intimate beauty of architecture with the best places to visit in Paris. Being one of the most beautiful destinations to explore, Paris adorns the dazzling skyline, the liveliest city life and iconic attraction, making it one-stop destination for vacationers. As you wander in the vibrant streets of Paris, you will have a magnificent sight of museums, the palaces, monuments that define history. While the vintage aura of Paris has made the city a dreamland, there are fancy and boutique cafes and restaurants adding to its mystic vibes. The metropolises glimpse of malls and shopping places give visitors the best time for the holiday seasons.
Top 21 Attractions In Paris To Visit For The Best Holiday Experience
Paris is the top listed attraction in France and the most visited holiday destination where you can spend the most luxuriating vacation. Here the best interests you can explore as a tourist for the unique experience.
1. Eiffel Tower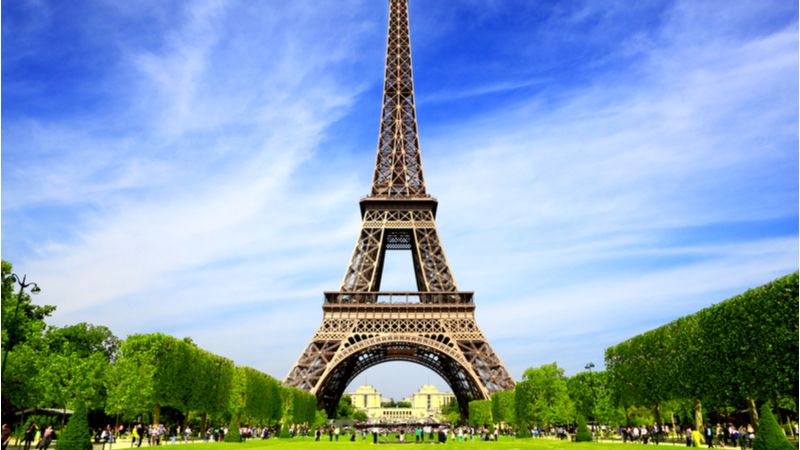 What makes Paris so popular among the destination is the famous Eiffel Tower. The tall, excellently built structure is among the best Paris tourist attractions where one can discover art and architecture excellence. Being the tallest building in Paris, this tower boasts restaurants and shopping space in the first two floors. The tower is measured to a height of 1063 feet where there are three levels open for the general public. Apart from being the best tourist attractions in Paris, the city of France, the Effie Tower is also one of the iconic attractions in the world.
Location: Champ de Mars, Paris
Timings:  
June to September: 9 am to 12 am
October to May: 9:30 am to 11:30 pm
Entry Fee:  
Adults above 25 years of age: 7 euros (11 euros with elevator access)
From 12 to 24 years: 5 euros (8.50 euros with elevator access)
Kids from 4 to 11 years of age: 3 euros (4 euros with elevator access)
Built-In: 1889
Built By: Gustave Eiffel (architect)
Suggested Read: Places To Visit In The United Kingdom: Discovering The Best Attraction For Your Vacations
2. Versailles Palace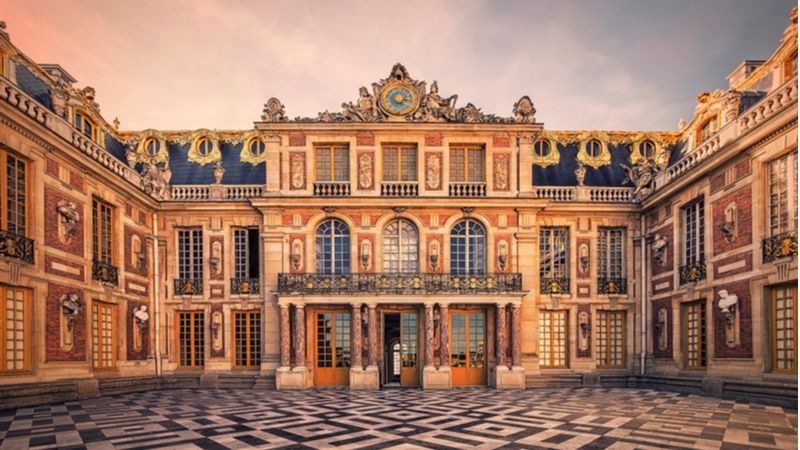 The Versailles palace is listed among the best places to see in Paris and the world's largest castles, you can add to your bucket list. The Versailles palace houses gardens with the most magnificent statues and flora, the fountains and pathway. There are more than 700 rooms that you can even reserve for a romantic stay at this best honeymoon destination in Europe. The palace is decorated elegantly with the most expensive art and artefacts, the exotic decor and elements, making it one fine addition as an attraction in Paris. Tours are organized for visitors to learn and discover the history and significance of this fascinating palace.
Location: Palace of Versailles, Paris
Timings:  
April to October: 9:00 a.m. to 6:30 p.m.
November to March: 9:00 a.m. to 6:00 p.m.
Entry Fee: The entry ticket depends on the available packages.
Built-In: 1624
Built By: Louis XIII
3. The Louvre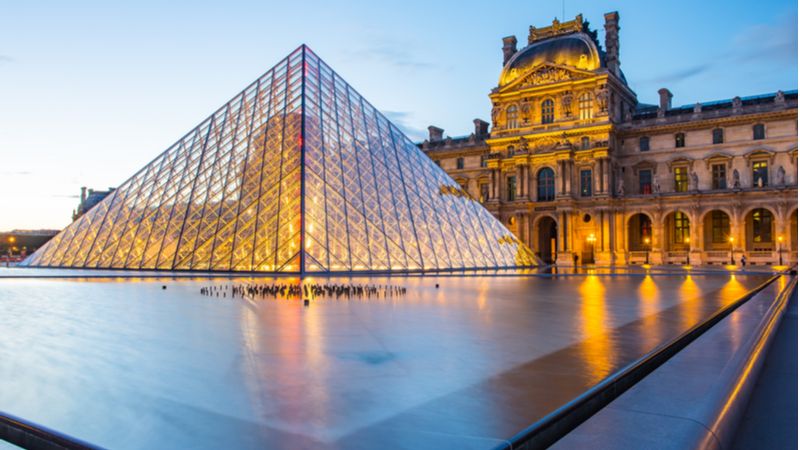 The Louvre, one of the best things to see in Paris is nothing lesser than a personified museum that spreads its boundary to an area of 21,000 hectares. This museum attracts travelers to discover the vast collection of artefacts and ancient elements like the Egyptian antiquities, Islam art, paintings from Rome and Greek, and other graphics collected from almost every corner of the globe. These unique collections are divided into eight units dedicated to each of its respective categories. It is also claimed that one needs 100 days to explore every accessory of the Louvre that makes it one of the top Paris attractions.
Location: The Louvre Museum, Rue de Rivoli, Paris
Timings:
Monday, Thursday, Saturday and Sunday: 9.00 am to 6.00 pm
Wednesday and Friday: 9.00 am to 9.45 pm
Entry Fee: 15.00 Euros to 17.00  Euros
Famous For: Egyptian Antiquities; Eastern Antiquities; Greek, Etruscan and Roman Antiquities; Islamic Art; Sculpture; Decorative Arts; Paintings; Prints and Drawings
Suggested Read: Best Places To Visit In The USA Which Should Be In Every Traveler's Bucket List
4. Arc de Triomphe de l'Étoile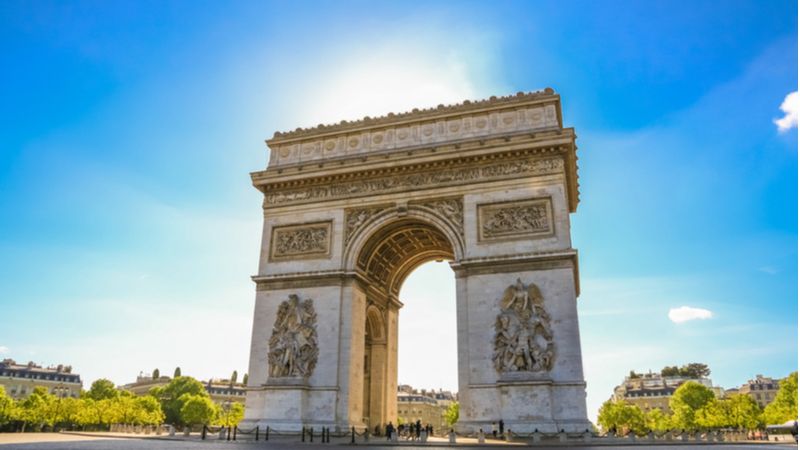 The Arc De Triomphe is a massive arch structure that is one of the best places to visit Paris for tourists in the city. The system was built to honor the army in the 19th century and today is one of the most visited attractions for tourist across the globe. History states that the Arc De Triomphe was built in 30 years and the construction was started on 15th August 1806. This fascinating structure was complete by 1836 and later became France's national identity and one of the best things to see in Paris.
Location: Place Charles de Gaulle, Paris
Timings:
April to September: 10 am to 11 pm
October to March: 10 am to 10:30 pm
Entry Fee: 11.17 Euros
Built In: 1806
Built By: Jean Chalgrin (architect)
5. Seine River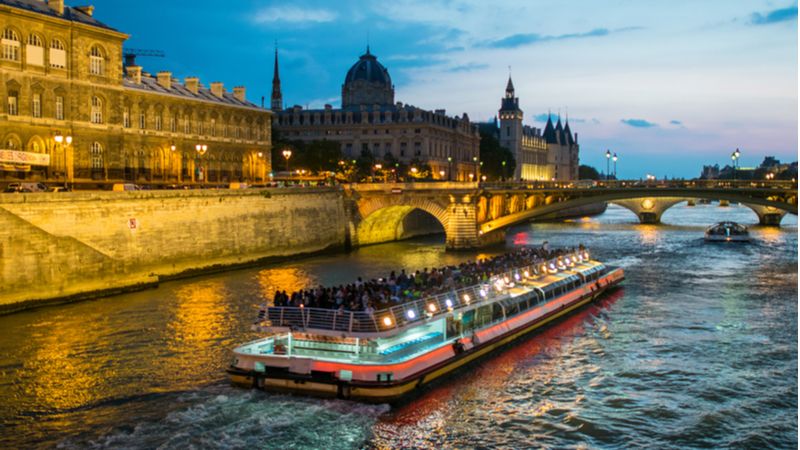 Flowing through the center of the city, Seine River is one of the best places to visit in Paris. The River is one of the most significant attractions that has seen a lot from the history of Europe. The Ile De La Cate is one small island in the middle of the River that adds to its beauty. The river overlooks the most scenic beauty of the city, offering you the best leisure activities and things to do in Paris. Get on the cruise and admire the sunset while you enjoy the most tempting diner in the Seine river cruise.
Location: Paris
Timings: N/A
Entry Fees: N/A
Things to Do: Dine on a river-side barge, River Cruise, Stroll around the bank, Canal Saint-Martin
Suggested Read: Best Places to Visit in Bali: Top Attractions To Explore In The Islands of God
6. Montmartre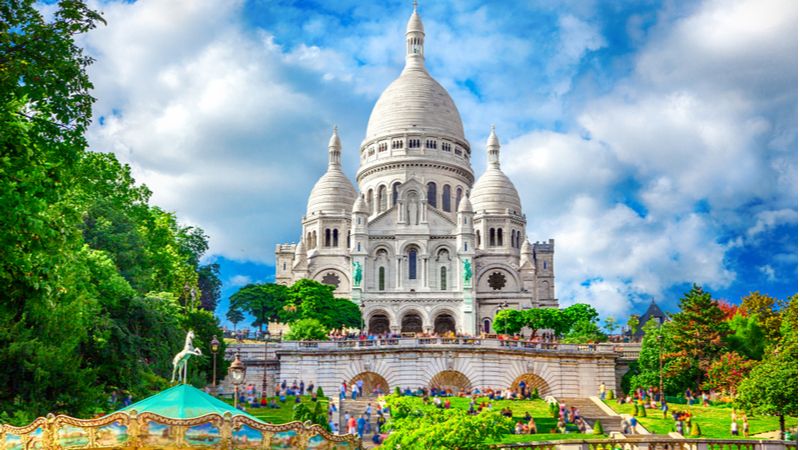 Montmartre stands as one of the most popular attractions in Paris for both the localities and the tourists. This village in Paris has been in existence since 1860 where there is an unwinding beauty of nature with lush trees, the hills, picturesque lanes and some vintage yet vibrant cafes, restaurants and cabarets. Montmartre is basically a large hill with a height of meter in Paris's 18th arrondissement that houses an ancient history. Being the best Paris places to visit, Montmartre is often crowded by tourists from the neighboring cities and countries.
Location: Montmartre, Paris
How to Reach: The Montmartre Paris is connected via metro lines- Abbesses on line 12, Pigalle on lines 2 and 12 or Anvers on line 2.
Attractions To See: The Sacré Coeur basilica, Place du Tertre, Le Musée de Montmartre, The Moulin Rouge and Pigalle
Things To Do: Discover the Mosiac of Sacré Coeur, Shop from Rue de Steinkerque, Explore the Musée de Montmartre
7. Pompidou Centre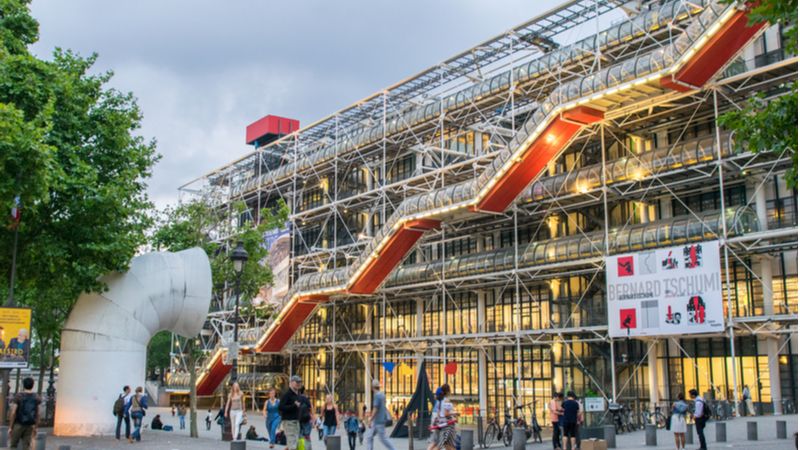 The Pompidou Center in Paris is one of the most cultural attraction you can explore to discover the art and heritage. Designed with intriguing art and the fascinating hues, this French Centre is among the top popular attractions to visit in Paris. The interior is decorated with a refreshing colour, contemporary art and sculpture. The center has hosted many exhibitions where all latest and unique art is displayed for the public. The library and museum here are the center of interest that makes it one of the best places you must visit in Paris.
Location: Place Georges Pompidou, Paris
Timings:
Wednesday To Monday: 11:00 am to 9:00 pm
Tuesday: Closed
Entry Fee: 10 Euros
Suggested Read: Best Places To Visit In Italy For A Breathtaking Vacation
8. Musée d'Orsay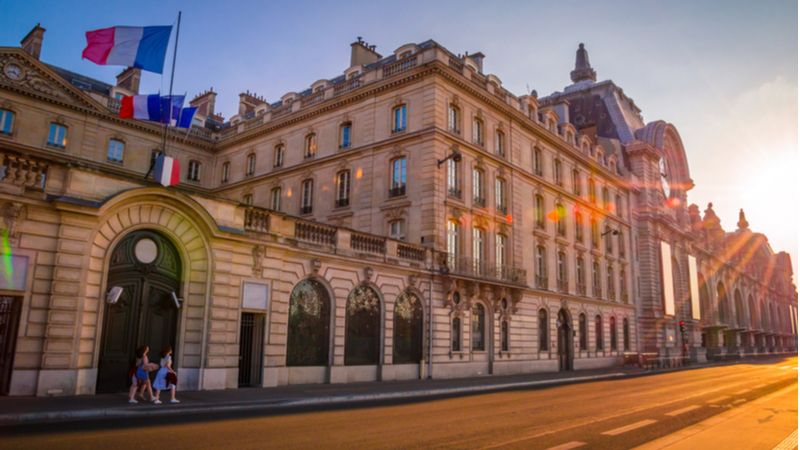 One of the best places to go in Paris, the Musee d'Orsay is among the top museums you can visit in Paris. The museum houses an array of magnificent art collection across the globe that lures traveler from every corner of the world. The Musee d'Orsay is famed for the impressionist and post-impressionist art that defines the diverse heritage. You can discover the art of Berthe Morisot, Eugène Carrière, Johan Barthold Jongkind and Jean Auguste Dominique Ingres. This place is an ideal attraction for those who are passionate to know about history and art prevailing in the world.
Location: 62 Rue de Lille, Paris, Île-de-France 75007
Timings:
Tuesday and Wednesday: 9:30 am to 6:00 pm
Thursday: 9:30 am to 9:45 pm
Friday to Sunday:  9:30 am to 6:00 pm
Monday: Closed
Entry Fee: N/A
Famous For: Georges Seurat, Bal du Moulin de la Galette, The Circus, Auguste Renoir, Edgar Degas, Auguste Renoir and Edouard Manet
Suggested Read: Top Romantic Places To Visit In Doha With Your Beloved
9. Palais Garnier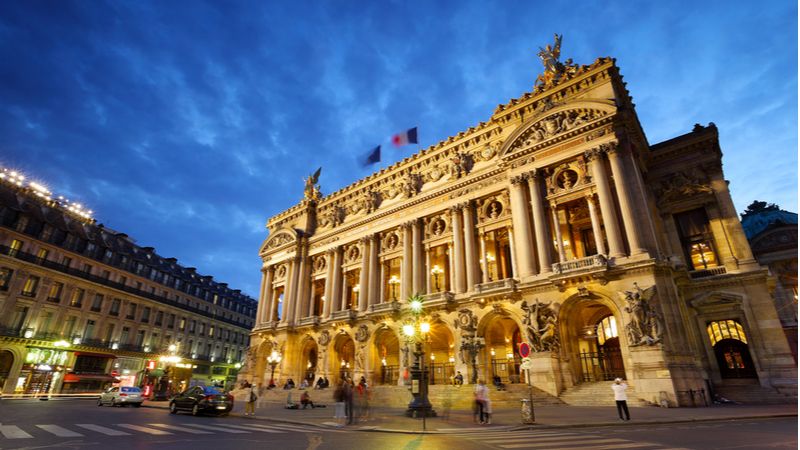 The grand Paris Opera or Palais Garnier is one of the most spectacular Paris tourist attractions. With seating of 1979 people at a time, this is an architectural wonder and among the most famous places where every tourist must visit. Talking of the design and architecture, the Palais Garnier is designed elegantly with the use of beautiful motifs, sculptures, and statues of some famous artists of all time. The statue collection includes Auber, Beethoven, Spontini, and more.
Talking of the interiors, Palais Garnier exhibits a ceiling painted by Paul Jacques Aimé Baudry and a huge staircase, Grand Foyer, Chandelier, and more.  The best thing you can do in Europe is to attend the vents like Bellet shows and opera that are organized here for the crowd as a major point of interest for every visitor.
Location: Place de l Opera
Events Organized: Leon, Lightfoot or Van Manen, Inside Opera, Iolanta
Entry Fees: 14 euros
10. Musee Picasso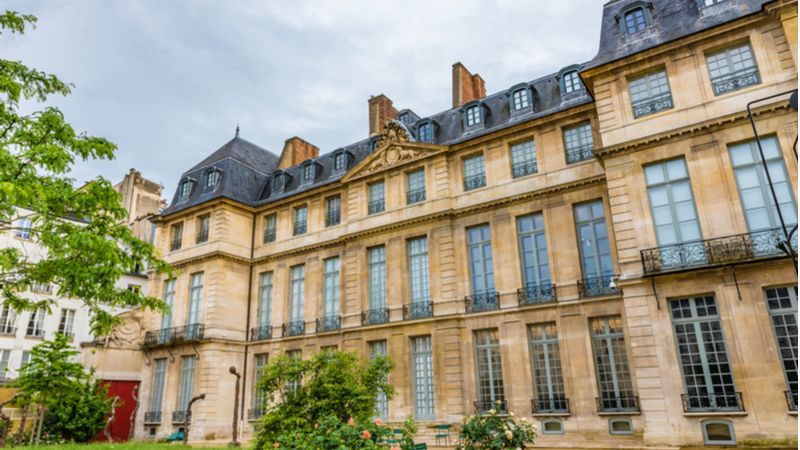 The art museum in Paris, Musee Picasso, is among the top attraction in Europe you possibly cannot miss exploring. Listed as one of the best places to see in Paris, Musee Picasso is home to a vast collection of artwork ranging from 5000 masterpieces and more than thousands of archives artwork of the most famous artist around the globe. You can discover the artistic excellence of Pablo Picasso here at Musee Picasso. From sculptures to prints, ceramics, drawings, engravings, manuscripts, and private notebooks, there is an abundance of art to admire. The unique and exceptional artwork of this great artist has made this museum an exceptional piece of wonder in Paris for travelers.
You can find the best of his collection like Celestina, Girl Before a Mirror, and the death of Casagemas. Apart from the artwork of Pablo Picasso, you can find some amazing collections by Rousseau, Degas, and Renoir.
Location: 5 Rue de Thorigny, Paris, IdF 75003
Timing:  
Monday: Closed
Tuesday to Friday: 10:30 am to 6:00 pm
Saturday and Sunday: 9:30 am to 6:00 pm
Entry Fees: 12.50 euros
Suggested Read: Top Place To Visit In South Korea That Presents A Perfect Blend of History, Culture & Nature
11. Place de la Concorde
Taking about the best places to visit Paris, the Place de la Concorde can never be missed. This public square was built in the year 1755 by Ange-Jacques Gabriel, but the whole structure was completed in the year 1772. Spreading to an area of 18.8 acres it is the largest public square in Paris that was then built to glorify the kingship of King Louis XV. But it was during the French revolution when King Louis XVI was executed in 1793 by Place de la Concorde guillotine.
The Place De la Concorde has undergone vast changes since the past and seen a lot throughout history. Being lavishly designed, the square has some highlighted attraction, covering every corner from the west to the east and north to the south. The Luxor Obelisk, fountains, and Eight angles are a few to name.
Location: Place de la Concorde, Paris, IdF 75008
Built in: 1755- 1772
Built By: Ange-Jacques Gabriel
Timing: Open all day
Entry Fees: N/a
12. Quartier Latin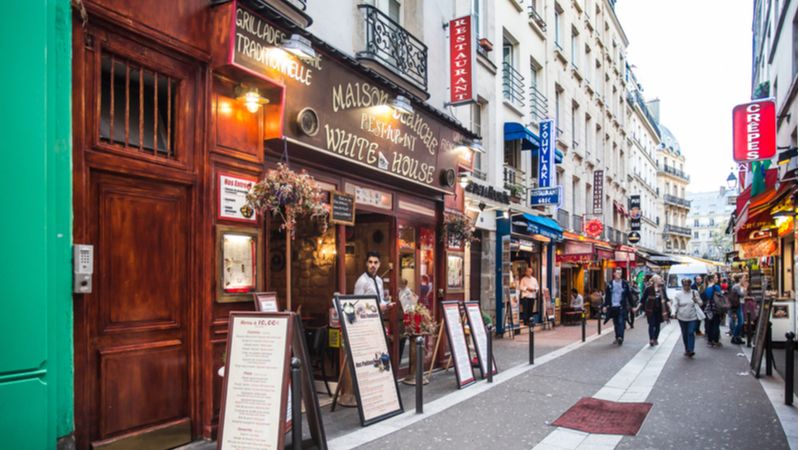 Now while you are in Paris, you can discover the best of its art and attractions at Quartier Latin. This is a complete holiday spot where you can see some of the famous places to see in Paris. Offering you some hand-picked activities and attractions, Quartier Latin is great to plan a self-guided tour. You can stroll around for exploring the finest places like educational institutions, parks, and more.
What adds beauty to the Quartier Latin is the public park, the garden, Medici fountain, apple orchards, the Orangerie, a miniature of Statue of Liberty, and Pavillon Davioud. You can kill some time at the bookshop or explore the oldest university in Europe. There are museums that exhibit the collection from the Middle ages. Cafes are restaurants are also there for visitors to eat and relax.
Location: 375 Boulevard de Maisonneuve Est, Montréal QC H2X 1K1
Attraction: Place du Panthéon, Place de la Contrescarpe, Jardin du Luxembourg, Shakespeare & Company Bookshop
Timings: 24X7
Suggested Read: Places To Visit In Seychelles: Your Bucket List For A Dreamy Holiday
13. Tuileries Garden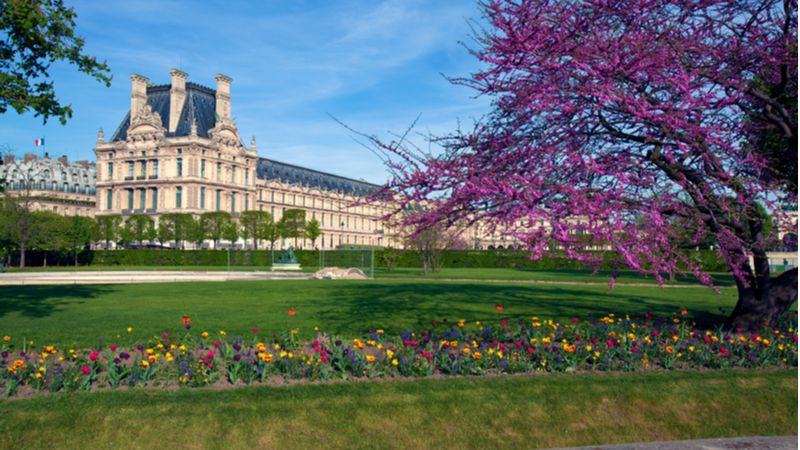 Located between the Place de la Concorde and Louvre Museum Tuileries Garden is among the popular attractions to visit in Paris. The history states in the year 1564 Queen Catherine de Medici built the Palais des Tuileries but later André Le Nôtre transformed the landscape in 1664. The name Tuileries is derived from the tile factory that uses to be there at the site of this magnificent garden.
Today Tuileries gardens offer a perfect place to relax and stroll around, admiring the architectural wonders around. There is an amusement park just near the garden making it the best spot for all your family trips with kids. The fountains and sculptures here add beauty to the entire garden. If you are planning a visit between June and August, you can get a chance to enjoy the rides.
Location: Jardin des Tuileries pl. de la Concorde, rue de Rivoli, Paris
Timings: All days- 7 am to 9 pm
Entry Fees: N/A
14. Galeries Lafayette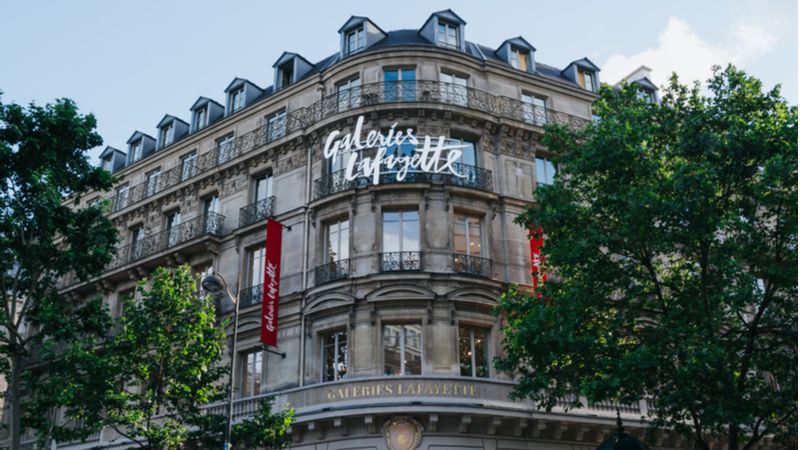 Ranked as the top shopping destination, Galeries Lafayette is one of the best places to visit in Paris for some high-end shopping experience. This shopping center is home to classic international brands where you can upgrade your fashion sense. Apart from the retail stores and latest trending fashion accessories, the place is all famous for ossuaries collection in the unground tunnel.
It is the architecture and its lavish look that steals the sight of every visitor. The glass Coupole is an iconic addition to the design that is raising to a height of 43 meters. There are restaurants and cafes inside serving the most delighting French cuisines and other international recipes. You can even plan a tour to a 9-metre-long walkway that is suspended at a height of 16 metres. This will directly lead you to the middle of the dome on the 3rd floor.
Location: 40 Boulevard Haussmann, Paris, IdF 75009
Timing: All Days- 9:30 am to 8:30 pm
Entry Fees: N/A
Suggested Read: Places to Visit in Mexico: A Beginner's Guide
15. Musée du Louvre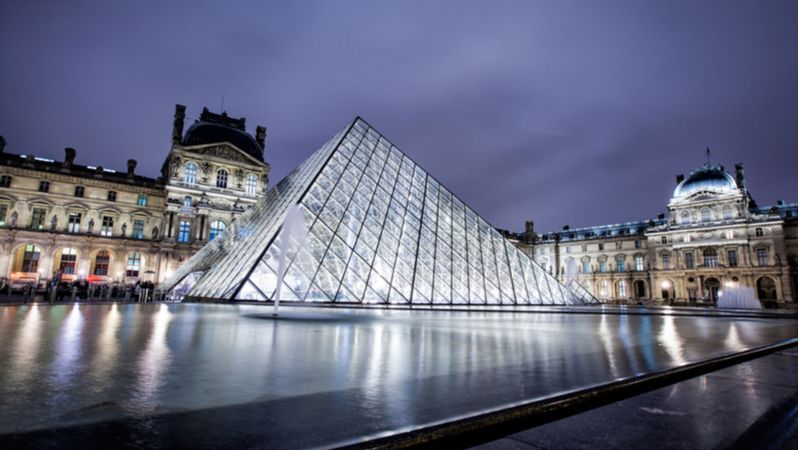 Once home to France's kings, Musée du Louvre is a sumptuous palace that every traveler should consider visiting. In fact, exploring this museum is one of the best things to do in France today. There is a museum in the courtyard of the palace that visitors can explore. The Louvre features about 35,000 artworks and a number of other masterpieces that range from antiques to European paintings. The collection dates back to the 15th to 19th centuries. Interestingly, this is a place that is virtually impossible to explore in one visit. However, travelers can pay particular attention to the gallery which is one of the highlights of the Louvre museum.
If you want to get the best out of your visit to the Musée du Louvre, then opting for a guided tour isn't a bad choice. Every year, thousands of visitors come to the museum and take a guided tour that involves a display of the museum's most famous artworks. Usually, the tour lasts for about 3 hours, but those 3 hours are more than enough to explore the place.
Notably, there are a few masterpieces that are very special to see here. Some of the major ones include - Venus de Milo sculpture, Victory of Samothrace from the Hellenistic period, Wedding Feast at Cana painting by Veronese (1563), Liberty Leading the People (1831) by Eugène Delacroix, and Botticelli's Young Lady with Venus and the Graces fresco.
Location - Rue de Rivoli, 75001 Paris, France
Built In - Late 12th to 13th century
Built By - Philip II
Timings - Travelers are advised to confirm the opening timings of the museum from the concerned authorities. The museum remains closed on Tuesdays.
Entry Fees -
Tickets purchased at the museum - €15
Tickets purchased online - €17
-18 year olds, -26 year old residents of the EEA - Free
16. Cathédrale Notre-Dame de Paris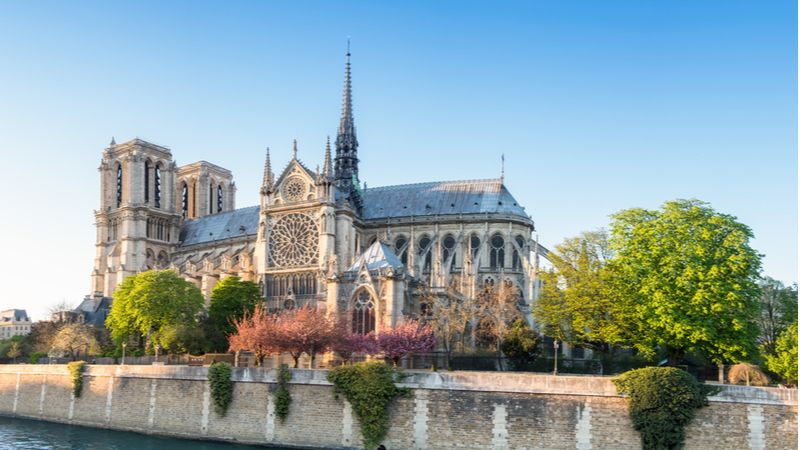 Nestled in the heart of Paris next to the Latin Quarter, Notre-Dame is home to the famous Cathédrale Notre-Dame de Paris. Built in 1163 by King Louis lX and Bishop Maurice de Sully, this is a place that took more than 150 years to get constructed. As history has it, the cathedral was first created in an early gothic style but the later transitions to the cathedral show the high gothic style.
Travelers coming here on a tour are set to be surprised by the beauty of the place and the ornamental design of the facade. This is an enormous building that surprises many travelers who come here to explore. Notably, visitors coming here should take a much closer look at the Gallery of Kings. The gallery features rows of 28 intricately carved figures that are representations of the French Kings. What is interesting is that the figures lost their head during the revolution, which can now be found on display in the Musée de Cluny. There is also a sanctuary here that provides a perfect space for travelers with the light of flickering candles.
Although Cathédrale Notre-Dame de Paris is a place that visitors often visit in Paris, the cathedral did suffer considerable damages during a large fire that broke out in April 2019. The medieval roof and the 19-century spire collapsed due to the fire. It is, in fact, said that the extent of the fire is still accessed by the concerned authorities.
Location - 6 Parvis Notre-Dame - Pl. Jean-Paul II, 75004 Paris, France
Built In - 1163
Built By - King Louis lX and Bishop Maurice de Sully
Timings -
Monday to Friday from 8 AM to 6:45 PM (no midday closure)
Saturday and Sunday from 8 AM to 7:45 PM (no midday closure)
Entry Fees - N/A
Suggested Read: Beaches Near Paris: Most Captivating Shorelines To Discover Near The City Of Love
17. Avenue des Champs-Élysées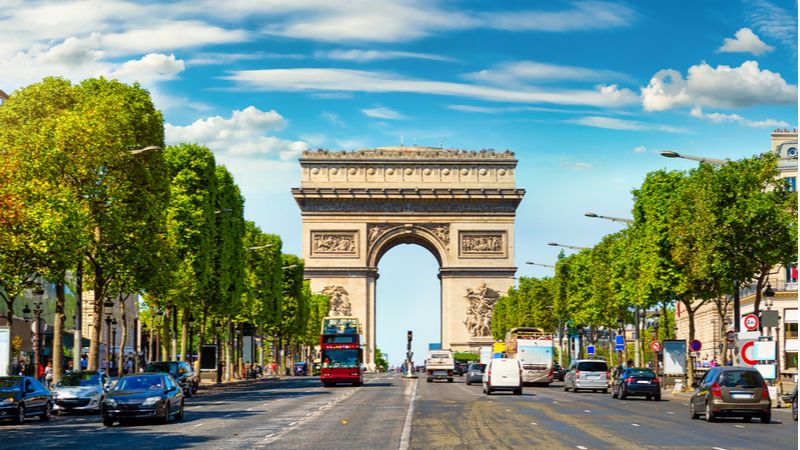 One of the most monumental boulevards in Paris nestled about 12.9 KM away from the Paris-Le Bourget Airport in France, Avenue des Champs-Élysées is the place you've got to visit. The place used to be a marshland until the 17th century. The boulevard is divided into two parts with Rond-Point des Champs-Élysées forming the intersection.
Interestingly, the upper of the boulevard features a number of luxuries for visitors. There are high-end shops, hotels, restaurants, cafés, cinemas, and so much more. This is the area that draws a large number of travelers owing to the choices it offers. The upper part of Avenue des Champs-Élysées is, in fact, where Parisians like to gather. As for the lower half of the boulevard, there is a spacious park by the name Jardin des Champs-Élysées and a fine arts museum, the Petit Palais, which is a major attraction for tourists who are interested in art.
Interestingly, this is a place that is famous for its prestigious establishments and fine dining choices. There are establishments like Maison Ladurée (75 Avenue des Champs-Elysées), Tiffany & Co. (62 Avenue des Champs-Élysées), Cartier (154 Avenue des Champs-Élysées), and Louis-Vuitton (101 Avenue des Champs-Elysées). Speaking of fine dining, food lovers can get options like brasserie du luxe restaurant, L'Atelier Étoile de Joël Robuchon (133 Avenue des Champs Elysées), and many more. Although Avenue des Champs-Élysées is more known for its luxury shops and outlets, travelers looking for budget shopping options too can find many options here. Not just in shopping, but there are affordable food outlets here like Burger King and so on.
Location - 8th arrondissement of Paris
Built In - 17th Century
Built By - Landscaped by André Le Nôtre
Timings - Open 24 hours
Entry Fees - N/A  
18. Sainte-Chapelle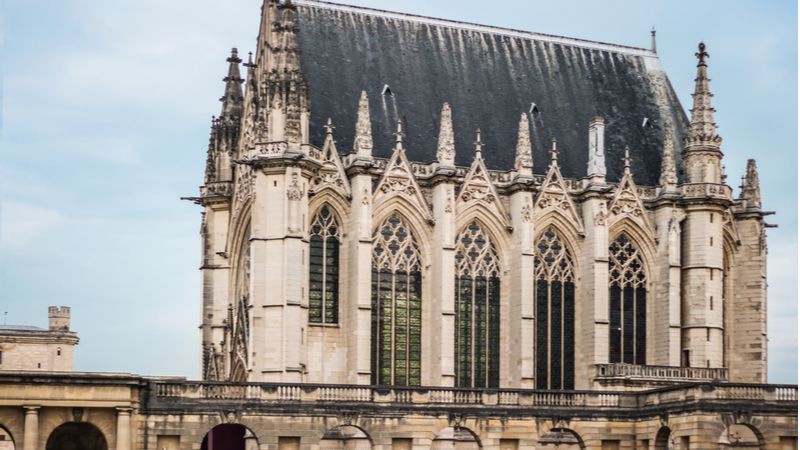 One of the finest things to do in Europe as far as Paris is concerned, enjoying a music concert at Sainte-Chapelle is a fascinating experience for travelers. As travelers put it themselves, enjoying a choir or classical music performance in this space is an inspiring spiritual experience and something that one cannot afford to miss. As far as churches in Paris go, Sainte-Chapelle is right up there amongst the very best. The place is a true example of Rayonnant Gothic Architecture and was built from 1242 to 1248 for King Louis IX. It is believed that the purpose of Sainte-Chapelle was to house the precious relics that Saint Louis had acquired from the Byzantine Emperor. There were breathtaking stained-glass windows here that provide a serene aura while these windows that cover over 600 square meters depict over 1000 scenes from the Bible.
Today, travelers consider Sainte-Chapelle as a rare jewel amongst the medieval houses of worship. Interestingly, the place is now open for the public as a museum where you have to pay an additional fee to enter. In fact, there are audio guides made available to the visitors in multiple languages to provide them a one-hour commentary on the history, art, and architecture of Sainte-Chapelle.
Besides, as discussed before, this is a place where one can enjoy the best of classical music. There are different concerts that are organized here while some of the performances like Baroque chamber music, sacred music, or Christmas carols are not to be missed here.
Hence, for travelers coming to Paris, this is a place that is not to be missed. When heading here for a tour, travelers can also purchase a combined ticket for La Conciergerie along with Sainte-Chapelle.
Location - 10 Boulevard du Palais, 75001 Paris, France
Built In - King Louis IX
Built By - 1242 to 1248
Timings - Opens at 9 AM. The closing time differs with the season
Entry Fees - Around 13 Euros for both Sainte-Chapelle and Conciergerie (Audio guide will cost you 3 Euros extra & persons under 18 and EU residents under 26 get in free with a valid ID)
19. Place de Vosges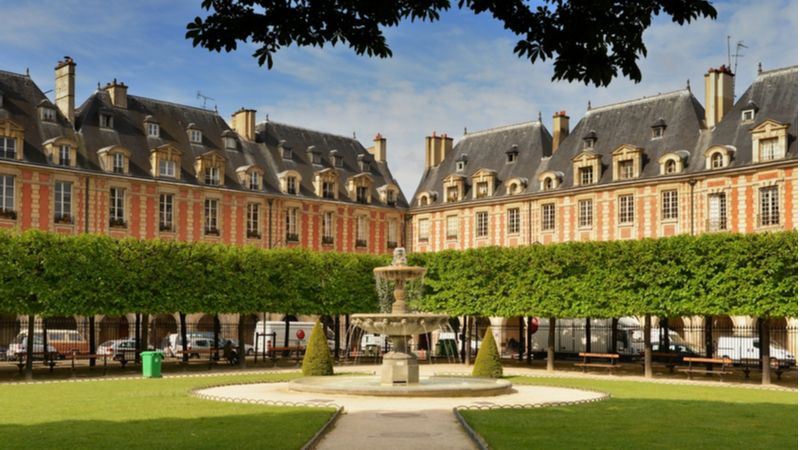 The Place de Vosges was built between 1605 and 1612. It is the oldest public square and is laid out spaciously in a harmonious uniform style. It is so majestic that it was provided as a model for other squares such as Place Vendome and Place de la Concorde. Sitting right at the center of Le Marais, Place De Vosges has a symmetrical form, with houses of red bricks and stone detailing. The square offered a splendid setting for festive occasions of the 17th century. It also acted as a great spot for duels, court weddings, and state receptions.
The area, where Place de Vosges is, has historical significance with medieval and Renaissance palaces. Marais is a trendy quarter and has Musee d'Art et d'Histoire du Juda"sme and Jardin Anne Frank (a tranquil secluded garden with orchards) as neighbors of Place de Vosges. The square has a lot to offer to its tourists. Visitors seeking a refined Parisian experience can visit Mariage Freres.
L'As du Fallafel is also very popular among tourists and they even wait in long lines to try their authentic falafel. The area also has several kosher restaurants and kosher bakeries. Place de Vosges was originally called Place Royale for it was filled with aristocratic residencies. This is truly a magnificent square in every manner and is trendy among locals and tourists. This elegant square is worth to awestruck you.
Location - Place des Vosges, 75004 Paris, France
Built In - 1605
Built By - N/A
Timings - 24 hours
Entry Fees - N/A
Suggested Read: Places To Visit In Langkawi, Malaysia For Lush Green And Aquamarine Vacation
20. Place Vendôme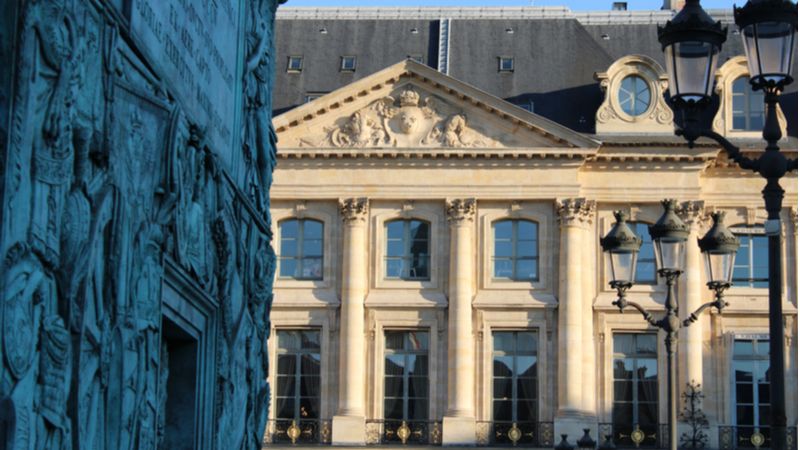 Place Vendome was designed by Jules Hardouin-Mansart. He was one of the leading architects during the reign of Louis XIV. 'Place Louis le Grand' was the original name and was to house the Royal establishments. The building was sold to the nobles and rich citizens because the king was facing financial issues (the king was broke! OMG). Place Vendome's charm is that it still retained the consistency of the overall design, even though the new owners built gorgeous mansions with courtyards and gardens. Earlier, at the center of the square stood the statue of Louis XIV, but it was replaced by Colonne de La Grande Armee (built between 1806 to 1810, this 42-meter high structure was dedicated to Napoleon king and its army). The height of the square is the upscale jewelry boutiques, like Chanel, Van Cleef, and Cartier. Ritz Hotel is another luxurious establishment of the square.
Palace Vendome was built by the vision, that it will be a grandiose setting that will embody absolute power and that too right at the heart of Paris, and it remained that way until it was sold to the nobles. The world's greatest jewelry brands have turned the Place Vendome into a continuous stream of window displays filled with sparkling diamonds, emeralds, and rubies. This square is the place where many famous people have resided in the past, including Coco Chanel, she made Ritz Hotel her home for 34 years and decorated her suite in her chic style. On this day as well, there is still a suite named after her and it exemplifies her vision of Parisian chic.
Location - North of the Tuileries Gardens and east of the Église de la Madeleine
Built In - 1686-1699
Built By - Louis XIV (designed by Jules Hardouin Mansart)
Timings - 24 hours
Entry Fees - Price varies. Travelers are advised to confirm the timings with the concerned authorities
Suggested Read: Places To Visit In Sri Lanka For A Vacation Worth Remembering
21. Sacré-Coeur and Quartier Montmartre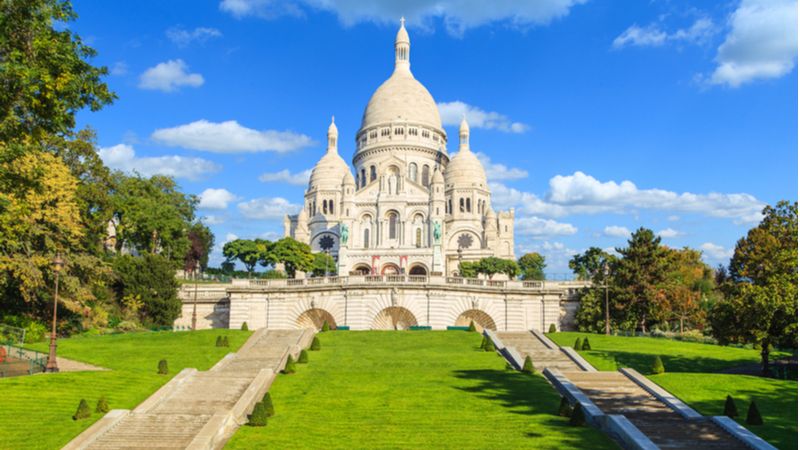 It's not difficult to understand why Paris features amongst the finest honeymoon destinations in Europe, and one such place that honeymooners should visit in the French capital is Sacré-Coeur and Quartier Montmartre. Sitting at the highest point in Paris, Sacré-Coeur is an aura about it. This is a place that perfectly blends both Romanesque and Byzantine styles. From far away, travelers can assume that it looks like a wedding cake which is why the place has wedding cake as its nickname.
Inside the Basilica, there is a sense of emotional and spiritual intensity thanks to the striking mosaic of Christ with a flaming heart. Travelers coming to Paris are awestruck with the beauty of the church which was built as a symbol of hope after the Franco-Prussian War. One can find many candles lit here which add a contrast to the dark and somber space.
In fact, one of the best experiences here is to view the city of Paris from the terrace or climbing the tower for a better experience.
Likewise, visitors can also explore the medieval village of Montmartre which presents an old-fashioned charm to travelers. There are art galleries, outdoor cafés, pedestrian staircases, streets, restaurants, and so much more to add to the overall experience of travelers. One can catch a glimpse of the old Bohemian past of the village when Bohemian artists resided here during the late 19th and early 20th centuries.
Location - 35 Rue du Chevalier de la Barre, 75018 Paris, France
Built In - 1914
Built By - Paul Abadie, Jean-Louis Hulot, Lucien Magne, Honoré Daumet, Charles Laisné, and Henri-Pierre-Marie Rauline
Timings - 6 AM to 10:30 PM
Entry Fees -
EUR 8 per person
EUR 5 for children aged 4-16
So, as you plan your holiday, book your flight tickets to Paris and get ready to discover every nook and corner of this fascinating city of France. These top picked best places to visit in Paris are home to its culture and heritage, the art and mesmerizing beauty that makes the city a famous holiday designation. There are museums and vintage castles, the iconic architecture and some scenic sight to add on your itinerary for holidays. With its romanticized beauty, Paris has lured travelers to shop, eat and enjoy every moment of their vacation break.  
FAQs
Q1. What are the best places to visit in Paris?
Paris is one of the most beautiful holiday places where you can discover some famous attractions from historical time. As you plan your holiday, here are the best places you must visit:
Eiffel Tower
Pompidou Centre
Versailles Palace
Seine River
Montmartre
Q2. What are some of the best things to do in Paris during the holidays?
Spend your holiday, experiencing the best leisure and thrill simultaneously. Whether you chose Paris as your honeymoon destination or plan a family holiday, here are the best things you can do in the city:
Explore the beauty of Eiffel Tower
Discover the best museums and galleries like the Musée de L'Orangerie
Visit the Versailles Palace
Enjoy a cruise on Seine River
Shop from the best boutique outlets at Montmartre Village
Q3. Where can I book the best accommodation in Paris?
Pairs being the best destination for vacationers offers some of the most luxurious hotels in Paris for your stay. Known for the most heartwarming hospitality and the best service, here are the top hotels you can choose as your accommodation in Paris:
Maison Barbès
Sinner Paris
Hotel de Crillon
Hotel Lutetia
Le Damantin Hôtel & Spa
Four Seasons Hotel George V
Q4. Is Paris the right place for holiday break?
Paris is one of the most romantic holiday destinations that attract travelers from almost every corner of the world. There are museums and the most fantastic architecture that enhances the beauty of this vibrant city. With its famous attraction and the vast collection of art and heritage, Paris is undoubtedly an ideal holiday destination where you can discover everything from history to the modern lifestyle of people living here.
Q5. What is the best time to visit Paris?
Paris is among the most visited attractions where you can plan a holiday either during the offseason to explore the serenity or during the high season when the beauty is heightened. The months from April to June and October to November are considered the best because the weather is mild and there is lesser footfall than the summer break.
Q6. Are there any Museums in Paris?
Paris has preserved vintage art from almost every corner of the world where people gather to discover the secrets of history. Housing the collection of great artists, here are the best museums you can visit in Paris:
Louvre Museum
Musée d'Orsay
Musée de l'Orangerie
Cité des Sciences et de l'Industrie
Musée Rodin
Q7. How far is the Eiffel Tower from the International airport?
Charles de Gaulle is the nearest airport to Eiffel Tower at a distance of 30 km. The easiest way to reach the Eiffel Tower from the airport is to hire a cab or taxi that will take 40 min of a drive to reach the destination. You can also board an RER rail line that is serving connectivity to the Eiffel Tower.
Q8. Where is Montmartre?
Montmartre is basically the village area with the hills to the North of the French capital. This famous attraction in Pairs is known for ancient history and some of the best cafes and shops nestled along the busy pathways. Montmartre is one of the most crowded attractions and the best places to see in Paris.
---